The RHYTHM FUN Folding Under-Desk Treadmill is a slim 2-in-1 unit that enables users to exercise (walking) as they work behind a desk and it also offers to be used as a standard treadmill for jogging and light running in the comfort of their home.
It is very similar to ANCHEER 2-in-1 Folding treadmill.
Here are the facts about the RHYTHM FUN Treadmill; it has a considerably wide running surface (50'' L x 18'' W) and a 2.0 peak horsepower motor that makes it possible for users to walk and jog on it. Although, a light running exercise is possible since it provides a speed range of up to 12 kph (7.5 mph).
It is sturdy enough to support a maximum user weight of 220 pounds/99.7 kg. As aforementioned, it has 2 different operation modes that include the under-desk and conventional modes.
In other words, the console-masts and the handrails could be folded up so that it can be used under a desk when working on a desk, while on the other hand, it could be used as a normal treadmill with the handrails and the masts all active.
The treadmill comes with a remote controller for speed adjustment, and it also offers a workout app that is compatible with Android and iOS phones. Through the application the user will be able to monitor workout progress on the phone and also be able to set workout goals for time, distance and calories burned.
No assembly is required and 2 bottles of silicone oil and other stuff are included in the package.
Click right here to have a peek at the price of the RHYTHM FUN Folding Under-Desk Treadmill on Amazon.
The Frame and Construction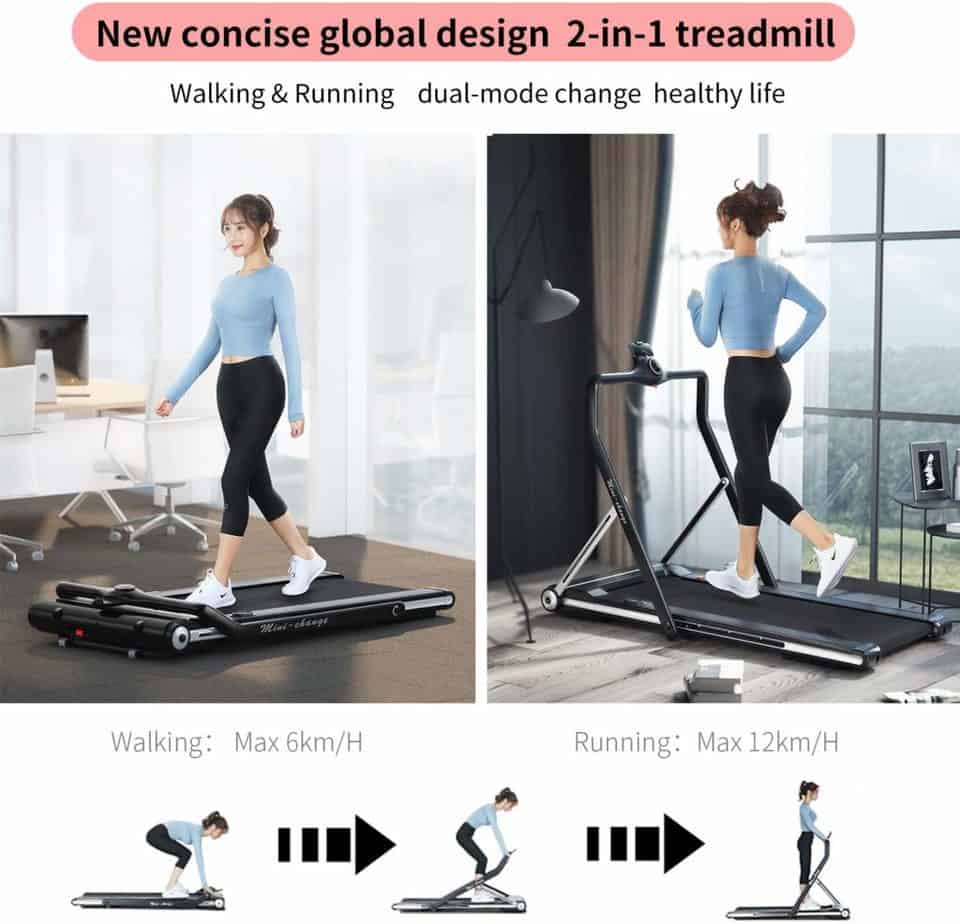 The RHYTHM FUN Folding Under-Desk Treadmill has quality & reliable assurance, ISO9001 standard, and CE certified. This goes to show that the treadmill has a very good quality. It is equally a not-so-large unit with a sizable running surface.
The fully assembled dimensions are 61 inches long by 30 inches wide by 44 inches high. Differently put, the treadmill requires a workout area with perimeters of 5'1'' length x 2'5'' width. Also, it's important to consider adding extra clearance of 3' at the rear and 2' on each side of the treadmill for easy access and safety, especially, if where it's going to be used is confined.
While the folded dimensions are 61 inches long by 30 inches wide by 8 inches high.
The space-saving design allows it to be stored either vertically or horizontally under a couch or a bed. Its AIR shock reduction & noise reduction system ensures that every user regardless of age gets the most outstanding workout experience that includes low impact and a nearly noise-free environment.
The treadmill base features rubberized stabilizers that ensure floor-friendliness and stability. It weighs about 97 pounds/44 kg which further boosts its overall stability.
The integrated transport wheels facilitate the relocation of the treadmill after being folded.
Motor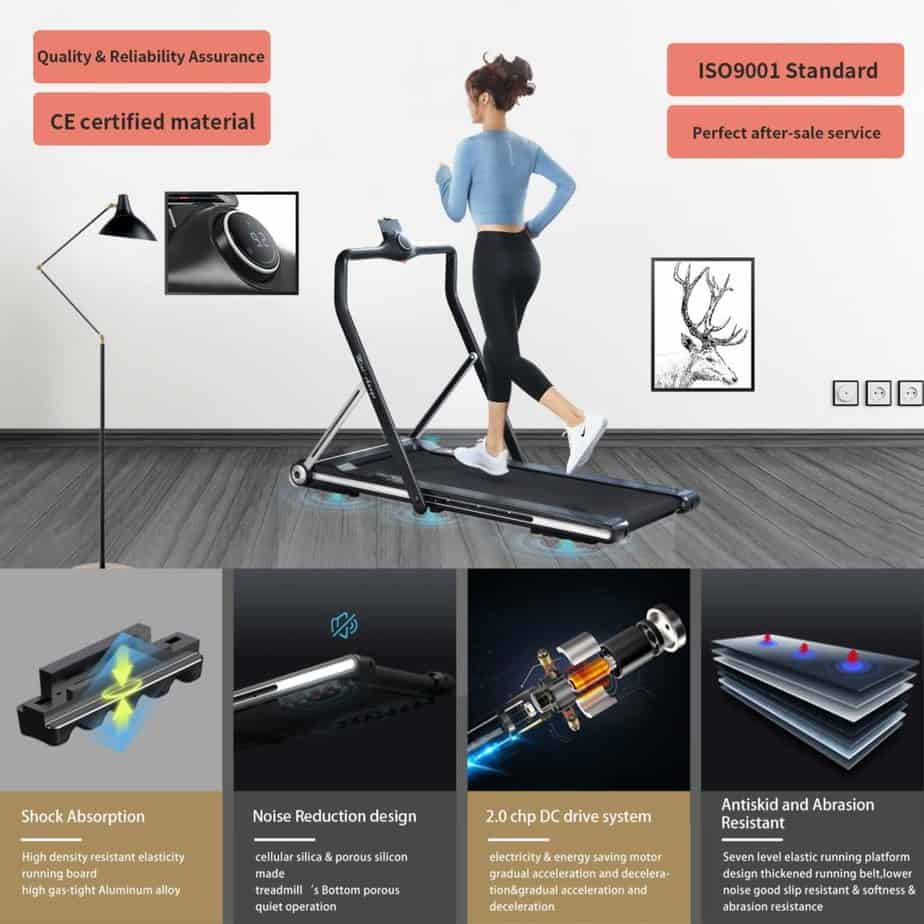 The RHYTHM FUN Folding Under-Desk Treadmill is equipped with a not-so noisy, energy-saving, and yet powerful 2.0 peak horsepower motor. The motor provides a speed range that is up to 12 km/h/7.5 mph.
When the treadmill is in under-desk mode, the speed range is 1-6 km/h for walking, and while it's in standard mode, the speed range goes up to 12 km/h. In other words, the speed cannot exceed 6 km/h when it's being used in folded form even if the user wishes to do beyond that.
The motor and the tread belt don't make a sound that might be problematic for the family or the neighbors during a workout. The user can watch a TV show or listen to good while exercising without any noise interference from the treadmill.
The speed can be increased or decreased by the home button or via the remote control. Turn the home button clockwise to increase speed and counterclockwise to decrease it. While the remote control has 3 buttons that include the ON/PAUSE button, and 2 other buttons for increasing and decreasing the speed.
The speed level also shows up on the small LED monitor (aside from using the phone and the app for monitoring progress), which by the way has very good readability.
Incline
As expected, the RHYTHM FUN Treadmill doesn't have any incline, not even a manual incline system. This is expected because under-desk treadmills don't usually have an incline system and it's no different with this treadmill.
Console
This treadmill is integrated with a simple small rounded LED monitor that displays the speed level. It also doubles as the home button that controls the speed when twisted either way.
As previously stated, the user can track workout stats such as time, distance, speed, and calories burned via a smartphone with the workout app.
Storage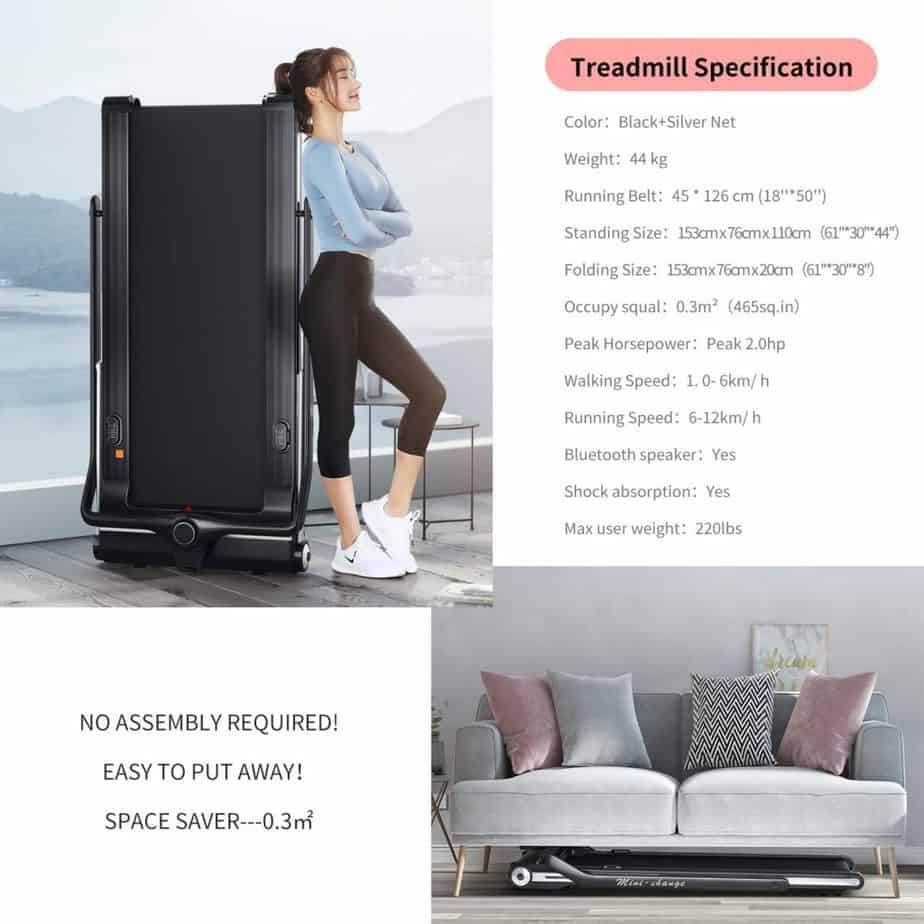 The RHYTHM FUN Folding Treadmill is pretty easy to put away. It could easily be folded and be rolled away to storage. It can be stored under the bed, a couch or simply vertically next to a wall.
Its slim space-saving design makes it the ultimate choice for home use.
Accessory
The RHYTHM FUN 2-in-1 Treadmill has Bluetooth speakers and a smartphone holder that enables the user to use some distraction.
How this works is by connecting a smartphone device to the built-in speakers via Bluetooth technology so that a user can watch a movie or listen to music through those speakers as s/he exercises on the treadmill.
While the phone holder accommodates a smartphone device for browsing and workout progress monitoring.
Approval Rating
At the time of this review, the RHYTHM FUN Folding Under-Desk Treadmill has a couple of positive reviews on Amazon by real users. This shows it's a good buy.
Pros/Features Overview
It's a sleek design
It's durable and stable
Storage is pretty easy due to its space-saving design and integrated transport wheels
It can be used as an under-desk or as a standard treadmill
The operation is smooth and almost quiet
The running surface is decently spacious
Accommodates users up to 220 pounds/99.7 kg in weight
Workout stats such as time, speed, distance, and calories burned can be monitored via a smartphone with the special app (downloadable via Google Play or Apple store for free)
Offers goal settings for time, distance, and calories burned
Speed can be adjusted thru the home button or thru the remote control; so, even if the remote control gets lost you can still use the home button for speed control
The running deck has a shock-absorbing cushioning system that reduces an impact on the joints
It's equipped with an energy-saving yet powerful 2.0 peak horsepower motor, provides a speed range of 1-12 km/h (0.6-7.5 mph)
LED display for speed tracking
Built-in Bluetooth speakers
A phone holder is included
Low maintenance
No assembly is required
2 silicone oil and installation tools are included in the package
Cons
No incline
No heart rate monitoring function
No preset workout programs
Warranty
10 Years on Frame
2 Years on Motor
1 Year on Parts
Product Dimensions and Specifications
Length 61''
Width 30''
Height 44''
Folded: 61'' L x 30'' W x 8'' H
Maximum user weight capacity: 220 pounds/99.7 kg
Assembled weight: 97 pounds/44 kg
Shipping weight: 124 pounds/56 kg
Motor: 2.0 peak horsepower motor
Speed range: 1-4 km/h for under-desk mode and 4-12 km/h normal treadmill mode
Tread belt: 50'' x 18''
Console: LED display tracks speed
Special free downloadable workout app for Android and iOS smartphones, tracks time, speed, distance, calories burned;
Count-down goal setting for time, distance, and calories burned
Phone holder included
Built-in Bluetooth speakers
Shipping
The RHYTHM FUN Folding Under-Desk Treadmill shipping is free if purchased from Amazon. Its delivery is done in a couple of days.
Assembly
The unit is ready to be used upon delivery. In other words, it doesn't require any type of assembly. All you need to do is remove it from the box and use it.
Nevertheless, it is accompanied by an installation manual that gets you oriented on how to use it.
Maintenance
The Folding Under-Desk Treadmill comes pre-lubricated. However, 2 silicone lubricant oil is included in the package for post lubrication. Lubricating the tread belt from time to time keeps it functioning properly without any hiccup, thus, prolonging its lifespan.
Also, ensure that the tread belt is clean from dirt and debris at all times.
Conclusion
The RHYTHM FUN Folding Under-Desk Treadmill is unarguably a recommendable flexible treadmill for home use.
Its compact and space-saving design makes it possible for those without enough space in their room to be able to acquire a treadmill.
It is suitable for those that work a lot behind a desk and also for anyone else that wishes to perform normal treadmill exercises such as jogging and light running.
RHYTHM FUN Folding Under-Desk Treadmill Review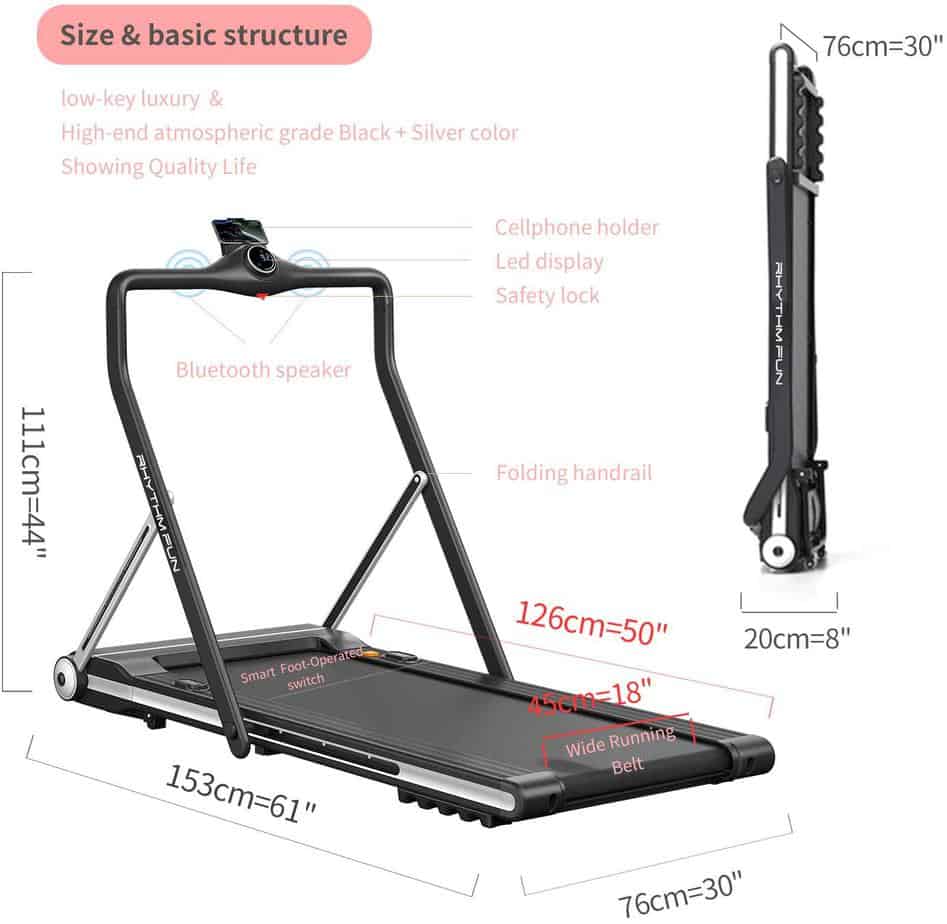 The RHYTHM FUN Folding Under-Desk Treadmill is a slim 2-in-1 unit that enables users to exercise (walking) as they work behind a desk and it also offers to be used as a standard treadmill for jogging and light running in the comfort of their home
Product Brand: RHYTHM FUN
Product In-Stock: InStock