The SOLE SB900 Indoor Cycle is designed for home use and could also be used in a light-commercial environment or setting. It's the new model that is deemed the best buy among other spin bikes in its price range.  
The SOLE SB900 new model has features that could impress outdoor or indoor cycling enthusiasts. The integrated heavy-duty chrome-plated perimeter weighted 48 lbs./21.7 kg flywheel simulates the outdoor bicycle riding experience, and its ergonomic and custom design is such that allows different or multiple users to exercise comfortably.
Its operation is smooth and whisper-quiet due to the fact that it's belt-driven and has a magnetic resistance system as well. This also means a smooth and seamless transition between resistance levels during a workout.
The SOLE SB900 is compact and portable; thus, it's easy to move around and doesn't take up too much space.
The heavy-duty light-commercial steel frame supports a maximum user weight of 300 lbs./136 kg and the wireless heart rate compatible console features a 3'' x 4'' blue backlit monitor that tracks Time, KCal, Average RPM, RPM, Distance, Speed, Average Speed, Average Pulse, and Pulse.
It is equipped with dual-sided pedals that enable you to use standard or spin shoes for spinning activities.
The SOLE SB900 is the upgraded model of the SOLE SB700.
Click right here to have a peek at the price of the SOLE SB900 Indoor Cycle on Amazon.
The Frame and Construction
The SOLE SB900 Indoor Exercise Bike is a light commercial-grade cycling bike that could also be used at home. Its overall construction features predominantly steel parts that are coated with anti-corrosive paint that preserves and prolongs their longevity.
Of course, ABS plastic material is used for the belt and the resistance system covers for safety and cosmetic reasons.
The heavy-duty steel tubing frame has the capacity to support users up to 300 lbs./136 kg maximum. Its stability is well-established regardless it has a small footprint. The spin bike's base features a large rounded steel stabilizer at the front and the rear. Underneath the stabilizers are rubberized adjustable levelers that enable you to balance up the bike on a surface that is not even.  
Moreover, the bike weighs about 136 lbs./61.6 kg which further boosts its overall stability.
This unit is not large, at least not larger than the DiamondBack Fitness 1260Sc Studio Cycling Bike. The overall assembled dimensions are 47'' long by 21.5'' wide by 50'' high. In other words, the bike will require a workout area with a perimeter of 4' length by 1'8'' width. That said, it's recommended to add extra clearance of at least 2' at the rear and on each side of the bike for safety and easy-access reasons, especially, if it's going to be used in a confined area.
Transport wheels are integrated at the front base to aid in the relocation process.
The bike is no longer available in Red but comes in Black color.
The Seat of the SOLE SB900 Indoor Cycle
The saddle on this bike is well-padded with a groove design that enables breathability so that you can work out longer without soreness or boredom.  
You may use a gel seat cover to improve its comfortability if you wish to do so, and it can be swapped for another spin bike seat of your choice.
The saddle can be adjusted 4-ways; vertically (upward/downward) and horizontally (fore/aft). This is part of the custom designs that allow users of different heights and sizes to be able to fit in and utilize the bike.
The users' inseams are 28''-40''. This means if your inseam measurement (the length of the inner thigh to the ankle) is between 28''-40'' the bike can conveniently and comfortably accommodate you.
The Handlebar
The SOLE SB900 Indoor Cycle is incorporated with a soft rubber foam-covered multi-grip ergonomic handlebar. This offers several grips that enable you to work out in different postures.
Just like the seat, the handlebar is also 4-way adjustable. This maximizes the chances of many more users of different heights to be accommodated. The length between the seat and the handlebar varies from 17.5''-30'', depending on the adjustment. That's huge and flexible because you can exercise without any discomfort or having to experience your knees hitting the handlebar
Both the seat and the handlebar have several adjustment positions that are distinctively marked and they take only a few seconds to adjust via the levers.
EKG HR sensors are not integrated into the handlebar for heart rate monitoring, but the console is telemetry-enabled.  
The Pedals
The SOLE SB900 has a set of dual-sided pedals. They feature toe cages and SPD pedals; meaning you can use standard gym shoes or cleat spinning shoes.
However, if for whatever reason you wish to swap the pedals, you can, since the threads are standard and alternatives are widely available.
The pedals are made of aluminum alloy and can support a stand-up ride, and they align the feet, the ankle, the knees, and the hip properly because the Q-Factor is about 8''. Although, this is not the best or the narrowest Q-Factor (the length between the two pedals), although, it's not a problem.  
The Drive of the SOLE SB900 Indoor Cycle
This unit has a belt drive system that consists of a car-grade belt, pulleys, heavy-duty crankset, solid crank arms, the flywheel, and pedals. Together, these elements provide a formidable, smooth, and quiet drive.  
This means that the bike doesn't make noise while in operation. Therefore, you can plan and work out at your own convenient time without having to worry that the family or the neighbors might be disturbed. Also, you can engage in the necessary distraction of entertaining yourself by watching a TV show or listening to good music with the volume at a normal range.
The drive offers the opportunity to pedal in both directions, otherwise known as bi-directional. You can choose to pedal in reverse to try to diversify and tone more muscle groups. This is possible because both the flywheel and the pedals spin together simultaneously, not allowing you to coast as you could on a road bicycle.
Thus, it's important to apply the emergency stop lever that is below the tension knob whenever you wish to abruptly stop pedaling for safety reasons.
Finally, the drive is literally maintenance-free. No post-lubrication or adjustments will be required, as the case with a chain drive system. That said, the belt may at some point wear out and will need to be replaced, but that takes a long time to happen.  
The Resistance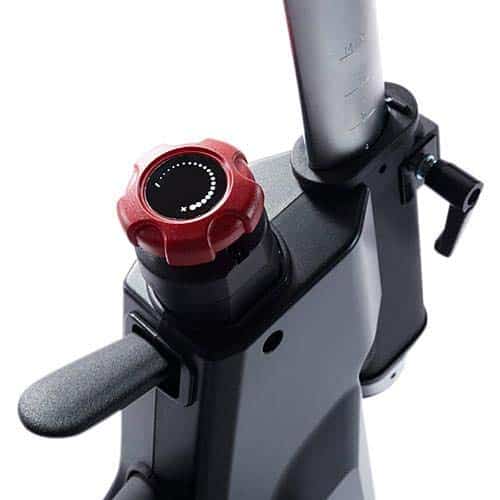 The SOLE SB900 Indoor Cycle is equipped with an eddy current magnetic resistance system. A resistance system that utilizes the magnetic field and the heavy-duty chrome-plated high inertia 48 lbs./21.7 kg flywheel to generate resistance.
Some have argued that heavy flywheel increases workout difficulty while others think otherwise. Regardless of what they think, they do agree that a heavier flywheel does provide better inertia and consistent motion that consequently simulates a real road bike ride.
The magnetic resistance system is preferred over the friction resistance system because no elements come in direct contact in order to generate resistance. So, no part wears out over time and it doesn't make noise or vibrate when the resistance is engaged.
The resistance could be increased or decreased by turning or twisting the tension knob clockwise or counterclockwise, respectively. The resistance intensity is fairly difficult and suitable for everyone at any fitness level due to the size and the quality of the magnetic brakes that generate a magnetic field around the flywheel.
There are no predefined resistance levels as the case with the ASUNA LANCER 7130. The resistance is infinite, meaning there is no limit to which you can increase the resistance intensity. However, it may be difficult to track your strength and endurance progress, but in a few days, you can learn and understand how many turns you apply when adjusting the resistance. This way, you can now track your physical health improvement.
The Console
The console on the SOLE SB900 Indoor Exercise Bike features a 3'' x 4'' wireless blue backlit LCD monitor that tracks workout stats such as Time, KCal, Average RPM, RPM, Distance, Speed, Average Speed, Average Pulse, and Pulse.
The display has high readability that cannot be comprised in a poorly-lit environment.
The console is battery-powered and compatible with a wireless HR chest strap (not included). So, you can keep an eye on and maintain your target heart rate zone at all times.  
Accessory
There is a removable water bottle holder that is designed to enable you to keep water within reach for hydration during a workout.
Storage of the SOLE SB900 Indoor Cycle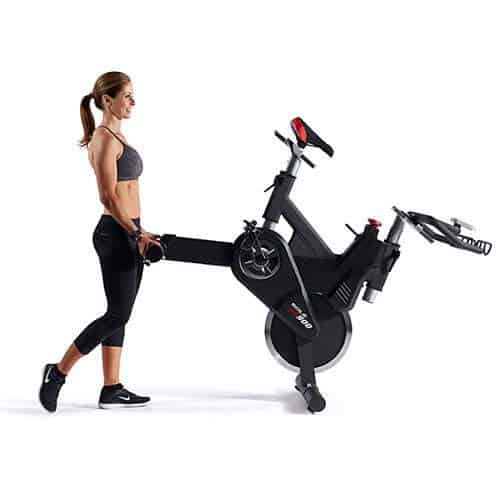 This bike is pretty easy to store away after a workout session. The reason is that it's compact and portable.
The integrated transport wheels at the front base facilitate the relocation process and only require a 4' length by 1'8'' width storage perimeter.
Pros/Features Overview
It's a light commercial-grade cycling bike
Sleek looking appearance
The console is telemetry-enabled; this provides the most accurate reading of the heart rate that enables you to maintain your target heart rate zone at all times
Supports 300 lbs./136 kg maximum user weight capacity
It's customizable; the seat and the handlebar are 4-way adjustable 
The seat can be replaced with another
The pedals can be swapped with another
Compact with a small footprint; doesn't take up much space
Portable with transport wheels for easy relocation process regardless of the weight
Steel parts are coated with anti-corrosive paint that preserves them from rust 
There are adjustable rubberized levelers for leveling up the bike on a crooked surface
The LCD monitor is wireless, backlit, and clearly displays workout stats such as Time, RPM, Distance, Speed, Average Pulse, Calories 
Integrated with high inertia 48 lbs./21.7 kg flywheel that provides consistent momentum that simulates outdoor riding experience
Dual-sided pedals allow the use of standard gym shoes or special spin shoes
A removable water bottle holder is included for maintaining hydration
Fairly good warranty
Operation is smooth and quiet
The drive is bi-directional
The maintenance requirement is low
Assembly is easy
Cons
There are no preset workout programs
No Bluetooth connectivity to online apps
No sound system
No cooling-fan
HR chest strap device is not included in the package (has to be purchased separately)
No tablet holder
Warranty for the SOLE SB900 Indoor Exercise Bike
Lifetime for Frame
3 Years for Parts
1 Year for Labor (in-home)
Product Dimensions and Specifications
Length 47''
Width 21.5''
Height 50''
Weight: 136 lbs/61.6 kg
Maximum user weight capacity: 300 lbs./136 kg
Shipping package dimensions: 42.5'' L x 10.5'' W x 41'' H
Shipping weight: 147 lbs./66.6 kg
Q-Factor: 203 mm/8''
Inseams: 28' min-40'' max
Flywheel: 48 lbs./21.7 kg
Frame: Steel
Console: Telemetry enabled (compatible with a wireless HR chest strap)
Display: 3'' x 4'' blue backlit LCD monitor; tracks Time, Speed, Distance, Calories, Pulse, and RPM
Seat: 4-way adjustable
Handlebar: 4-way adjustable
Drive: Belt
Resistance: Eddy current magnetic
Resistance levels: Infinite
Pedals: Dual-sided; toe cages & SPD
Transport wheels: Yes
Tablet holder: No
Preset workout programs: No
Shipping of the SOLE SB900 Indoor Exercise Bike
The SOLE SB900 Indoor Exercise Bike is shipped out in a box that weighs 147 lbs./66.6 kg. Amazon provides free shipping and makes a delivery in a couple of days upon purchase.
Assembly
Assembling this bike does not require expert assembly as it comes almost pre-assembled. There are only a few parts to be attached to the main core unit. These parts include the seat, the handlebar, the pedals, the front, and rear stabilizer bars, and the console. 
Besides, a clear instruction manual and the tools required for the assembly are all included in the package.
It takes about 30 minutes, more or less to completely assemble the bike.
Maintenance
The SOLE SB900 Indoor Exercise Bike does not require any serious maintenance.
Simply keep it clean from dirt and sweat at all times. Ensure to check the bike for any loose or broken parts before use.
Further instructions are included in the owner's manual.
Conclusion
The SOLE SB900 Indoor Cycle brings the cycling studio to your home. It provides aerobic exercises that get your physical well-being improved.
It has its downsides as indicated above, but it's still the best buy among its price range category.