Asuna Lancer Cycle 7130 Exercise Bike is supposedly the upgrade of the Asuna Sabre 7100; the two share a lot in common with few differences in design and features. For instance, the Asuna Lancer is slightly heavier, and bigger than the Asuna Sabre. It also has a rear-drive (the flywheel is behind the bike instead of the standard front-drive) similar to that of Keiser M3i Cycle Bike; although it is a lot more affordable than Keiser.
Launched by Sunny Health & Fitness in 2017 and ordinarily, one should expect it to be a recommendable spin bike considering from whose stables it is coming from. Of course, it is well built and could pass as one of the best spinning bikes, but whether you are going to like it still depends on what you want in a cycling bike.
There is no doubt that it is a commercial-grade exercise bike which makes it sturdy and has the elements that make it operate smoothly, consistently, and quietly. However, it lacks a console/monitor, it doesn't come with a monitor and the flywheel could have been heavier just like the one on the Sole Fitness SB700 Indoor Bike.
If you wish to have a peek at the price of the Asuna Lancer Cycle 7130 Exercise Bike, click right here.
The Frame/Sturdiness
Sturdy and stable cycling bikes are always appreciated because no one would like to have an indoor bike that wobbles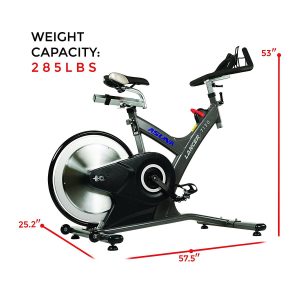 and won't last. This problem does not only cost you the investment but also the ability to remain focused on achieving your fitness goals.
That being said, the overall structure of the Asuna Lancer 7130 Exercise Bike is almost steel-made. The frame is built with high-quality steel that can withstand the test of time and hard use. The handlebar and the seat posts are made of high-grade aluminum that is safe and easy to move each time you wish to adjust.  It is simply a commercial-grade bike just like the BodyCraft SPT-MAG Indoor Club Group Cycle.
The frame is coated with anti-corrosion and scratch paint that prevents it from rusts invasion or scratches thereby its longevity is protected. The seat and handlebar posts are chrome finished.
Speaking of stability, the bike weighs about 107.8 pounds/49 kg which adds to its stability plus the stabilizer bars strategically placed at the front and rear bases. There are also 4 adjustable levelers underneath the stabilizer bars intended to prevent wobbling that might be caused by an uneven floor.
But if you choose to place the bike on a rubber mat that would be a smart move as it will prevent movement that might be caused by an intensive and rigorous workout especially if you are going to use it on a wooden or tiled floor.
It has heavy-duty transport wheels that could help in relocating it from one room to another. Simply tilt it toward the transport wheels and move to anywhere you intend to move it.
The Asuna Lancer Cycle 7130 Exercise Bike is a compact bike even though it is slightly longer than the Asuna Sabre 7100 by few inches. Its overall assembled dimensions are 57.5 inches long by 25.2 inches wide by 53 inches tall. This means it will require a workout area of 4 feet 8 inches long by 2 feet 1 inch wide, but always consider an additional clearance of 2 feet on each side of the bike and 3 feet at the rear for a safe and comfortable workout experience.
As aforementioned in the introductory part of this review, the Asuna Lancer has a good structure due to the placement of the flywheel at the rear end and it supports up to 285 pounds/129 kg maximum user weight capacity.
The Seat, the Handlebar, and the Pedals
Usually, the seat, the handlebar, and the pedals are considered as part of the important elements of a good spin bike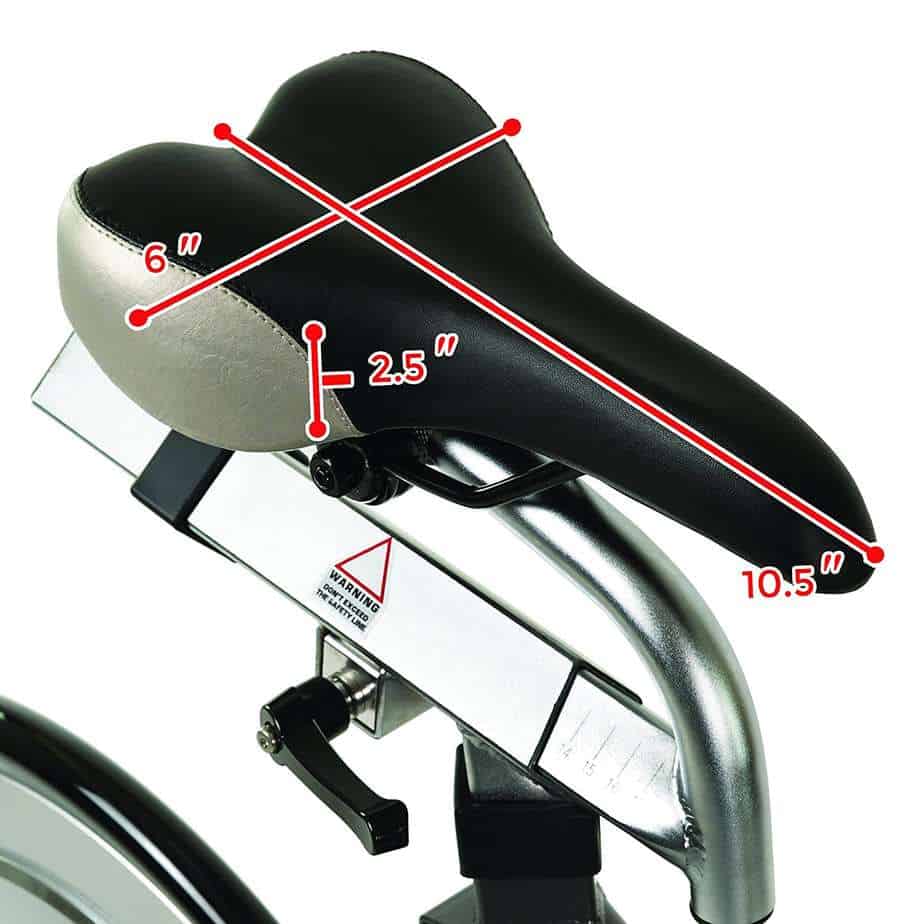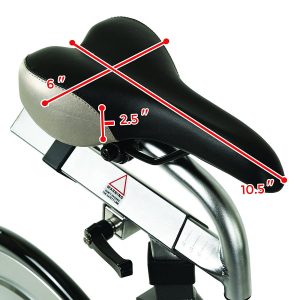 because they could make or break the user-friendliness of any given cycling bike. When these aspects are ergonomically designed then chances are you should be able to enjoy every workout session even as you are committed to achieving your fitness goals.
The Asuna Lancer features a seat that is very much similar to the Asuna Sabre and Keiser M3i. It is contoured and padded to provide comfort but not very comfortable without the use of a gel seat cover to enhance it. Better still, it can be replaced completely with a better one.
The seat is completely adjustable and can be adjusted 4 ways; upward/downward and forward/backward. Due to its adjustability, multiple users with different height sizes can be accommodated. This means multiple family members should be able to use it conveniently without having issues with the settings because the seat post has markings on it that could easily remind you of your previous settings even when it has been altered.
The adjustment can easily be done within seconds.
The seat's dimensions are 10.5 inches long by 6 inches wide by 2.5 inches thick.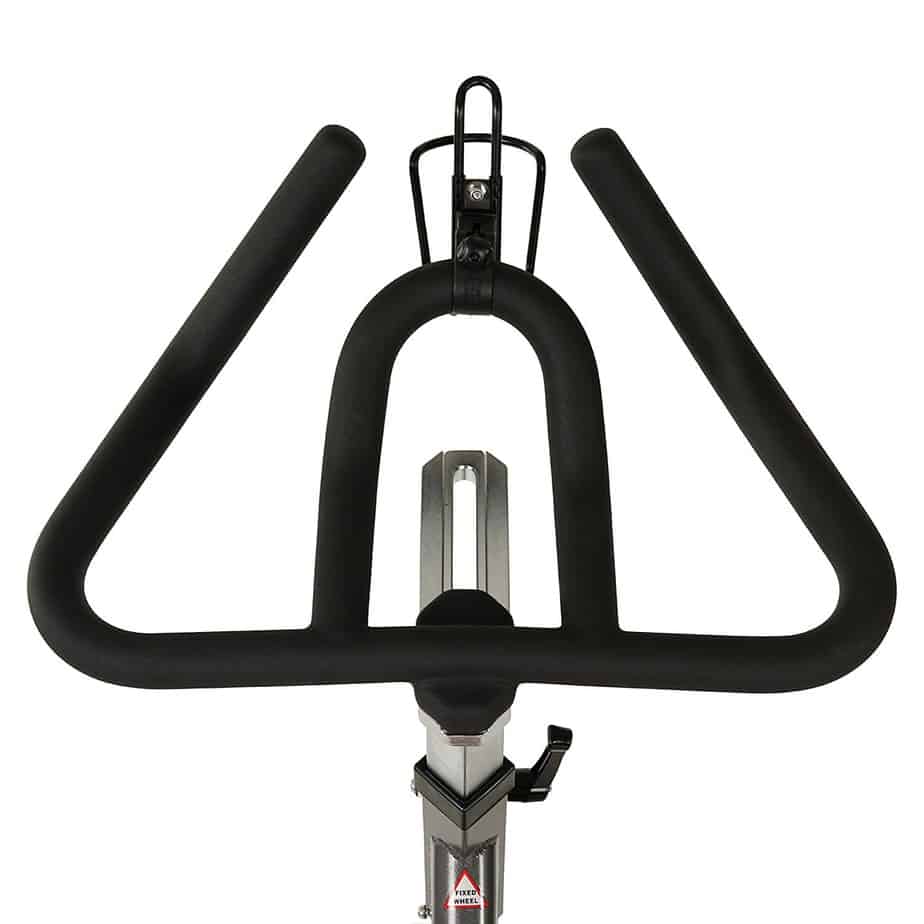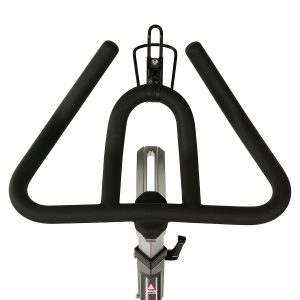 The handlebar has an ergonomically multi-grip design that allows you to work out in different positions. It is well coated and padded with rubber foam material to prevent slippage and blisters. Therefore, you will experience a comfortable grip.
Just like the seat, it is also completely adjustable with the ability to adjust 4 ways. You can easily customize the handlebar to the position that suits you best.
It has been established that users between the height of 5 feet to 6 feet 4 inches are well at home with the bike.
It has a Q-factor (distance between the pedals) of 184mm/7.2". This is slightly wider than an average road bike's Q-Factor and might be a problem for those with a knee injury.
Then, there are the pedals that are dual-sided with the possibility to use SPD cleats or traditional fitness shoes.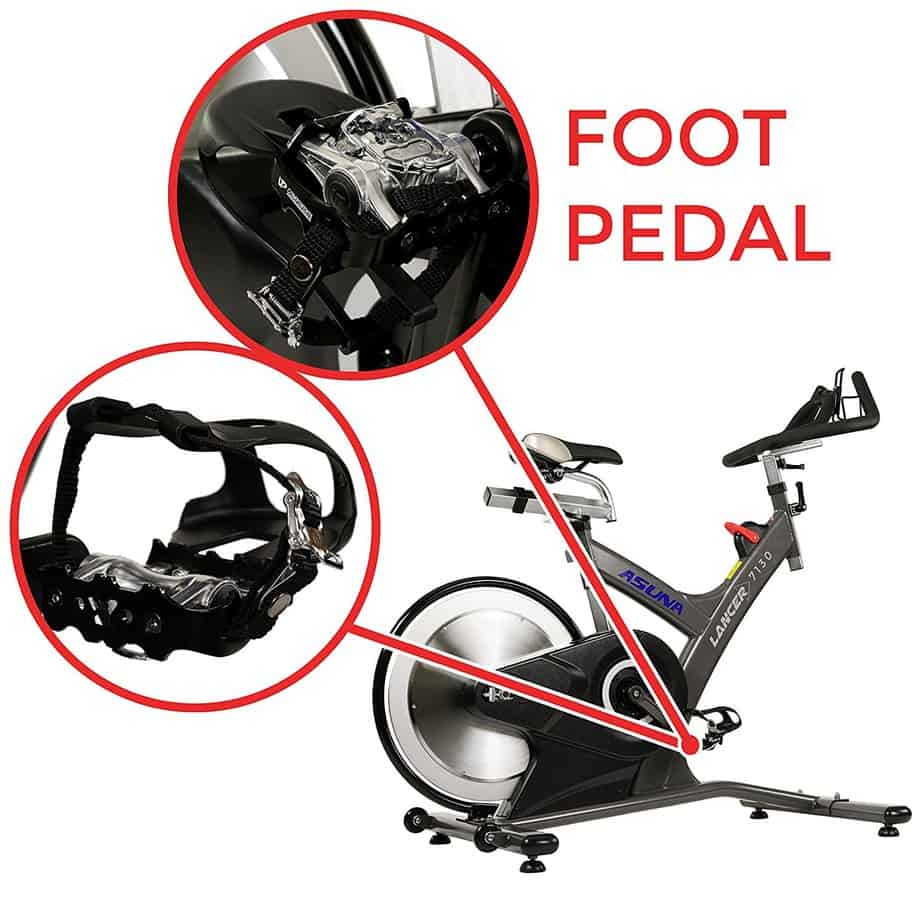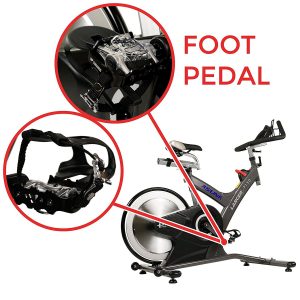 This potentially helps you to increase the levels of speed and intensity while working out even as slippage is eliminated.
The pedals are designed with one side with toe cages while if you turn them around you should be able to use the SPD cleats, amazing!
It is also important to mention that the pedals are bidirectional which means you could pedal in both ways (forward or backward) thereby increasing the possibility of working on more muscle groups than you would ordinarily have. You can also perform a stand up pedaling because it has a heavy-duty crank that supports that as long as your weight is within the stipulated maximum approved weight 285 pounds.
We observed that some users wish to know if the flywheel keeps on turning when you stop pedaling, in other words, be able to coast. No, you will not be able to coast that is why it is bidirectional pedals.
Make sure to apply the emergency brake any time you wish to stop pedaling to avoid an accident that could result in injury.
 The Drive System
The Asuna Lancer Cycle 7130 Exercise Bike features a belt drive system that is known for its quiet and smooth operation. It is a maintenance-free drive system as opposed to a chain drive system that usually requires a silicon-based application to the chain and adjustments to maintain a good working order.
Although, the belt drive indoor bikes do not provide the real outdoor bicycle feel as the chain drive bike does and you may have to replace the belt at some point in time due to wears and tears.
The Asuna Lancer's drive system also provides consistent motion due to the 33 pounds/15 kg precision-balanced flywheel.
The Resistance
The resistance system of the Asuna Lancer Cycle 7130 Exercise Bike is a manual magnetic resistance. The resistance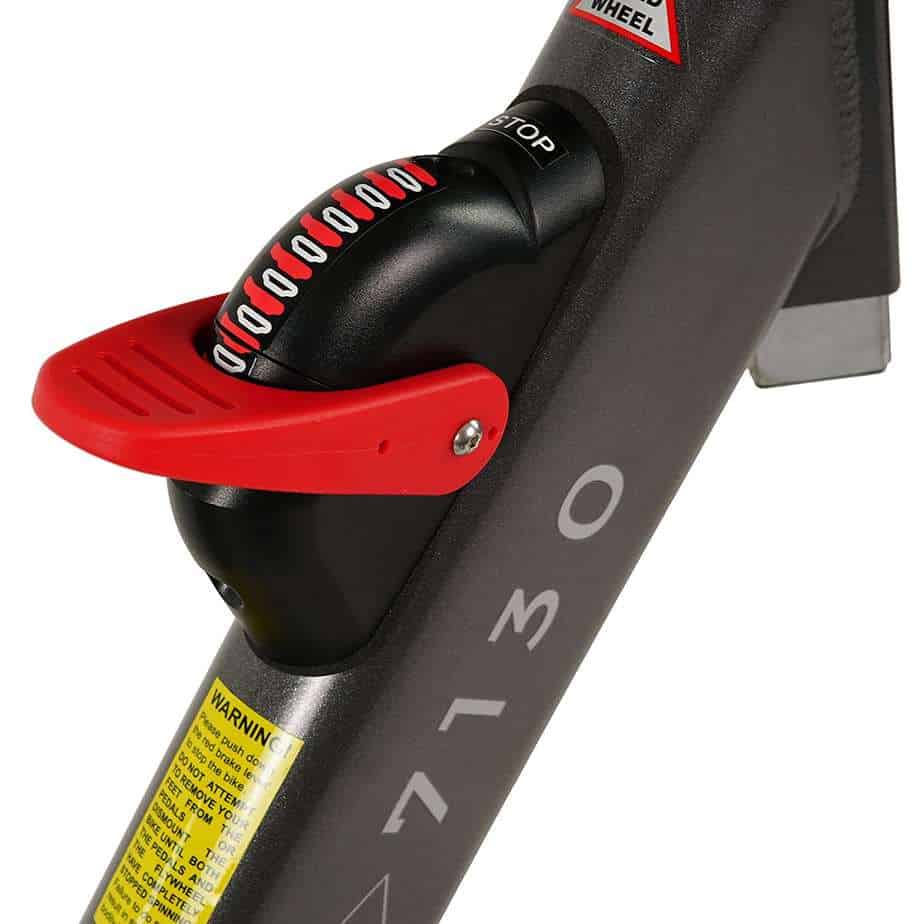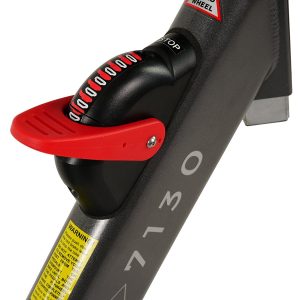 system consists of the tension lever and the magnetic brake that is placed close to the 33 pounds/15 kg precision flywheel.
Unlike some other magnetic resistance bikes such as the Asuna Sabre Cycle 7100 that has no indicated resistance levels, this one does. It has a tension lever instead of a knob as the case with many others and has 16 levels of adjustable magnetic resistance.
Simply move the tension lever up to increase the resistance and shift down to decrease the resistance level. Push the lever upward to the end to apply the emergency brake we talked about earlier.
The resistance system is fit for every fitness level; beginners, intermediaries, and advanced users because you could experience various degrees of challenging workouts that include warm-ups to steep climbing.
The Console/Monitor
Unfortunately, the Asuna Lancer Cycle 7130 Exercise Bike does not come with any console/monitor but you can always purchase an external one. It pretty much can work with any type of external monitor but it is usually sold with Wahoo Cadence which is the one we recommend.
With Wahoo Cadence, you will get a signal on your smartphone app and heart rate if you also get it from them.
Accessory
The Asuna Lancer Cycle 7130 comes with a water bottle holder that is designated on the handlebar. The position is perfect and easy to reach when working out.
Storage
It is very easy to put away the Asuna Lancer Cycle 7130 Exercise Bike due to its compact design and transport wheels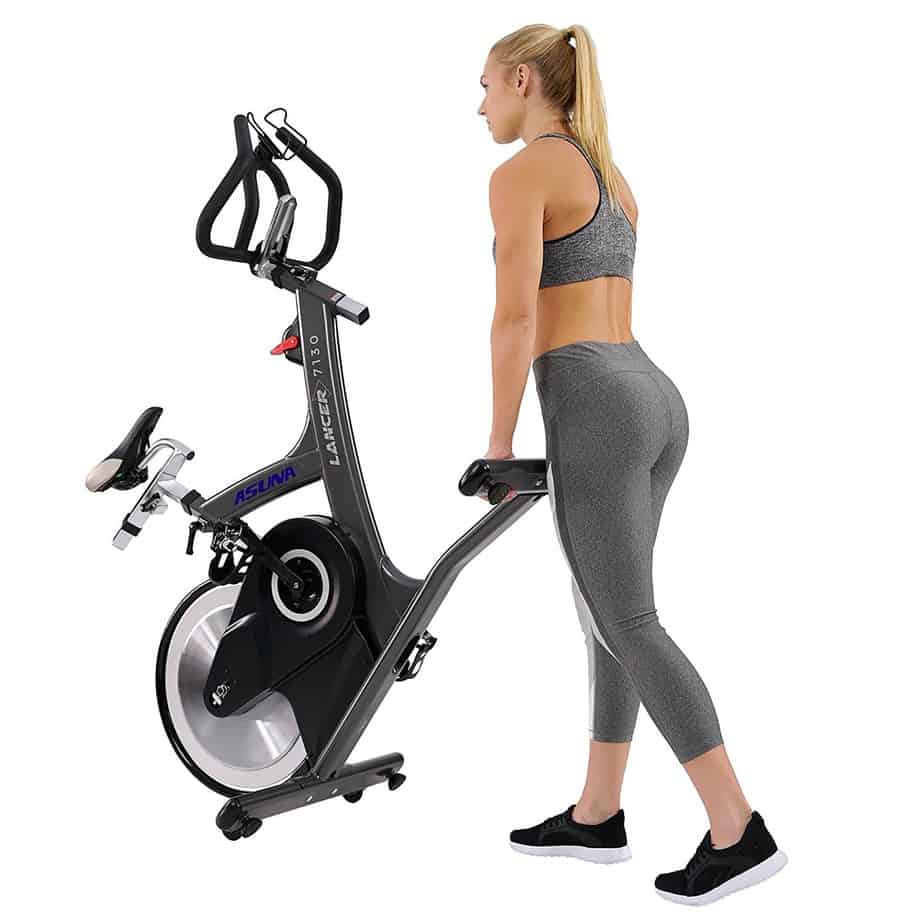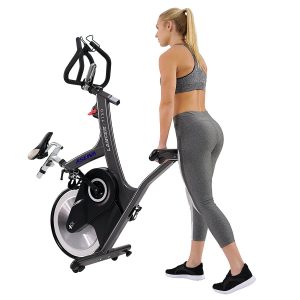 that are at the rear base of the bike. The bike weighs about 107.8 pounds/49 kg which could be difficult for some people to move if they were to do so without the transport wheels.
But with the transport wheels, just about anyone can easily move the bike from one room to another by simply raising the bike by the front base and let it tilt over to the rear where the transport wheels are.
Approval Rating
The approval rating is an indicating factor that determines if a product is widely accepted.
Therefore, in the case of the Asuna Lancer Cycle 7130 Exercise Bike, many users believe it is a good cycling bike that provides a great spinning experience. The majority of the users are satisfied with their bike, however, few have complaints ranging from receiving damaged bike or malfunctioning parts.
Overall, this bike has good recommendations.
Pros/Features Overview
Commercial grade bike
Sturdy and stable
Compact with transport wheels; easy to accommodate and store away
Manual magnetic resistance system with 16 levels of resistance
An ideal bike for all fitness levels
It provides a decent challenging workout due to its magnetic resistance system
The handlebar is ergonomically designed to provide a comfortable grip
Multi-grip handlebar for different workout positions
The seat and handlebar are 4 way adjustable
Can accommodate users with different heights without restriction
Water bottle holder included
Easy to assemble
Pedals are dual-sided compatible; for standard fitness shoes and SPD cleats
The belt drive system and the 33 pounds/15 kg precision-balanced flywheel provide smooth, quiet, and consistent motion
Almost maintenance-free
Warranty is impressive
Cons
The console/monitor is not included
The seat is not very comfortable but can be enhanced with a gel seat cover or replaced completely
No tablet holder
Product Dimensions and Specifications
58'' Length
25'' Width
53'' Height
Weighs 107.8 pounds/49 kg
Transport wheels
184mm/7.2 inches Q-Factor
Manual magnetic resistance system with 16 levels
Belt drive system
Supports up to 285 pounds/129 kg maximum user weight capacity
33 pounds/15 kg precision-balanced flywheel
Dual-Sided pedals for standard fitness shoes and SPD cleats
Seat: 4 way adjustable
Handlebar: 4 way adjustable with a multi-grip design
Warranty
5 Years on Frame
180 Days on Parts and Components
Shipping, Assembly, and Maintenance
Shipping
The cost of shipping the Asuna Lancer Cycle 7130 Exercise Bike solely depends on the retailer your purchasing from; although, there are vendors that provide free shipping such as Amazon.
Assembly
To assemble this bike is very easy because it comes pre-assembled with components such as the flywheel, belt, crank, magnetic brake already attached to the frame. You are required to attach the seat and handlebar posts, the seat, the handlebar, the front, and rear stabilizer bars, and the pedals.
An instruction manual and the needed tools are also included.
It won't take you up to an hour to completely assemble the bike.
Maintenance
The Asuna Lancer Cycle 7130 requires no real maintenance because it features a belt drive system. However, always examine the bike for any loose, broken, or worn parts; fix accordingly if there is any before use.
As a routine always keep it clean by wiping dirt and sweat off of the bike.
Conclusion
There are several reasons why the Asuna Lancer Cycle 7130 Exercise Bike is an ideal indoor bike for home spinning.
Some of the reasons are the fact that it is a durable and sturdy bike that is built with commercial-grade, it has an amazing Q Factor that provides natural placement of the legs and feet on the pedal.
It has a 33 pounds/15 kg precision-balanced flywheel that ensures that the bike's motion is consistent as a result of its momentum, it has dual-sided pedals that provide you with the opportunity to use standard fitness shoes or SPD clips, depending on which one you prefer.
We think that the advantages significantly outweigh the disadvantages.
Asuna Lancer Cycle 7130 Exercise Bike Review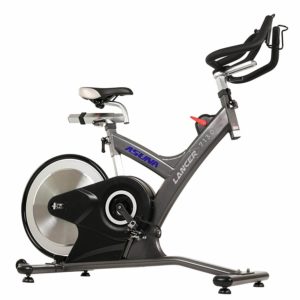 The overall structure of the Asuna Lancer 7130 Exercise Bike is almost steel made. The frame is built with high-quality steel that can withstand the test of
Product Brand: Sunny Health & Fitness
Product In-Stock: InStock