The BBARWING Indoor Cycling Bike is a belt-driven bike designed for home indoor cycling activity. It is customizable to accommodate users of different heights and sizes. It supports 300 pounds/136 kg maximum user weight capacity.
It's equipped with a heavy 35 pounds/15.8 kg perimeter weighted flywheel that essentially provides consistent motion and simulates a real road bike riding feeling. The friction-resistant system offers infinite resistance levels that are suitable for all users and could even push a professional rider to the limit.
Moving the spin bike from storage to the workout area is pretty easy due to the integrated transport wheels at the front base. You can use the water bottle holder to keep water conveniently within reach in order to keep yourself adequately hydrated, while the tablet holder allows you to use a smartphone device for taking calls, sending emails, and entertainment purposes during a workout.
The bike comes with a 1-year warranty that covers all parts for a free replacement.
There is the black or the white version of it; so, you may choose the color that pleases you.
Click right here to have a peek at the price of the BARWING Indoor Cycling Bike on Amazon.
The Frame and Construction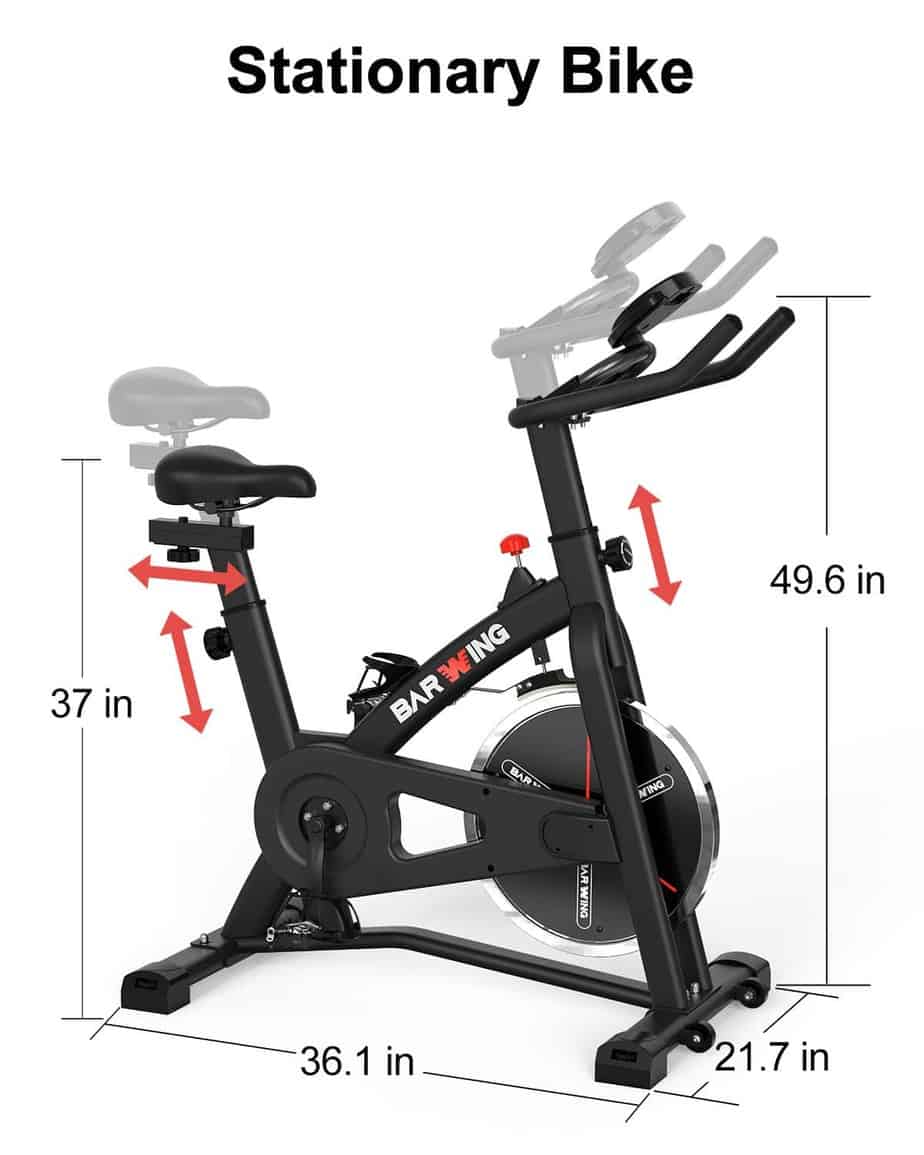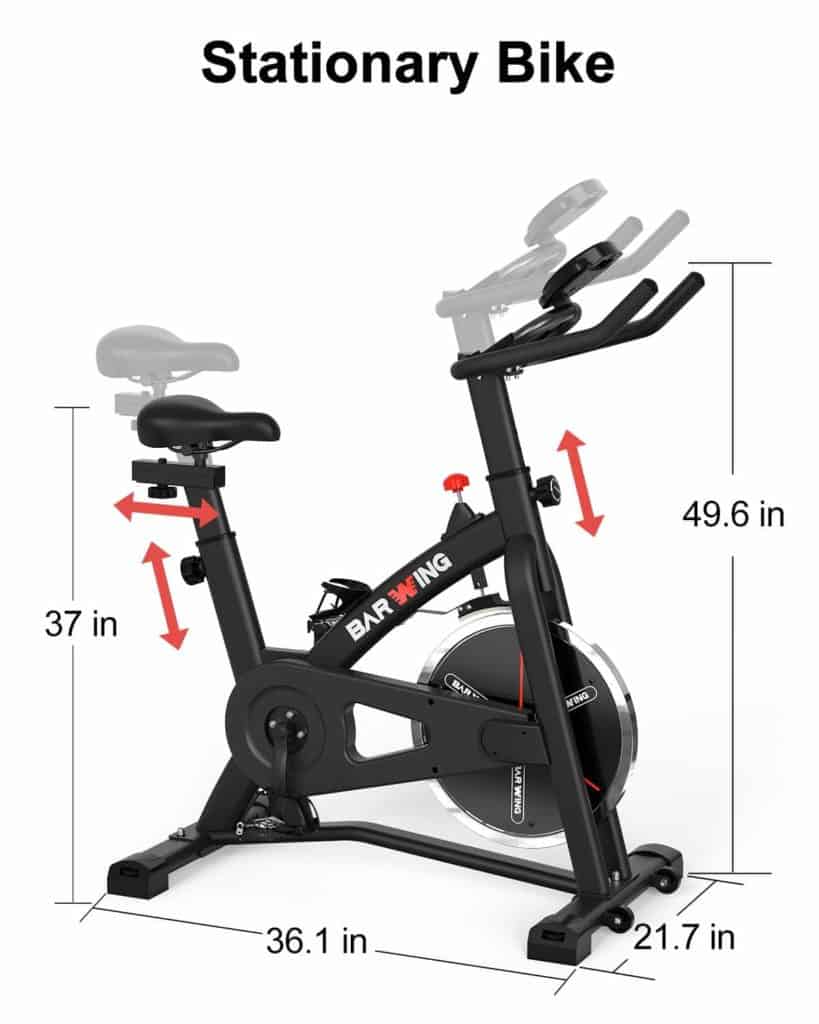 The BARWING Indoor Cycling Bike's frame is predominantly made of steel that is coated with anti-corrosive black or white paint as the case may be. Other parts such as the belt cover, the water bottle, and the tablet holders are made of plastic.
The base framework features front and rear steel stabilizers with an adjoining bar that is also made of steel. There are also adjustable rubber levelers underneath the base (front and rear stabilizers), and consequently, this guarantees optimal stability.
The BARWING Indoor Cycling Bike is a lightweight unit that only weighs about 74.7 pounds/33.8 kg, but nevertheless, it enhances its overall stability even on a crooked surface.
Moreover, being a lightweight bike that is integrated with transport wheels makes it easier for any adult to move it around effortlessly.
This is one of the most compact spin bikes available with a small footprint. Its overall assembled dimensions are 36.1'' long by 21.7'' wide by 49.6'' high. Differently put, this bike requires a workout area with a perimeter of 3' length by 1'8'' wide, plus additional extra clearance of at least 2' around it for safety and a convenient workout experience.
Finally, the BARWING Cycling bike is an entry-level affordable unit that is designed for home use.
The seat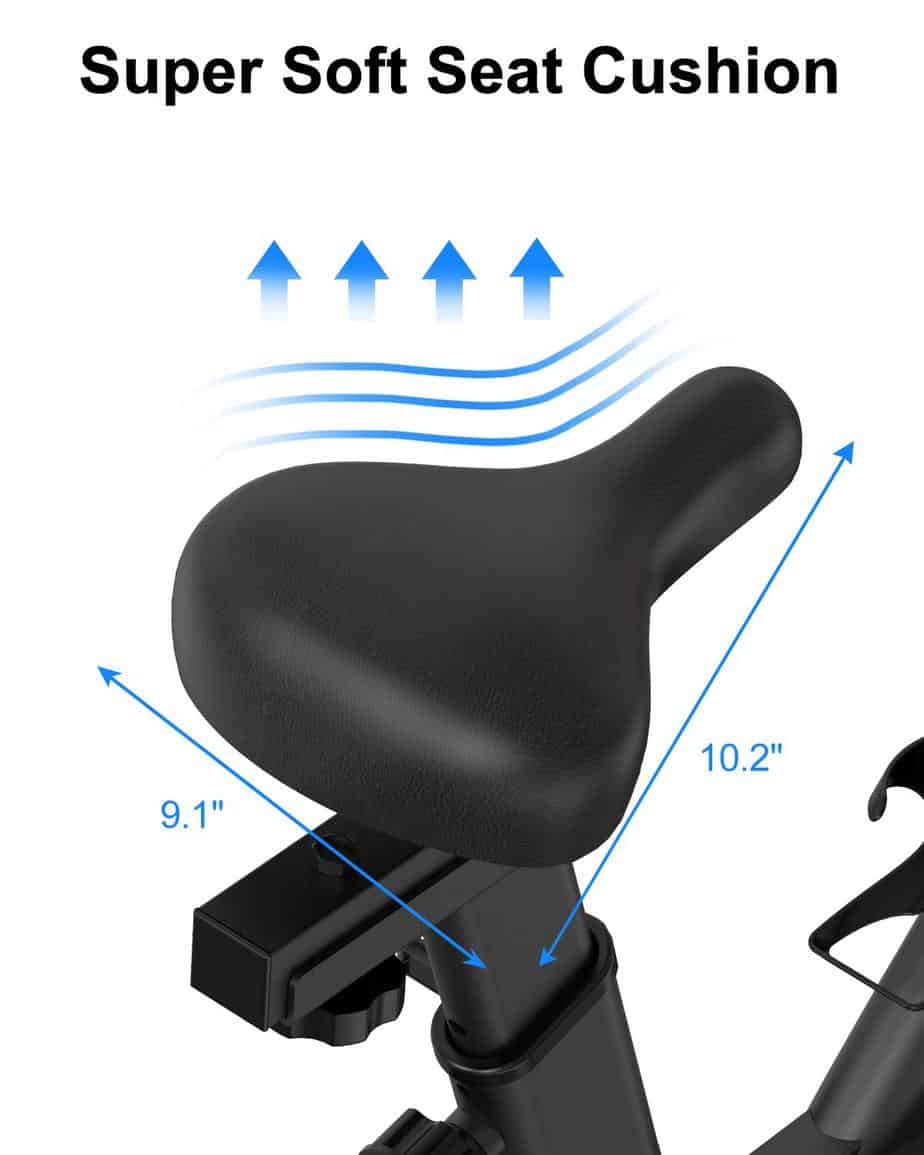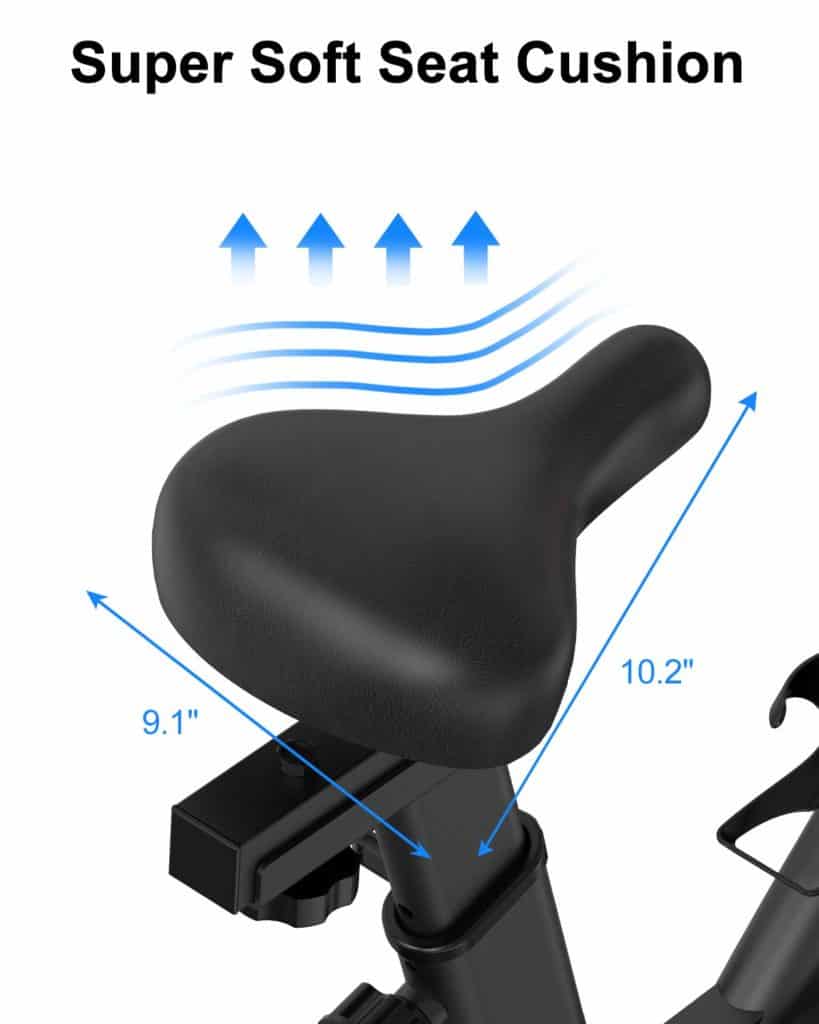 The seat on the bike is 4-way adjustable. It could be adjusted vertically (upward/downward), and horizontally (fore/aft). The bike has an inseam of 28.6'' min-35.6'' max (the length of the seat to pedal). So, if you have an inseam length (the length of your inner thigh to the ankle) that falls within this range, it is most likely the bike will be suitable for you.
The saddle is large and well-cushioned to provide comfort that could last through a prolonged workout. The dimensions of the saddle are 9.1'' wide by 10.2'' long.
However, if for whatever reason you wish to improve its overall comfortability, you may use a gel seat cover or even have it swapped for another seat of your choice because the connection mechanism is standard, thus, options are widely available online or in the local bicycle shop
The Handlebar
The BARWING Indoor Exercise Bike has a simple multi-grip-designed handlebar. It is coated with a soft rubber foam material that ensures you don't only feel comfortable but prevents slippage and blisters that could be a result of a prolonged hold of the handlebar during workouts.
Unlike the seat, the handlebar is only 2-way adjustable; that is, upward and downward adjustments. However, this is an advantage as it complements the seat's adjustability and improves the bike's overall customizability so that users can find the best possible settings for optimal comfort.
The tablet holder and the console are attached to the handlebar, but there are no EKG heart rate sensors on it as is the case with some indoor cycling bikes such as the DEMASUN Exercise Stationary Bike. This also means no heart rate monitoring function; if you wish to keep an eye on your target heart rate zone while working out, you may use an external heart rate device.
The adjustments of the seat and the handlebar are not complicated neither do they take time. Only a few seconds and you are done customizing the bike for use.
The Pedals
The pedals are toe cages with adjustable safety straps. They are made of aluminum alloy and could support out-of-seat pedaling by anyone that is within the stipulated weight capacity the bike supports.
You can only exercise with standard gym shoes as they (pedals) don't support spin shoes.
The Drive System of the BARWING Indoor Cycling Bike
As aforementioned, the BARWING Indoor Exercise Bike is equipped with a belt drive system. A drive system that is popular and famously known for its quiet and smooth operation. It also does not require any maintenance except for the replacement of the belt after very long use.
The belt drive system usually consists of a heavy-duty belt, pulleys, solid crankset, crank-arms, and pedals.
The drive supports reverse pedaling because the flywheel and the pedals are fixed; they (pedals and the flywheel) spin together in either direction making it impossible to coast. Therefore, you must apply the emergency brake by pushing the tension knob down whenever you wish to abruptly stop pedaling.
It's important to point out that you can exercise with the bike at any time of the day without the concern that the family or the neighbors will be disturbed by your activities. You may watch your favorite TV show or listen to music without the need to raise the volume above the normal level.
The Resistance System of the BARWING Indoor Cycling Bike
The BARWING Indoor Cycling Bike features a friction resistance system that is seen as providing resistance intensities that are suitable for anyone at any fitness level, and rightly so. As a result, many modern indoor spin bikes for home or for gym use have it.
The resistance system has elements such as the wool felt brake pad that is connected to the tension knob that is attached to the mainframe tubing of the bike and a chromed perimeter weighted 35 pounds/15.8 kg flywheel.
The felt brake pad comes in contact with the flywheel's top surface in order for the resistance to occur, while the tension knob controls the resistance level. To increase or decrease the resistance simply turn the tension knob clockwise or counterclockwise respectively.
Usually, the friction resistance system doesn't have predefined resistance levels. In other words, its resistance levels are infinite. You can adjust it until the flywheel is so difficult to spin, hence, those that wish to experience an extremely difficult workout will be impressed.
However, your inability to know the exact resistance levels used between workout sessions may not allow you to track your strength and endurance progress effectively. Moreover, sometimes there might be a squealing sound when the resistance is engaged, but oftentimes it goes away when a small amount of lubricant oil is applied on the top surface of the flywheel.
That said, the pros of a friction resistance system outweigh the cons.
The Console of the BARWING Indoor Cycling Bike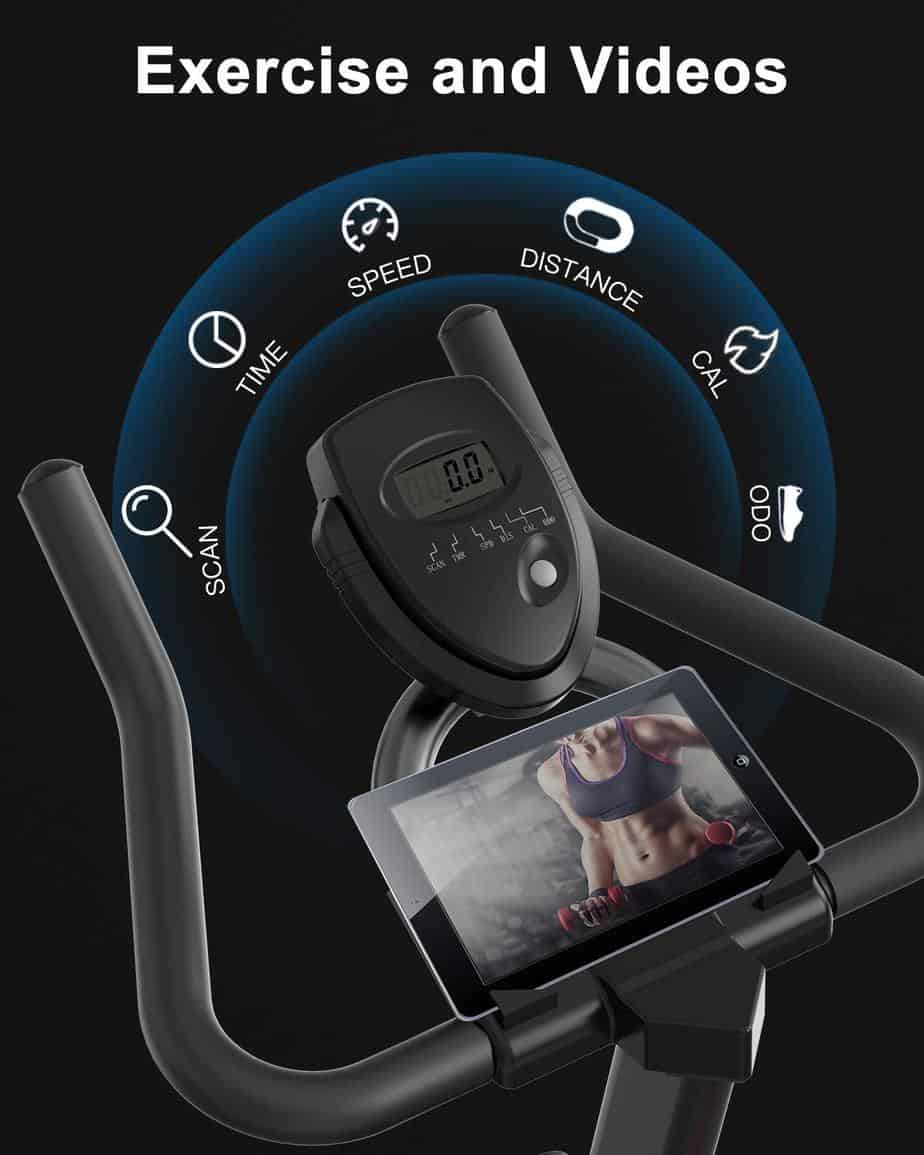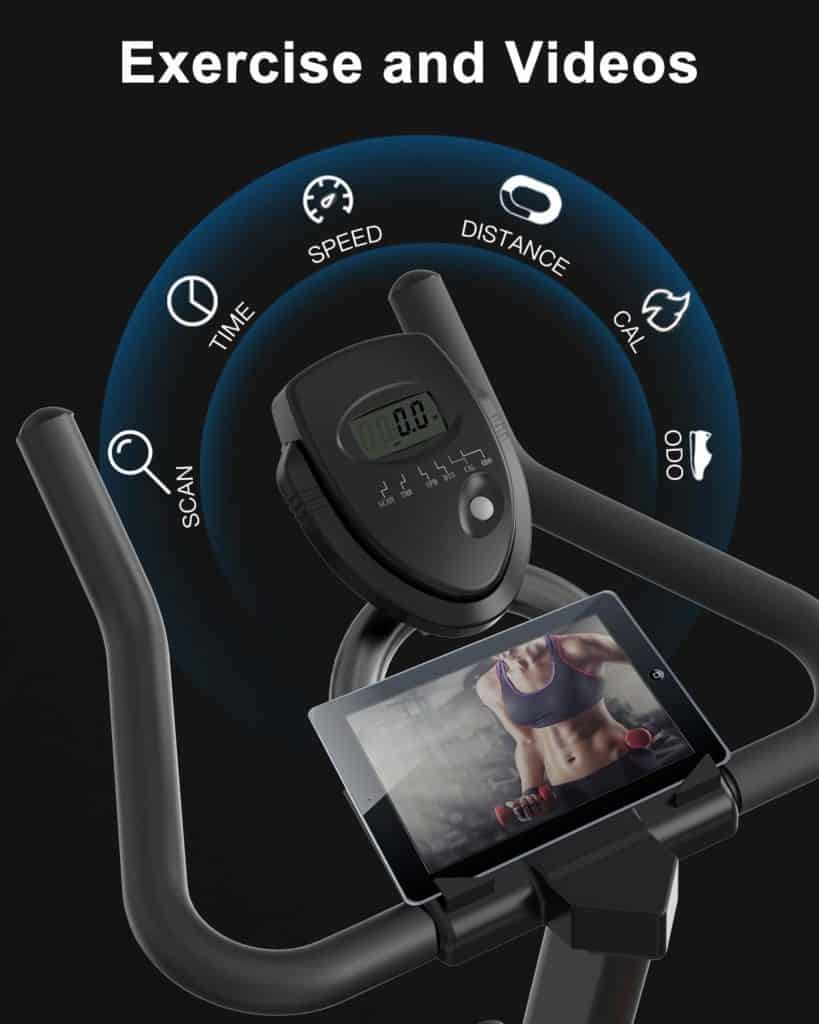 The console of this bike has a non-backlit LCD display screen and a single button that is responsible for navigation. The display screen shows workout stats such as Time, Distance, Speed, Calories Burned, and Odometer.
The display screen has a SCAN function and by default, it shows the workout stats one at a time every few seconds. Although, you can set a certain workout stat to display permanently or as long as you want.
The monitor is entirely battery-powered. It automatically turns ON when you pedal and it shuts down when activity ceases to be for a few minutes in order to save the battery power. However, the display also turns ON when the button is pressed.
The readability of the display is good as long as the environment has good lighting.
Accessories
The BARWING Indoor Cycling Bike has tablet and water bottle holders both of which are strategically designated and very essential to your fitness success.
The water bottle holder allows you to have a bottle of water within reach in order to keep up with hydration during a workout session, while the tablet holder gives you the opportunity to keep a tablet/smartphone device for entertainment purposes without compromising the view of the display screen.
Storage of the BARWING Indoor Cycling Bike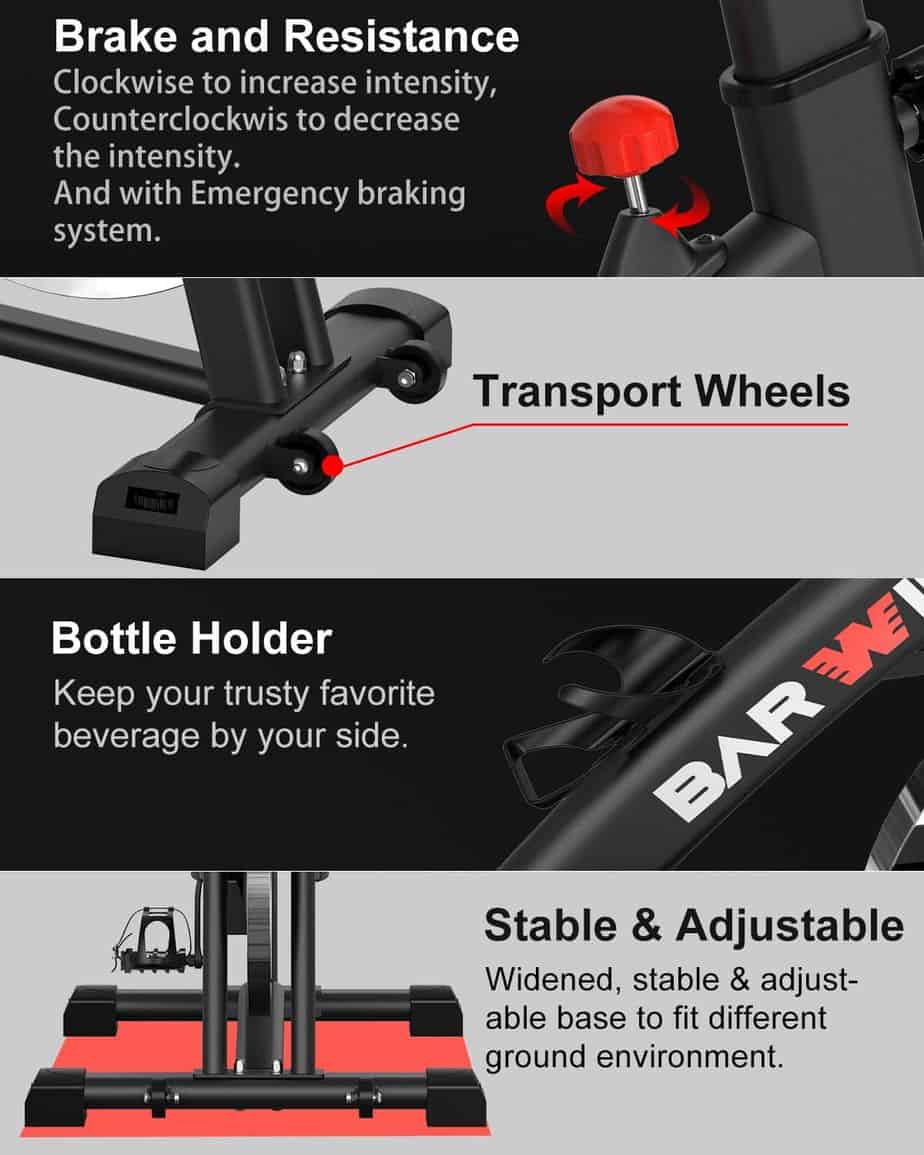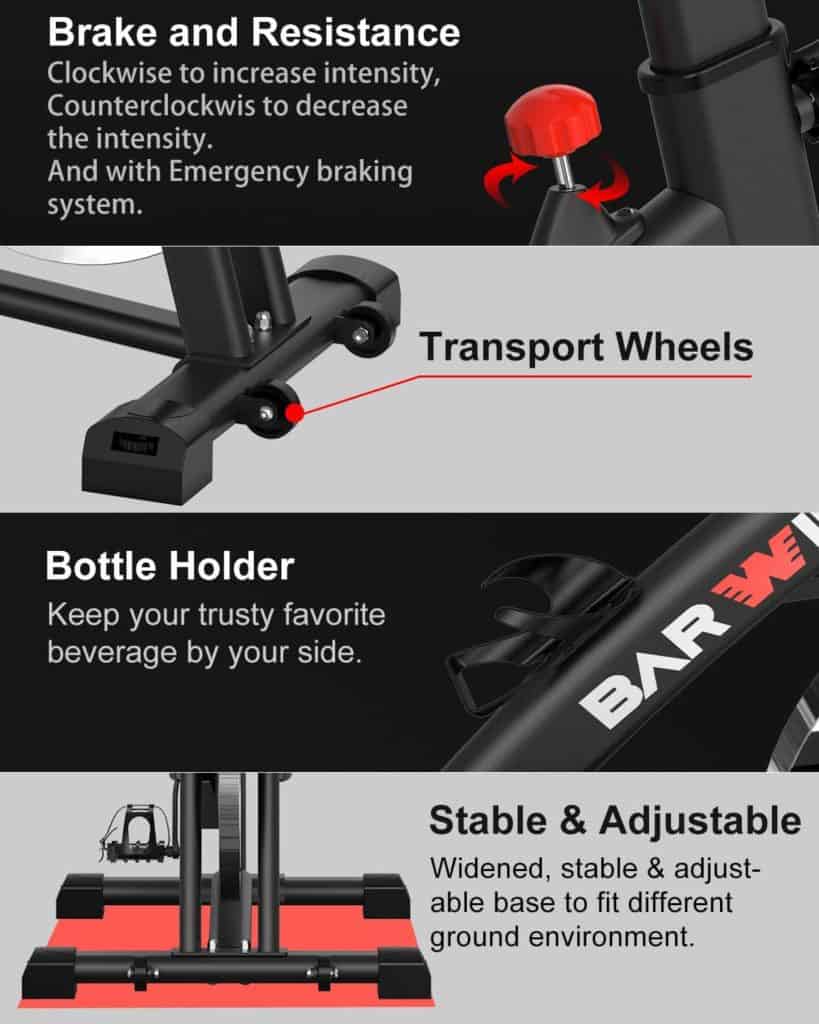 This bike is literally easy to store simply because it's compact and portable. It's a lightweight bike that only weighs 74.7 pounds/33.8 kg and there are transport wheels at the front base as well.
A storage area with a perimeter of 3' length by 1'8'' width will suffice; thus, it may be stored in a closet, under the staircase, in a garage or better still, be left at the workout area.
Approval Rating
The approval rating of the BARWING Indoor Exercise Bike is good on Amazon. Several Amazon customers think it's a good buy, hence they will recommend it.
Pros/Features Overview
It's compact, portable, and stable
There are adjustable rubber levelers for optimal stability on a crooked surface/floor
It's available in a black or white color
The resistance system provides resistance levels suitable for beginners, intermediaries, advanced athletes and even those undergoing physical rehab
The LCD monitor tracks workout progress by showing Time, Distance, Speed, Calories Burned and Odometer
The pedals secure the feet and offer comfort
Its heavy 35 pounds/15.8 kg flywheel provides a stable and consistent motion that simulates riding a road bicycle
The seat is large and cushioned for longer workouts
The handlebar is coated with soft rubber foam for secure and comfortable grips
Customizable for a comfortable workout experience
Reverse pedaling is possible
Supports out-of-seat pedaling
Maintenance is pretty low
Assembly is easy
Its operation is quiet and smooth
Water bottle and tablet holders are included
It's affordable; cost-effective
Cons
No heart rate monitoring function (you can use an external HR monitoring device)
The console is basic without any extra features such as Bluetooth/online connectivity
Warranty
1-Year on All Parts for a replacement
Product Dimensions and Specifications
Length 36.1''
Width 21.7''
Height 49.6''
Maximum user weight capacity: 300 pounds/136 kg
Weight; 74.7 pounds/33.8 kg
Seat: 4-way adjustable
Handlebar: 2-way adjustable
Flywheel: 35 pounds/15.8 kg
Frame: Steel
Inseam: 28.7'' min.-35.6'' max
Display monitor: Nonbacklit; battery-powered; tracks Time, Distance, Speed, Calories, and Odometer
Resistance: Friction, infinite resistance levels
Drive: Belt
Pedals: Toe cages with adjustable safety straps
Transport wheels: Yes
Water bottle holder: Yes
Tablet holder: Yes
Shipping
The BARWING Indoor Exercise Bike is shipped in a well-packaged box. The shipping cost is free when purchased from Amazon and takes a couple of days to get it delivered.
Assembly
The assembly of this bike doesn't require a person with the extra ability to figure it out. Simply put, the assembly is easy as the major components are already assembled.
You only need to attach the seat, the handlebar, the front, and the rear stabilizers, and the console to the main core unit. Assembly time is probably around 30 minutes, more or less.
An instruction manual is included to guide you through the process and the tools required for the assembly are also made available.
Maintenance
The BARWING Indoor Exercise Bike needs you to examine it before use for any part that might be loose or broken.
Always ensure that it's clean from dirt and sweat and apply a silicon base oil on the surface of the flywheel if it squeals when the resistance is engaged.
Conclusion
If you wish to engage in aerobic exercises at home the BARWING Indoor Cycling Bike can help you do just that. Keeping the heart-healthy, toning the muscle groups, and improving strength and endurance has become necessary for a healthy lifestyle and this bike is a better companion to get you there.
BARWING Indoor Cycling Bike | People's Fitness Advisor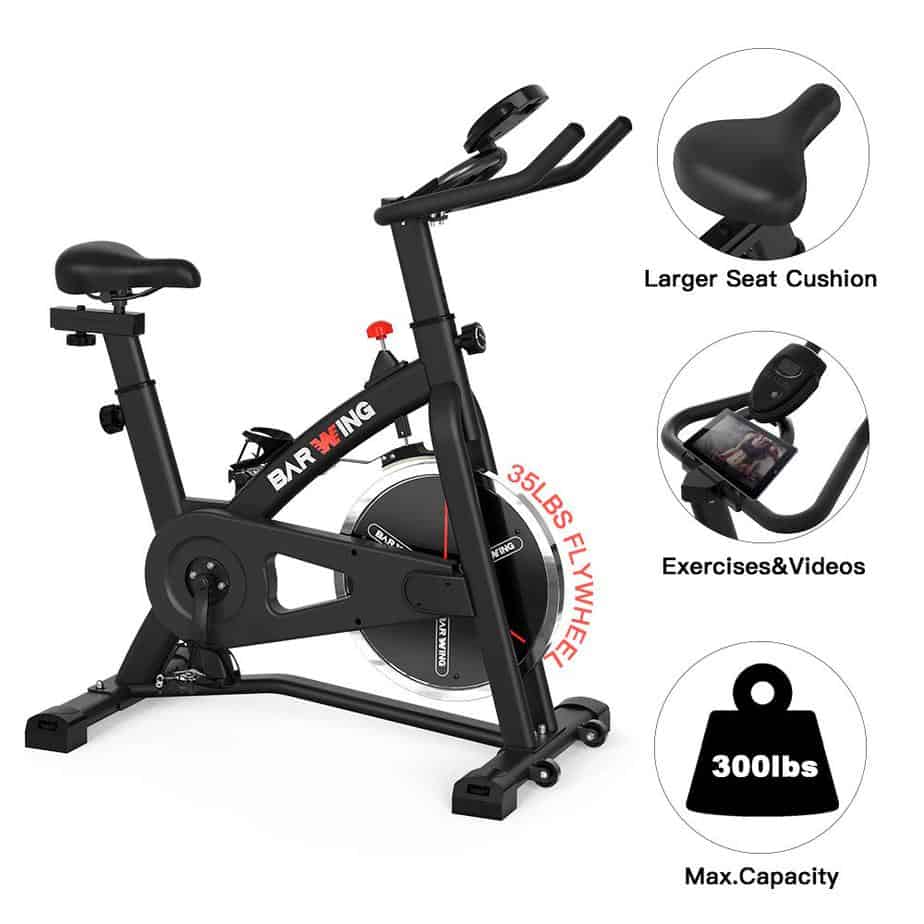 The BBARWING Indoor Cycling Bike is a belt-driven bike designed for home indoor cycling activity. It is customizable to accommodate users of different heights and sizes. It supports 300 pounds/136 kg maximum user weight capacity.
Product Brand: BARWING
Product In-Stock: https://schema.org/InStock