The Diamondback Fitness 1260Sc Studio Cycle Is a completely customizable commercial-grade bike that has the quality and features that support professional spin bike training. Everyone at any fitness level will find it very useful and relevant.
Looking at this bike brings Keiser Indoor Cycle Bike to mind. They are both rear-driven, fully customizable, and have a similar V-shaped frame design. That said, they also have distinct differences as well.
The diamondBack 1260Sc has a micro-adjustability that makes the bike highly accommodative. For instance, not only does it have a seat and a handlebar that are horizontally adjustable, but the distance between the seat and the handlebar also widens when they are adjusted vertically. This enables users of different heights and sizes to be accommodated conveniently.
It has a heart rate ANT+ compatible console that saves and tracks workout stats such as time, distance, speed, calories burned, RPM, watts, load. You can also connect to 3rd party apps such as MyZone, TrainerRoad, Zwift, Rouvy, SPIVI, and more.
The pedals are dual-sided; meaning, they feature toe cages and on the flip side they have SPD clips. Therefore, you can use either standard gym shoes or spin shoes for your workouts.
The manual magnetic resistance system offers 16 resistance levels that are suitable for everyone at any fitness level. Moreover, the bike's operation is smooth and quiet because of the resistance system and partly due to the belt drive system as well.
Click right here to have a peek at the price of the DiamondBack Fitness 1260Sc Studio Cycle on Amazon.
The Frame and Construction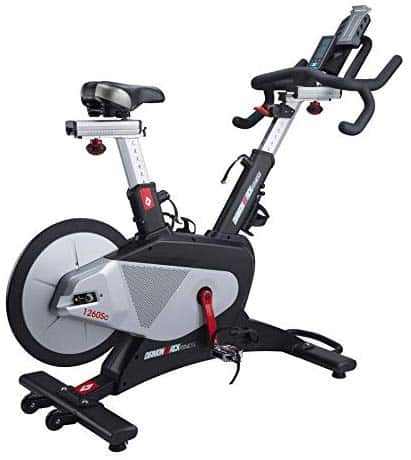 The DiamondBack Fitness 1260Sc Studio Cycle is a commercial-grade bike that features a heavy-duty steel frame that is coated with anti-corrosive paint. The seat, the handlebar, and the sliders are made of aluminum alloy.
The drive and the resistance system covers are made of ABS plastic material. Therefore, there will be no event of any rust invasion that could degrade the bike's quality or longevity.
As a testament for its heavy-duty frame, the bike supports 300 pounds/136 kg maximum user weight capacity.
The bike is about the same size as the Nordic Track Commercial Studio Cycle, larger than most standard spin bikes. So, it will require a little bit of space than most standard indoor cycling bikes do.
The overall assembled dimensions are 59 inches long by 23 inches wide by 50 inches high. Put differently, the workout area needed for it would be 5' length by 2' width. Also, additional extra clearance of at least 2' around it will be necessary for easy access and safety during workouts.
The base framework features front and rear steel stabilizer bars that are attached to a curvy steel base. Underneath those stabilizers are adjustable rubberized pads that prevent damage to the floor and also enhance grip as well. Hence, the bike's stability is great. No wobbling movement will be experienced during an intense workout.
Furthermore, the bike weighs about 130 pounds/58.9 kg. This ultimately grounds and boosts the bike's overall stability.
Although, this also calls for concern in terms of moving the bike from one room to another.
But the studio bike is integrated with a set of transport wheels at the rear base and a lifting handle at the front base which enables you to lift and roll to another location.
If you have noticed, the bike has a rear-mounted flywheel that weighs about 31 pounds/14 kg making the rear part of the bike the heaviest. As a result, moving the bike to and from the storage will be a breeze.
The Seat
The seat on the DiamondBack Fitness 1260Sc Studio Cycle is 4-way adjustable. This implies that it can be adjusted vertically (upward/downward) and horizontally (fore/aft). This creates a variety of workout seat positions for users of different heights. It is concluded that users between 5'2'' – 6'5'' can comfortably fit on this bike.
The seat is contoured, cushioned, and slightly wide to provide comfort more than an average spin bike saddle. It's covered with a durable vinyl material.
The seat is integrated with two springs at the rear which kind of makes it adapts to the user's movement during pedaling.
If for any reason you wish to improve its comfortability, the use of a gel seat cover can do just that. Better still, you can replace the seat with one that you feel is more comfortable for you because its connection mechanism is standard, thus, alternative saddles are widely available online and in local bicycle shops.
The Handlebar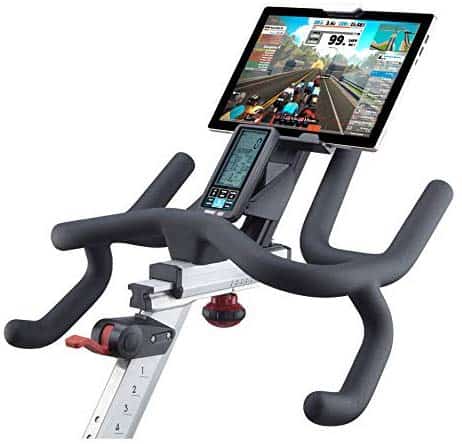 The handlebars are ergonomically designed with multiple grips that include an aero bar, drop-down bars, and more. This allows you to exercise in a variety of workout postures.
Just as the seat, the handlebar is also 4-way adjustable providing complimentary customization settings that enable users between the heights of 5'2'' – 6'5'' to be able to utilize the bike.
There are several vertically adjustment positions on the seat and the handlebar posts and it only takes a few seconds to adjust to suitable positions.
The handlebar is covered with a soft breathable foam that provides comfortable and secure grips. Hence, you can work out longer without experiencing slippage or sores in the palms.
EKG heart rate sensors are not integrated into the handlebar as most indoor spin bikes do. However, the bike does have a heart rate monitoring function as the console is telemetry enabled (ANTI+ compatible).
The Pedals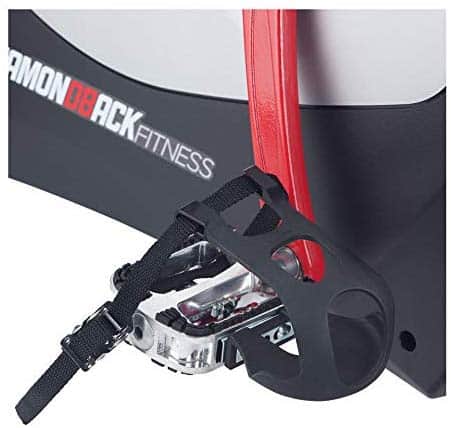 The DiamondBack Fitness 1260Sc Studio Cycle is equipped with dual-sided pedals. This means that the pedals have toe cages with adjustable strips on one side and have SPD clips on the flip side. Therefore, you can work out with standard gym shoes or with special cycling shoes (SPD) that have cleats.
Either side of the pedals secure the feet and provide great leverage for aggressive pedaling.
The pedals are made of aluminum alloy and they have 187 mm/7.4'' Q-Factor (distance from the inner edge of the left pedal to the inner part of the right pedal). This is still considered narrow enough not to cause any discomfort to the ankles while pedaling.
You can replace the pedals with any other pedals of your choice because they have a standard 9/16'' thread.
The Drive
This bike has a belt drive system that consists of elements such as 2 heavy-duty belts, a heavy-duty 3-piece crankset, heavy-duty crank arms that are 173 mm in length, pulleys, and a 31-pound perimeter weighted flywheel. Together, these elements create a formidable performance that is characterized by smoothness and quietness.
So, you don't have to worry about being a nuisance to the family or the neighbors while exercising with the bike at home. You may also watch your favorite TV show or listen to good music without any noise interference from the bike's operation.
You can perform stand-up pedaling as long as your weight is 300 pounds/136 kg or below.
It is also important to note that the drive is maintenance-free. It doesn't require any post-lubrication or adjustments to keep it functioning properly.
Finally, the drive is bi-directional, meaning that you can pedal in reverse if you wish to. However, you cannot coast as you could on a road bicycle and the reason is that the flywheel and the pedals spin together either in forward or in a reverse pedaling.
The Resistance
The DiamondBack Fitness 1260Sc Studio Cycle has a click & adjust dual magnetic resistance system. This is a frictionless resistance system because it generates resistance when the magnetic brake gets close (without actual contact) to the flywheel and emits a magnetic field around it.
This is also the reason why the bike is smooth and vibration-free during operation and when the resistance is engaged.
The resistance system offers 16 resistance levels that could be adjusted via the flip lever. Push the flip lever up to increase the resistance or down to decrease it. The resistance levels simulate anything from uphill rides to downhill rides and everything in between.
In other words, the resistance levels provide easy to medium to difficult workout intensities. Thus, there is no question whether the resistance system is suitable for a beginner, a senior, a person undergoing clinical physical rehabilitation, intermediary and advanced athlete because it is.
It is also important to note that no maintenance or part replacement is needed.
The Console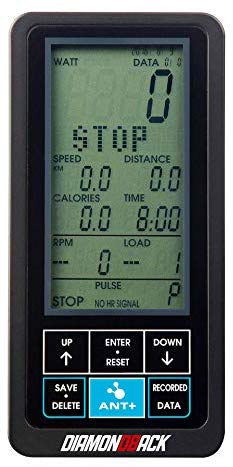 The bike comes with a self-generating power monitor that could also be powered by 2 AAA batteries. The integrated small power generator only powers up the display when you pedal at over 40 RPM.
When using batteries, the monitor automatically shuts down when there is no activity on the bike for 4 minutes in order to save the batteries' power.
The display is highly readable as long as it's being viewed in a well-lit environment because it is not backlit.
The monitor/display screen keeps track of workout progress by tracking time, speed, distance, calories burned, watts, RPM, and pulse.
The ANT+ compatible console syncs with the watch heart rate monitor and other popular activity monitors from top brands companies such as Garmin and Wahoo. It is also compatible with 3rd party apps (available for Android and iOS smartphone devices) such as Zwift, Rouvy, MyZone, SPIVI, and more.
However, in order to be able to connect, an ANT+ compatible device is needed and the bike doesn't come with any. Therefore, you have to purchase that separately.
There are no preset workout programs available but it's possible to set workout goals for time, distance, calories burned. A count-down is initiated once a target goal is selected and a value is entered for a count-down to zero.
The monitor has several sub-display windows that display all the workout stats all at once.
Accessory
The bike is equipped with a tablet holder and a water bottle holder. Both of which are essential for a comfortable and productive workout experience.
Storage
The DiamondBack Fitness 1260Sc Studio Cycle is integrated with a handle and transport wheels at the front and the rear base respectively. So, relocating it is pretty easy regardless of its weight.
Ideal to be stored in a garage or next to a wall.
Pros/Features Overview
Has commercial-grade design from the ground up
Supports up to 300 pounds/136 kg maximum user weight capacity
Features base framework that establishes optimum stability and floor-friendliness
The outlook is sleek and professionally designed
The seat is 4-way adjustable, well-padded and provides a decent amount of comfort
The handlebar is 4-way adjustable, multi-grip designed, and coated with adequate breathable soft foam
Its 31-pound perimeter weighted flywheel provides steady momentum
The magnetic resistance system offers 16 resistance levels that are suitable for everyone at any fitness level
The belt drive system provides smooth and quiet operation
The console is ANT+ compatible for heart rate monitoring (chest strap or wristwatches) and workout apps connectivity (3rd party apps such as MyZone, TrainerRoad, Zwift, Rouvy, SPIVI, and more)
The monitor tracks workout stats such as time, distance, speed, RPM, Watts, load, calories, and heart rate
The monitor is can self-generate power and can be powered by 2 AAA batteries as well
The heavy-duty cranks support out-of-seat pedaling
The pedals are dual-sided; accommodate standard gym shoes and SPD cleat shoes
187 mm/7.4'' Q-Factor
Goal settings for time, distance and calories
Low maintenance
Water bottle holder included
Transport wheels included
Tablet holder included
Easy to assemble
Cons
ANT+ chest heart rate or wristwatch device and online app connectivity device not included
The monitor is not backlit
Warranty
3 Years on Parts
1 Year for Labor
Product Dimensions and Specifications
Length 59''
Width 23''
Height 50''
User weight capacity: 300 pounds/136 kg
Weight: 130 pounds/58.9 kg
Frame: Heavy-duty steel
Flywheel: Perimeter weighted, 31 pounds/14 kg
Resistance: Manual magnetic, 16 resistance levels
Drive: Belt
Display: Tracks time, distance, watts, RPM, load, speed, calories, and pulse
ANT+ compatible with heart rate monitoring device (chest heart rate strap or wristwatch device) and 3rd party apps such as MyZone, TrainerRoad, Zwift, Rouvy, SPIVI, and more
Programs: None
Goal settings for time, distance, calories, and Watts
Seat: 4-way adjustable
Handlebar: 4-way adjustable
Tablet holder: Yes
Water bottle holder: Yes
Shipping
The DiamondBack Fitness 1260Sc Studio Cycle is shipped in a box that weighs 147 pounds/66.6 kg and the shipping cost is free of charge if purchased from Amazon.
The delivery is usually made in a couple of days.
Assembly
The DiamodBack Fitness Bike is pretty easy to assemble because the complicated and major components are already assembled by the manufacturer. So, you only need to attach some parts such as the handlebar, the seat, the stabilizer bars, and a few more others to the core unit.
The assembly takes about 30 minutes, more or less to complete.
Maintenance
The bike doesn't need any serious adjustment because, as aforementioned, it has a belt drive and magnetic resistance systems.
You only need to make sure that the unit is clean at all times, and also examine it before use for any part that might be loose or broken. This is a precautionary measure to prevent an accident or further damage to the bike.
Conclusion
The DiamondBack Fitness 1260Sc Studio Cycle is obviously a commercial-grade bike designed for home use.
It has several features that enable you to realize fitness goals such as weight loss, cardiovascular health, and endurance improvements.
It is ideal for injury recovery, for seniors, and everyone else at any fitness level.
[rank_math_rich_snippet]