The 3G Cardio Elite UB Upright Bike is a one-stop-shop model upright exercise bike; meaning, it's a representation of a model indoor upright bike. This is proven by its overall design, quality, and the user weight capacity that it supports.
In summary, it is a commercial-grade bike that supports 350 lbs./158.7 kg maximum user weight capacity. There are warranties for in-home and commercial use.
The eddy current magnetic resistance system offers 16 adjustable resistance levels, and there are 16 workout programs, 4 user profiles, Recovery Function, and Goal settings.
The large blue backlit monitor keeps you abreast of real-time workout stats that allow you to remain motivated and focused on achieving your fitness goals. You can choose to monitor your heart rate by holding the EKG contact sensor or by the use of the wireless HR chest strap (device included).
Although, it doesn't have a cooling fan or a sound system as the Nautilus U618 does. It's not self-powered; it needs to be plugged-in in order for the resistance to be functional.
That said, it's one of the best upright exercise bikes that bring the gym studio experience right in the comfort of your home.
Moreover, it's pretty compact and portable and can fit almost anywhere in a room.
Click right here to have a peek at the price of the 3G Cardio Elite UB Upright Bike on Amazon.
The Frame and Construction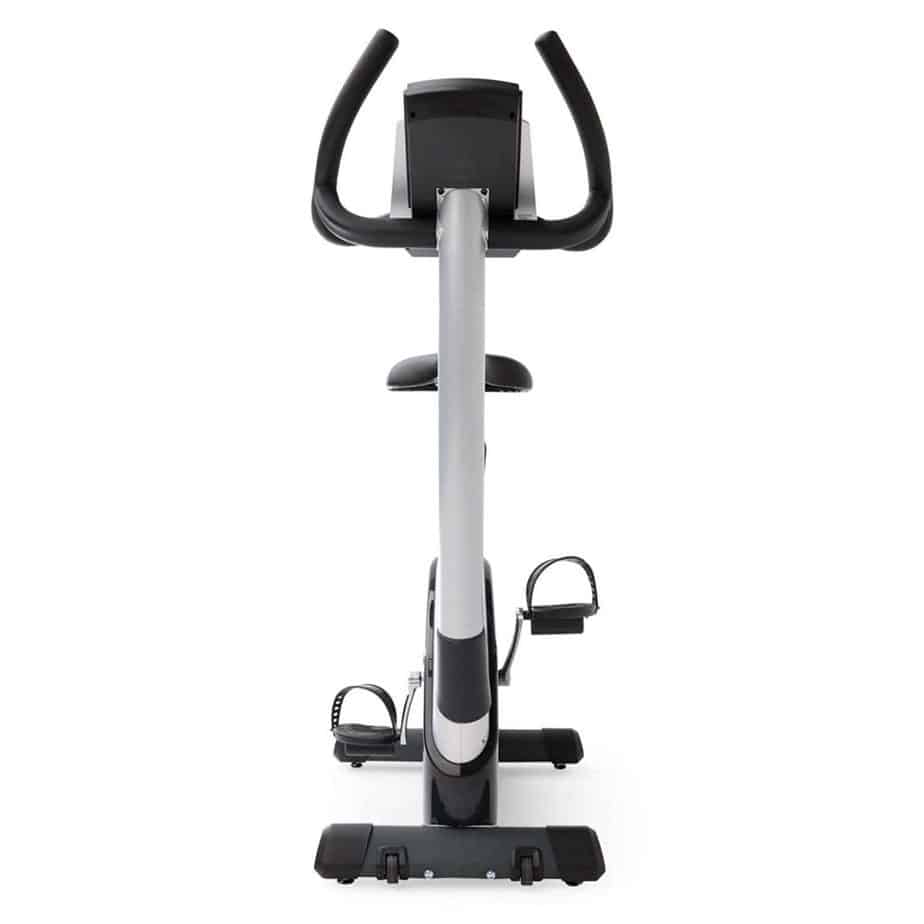 The overall quality construction of the 3G Cardio Elite UB Upright Bike features a heavy-duty steel frame that supports a high user weight capacity of 350 lbs./158.7 kg. Let's not forget also that it's coated with rust-resistant paint for longevity. While the coverings of the belt and resistance systems are made of solid ABS plastic material for safety and cosmetic reasons.
As aforementioned, the 3G Cardio Elite UB Upright Exercise Bike is compact with a small footprint of 41.5'' long by 22.5'' wide, and has a height of 55''. Differently put, this means an area with a perimeter of 3'5'' length by 1'8'' width can accommodate the bike. Apparently, it's not a large bike.
However, additional extra clearance of at least 2' at the rear and on each side of the bike is recommended for safety and easy access.
The unit is equipped with a robust base framework that features front and rear stabilizer bars that have adjustable levelers underneath them. Therefore, the bike's stability is great, and you won't feel a wobbling or rocking experience while aggressively exercising. 
The bike weighs about 91 lbs./41 kg, and that may not be so heavy but enough to make a difference by consolidating the bike's overall stability.
There are transport wheels at the front base designed to assist in the relocation process of the bike.
This bike offers low-impact cardio workouts that produce tremendous fitness results.  
The Seat of the 3G Cardio Elite UB Upright Bike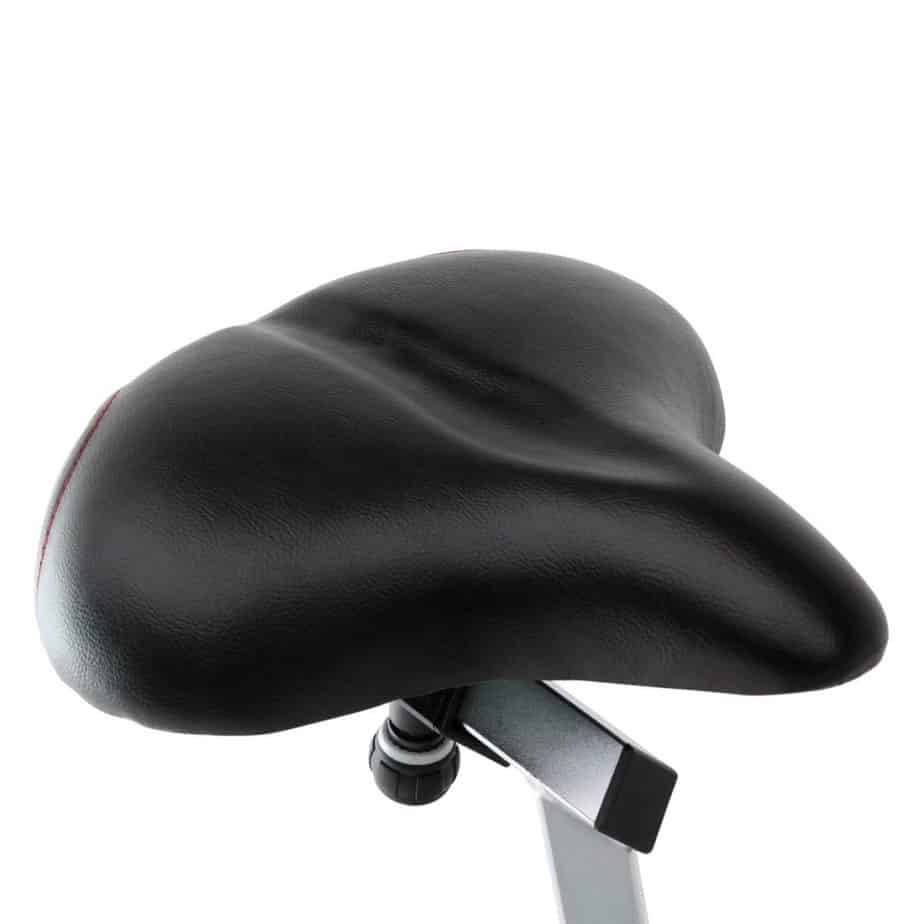 The 3G Cardio Elite UB Upright Bike has an over-size contoured black seat that is generously cushioned to provide lasting comfort that endures through a prolonged workout session.
However, if for any reason you feel the need to enhance its comfortability, you could do that by using a gel seat cover or better still, have it swapped with another seat of your choice. It uses a triangular 3 bolts pattern and can fit with other seats with the same design.
The seat is 4-way adjustable; it could be adjusted vertically (upward/downward) horizontally (fore/aft). This enables you to adjust to a suitable position that gives you the leverage to pedal-thrust aggressively and exercise longer.
There are several distinct vertical adjustment positions and a few inches of horizontal adjustments. It takes only a few seconds to adjust and lock in with the dual locks for a tight fit.  
The Handlebar of the 3G Cardio Elite UB Upright Bike
This bike has a handlebar that has several grips. In other words, the multi-grip-designed handlebar enables you to work out in different postures.  
The grips are comfortable and secure due to they are coated with a soft rubber foam material. No slippage or blisters will be experienced after prolonged workout sessions.  
The handlebar is non-adjustable but it's attached to a curvy steel mast that is already strategically positioned to suit users of different heights. Users between 5.0'-6'5'' tall can conveniently utilize the bike without restrictions.
A set of handlebar grips are integrated with pulse sensors that read and transmit the heart rate data to the monitor once they are held or gripped during a workout.
The Pedals of the 3G Cardio Elite UB Upright Bike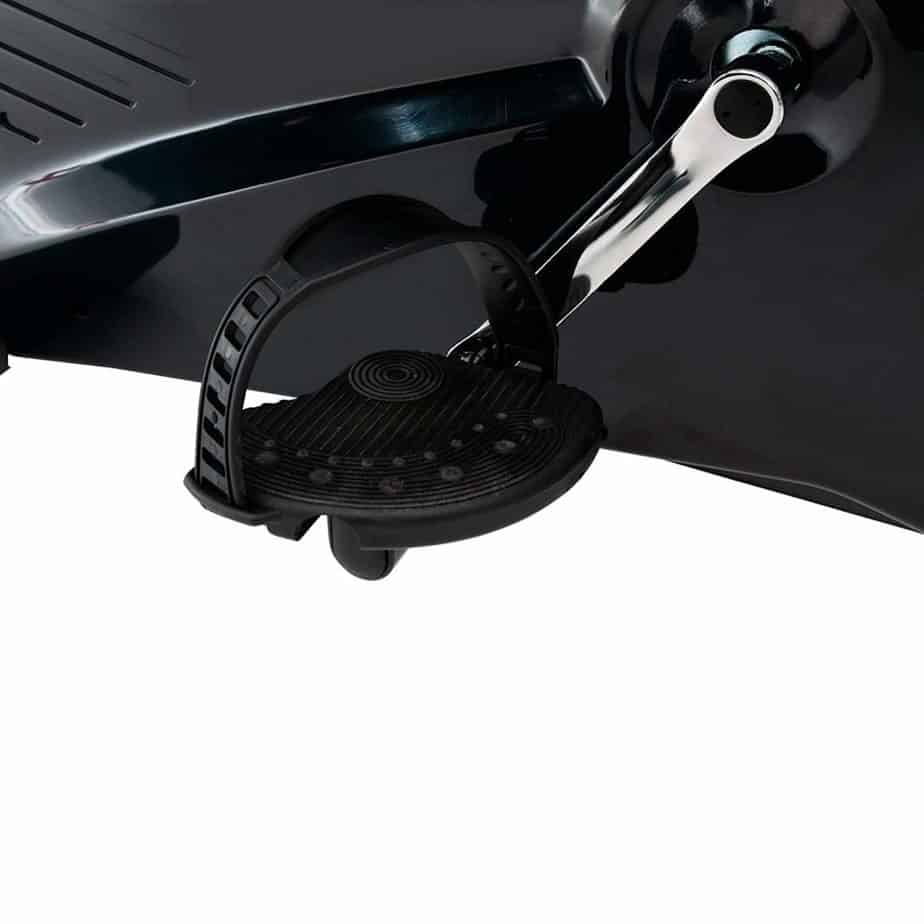 The upright bike comes with Simple normal self-leveling anti-skid designed pedals with adjustable straps. These pedals allow you to exercise barefooted or with a pair of standard gym shoes. Of course, it is only wise to use a pair of footwear when exercising on a bike such as this for safety reasons.
Speaking of safety, the safety straps on the pedals secure the feet properly to ensure that they don't slip during an intense workout. As for the spacing between the pedals that is also known as the Q-Factor are not indicated, however, it has a fairly narrow Q-Factor that aligns the hip, the knees, and the ankles. Thus, no lateral stress will be felt on the joints.
The core part of the pedals is made of metal that is encased in nylon/plastic material. They can support stand-up pedaling, but remember, upright bikes are not designed to be ridden that way except spin bikes.  
The Drive System
The 3G Cardio Elite UB Upright Bike features a belt drive system that is widely known for its smooth and quiet operation. Also, this drive doesn't require any post periodic lubrication or adjustments as is the case with a chain drive system.  
The components included in the belt drive system are as follows; a durable heavy-duty belt, 3-piece crankset, solid crank-arms, a small perimeter weighted flywheel, and the pedals.
The belt has an anti-stretch capability, hence, it can last for a very long time even when used for many hours daily.
The drive is bi-directional; meaning you can diversify your workout by pedaling in reverse if you so wish.
So, imagine other things you can do while using this upright bike. You can watch your favorite TV show or listen to good without amplifying the volume beyond the normal range. Moreover, the family and the neighbors are not going to be bothered by your workout activity, hence, you can train at any time of the day.
The Resistance
The 3G Elite UB Upright Exercise Bike is equipped with an ECB magnetic resistance system.  This means that the resistance system is motorized and can only be adjusted via the console and when plugged in. The bike comes with an adapter that requires to be plugged into a 100V-240V power outlet.  
There are 16 resistance levels that are suitable for everyone at any fitness level, including those that are undergoing physical rehab.
The resistance system comprises a magnetic brake pad, a magnetic flywheel, and a servo motor. Being an eddy current magnetic resistance system, the servo motor adjusts the position of the magnetic brake around the magnetic flywheel when the resistance level or a preset program is selected.
No element of the resistance system comes in direct contact, so, the bike's operation is quiet and vibration-free when the resistance is engaged. Also, no part or element wears out as well.
As you may have understood, there are two ways to get the resistance engaged; one, is by selecting a resistance level via the large dial on the console, and two is by selecting any of the preset workout programs and a certain resistance level will be activated automatically.
The Console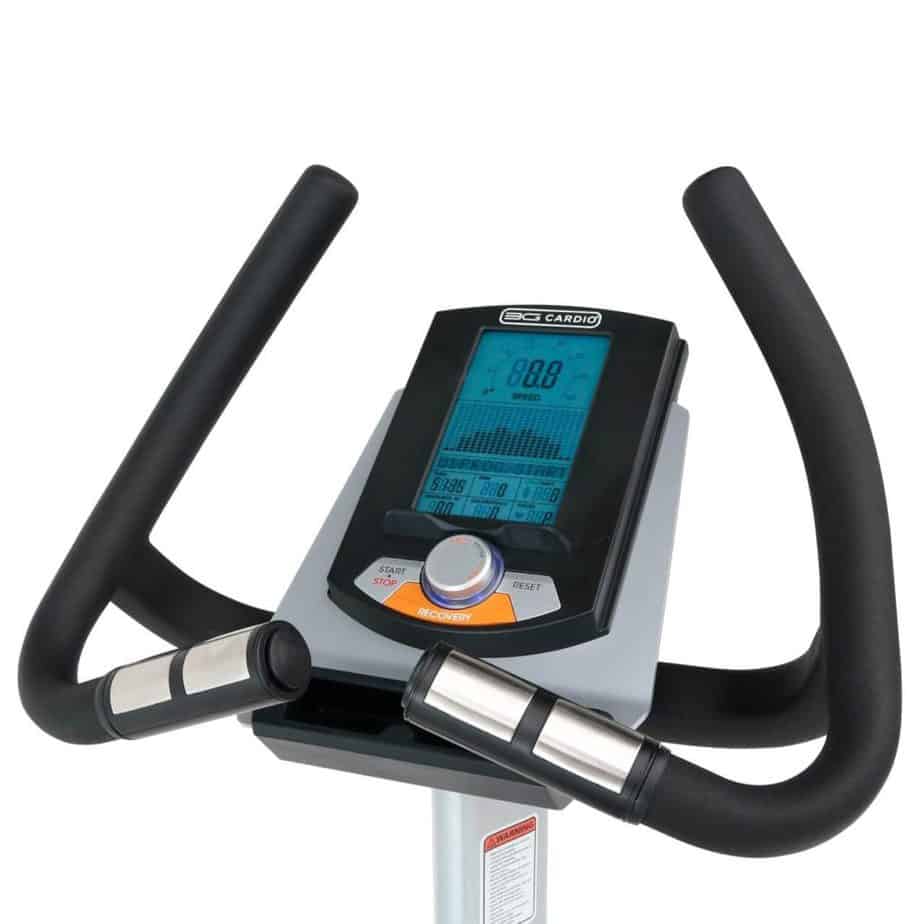 The 3G Cardio Elite UB Upright Bike has a large console that features a large blue backlit monitor that displays all the workout stats at the same time. This is possible because there are segmented display windows that show different data.
Therefore, you don't have to switch between data in order to view all of them as is the case with some bikes.  
The data can easily be read even in an environment that is poorly lit.  
The display tracks Time, Speed, Distance, Watt, RPM, Calories Burned, and Pulse. The distance and the speed can be measured by km or miles and km/h or mph respectively.
Speaking of the pulse, the console is telemetry-enabled; meaning that it is compatible with a wireless HR chest strap (included). Basically, you can choose to use the HR chest strap or the contact sensors on the handlebar for heart rate monitoring. With this function, you can monitor and maintain your target heart rate zone while exercising.
The monitor can easily be operated. The resistance can be increased by twisting the large control knob on the console clockwise and turning counterclockwise to decrease it. There are the START/STOP buttons that enable you to turn on the monitor or pause it without losing any data in the process. Then, there is recovery and reset buttons.  
The bike offers 16 workout programs that include 12 preset programs, 3 heart rate programs, and a 1-watt program, and there are also 4 user profiles and a recovery function as well. You will be able to set up goals (count down) for Time, Distance, Calories, and Pulse.  
The 4 user profiles allow 4 persons to create and set up their separate personal data for a custom program. While the recovery function is what calculates the state of your heart health at the end of your workout session to give you an insight. It provides a recovery status report of F1 (best)-F6 (worst).
There is a function that allows you to enter personal data such as gender, age, height, and weight for accurate output of calories burned.
But as aforementioned, the console does not feature a cooling fan, a sound system, and neither does it connect to an online app.
Accessory
Tablet and water bottle holders are present on the bike. They are very relevant to experiencing outstanding and productive workouts.
The water bottle holder is somewhere on the console mast, within reach to enable you to keep water for the maintenance of hydration, while the tablet holder allows you to keep a tablet device handy for taking calls and entertainment purposes.
There is even a small accessory compartment that could be used for keeping stuff like keys, remote control, and more.  
Storage
The 3G Cardio Elite UB Upright Bike is compact and portable. It won't take up much space and the transport wheels at the front base facilitate its relocation process.
A storage area with a perimeter of 3'5'' length by 1'8'' width will suffice.
Pros/Features Overview
Commercial grade construction
Supports a high weight capacity of 350 lbs./158.7 kg maximum user weight capacity
Highly stable and durable
Its operation is smooth, quiet, and vibration-free
Integrated with an ECB magnetic resistance system and belt drive system
16 resistance levels suitable for everyone and anyone including those that are recovering from physical injury
Large and comfortable seat
The bike is customizable
The multi-grip designed handlebar offers a variety workout postures
The console is telemetry-enabled (HR chest strap included)
There are EKG pulse sensors
The large blue LCD backlit monitor tracks Time, Distance, Speed, Watt, RPM, Calories, and Pulse and has a high readability
Weighted-balanced pedals with adjustable safety straps
16 workout programs
Goal-setting function for Time, Distance, Calories, and Pulse
Assembly is pretty easy
Maintenance is very low
Water bottle holder included
Tablet holder included
Warranty is impressive
Cons
No sound system or cooling fan
No online app connectivity
In-Home Warranty
Lifetime for Frame
7 Years for Parts
1 Year for Labor
Commercial Warranty
3 Years for Parts
1 Year for Labor
Product Dimensions and Specifications
Length 41''
Width 22.5''
Height 55''
Weight: 91 lbs./41 kg
Maximum user weight capacity: 350 lbs./158.7 kg
Shipping weight: 100 lbs./45 kg
Seat: Large and adequately cushioned, 4-way adjustable
Handlebar: Non-adjustable, multi-grip designed
Resistance: ECB magnetic, 16 levels
Program: 16, including 12 preset programs, 3 heart-rate programs, and 1-watt programs
Recovery function
User profile: 4
Goal setting for Time, Distance, Calories, and Pulse
Frame: Steel
Telemetric: Yes, HR chest strap included
EKG pulse sensors: Yes
Pedals: Anti-skid, safety adjustable straps
Console: Large blue backlit monitor tracks, Time, Distance, Speed, Calories, RPM, Watt, and Pulse
Water bottle holder: Yes
Tablet holder: Yes
Shipping
The 3G Cardio Elite UB Upright Bike is shipped in a box that weighs 100 lbs./45 kg and the standard shipping cost is usually free if purchased from Amazon. Delivery is made within a couple of days upon purchase.
Assembly
The bike is delivered almost pre-assembled. Nevertheless, you need to attach other parts such as the front and rear stabilizer bars, the seat post and the seat, the handlebar, the console, and the pedals to the core unit of the bike.  
This shouldn't take more than 30 minutes.
Also, an instruction manual and tools required for the assembly are included in the package.
Maintenance
The 3G Cardio Elite UB Upright Bike doesn't require any serious maintenance, except to always keep it clean from dirt and sweat. Do not expose it to moisture or water.
Examine it for any loose or broken parts before each workout session to avoid an accident or further damage to the bike.  
Conclusion
Acquiring the 3G Cardio Elite UB Upright Bike will surely make a difference in your physical fitness. It equips you with the ability to train at your own convenient time and with adequate resources to realize your fitness goals.
This enables you to work out like a pro.  
[rank_math_rich_snippet]