The Sole Fitness SB700 Indoor Bike is a cycling bike suitable for home use. There are a whole lot of cheap spin or cycling bikes out there that could provide you with a good workout no doubt but if you are willing to pay a little more for the Sole Fitness SB700 Exercise Bike you will discover that it worth the investment.
Right now, it is a very popular cycling bike that is so liked by many users. Its approval rating on Amazon customers' reviews is way impressive. This exercise bike is top quality and has a gym standard as well.
It has great features such as the heavy flywheel that is required for a smooth, stable, and consistent workout. The Sole Fitness SB700 is the ideal spin bike for those that do wish to get nothing short of quality and effective workouts that is yet easy on the joints.
The amazing 48-pound flywheel can gather momentum and provide road exercise bike experience. The bike is suitable for HIIT (High-Intensity Interval Training) because of its quality and ability to withstand vigorous use.
Its turn knob resistance and the brake pads make it one of the best machines that provide great challenging workout and safety.
Look up the Best Price for The Sole Fitness SB700 Indoor Bike
Pro/Feature Overview
It has a flywheel of about 48 pounds for smooth resistance
The seat and the handlebar are fully adjustable for maximum comfort
Solidly built to last long
Supports up to 300-pound maximum weight capacity
It has got a beautiful blue backlit LCD console
Turn-Knob for easy resistance adjustment
It has got pedals with toe straps
It has 2 water bottle holders
Wireless heart rate compatible
Great for indoor high-intensity road training
It has transport wheels for easy relocation or movement from a room to another
Product Dimensions
40'' Height
21'' Width
42'' Length
Weighs about 140 pounds
Warranty
Lifetime for Frame
3 Years for Electronics
3 Years for Parts
Benefits of Sole Fitness SB700 and how it Works
The Sole Fitness SB700 has some features that make it stand out among its contemporaries. These features make it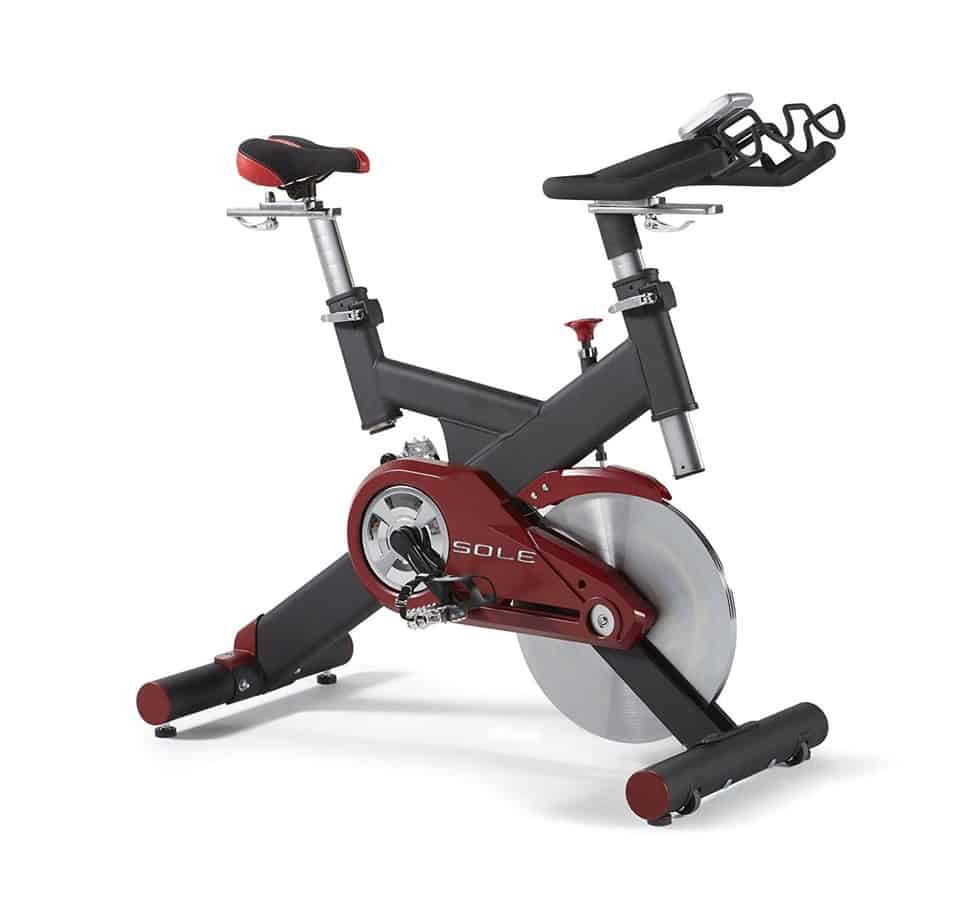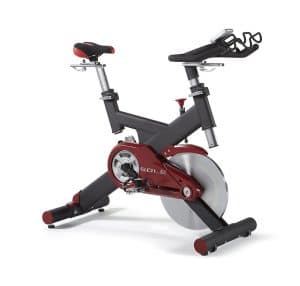 very useful and enjoyable, for instance, the large 48-pound flywheel which provides an exceptional workout with great momentum even as its operation is smooth and quiet as well.
It has also got a backlit LCD monitor that tracks your workout progress such as time, distance, calories burned RPM, and of course heart rate. Not every spin or cycle bike possesses an LCD Display especially the cheaper ones.
This machine is sleek in design and naturally attracts a user to work out on it and this simply makes the user want to work out even more frequently which is good for achieving greater results.
It does have wireless chest straps capability which is also a feature that is not common with most cycling bikes. The seat and the handlebars can be fully adjusted up/down/ and forward/backward for maximum comfort. These allow the bike to be suitable for most people with different body sizes.
You also have the opportunity to experience intense and challenging workouts because of its solid design and ability to adjust to different levels of resistance. The resistance adjustment is done easily by twisting the resistance knob. This is no doubt the ideal cycling bike for home use and has been proven by the Amazon customers' approval rating.
We understand that high-end cycling bike purchases could be a tough decision to make. But do have in mind that high-end cycling bikes such as the Sole Fitness SB700 is a good buy and you shouldn't worry about spending the money and not getting back the value.
When you do your math by comparing the money you spend on the gym membership and gas for driving to the gym you probably will be better off adding this unit to the home gym. It does not only cut cost and saves money but it also offers convenience and tendency to work out more.
What is not so great about the Sole Fitness SB700
We must admit that there is hardly anything good without one or two drawbacks. So this unit's drawback would be the price for some people that cannot afford it. The other drawback would be the fact that you won't be able to track your heart rate unless you purchase the heart rate chest strap monitor separately because as we mentioned earlier the unit is chest strap compatible.
We can't explain why the manufacturer did not include a grip contact heart rate sensors to serve as an alternative without having to mandatorily make any user interested in tracking pulse to purchase the HR chest strap.
Also, one would ordinarily expect that this unit should be able to connect to at least a fitness app considering the price range of the unit.
Shipping, Assembly, and Maintenance
The shipping cost of the Sole Fitness SB700 depends on where you purchasing the unit from. However, Amazon usually ships this product for free.
Assembling this spin bike is not super easy but neither is it a problem. It will be a lot easier for two people to assemble though.
It does not require any serious maintenance but the usual cleaning or toweling after every workout session.
Conclusion
The Sole Fitness SB700 cycling bike may have its downsides but it is a very solid and sturdy spin bike for home use. Most of its users have praised its functionality and how quiet and smooth it is to work out with, which means you can enjoy watching your favorite TV show and not worrying about disturbing the family or the neighbors.
Sole Fitness SB700 Indoor Bike Review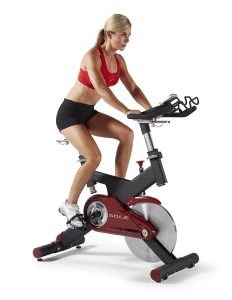 There are a whole lot of cheap spin bikes out there that could provide you with a good workout no doubt but if you are willing to pay a little more for the
Product Brand: Sole Fitness
Product In-Stock: InStock