The ProForm Cardio HIIT Elliptical Trainer is designed with strong steel. Just like the upgraded version the ProForm Cardio HIIT Pro Trainer. 
This can be the right investment if you are looking forward to feeling the burns and reducing calories, weight loss, and achieving overall physical fitness.  This is possible because HIIT is a type of workout that is assumed to be a radical approach to achieving physical fitness and the ProForm Cardio HIIT Elliptical Trainer happens to be the equipment that would enable you to experience the it because it was designed and built to do just that.
This unit is essentially a stepper and an elliptical, all-in-one to help the user work on the entire body and tone the muscles accordingly.  Below are the features that make the ProForm Cardio HIIT Elliptical Trainer stand out from the regular and standard elliptical machines out there.
Click right here to have a peek at the price of the ProForm Cardio HIIT Elliptical Trainer on Amazon.
Features/Pros
This unit allows you to work on the different muscles in the body including the legs, core, and arms, back, and shoulders because of its stair climber and of course its multi handlebars which also allow you to work in a boxing pattern.
The 10'' vertical path and a 5'' horizontal essentially allow you to experience an intense workout that would make you feel the burn on the lower body. This is how the stair climber and the elliptical work, making it be unique from the everyday elliptical.
Its unique multi handlebars allow a user to achieve an outstanding upper body workout because of its boxing-style motions including adjustable resistance that gives the edge on thoroughly working on the arms, shoulders, back, and the core. This is no doubt a very important asset that makes the ProForm Cardio HIIT Elliptical Trainer THE ELLIPTICAL MACHINE.
There are 32 preset workout programs that would keep you positively busy towards achieving your physical fitness, be it weight loss, working on the different muscle groups of the body, or just toning the entire body. Do have it in mind that this unit was basically designed to fight off fat and help you lose weight just as the name implies, HIIT machine.
Its 24 resistance levels will sure give you the challenge you require to succeed in your quest for physical fitness and might as well make your workout as easy as you would want it, depends on you.
Its frame is a commercial-grade steel construction that makes it be durable.
It has got a 28-pound inertia-enhanced flywheel that ensures smooth, quiet, and sturdy operation. Moreover, this also offers you the opportunity to experience natural stride that is cool to the joints.
It has got large and well-cushioned footplates that can accommodate different foot sizes and still offer the much-desired comfort during a workout. Also, it has got leveling feet beneath the footplates designed to keep it stable.
The 7'' backlit LCD display of the ProForm Cardio HIIT Elliptical Trainer is beautifully designed to display your workout data such as the time, distance, speed, and calories burned. There is also the option of one-touch controls on the console that makes resistance adjustment and workout program selection a lot easier.
It has got built-in pulse sensors on the handlebars that allow transmission of your heart rate to the unit's monitor which also allows you to know your heart rate and ultimately maintain your target heart rate zone. There are other controls available on the handlebars which you could use alternatively.
You can experience working out just about anywhere via Google Maps with amazing street view scenes. You can also have access to an unlimited workout library that provides daily fresh routines; this is also referred to as the iFit Coach. Moreover, it has got HIIT workouts that were specifically designed and unique for this unit.
It has got a built-in fan with two-speed designed to keep you cool through your workout session.
There are built-in speakers as well designed to deliver a quality sound output when connected to an iPod for your entertainment during a workout.
There is a provision for a water bottle holder to ensure that you keep water and hydration through the entire workout session.
A device and tablet holder is also available for your entertainment.
It has transport wheels that make moving around the room very easy.
Cons
The fan might be an issue if you are expecting an absolute silence during a workout. The unit is ordinarily quiet but some users have pointed out that the fan can make some kind of annoying noise especially if you have to use it all the time.
I have also observed that this unit does not include the HR chest strap upon purchase, which means you have to buy that accessory separately; unfortunately, the built-in heart rate sensors on the handlebars are not reliable as the HR chest strap. Just in case the none inclusion of an HR chest strap in this equipment is a problem then you might want to look up the

ProForm Cardio HIIT Pro Trainer

which includes HR chest strap only that it is more expensive than this very particular unit.
Warranty
Lifetime for the Frame
3 Years for Parts
1 Year for Labor
It supports 350 pounds maximum user weight
It weighs about 180 pounds.
Shipping and Assembly
The shipping cost of this equipment is free as far as you are buying from Amazon. However, I am not sure of the other retailers about their shipping policy.
As for assembly, it takes about an hour or so to assemble as there are fewer parts to fix and an instruction manual also accompanies the unit as well which will guide you in the process of assembly.
Conclusion
The ProForm Cardio HIIT Elliptical Trainer is a recommendable machine no doubt. It is built with durability in mind and of course with functionality. This is the machine that could help you experience HIIT even with a lot of ease due to the features integrated into it.
A lot of consumers have positive things to say about this equipment except for the very few that were unfortunate to receive a broken unit, but the good news is that it can be returned if it is broken and be sure you verify this fact before buying.
ProForm Cardio HIIT Elliptical Trainer Review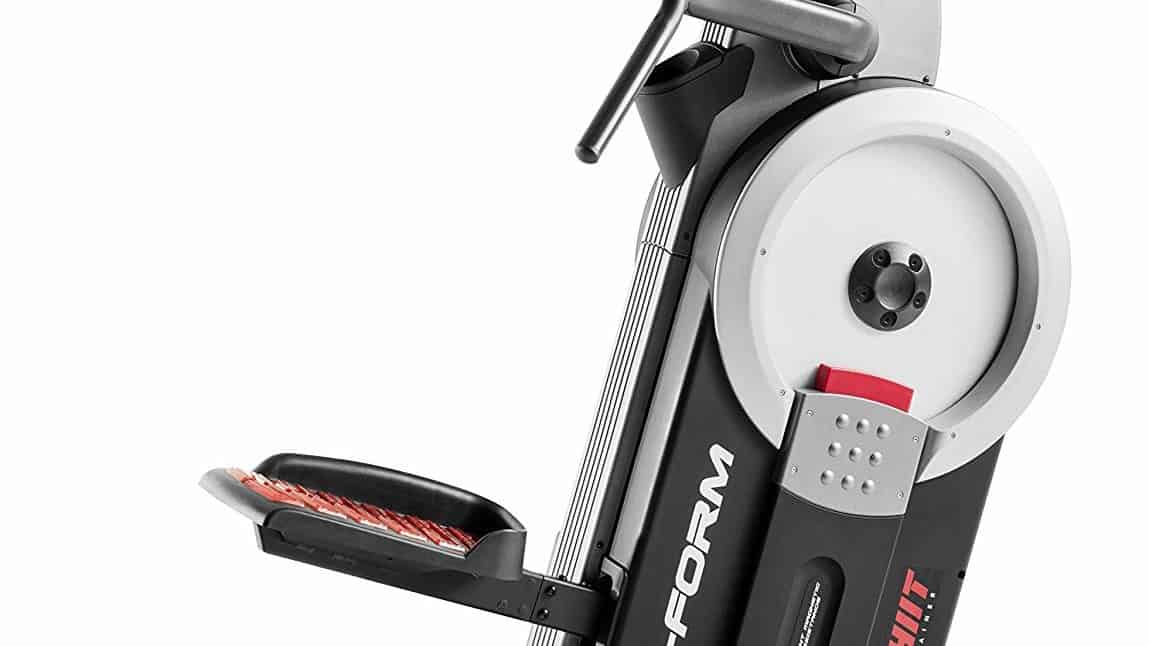 The ProForm Cardio HIIT Elliptical Trainer is designed with strong steel and constructed to compete in commercial level. Just like the upgraded version, the
Product Brand: ProForm
Product In-Stock: InStock