The Body-Solid Fusion 500 Personal Trainer is indeed a personal trainer that could drill you into that sculpted physique you have always desired. It is a multitasking machine that provides you with the opportunity to achieve specific fitness goals once the accessories are duly attached.
You could exercise and experience quality workout sessions at the convenience of your home at your own time and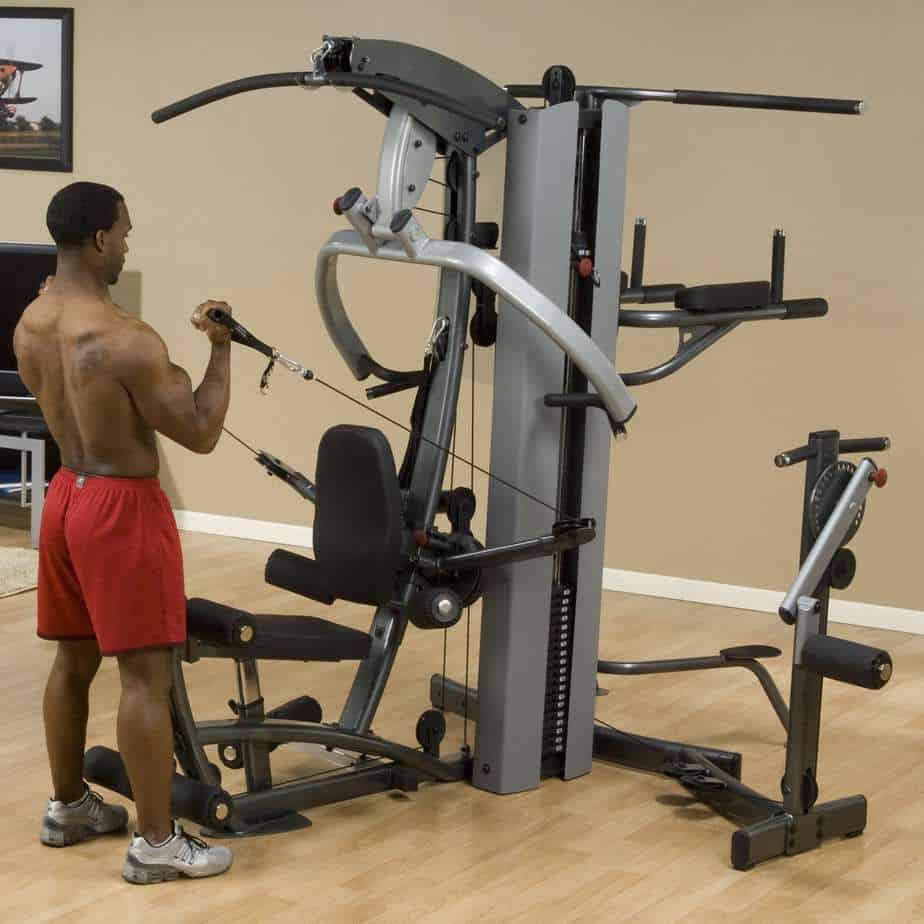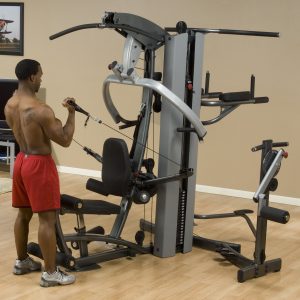 pace.
In other words, the Body-Solid Fusion 500 Personal Trainer is the personal gym trainer for home use; it is as simple as that.
It has several workout stations that are designed to help you target and work on a specific muscle group in the body.
In terms of overall construction and sturdiness, it is the epitome of quality and we shall get to that in detail in a moment.
With over 60 exercises available you can't just get bored at transforming your overall physical health.
There are two options when it comes to the weight stack; you could choose the Body-Solid F500 with 210 pounds weight stack or the one with 310 pounds weight stack. And of course, the Body-Solid Fusion 500 Personal Trainer with 210 pounds weight stack is slightly cheaper, and one should expect that anyway.
The code name for the Body solid Fusion 500 with 210 pounds weight stack is F500/2 while the code for the one with 310 pounds weight stack is F500/3. This review is all about the Body-Solid Fusion F500/3 home gym and is indeed one of the best home gyms available.
Just like someone once said, '' the Body-Solid Fusion 500 Personal Trainer has revolutionary functional training arms, with a motivational presence that could make it the new and perfect partner in total physical fitness''.  Are there better words to explain it than this? We guess not.
<<<Click right here to purchase the Body-Solid Fusion 500 Personal Trainer at the best price available>>>
The Frame
The Body-Solid Fusion 500 Personal Trainer's frames feature continuous, four sides welded construction instead of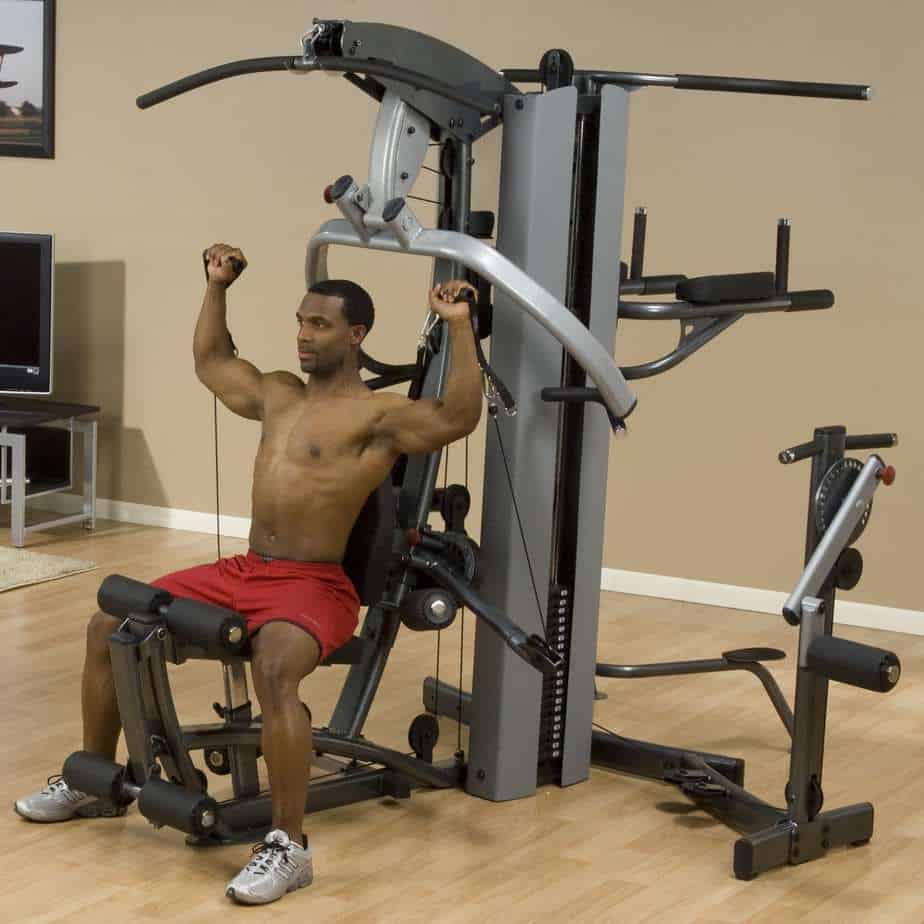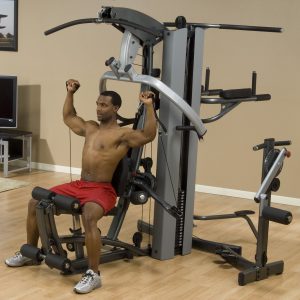 the standard 2 sides weld that is found in some of the gym trainers out there. Body-Solid has chosen to make the construction of this trainer to be different from the rest. The F500 also features 50mm x 100mm 11 gauge oval tubing and 6mm upper support plates. Due to its obvious unique construction, this gym trainer has become one of the sturdiest machines in the market.
There are several rubber pads underneath the bases of the machine to prevent damage to the floor. However, that alone may not be enough hence it is advised to place it on a rubber mat to ensure that your floor is protected especially considering the weight of the machine plus the weight stack.
All the steel parts of the Body-Solid F500 is finished with an electrostatically applied powder coat that is designed to protect the unit from chipping, cracking or corrosion. This is usually the process that is used on industrial machinery due to its durability.
It is important to note that this machine is almost completely made of steel and it is quite a heavy machine. It weighs about 755 pounds, which includes the 310 pounds weight stack. So, being that heavy, it is an added advantage to its stability. You should be able to work out or exercise without the fear of wobbling or any movement of any sort.
The unit is also fairly large without the optional attachments. Its dimensions are 76 inches long by 48 inches wide by 83 inches tall. It is recommended to provide at least 2 feet of clearance on both sides of the machine and the front as well to create a safe and convenient workout environment that is not going to be restrictive. The room where it is going to be assembled and used should have a ceiling height of 7 feet.
The Seat, Pulleys, and Cables
All the pads on the seat, backrest, and rollers have DuraFirm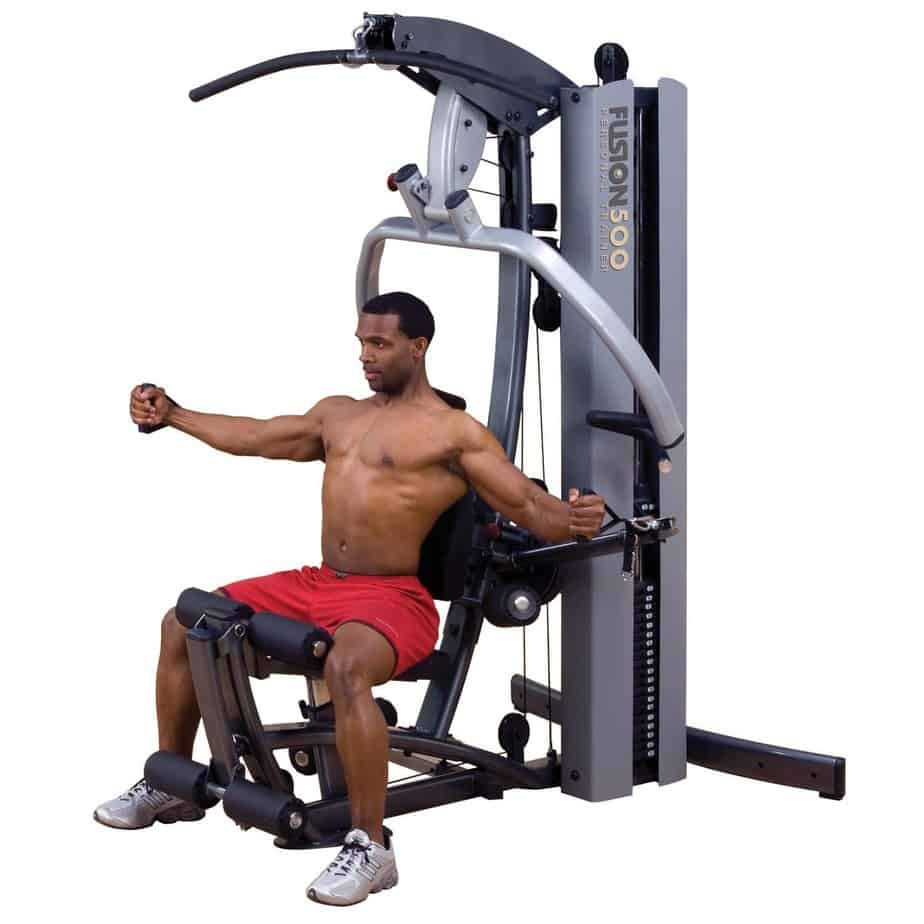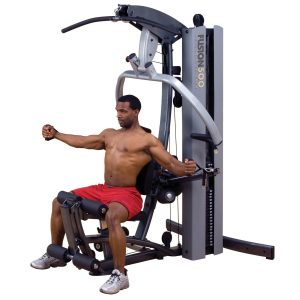 material that is tear-resistant, and extra thick. The high-density foam used prevents bottoming out or getting out of shape.
Interestingly, the seat has 7 upright adjustment positions while the backrest has 9 adjustments. This means that different users could be accommodated comfortably regardless of their sizes. A user will be able to work out executing the moves correctly with full range in all exercises.
The pulleys are made of fiberglass reinforced nylon material which is precision-matched to the cable diameter and revolve on seated ball bearings that do not need maintenance at any point in time and also provide a lifetime of friction-free performance.
The cables are covered with polyurethane sheets which makes them function and glides over the pulleys seamlessly.
The Weight Stack
The Body-Solid Fusion F500/3 comes with 310 pounds weight stack that consists of 15 pieces of 20 pounds weight plates plus the top stopper plate that weighs 10 pounds.
The weight plates are made of solid cast iron which makes them unique than most other types of the weight plate.
There is also the possibility to increase the resistance in 2.5 or 5 pounds increments but this feature is included though in the original package because it is optional.
The weight stack is shielded by two metallic guards on both sides exposing only the selectorized part to be accessible. This is so to make the weight stack organized and to prevent an accident during workouts.
Workout Stations
These are the available workout stations that are designed to help you exercise every muscle group in the body.
Lat Pulldown Station
The lat pulldown station allows you to exercise the triceps, shoulders, and back muscles. The lat bar that comes with the unit and the high pulley station enables you to perform the lat pulldown exercises.
Chest Press Station
The chest press station allows you to exercise the pectorals and the shoulders and of course the lats, traps, and the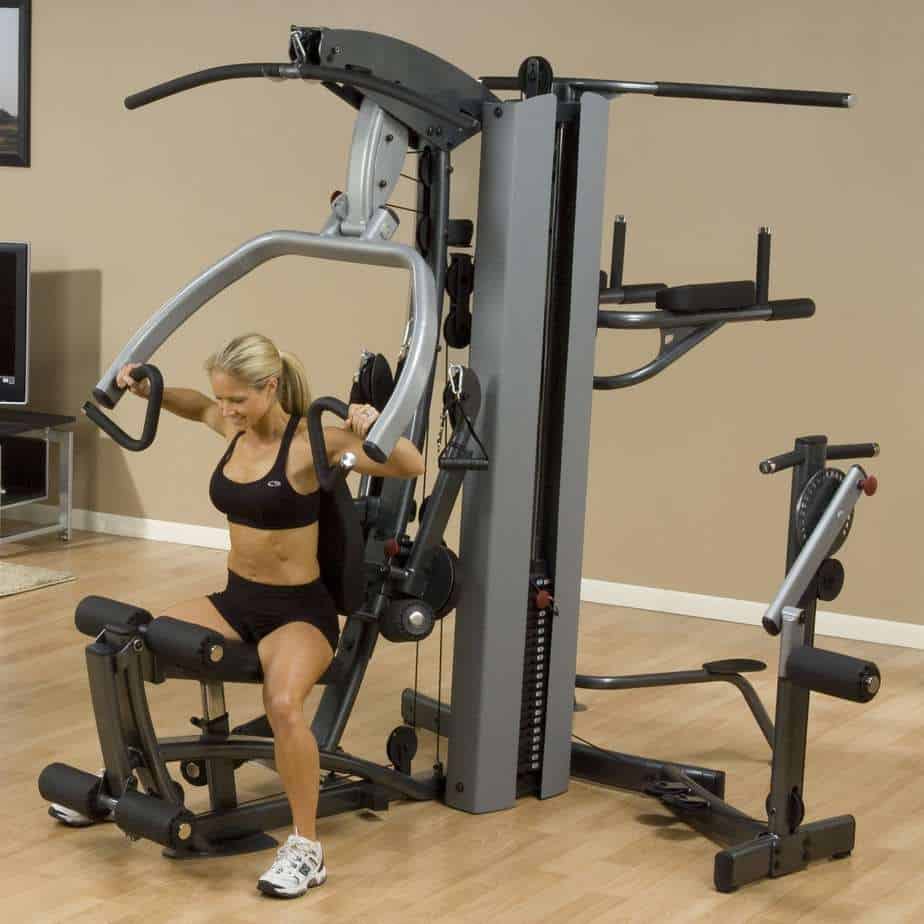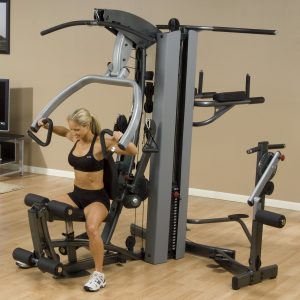 biceps because the chest press station is adjustable and features six adjustments positions, two of which are for seated rows and four for chest presses.
Adjustable Side Arm Station
The adjustable side arm station provides 9 adjustment positions with cables that are equipped with standard D-type handgrips. You could perform exercises like stand up curls, shoulder presses, trunk rotations, golf swing, and more. This station is not commonly available with most home gyms, although the BodyCraft Xpress Pro has a similar arm station.
Low Pulley Station
The low pulley station allows you to perform exercises such as the seated rows, stand up rows, stand up curls when a short bar and chain are attached to it.
Leg Developer
This allows you to exercise the lower body by performing exercises such as the leg extension and standing leg curls. The rollers are integrated with high density 4 inches foam that is designed to provide the much needed optimal comfort during these exercises.
Options
Some accessories do not come with the package but could be necessary to allow you to utilize the home gym to the fullest and perform a lot more exercises that could sculpt that body. These accessories are optional, which means you may decide to purchase them separately according to your needs.
Use all or any of the accessories listed below to configure the Body-Solid Fusion 500 Personal Trainer to avail more outstanding exercises.
FCDWA FUSION Weight-Assisted Dip & Pull-Up Station
This accessory could be used in Fusion 500 or Fusion 600 Personal Trainer Gyms. This allows exercises such as the chip-ups and dips to be performed which are responsible for upper body strength and conditioning.
Fusion Leg press Attachment
This is compatible with Fusion 500 or Fusion 600 personal trainer gyms. This has a double-beam design that eliminates ankle stress and offers consistent resistance throughout full range motion. The pivoting press plate rotates forward and downward to target the thighs, hamstrings and the glutes.
It can handle big guys because the press plate is extra large, extra wide, and covered with non-slip rubber.
FUSION Multi-Hip Station
The FUSION Multi-Hip Station is Compatible with Fusion 500 and Fusion 600 Personal Trainer Gyms. This is meant to target and concentrate on the inner thigh, outer thigh, hip flexor, or glute/buttocks muscles. It has an easy step in and step out design and adjustable height pivot point, adjustable cam for proper hip joint alignment, and handles that offer stability and balance.
FUSION vertical Knee-Raise/Dip Station
The Fusion vertical Knee-Raise/Dip Station could be attached to the back of the gym thereby saving space. This helps you to build a stronger core and upper body with knee raises, leg lifts, twists, and dips. It has a special oversized back pad arm pads and handgrips that are well contoured to provide comfort to the abdominal, triceps, and shoulder workouts.
Of course, it is for Fusion 500 or Fusion 600 home gyms only.
FUSION Pull Up Bar Attachment
This feature is easily attached to the Fusion 500 and Fusion 600 home gym and it is a stable station that allows you to perform chins up, pull-ups, knee-ups, and more. All of these could be performed in the comfort of your home.
2.5 Pounds/5 pounds Weight Stack Adapter Plate
This adapter could be used on any machine's weight stack and it allows you to increase the resistance in 2.5 or 5 pounds increments depending on which size you choose to use. This is very useful because it will help you to find the resistance level that is suitable for you.
They are made of thick protective virgin rubber molded over a solid steel core, a design that could last forever.
Moreover, they will damage the weight stack or the machine and will not slip, slide, or fall off.
Body Focus
These are the parts of the body that the Body-Solid Fusion 500 Personal Trainer targets and develops and they are as follows;
Abs
Biceps
Deltoids
Lats
Obliques
Pecs
Quads
Shoulders
Traps
Triceps
And of course, total body
Some of the Exercises Available
Push-Ups
Pec Fly
Bench Press
Incline Press
Decline Press
Pull Over
Upright Row
Deltoid Raise
Shoulder Press
Standing Military Press
Close Grip Front Lat Pulldown
Wide Grip Front Lat Pulldown
Leg Extension
Glute Kick
Standing Leg Curl
Outer Thigh Abduction
Inner Thigh Abduction
Bent-Over Row
Seated Row
Ab Crunch
Oblique Bend
Standing Biceps Curl
Tricep Press Down
Tricep Extension
Tricep Kickback
Reverse Fly
Pro/Features Overview
It is sturdily built with heavy-duty steel frame
It has excellent stability
It weighs about 755 pounds which also add to its stability
Features DuraFirm Upholstery that provides optimal comfort and lasts forever
Offers over 60 exercises
It comes with two pulling handles, lat bar, and ankle strap
The weight plates are made of cast iron
It has 310 pounds weight stack
Multiple workout stations available; chest press, adjustable sidearm station, lat pulldown station, leg developer, and low pulley station.
The seat and the backrest are adjustable thereby making it possible for different sizes of users to be accommodated comfortably
The pulleys and cables are made of high-quality materials and durable
Impressive warranty
Cons
There are several accessories to be purchased to help you configure for optimal usage
Very difficult to move or relocate because of the weight
Assembly is kind of difficult
Product Dimensions and Specifications
76'' Length
48'' Width
83'' Height
Weighs about 755, including the weight stack
Over 60 exercises available
Warranty
Light Commercial Warranty
Lifetime on Frame and Welds
3 Years on Pulleys, Bushings, Bearings, Hardware, Plates, Guide Rods
1 Year on Cables, Upholstery, Grips (Normal Wear)
In-Home Warranty
Lifetime on Frame and Welds
Lifetime on Pulleys, Bushings, Bearings, Hardware, Plates, Guide Rods
Lifetime on Cables, Upholstery, Grips (Normal Wear)
Shipping, Assembly, and Maintenance
Shipping
The shipping cost of the Body-Solid Fusion 500 Personal Trainer varies because it depends on the vendor you are purchasing the product from; however, Amazon provides free shipping and usually delivers within 4 to 5 days from the day of order.
Assembly
This unit comes in a couple of boxes because of the number of parts and components it has and each of these boxes is fairly heavy. Therefore, you will require a strong helping hand to get the boxes to the room you intend to assemble it.
The assembling process is not easy but it is doable with patience and dexterity and could take several hours to get it fully assembled. An instruction manual is included to help provide directions on how to assemble it.
Maintenance
This machine does not require any serious maintenance except for a periodic check of the pulleys and the metallic rods of the weight stack to know if they need lubricating. If they do, you will have to do that accordingly. Also, routinely check for any loose, broken, or worn out parts before you set out using the machine.
Conclusion
The Body-Solid Fusion 500 Personal Trainer is a recommendable home gym that could bring the entire gym to the comfort of your home.
With a home gym like this that is equipped with 310 pounds weight stack with several workout stations, you can exercise yourself to a healthy and well-sculpted body.
There are over 60 exercises available and therefore, can never get bored working out and attaining your fitness goals.
We do think this is a perfect fit for home use.
[rank_math_rich_snippet]