The Schwinn Airdyne Pro Exercise Bike is the reinvention of the legendary air dyne which is designed to provide even more powerful performance that includes customized intensity and increasingly challenging workouts.
There is no gainsaying that Schwinn has been in the fitness industry for over 100 years while they continue and consistently manufacture quality and innovative fitness equipment. Their prowess reflected on the overall design of the Schwinn Airdyne Pro Exercise Bike making it one of the best upright bikes to be reckoned with.
This exercise bike is equipped with a robust, 26-blade performance fan and a single-stage belt drive that uniquely uses the user's effort to generate outstanding resistance. This simply means that your fitness level and power determine the level of intensity that will be present in your workouts.
It has several other features that would appeal to and help you enjoy working out while you realize your fitness goals. This is important because to workout sometimes could be fun and sometimes could be boring and so we need exercise bikes such as the Schwinn Airdyne Pro to keep us alive and motivated at all times in order to reach our fitness goals.
Due to the type of resistance system this bike possesses, it meets the needs of a user that is a beginner, that is recovering from injury, or an advanced athlete that really wishes to experience a difficult and high-intensity workout.  The resistance system is such that it provides a challenging workout when the user pedals harder and faster, while it gets easier when the pedaling slowdown.
This is best for performing high-intensity interval training and which leaves you with minimal stress to the joints even as it provides total body workouts that ultimately lead to greater results.
This is indeed an upright bike to consider if you are looking forward to losing weight, improving endurance, and flexibility.
<<<Click right here to purchase the Schwinn Airdyne Pro Exercise Bike at the best price available>>>
The Frame and Design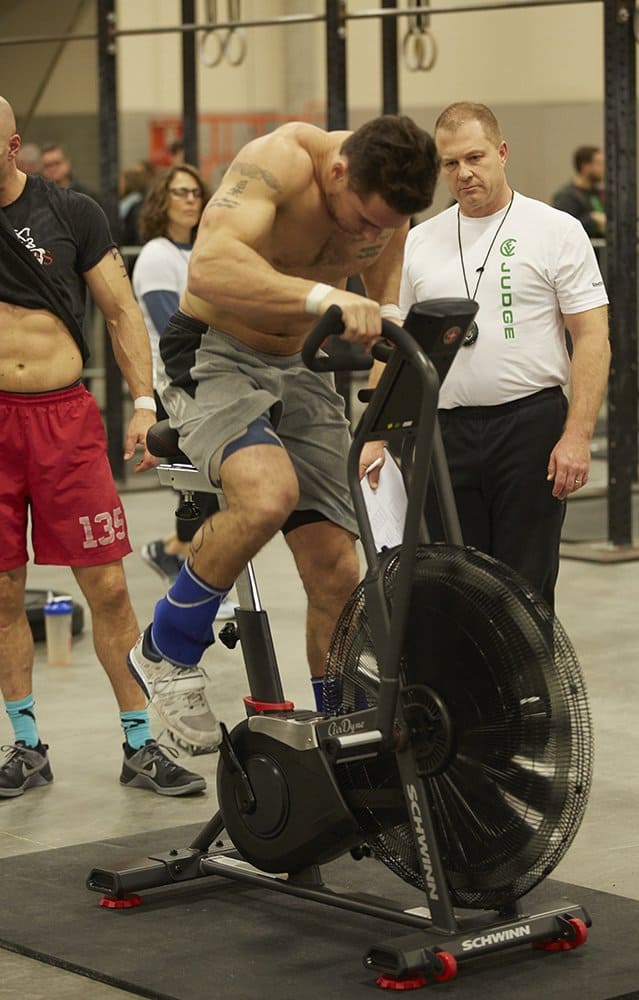 The Schwinn Airdyne Pro is no doubt a very sturdy and solidly constructed exercise bike that can withstand any type of use you throw at it. Its overall designs meet the gym standard and the frame is made of steel material.
Due to its built and sturdy nature, it supports up to 350 pounds maximum user weight capacity and weighs about 113 pounds which also enhances its sturdiness. Basically, this bike has a commercial-grade construction that makes it quality unquestionable.
The steel frame is finished with a double-coated paint that is moisture repellant, designed to endure the toughest sweat sessions for many years.
To further ensure that stability and sturdiness are attained Schwinn integrated the exercise bike with solid stabilizer bars, one at the front base and the other at the rear base while they feature four adjustable contact levelers that could make the bike to level up on an uneven floor. Nevertheless, it is advised to place the exercise bike on a rubber mat for optimum stability.
It also has transport wheels at the front base to aid in the relocation process which will also reduce the weight of the machine as it is tipped toward the front base and moved by one person.
And the Schwinn Airdyne Pro Exercise Bike is considerably a compact bike with a footprint of 40 inches long by 16 inches wide. However, due to the handles that spread out and the air fan, it will require a little bit more space in order to be accommodated.
The bike's dimensions are 55 inches long by 26 inches wide by 53 inches tall. Therefore, a workout space of at least 6 feet long by 3 feet 5 inches will be required and that is including clearance for safety and unrestricted workout experience, whereas a room with at least 7 feet ceiling height should be more than fine.
This exercise bike is also integrated with foot–pegs designed to serve as the resting base for the feet, where the user could place the feet when he wishes to take a break from pedaling and only exercise the upper body with the moveable handlebars and this is a way of allowing the user to experience diversified workouts.
The other yet impressive innovation that is present in the Schwinn Airdyne Pro is the footstep pad that is usually found in spin bikes and now they have been integrated into Schwinn Airdyne Pro Exercise Bike.
The Seat and Handlebars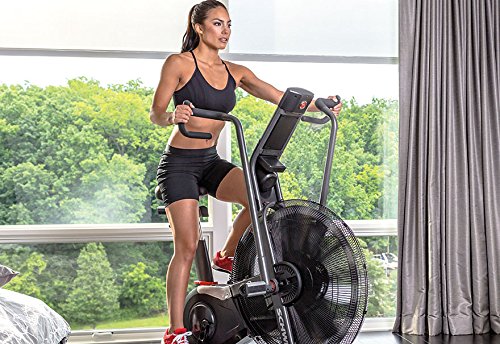 We have always emphasized the importance of a well-designed seat and handlebars because they are among the elements that make an exercise bike to be either comfortable or uncomfortable. Therefore, we shall look at this bike and determine if these critical features are well designed and presented.
This exercise bike features a contoured seat with a fairly large and cushioned seat that supports and offers comfort to the butt. It is covered with a highly durable vinyl material that could make it last for a long time.
The seat is also adjustable 4 ways which means that it can be adjusted upward/downward or forward/backward. This is very important because it allows the user to adjust to the preferred position that would also provide optimum comfort during workouts, and not only that, it also makes this bike to be suitable for users of different heights and could be used by multiple members of the family.
The upright post has about 10 adjustment holes with markings that will be very useful in reminding you of the position you used in your previous workout session should someone else use the machine and alter the seat settings.
The horizontal slider also has holes that make the overall seat adjustment non-complicated, but easy and quick.
The bike can accommodate users of different sizes of 5 feet up to 6 feet 7 inches tall, conveniently.
The handlebars of the Schwinn Airdyne Pro are mobile just as the case with most air resistance bikes such as the Sunny Health & Fitness SF-B2640 Air Bike Trainer.
These handlebars are connected to the bike's main pulley and designed in a way that they are not independent of the pedals which means whenever they move so do the pedals and vice versa. This is the reason why the footpegs are included to enable users to perform upper body workouts in isolation without having to pedal. The handlebars cannot be locked in order for them to remain static.
The handlebars also feature multiple grips on each handle which offer several workout position options to the user.
The handgrips are well covered with high-density foam that will provide maximum comfort and also prevent blisters on the palms.
The Resistance
This machine is obviously the type of bike that uses the air fan resistance system to generate resistance. This is not the type of other resistance systems that have the possibility of presetting the resistance level even before you begin working out but instead the resistance sets in as you start to pedal.
This means, you generate resistance as you start to pedal, and the harder you push the more likely you will experience a difficult and challenging workout but the moment you slow down the resistance also reduces. So, it could be considered as an infinite resistance system with a custom 26 blade fan because there is no defined level that is the highest point.
No resistance adjustment knob is present because it cannot be controlled via a knob but according to your fitness level.
This is also the reason why the bike is good for beginners, rehabbing exercisers, and of course for advanced athletes.
This bike's resistance is very dynamic and highly effective for high-intensity interval training exercises.
The Drive
This bike's drive system has got only one belt instead of two that are mostly found in other bikes.
It crankset is also unique because it uses two crank links, one on each side where the main crank arms are attached.
The crank arms are made of steel, therefore, a user can perform stand-up workouts without any issue.
Whereas the pedals that come with the bike are made of metallic alloy which makes them durable.
No toe cages, no adjustable straps, but the pedals can easily be replaced if you wish to do so because compatible ones are available.
The Schwinn Airdyne Pro is a bit noisier when compared to other bikes that use a magnetic resistance system. Ordinarily, air fan resistance bikes generate some level of noise but this one is quieter than most of the other air resistance bikes.
Console/Monitor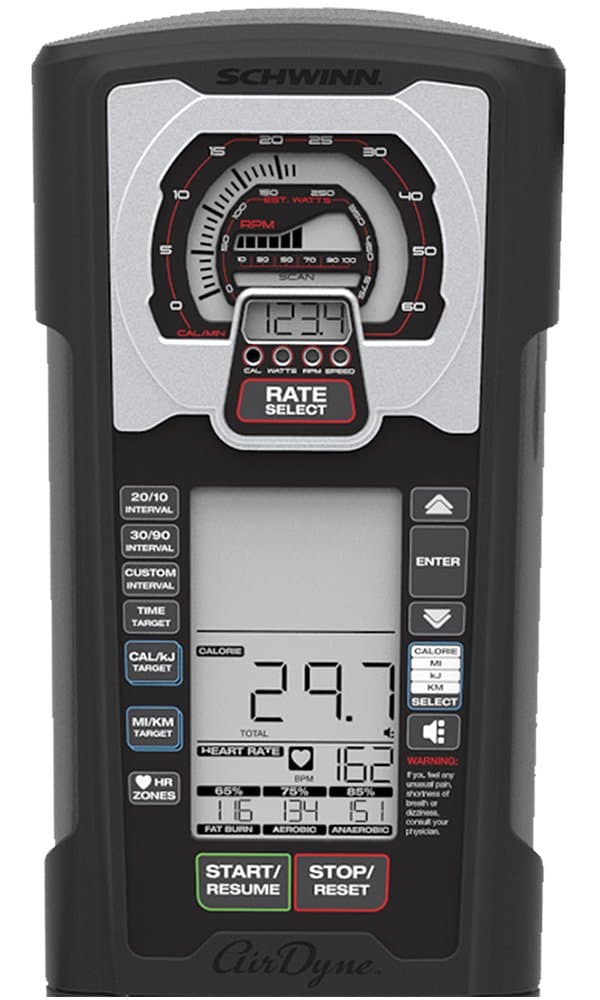 This Schwinn bike features an advanced console with two main displays. This console has a very impressive LCD screen that displays data such as time, distance, RPM, watts, pulse, and speed.
It has very high readability and provides three main interval programs. These interval programs are 20/10 interval, 30/90 interval, and the custom interval that allows you to create your own unique preferred interval exercise.
You also have the opportunity to set targets for time, calories, and distance; basically, there are three target settings available.
You can also monitor your heart rate through the HR strap which is however not included, you have to purchase that separately.
The console is powered by 120v 60H input, 9Vdc, 1500mA AC adapter, or with 2 D-type batteries that come with the machine.
There are a lot more useful functions that the console offers.
Approval Rating
The Schwinn Airdyne Pro Exercise Bike is obviously a very popular bike that is loved by its users. When you go through the Amazon customers' reviews you will see the popularity and the acceptance of this bike and this is an indication that it worth investing in even as it is a great investment for your health.
Needless to say that it has a very good approval rating at the time this review was written.
Pros/Features Overview
Very sturdy and solidly constructed
Has got an advanced console
It has got built-in fitness programs (9 workout programs available)
The bike is telemetry enabled but has to purchase the HR strap separately
It has an air fan resistance system that is so dynamic
The machine is suitable for all fitness levels
The console could be powered via a power cord or with 2-D type batteries which are included
It supports up to 350 pounds maximum user weight capacity
It has a 4-way adjustable seat that is also well-cushioned and can accommodate users of different height sizes of 5 feet to up to 6 feet 7 inches
It offers full-body workouts because of its mobile handlebars
It has multi grips handlebars
It is moisture repellant
Foot resting pegs included
Transport wheels available for easy relocation
Easy assembly
Impressive warranty
Has water bottle and smartphone holders
Cons
The HR chest strap is not included
The pedals are without safety straps
By the way, the LifeCORE Fitness Assault Air Bike Trainer might be worth looking up as well.
Product Dimensions and Specifications
55'' Length
26'' Width
53'' Height
Supports up to 350 pounds maximum user weight
Weighs about 113 pounds
Handlebars are mobile
Seat adjusts 4 ways
Belt drive system
Fan air resistance system
Advanced LCD monitor
Warranty
10 Years on Frame
2 Years on Parts and Electronics
6 Months on Labor
Shipping, Assembly, and Maintenance
Shipping
All online retailers have their own shipping policy that may require shipping costs; however, Amazon provides free shipping and usually delivers within 3 to 4 days of order.
Assembly
The Schwinn Airdyne Pro Exercise Bike is delivered almost fully assembled. There are only a few parts that will require attaching to the machine such as the base stabilizers, the handlebars, the pedals, the seat, the foot resting pegs, and the console port.
It also comes with assembling tools and an instruction manual that should walk you through the assembly process. It shouldn't take up to an hour to fully get it assembled and functional.
Maintenance
This is a maintenance-free bike because it features a belt drive system that does not need adjustment or lubrication.
You only need to be checking the bolts periodically and see if there is any that one has loosened and re-tight accordingly.
Conclusion
The Schwinn Airdyne Pro is definitely a unique exercise bike that has a lot of features that are hardly found in other air bikes. There are many reasons to consider buying and adding this bike to the home gym.
Except we think that the HR chest strap should have been included but nevertheless, it is still a good buy, at least the feedbacks indicate so.
Holler at us if you have any questions and we will get back to you as soon as possible.
Schwinn Airdyne Pro Exercise Bike Review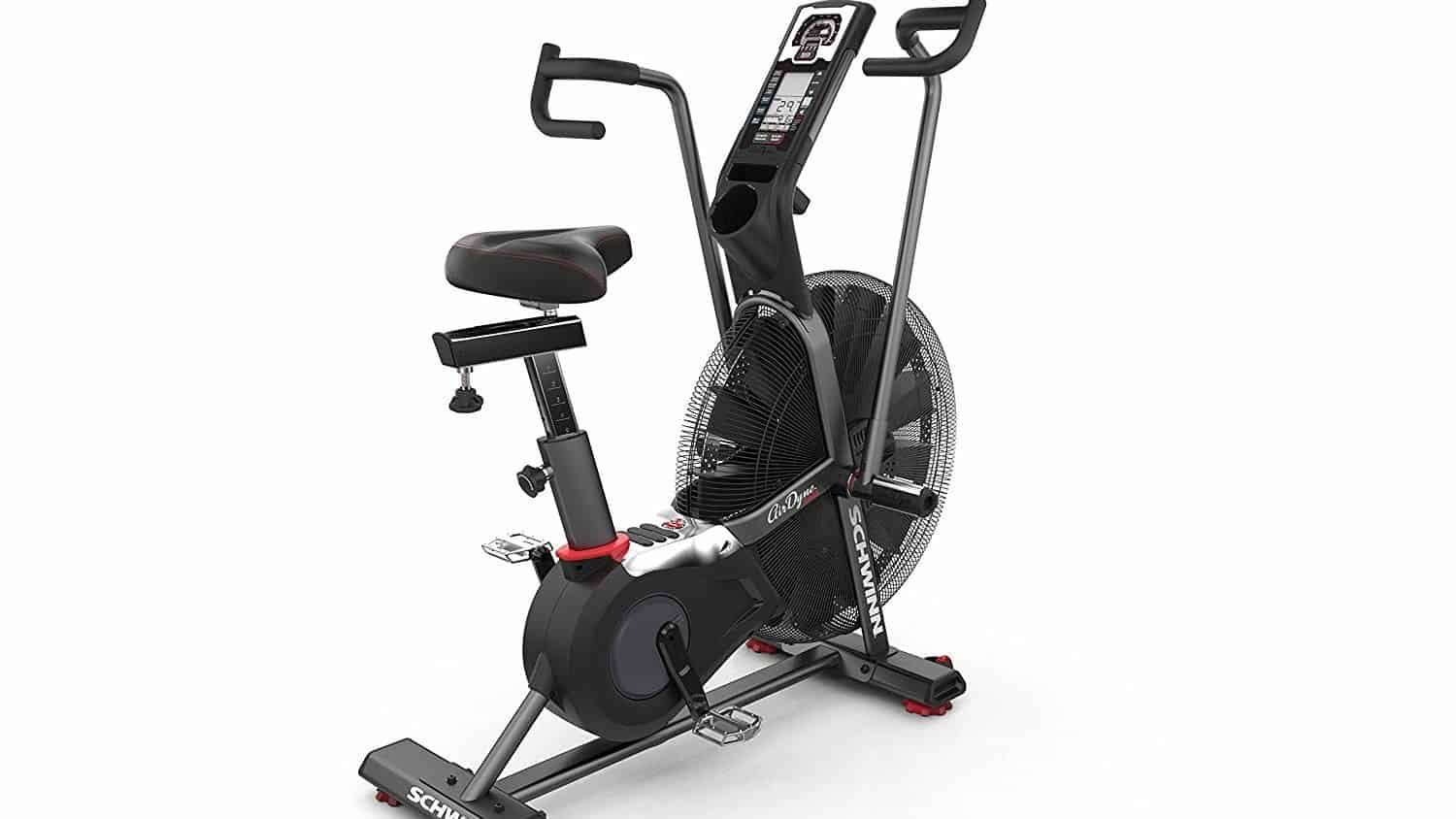 The Schwinn Airdyne Pro Exercise Bike is the reinvention of the legendary air dyne which is designed to provide even more powerful performance that includes customized intensity and increasingly challenging workouts.
Product Brand: Schwinn
Product In-Stock: InStock