The Schwinn A40 Compact Elliptical 100330 is affordable and one of the two models that are compact, at least when compared to other elliptical trainers.
So, if you are seeking to acquire a good elliptical trainer but do not have enough space, then you may want to consider this machine or the Schwinn 411.
Schwinn has been known for manufacturing fitness machines for many decades and they are good at what they do. They have on their shelf, many types of fitness equipment that come in different shapes and sizes to satisfy their consumers.
That said, the Schwinn A40 has a small footprint that doesn't compromise its stability. However, its pros and cons will be outlined in this review for better purchasing decision-making.
Click right here to have a peek at the Schwinn A40 Compact Elliptical 100330.
The Frame and Construction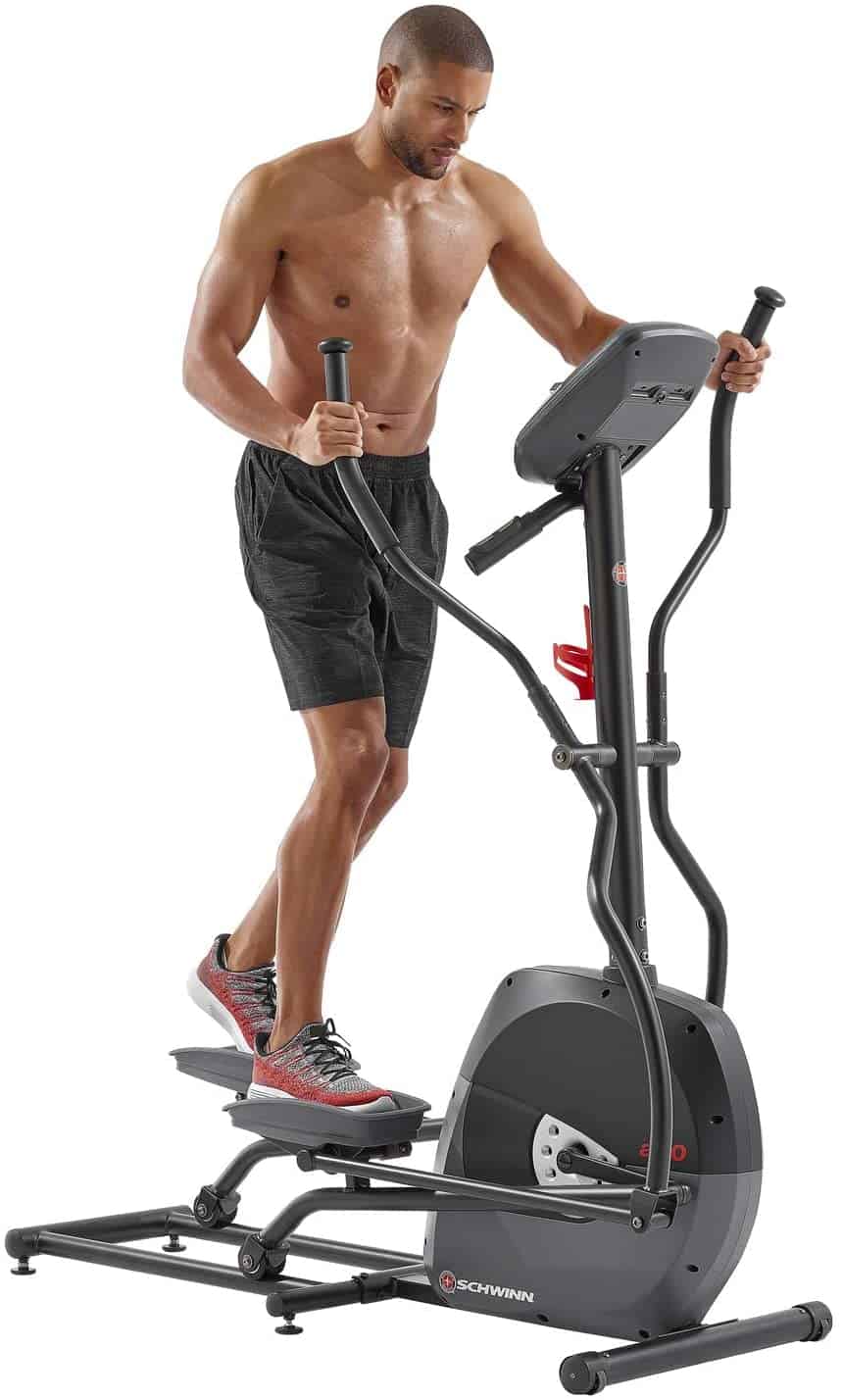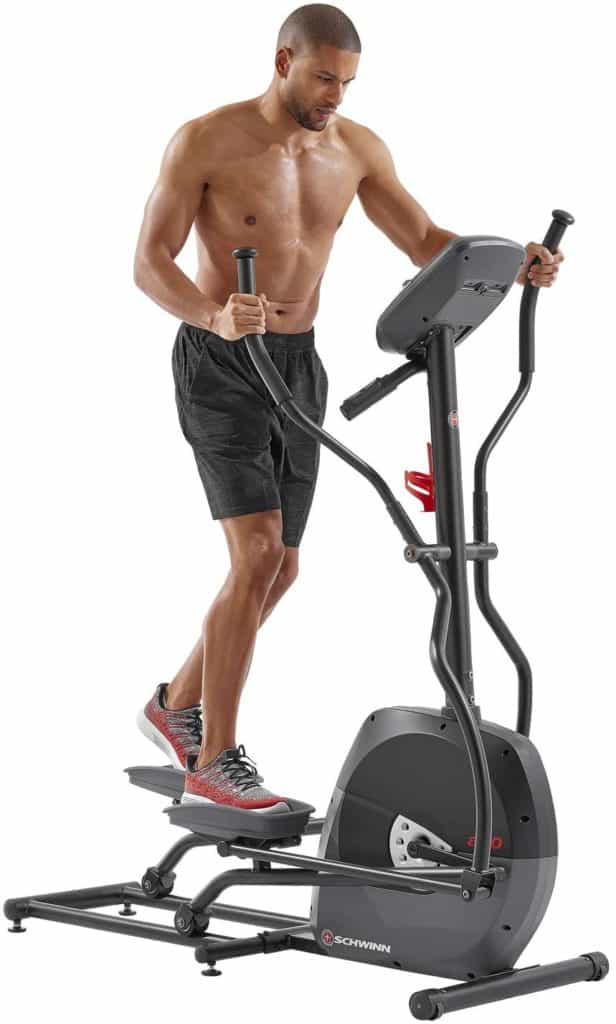 This elliptical machine has a solid heavy-duty steel frame that is coated with anti-rust paint, while the drive and console casings are made of ABS plastic.
It is sturdy enough to support a maximum user weight capacity of 275 lbs./124.7 kg.
The base framework features adjustable rubber levelers at the rear and in the middle of it, while the front stabilizer integrates rubber end caps and transport wheels. So, the base is floor-friendly with good traction that promotes stability.
Moreover, the unit's weight (90.4 lbs./41 kg) further guarantee optimum stability and the best user experience even during an intense workout.
There are large rollers that are attached to the pedal's bars which glide smoothly on the back section of the base when pedaling.
The elliptical trainer's overall assembled dimensions are 59'' long by 23'' wide by 64'' high. Differently put, the unit needs a workout area with the perimeters of 5' length by 2' width and an extra clearance of 2' around it for a better and safer workout experience.
The Handlebars of the Schwinn A40 Compact Elliptical 100330
The Schwinn A40 integrates 2 sets of handlebars; static and dual-action.
The static handlebars are fixed and attached to the mast. They have the EKG HR sensors incorporated into them so that when they are held during a workout the heart rate is read and transmitted to the monitor.
While on the other, the dual-action handlebars are attached to the mast and connected to the cranks. Hence, they don't operate independently without the pedals also moving.
These handlebars offer the opportunity to exercise the arms, the back, the abs, and the shoulders.
However, there are no EKG heart rate sensors on them.
The two sets of handlebars are cushioned with anti-sweat soft rubber foam for comfortable and secure grips. Therefore, you can work out comfortably and longer without feeling slippage or blisters in the palms.
The Pedals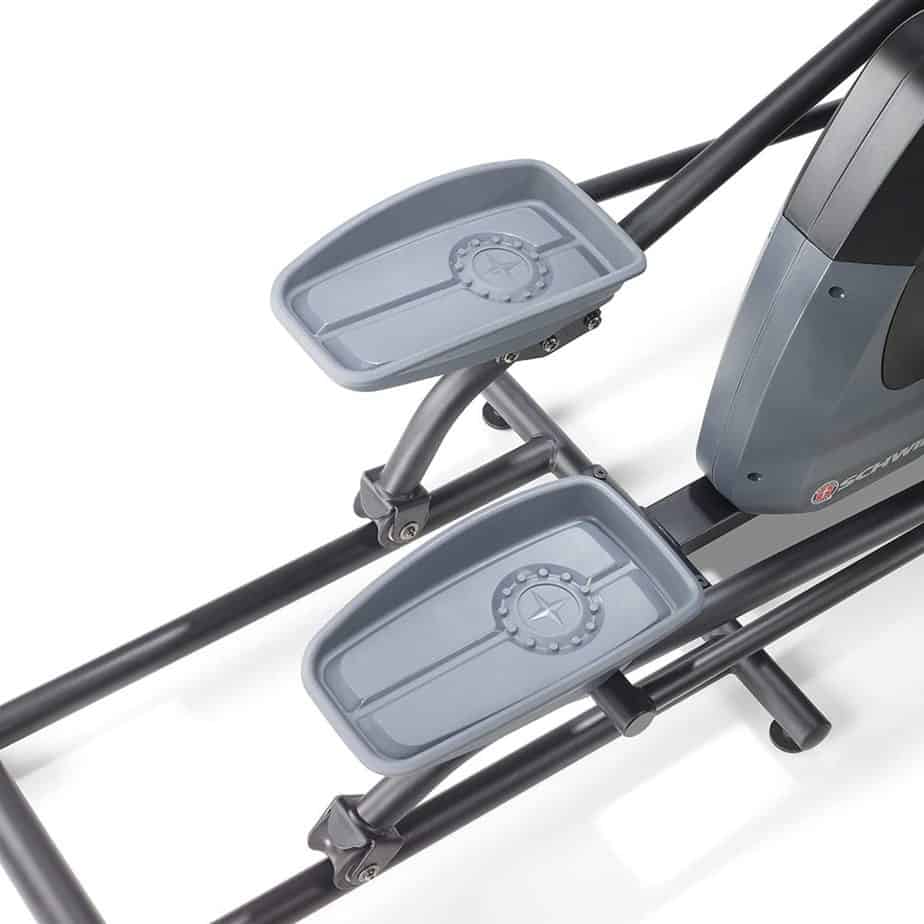 The Schwinn A40 Compact Elliptical 100330 features a set of large and anti-skid pedals that also have a protective border that secures the foot from slipping during a vigorous workout.
They are attached to the bars connected to the dual-action handlebars.
The pedals can accommodate different foot sizes and gym shoes.
To determine the appropriate ceiling height of the room the elliptical trainer is to be used, add your height to 18'' (highest pedal position), and a few more inches for clearance. This way, you will be able to know if your ceiling height is adequate or not.
For instance, a 6' user's ceiling height should be 72'' (6') +18'' (pedal's highest position) + 10'' (clearance)= 100''/8'3''
Finally, the pedals have a 17.5'' stride length; enough for most users to exercise with full leg extension especially those that are 6' tall and below. Nevertheless, taller individuals can utilize the elliptical trainer but they may not be able to exercise with full stride.
The Drive
The Schwinn A40 Compact Elliptical 100330 incorporates a belt drive system. It consists of internal elements such as a durable anti-stretch belt, pulley, cranks, and a 17 lbs./7.7 kg perimeter weighted flywheel.
The drive transmission is smooth and quiet; hence, you can enjoy working out with the machine at any time of the day without getting in other people's way. Its operation doesn't either interfere when you Watch a movie, TV show, or listen to music.
When it comes to maintenance, it requires none, as opposed to a chain drive system that needs periodic lubrication or adjustment.
The Resistance
This unit has an eddy current magnetic resistance system, meaning it comprises magnetic brake pads and a metallic flywheel.
It generates resistance when the magnetic brake pads emit a magnetic field around the metallic flywheel without any of the mechanisms making any real contact. This is why it's referred to as a frictionless resistance system that doesn't wear or damage any internal element over a period of time.
Hence, you don't have to service or change any part at any time; it is maintenance-free.
The resistance system provides 8 resistance levels that are adjustable via the console.
For this to work, the machine needs to be powered either with a 120V 60 Hz input power adapter (may not be included) or with 4 D batteries (not included)
The resistance system offers different levels of workout challenges that could help anyone, including those that need to undergo physical therapy procedures for injury recovery.
However, its highest resistance level does not provide an extremely difficult workout that may impress advanced or professional athletes.
The Console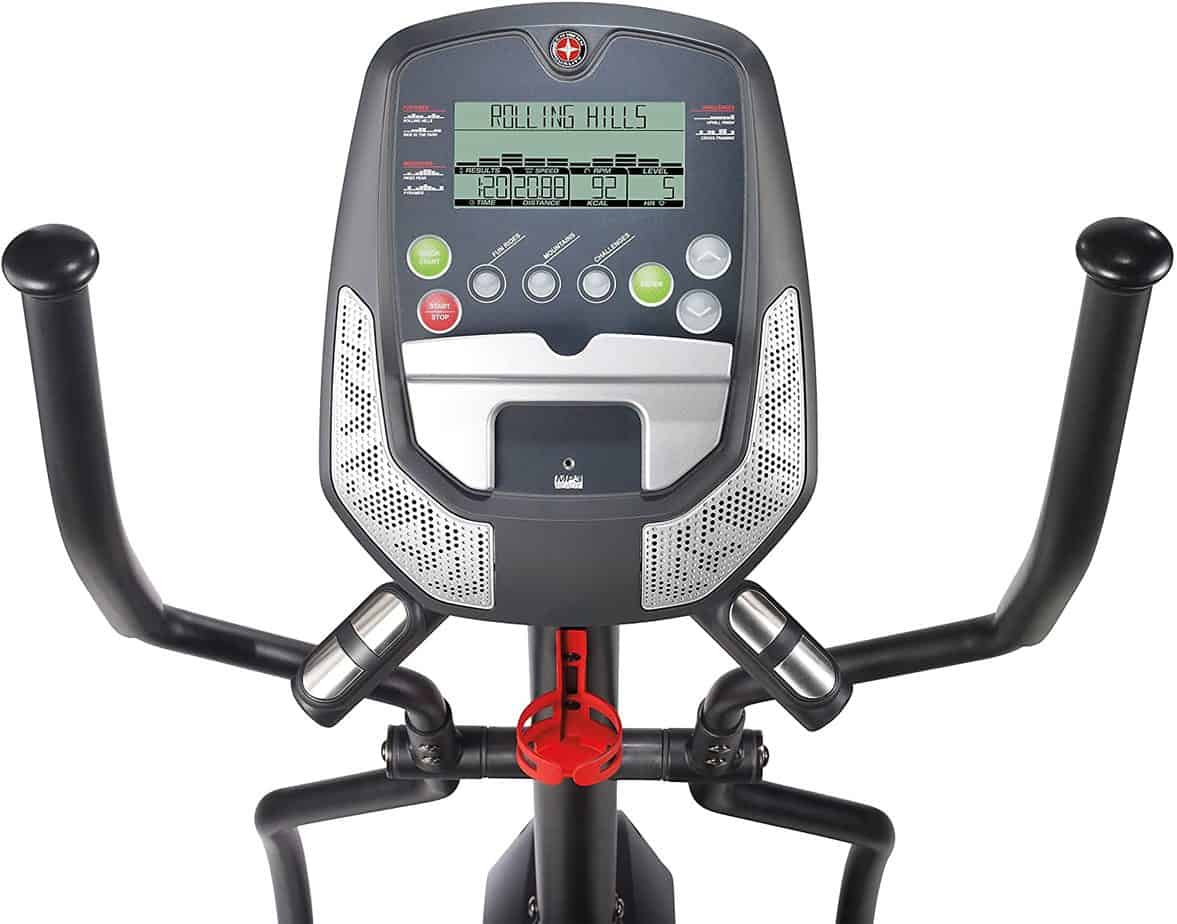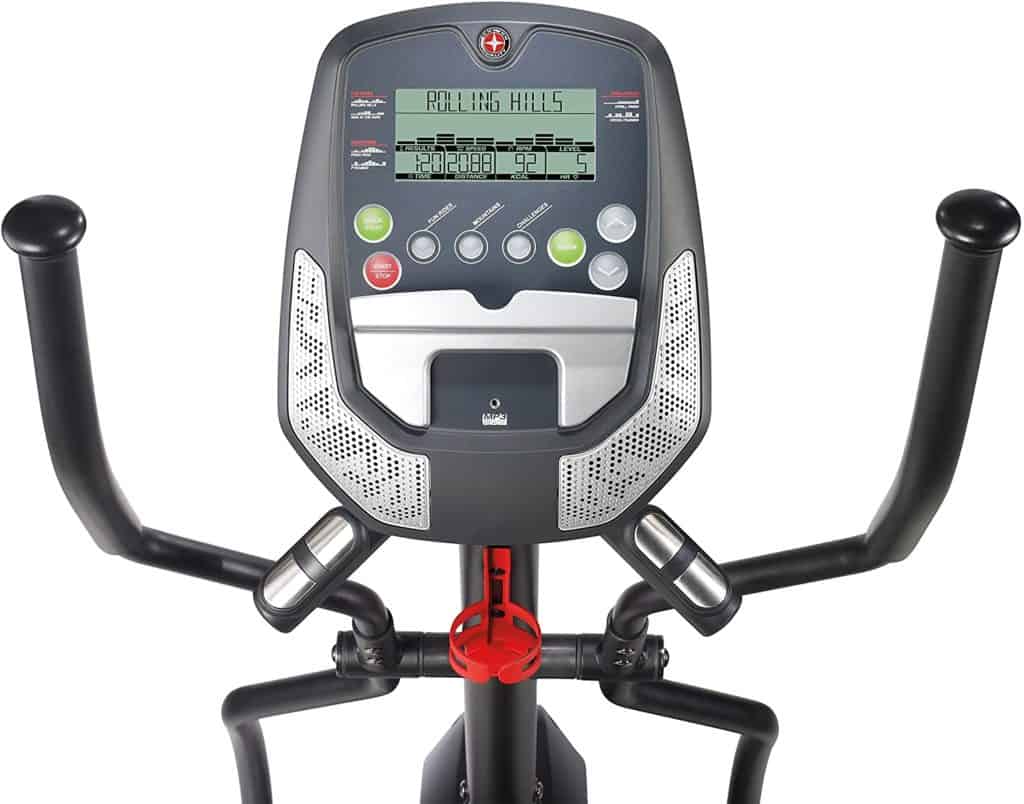 The console on the Schwinn A40 Compact Elliptical machine is mid-range. It features an LCD monitor that tracks workout stats such as Time, Calories, Distance, Resistance Level, RPM, Results, and Heart Rate.
Its readability is great as long as it's being viewed in a well-lit environment, otherwise, it is going to be compromised because it's not backlit.
7 workout programs include 6 profiles and 1 QuickStart. These programs are user-friendly and they offer workout versatility for everyone at any fitness level. Exercise with any of them or create and customize your workout by using the manual setting.
A certain resistance level is automatically assigned when any of the preset workout programs is selected.
Accessory
There are built-in speakers, an MP3 jack, and a tablet holder on the console. You can connect an iPod, MP3 player, or a smartphone/tablet to the MP3 jack to stream music via the built-in speakers for quality output.
Although, the display screen may be blocked when a tablet device is placed on the holder.
A water bottle holder is also attached to the console mast within arm's reach for maintaining proper hydration during a workout session.
Storage
The Schwinn A40 Compact Elliptical 100330 will not overwhelm your space.
An area with perimeters of 5' length by 2' width should suffice for storage.
The integrated rollers at the front base facilitate its relocation process without hassles even though it weighs 90.4 lbs./41 kg.
Pros/Features Overview
It is sturdy, compact, and portable
Supports 275 lbs./124.7 kg maximum user weight capacity
Robust base with adjustable levelers for maximum stability
Its operation is smooth and quiet
Eddy current magnetic resistance system provides 8 adjustable levels for a range of workouts intensities that are suitable for beginners, intermediary users and those recovering from an injury
7 workout programs for workout diversification
2 sets of handlebars (fixed and mobile) for different workout postures, including exercising the upper body
The easy-to-read LCD monitor tracks workout progress such as Time, Calories, Distance, Resistance Level, RPM, Results, and Heart Rate
The large, anti-slip pedals accommodate different foot sizes comfortably
EKG contact grips for heart rate monitoring
Maintenance-free
Water bottle holder included
Tablet holder included
Sound system included
Assembly not complicated
Cons
The monitor is not backlit
The console is not telemetry-enabled
Workout programs are only 7
Doesn't connect to an online app
4 D batteries are not included, and the power adapter may not be included
Product Dimensions and Specifications
Length 59''
Width 23''
Height 64''
Shipping dimensions: 36'' L X 26.9'' W x 16'' H
Net weight: 90.4 lbs./41 kg
Gross weight: 104 lbs./47 kg
Maximum user weight capacity: 270 lbs./124.7
Drive: Belt
Resistance: Eddy current magnetic, 8 adjustable levels
Handlebars: Fixed and moveable
Pedals: Large and anti-skid designed
Monitor: Nonbacklit LCD monitor
Power: 4 D batteries or 120V 60 Hz input power adapter
Frame: Steel
Flywheel: 17 lbs./7.7 kg
Programs: 7 (6 profiles and 1 QuickStart)
Stride length: 17.5''
Transport wheels: Yes
Water bottle holder: Yes
Tablet holder: Yes
Built-in speakers and MP3 jack: Yes
Warranty
2 Years for Frame
6 Months for Mechanical and Electrical
Shipping
The Schwinn A40 Compact Elliptical 100330 is shipped out in a box that weighs 104 lbs./47 kg with dimensions of 36'' L X 26.9'' W x 16'' H.
Amazon ships it for free and get it delivered within a couple of days.
Assembly
The unit comes with major components such as the drive and resistance elements preassembled.
You are required to put the two frame parts together, attach the base, the handlebars, the pedals, and the console to the main core unit. It will take about an hour, more or less to fully assemble it.
An instruction manual and tools needed for the assembly are included in the package.
Maintenance
Simply ensure that the unit is kept clean at all times. Inspect it to make sure that no part is loose or broken before use.
Other safety instructions and guidelines are outlined in the owner's manual.
Conclusion
The Schwinn A40 Compact Elliptical 100330 is an affordable fitness machine that offers low-impact and total-body cardio workouts that could improve your overall physical fitness.
However, if space is not a problem you may want to look up the ProForm Hybrid Elliptical.