The Schwinn 411 Compact Elliptical offers an 18'' stride length. In other words, it's a compact machine that takes a little space yet provides the same or better stride length some large elliptical trainers might offer, and that's interesting.
At the time of this review, this elliptical trainer is Amazon's choice, meaning it's a highly rated and well-priced product and the reason for this could easily be seen in the product's quality, functions, and features.
Despite its small footprint, its stability is not compromised. It is built to support 300 lbs./136 kg maximum user weight capacity.
There are several interesting features that include the ability to sync the machine with the mixed reality RunSocial app which enables you to race through 19 different locations with 27 routes alongside friends.
It has Bluetooth connectivity that connects the machine to the app and to the HR wireless chest strap as well. It also has contact grip sensors for tracking the heart rate. So, you can monitor your pulse if you don't want to use the HR chest strap device (not included).   
The trainer is designed for home use; prospective users living in a small room or apartment might be able to own one.
Click right here to have a peek at the Schwinn 411 Compact Elliptical.  
Frame and Construction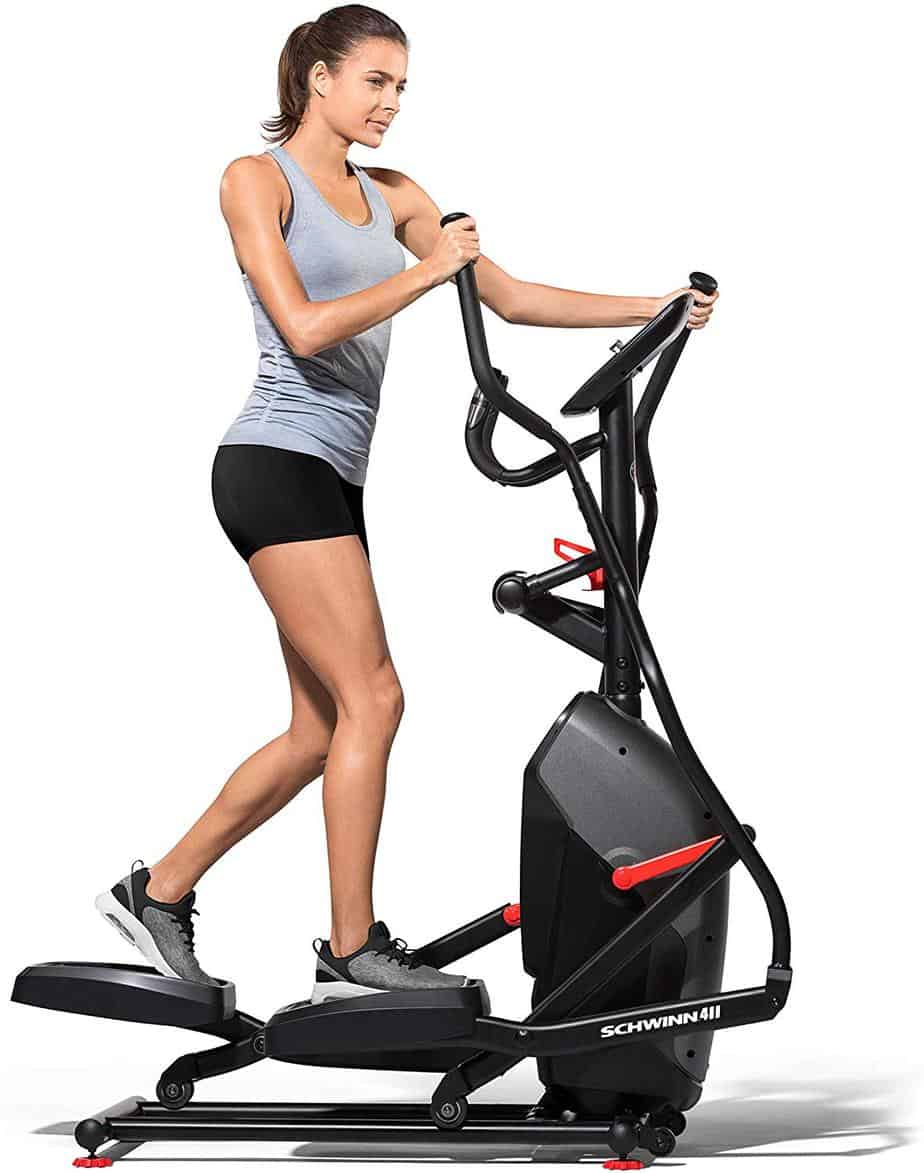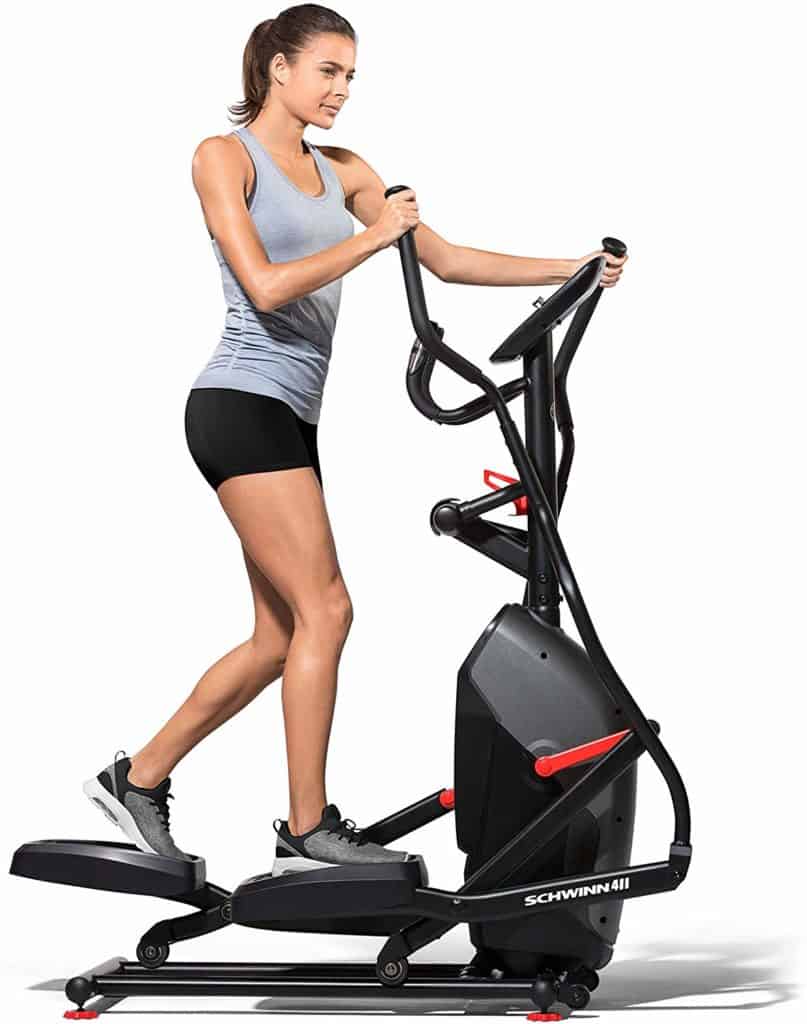 The Schwinn 411 Compact Elliptical is a compact front-driven elliptical trainer. It has a solid steel frame and ABS coverings for safety and cosmetics. Thus, it supports up to 300 lbs./136 kg user weight capacity with a neat and safe outlook.
All the parts are coated with anti-corrosive paint that preserves its quality for longevity.
The trainer's overall assembled dimensions are 53.8'' long by 24'' wide by 62.5'' high. Therefore, the workout area it will require must have perimeters of 4'5'' length by 2' width and a ceiling height of at least 7' or higher depending on the user's height.
Moreover, for safety and convenience reasons, it is recommended to have an extra clearance of at least 2' all around the machine.
The base features solid front and rear stabilizers that are adjoined with steel bars on each side. These bars also serve as the rails upon which the pedals' rollers glide on, and there are adjustable levelers underneath the base which enable a user to level up the machine on a crooked surface.
The overall assembled weight of the elliptical trainer is 100 lbs./45 kg, and when combined with the base framework and the levelers, they provide formidable stability regardless of the fact that the machine has a small footprint.
The Handlebar of the Schwinn 411 Compact Elliptical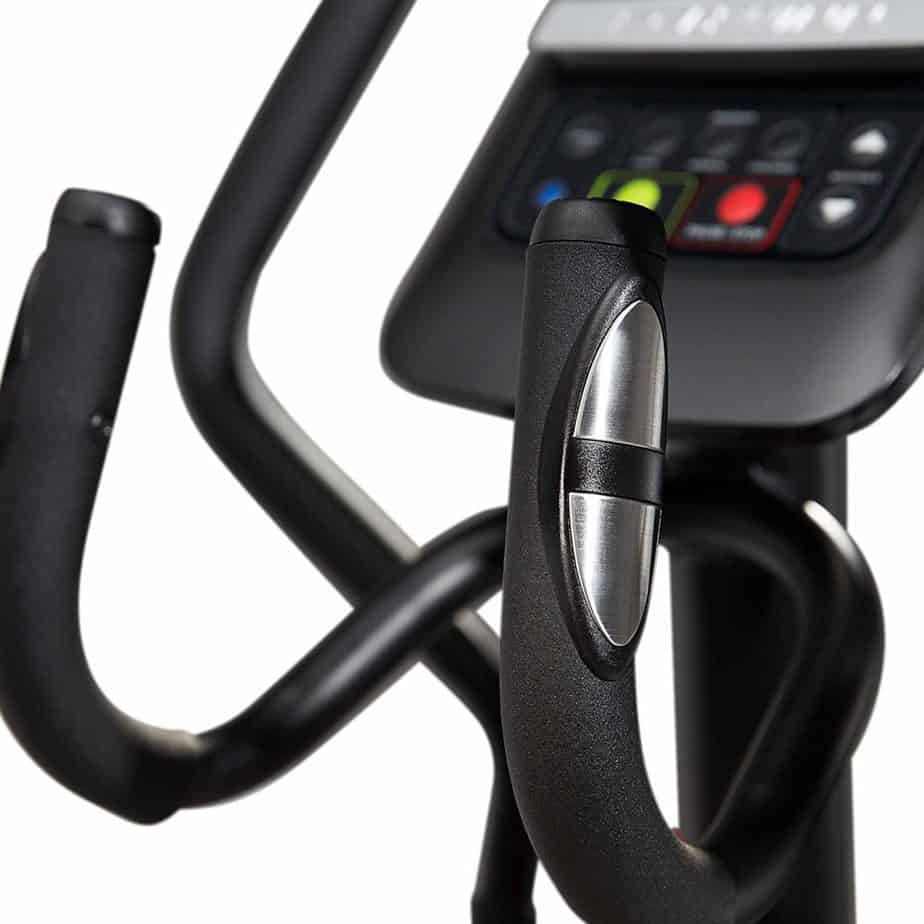 There are two sets of handlebars on the Schwinn 411 Compact Elliptical. One set is static with EKG sensors integrated into them while the other set is moveable. Therefore, you can exercise the full body or just the lower body if you so desire.
The two sets of handlebars are attached to the mast, strategically positioned, and coated with soft rubber foam in order to provide comfortable and secure grips.
So, a prolonged workout won't leave you feeling sore in the palms, and neither will you experience slippage due to sweaty hands.     
The mobile handlebars still move back and forth as long as you pedal, because their connection to the pedals is fixed, and as a result, they are not independent of them.
They (moveable handlebars) are engineered to provide low-impact mechanical natural movement adherence.
The Pedals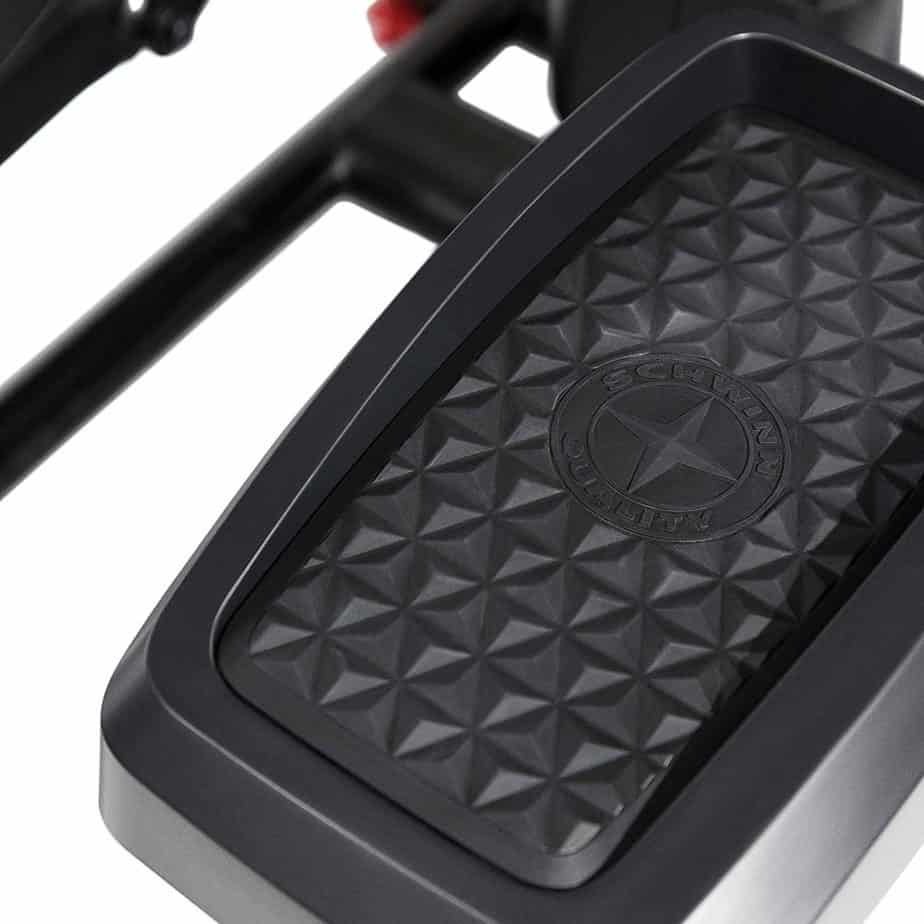 The Schwinn 411 Compact Elliptical is integrated with large, anti-skid ABS-made pedals. They are attached to a couple of steel bars and to the heavy-duty crank-arms. They work in tandem with the moveable handlebars just as was mentioned above.
The pedal has a step-up height of about 9'', so, mounting and dismounting from the machine won't really be a problem to users.
Also, the highest height position of the pedal is about 17'', thus, it is important to have a clearance of at least 1' between the ceiling and your height to prevent your head from hitting the ceiling.
Users that are up to 6'3'' tall can experience a satisfactory range of motion considering the fact that the stride length is 18''.
Indeed, the pedals are accommodative, secure, and comfortable.
However, none of the set of handlebars or pedals is adjustable.
Finally, the pedals have a Q-Factor of 5.5''/139.7 mm, narrow enough to not put stress on the ankles and the knees.
The Drive
The drive of the Schwinn 411 Compact Elliptical is located at the front part of the machine and it is a belt drive system as expected. This means that it uses a heavy-duty anti-stretch belt which makes its operation smooth and quiet as against a chain drive system that generates some level of noise.
The family or the neighbors won't complain of disturbances when working out with the elliptical trainer at any time of the day. More so, you don't have to increase the volume of the TV beyond the normal range if you so choose to watch a show.
Moreover, the belt drive system doesn't need any periodic lubrication, in other words, it's maintenance-free.
The drive is fixed; therefore, you can pedal in reverse to diversify your workout and positively impact more muscle groups.
The Resistance
The Schwinn 411 Compact Elliptical features an eddy current resistance system (ECB). This is a motorized resistance system that is adjustable via the console, and not a manual system that uses a dial knob.
The console works when the machine is plugged into a power outlet. A power adapter is supposed to be included in the package; however, some users have complained they didn't get any, but have to purchase it separately.
It could also be powered by using 3 D batteries, but it's better to purchase the adapter if it's not included in the package than buying batteries now and then.
There are 16 adjustable resistance levels that offer diversified workout challenges that are suitable for anyone that wishes to lose weight, leg muscle toning, improvement of cardiovascular health, strength, and endurance. They are also suitable for those undergoing injury recovery.   
The trainer's operation is vibration-free and smooth even when the resistance is engaged, thanks to the integrated perimeter weighted flywheel that provides the needed consistent momentum.
The Console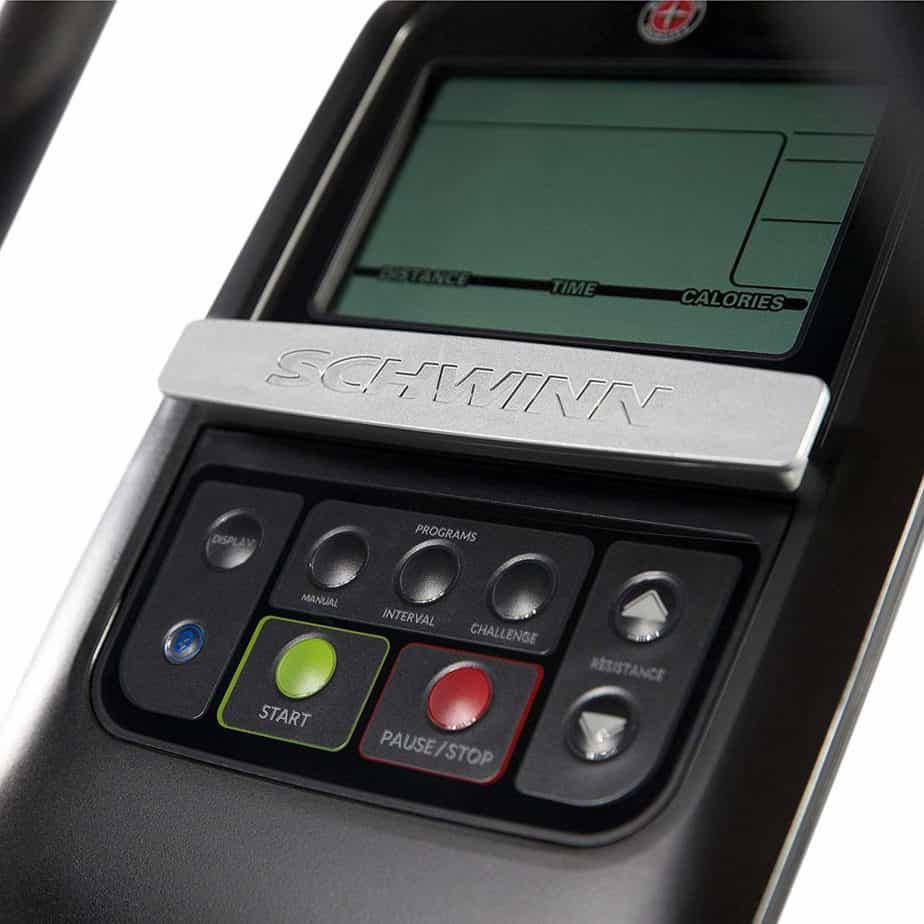 The console on the Schwinn 411 Compact Elliptical features a mid-range 5.5'' nonbacklit LCD monitor that displays workout stats such as Time, Distance, Speed, Calories, and Heart Rate.
Distance and Speed stats can be displayed in imperial or metric units.  
The display has good readability as long as it's being viewed in an environment with good illumination.
The console is telemetry-enabled; it can be connected to a Bluetooth HR chest strap device which has to be purchased separately because it's not included in the package. Although, you can use the EKG contact grip to monitor your heart rate if you do not wish to purchase the wireless heart rate device.
The console is not compatible with wrist monitor/Fitbit, etc.
There are 13 workout programs available on the console with three buttons that represent them. These include the manual and interval program buttons and the challenge button for the preset programs.
The manual button allows you to adjust or set your own preferred resistance level without the machine dictating to you, while the interval button offers a preset at 30/90; meaning 30 seconds for sprint interval and 90 seconds for the rest of the interval.
This runs by a default duration of 12 minutes, however, it can be increased in increments of 12 minutes.
The challenge programs include 10 preset (Rolling Hills, Ride in the park, Easy Tour, Pike's Peak, Pyramids, Summit Pass, Stream Crossing, and Mount Hood) and heart rate control, totaling 11 programs.
A resistance level is automatically assigned when any of the preset programs are selected. Moreover, you will be able to set a goal for Time, Distance, and calories for any selected preset, interval, or manual program.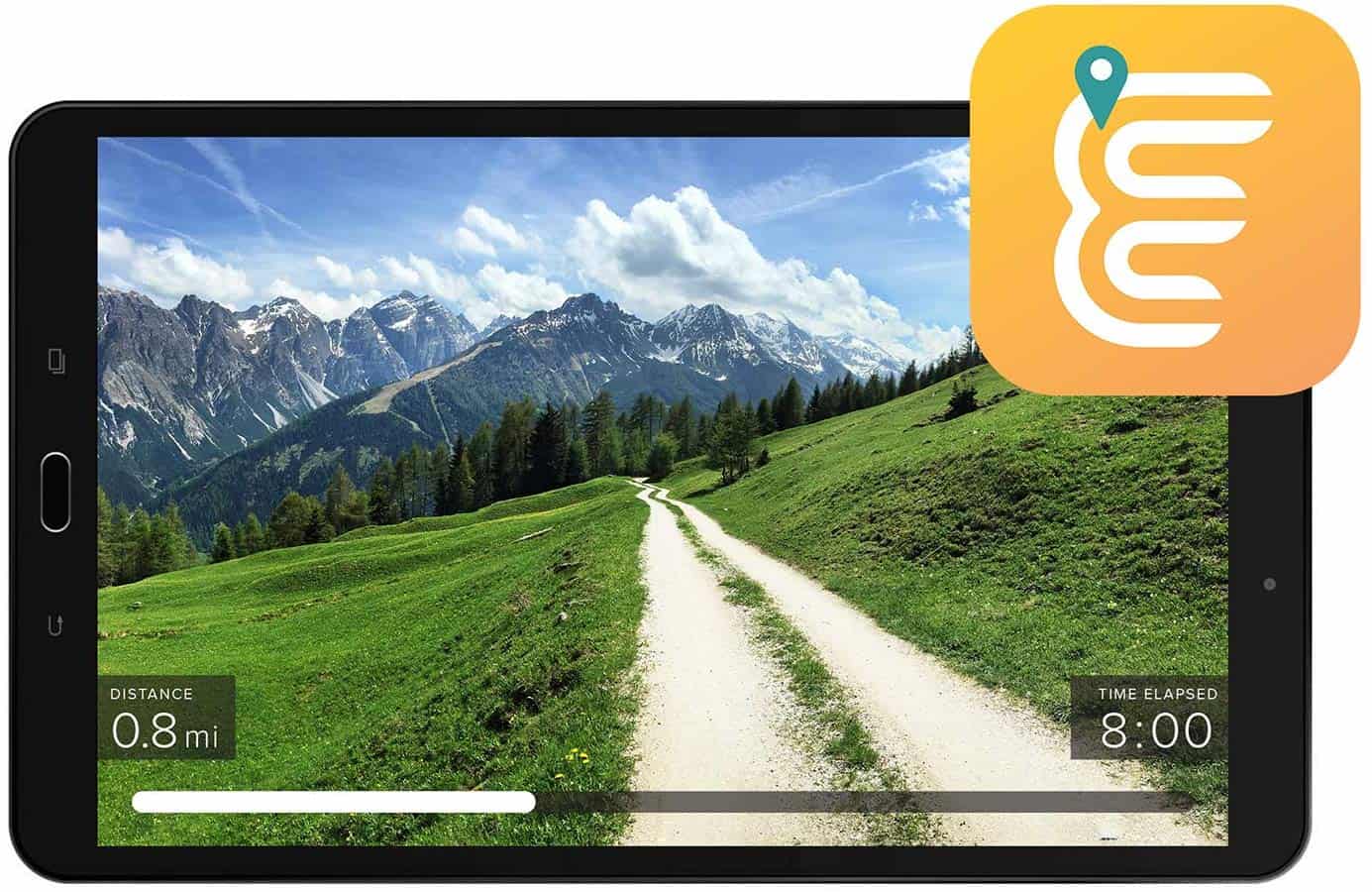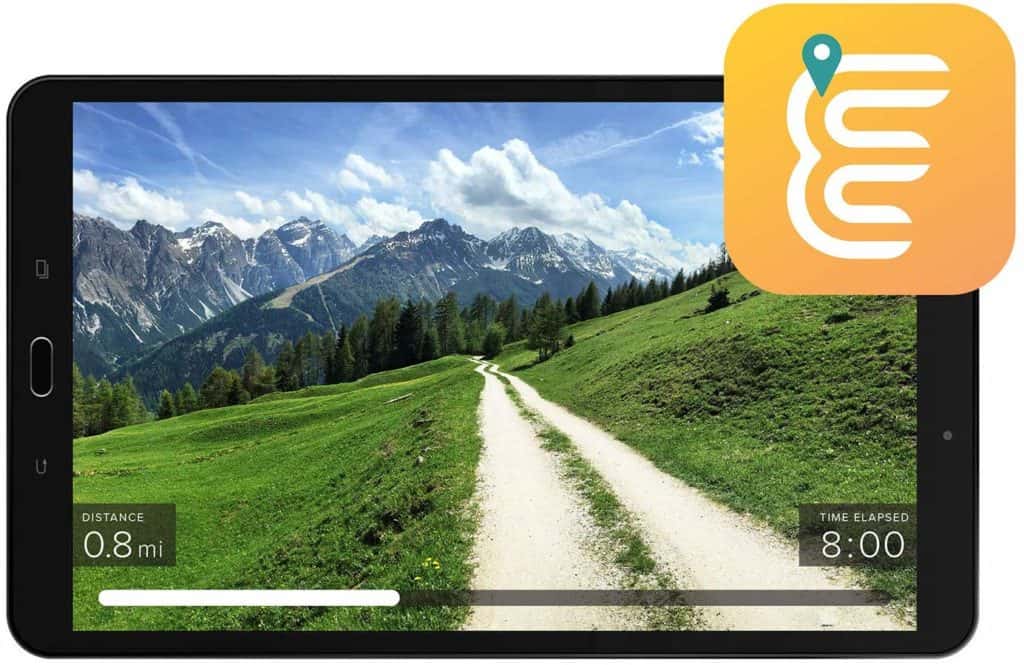 The console offers connectivity to the ''explore the world app'' better known as the mixed-reality RunSocial app. The machine communicates with this app via Bluetooth so that you can explore up to 19 different virtual locations with 27 routes alongside friends. 
This spices up your workouts and helps you to achieve your fitness goals while having fun.
The RunSocial app offers free maps but also offers a subscription that will unlock more content.
So, you don't have to necessarily subscribe if you are cool with the free offer.
Accessory
The Schwinn 411 Compact Elliptical is equipped with a tablet holder that is located on the console right below the LCD monitor screen. It can accommodate a smartphone or a tablet device. However, the view of the monitor might be blocked if a tablet device is placed on the holder.
There is also a water bottle holder designated at the mast, well within reach for easy access. Therefore, you can work out and maintain proper hydration which is essential for a productive fitness result.
Storage
The elliptical trainer is not foldable, however, it's not very large either.
It has a small footprint that doesn't take up too much space.
There are transport wheels at the front base that assist in the relocation process of the trainer.
Pros/Features Overview
Solidly built and stable
It has a compact design that saves space
The large pedals are comfortable, secure, and accommodative
The pedals have narrow Q-Factor that provides a natural motion that puts less stress on the ankles
Offers 18'' stride length
There are 2 sets of handlebars (static and moveable)
The machine offers full-body aerobic and cardio workouts
It provides low-impact workouts that are gentle on the joints
13 workout programs
The LCD monitor tracks workout progress
Goal setting for Time, Distance, and Calories
Bluetooth connectivity
Compatible with mixed reality RunSocial app
EKG contact grip and wireless heart rate monitoring
ECB resistance system with 16 adjustable levels
The console can be powered by electricity or batteries
Its operation is quiet and smooth
Transport wheels included
Low maintenance
Not very difficult to assemble
Water bottle holder included
Tablet holder included
Impressive warranty
Cons
HR chest strap not included in the package
The power adapter may not be included in the package
The monitor is not backlit
The monitor view might be blocked when a tablet device is placed on the holder
Product Dimensions and Specifications
Length 53.8''
Width 24''
Height 62.5''
Net weight: 100 lbs./45 kg
Gross weight: 120 lbs./54 kg
Maximum user weight capacity: 300 lbs./136 kg
Frame: Steel
Drive: Belt
Resistance: ECB, 16 adjustable levels
Power: Electricity/Batteries
Pedals: Large, anti-skid
Q-Factor: 5.5"
Handlebar: 2 sets; fixed and moveable
Heart rate monitoring: EKG contact grip and Wireless
18'' stride length
Console: Nonbacklit 5.5'' LCD monitor tracks Time, Distance, Speed, Calories, and Pulse
Programs: 13
Bluetooth connectivity
Compatible with mixed reality RunSocial app
Tablet holder: Yes
Water bottle holder: Yes
Transport wheels: Yes
Warranty
10 Years for Frame
2 Years for Mechanical
1 Year for Electrical
90 Days for Labor
Shipping
The Schwinn 411 Compact Elliptical is shipped out in a single well-packaged box that weighs 120 lbs./54 kg.
Amazon provides free standard shipping and makes delivery within days of purchase.
Assembly
This product arrives with some of its parts preassembled.
Basically, you need to attach the stabilizers to the base frame then to the main body after attaching the levelers. Then, move on to fix the mast, the moving handlebars, the pedals, and the console to the core unit.
This will probably take more than an hour to complete.
The package is accompanied by an instruction manual and all the tools you will need for a successful assembly.
Once you follow the instructions on the manual you will be able to do it.
Maintenance
You only need to keep the trainer clean from dirt and sweat at all times, especially the rails.
As a preventive measure, also examine it for a loose or broken part before use.
Conclusion
The Schwinn 411 Compact Elliptical is a recommendable elliptical trainer that has been tested and approved by many users.
Its compact design, 18'' stride length, 13 programs, ECB resistance system, Bluetooth connectivity, 2 sets of handlebars, RunSocial app compatibility, good pricing, and many more are good enough reasons to procure it for home use.
Finally, there are other models with different sizes, features, and price tags that you may want to look up, such as the Schwinn A40, Schwinn 430 Elliptical, and Schwinn 470.