The ProForm Hybrid Elliptical Trainer is not the regular conventional elliptical machine. It is a hybrid that integrates a recumbent bike's design as well.
Its additional features guarantee that your workouts are comfortable and productive even as you diversify by taking turns in workout postures.
It is a rear-driven unit that could be ridden while seated or standing. You can choose to exercise the lower or the full-body.
Follow and workout with personal trainers, stream studio workouts in the comfort of your home, and more with the iFit app (membership required).
This is one of the best ellipticals for anyone that needs an innovative fitness machine that is yet affordable.
Click right here to have a peek at the price and of of the ProForm Hybrid Elliptical Trainer on Amazon.
The Frame and Construction
The ProForm Hybrid Elliptical Trainer's construction includes anti-rust gray coated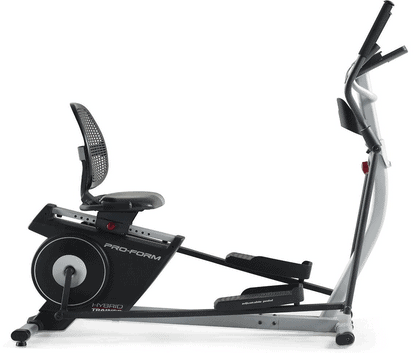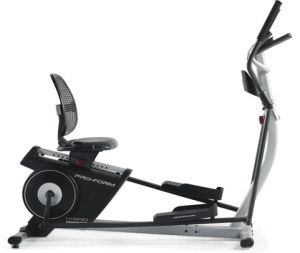 heavy-duty steel frame, and plastic-made drive and the console casings.
It supports a maximum user weight capacity of 350 lbs./158.7".
Its dimensions are 70.5" long by 24.5" wide by 60.5" high. Consequently, it's going to need a workout area with measurements of 5'9" length by 2'1" width, with an additional clearance of 2′ around it for easy access and comfortable workout experience.
The ProForm Hybrid Elliptical PFEL03815K Trainer features a step-thru design that enables everyone including those that are physically impaired to easily mount and dismount it.
You can ride and step without experiencing a wobbling movement. Thanks to its robust base that has front and rear steel stabilizer bars with rubberized footings for traction and floor-friendliness. The adjustable levelers at the rear base enable you to balance it adequately on a floor.
Furthermore, the unit's net weight of 116.8 lbs./53 kg grounds it and optimizes its overall stability.
The unit can easily be moved around via the integrated transport wheels at the front base, regardless of its size and weight.
The Seat of the ProForm Hybrid Elliptical Trainer
This 2-in-1 fitness machine integrates a recumbent bike's seat that is large and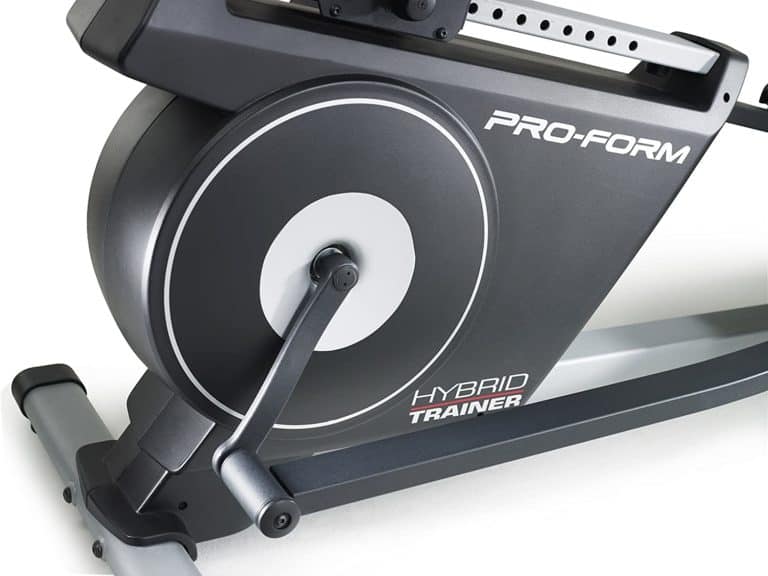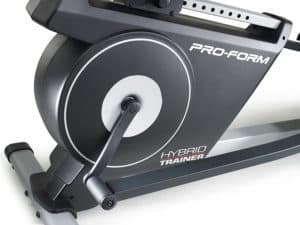 comfortable. It has a mesh backrest that provides improved lumbar support for aggressive and intense pedaling.
The 2-way adjustable seat with soft rubber-foam coated handlebars is attached to a steel rail with several adjustment holes for a perfect fit. It could be adjusted horizontally (fore/aft), but the height is impacted as well due to the slanted rail.
When adjusted backward the seat goes up in height and when adjusted forward it goes down.
The Handlebars
Besides the seat's handlebars, there are 2 more sets designated at the front part of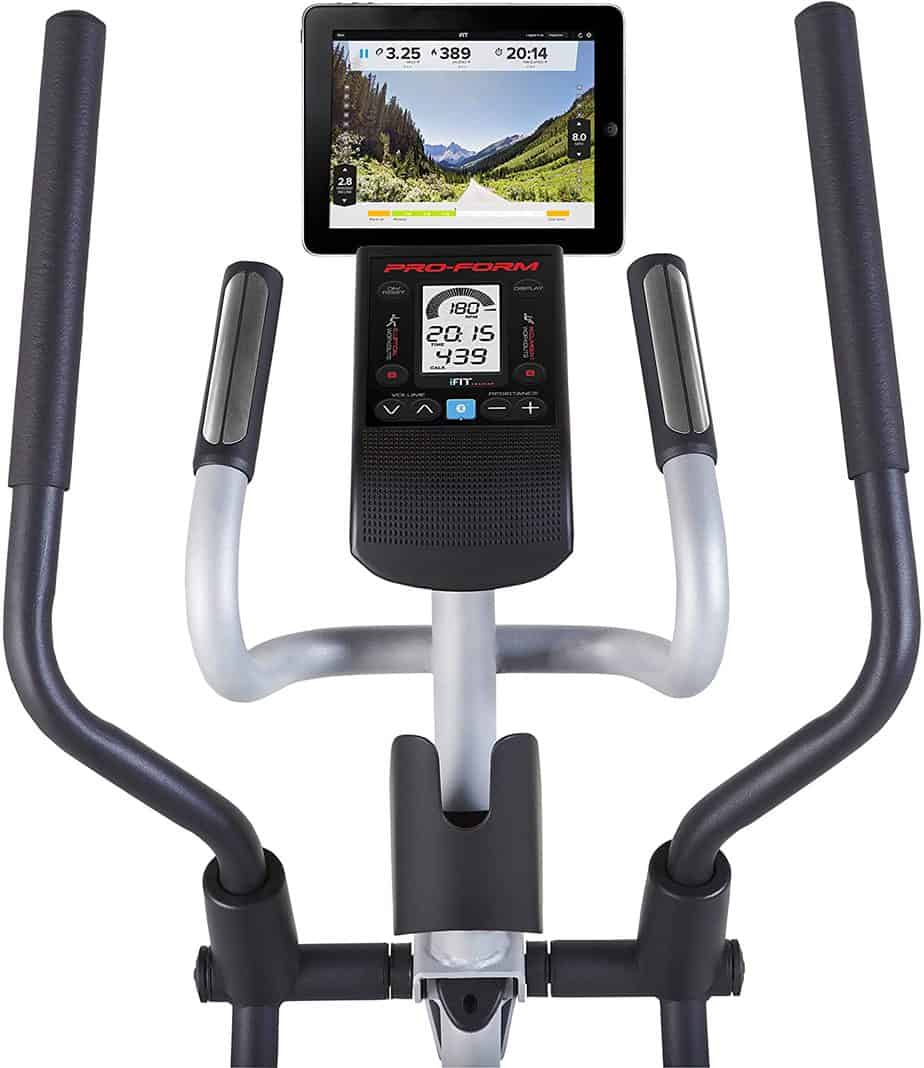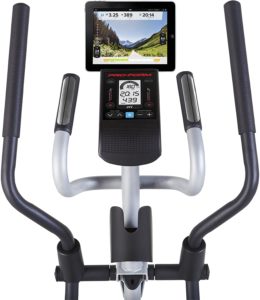 the machine.
A set is static (nonadjustable), and they are attached to the curvature mast. They integrate the EKG HR sensors for reading and transmission of the heart rate data to the monitor when held during a workout.
While the other set is dual-action; meaning they are moveable for upper body workouts. They are inter-connected with the pedals and don't independently operate. When they move the pedals also do, and vice versa.
All the sets of handlebars are adequately cushioned with anti-skid rubber foam for comfortable and secure grips. So, you can work out comfortably and longer.
The Pedals
The ProForm Hybrid Elliptical Trainer possesses oversized, ribbed adjustable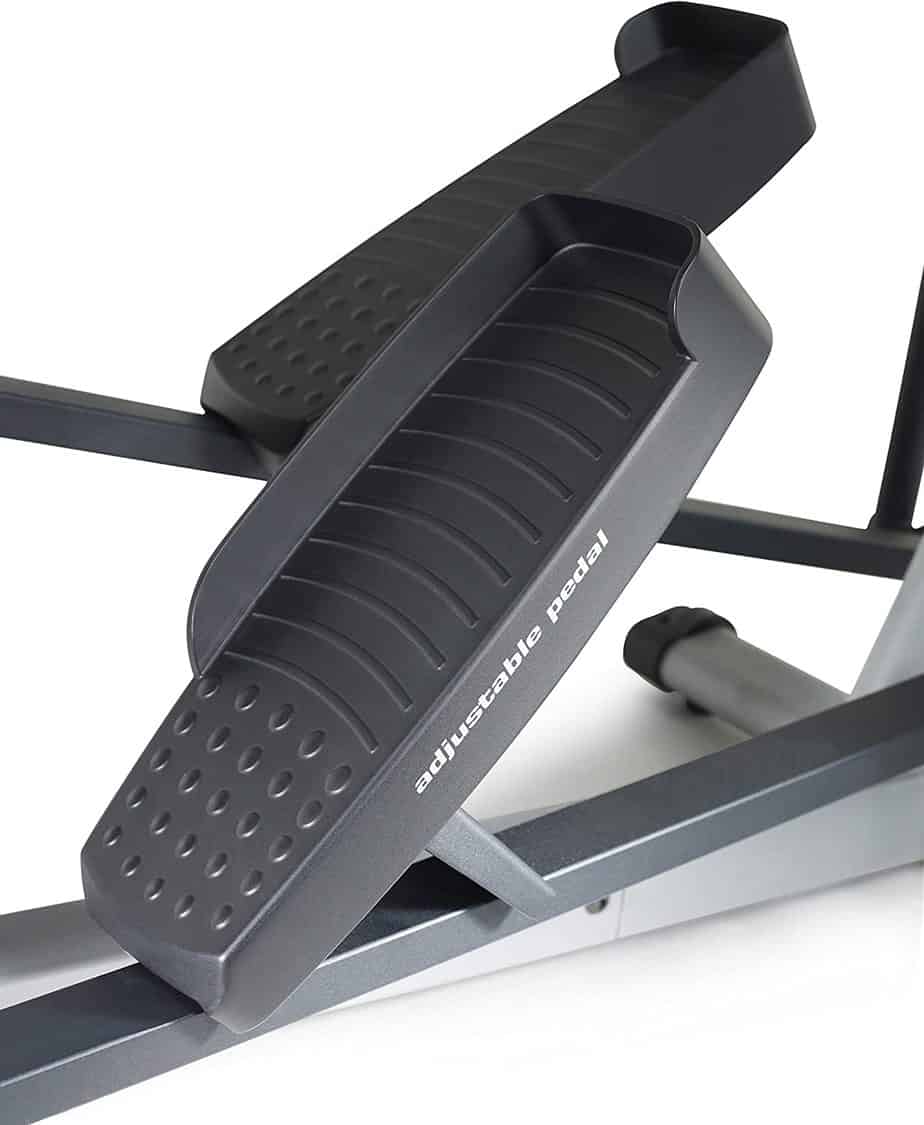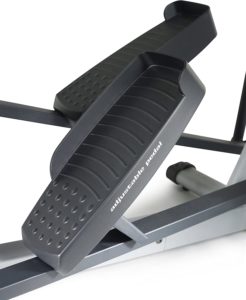 pedals. They also have 1′ protective guard at the arch and toes of the feet which further optimizes footing stability.
They accommodate standard gym shoes and different foot sizes. Each pedal is attached to the steel bar that connects the cranks and the dual-action pedals.
They can be adjusted to different positions based on which of the machines (elliptical trainer or recumbent bike) you wish to use.
The elliptical stride length is 15" which allows most users to workout with full strides, however, it could have been better.
To determine whether the ceiling height of the room where the machine is to be used is enough, sum up 15" (the highest position of the elliptical pedal) and your height and a couple of more inches for clearance.
Usually, 7′ should be fine for most people but might be higher depending on your height.
The Drive
The ProForm Hybrid Elliptical PFEL03815K Trainer has a belt drive system that is designated at the rear. The drive elements include a durable belt, pulleys, cranks, and the precision balanced 13 lbs./5.8 kg flywheel.
Its operation is smooth and whisper-silent, thus, suitable for home-use. You can workout freely at any time of the day without invading other people's privacy.
You can enjoy watching a movie, a TV show, or listening to music while exercising without interference from the machine's operation.
The drive system also doesn't need maintenance; no periodic lubrication or adjustment is required.
The Resistance
The ProForm Hybrid Elliptical Trainer and Recumbent Bike feature an automatic magnetic resistance system that comprises of a magnetic brake pad, a small servo motor, and the metallic 13 lbs./5.8 flywheel.
It generates resistance without the occurrence of friction because none of the elements involved make direct contact. The servo motor moves the magnetic brake pad close to the flywheel to generate resistance upon adjustment.
Hence, no part needs to be replaced as a result of wears and tears.
There are 16 resistance levels that offer a variety of workout challenges suitable for users of different fitness levels. They can workout to lose weight, improve strength, and endurance level.
The resistance can be adjusted via 2 buttons on the console.
The Console
The console on the ProForm Hybrid Elliptical PFEL03815K Trainer is mid-range.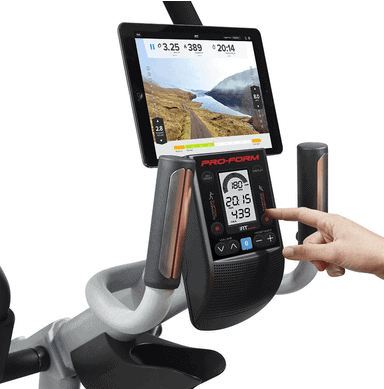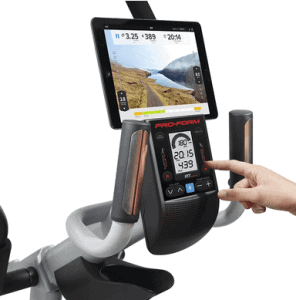 Powered by 4 D alkaline batteries (not included) or through the use of a power adapter (not included).
The console features an LCD backlit monitor that tracks workout stats such as Time, RPM, Distance, Speed, Calories, and Heart Rate. It displays 3 workout values at a time and uses it SCAN function to rotationally switch them over to other values after a few seconds.
It is entirely possible to override the SCAN function and set workout values you wish to view constantly without switching.
The display readability is excellent and won't be diminished even when viewed in a poorly-lit room.
Moreover, the console can be adjusted for a better view when either of the elliptical trainer or the recumbent bike is being used.
The console offers 16 preset workout programs; 8 for the elliptical trainer and the other 8 for the recumbent bike. They are for calorie burning and performance workouts.
When any of the preset programs is selected a certain resistance level is automatically assigned for you.
Interestingly, the console is iFit-enabled. You can sync an Android or iOS tablet/smartphone, or computer with an iFit app via Bluetooth.
It offers the opportunity for interactive training sessions with a personal trainer, to see the world while you run through cities and hike trails, and you can check your workout progress as every training session is automatically recorded and stored in the iFit.
Although, iFit membership registration is needed for access.
Accessory
The 2-in-1 fitness machine has a built-in speaker, a phone jack, a tablet, and water bottle holders.
Therefore, you can comfortably maintain proper hydration, entertain yourself, or follow a workout training session.
The screen of the monitor doesn't get blocked by any device placed on the tablet holder.
Storage
This machine is slightly bulky, therefore, it's going to need a little bit of storage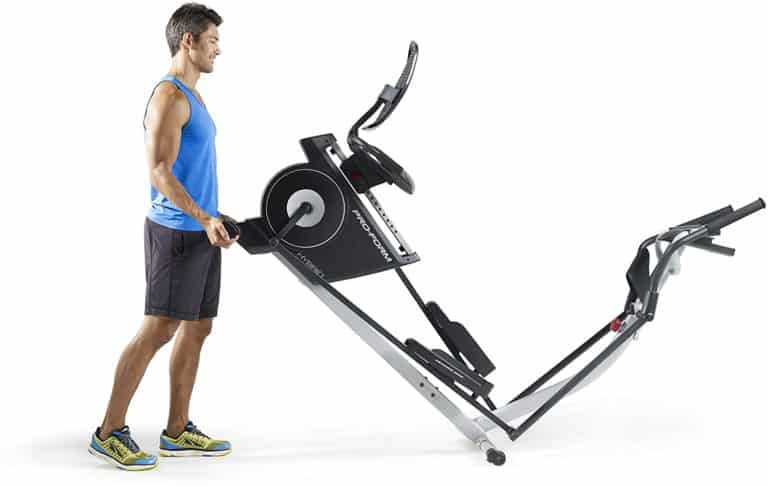 space.
Its footprint dimensions are 70.5" long by 24.5" width, consequently, it will require a storage area with measurements of 5'9" length by 2'1".
Transport wheels are integrated at the front base, so it's easy to relocate it regardless of its weight (116.8 lbs./53 kg).
Ideally, it is better to leave it on a dedicated workout area if you can afford it. Otherwise, a garage might be the best storage area.
Approval Rating
The unit, has in most part, positive reviews both from Amazon customers and independent review sites.
Although, some users have shown their disappointment regarding the low 90 days warranty coverage for parts and labor.
Pros/Features Overview
It is a 2-in-1 elliptical trainer and recumbent bike
It supports 350 lbs./158.7 kg maximum user weight capacity
The robust base with adjustable levelers ensure maximum stability
Large and textured pedals accommodate different foot sizes and are adjustable for elliptical trainer and recumbent bike workouts
15" elliptical stride length
Transport wheels for easy relocation
Comfortable and adjustable recumbent seat with a mesh backrest for lumbar support
2 sets of handlebars for different workouts and postures
Its operation is smooth and quiet
It provides low-impact, lower-body, and full-body workouts
LED monitor tracks workout progress with high readability
16 preset programs (8 programs for elliptical trainer & 8 for the recumbent bike)
16 magnetic resistance levels provide a range of workout challenges for weight loss, heart and lungs' health improvement and more
13 lbs./5.8 kg precision-balanced flywheel provides consistent momentum for smooth motion
The console is adjustable for a better view
iFit and Bluetooth-enabled
Assembly not complicated
Low maintenance
Tablet holder included
Water bottle holder included
Built-in speaker and phone jack
Cons
Batteries for the monitor and the power adapter are not included
Poor warranty
No EKG HR sensors on the seat handlebars
iFit membership is required
Warranty
5 Years for the Frame
90 Days for the Parts and Labor
Product Dimensions and Specifications
Length 70.5"
Width 24.5"
Height 60.5"
Shipping dimensions: 18.3" L x 26" W x 47" H
Net weight: 116.8 lbs./53 kg
Gross weight: 135 lbs./61.2 kg
Maximum user weight capacity: 350 lbs./158.7 kg
Drive: Belt
Resistance: Automatic resistance, 16 levels
Seat: Recumbent, 2-way adjustable
Handlebars: 3 sets (static, dual-action, & armrests)
Pedals: Large, ribbed and adjustable
Monitor: Backlit LED monitor tracks Time, RPM, Distance, Speed, Calories, and Heart
Heart rate monitoring function: EKG contact grips
iFit & Bluetooth-enabled
Programs: 16
Elliptical stride length: 15"
Flywheel: Precision weighted, 13 lbs./5.8 kg
Power: 4 D batteries and power adapter
Built-in speaker and phone jack
Tablet and water bottle holders
Shipping
The ProForm Hybrid Elliptical Trainer is shipped out in a well-packaged box that weighs 135 lbs./61.2 kg with dimensions of 18.3" L by 26" W by 47" H.
Amazon offers free shipping and delivers the product within a couple of days.
Assembly
The assembly process of this fitness machine is not complicated but may take a little while to completely assemble it.
The tools needed for the assembly and a well detailed and illustrative manual are included in the package.
Maintenance
The 2-in-1 fitness machine needs to be kept clean and dry at all times. Do inspect it before use for any loose or broken part to prevent an accident or further damage to the part.
Make sure to activate the maintenance warranty by registering the machine on the ProForm website.
Conclusion
The ProForm Hybrid Elliptical Trainer is an affordable 2-in-1 fitness machine that includes an elliptical trainer and a recumbent bike.
It features an automatic magnetic resistance system with 16 adjustable levels, 16 preset programs, an iFit-enabled console, and many more.
[rank_math_rich_snippet]
Conclusion
As you can see, there are reasons why you should buy this equipment, just as there are equally reasons why you should not buy. Basically, all depend on what you are interested in and what you can afford. I have tried as much as possible to spill the whole information to you. It is your turn to make that decision whether or not to take a plunge.
Do drop any question, comment or contribution that you may have at the comment box below. Like and share if you found this review helpful.