The ProForm 235 CSX Recumbent Exercise Bike with model number PFEX52715 is indeed one of the inexpensive recumbent bikes that have an automatic magnetic resistance system.
Of course, it is not the best there is, but as explained, it has something most of its contemporary doesn't have.
It integrates an advanced console that features a blue backlit LCD monitor that is capable of displaying 3 workout values at a time.
Its drive and resistance systems are such that do not require maintenance, even as they operate smoothly and quietly, and provide a wide range of resistance intensities. It has more resistance levels than most recumbent bikes.
Interestingly, there is a sound system that spices up your workouts with quality music output.
The recumbent bike can accommodate most users of different heights and sizes.
Click right here to have a peek at the ProForm 235 CSX Recumbent Exercise Bike.
The Frame and Construction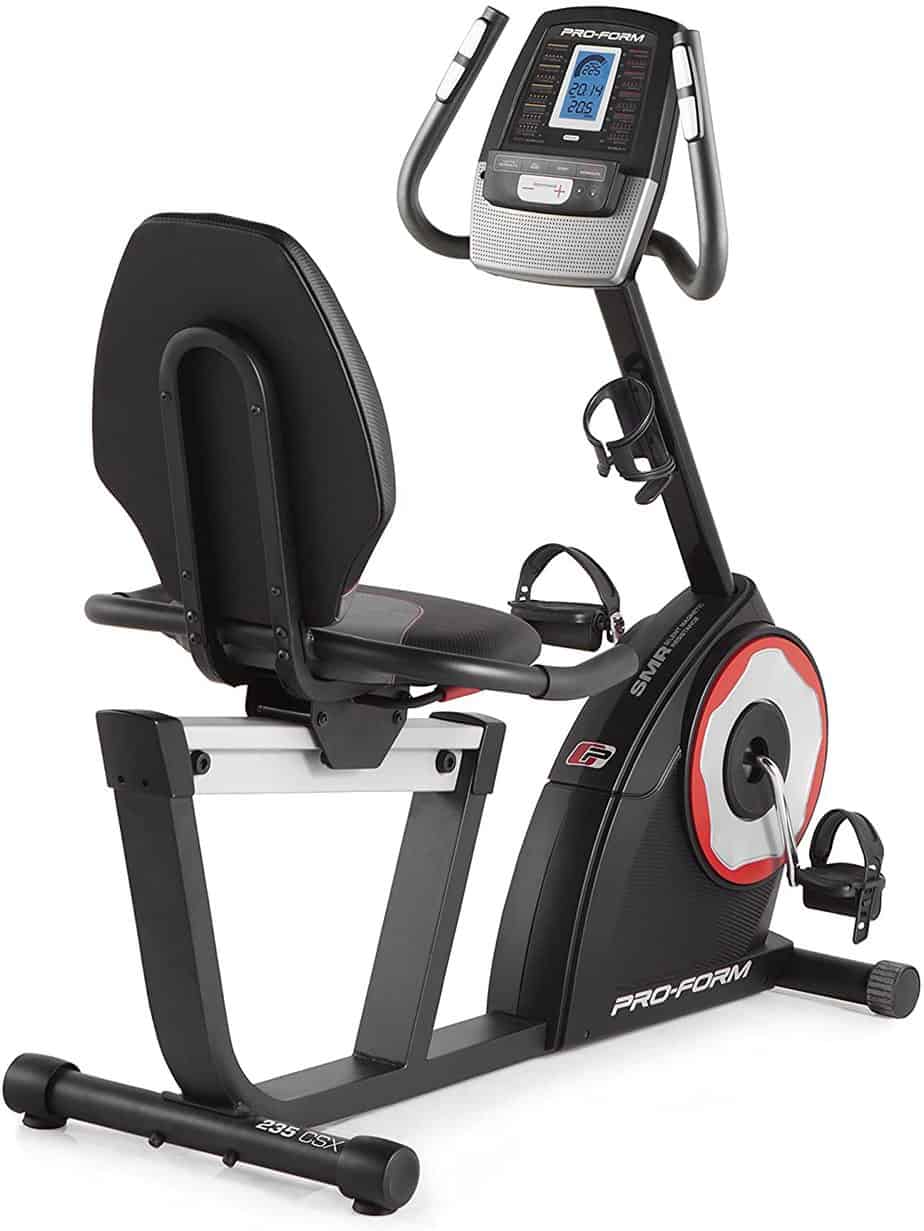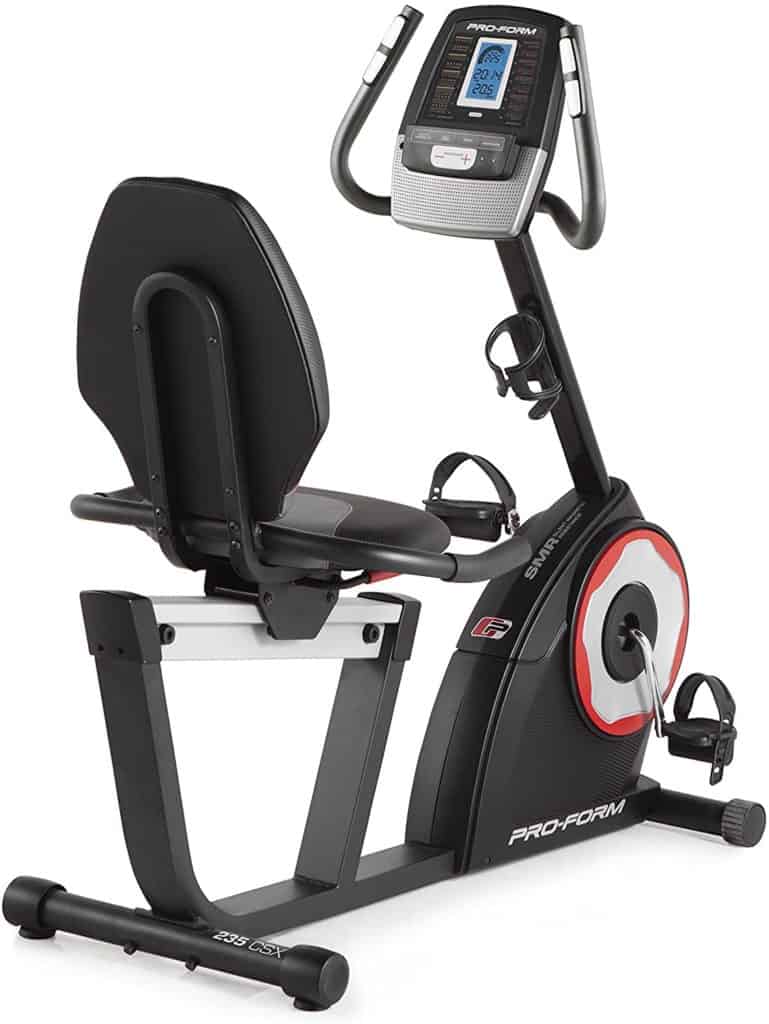 The ProForm 235 CSX Recumbent Exercise Bike is equipped with a heavy-duty steel frame that is coated with anti-corrosion paint, while other parts such as the drive system and console casings, and water bottle holder are made of durable plastic.
Its construction is sturdily made to support a maximum user weight capacity of 275 lbs./124.7 kg, and it has a step-thru design that makes it possible for everyone, including those that are physically impaired to easily mount and dismount the bike.
The bike's established stability is due to its robust base framework that has front and rear steel stabilizers with rubber cap-ends. So, it is not only stable but also floor-friendly, no damage will be done to the floor it's being used on.
Moreover, the rear stabilizer incorporates adjustable rubberized levelers that provide traction (grip to the floor) and balance on a crooked surface. You may use a protective rubber mat to boost its stability superlatively and to also prevent sweat from spilling all over the floor.
Its weight is between 90-100 lbs./40.8-45.3 kg, and there are wheel caps at the front base for an easy relocation process.
The unit is not overly large; it has overall assembled dimensions of 57.6'' long by 24'' width by 44'' high. In other words, it requires a workout area with the perimeters of 4'8'' length by 2' wide, plus extra clearance of 1' at the front and the rear and 2' on each side of it for best user experience.
The Seat of the ProForm 235 CSX Recumbent Exercise Bike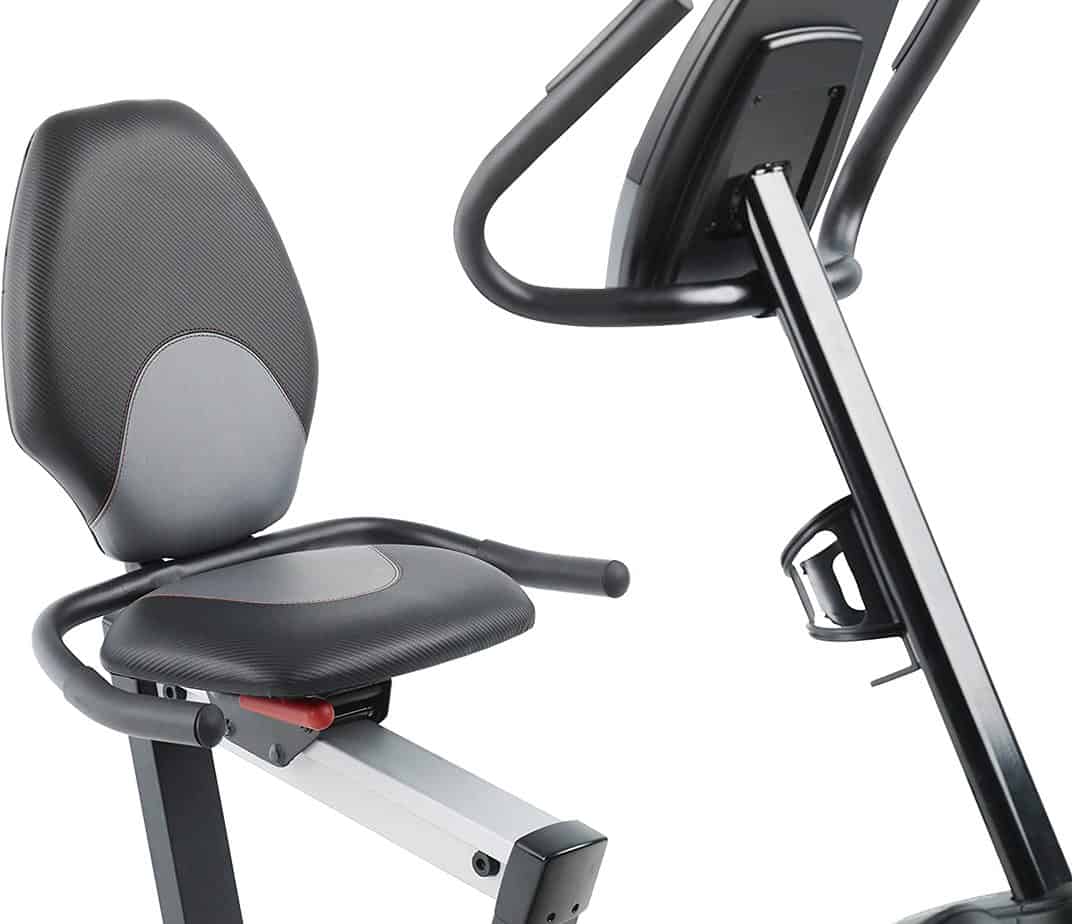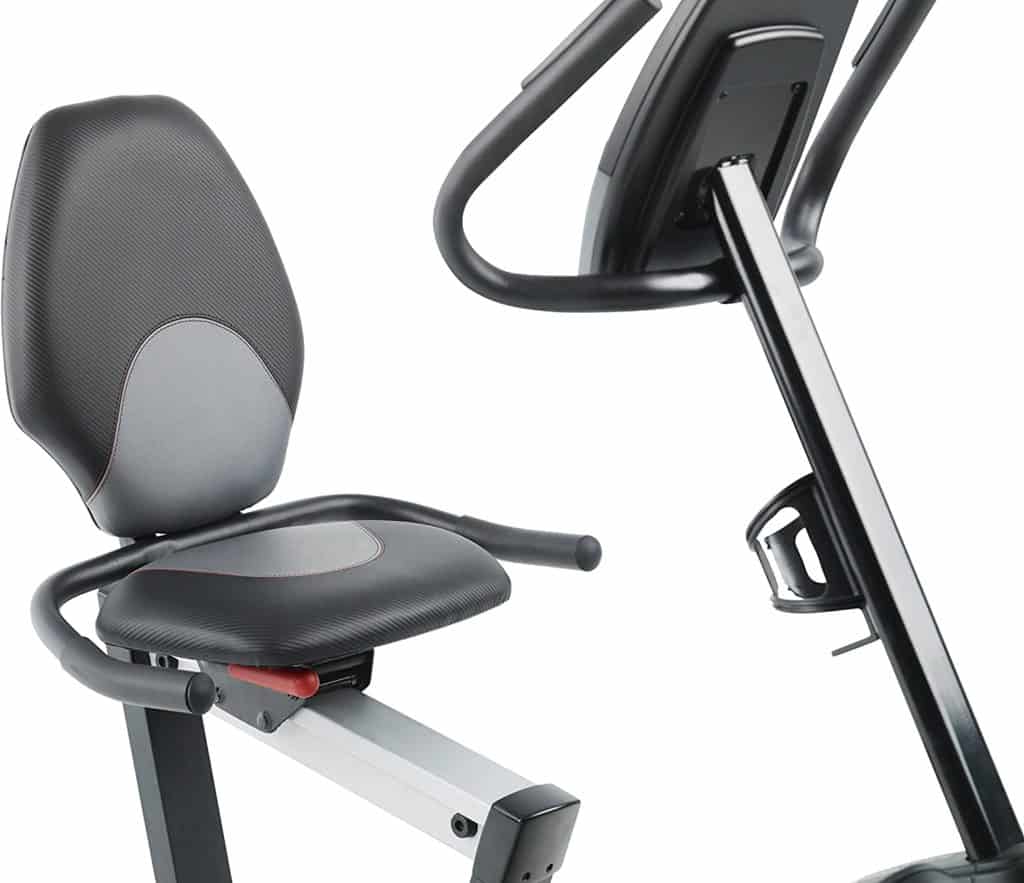 This recumbent bike has an oversize seat with a backrest. It is generously cushioned and covered with vinyl material for maximum comfort during a prolonged workout.
The seat is 2-way adjustable; it could be adjusted horizontally (back and forward). It is attached to a slanted steel bar for a smooth adjustment that also increases or decreases the height of the seat.
The backrest doesn't recline; meaning it cannot be adjusted independently because it is attached to the same frame that holds the seat.
There is a handlebar on each side of the seat that provides support for aggressive pedaling and they are coated with anti-sweat soft rubber foam that prevents slippage or discomfort.
However, they aren't adjustable and there are no EKG HR sensors on them.
There is an adjustment lever by the right side of the seat that enables you to adjust the seat to a suitable position while seated without having to stand up.
The seat's adjustability allows users up to 6'5" tall to be accommodated conveniently.
The Handlebar
The ProForm 235 CSX Recumbent Exercise Bike has another set of handlebars aside from those on the seat. These handlebars are vertically attached to the front console mast. They integrate the EKG HR sensors so that when held during a workout the heart rate will be read and be transmitted to the monitor.
The handlebars are not adjustable but are optimally positioned to suit users of different heights. They provide secure and comfortable grips due to the fact they are cushioned with soft rubber anti-sweat foam.
However, some individuals have argued that the integration of the EKG heart rate sensors on them instead of the seat's handlebars will be awkward to use.
Nevertheless, they are within arms reach and as aforementioned, optimally positioned to be held comfortably.
The Pedals
The pedals on this bike are simple and standard. They are made of a metallic core and durable plastic external parts.
Users of different foot sizes can be accommodated comfortably since they are large and textured. Each pedal has an adjustable safety strap that ensures secure foot placement that prevents slippage during an intense workout.
The balance-weighted pedals only accommodate standard gym shoes. We are not sure if they can be swapped for SPD pedals. However, the need for this is not necessary because this is not a spin bike.
The Drive
The ProForm 235 CSX Recumbent Exercise Bike has a belt drive system that consists of a durable V-belt, cranks, pulley, and a 14 lbs./6.3 kg high inertia flywheel.
These internal elements create a quiet and smooth operation that is characterized by consistent momentum.
Because of this, users are enabled to have a flexible workout routine timetable. They can choose to work out at any time of the day that seems perfect for them without getting in the way of other people around them.  
They can watch their favorite TV show or listen to good music without noise interference from the bike.
Moreover, the drive system doesn't require periodic lubrication or adjustment as opposed to a chain drive system.
You will have the liberty to pedal in reverse to diversify your workouts and tone more muscle groups because the drive is bidirectional.
The Resistance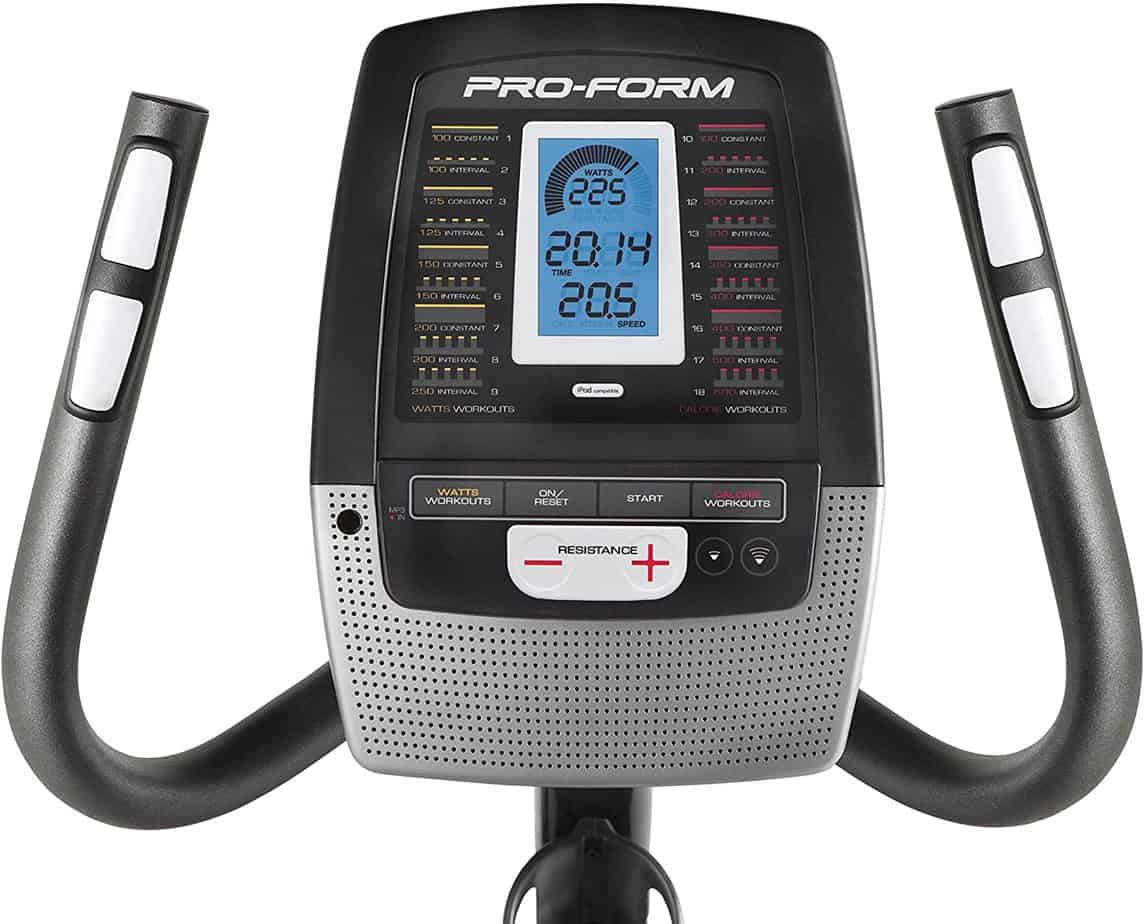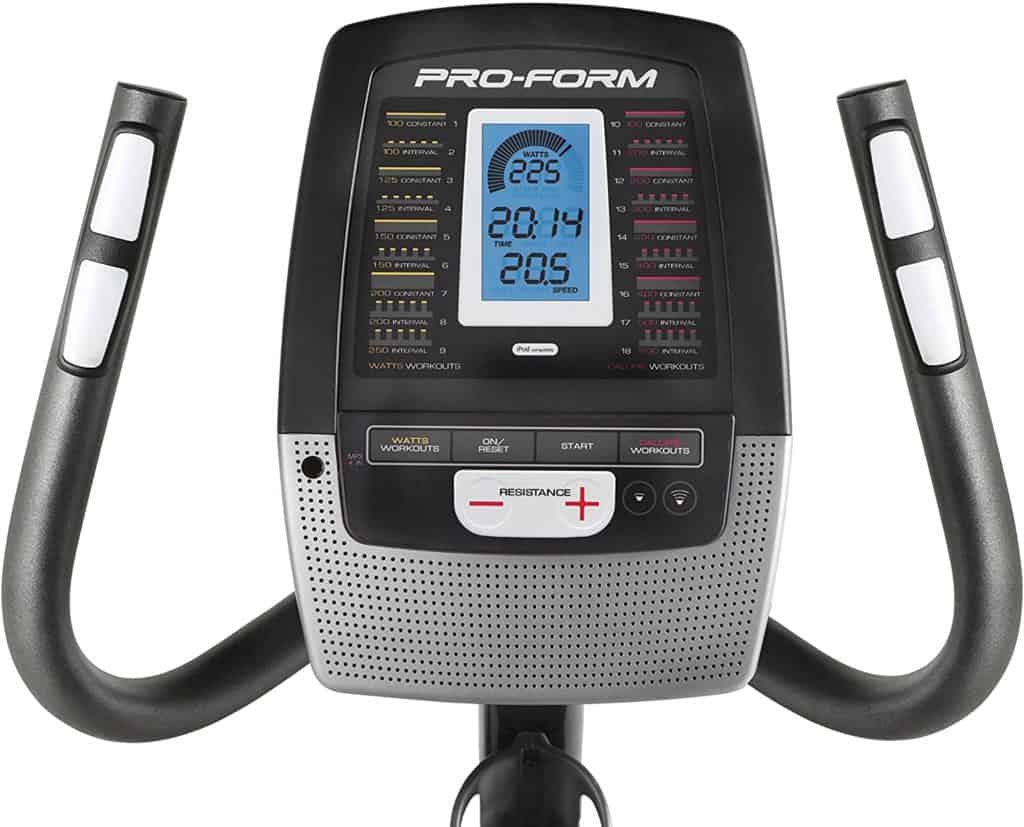 This recumbent bike has an automatic magnetic resistance system with about 16 adjustment levels. This means that the resistance is controlled via the onboard resistance keys on the console.
Although, a resistance level applies automatically when a certain program is selected.
The resistance system mechanisms comprise 2 magnets, a small servo motor, and the flywheel. Tension is generated when the servo motor drifts the magnets close to the flywheel and emits magnetic fields in its premise.
In other words, no friction occurs in the process of generating resistance, therefore, no part wears out and ultimately the resistance system is maintenance-free.
Users that wish to lose weight, improve cardiovascular health, strength, and endurance will be able to do so because the resistance system provides a wide range of suitable workout challenges.
The Console
The ProForm 235 CSX Recumbent Exercise Bike has a large console that features an LED-backlit LCD monitor with a big screen.
The monitor tracks 3 different workout stats at the same time and each section switches or alternates to another metric after every few seconds.
For instance, it displays Watts, Time, and Speed, at the top, middle, and bottom positions respectively.
The top section switches after every few seconds to show the RPM (revolution per minute), the heart rate when the EKG heart rate sensors grips are held during a workout, and the resistance level that is being used.
The second section switches from Time to Distance metrics after every few seconds, while the third section alternates between Speed, and the Calories Burned metrics after every few seconds.
Speed and Distance can be set to measure in miles or kilometers.
Moreover, you can set a count-down goal for Time, Distance, and Calories Burned.
18 preset workout programs are available for achieving specific fitness goals. They target weight loss and cardiovascular improvement.
These preset workout programs are divided into two (Watts workout programs and Calorie workout programs) on the console with their respective buttons. Once any of these workout programs are selected, the resistance is automatically applied depending on how they are programmed.
However, when you are not using any of those preset workout programs, you can manually select a resistance level you feel is suitable for you via the -/+ resistance keys on the console.
A sound system is also integrated. There is a built-in speaker and an MP3 jack that allow you to connect an iPod, MP3 device, CD player, or smartphone/tablet to stream music and enjoy the quality output.
The volume control is not via the connected device but through the volume buttons on the console.
That said, it is important to note that the console is not telemetry-enabled, and it's not connectable to online apps.
Finally, the monitor is powered by 4 D alkaline batteries or a KHOI1971 6V 2A AC power adapter, both of which are not included in the package. They have to be purchased separately.
Accessory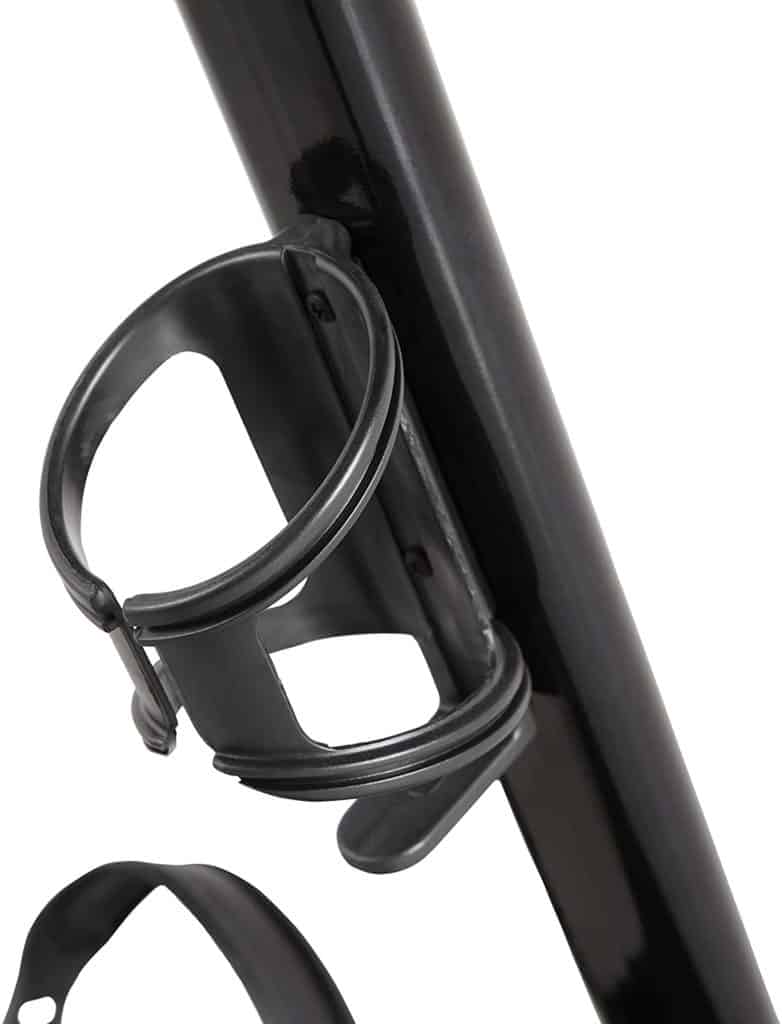 Aside from the sound system aforementioned, the ProForm 235 CSX Recumbent Exercise Bike features a water bottle and tablet holders for keeping proper hydration and for entertainment purposes.
The tablet holder is designated on the console and can accommodate any size of a tablet device. However, the view of the monitor screen will be blocked if a device is placed on it.
Storage
The storage of this recumbent bike is not difficult, but will probably require a little bit of space because it's not foldable.
Its overall assembled dimensions are 57.6'' long by 24'' wide, which means it needs a storage space with the perimeters of 4'8'' length by 2' width.
The front-mounted wheel caps facilitate the relocation of the bike without hassle.
Approval Rating
The ProForm 235 CSX has a positive approval rating on Amazon, and many review sites believe it is a recommendable bike.
Pros/Features Overview
Sturdy construction
Supports a maximum user weight capacity of 275 lbs./124.7 kg
It is stable and portable
Customizable enough to accommodate users up to 6'5''
It provides productive and low-impact workouts
The seat with the backrest are well cushioned to provide lasting comfort
2 Sets of cushioned handlebars provide secure and comfortable grips and different workout posture options for users
Balance-weighted pedals with adjustable safety straps provide footing stability
18 preset workout programs target calories burn, cardiovascular health, and legs muscle toning
An automatic resistance system provides 18 adjustable levels for different workout challenges
The bikes operation is smooth and quiet
EKG HR contact grips for heart rate monitoring
Step-thru design for easy access for everyone, including the physically impaired
Blue backlit LCD monitor with 3 display capability that tracks Watts, Time, Distance, Calories, Resistance, RPM, and Heart rate
Sound system (speaker & MP3 jack) compatible with iPod, MP3 or CD player, and smartphone/tablet
Water bottle holder included
Tablet holder included
Easy to assemble
Maintenance is low
Cons
4 D batteries nor power adapter needed for the console is included
The view of the monitor gets blocked when a tablet device is placed on the holder
Warranty
7 Years for the Frame
90 Days for the Parts
Product Dimensions & Specifications
Length 57.6''
Width 24''
Height 44''
Shipping dimensions: 52'' L x 22'' W x 11'' H
Net weight: 90-100 lbs./40.8-45.3 kg
Gross weight: 102 lbs./46.2 kg
Maximum user weight capacity: 275 lbs./124.7 kg
Frame: Steel
Flywheel: 14 lbs./6.3 kg
Drive: Belt
Resistance: Automatic magnetic with 18 adjustable levels
Programs: 18
Monitor: Backlit LCD monitor with 3 display sections
Power: 4 D alkaline batteries or KHOI1971 6V 2A AC power adapter
Seat: 2-way adjustable
Handlebars: 2 sets (seat and front handlebars), non-adjustable
Pedals: Balance-weighted, anti-skid and large with adjustable safety straps
Adjustable levelers at the base
Heart rate monitoring: EKG contact grips
Sound system: Yes
Tablet holder: Yes
Water bottle holder: Yes
Shipping
The ProForm 235 CSX Recumbent Exercise Bike is shipped in a box that weighs 102 lbs./46.2 kg with dimensions of 52'' L x 22'' W x 11'' H.
Shipping cost is determined by the retailer you are purchasing from; however, Amazon provides free shipping and gets the product delivered in a couple of days.
Assembly
This recumbent bike is straightforward to assemble. It arrives with the major components preassembled.
Although, you are required to attach the base stabilizers, the seat, the handlebars, the console mast, the pedals, and the console to the core unit of the bike.
An assembly manual with graphic illustrations and the tools needed are included in the package.
It takes about an hour or less to completely assemble the bike.
Maintenance
No serious maintenance is needed.
However, you need to keep the unit clean at all times. Examine the parts before use to ensure that they are all well tight and not broken to prevent an accident or further damage.
Do not expose the console to liquid, moisture, or direct sunlight.
Conclusion
The ProForm 235 CSX Recumbent Exercise Bike is a home fitness equipment anyone that is looking should consider aside from the Marcy ME 706.
It has got some very useful features all lined up for you.
A recap; it supports 275 lbs./127.6 kg, 18 preset programs, an automatic magnetic resistance system with 18 adjustable levels, a blue backlit monitor that tracks workout progress with high readability, a drive system that provides quiet and smooth operation, and more.
Finally, if you purchase this product, make sure to go to www.proform.com/registration to register it for;
the warranty to be activated
contacting customer service if you have to without delay
notifications for upgrade and offers