The DuraB Recumbent Exercise Bike has a manual magnetic resistance system that provides 8 adjustable levels. It is one of those recumbent bikes with Bluetooth technology that allows you to connect to a free app via a smartphone for alternate workout progress tracking and storage.
This is pretty much the same with the Merax Magnetic Recumbent Bike, except for their console and the Bluetooth connectivity. It also has the brand name Merax on it.
The bike has a comfortable seat with customizability that allows users of different heights and sizes to be accommodated and work out longer. It is ideally for family use.
Click right here to have a peek at the DuraB Recumbent Exercise Bike.
The Frame and Construction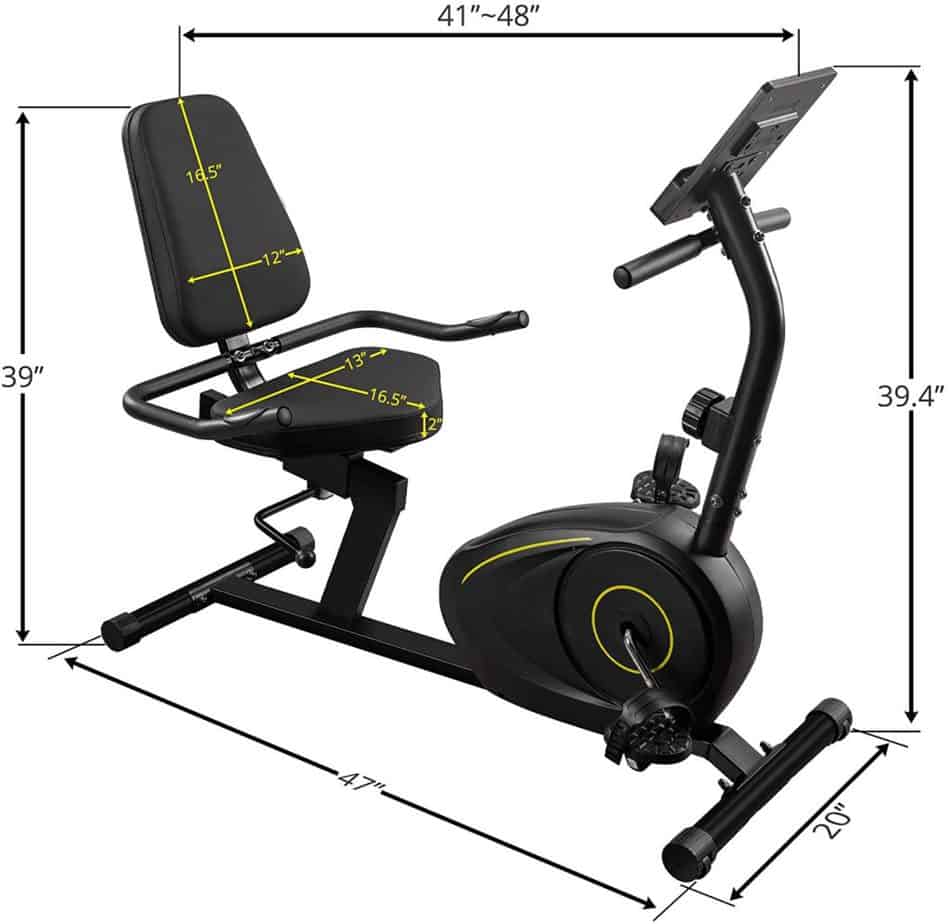 The construction of the DuraB Recumbent Exercise Bike comprises a durable steel frame that is coated with black anti-corrosion paint, while the casings for the drive system are made of ABS.
Hence, users up to 245 lbs./111 kg or less are supported.
Its base framework features front and rear stabilizers with a rubber cap on each end for floor-friendliness. The rubber caps on the rear base are polygonal in shape and adjustable for floor adherence and leveling.
Therefore, it has a base that does not damage the floor but instead promotes optimum stability that prevents wobbling movement during intense workouts.
The bike is not foldable but it's not large either. Its overall assembled dimensions are 47'' long by 20'' wide by 39.4'' high. Differently put, the workout area perimeters needed are 4' length by 1'7'' width with an extra clearance of at least 2' around it for safety and convenient workouts.
Moreover, it has an easy walk-through design that is particularly significant for those with mobility problems. They can easily walk in and out of the bike without any restraint.
The lightweight recumbent bike weighs about 57 lbs./25.8 kg, and it's integrated with transport wheels at the front base for easy relocation.
The Seat of the DuraB Recumbent Exercise Bike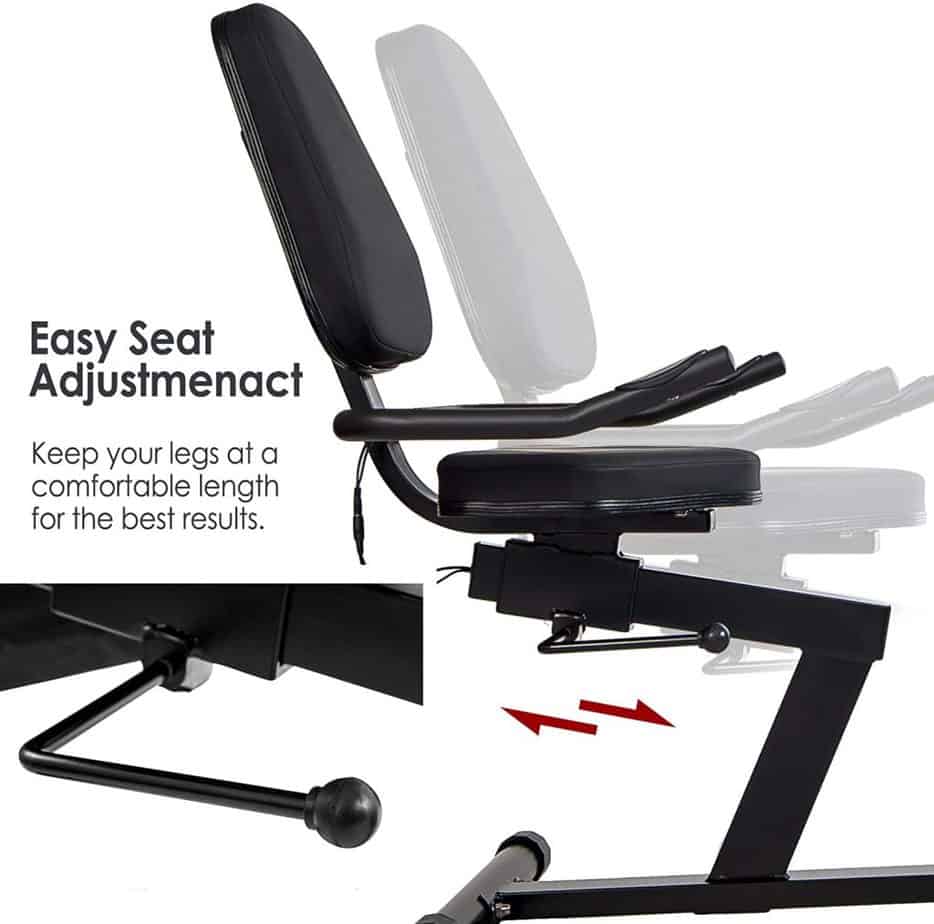 The bike has a 2-way adjustable seat that is attached to a slanted steel rail. It could be adjusted horizontally (fore/aft) while its height alters either way due to the slanted rail.
It has an adjustment lever by the right side of it that allows the user to conveniently adjust the seat while seated without having to stand up.
The distance between the seat and the front handlebar span between 41''-48'' when adjusted. Thus, users between the heights of 5'2''-6'5'' can fit perfectly.
However, the backrest is not independently adjustable, the reclining position cannot be changed.
That said, the seat is ergonomically designed and cushioned for prolonged and comfortable workouts. Its dimensions are 16.5'' long by 13'' wide by 2'' thick, while the backrest's dimensions are 16.5'' high by 12'' wide by 2'' thick.
Moreover, the seat integrates non-adjustable handlebars that provide support and leverage for aggressive pedaling. They also have EKG HR sensors incorporated on them for reading and the transmission of the heart rate data to the monitor when held during a workout.
The Handlebar
There are 2 sets of handlebars on this recumbent bike. One set is located on the seat which has already been mentioned above, while the other set is on the console mast.
The slightly inward curvy front handlebars are meant to provide an optional workout posture. They are static, meaning they aren't adjustable or moveable.
They are coated with soft rubber anti-sweat foam for secure and comfortable grips that prevent slippage and blisters in the palms.
The Pedals
The pedals on the DuraB Recumbent Exercise Bike are large, textured, and balance-weighted. They also have adjustable safety straps that further ensure optimal footing stability.
Users of different foot sizes and standard gym shoes are most likely to be accommodated.
The Drive
The DuraB Recumbent Exercise Bike features a belt drive system. It comprises a V-poly belt, solid cranks, pulleys, and a small perimeter-weighted flywheel. The flywheel's weight is not specified, but it usually weighs between 7-12 lbs./3.2-5.4 kg.
Its operation is smooth and quiet, thus, making the bike home-friendly. You can work out without bothering the family or the neighbors and can watch a TV show, movie, or listen to music with no noise interference from the bike.
Moreover, the drive is maintenance-free; periodic lubrication or adjustment is not needed.
It is bidirectional; hence, reversed pedaling is allowed and possible to diversify and tone more muscle groups.
The Resistance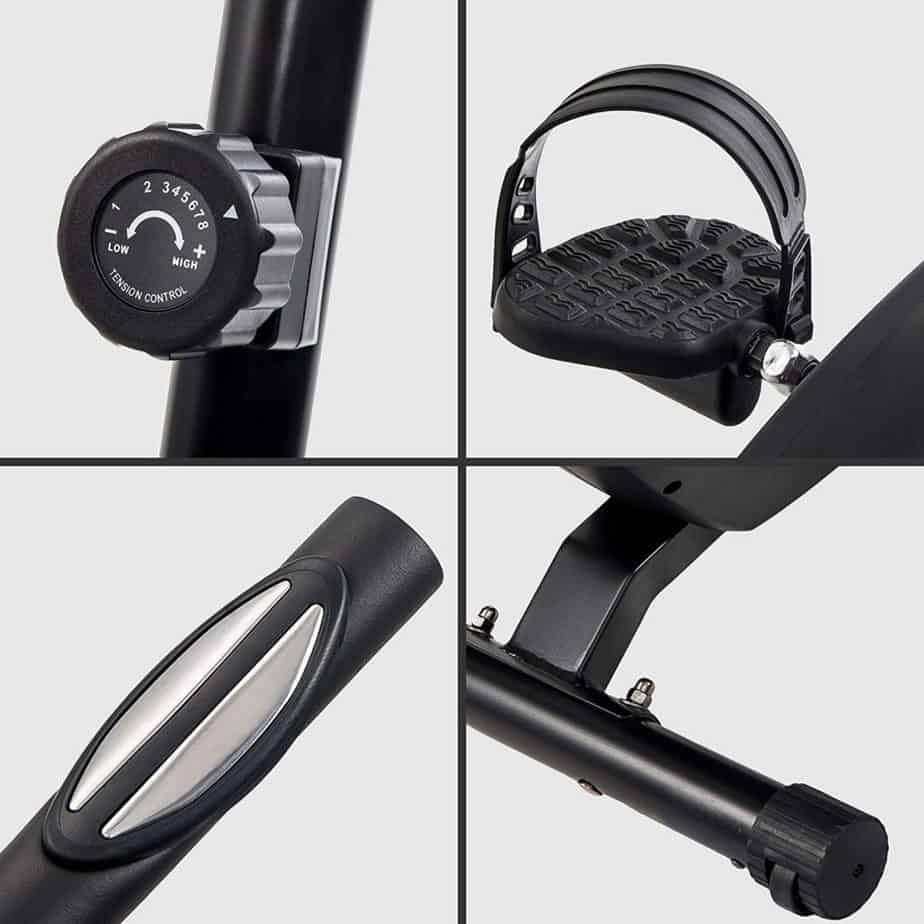 This bike integrates a manual magnetic resistance system that offers 8 adjustable levels. It generates resistance without friction; thus, no part wears out and ultimately no part needs to be replaced because of damage.
It consists of a magnetic brake pad that emits a magnetic field around the metallic flywheel to create resistance.
To increase or decrease the resistance intensity, the tension control knob that is designated on the mast within arm's reach can be turned clockwise or counterclockwise respectively. Its operation remains smooth and vibration-free even when the resistance is applied.
The resistance system presents different workout intensity levels that are suitable for weight loss, injury recovery, and achieving overall physical fitness.
The Console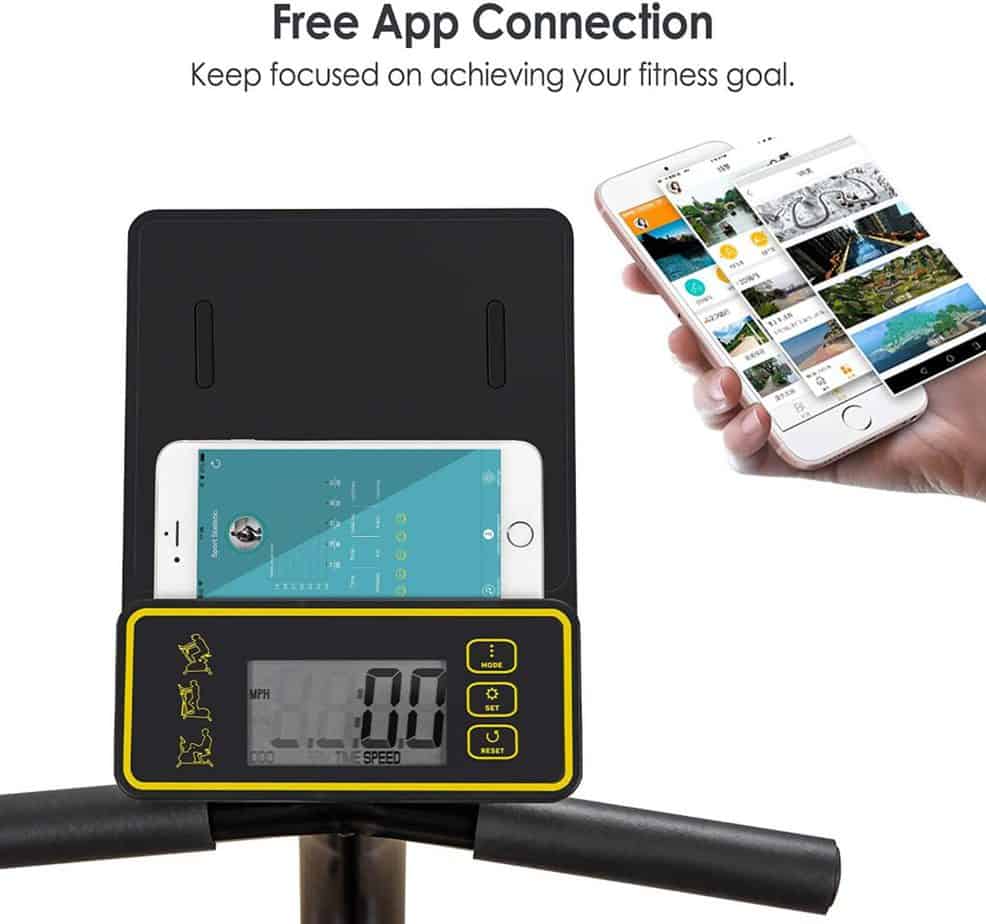 The DuraB Recumbent Exercise Bike console is Bluetooth-enabled, just as aforementioned. It features a large easy-to-read monitor screen that tracks workout stats such as Time, Distance, Calories, Speed, and Pulse.
Since the monitor's screen is not large enough to display all the metrics simultaneously, it instead displays them rotationally one at a time after every few seconds by its SCAN function. However, you can override this if you want a certain workout metric to display constantly.
The metrics are large and easy to read as long as the room is well-lit, otherwise, it will be compromised because the monitor is not backlit.
Remember, your heart rate can only be read and transmitted when the seat handlebars with the EKG HR sensors are held during a workout.
You can download a free workout app on iOS 7.1 or Android (4.3/above) smartphone and connect it to the console using advanced Bluetooth technology. This enables you to monitor or keep records of your workouts on the phone.
When you pedal, the device becomes available in the app; that is after downloading the app and turning the device's Bluetooth ON.
The console/monitor is powered by 2 AAA batteries (not included).
To save the batteries' power, the monitor automatically turns OFF when activity on the bike ceases for a few minutes, and it automatically turns ON when activity resumes.
The RESET, SET, and MODE navigation buttons on the console are easy to use.
Accessory
The unit has a built-in tablet/phone holder on the console. This allows you to conveniently use a device for taking calls, watching a movie, or following a workout routine while working out.
The monitor's screen doesn't get blocked when a device is placed on the holder. Therefore, you can view both the monitor and the phone's screens at the same time.
Storage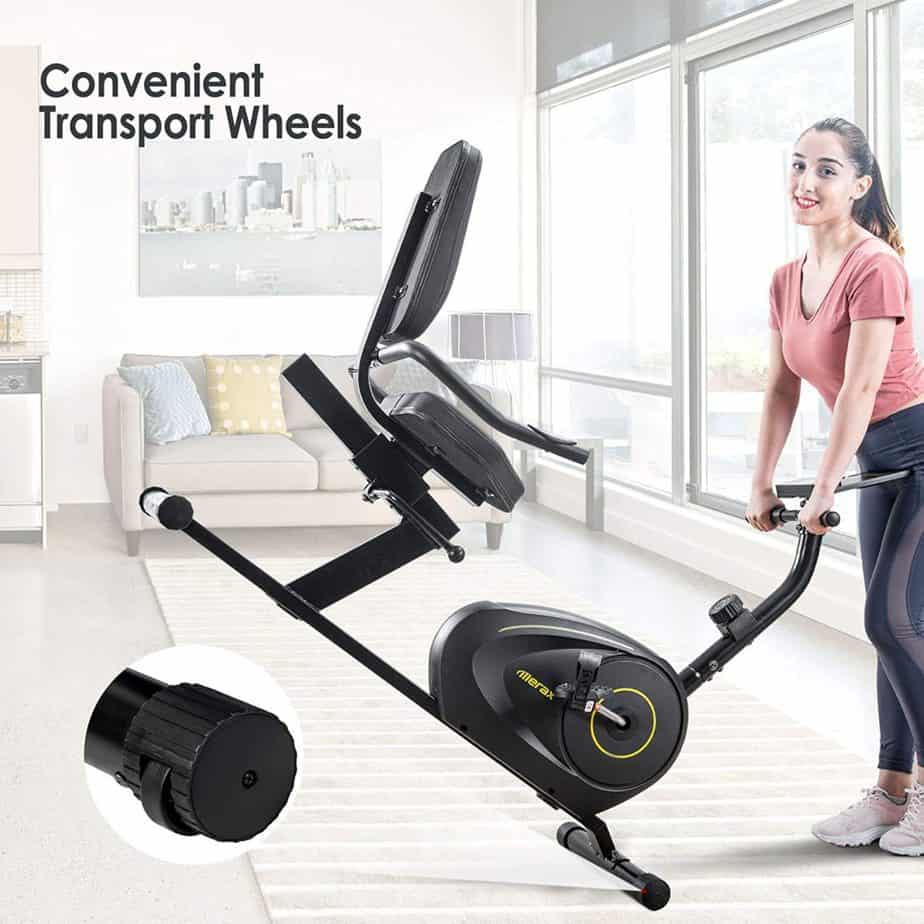 The DuraB Recumbent Exercise Bike is lightweight, compact, and portable, Therefore, even though it's not foldable it is much easier to put away for storage.
It weighs 57 lbs./25.8 kg and has got transport wheels at the front base for an easy relocation process.
An area with perimeters of 4' length by 1'7'' width should suffice for storage.
Pros/Features Overview
Sturdy and stable
Customizable for the accommodation of users of different heights (5'2''-6'5'')
It's not large, thus, needs a limited space for workouts and storage
Supports a maximum user weight capacity of 245 lbs./111kg
The seat with back support is generously padded for maximum comfort
2 sets of handlebars for different workout postures
Its operation is smooth, quiet, and vibration-free
The LCD monitor tracks workout progress, including heart rate
Bluetooth technology connects the console with a smartphone device through a free app for tracking workout and keeping records
The manual magnetic resistance system offers 8 adjustable levels that are suitable for beginners and intermediary users and everyone else that wishes to improve overall physical fitness
Easy step-thru design enables physically impaired users to easily get on and off the bike
It provides low-impact cardiovascular workouts that are gentle to the joints
Transport wheels are included
Easy to assemble
Low maintenance
A tablet holder is included
Cons
No water bottle holder
The monitor is not backlit
The monitor's batteries are not included in the package
Product Dimensions and Specifications
Length 47''
Width 20''
Height 39.4''
Net weight: 57 lbs./25.8 kg
Gross weight: 61 lbs./27.6 kg
Maximum user weight capacity: 245 lbs./111 kg
Drive: Belt
Resistance: Manual magnetic, 8 adjustable levels
Seat: 2-way adjustable
Handlebar: 2 sets of handlebars
Pedals: Balance-weighted, large, textured with adjustable safety straps
Frame: Steel
Monitor: Nonbacklit battery-powered LCD tracks Time, Distance, Speed, Calories, and Pulse
Connectivity: Bluetooth technology
Tablet holder: Yes
Transport wheels: Yes
Water bottle holder: No
Shipping
The DuraB Recumbent Exercise Bike is shipped out in a box that weighs 61 lbs./27.6 kg.
Upon purchase, retailers like Amazon ship and get it delivered for free in a couple of days.
Assembly
The bike's assembly is simple and straightforward because it is delivered with its major components preassembled.
You are only required to attach the base bars, the seat/backrest, the handlebars, the pedals, and the console to the main unit of the bike. Assembly tools and an instruction manuals are included in the package.
Assembly can be completed in less than an hour.
Maintenance
Always keep the bike clean and dry. Inspect it for any loose or broken part before use to avoid further damage or an accident.
Conclusion
The DuraB Recumbent Exercise Bike has an edge over some of the other bikes due to its Bluetooth technology.
Having this bike at your disposal gets you to start a transitioning journey to better physical fitness without the back and joint pains that come with it.