The Schwinn 470 Elliptical Trainer with model no. 100517 is a low-impact and full-body cardio machine that has more features than the Schwinn 430, 411, and A40. However, it is also the most expensive of all and rightly so.
It was first released in 2013 and then upgraded in 2017 by adding Bluetooth connectivity that syncs to SchwinnConnect, MyFitnessPal, or Explore the World app for tracking workout progress, exercising in virtual routes, and data sharing.
Some of the features it possesses are 29 workout programs, an eddy current resistance system with 25 adjustable levels, a belt drive system, a 10-degree power incline, and more.
Click right here to have a peek at the price of the Schwinn 470 Elliptical on Amazon.
The Frame and Construction
The Schwinn 470 Elliptical construction mainly consists of an anti-corrosive steel frame and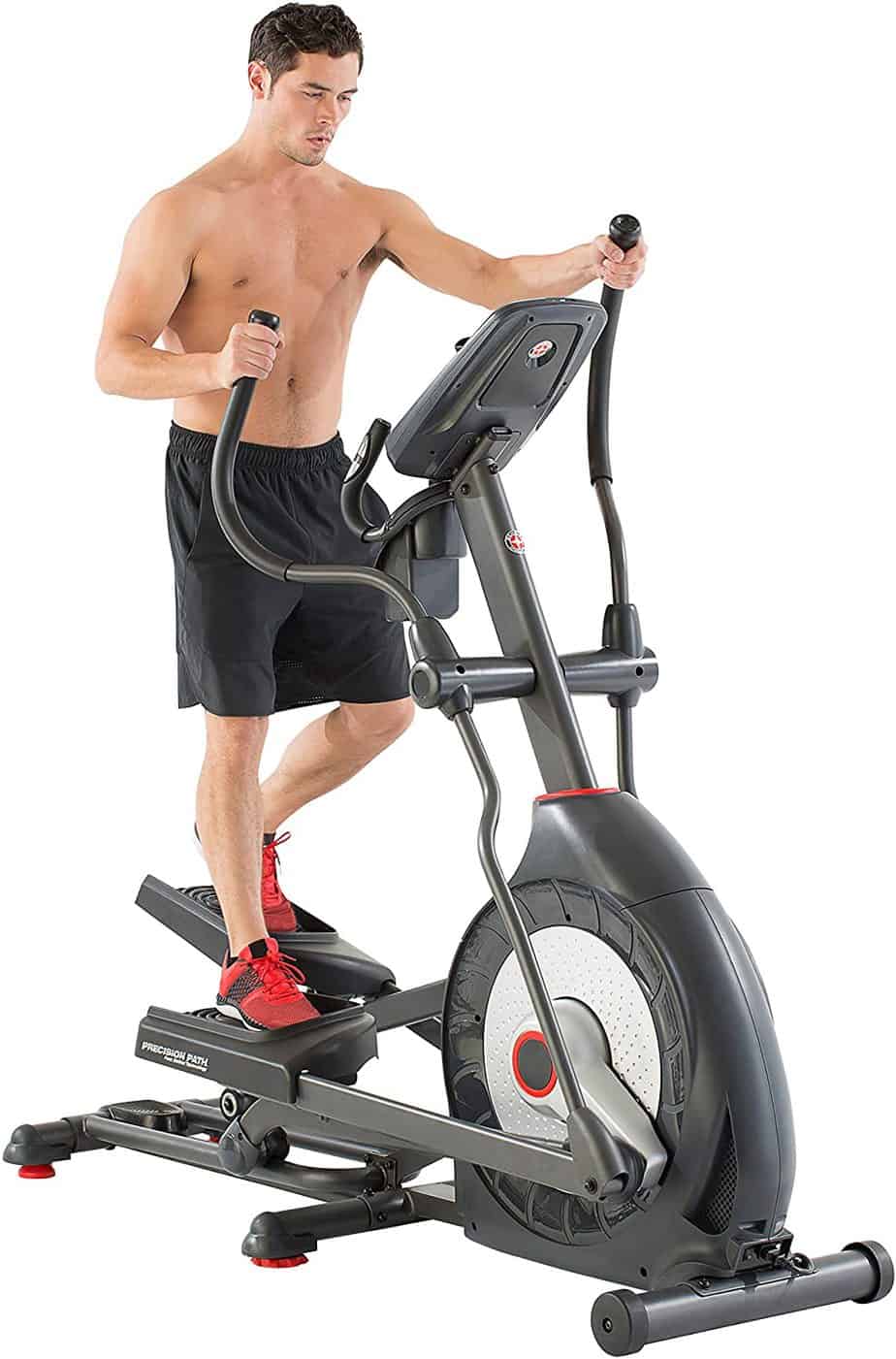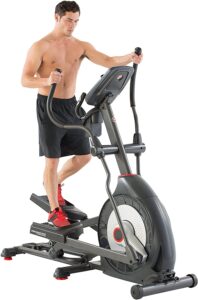 other parts that are made of ABS. It is elegant and sturdy enough to accommodate users that are up to 300 lbs./136 kg weight or less.
The base features 3 stabilizers, 2 of which have adjustable levelers underneath them and the third has transport wheels integrated into it.
This means, the elliptical machine is not only optimally stable but also offers the opportunity to enhance its stability on a crooked surface and can easily be rolled away for storage despite it weighs 164 lbs./74.3 kg.
The assembled dimensions are 70.1" long by 28.2" wide by 63.2" high. In other words, a workout area with perimeters of 5'9" length by 2'4" width should be fine. However, an extra clearance of 2′ around it will be necessary for safety and easy access.
To determine the suitable ceiling height, add 20" (maximum incline) and your height.
The Handlebars
The elliptical trainer has dual-action and static (fixed) handlebars. Resultantly, you may decide whether or not to exercise the upper body.
The static handlebars are attached to the console mast and are non-adjustable. They integrate the heart rate sensors that read and transmit your pulse data to the monitor when grasped during a workout.
While on the other hand, the dual-action handlebars do not have HR sensors on them, and neither are they adjustable. However, they are (including the static handlebars) optimally positioned in a way that will suit every user.
Their movement is not independent of the pedals because they are inter-connectedly fixed, hence, when the pedals move they also do, and vice versa.
The two sets of handlebars are cushioned with anti-skid soft rubber foam that ensures comfortable and secure grips.
The Pedals
The oversized and textured pedals are made of durable plastic with a metallic core. So, users of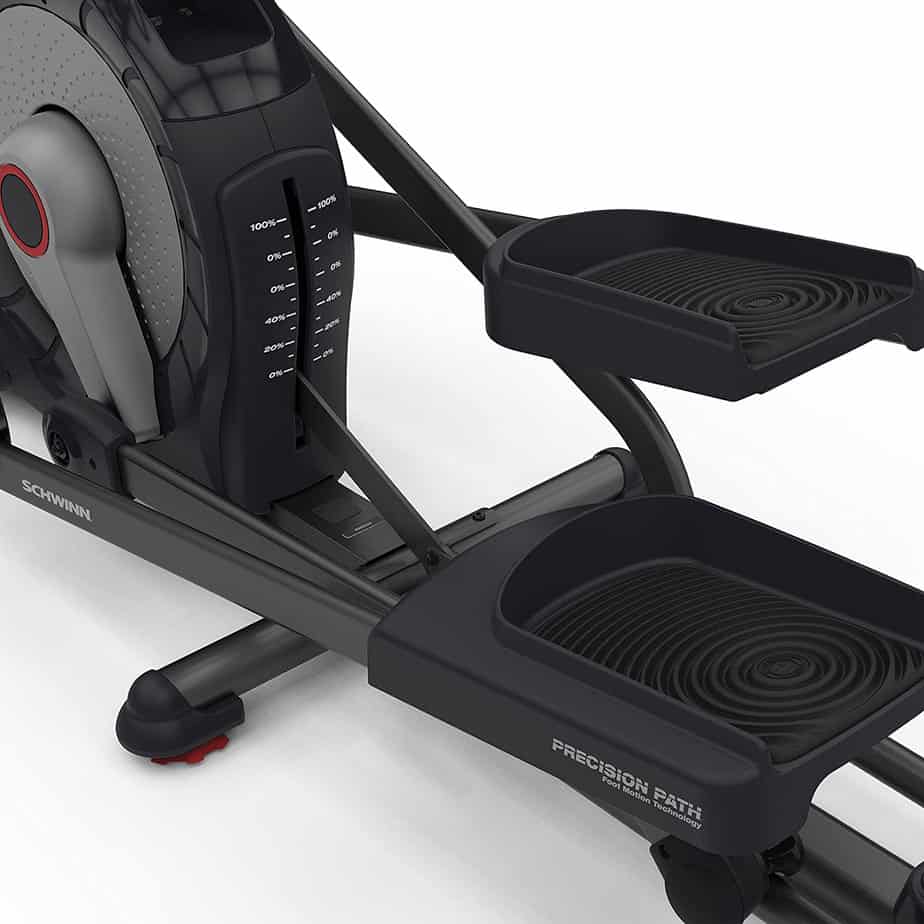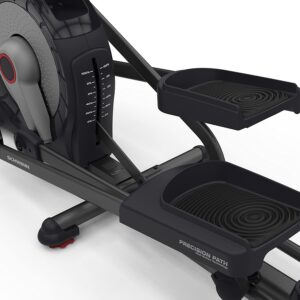 different foot sizes can be accommodated.
Each of the pedals is attached to a ramp that is connected to a gliding steel bar with rollers. They feature 20" Precision Path Foot Motion Technology that replicates the natural running motion. Hence, individuals as tall as 6'5" can experience enjoyable workouts and strides.
The distance between the pedals, otherwise known as Q-Factor is 5.5".
The step-up height of the pedal is about 9" and its highest position is 20" when the incline is at 100%.
Incline
Speaking of, the elliptical machine has a power incline that could be adjusted from 0-10 degrees.
it can manually be adjusted on the go via the console by 1 degree at a time or rapidly by 20%, 40%, 70%, or 100%.
The deployment of the incline creates a certain workout difficult that does not only diversify your workout but also helps you to burn more calories.
The Drive
The Schwinn 470 Elliptical Trainer has a belt drive system that consists of elements such as a durable anti-stretch belt, pulleys, solid crankset, and crank-arms, and 20 lbs./9 kg high inertia flywheel.
The upside of this belt drive system is that it doesn't need you to periodically take the shrouds apart for lubrication or adjustment as opposed to a chain drive system.
In other words, it's maintenance-free; however, the belt may need to be replaced at some point in time.
Its operation is smooth and quiet, therefore, you can decide when and when not to workout without infringing on other people's privacy.
It is entirely possible to pedal in reverse with the same application of resistance as when pedaling forward. This enables you to tone more muscle groups that would otherwise not reached.
The Resistance
The 470 Elliptical has an eddy current magnetic brake resistance system (ECB) with 25 adjustable levels. This comprises a small servo motor, magnetic brakes, and flywheel.
Resistance is generated when the magnetic brakes are shifted close to the steel flywheel by the servo motor and emit magnetic fields around it. Hence, no friction occurs between the mechanisms during this process, and so, no part wears and none will require a replacement after some time.
The resistance can gradually or quickly be adjusted via the console.
Moreover, the operation of the machine remains smooth, quiet, and vibration-free even when the resistance is engaged.
The 25 resistance levels available offer a range of different workout difficulties that help users to achieve their fitness goals at a considerable time span.
Since this is motorized, the elliptical trainer needs to be plugged into a 110V-120V power outlet, and it comes with a 120V, 60Hz input, 2 A output, adapter.
The Console of the Schwinn 470 Elliptical
The console that is integrated into the Schwinn 470 Elliptical features a DualTrack blue backlit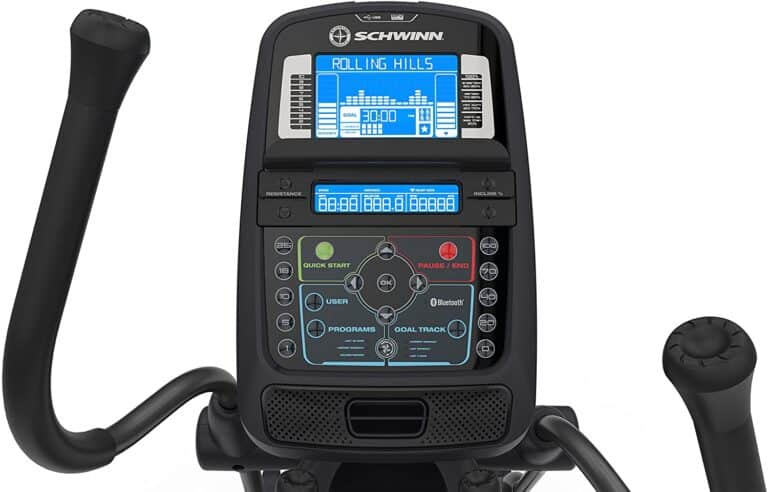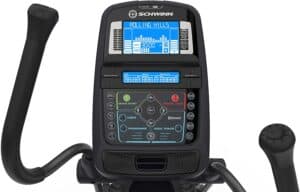 LCD monitor that displays 13 workout metrics.
The upper monitor displays workout stats such as Program, Intensity, Heart Rate Zone, Goal, User Profile, and Achievement, while the lower monitor tracks Time, Speed, Distance, Calories, Resistance Level, RPM, and Heart Rate.
These metrics are displayed with high readability that cannot be compromised by a poorly-lit environment.
The console also features 29 workout programs that include 12 Profile Programs, 9 Heart Hate Control, 4 Custom, 2 Fitness Tests, 1 Recovery Test, and 1 QuickStart.
The 12 Profile Programs consist of 4 Fun Rides (Rolling Hills, Ride in the Park, Easy Tour, and Stream Crossing), 4 Mountains (Peak's Peak, Mount Hood, Pyramids, and Summit Pass), and 4 Challenges (Uphill Finish, Cross-Training, Interval, and Stairs).
When any of the Profile Programs is selected a certain incline degree and a resistance level are automatically applied.
4 User Profiles allow 4 different users to set up and store personal data such as Name, Age, Gender, Weight, Height, and Preferred Workout Value. Upon setting up the User Profile, it automatically records your workout results for review.
The telemetry-enabled console connects to a wireless HR chest strap transmitter. In other words, it is compatible with an uncoded heart rate chest strap from Polar Electro or an uncoded POLAR compatible model.
The Bluetooth connectivity allows you to sync the machine with online apps such as SchwinnConnect, MyFitnessPal, Explore the World, RunSocial, GoogleFit, MapMyRun/Ride, Apple Health, and more to track workout progress, run in multiple virtual locations and routes.
Also, there is a USB port that is being used for charging devices and for transferring workout data to online apps such as SchwinnConnect or MyFitnessPal.
Accessory
Aside from all the cool features aforementioned, the elliptical trainer is integrated with one or two other features that are designed to make your workouts comfortable. These include the MP3 port, built-in speakers, a cooling fan, a tablet, and water bottle holders.
You can train while listening to good music, or watching a movie, keeping proper hydration, and enjoying a cool breeze from the fan.
Storage
The storage of the Schwinn 470 elliptical trainer is made easy due to the integrated transport wheels at the front base. Roll it away by lifting it from the rear base.
An area with perimeters of 5'9" length by 2'4" width can accommodate it for storage.
Pros/Features
Nicely, and sturdily built
Supports 300 lbs./136 kg maximum user weight capacity
A robust base framework provides maximum stability
Adjustable levelers for leveling the machine on a surface that is not even
The console is telemetry, and Bluetooth enabled
EKG contact grips for heart rate monitoring
It offers low-impact and full-body cardiovascular workouts
20" stride length
Large, cushioned, and textured pedals accommodate different foot sizes securely and comfortably
Compatible with online apps such as Explore the World, MyFitnessPal, SchwinnConnect, Google Fit, Apple Health, and more;
You can train on different virtual routes, exotic terrains, store and track workout progress
29 workout programs include 12 Profile Programs, 9 Heart Rate Controls, 4 User Settings, 2 Fitness Tests and 1 Recovery Test, 1QuickStart
DualTrack Blue backlit LCD monitor tracks 13 workout stats that include Program, Intensity, Heart Rate Zone, Goal, User Profile, Achievement, Time, Speed, Distance, Calories, Resistance Level, RPM, and Heart Rate
4 user profiles for 4 different users
25 Eddy Current Brake (ECB) resistance system provides different workout intensities for weight loss, muscle toning, strength, and endurance improvement
10-degree motorized incline system enables you to diversify and increase the chances of burning more calories
The machine's operation is smooth and quiet
Water bottle holder included
Tablet holder included
Built-in speakers, USB charging port, auxiliary port, and a cooling fan included
Low maintenance
Assembly is not difficult
Cons
A device placed on the tablet holder may block the upper display screen
Wireless heart rate chest strap transmitter not included (to be purchased separately)
Warranty
10 Years for the Frame
2 Years for Mechanical Parts
1 Year for Electronics
90 Days For Labor
Go to www.schwinnfitness.com/register to activate the warranty
Product Dimensions & Specifications
Length 70.1"
Width 28.2"
Height 63.2"
Shipping dimensions: 50.5" L x 34" W x 22" H
Net weight: 164 lbs./74.3 kg
Gross weight: 187 lbs./84.8 kg
Maximum user weight capacity: 300 lbs./136 kg
Frame: Steel
Drive: Belt
Resistance: ECB, 24 levels
Incline: Motorized, 10 degrees
Flywheel: 20 lbs./9 kg
Programs: 29
4 User Profiles
Power: 120V, 60Hz input, 2 A output, adapter
Monitor: DualTrack blue backlit
Large, textured, and cushioned pedals
Static and movable handlebars
EKG contact grips & telemetry-enabled
Bluetooth enabled
Compatible with online apps such as SchwinnConnect, MyFitnessPal, Explore the World and more
Shipping
The Schwinn 470 Elliptical Trainer is shipped out free of charge by Amazon, and it is delivered in a couple of days.
The shipping dimensions are 50.2" L x 34" W x 22" H and it weighs 187 lbs./84.8 kg.
Assembly
The assembly of this unit is clearly explained in the owner's manual with graphics and the complicated portions of it are already assembled.
Thus, you only need to connect the 2 frames and the rails, and then attach the stabilizers, the console mast, the legs, and the pedals, the handlebars, the console, and other smaller parts to the core unit.
The tools required for the assembly are included in the package.
Maintenance
No periodic lubrication or adjustment is needed.
Simply keep the machine clean and avoid liquid, moisture, and direct sunlight from getting to the console. Inspect it before use to make sure that every part is in good condition.
Conclusion
The Schwinn 470 Elliptical Trainer is no doubt one of the top-rated machines that will worth every dime you will be investing. It offers professional features such as the DualTrack blue backlit monitor, Bluetooth connectivity, the ability to read and transmit the heart rate data wirelessly, connect to online apps, and more.
Schwinn 470 Elliptical Trainer Review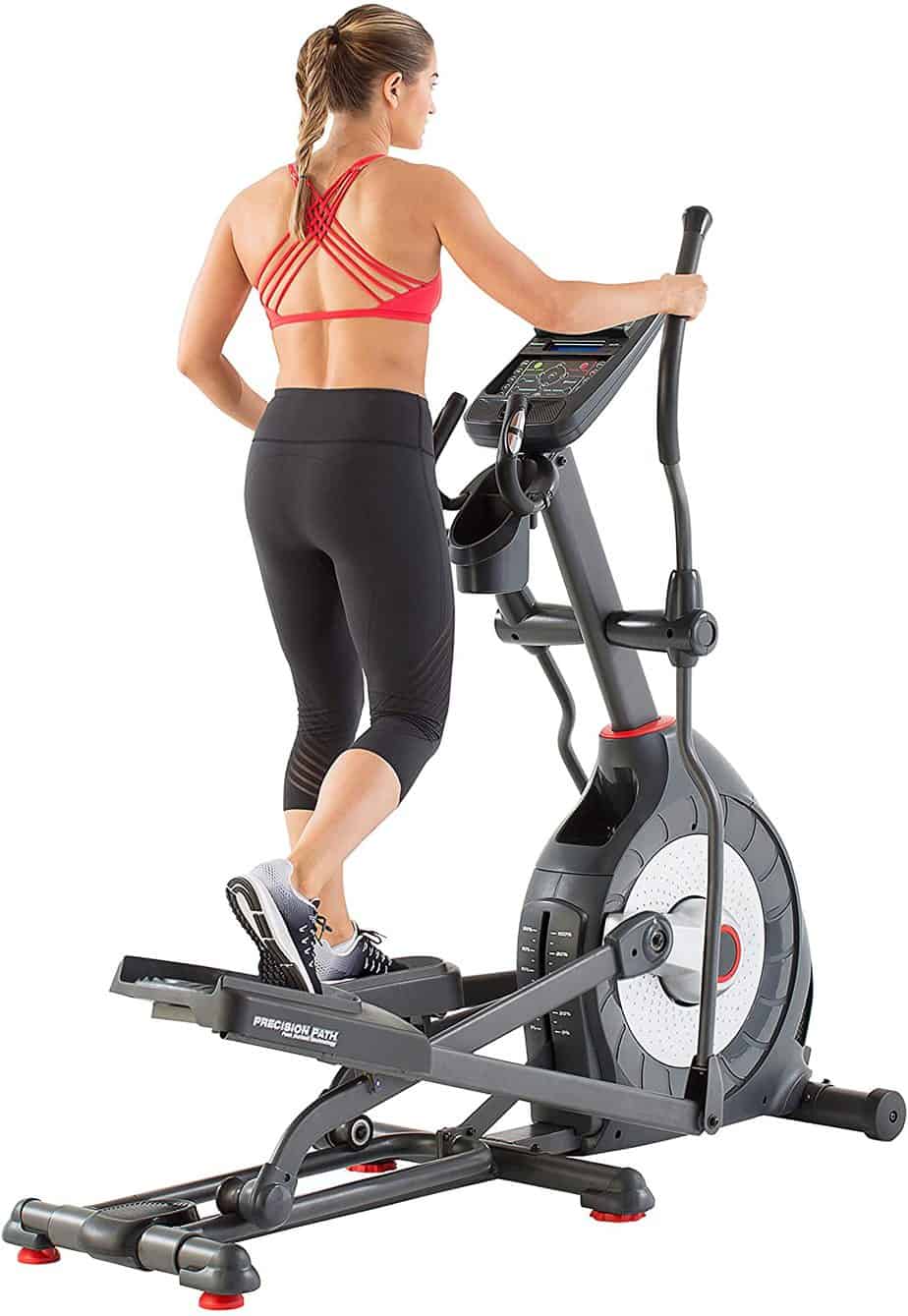 Did you know that this elliptical trainer has 29 preset programs, plus the fact that you will be able to set a custom program that suits you? And it also
Product Brand: Schwinn
Product In-Stock: https://schema.org/InStock