What else could replace the treadmills for indoor walking, jogging, and running exercises? The Octane Fitness ZR8 Zero Runner, Silver could do just that with a unique edge.
This innovative fitness equipment is designed to provide on-road running activity in the comfort of your home without a negative impact on the joints. In other words, it is a low impact fitness runner that allows you to work out with the joints safe from the stress that is usually associated with running on a road or on a treadmill.
The unit has these robotic designed legs and handles that guide the arms and the legs accordingly with zero impact. As a matter of fact, it could be best described as a hybrid elliptical trainer and treadmill combined together.
The overall construction and design offer the user the opportunity to take running exercises to the next level because he or she will be able to train longer, burn more calories and be less fatigued.
Users of different heights and sizes will find it suitable because it automatically adjusts to one's height and moreover, it provides a long stride of up to 58 inches.
Other features to be considered is the fact that it has a set of resistance bands that are adjustable for different workout intensity and it is integrated with a console that features highly readable monitor that displays informative and inspiring workout data.
Click right here to have a peek at the price of the Octane Fitness ZR8 Zero Runner, Silver on Amazon.
The Frame and Construction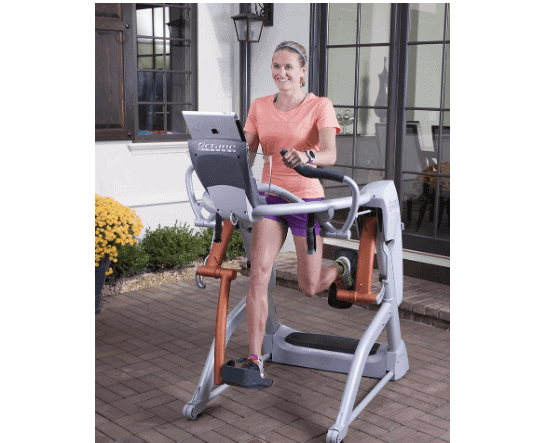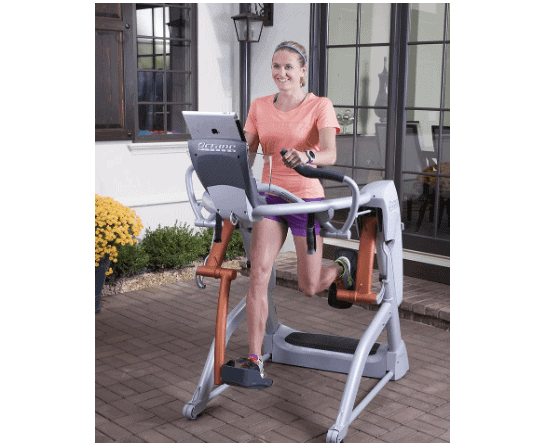 The Octane Fitness ZR8 Zero Runner, Silver is sold by Precor Home Fitness and it has a heavy-duty frame with aircraft-grade aluminum legs that support a maximum user weight capacity of 300 pounds/136 kg.
As aforementioned, the Octane Fitness ZR8 Zero Runner has a zero impact on the joints when and after using it because of its patented hip and knee joint design.
The unit is not foldable but neither is it overly large or lengthy as a rower to invade your space. The overall assembled dimensions are 63 inches long 38 inches wide by 48 inches tall. Differently put, it will require a workout space area of 5'2'' long by 3'2'' wide. Additional extra clearance of 1'-2' at the rear and on each side of the runner might be necessary if it is going to be used in a rather confined space.
The machine is built to be sturdy as it features a very robust base framework that ensures just that. Its overall weight of 191 pounds/86.6 kg further boosts its stability, no wobbling or unwarranted movement will be experienced even during an intense workout.
The included set of resistance bands gives the user the opportunity to perform stretch training with possible resistance adjustment of up to 7 connection points. The unit's SmartLink Fitness App provides you with video coaching programs that guide you on how to properly execute the stretch training.
The Octane Fitness ZR8 Zero Runner, Silver is a full-body workout machine that allows you to easily and naturally swing your arms and legs during exercises.
Aside from the fact it is a hybrid of a treadmill and elliptical trainer it also has the tread climber outlook as well.
Finally, the ergonomics of Fitness ZR8 Zero Runner provide a custom fit for all users of different shapes and sizes. Walk out with short strides at a walking intensity or increase your speed to a full running motion of up to 58 inches stride length.
The Handles and the Pedals
The Octane Fitness ZR8 Zero Runner, Silver has two sets of handles; the contrary handles and the performance handlebars. The basic performance handlebars are ergonomically designed and coated with a rubber foam material that offers comfortable and secure grips during workouts. They also belly the contact HR sensors that transmit heart rate data to the monitor screen when gripped during a workout.
The performance handlebars engage and increase the core activation which gets the heart rate up for a better workout experience. They are integrated with a resistance system that is adjustable so that you can exercise with a free feeling movement or increase the resistance to various levels to replicate higher intensity or uphill running.
The pedals are large, anti-skid designed with thick safety straps that secure the feet from slipping or getting out of alignment while exercising.
They are also light and attached to the aircraft-grade aluminum legs so that you can run freely with natural strides and motion.
The patented hip and knee joint takes away the impact that could have been stressing the lower body joints.
The pedals and the patented hip and knee joint legs engage the glute and the hamstrings for better performance that sculpts the body the way you would always desire.
Console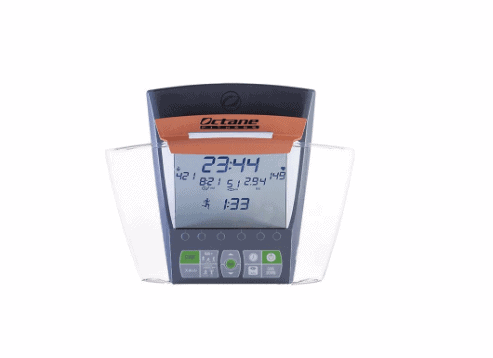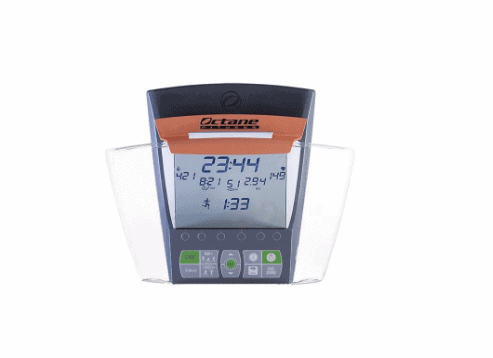 The Octane Fitness ZR8 Zero Runner comes with a rich console with several features. It has features such as a monitor with high readability, tablet holders, the ability to connect to the SmartLink Fitness App, and much more.
You will be able to monitor your heart rate via the use of the contact HR sensors or by the included HR chest strap.
The machine is compatible with Garmini Smart Watches; this connectivity allows workout data from both outdoor (running on the road) and indoors (workouts performed on the Octane Fitness ZR8 Zero Runner) workout activities to be tracked on the same log conveniently.
The SmartLink app gives you access to 35 preset workout programs and customized fitness plans. The preset workout programs are categorized as Endurance, Toning, and Active Recovery.
These programs will automatically recalibrate if you get off track so that you can always be on track toward achieving your fitness goals.
The SmartLink app analyzes your stride using the Stride Trace Technology and this helps you to identify what areas you need to work on when you are fatigued. Moreover, it gives you the ability to stretch train by following the coaching video just as aforementioned.
These stretch training coaching videos are really important because we know how difficult it could get to properly perform the stretch routines without inflicting injuries to your body.
The console is powered by batteries and not via a power source. This means more money is saved on your energy bill.
Accessory
There are two tablet holders available on the Octane Fitness ZRB Zero Runner, Silver. So, you can conveniently position your tablet device as you connect to the SmartLink app via Bluetooth for proper viewing.
The machine is also integrated with a water bottle holder that helps you to stay hydrated throughout your workout session.
Storage
The Octane Fitness ZRB Zero Runner, Silver has transport wheels at the front base which make it portable. This means it can easily be moved to another location in the room, but unfortunately, it is not foldable.
The storage area it will require would be 5'2'' long by 3'2'' wide.
Pros/Features Overview
It is very sturdy and robustly built, hence a quality equipment
No wobbling movement is experienced during workouts
The machine supports a high user weight capacity of 300 pounds/136 kg maximum
Provides full-body workout with zero impact
The monitor is highly readable
The SmartLink App offers 35 preset programs that help you to reach and achieve your goals
You can connect a Garmini Smartwatch with the unit to be able to track outdoor and indoor activities workout data on one log
The Octane ZR8 Runner's ergonomics allows you to workout with short and long strides
The pedals are light with narrow spacing that does not stress the hip, knees, and the ankles
No power is required
Tablets holders are included
A water bottle holder is included
It is portable with transport wheels
It has the unique innovation called the patented hip and knee joint that is responsible for zero impact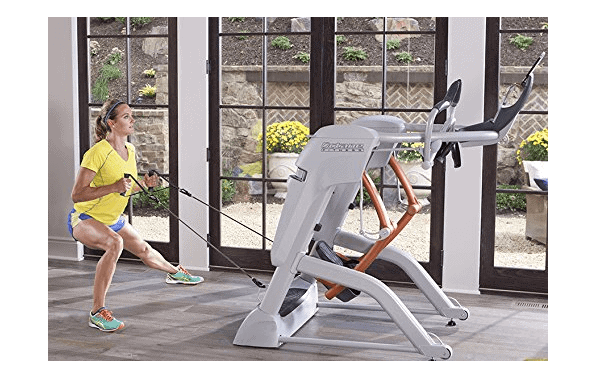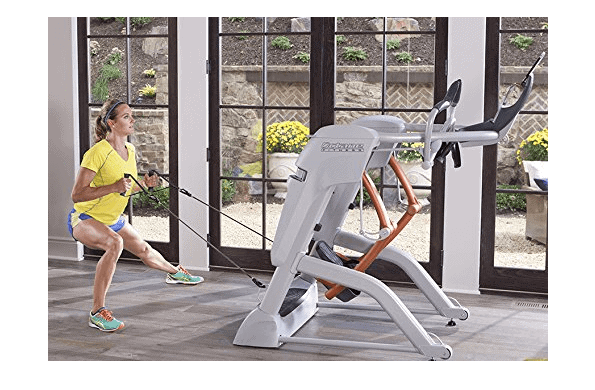 The machine provides stretch training activities and the videos that coach you through proper execution of them
The handgrips are integrated with HR sensors that allow you to monitor your cardiovascular health, and it comes with an HR chest strap too
Its operation is smooth and quiet
The machine comes with 3 additional sets of Powerband as follows; Yellow for very light resistance, Red for medium resistance, and Green for heavy resistance
Low maintenance
Good warranty
Cons
We think is a little bit expensive
It is not foldable
Warranty
Lifetime on Frame
5 Years on Parts
1 Year on Labor
Product Dimensions and Specifications
Length 63''
Width 38''
Height 48''
Supports 300 pounds/136 kg maximum user weight capacity
Weight: 191 pounds/86.6 kg
Foldable: No
Contact Grip Sensors: Yes
HR chest strap included
Programs: 35
Bluetooth compatible for SmartLink App
Transport wheels: Yes
Handlebars: 2 sets with adjustable resistance
Console: Monitor, tablet holders, and water bottle holder
Pedals: large and light with safety straps
Shipping, Assembly, and Maintenance
Shipping
The Octane Fitness ZRB Zero Runner, Silver shipping cost depends on the retailer that is selling or you are purchasing from. However, some retailers do provide free shipping such as Amazon.
Assembly
The ZR8 Zero Runner is not difficult to assemble.
The package comes with the set of tools required for the assembly and an instruction manual that guides you through the process.
Maintenance
The unit doesn't need any serious maintenance.
You simply have to always examine the machine before use for any loose or broken part that could lead to an accident or further damage. Fix any problem that may arise or contact the manufacturer if you have to.
Further detail on maintenance is in the owner's manual.
Conclusion
The Octane Fitness ZRB Zero Runner, Silver is suitable for home use and good for everyone that wishes to lose weight, build endurance level, improve cardiovascular health, and tone muscle groups.
It is perfect equipment that offers the opportunity for users to acquire the kind of body build they have always desired to have in much less time and pain.
Octane Fitness ZR8 Zero Runner, Silver Review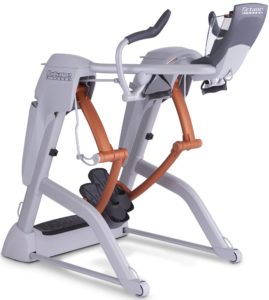 The Octane Fitness ZR8 Zero Runner, Silver is sold by Precor Home Fitness and it has a heavy-duty frame with aircraft-grade aluminum legs that support a maximum user weight capacity of 300 pounds/136 kg.
Product Brand: Octane
Product In-Stock: InStock