You might be wondering which TreadClimber is best for home use. Well, we got you covered because in this review we are going to make it simple for you to find and decide on which TreadcClimber to purchase.
The TreadClimber is one unique cardio machine that combines the features of the treadmill, elliptical, and stair climber to produce a formidable effect to the body which is why it is referred to as the 3 in 1 cardio machine.
Due to its unique combination of these other three cardio machines' features, it offers low-impact workouts that are extremely gentle to the joints.
The TreadClimber is also famous for increasing stamina and the amounts of calories/fat that is eliminated from the body.
Here is how the TreadClimber works; the TreadClimber has two treadles with belts that move as a user workout on it, as opposed to the conventional treadmill that has a single thread as a running surface. The treadles go up and down like the stair climber while it also performs elliptical trainer-like performance of forwarding motion.
These combinations of features have made the TreadClimber one outstanding cardio machine with low impact workouts that are yet effective. That could explain the reasons why they are somewhat expensive when compared to other cardio machines.
Here is the thing with the TreadClimber, it has been established that you can burn a lot more calories than any other cardio machine in the same amount of workout duration.
The advertisers have given numbers of calories to be burned with the TreadClimber which could be a little bit exaggerated but the point is that it does burn a lot more calories than the other cardio machines.
However, a study that was performed at the University of Wisconsin shows that Treadmill Climber machines allow users to burn a lot more calories in the same amount of time spent in a workout as with other cardiovascular machines and without feeling tired when they are done.
We are using the outcome of our thorough research and of course, Amazon customer reviews and ratings to decide on the best Tread Climbers. And the Bowflex Tread Climbers happen to be on top of our list because of their innovative products that are geared toward sculpting the body and weight loss.
Bowflex has upgraded and improved the TC10 and TC20 Tread Climbers with the TC100 and TC200. This is one of the moves that make the Bowflex stay ahead of any other brand of Tread Climber. The latest versions of the TC series which are the TC100 and TC200 are integrated with features like upgraded display, increased user profiles, Bluetooth connectivity, and more.
The Bowflex TreadClimbers are the best Tread Climbers available which will provide you with the most effective workouts regardless of the time of the day, weather, or place. The Bowflex Tread Climbers we are going to list as the best Tread Climbers below will surely meet your needs and probably your budget range as well.
Best Tread Climbers for Home Use
This unit machine is one of the recommendable Tread Climbers available with popularity. It has good Amazon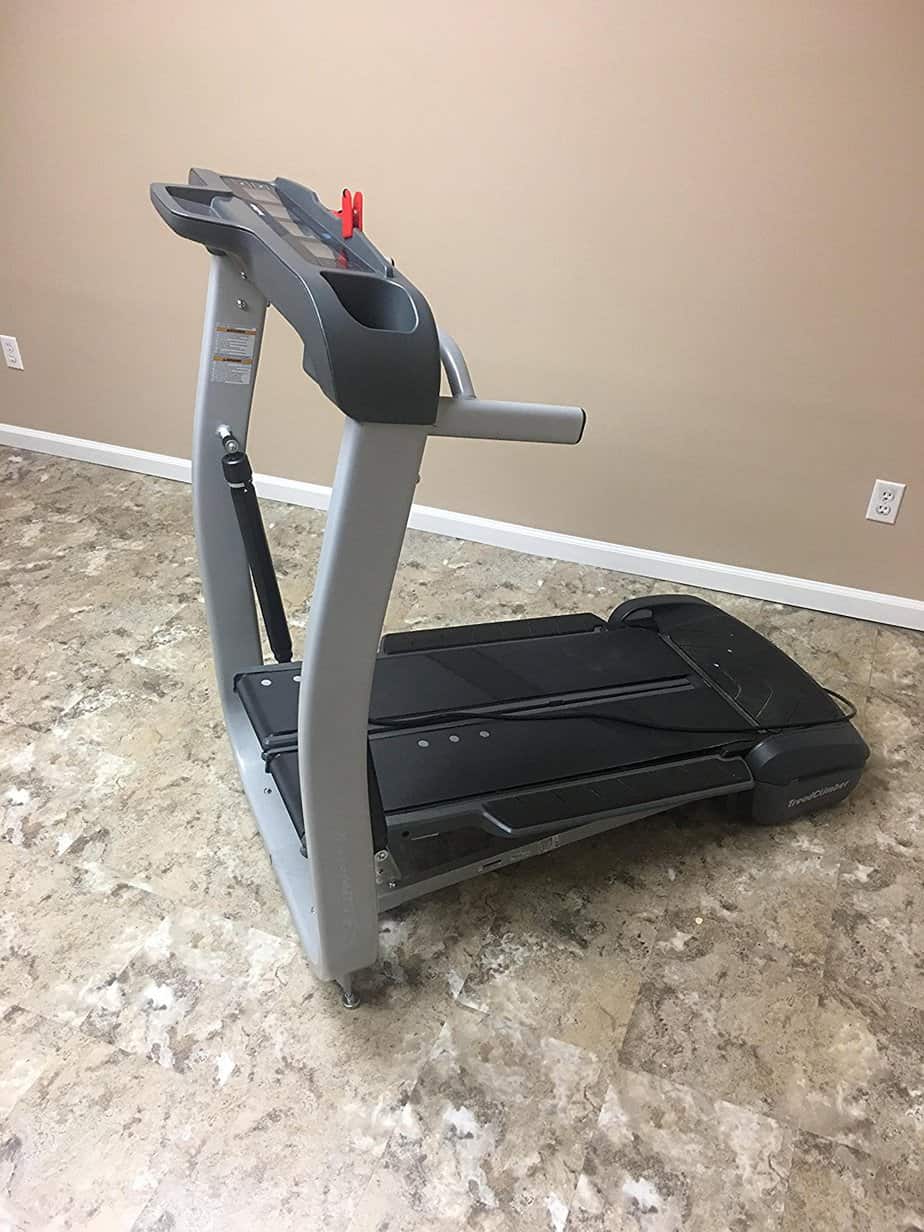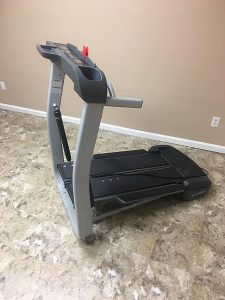 customer reviews and an approval rating of 4.3 out of 5. This shows how users have enjoyed and accepted it.
It has features such as the LCD screen that allows view workout data such as the time, speed, distance, and calories burned. This will surely help you to keep track of your workout progress which is very important towards achieving your fitness goals.
It has a compact design that fits the ideal Tread Climber machine for home use so that you can workout anytime and anywhere you want.
Although, the LCD screen is not a backlit type but still has good readability that won't be a problem viewing the data and numbers. It does have G.O Coach Console that tracks the weekly progress of a single user toward a 90-minute goal.
Just so you know, it has the 3 in 1 feature of a treadmill, elliptical trainer, and stair climber and it's made with high quality. Transport wheels are also available to aid in relocation and storage.
The price is said to be good considering its quality, design, and features.
Features Overview
It has a maximum speed of 4 mph
1 User profile
None-backlit LCD screen
Supports maximum user weight of 300 pounds
Weighs about 163 pounds
Dimensions: 27'' W x 52.8'' H x 43.1'' D
1-year Warranty
Cons
It does not heart rate capability
The Bowflex TC20 Tread Climber machine is the upgraded version of the TC5 and TC10. Unlike the Bowflex TC10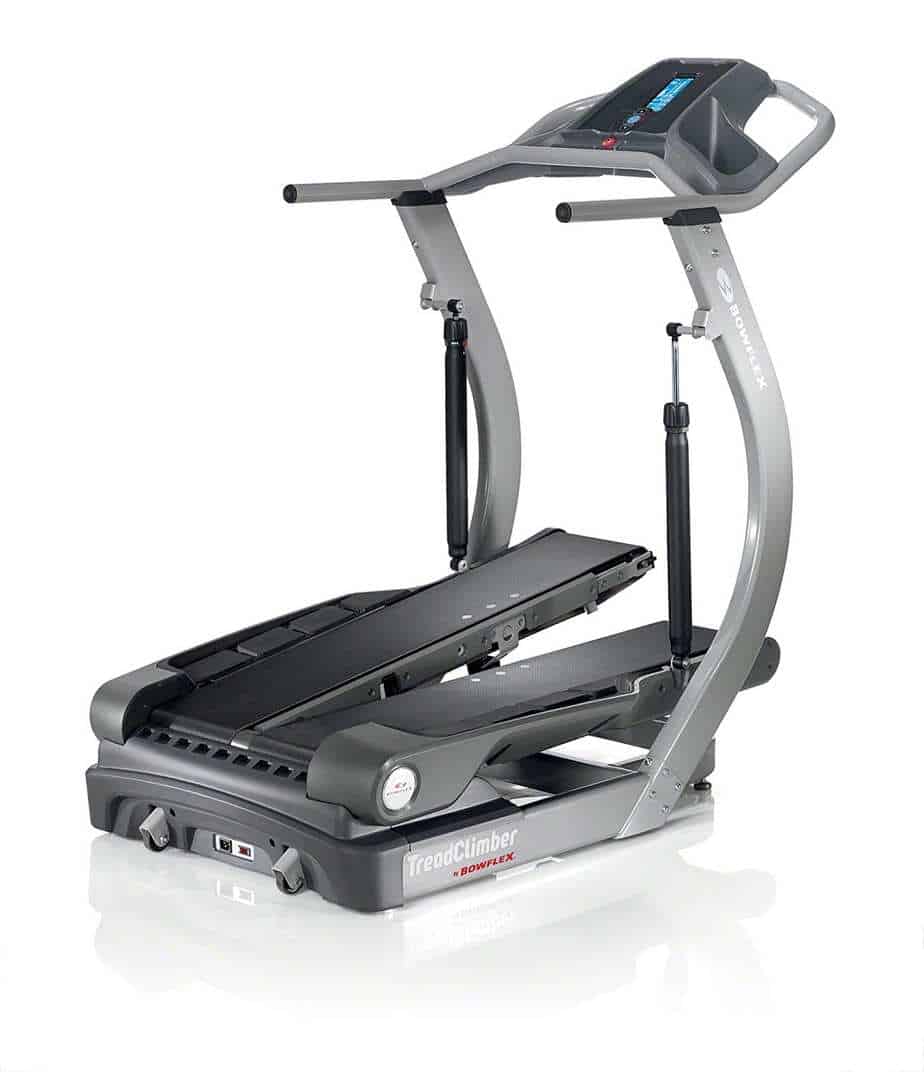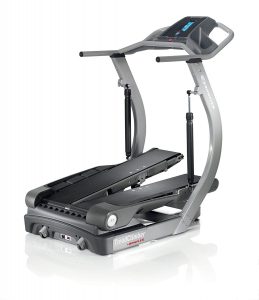 Tread Climber, it has heart rate capability which means a user can work out and be able to monitor the heart rate.
It has a bunch of other innovative features that are geared toward making your workout to be fun even as you achieve your fitness goals. You can electronically track your workout progress by viewing data such as the time, distance, calories burned, speed, and heart rate. There are workout options to also choose from, which include; Just Walk, Calorie Goal, Time Goal, Distance Goal, and Interval. With this workout option, a user can decide how intense the workout should be by choosing the preferred option.
Interestingly, with the Bowflex TC20 Tread Climber, a user can do a lot of things that are not possible with the Bowflex TC10 such as being able to track data on the phone via BowflexConnect, Apple Health Kit, Google Fit, or the My Fitness Pal.
The ability to track the heart rate through contact grip and the chest strap is awesome and the latter is the best way to get accurate heart rate data.
A user can charge a phone or any other device such as an mp3 player through the built-in USB charging port. There are other extras such as the water bottle holder for keeping water handy during a workout and a tablet holder.
The cost of the Bowflex TC20 is a lot expensive than the TC10 obviously but it has way more advanced technological features that are going to make your workout enjoyable.
Features Overview
A maximum speed of 4.5 mph
2 User profiles
Heart rate Monitor
Extended Treadles
Backlit LCD screen
Dimensions: 31.5'' W x 25'' H x 55'' D
Supports maximum user weight of 300 pounds
Weighs about 217 pounds
3 years warranty on everything
Cons
The Bowflex TC20 Tread Climber does not have good Amazon customer reviews and approval rating and this is something that shows a red flag.
We tried to find out what the red flag is and we discover that the unit breaks down a lot. Most of the customers that bought it complained of break down and missing parts and sometimes bad customer service. We understand that when a unit breaks down frequently that can lead to bad customer service especially when the company is trying to fix the problem as best as they can without succeeding the customer will simply feel the waste of time and money on the unit.
Overall, this unit does not have the approval of its users at this time.
The Bowflex TC100 Tread Climber is the upgraded version that is meant to replace the Bowflex TC10 Tread Climber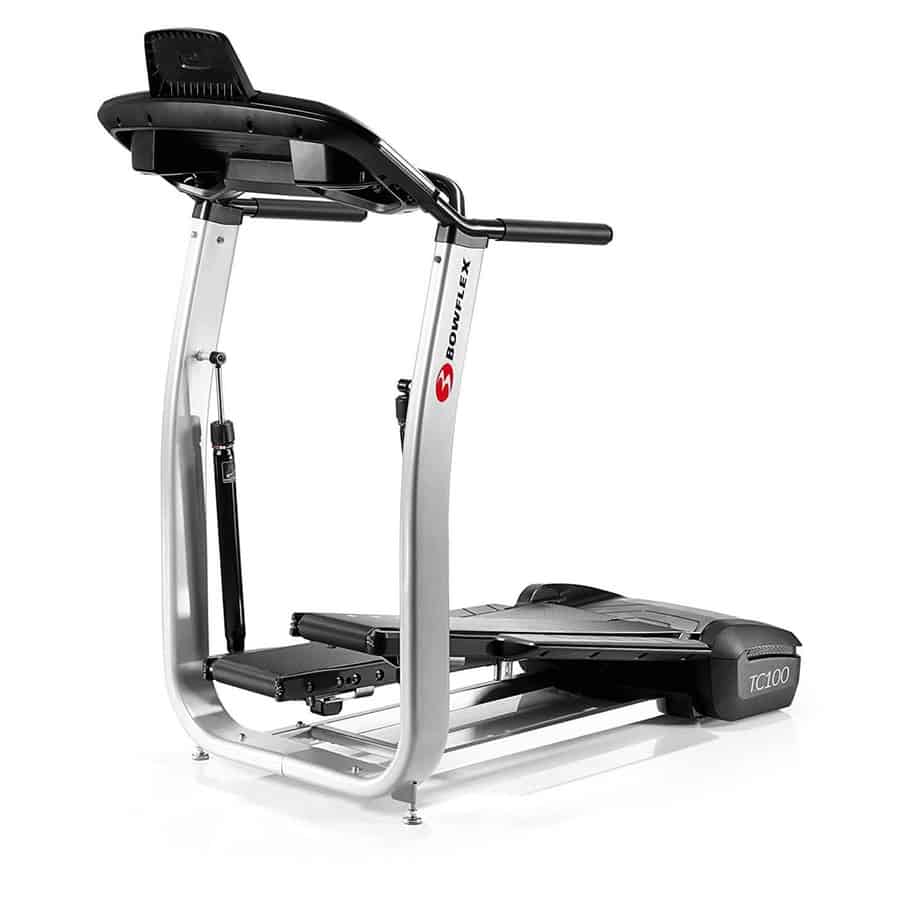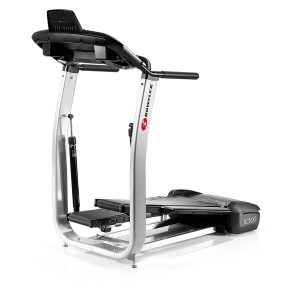 even though the latter is still available in the market. The manufacturer has shown some level of commitment for its customers to improve their workout experience by introducing this innovative technology.
The Bowflex TC100 Tread Climber has many enhanced features that provide the right impressive workout experience that is gentle on the joints and yet affordable within a considerable budget. This machine has 2 user profiles which mean 2 different persons/users would be able to track and monitor their workout progress and goals, and the beautiful backlit LCD window that has high-quality readability that does not stress the eyes even in the dark.
You should be able to monitor your workout progress via the LCD monitor which will also motivate you to do more in terms of working out towards achieving your fitness goals. The unit has a speed range of 0.5 to 4.0 mph and has a contact grip for heart rate monitoring only.
The Bowflex Connect on the LCD screen tracks your workout information as this will help you to remain focused on realizing your fitness goals.
The Bowflex TC100 Tread Climber is of good quality and sturdy as well. It supports up to 300 pounds maximum user weight capacity.
The price of this unit is considered reasonable and especially when it has to do with investing in improving your health, no amount can be too much so long you can afford it.
Features Overview
Speed range is 0.5 to 4.0 mph
A large blue backlit LCD screen
Contact hand grips for heart rate monitoring
Dimensions: 57'' x 31.5'' x 59''
Supports up to 300 pounds maximum user weight
A built-in charging USB port for charging devices such as phones, tablets, and MP3.
2 user profiles
2 Years warranty on everything
Cons
So far the Bowflex TC100 Tread Climber is largely accepted by its users with Amazon approval rating of 4.1 out of 5 at the time this Tread Climber buying guide was written.
Although we think that the backlit LCD screen is small.
The Bowflex TC200 Tread Climber is kind of the most expensive of the upgraded versions. Although, there are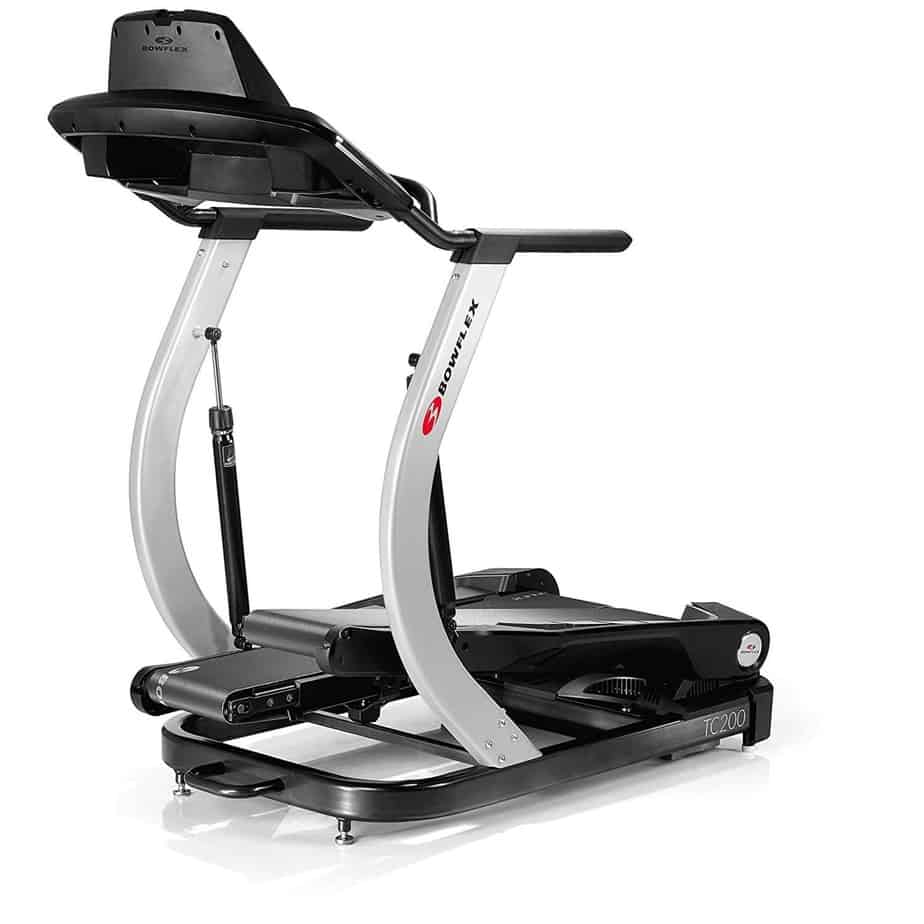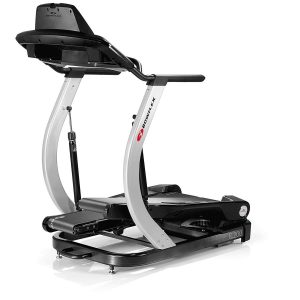 reasons for it being expensive because it has a lot of advanced features that are not available with the Bowflex TC100 Tread Climber.
For instance, it has Bluetooth connectivity with a free Tread Climber app. It can automatically share data with most fitness Apps. There are also 5 programs available to help you work out efficiently towards realizing your fitness goals. These programs are; just walk, calorie goal, distance goal, time goal, and intervals.
Wireless heart rated monitor is also included which will enable you to use chest strap heart rate for heart rate monitoring and the contact hand grips are also available as well. But we do know that the chest strap heart rate does provide the accurate heart rate data than the contact hand grips.
USB charging port for charging your devices is also available plus other extras such as device holder for your tablet and water bottle holders for keeping your water for hydration handy.
Feature Overview
Speed range of 0.5 to 4.5 mph
Has large backlit LCD Screen
5 programs and 4 user profiles
Bluetooth connectivity plus free Apps
Contact handgrips and wireless heart rate with the chest strap included
Supports up to 300 pounds maximum user weight capacity
A built-in Charging USB port for charging your devices such as phone, tablet or MP3
Dimensions: 55'' x 31.5'' x 62.5''
Cons
It is expensive
There are complaints that the machine wobbles
That the corresponding phone app misread from the machine sometimes and often read other profiles on the machine
The approval rating of the Bowflex TC200 Tread Climber on Amazon is not impressive at the time of writing this buying guide.
Bowflex TC3000 Tread Climber is one of the older models that still available in the market today. It may not have all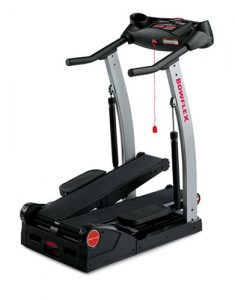 the fancy apps and advanced technology but it sure provides outstanding workout experience. You will be able to find workouts that are best for you based on your weight because it provides the ability to adjust workouts with the 12 settings available.
The Bowflex TC300 Tread Climber is effective in working on the muscle groups and very gentle on the joints as well. This could be the reason for most athletes that sought and use this machine during recovery from injury.
Although this machine could be difficult to assemble due to its overall design and therefore you may require the service of an assembly expert to put it together for you to avoid any complication with performance.
Features Overview
Has speed range of 0.7 to 4.0 mph
Resistance range of 0 to 12 levels
It has electronic functions such that display your workout data: time, speed, distance, calories per minute, total calories, and total steps
Water bottle holders for easy access to water for hydration
Shelf for tablet or magazine
Supports up to 300 pounds maximum user weight capacity
Weighs about 185 pounds
Warranty: 3 Years for Motor, 2 Years for Electronics, 2 Years for Parts and 1 Year for Hydraulic
Cons
Users have complained of it not holding up and breaks down in no time
Read more review here
Features/Pros
Effective and Efficient
Just as we have mentioned above, working out with the Tread Climber provides x2 results of what you could get with a treadmill in the same amount of workout duration. This is because of its 40% incline and the overall design that helps users to achieve more and faster fitness results with less stress on the joints.
There are innovative workout programs available in the Tread Climber especially the Bowflex mode. These workouts are partly responsible for burning a lot more calories than any other type of cardio machine out there. A user can exercise at a normal speed and still be able to burn a lot more calories.
The Tread Climbers do not only help you to lose weight but it improves your bone density, energy level, and increases the good cholesterol which is the HDLS even as you get healthier.
Tones Muscles
The Tread Climber machine can target different muscles of the body because of the incline range and its general design. A user will be able to work out with a machine that has different functions of different cardio machines. And they will be able to do this with ease and comfort as the Tread Climber supports exercises like stair climbing and striding.
Console
The Tread Climbers especially the Bowflex brands have a great and feature-packed console that is designed to further help users achieve their fitness goals. It is even a lot better with the TC20 Bowflex and the newer versions Bowflex TC100 and TC200 that have backlit LCD Display type that provides high-quality readability.
TC10, TC20, TC100, TC200 are equipped with a user profile that helps to track user's progress. Some have only a single user profile while others such as the Bowflex TC20 have 2 user profiles.
Motor
The Bowflex Tread Climbers have an indeed powerful motor that is responsible for driving the unit with a speed of 4 mph or 4.5 mph depending on the model. The motor is essential to providing quality workouts that impact the body positively.
The TC5, TC20, and the TC200 have a maximum speed of 4.5 mph while TC10 and TC100 have 4 mph maximum speed.
Easy to Read Display
The Bowflex Tread Climber has an easy to read display where a user can track the workout progress. Users will be able to view workout data via the monitor such as time, speed, distance, calories burned, and heart rate as the case with some higher version of the Bowflex Tread Climbers.
Conclusion
These Tread Climbers buying guide is meant to help you find the best machine that will suit your needs easily. When you look at the comparison table above you should be able to know which Tread Climber is the most popular and price range.
The popularity of a TreadClimber is a way of knowing which machine is the best because it has been used by many real users who have reviewed and gave it their approval ratings.
Also, if you purchase any of these Tread Climbers especially from the Amazon, and you don't like it you should be able to ask for a refund but that should be within time frame though.
And if any breaks there is a warranty available that covers it. Therefore, you should be able to get a replacement.
If you have any further questions please feel free to ask because we shall be glad to respond accordingly.