The Sole E95 Elliptical Trainer, the 2019 upgraded model is a front-drive elliptical which remains one of our best choices of elliptical trainers just as the Sole E35 is, however, the latter comes with fewer features than the former. It will be very difficult not to admit that this elliptical trainer is simply one of the best elliptical trainers that could provide excellent performance that ultimately enables the user to achieve the desired fitness goals.
The Sole E95 has features that are usually found on other high-end elliptical trainers that are twice its price.
Its frame is solidly built with 38 mm heavy-duty steel and thus supports a high user weight capacity of 400 pounds/181 kg. The drive system features a 27-pound flywheel that provides smooth, vibration-free, near-silent operation.
The console has some interesting features such as the 10.1 inches LCD screen with advanced graphics that are highly readable, cooling fan, built-in speakers, telemetry enabled, 10 programs, and much more.
The stride length is 20 inches and 22 inches when on full incline level.
Speaking of incline, the Sole E95 Elliptical has a power-adjustable incline system that allows you to adjust from 0-20 degrees. This adds fun and challenge to your workout routine that consequently burns more calories.
Click right here to have a peek at the price of the Sole E95 Elliptical on Amazon.
The Frame and Construction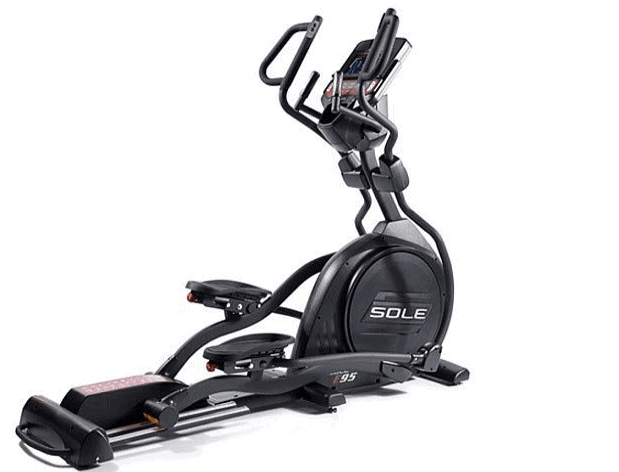 The Sole E95 Elliptical construction features a 38 mm steel frame that is coated with anti-corrosive and scratch paint that preserves its original quality and outlook. Due to its sturdy and robust frame, the elliptical trainer supports 400 pounds/181 kg just as aforementioned.
It equally has long strides that accommodate and allow taller individuals to exercise with full stride extension without restrictions.
By the way, this trainer is a full-body, low-impact workout machine with two sets of handlebars, movable and static handlebars. The pedals are large with a maximum stride length of 22 inches.
It is a non-foldable and large machine that takes a little bit of space. The overall assembled dimensions are 83 inches long by 31 inches wide by 67 inches tall. In other words, the workout area and storage area should be about 6'9'' long by 2'6'' wide, in a room with a ceiling height of at least 7 feet high and maybe more depending on the height of the user.
If the unit is going to be used in a confined area then it will be necessary to consider an additional extra clearance of 1-2 feet at the rear and on each side of the elliptical trainer for safety and comfortable training experience.
The Sole E95 Elliptical provides stable workouts due to its base framework that features front, rear, and midsection stabilizer bars. Its overall weight of 236 pounds/107 kg further boosts its stability which ultimately eliminates any form of wobbling or rocking movement during a workout no matter the intensity of the workout.
There might be concerns on how to move the trainer from one room to another considering its weight. Well, that concern is taken care of because it features transport wheels at the front base and a handle at the rear base for easy portability.
The Handlebars and the Pedals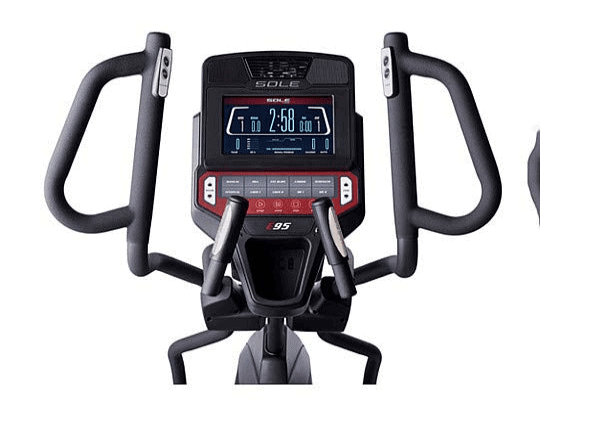 The Sole E95 Elliptical has two sets of handlebars; one set is mobile while the other set is static.
The mobile handlebars are large, ergonomically designed with multiple grips. There are incline buttons on one handlebar and resistance buttons on the other handlebar. These allow you to work out uninterrupted as you can easily adjust the resistance or the incline with the thumb.
The static handles have the HR sensors embedded in them so that when grip during a workout your heart rate data could be transmitted to the monitor for display. However, the console can connect wirelessly with an HR chest strap which is also included in the package. Therefore, you may use the chest strap for the transmission of the heart rate data to the monitor so that you can always observe and maintain your target heart rate zone.
The two sets of handlebars are well coated with soft rubber foam that provides comfortable and secure grips that prevent slippage and blisters in the palms.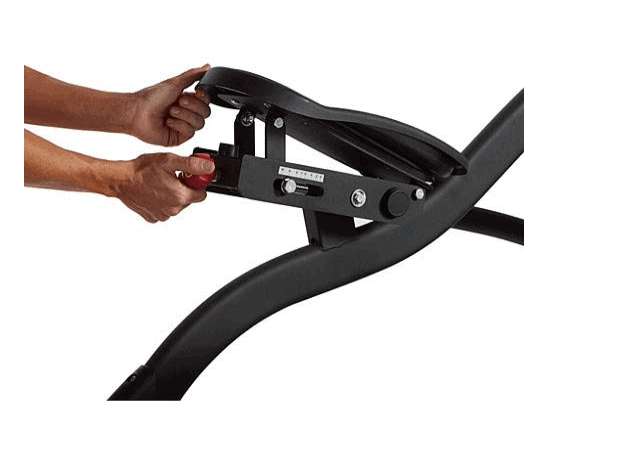 The pedals, on the other hand, are large, 10 positions adjustable with durable foam cushioning. They can accommodate feet of different shapes and sizes.
They are customizable because you can adjust them up to 2 degrees to tilt inwardly for a perfect fit.
Drive
The Sole E95 Elliptical features a front-drive system that consists of a heavy flywheel of 27 pounds/12 kg that provides consistent momentum while pedaling.
Its operation is smooth and quiet; therefore, you can work out at any time of the day without the worry that the family or neighbors might be bothered by your activities. You can also watch your favorite TV show, movie or listen to good music by connecting your smartphone via Bluetooth without having to turn up the volume so high.
The drive system provides forward/reverse elliptical motion and the ramp could be adjusted from 0 to 20 degrees to increase workout challenges that burn fat.
It is also important to note that the drive is maintenance-friendly. Differently put, it doesn't require any serious maintenance such as lubrication or adjustment.
Resistance
The Sole E95 Elliptical features an electronically controlled magnetic resistance system.
Resistance is generated when the magnetic brake emits a magnetic field around the flywheel and the resistance intensity is determined by the proximity of the magnetic brake to the flywheel.
The resistance is controlled via the resistance buttons on the console and on the handlebar. There are 20 adjustable resistance levels and could be initiated simply by a push of a button.
Aside from being able to initiate the resistance manually through the buttons, it can also be automatically engaged when a certain built-in program is selected and so does the incline as well. In other words, when a built-in program is selected, certain resistance and incline levels are assigned automatically.
The resistance system provides resistance levels that are suitable for everyone that wishes to lose weight, improve endurance strength, cardiovascular health, and toned muscles. Users at every fitness level should be able to use the Sole E95 Elliptical Trainer productively.
There is no wearing part because the resistance system is frictionless.
The Console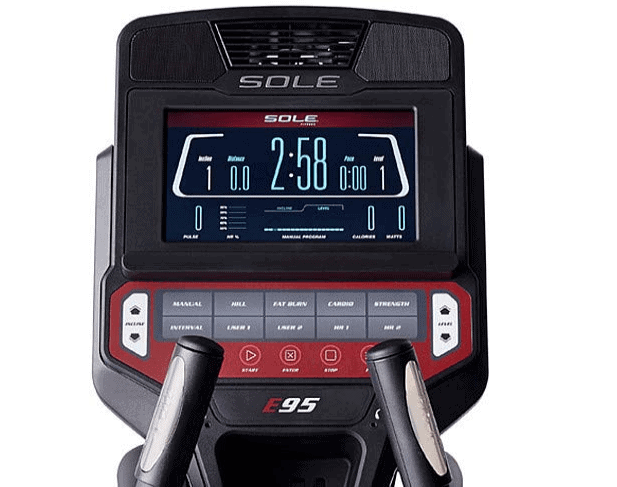 As explained above, the console that is integrated with the Sole E95 Elliptical has a lot of features that allow you to achieve your fitness goals with ease.
The console features a 10.1 inches backlit monitor, 10 workout programs that include Manual, Cardio, Fat Burn, Hill Climb, Interval, Strength, 2 Heart Rate, and 2 Custom programs.
Then, there are buttons for incline and resistance adjustment.
The console is Bluetooth enabled; this allows you to connect to iHealth and MyFitnessPal apps by downloading the apps into your smartphone. You may also connect with your phone device and use it as another way of monitoring your workouts and listening to music via the built-in speakers.
There are other features such as the fan, tablet holder, water bottle holder, and a USB charging port. All of these are integrated to help you stay hydrated, be entertained, and be comfortable while you work out to achieve your objectives.
The monitor displays workout data such as pace, time, distance, resistance level, calories burned, and heart rate. Remember, an HR chest strap is included in the package which can be used to connect to the machine in order to track your heart rate aside from using the contact sensors on the stationary handles.
Accessory
The Sole E95 Elliptical comes with a tablet holder, water bottle holder, a cooling fan, 2 speakers, a USB charging port, and an HR chest strap.
These accessories are all essential toward realizing your fitness goals because they ensure that you are entertained, hydrated, dry from sweat, and able to train and maintain the heart rate zone.
Storage
The storage of the Sole E95 Elliptical Trainer will require a large area just as aforementioned. It is also a heavy unit (236 pounds/107 kg) but it's incorporated with transport wheels and a handle for portability.
Pro/Features Overview
It is solidly built and durable
The machine is very stable during workouts
The pedals are large, 10 positions adjustable and cushioned with 20-22'' stride lengths
Electronically adjustable incline, up to 20 degrees
20 eddy current resistance levels
10 Programs that target different fitness goals, options for customs, and heart rate
The screen display is highly readable
Two sets of handlebars; mobile and stationary
Pedals adjustable up to 2 degrees to tilt inwardly
27 pounds flywheel provides consistent momentum
Bluetooth connectivity
Built-in speakers
Tablet holder for tablet device placement
Water bottle holder for keeping water handy for hydration
A Cooling fan that keeps you cool and dry
Support high user weight capacity of 400 pounds/181 kg
Operation is smooth and quiet
Good customer service
Cons
The trainer is bulky and takes a bit of space
Built-in workout programs are only 10
Short users may find the stride too long
Warranty
Lifetime on Frame
5 Years on parts & Electronics
2 Years on Labor
Product Dimensions and Specifications
Length 83''
Width 31''
Height 67''
Supports 400 pounds/181 kg maximum user weight capacity
Weight: 236/107 kg
Pedals: 10 positions adjustable, cushioned
Resistance: Eddy Current, 20 levels
Incline: Power adjustable incline, 0-20 degrees
Flywheel: 27 pounds
Frame: 38 mm heavy-duty steel
Transport wheels: Yes
Tablet holder: Yes
Water bottle holder: Yes
Cooling fan: Yes
Speakers: Yes
Bluetooth: Yes
Built-in Programs: 10
Monitor: 10.1'' Backlit
Handlebars: 2 sets; mobile and stationary
HR chest strap: Yes
Contact HR sensors: Yes
Shipping, Assembly, and Maintenance
Shipping
The Sole E95 Elliptical is shipped in a box that weighs 258 pounds/117 kg with dimensions of 66 inches by 34 inches by 23 inches.
Amazon provides free shipping and delivers within days of order.
Assembly
The trainer is delivered partially preassembled because the major components are already attached to the frame. However, it will be safe for two persons to do the unpacking and assembling.
The package includes the required tools for assembly and the owner's manual that has the instruction on how to assemble it step by step.
There is also the option of hiring an expert assembling person to assemble it on your behalf. This option is available on Amazon.
Maintenance
No serious maintenance is required for the Sole E95 Elliptical.
It will suffice to say that it only needs to be examined before every use for any loose or broken part in order to prevent an accident or further damage to it. Fix any problem that may arise or contact the manufacturer if necessary.
Also, always keep it clean from dirt and sweat before and after workout sessions.
Further details on maintenance are revealed in the user's manual.
Conclusion
The Sole E95 Elliptical Trainer is an all-in-one packaged elliptical machine that is equipped with the necessary features that could help you to maintain or transit from your current physical health status to a more improved one.
It is durable, high capacity, and with the ability to work out the entire body with low impact.
Sole E95 Elliptical Review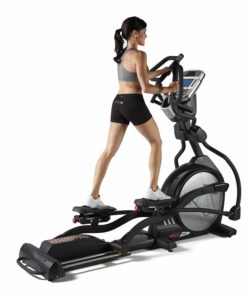 The Sole E95 Elliptical construction features 38 mm steel frame that is coated with anti-corrosive and scratch paint that preserves its original quality and outlook. Due to its sturdy and robust frame, the elliptical trainer supports 400 pounds/181 kg just as aforementioned.
Product Brand: Sole
Product In-Stock: InStock