The Merax Water Rowing Machine is one of the few water rowing machines that are regarded as the ideal and dynamic indoor rowing equipment that provide the open water rowing feeling because it mimics actual rowing in the water due to the splashing sound it makes while using it.
The Merax Water Rowing Machine's soothing glide makes the user stay focused and enjoy the aerobic and cardio workouts it provides. The rowing machine's benefits cannot be overemphasized and that includes the fact that it is a full-body workout machine that engages most muscle groups in the body.
That said, the Merax Water Rowing Machine has a dynamic resistance that is suitable for everyone at every fitness level. Also, you have the opportunity to customize your rowing experience by filling the water tank to the desired level that makes resistance easy, difficult, or extremely difficult.
This is the only way to adjust the resistance while using this rowing machine because a conventional water rower does not offer you the opportunity to increase or decrease resistance while working out at the same tempo or speed but instead the resistance becomes easy when rowing slowly while it increases when rowing faster and this is the reason why it is regarded as dynamic.
In other words, you get resistance that is proportionate to your level of fitness; therefore, reduced tank water will not generate the same level of resistance as the one that is full.
Click right here to have a peek at the price of the Merax Water Rowing Machine on Amazon.
The Frame and Construction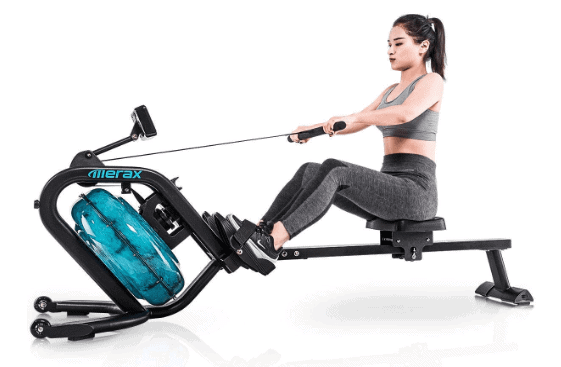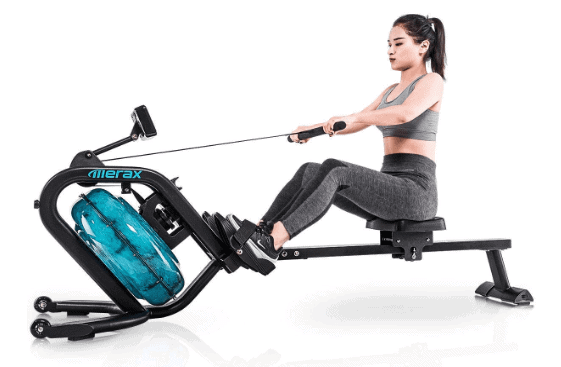 The Merax Water Rowing Machine has a solid construction and an appealing outlook that makes you want to get on it and row to better physical fitness.
Its frame and the front and rear stabilizer bars are made of solid steel that is coated with anti-corrosion and scratch paint that preserves their quality from degradation. Thus, it supports 330 pounds/149.6 kg maximum user weight capacity.
Its unique inclined designed water tank guarantees efficient and dynamic resistance that is more powerful than those water rower machines that have a flat position. Moreover, because of this, the rower features a space-saving design. Although it does not fold up, it could be stored away in vertical form when it is not in use.
It has a flat steel rail with an overturned T-shaped rear stabilizer bar with adjustable non-slip PVC levelers that ensure stability even on a crooked surface. While the front base where the water tank sits has a steel U-shaped stabilizer bar that features two transport wheels that help in the relocation process.
The machine will require a bit of space when in use because its overall dimensions of 78 inches long by 20 inches wide by 25.5 inches tall. Differently put, the workout area for the unit would be 6'5'' long by 1'7'' wide in a room with at 6 feet ceiling height. Also, there should be an extra clearance of at least 1 foot at the rear and on each side of the rower for safety and convenience.
It will suffice to say that Merax Water Rowing Machine has a frame and construction that make it sturdy and stable.
The Seat, the Handle, and the Footpads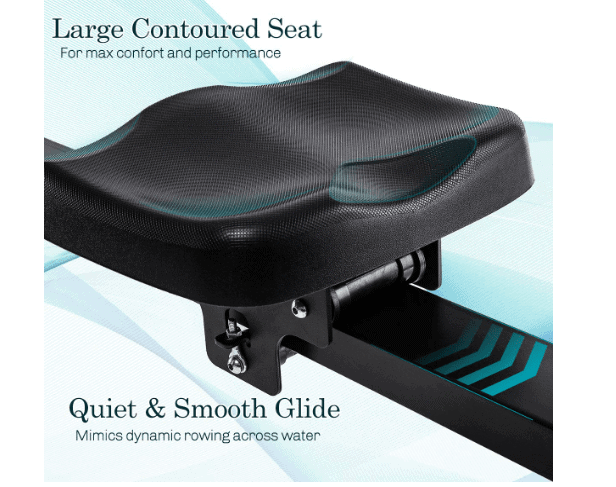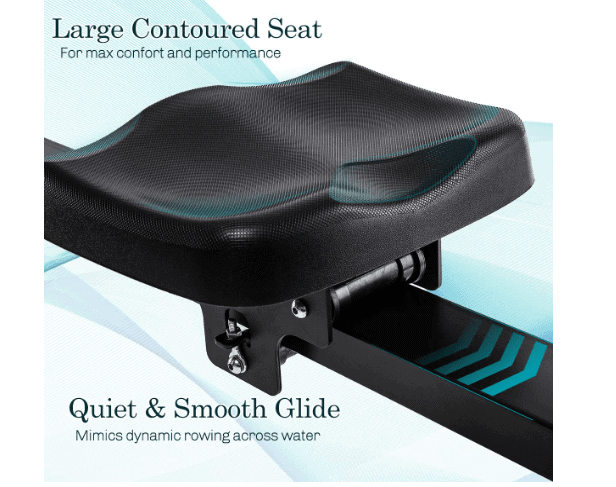 The seat on the Merax Water Rowing Machine is a large and contoured seat that is designed to provide fitness and comfort. Its covering and the contoured design ensure that the user feels comfortable and does not slip out of the seat during rowing activity.
There are rollers and sealed bearings underneath the seat that guarantee smooth and unhindered gliding movement.
The seat travel distance is enough to accommodate taller users comfortably.
The seat's dimensions are 12.5 inches wide by 10 inches long, a recipe for comfortable longer rowing.
The handle is 20 inches long, ergonomically designed, coated with soft rubber foam to prevent slippage and blisters in the palms but instead promotes comfort and secure grips.
The handle is fastened to a solid and heavy-duty 1-inch nylon rope whose other end is connected to the water tank over a pulley.
While the footpads are large, anti-slip designed and 12 inches long and feature adjustable Velcro straps that ensure that the feet are in place and secure during intense rowing moments. The pedals pivot and are flexible which reduce the stress that could otherwise be felt in the ankles.
The pedals are best used with standard gym shoes or barefoot.
The Resistance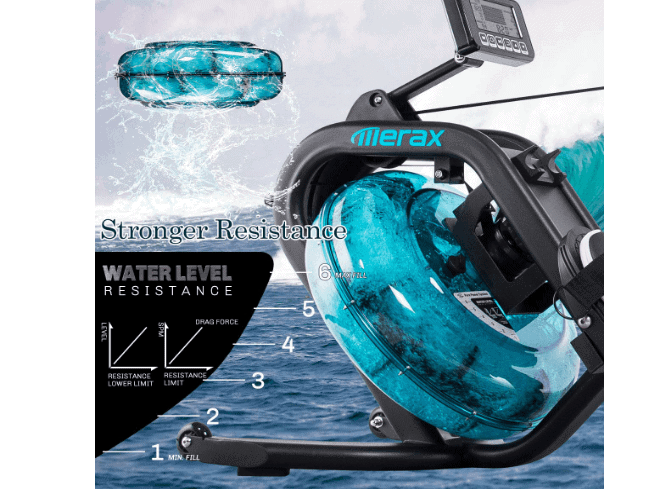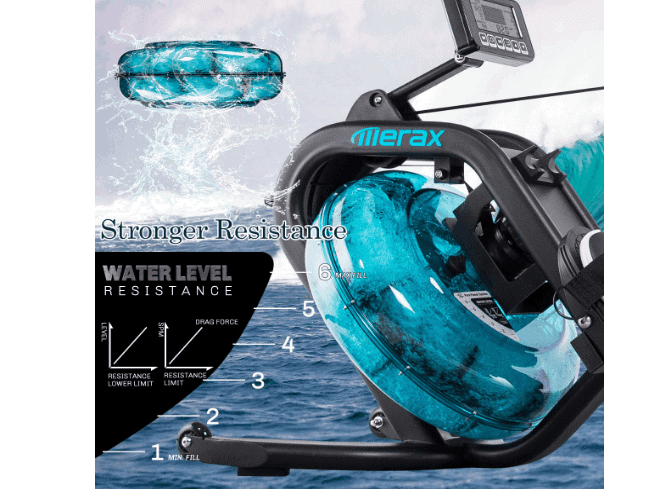 It is important to note that an air rowing machine is yet another rower that actually provides intense and dynamic resistance as the Merax Water Rowing Machine, however, does not offer or mimic the real rowing experience.
That said, the Merax Water Rowing Machine features a water resistance system that is made up of a plastic water tank with high-density hydro blades that work to generate dynamic resistance during rowing sessions.
Usually, a water or air resistance system rarely features resistance adjustment but as aforementioned, the Merax Rowing Machine allows the users to determine and fill in the level of water that is suitable for their workouts.
There are 6 water levels and the more water in the tank the more resistance is generated. Moreover, regardless of the water level, the faster you row the more intense the resistance will become, and if you pull slowly the resistance intensity reduces and this is the reason why it is called dynamic resistance and suitable for everyone at any fitness level because the resistance generated is always proportionate to the users' rowing ability.
The resistance is smooth and makes a splashing sound that is hardly a problem or distracting but rather provides the real rowing experience. The family or the neighbors won't be disturbed by your rowing activity and you can also watch your favorite TV show without having to turn the volume too high.
The Console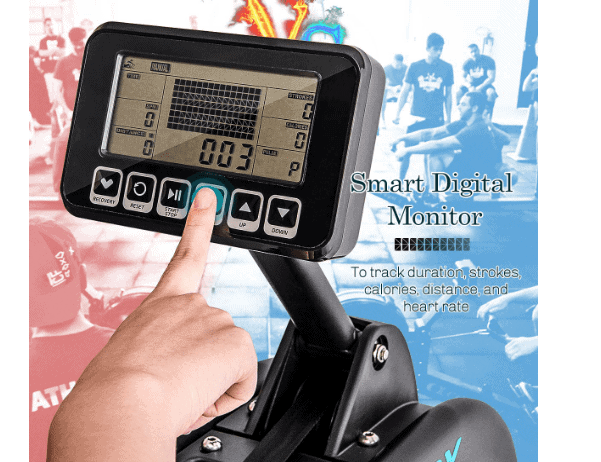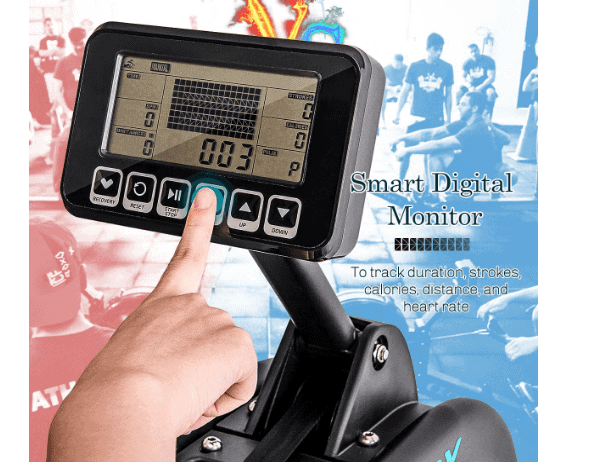 The Merax Water Rowing Machine has a console that features a large LCD monitor that displays data all at once.
The monitor display has great visibility and features 5 control buttons for easy navigation.
The monitor accurately displays your workout data such as the rowing intensity in duration, strokes, calories burned, distance, and heart rate.
Interestingly, it offers the opportunity to challenge yourself under the competitive race mode where you can get on an intense rowing competition and ultimately burn tons of calories and tone, multiple muscle groups, as well.
The console/monitor is well-positioned where it can be viewed without any problem and it could also be adjusted to a position that is suitable for your height.
The monitor is powered by batteries.
Accessory
There is no accessory on the Merax Water Rowing Machine. Therefore, in order to stay hydrated, you must improvise to keep water within reach throughout the entire workout session.
Storage
The storage of the Merax Water Rowing Machine is easy and convenient because it has transport wheels that help with the relocation process.
Moreover, it doesn't take up space during storage because it is stored upright or vertically with the water tank below.
Basically, in an upright position, it has a small footprint with 71 inches in height. It is recommended to uprightly place it against the wall.
Approval Rating
At the time of this review, the Merax Water Rowing Machine has a couple of Amazon customers' reviews that are positive with an average approval rating that suggests that users strongly recommend the rower.
This shows that actual users are impressed by the design, quality, and overall performance of the rowing machine.
Pro/Features Overview
It has a solid construction that provides stability
It features a steel frame that supports 330 pounds/149.6 kg maximum user weight capacity
Its resistance is dynamic
It mimics real rowing boat
The water tank has 6 water levels that provide different resistance intensity
The rower is suitable for all users of all fitness levels
The seat is large, padded and contoured to provide comfort and safety
The footrests are large and anti-slip designed; they feature Velcro straps that secure the feet in place and they pivot so that the ankles don't hurt
The handle is long and padded so that your grip will be secure and comfortable
The rower features an LCD monitor that displays all workout data simultaneously and it is battery powered
Despite its splashing sound during a workout, you should be able to watch TV without having to raise the volume too high and family or the neighbors won't feel disturbed by your rowing activity
It is portable because it features two transport wheels
It could be stored in an upright position so that only a little space is taken
Relatively easy to assemble
Cons
It requires a little bit of space for workout area
Product Dimensions and Specifications
78'' Length
20'' Width
26'' Height
Supports 330 pounds/149.6 kg maximum user weight capacity
Resistance: Water resistance system with 6 water levels
Handle: 20'' long, ergonomically designed and padded
Footrests: 12'' long, anti-slip designed with adjustable Velcro straps for safety
Console: Large LCD monitor displays rowing intensity in duration, strokes, calories burned, distance, and heart rate
Transport wheels included
Frame: Steel
Shipping, Assembly, and Maintenance
Shipping
The Merax Water Rowing Machine shipping cost depends on the retailer's shipping policy. Nevertheless, some retailers such as Amazon provides free shipping and quick delivery.
Assembly
The assembly of the Merax Water Rowing Machine is not difficult and could be assembled in under an hour.
It comes with an instruction manual that walks you through the process of assembly very easily and nicely.
However, if you don't wish to assemble it by yourself you can always opt for the ''expert assembly'' service on Amazon and someone will come over and assemble the machine for you at an extra charge.
Maintenance
The rower doesn't require any major maintenance.
The water inside the blue tank requires changing and treatment periodically in order to prevent seaweed from growing inside of it.
A funnel and a pumping siphon are included in the package.
Aside from that, you need to always wipe the rower clean of sweat and dirt after and before use.
Conclusion
The Merax Water Rowing Machine is a rower that provides impressive resistance even to the strong due to its unique slanted/inclined water tank. It is elegantly designed with solid steel construction that supports 330 pounds/149.6 kg maximum user weight capacity.
[rank_math_rich_snippet]