The ANCHEER Elliptical Machine Trainer is an entry-level unit that has the quality and the features that allow you to exercise in the comfort of your home without constituting a nuisance to the people around you even as you lose weight with the low-impact cardio that it provides.
This Elliptical Trainer is the same as the Simpfree Elliptical Machine Trainer; they have the same functionality except for the brand name.
The price of the ANCHEER Elliptical Trainer is good and considerable; it has two sets of handlebars, one static and the other movable, which allows you to also exercise the upper body. It is integrated with 13-inch stride length pedals that are anti-slip and large enough to accommodate different sizes of feet.
The ANCHEER Elliptical Machine Trainer provides the same quiet and smooth operation as the one in the gym and it saves you the inconvenience of having to walk or drive, especially in bad weather. Moreover, you don't have to pay for that gym membership.
It is designed to support 250 pounds/113 kg maximum user weight capacity and has an LCD monitor that keeps track of your workout progress including your pulse.
Its resistance system is manually magnetic with 8 distinct levels that provide a decent challenge that is suitable for beginners and those who essentially wish to lose weight and improve their overall physical fitness.
However, in case you need an elliptical trainer with extra features such as preset workout programs and wireless connectivity you may look up the Exerpeutic 5000 Magnetic Elliptical Trainer because it is one the best elliptical trainers available, although it is pricier than the ANCHEER Elliptical Trainer.
Otherwise, click right here to have a peek at the price of the ANCHEER Elliptical Machine Trainer on Amazon.
The Frame and Construction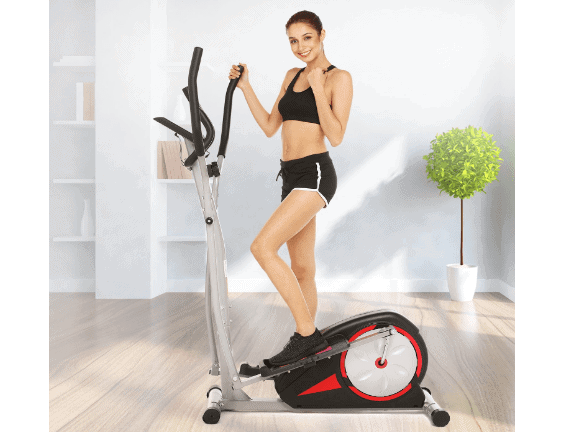 The ANCHEER Elliptical Machine Trainer features a frame that is made of solid steel and that includes the handlebars as well. As aforementioned, it supports 250 pounds/113 kg maximum user weight capacity.
It is a very stable machine while exercising with it, no wobbling movement will be experienced, and this is due to its good base framework that features front and rear stabilizer bars with a rubber cap on each end which also makes the base surface-friendly.
The compact design of the elliptical trainer will appeal to those who have a space problem and those who simply want something small. Even though it is not a foldable machine it has a small footprint that won't take up space during a workout session or storage.
Its overall assembled dimensions are 23.2 inches long by 11.6 inches wide by 41.73 inches tall. Therefore, a workout area of 2 feet long by 1 foot wide and a ceiling height of 6 to 7 feet tall will suffice.
That said, it is recommended to consider adding extra clearance of 1 or 2 feet at the front, the rear, and on each side of the machine for safety and convenience reasons.
It is a lightweight (79 lbs) and portable machine that is incorporated with two transport wheels that make relocating it from storage to the workout area hassle-free.
As you may already know, this machine is a full-body cardio machine that is gentle on the joints which ultimately makes it the best choice for users with arthritis or a joint injury.
The Handlebars and the Pedals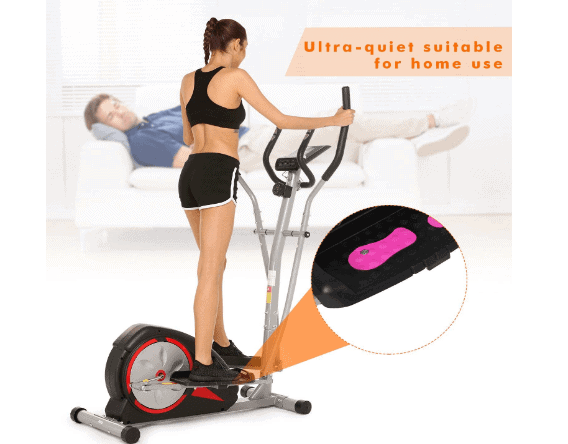 The ANCHEER Elliptical Machine Trainer features 2 sets of handlebars; one set is static with EKG pulse sensors while the other set is movable which allows you to exercise the upper body.
Therefore, you may choose to use either of the handle sets depending on what you wish to accomplish.
You must use the static handlebars if you want to observe and maintain your target heart rate zone at all times while the movable handlebars can be used if you wish to exercise your arms and shoulders but won't be able to read your pulse because there are no pulse sensors on them.
The handlebars are coated with a soft rubber foam material that prevents slippage and blisters in the palms; in other words, it provides secure and comfortable grips. Moreover, the handlebars are also stable.
The large pedals feature an anti-slip cushion that ensures your feet do not slip while exercising. They allow you to exercise with up to 13 inches of stride length.
Each of the pedals is attached to flat steel that is connected to a mobile handlebar and a crank arm which is the reason why both the pedals and the mobile handlebars move simultaneously each time a user pedals.
Drive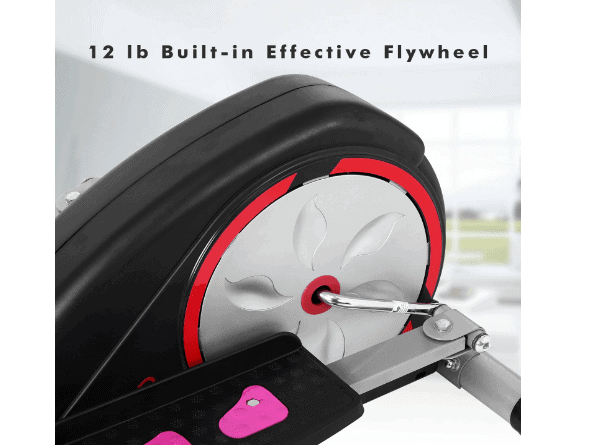 The ANCHEER Elliptical Machine Trainer features a belt drive system whose operation is quiet and smooth.
Therefore, you can put this trainer in front of the TV and watch your favorite show without having to turn up the volume so high or more than usual. The family members or the neighbors won't also be disturbed which makes it suitable for home use.
The drive uses a heavy-duty V-belt and a 12-lb perimeter-weight flywheel.
The drive system doesn't require any post-maintenance procedure, in other words, it is maintenance-free.
Resistance
As aforementioned, the ANCHEER Elliptical Machine Trainer has a manual magnetic resistance system with 8 adjustable levels.
This type of resistance system is also quiet and smooth since the magnetic pad and the flywheel don't come in direct contact in order to generate resistance but instead, it utilizes the magnetic field emitted around the flywheel to do so.
Therefore, this also makes the magnetic brake pad last longer because it doesn't wear out.
The resistance could easily and conveniently be adjusted via the tension knob that is right below the console and within reach. Turn the tension knob clockwise to increase the resistance and anticlockwise to decrease it. You can select a -1, 2, 3, 4, 5, 6, 7, or 8+ resistance level that is suitable for you.
The resistance strength the trainer provides is not extremely difficult but enough to make you experience a decent workout that could burn tons of calories.
The Console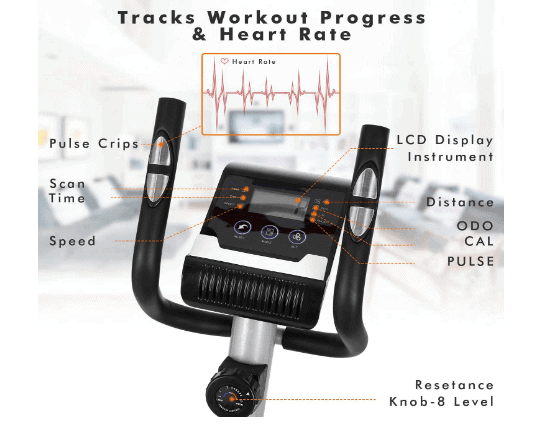 The console on the ANCHEER Elliptical Machine Trainer is large and basic. It features an LCD monitor and 3 buttons (RESET, MODE, and SET) for navigation.
The digital monitor has an easy-to-read large window display that tracks time, distance, calories burned, speed, pulse, and SCAN function. However, its readability could be compromised if viewed in a poorly-lit environment because it is not backlit.
The monitor helps to keep you motivated and focused on achieving your fitness goal.
By default, the SCAN function allows all the workout data to display rotationally one at a time after a few seconds on the window but you can also use the MODE button to set a preferred workout data to constantly display instead if you want.
The monitor could be turned ON/OFF by pressing the MODE button. It could also automatically turn ON when you pedal and auto turns OFF when there is no activity for a few minutes in order to save battery power.
Obviously, the monitor doesn't need to be plugged into a power outlet in order to function but it is powered by 2 AA batteries.
The console also has a built-in tablet holder for tablet placement.
Accessory
The ANCHEER Elliptical Machine Trainer features only a tablet holder that holds a tablet or any smartphone.
This means you can keep your smartphone handy for taking calls and listening to good music while exercising.
In order to stay hydrated, you must improvise to keep water available and within reach throughout your workout session.
Storage
The ANCHEER Elliptical Machine Trainer doesn't fold up but requires a small area for storage due to its compact design and small footprint. 2 feet long by 1-foot wide area could be enough to store the machine.
It is also a lightweight machine that weighs 79 pounds/35.8 kg and is integrated with transport wheels that make relocation from one room to another very easy.
Approval rating
The ANCHEER Elliptical Machine Trainer has several Amazon customer reviews that suggest the product is recommendable because they are mostly positive. Users have indicated that they found it useful and that it is a very good investment.
Thus, its approval rating is good and impressive.
Pro/Features Overview
It is stable and sturdy; supports 250 pounds/113 kg maximum user weight capacity
It is portable with transport wheels
It is compact and takes little space
The pedals are large, non-slip design, and provide 13 inches stride
It has two sets of handlebars; static handlebars with EKG sensors, and movables
It provides low-impact cardio that is gentle on the joints; it is great for people with arthritis or joint injury
Tablet holder included
The LCD monitor tracks workout data such as time, distance, speed, Odometer, calories burned, and SCAN function
It provides smooth and quiet operation
It is maintenance-free
The manual magnetic resistance system with 8 levels provides decent resistance strength suitable for beginners and everyone else who wishes to lose weight and improve overall physical fitness
The trainer has a 12-pound perimeter weighted flywheel that offers a consistent ride
Easy assembly
It is affordable
Cons
The LCD monitor is not backlit
It does not have preset workout programs
No wireless connectivity
The monitor gets blocked when a device is placed on the tablet holder
No water bottle holder
Warranty
1 Year warranty
30-Day risk-free return
Product Dimensions and Specifications
23'' Length
12'' Width
42'' Height
Handlebar: stable, comfortable static, and movable handlebars
Pedals: Large, non-slip, and 13 inches stride
Drive: Belt
Flywheel: 12 pounds/5 kg of precision weighted
Console: Large digital LCD monitor display
Resistance: Manual magnetic resistance with 8 levels
Transport wheels included
Tablet holder included
Frame: Steel
Supports 250 pounds/113 kg maximum user weight capacity
Weight: 79 pounds/35.8 kg
Shipping, Assembly, and Maintenance
Shipping
The ANCHEER Elliptical Machine Trainer is shipped in a single box that is slightly more than 79 pounds/35.8 kg.
The shipping cost depends on the retailer you are purchasing from; however, vendors such as Amazon provide free shipping and delivery is on time.
Assembly
To assemble this elliptical trainer is not difficult. Some users have been able to put it together in about 30 minutes and while it took some users a longer time, which suffices to say, the duration of time it takes to assemble it depends on the level of the user's dexterity.
The package comes with an instruction manual that guides you through how to successfully assemble the machine.
Nevertheless, if you don't want to assemble the machine by yourself you can opt for the ''expert assembly'' service on Amazon which will cost an extra charge.
Maintenance
The ANCHEER Elliptical Machine Trainer doesn't need any serious maintenance other than to always examine the trainer before use for any loose or broken part so as to prevent an accident and further damage to it.
Always endeavor to keep it clean from dirt and sweat before and after use.
Conclusion
The ANCHEER Elliptical Machine Trainer is an entry-level trainer that provides you with the opportunity to experience low-impact cardio workouts (just as in the gym) in the comfort of your home.
It may not have all the whistles and bells as some of the other elliptical trainers but that is because it is cheap and affordable.
If features such as the preset programs, Bluetooth connectivity, and longer stride are not really a problem for you then this trainer might just be what you need for your home gym.
ANCHEER Elliptical Machine Trainer Review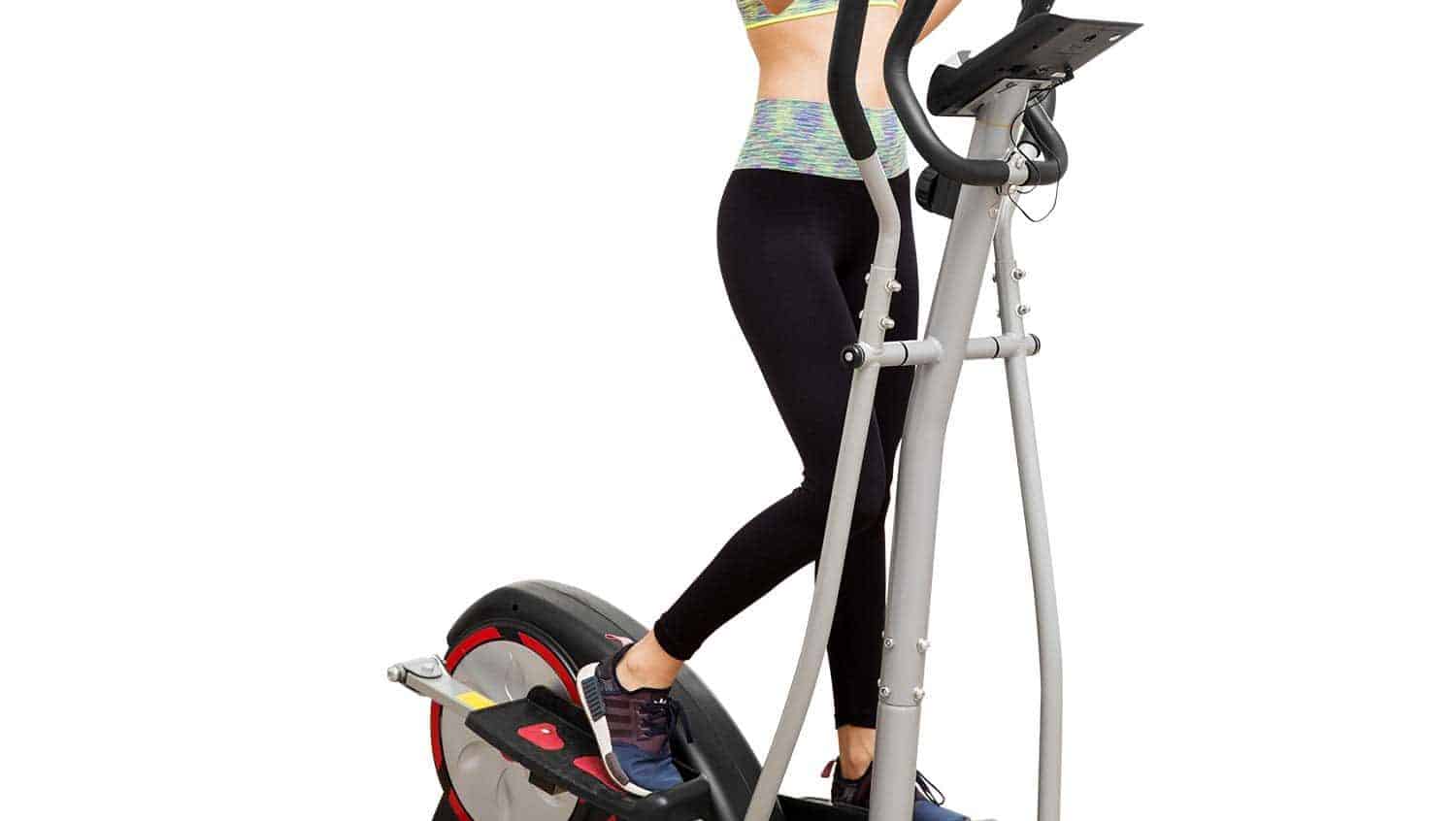 The ANCHEER Elliptical Machine Trainer features a frame that is made of solid steel and that includes the handlebars as well. As aforementioned, it supports
Product Brand: ANCHEER
Product In-Stock: InStock