Some people may want to know about the benefits of a rowing machine before they can make a purchase. Heck, I would want to know the benefits of anything I want to buy before investing my hard-earned cash on it. Therefore, it is only normal to ask for rowing machine benefits.
As a result, I decided to do some digging and research on a rowing machine to know exactly what the rowing machine offers to our health and fitness. I am an enthusiast who has a special love for equipment that are designed to help build that body and help us to maintain physical fitness. It is only wise to invest in our health, especially to prevent diseases from catching up with us. After all that is the point of hustling and doing all we can to make that money.
What is a Rowing Machine?
A rowing machine mimics a real rowing boat while being used indoors to bring about physical activities that burn tons of calories and it positively redefines the user's overall physical fitness. Now, this is my definition, it may not be perfect but it sure must have passed the message across, right?
Usually, they come with some sort of feature that would help the user monitor his progress while exercising, such as a monitor to display data on speed, distance covered, power, and calories burned. They are often made up of a long frame with a seat that is close to the floor, adorned with a braked flywheel at the front of the frame, with a handle that is connected to the flywheel by a rope or chain.
When using the rowing machine the handle is being pulled by the user towards the body as the seat slides away from and toward the flywheel which allows the user to also engage the lower body during the rowing motion.
Magnet, water, or air is used to cause resistance in a rowing machine that would make a workout more or less challenging for the user. Magnet resistance is usually being set by the user and it is smooth and quieter than the water and air. However, its resistance remains constant, which means that, once it is set it remains constant making it be less like real rowing.
Rowing Machine Benefits
It is only imperative to point out that rowing is one of the best workouts for developing aerobic fitness. Yes, it does not only raise your heart rate and make you break a sweat; it also impacts positively on your muscular system as well. Unlike most cardio machines such as treadmills, exercise bikes, and stair climber, the rowing machine has a way of exercising and impacting both your upper and lower body. A user is believed to be using a 65 to 75 percent of legwork and a 25 to 35 percent of upper body work while exercising with an indoor rower.
So it will be right to say that one of the rowing machine benefits is the fact that you stand the chance of getting a full-body aerobic with just one machine. And you don't have to worry about joint pains that could occur when jogging outdoor or using a treadmill.
It Increases Overall Body Muscular Strength and Endurance
As I mentioned in my above, the indoor rower increases the overall body muscular strength and endurance. In other words, it tones every muscle group in the body, just because you are pushing and pulling against resistance each time you are using a rowing machine. And for the fact, you are doing so (pulling and pushing) repeatedly for the entire time of your workout, that enables the muscle group to continue exerting force without corresponding fatigue, which will make the muscles to grow and develop and even become stronger over time.
You can exercise individually or as a group
Many rowing classes across the U.S are coming up with a group rowing as an alternative to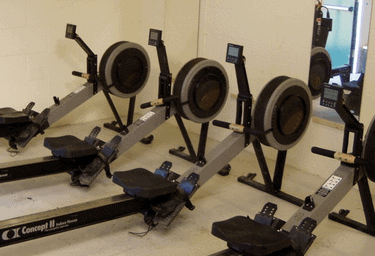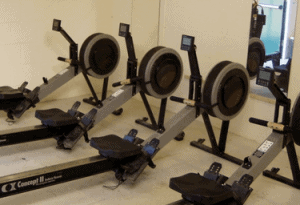 group cycling classes. They performed in a similar fashion where there will be highly energetic instructors, with music in the air and a choreographed routine set to the beat of the music. It can be fun for those that love to row with others.
That being said, we all know that you can do it all by yourself if you like; that has been the conventional way of working out with a rowing machine until the emergence of the group workouts with music and choreography.
Affordability
It is worth mentioning that it can fit just about anyone's budget even with all its benefits. One of the top commercial rowing machines in the U.S, Concept2, has its Model D Indoor Rowing Machine sold for $900. When compared to other high-end commercial machines like cycling bikes you will discover that it will cost you up to or close to $2000 to get one.
While this comparison was made based on rates of the commercially designed machines, so also the difference in rate when compared based on the residential equipment. And it will even cost you more should you decide to be taking classes at your local gym. Do the math and you will conclude as I have.
Moreover, remember, not everyone has a lake or a river nearby let alone having a rowing boat. But a rowing machine is available year-round, and you don't even need a life jacket to use one.
Conclusion
Rowing machine benefits are great, but it has its downside. Poor posture can result in injury especially the lower back. And if you have a preexisting low back problem you may not be able to use one as the seat is low to the floor.
If you are interested in using one and do not have a lower back problem, asking for tips on how to use a rowing machine from a trainer would be a pretty much good idea.
I hope I have been able to answer your questions, but if you still have a question, comment or contribution, please do drop it in the comment box below.