The PLENY 3-in-1 Total Body Workout Exercise Bike w/Backlit Screen is a foldable machine that gives you a lot of reasons to consider adding it to your home gym.
First of all, it is inexpensive, compact, and foldable. The integrated arm resistance band system enables you to work out the upper body, something that is not very common with most foldable bikes.
It has a complete adjustable high backrest that allows the user to workout with the bike as an upright bike, a semi-recumbent bike, or as a recumbent bike and this is why it's called the 3-in-1 bike. This adds fun and versatility to your overall workout experience even as you realize your fitness goal.
The PLENY 3-in-1 Total Body Workout Exercise Bike w/Backlit Screen features an LCD monitor that is backlit just as the name suggests and this is something that is rarely found on low-budget indoor bikes.
Its user weight support capacity level is 300 pounds/136 kg.
The bike also has an adjustable leg resistance the user could use before and after exercise.
Click right here to have a peek at the price of the PLENY 3-in-1 Total Body Workout Exercise Bike w/Backlit Screen on Amazon.
The Frame and Construction
The PLENY 3-in-1 Total Body Workout Exercise Bike w/Backlit Screen's mainframe and other parts are made of steel and coated with a white anti-corrosion and rust paint. It supports 300 pounds/136 kg maximum user weight capacity.
It has an arc-shaped designed mainframe that makes the machine easy to mount and dismount.
The drive and resistance systems are enshrouded in a pink-colored ABS plastic casing.
It is compact when fully assembled and therefore won't take up space, unfortunately, the dimensions are not specified.
The bike has a rounded steel stabilizer bar with a rubber cap on each end at the front and the rear bases which ensure that maximum stability is attained and slippage or wobbling movement is eliminated.
The idea to place the bike on a protective rubber mat is recommendable because it further boosts the overall stability and prevents sweat from spilling on the floor.
Its frame has the adjustability that could transform the bike from an upright bike to a semi-recumbent and to a recumbent bike.
The Seat, the Handlebar, and the Pedals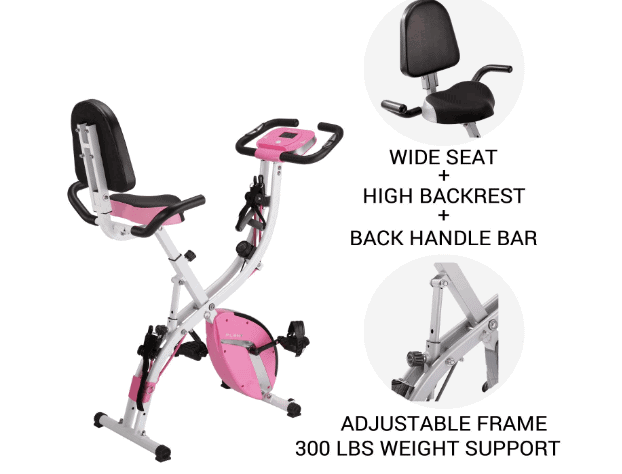 The frame is one outstanding and innovative part of the PLENY 3-in-1 Total Body Workout Exercise Bike w/Backlit Screen because of its ability to conform to 3 different positions.
It has a high backrest that supports the back properly and even makes it possible to ride the bike as a semi-recumbent or a recumbent bike and could accommodate users of different heights and sizes conveniently.
However, taller individuals of about 6 feet and above may experience some restrictions during workouts.
There are padded armrests that provide the support that enables the user to pedal with such aggression and full thrust.
The saddle's dimensions are 10 inches by 12 inches.
The handlebar is non-adjustable; multi-grip designed thereby providing different grips for a variety of workout postures. It is padded with a soft rubber foam material that ensures a secure grip and comfort.
It is embedded with EKG sensors that allow the user's heart rate to be read and be transmitted to the monitor so that the target pulse rate could be tracked and maintained during exercise activity.
However, if the user chooses not to hold the grip with the embedded sensors while exercising then the heart rate cannot be read and be displayed on the monitor.
The handlebar comes with a console attached to it.
The pedals have an anti-skid design with adjustable safety straps. These ensure that the feet are secure even during an intense workout.
The pedals accommodate standard gym shoes or barefoot.
The crank arms of the pedals are slightly curved so that when the user pedals the ankles don't get hurt by hitting the bike's body part.
The Drive
The PLENY 3-in-1 Total Body Workout Exercise Bike w/Backlit Screen has a belt drive system that consists of a belt, pulleys, a small flywheel that usually weighs between 3.5 to 5 pounds, and a solid crankset.
This also means that its operation is quiet and smooth and doesn't generate any noise or sound that could distract the user, disturb the family or the neighbors. Therefore, you can work out with undivided attention to achieve your fitness goal.
You may also put the bike in front of the TV so that you can enjoy your favorite TV show while sweating it out.
Also, the drive does not require any further or post-maintenance. In other words, it is maintenance-free.
The Resistance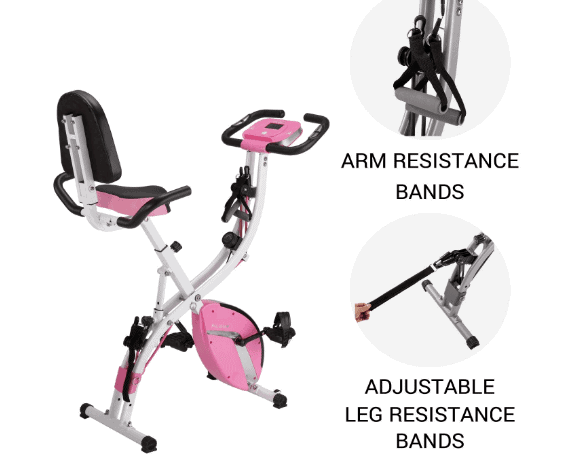 The PLENY 3-in-1 Total Body Workout Exercise Bike w/Backlit Screen is completely integrated with full-body resistance.
It has the conventional manual magnetic resistance system with 16 levels and also the arm and leg resistance bands.
The magnetic resistance system generates resistance that creates certain workout difficulties while pedaling. Differently put, this affects workouts that have to be done with the pedals and there are 16 different levels it could be adjusted to.
The tension knob is the resistance adjustment controller that allows you to increase or decrease the resistance. Turn it clockwise to increase the resistance strength and anticlockwise to decrease it.
This is the main resistance that is on the bike and it is suitable for beginners, intermediary users, and those that are recovering from an injury. Even though there are 16 resistance levels available, strong and advanced users will not be impressed by the level of difficulty it provides.
It will suffice to say that users wishing to experience an extremely difficult workout will be disappointed by the resistance system on the PLENY 3-in-1 Total Body Workout Exercise Bike w/Backlit Screen or on any other foldable bikes because they are usually not very strong.
If you wish to experience an extreme challenge while riding a bike you may have to look up a spin bike.
Nevertheless, the resistance system is fairly suitable for anyone that simply wishes to work out and lose weight and tone the muscle groups.
The bike is also integrated with bonus arm and leg resistance bands that are adjustable. The arm resistance bands allow you to work out your arms while pedaling while the leg resistance bands allow you to stretch the legs before and after workouts.
The resistance bands are part of the features that make this bike unique and different from the rest.
The Console
As aforementioned, the console on the PLENY 3-in-1 Total Body Workout Exercise Bike w/Backlit Screen comes already attached to the handlebar.
It is large with a rectangular LCD monitor that keeps track of time, speed, distance, calories burned, and heart rate. The display screen has 5 small windows that display all the workout data simultaneously with 1 large screen that displays any data of choice and could be swapped to another data at will.
This is something that most basic monitors don't have, about 99% of foldable bikes do not have this feature.
Moreover, the monitor is backlit which allows you to view the screen in a poorly-lit environment without any readability problem. In other words, you can view the screen early in the morning or at night.
The backlit can be turned ON/OFF, allowing you to have control over it (i.e when the light is being used to save the battery power).
Speaking of saving the battery power, the monitor automatically turns ON when the user pedals and it automatically goes off when there is no activity on the bike for a few minutes.
However, it could be turned ON/OFF by pressing the only button on the console.
The monitor is powered by 2 AAA batteries.
Finally, the console is integrated with a tablet holder that is designed for iPhone/tablet or any smartphone placement.
Accessory
As aforementioned, the PLENY 3-in-1 Total Body Workout Exercise Bike w/Backlit Screen features a tablet holder for tablet placement. This allows the user to keep the smartphone handy for taking calls while exercising and listening to good music as well.
Other than this, the bike does not have any other accessory such as a water bottle holder which is very essential for workouts, however, you must improvise in order to keep water within reach and stay hydrated during workouts.
Storage
The storage of the PLENY 3-in-1 Total Body Workout Exercise Bike w/Backlit Screen is pretty convenient and easy because it is lightweight, portable, compact, and of course foldable.
When folded, its footprint becomes very small that it could fit a small closet or a corner of the room.
The bike weighs 49 pounds/22 kg and it's integrated with transport wheels that help with the relocation process.
The folded dimensions are 22.5 inches long by 17 inches wide by 52 inches tall.
Just in case you are wondering if it could fit under the bed, no, it won't.
Approval Rating
The PLENY 3-in-1 Total Body Workout Exercise Bike w/Backlit Screen has a couple of positive Amazon customers' reviews and its average approval rating is good.
This suggests that most of the users are impressed by the overall design and operation of the bike.
Pro/Features Overview
It is compact and portable
It has a space-saving design that is suitable for those with limited space
It is a full-body workout machine that features adjustable arms and leg resistance bands
It features more resistance levels (16) than the standard foldable bikes
Its LCD monitor is backlit, displays all workout data (time, speed, distance, calories burned, and pulse) at once
It is stable and sturdy; supports 300 pounds/136 kg maximum user weight capacity
The frame is made of steel and sprayed with anti-corrosive paint
It is portable with transport wheels
The seat is large and padded with a high backrest that supports the back and prevents/reduces back pain
The bike's innovative frame makes it possible to work out with it as an upright bike, semi-recumbent bike or a recumbent bike
Tablet holder included
Its operation is smooth and quiet
It has a manual magnetic resistance with 16 levels
Not difficult to assemble
The pedals are anti-slip designed with safety adjustable straps
Maintenance-free
Cons
No water bottle holder
The resistance system does not provide an extremely difficult workout
Product Dimensions and Specifications
Compact
22'' L x 17'' W x 52'' H (Folded dimensions)
Weight: 49 pounds/22 kg
Supports 300 pounds/136 kg maximum user weight capacity
Drive: Belt
Resistance: Manual magnetic resistance; 16 levels, adjustable arm, and leg resistance bands
Console: Backlit LCD monitor with 5 windows
Pulse Sensors
Frame: Steel
Seat: Adjustable seat with high backrest
Handlebar: Padded, multi-grip designed
Warranty
1 Year on the Frame
180 Days on Wears and Parts
Shipping, Assembly, and Maintenance
Shipping
The PLENY 3-in-1 Total Body Workout Exercise Bike w/Backlit Screen comes in a box with dimensions of 48.4 inches by 16.1 inches by 9.2 and weighs about 49 pounds/22 kg.
Its shipping cost depends on the retailer that is selling the product to you. However, some vendors such as Amazon provide free shipping, and delivery is made in time after the order has been placed.
Assembly
The assembly of this unit is not difficult. It even has an assembly video and an instructional manual that guides you through the process of assembly without hassle.
It could take around 45 minutes, more or less to completely put the bike together to a functional level.
The unit also comes with the tools required for assembly.
However, if you don't want to assemble the machine by yourself, there is an ''expert assembly'' service on Amazon that you could use so that someone will have the bike assembled on your behalf at an extra charge.
Maintenance
As aforementioned, the PLENY 3-in-1 Total Body Workout Exercise Bike w/Backlit Screen does not require any serious maintenance except to make sure that it is clean from dirt and sweat before and after use.
In addition to that, make sure to always examine the bike for any loose or broken parts so that an accident or further damage to the bike may be prevented.
Conclusion
The PLENY 3-in-1 Total Body Workout Exercise Bike w/Backlit Screen is a unique foldable bike that offers a full-body workout and also supports a considerable maximum user weight capacity of 300 pounds/136 kg.
Taking the innovative seat with backrest, the backlit LCD monitor, and other features it has into account, it will suffice to say that the bike is recommendable for home use because it also provides decent workouts that could lose weight and tone the muscle groups and it could be acquired at a very affordable price.
For further information, you can contact the manufacturer via [email protected].
PLENY 3-in-1 Total Body Workout Exercise Bike w/Backlit Screen Review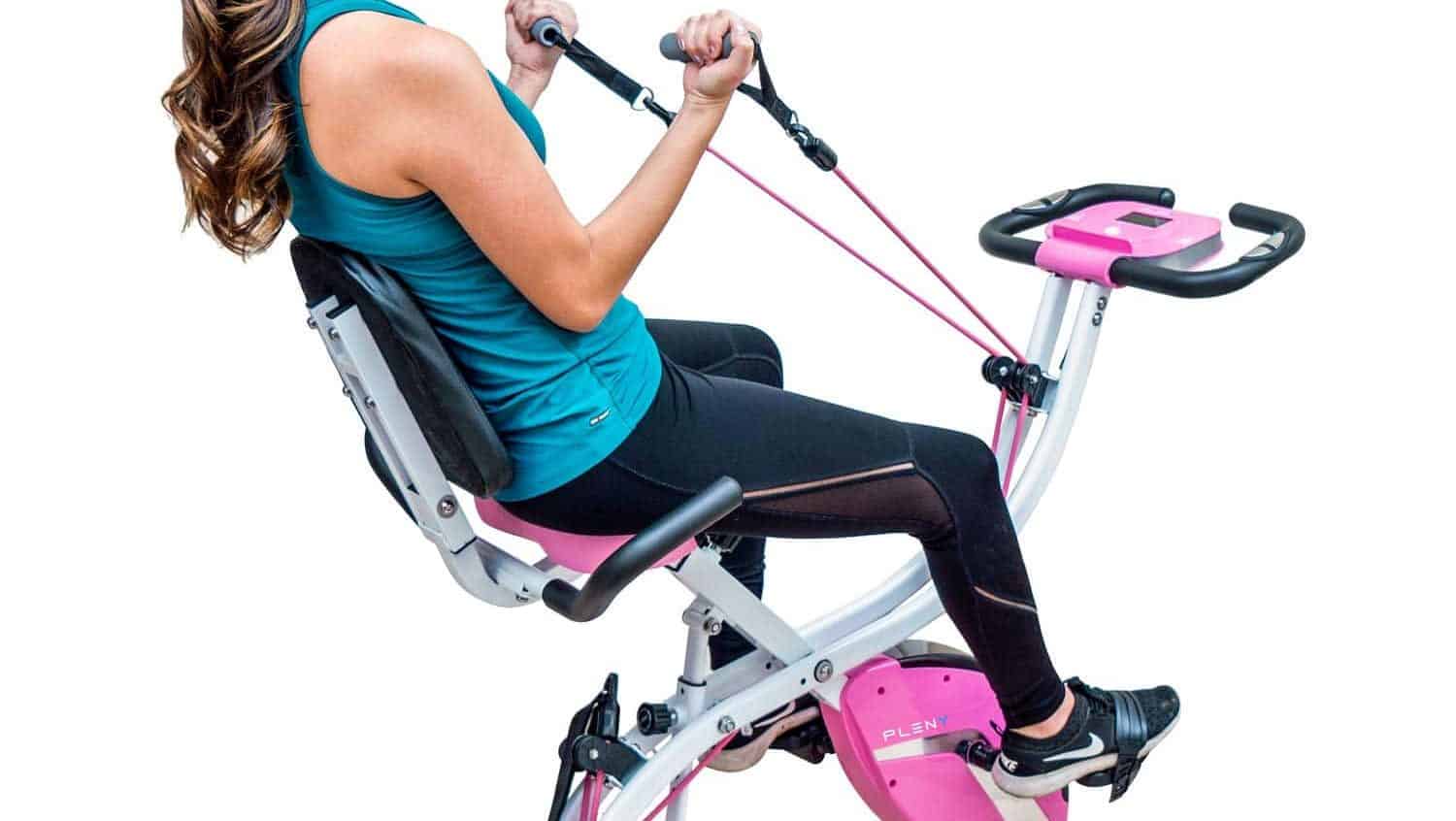 The PLENY 3-in-1 Total Body Workout Exercise Bike w/Backlit Screen's mainframe and other parts are made of steel and coated with a white anti-corrosion and
Product Brand: Pleny
Product In-Stock: InStock