This is a budget-friendly recumbent bike that is available for those on a budget. We have decided to look into budget-friendly fitness equipment aside from the usual high-end units we review. So if you are also interested in a budget-friendly elliptical trainer you might also check it out here because this one is not only an elliptical trainer but also an exercise bike. So, we figured you might want to have the dual machine instead of just the Marcy ME 709 Recumbent Exercise Bike. However, the difference is that this one is a recumbent bike while the dual elliptical trainer is the integration of elliptical trainer and upright bike features.
We also noticed that the Marcy ME 709 Recumbent Exercise Bike has some very interesting and useful features despite its good price. Such features are the monitor that allows the user to be able to view the workout statistics such as the speed, distance, time, and calories burned and the integrated 8 level resistance that allows a user to experience a challenging workout that will ultimately yield a quick and positive result.
It weighs about 66 pounds which is light enough for those that find moving a heavy object around a problem while it supports 300 pounds! Is that not amazing? Well, we think so. These are but a few reasons why we think that Marcy ME 709 Recumbent Exercise Bike is a good buy and moreover if there is any low-budget recumbent bike that has been consistently patronized by people is Marcy ME 709 Recumbent Bike.  Just to be clear, let's have an overview of the features/pros of this machine.
Click right here to have a peek at the best price of the Marcy ME 709 Recumbent Exercise Bike.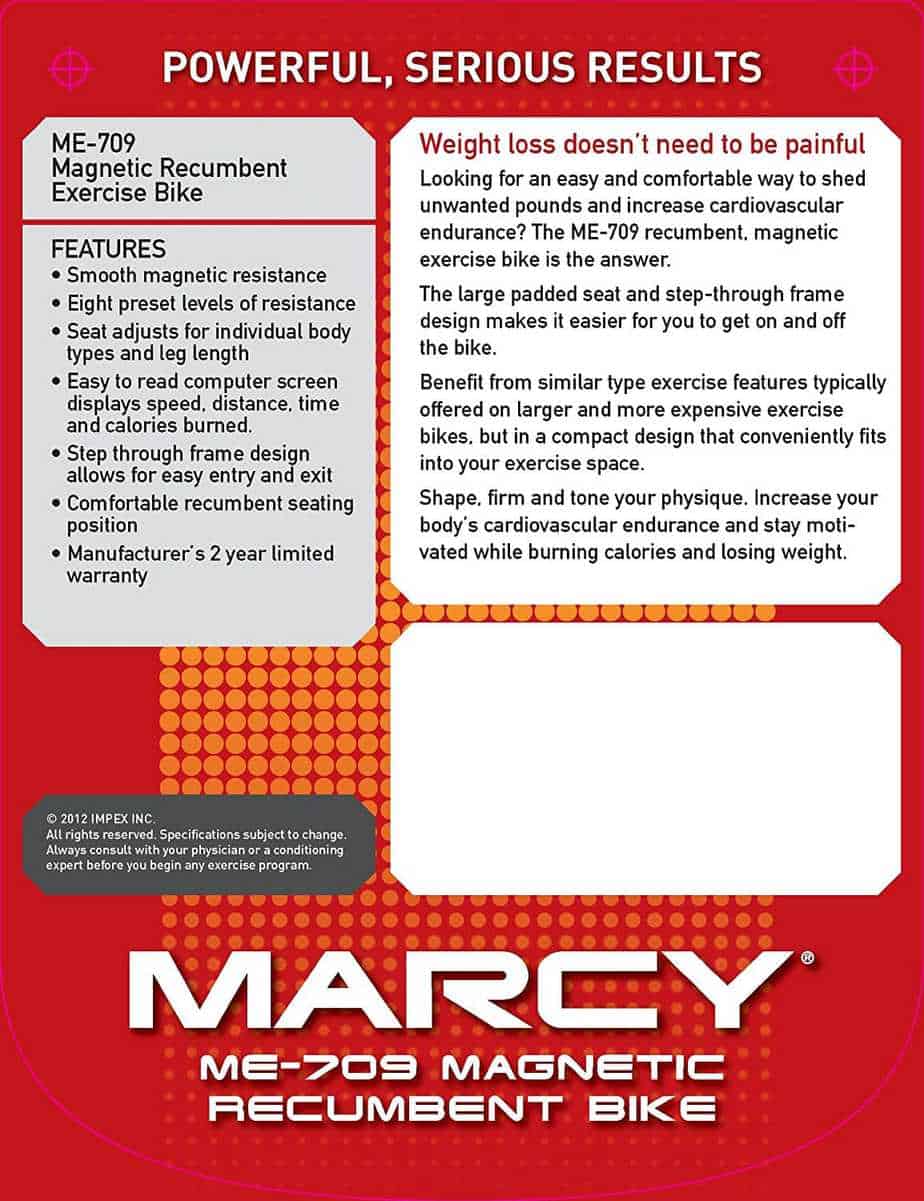 Pros/Features
Adjustable handles and foot straps– this important for safety purposes and proper workout.
Monitor- It interesting that the manufacturer has deemed fit to include monitor despite its low budget nature. This is important in a workout as it motivates the user because he/she sees the workout stats all the time.
Adjustable Seat– The user can adjust the seat to a convenient position that would also inspire a rigorous workout. Surprisingly, it can accommodate 5 to 6 feet, tall users.
Counter Balanced Pedals– allows the user to pedal forward and in a reverse cycling motion
Resistance– It 8 level resistance ensures a challenging workout and which can be adjusted through the turn of a knob that is below the monitor.
Quiet and Smooth– It is smooth and quiet when in use; therefore, you don't have to worry about disturbing anyone, the family or neighbors.
Sturdy– It is a well constructed and sturdy machine
Stable– Wobbling during a workout would not be experienced even when engaged in vigorous exercise
Good for the New and Experienced user– Because of its adjustable resistance levels, new and experienced users will find the Marcy Recumbent a fun to use.
Transport Wheels– Transport wheel makes transportation very easy plus the fact that it only weighs about 66 pounds.
Weight– 66 pounds
Dimension– 55.5'' X 25'' X 37.5'' (W X H X D)
Easy Assembly- It is pretty easy to fix and just about anyone can conveniently assemble it. Tools included
Cons
The seat padding is not as good as the more expensive machines because it could have been better but the ergonomically angled back, however, provides a certain level of comfort during a workout.
Unfortunately, no preset workout programs but you can always do your thing your own way and get results.
There is no way of finding out the heart rate during a workout because there is no heart rate monitor. If you wish to use one you have to purchase that separately.
The backrest of the Marcy ME 709 Recumbent Exercise Bike is screwed into place without any way one can adjust it just in case the user has to. It can fit most users but folks that are below 5 feet tall may have to use a pillow at the backrest so that their legs can reach the pedals.
Conclusion
If you are looking for an easy way to burn out some fat then you got to get one of these machines. Are you looking for a way to increase cardiovascular endurance? You got to get one this machine. You can always get the chiseled physique you have always wanted with this machine that has been adorned with great features. The equipment is so easy to move around and small enough to fit in your apartment or work out in front of the TV. Stop procrastinating now because, if the budget has always been odd that stops you from getting a cardio machine, an opportunity has presented itself to you now.