The Asuna Sabre Cycle 7100 Exercise Bike is a spin bike that features a magnetic resistance system such as the one on Keiser M3i Indoor Cycle. However, the latter has a calibrated resistance of 1 to 24 levels while the former (Asuna Sabre) has an infinite resistance level system. This means that the resistance levels are not predefined. Moreover, the Asuna has its flywheel located at the front while Keiser M3i's flywheel is located at the back.
Despite their similarities in the aspect of the resistance system, both have unique features that distinguish them apart.
The Asuna Sabre 7100 is the product of Sunny Health and Fitness and they are proud to add this to the long list of other cycling bikes they have on their stables because it is a commercial-grade bike that is a lot tougher and rugged than many of the spin bikes out there. It is an indoor bike that does not take up space and could provide you with that quality and decent workout at home without any disturbing sound coming from it.
This is even true because it has all the elements that ensure quiet operation integrated into it. These features include belt drive and magnetic resistance systems.
With this bike in your home gym, going to the gym will not be missed because you shall be getting plenty of quality workouts in the convenience of your home just as you could have experienced at the gym.
That being said, we are committed to reviewing any product unbiased; therefore, we shall still have a closer look at the Asuna Sabre Cycle 7100 Exercise Bike to underline its upsides and downsides as well so that you could make an informed and smart purchasing decision.
Just in case you wish to have a peek at the price of the Asuna Sabre 7100 click right here.
The Frame/Sturdiness
The sturdiness and stability of the Asuna Sabre Cycle 7100 Exercise Bike are unquestionable considering that it is a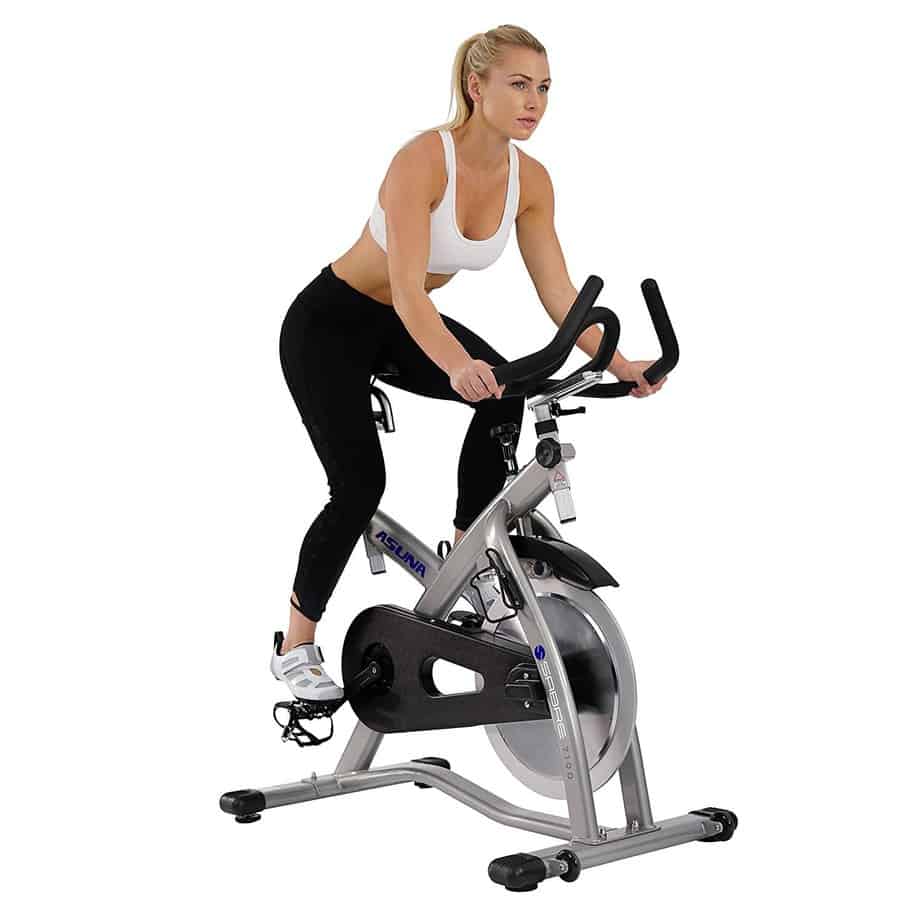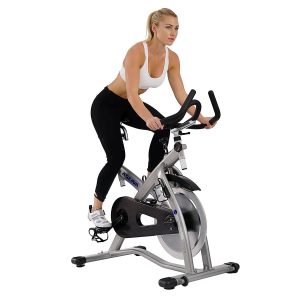 commercial-grade spinning bike. This means that the overall built is designed to withstand frequent hard use without breaking down just like the BodyCraft SPT-MAG Indoor Club Group Cycle.
The frame is made of high-quality steel while the seat and handlebar posts are made of high-grade aluminum. The frame is coated with anti-corrosion and scratch paint, which means that the frame is free from rusts and scratches that could damage it, while the seat and handlebar posts are chrome finished.  It comes in silver color with a blue and white engraved ''ASUNA SABRE'' and logo on the frame.
The bike is 95 percent steel with fewer plastic parts that could be seen at the belt guard, the brake guard, the stabilizer bars' caps, adjustment knobs, and the transport wheels.
It is a very stable bike because it has a very good base framework.  The front and the rear bases are integrated with stabilizer bars with four adjustable levelers underneath them for leveling the bike on an uneven floor. The levelers also provide excellent grip on the floor so that there will be no movement whatsoever.
The Asuna Sabre 7100 is also compact just as aforementioned; with assembled dimensions of 43.3 inches long by 25.5 inches wide by 44.5 inches tall. A workout area of 3 feet 6 inches long by 2 feet 2 inches wide will be required. However, provide an additional 2 feet clearance on each side of the bike and 3 feet at the rear for safe and comfortable workout experience.
It weighs about 101.7 pounds/46 kg which adds to its stability.
Just in case you are worried about the weight and moving the bike might be a problem; well, it is integrated with transport wheels that could make relocation very easy and hassle-free. Just tilt and roll away for use or storage. Yes, anyone can move it conveniently from one spot to another.
It supports up to 285 pounds/129 kg maximum user weight capacity.
Finally, even though it has a very good base, placing the bike on a rubber mat will be a smart move.
The Seat, Handlebar, and Pedals
The seat, handlebar, and pedals are the elements that ensure you are comfortable when working out with a bike.  If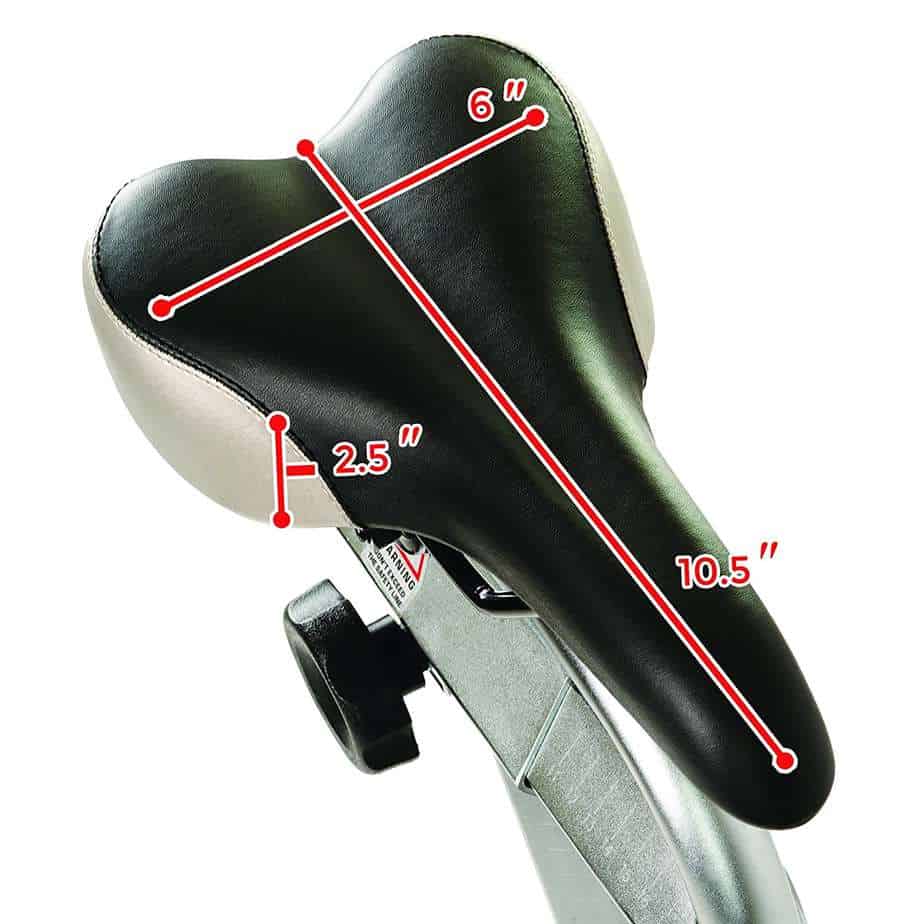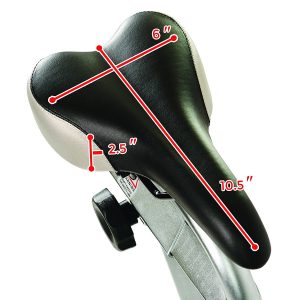 these elements are well designed in any given spin bike, chances are you should be able to work out with outstanding comfort.
That being said, let's look at the seat of the Asuna Sabre Cycle 7100 Exercise Bike.
The seat is completely adjustable; it can be adjusted 4 ways, i.e. upward/downward and forward/downward. The adjustment is very easy and won't take up to a minute to get your preferred settings. This also means that users of different heights should be able to fit in.
The saddle is slim and long in shape with dimensions of 10.5 inches long by 6 inches wide by 2.5 inches tall, and it is considerably padded to provide comfort to the butt. But just as many spin bikes' seats, they are rarely comfortable without using a gel seat cover or better still, replacing the entire saddle with one that is better.
The seat that comes with the bike will feel awkward the first time it is used, especially to someone that just started using a spin bike. But like the aforementioned, the only solution is to use a gel cover to improve comfort or simply replace it with another one.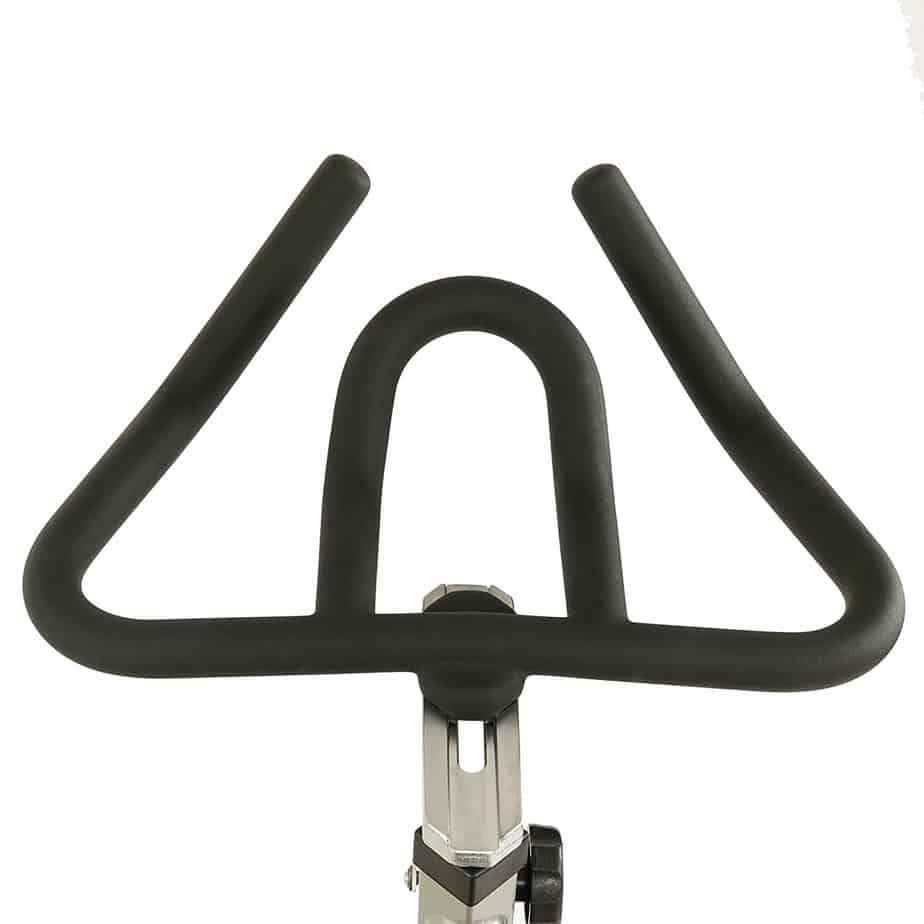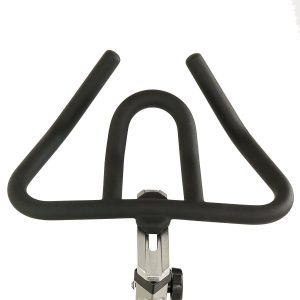 The Asuna Sabre 7100 is integrated with an ergonomically designed, multi-grip handlebar that provides multiple grips. It is coated with rubber foam so that your grip will be firm and comfortable. The rubber foam also prevents blister in the hand.
Just as the seat, the handlebar is fully adjustable. It can also be adjusted 4 ways; upward/downward and forward/backward. The fact that both the seat and the handlebar could be adjusted 4 ways is a big deal because that provides a higher possibility of accommodating more users of different heights without restrictions.
Therefore, multiple members of the family can use it conveniently because the seat and the handlebar posts bear markings on them, thereby making it pretty easy to remember settings whenever someone else uses the bike and alters your settings.
The spinning bike comes with unique dual pedals that are caged and also SPD compatible. This means that you can use cycling shoes, traditional fitness shoes, or high-performance SPD cleats.  You will experience secure feet even at increased levels of speed and intensity.
It is integrated with a heavy-duty crank system that supports stand up pedaling.
The Q-Factor (i.e. the distance from the inner edge of the left pedal to the inner edge of the right pedal) is 184 mm which is about 7.2 inches.
The pedals are bidirectional, you can pedal either way, forward and backward thereby having an ample opportunity to work on more muscle groups.
However, you cannot coast as you could with a real bicycle.
The Drive System
The Asuna Sabre Cycle 7100 Exercise Bike has a belt drive system that is smooth and quiet during operation.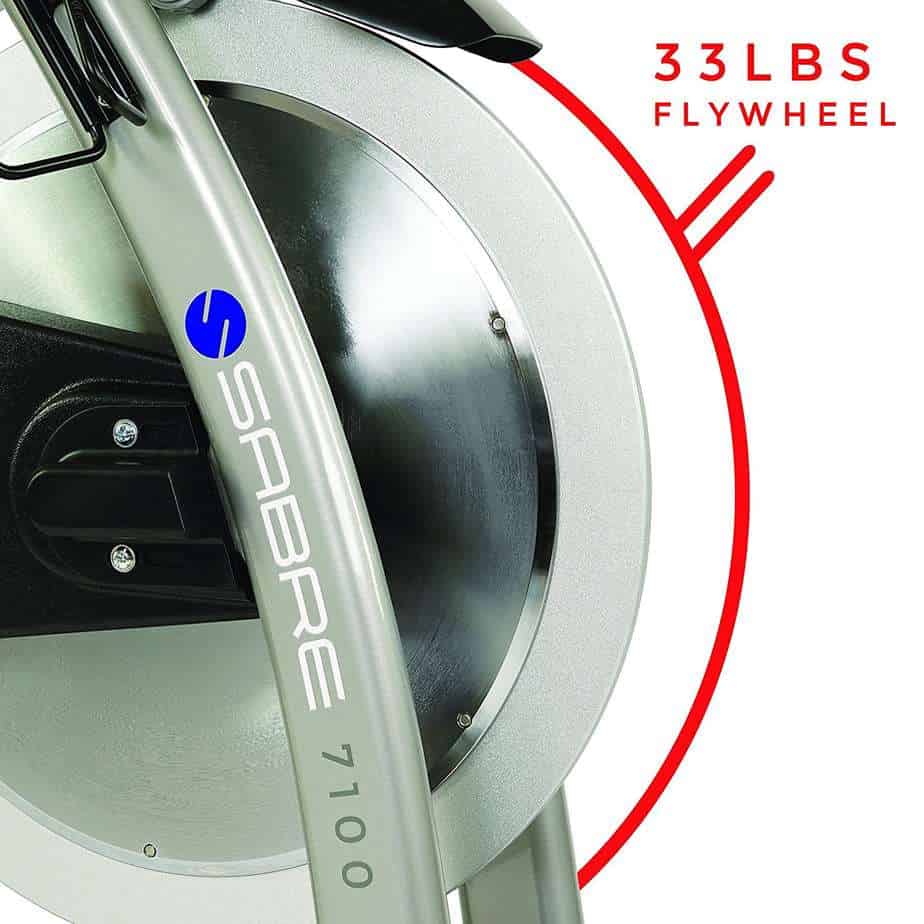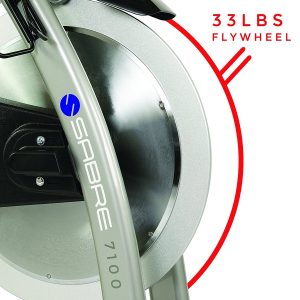 Ordinarily, the belt drive system is quiet, unlike the bikes with chain drive that usually generates some level of sound. Although, the sound generated by chain drive is not usually loud or annoying as long as it is being maintained with a silicon-based lubricant.
The belt and chain drive systems have their advantages and disadvantage depending on the need and personality of the user.
The belt drive system is quiet and smooth as aforementioned and does not require maintenance. But the chain drive requires maintenance from time to time to keep the chain in working order. However, bikes with belt drive do not provide the feel or simulate the outdoor bike like the exercise bikes with chain drive do.
The bike also has a 33 pounds/15 kg precision-balanced flywheel, which makes the operation consistent as it gathers momentum and enhances its operation.  Although the flywheel is not one of the heaviest, like the one on L Now LD-582 Indoor Cycling Bike, it still gets the job done.
The Resistance
The Asuna Sabre Cycle 7100 Exercise Bike features a magnetic resistance system that is manually controlled or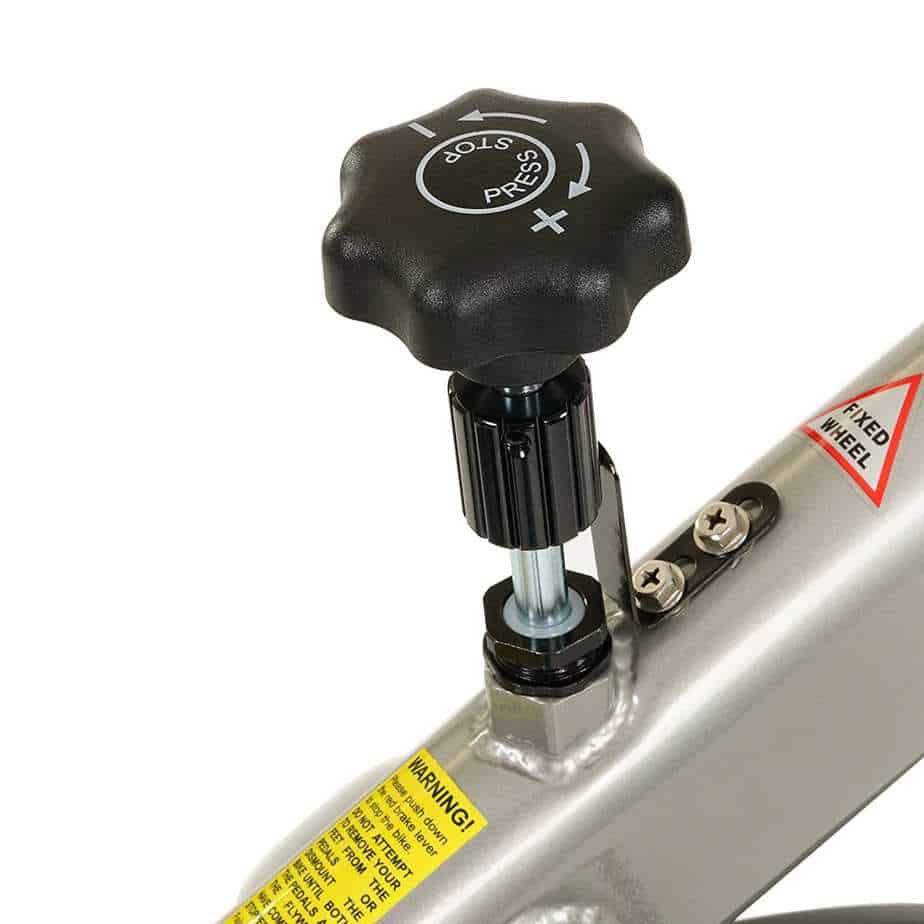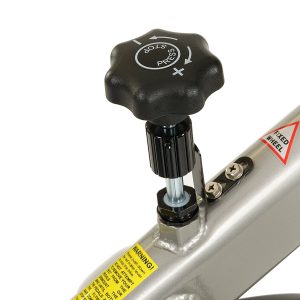 adjusted. This resistance system consists of a magnetic brake that is attached to the mainframe tubing facing the flywheel at the top and a tension knob that is used to adjust the effect level of the resistance.
As stated in the introductory part of this review, the resistance levels are not indicated on the tension knob like the case with Keiser M3i Cycling Bike. This instead has an infinite resistance that is being adjusted by twisting the tension knob. If you wish to increase resistance, simply twist the tension knob clockwise until you feel that the challenge is enough. Likewise, if you wish to decrease the resistance, twist anticlockwise to reduce the resistance, it is as simple as that.
The disadvantage of an infinite resistance is that you will not be able to know the exact level of resistance you used in your previous workout session so that you can make a comparison to keep track of your progress.
The tension knob also doubles as the emergency stop knob. Simply push the knob down and the flywheel will stop abruptly.
This is necessary because the flywheel and the pedals turn simultaneously and therefore you cannot coast hence the emergency stop is important in situations you wish to suddenly stop pedaling.
The Console
The Asuna Sabre Cycle 7100 Exercise Bike does not come with any sort of console. But if you are interested in observing your workout progress and data, then you might want to buy the CatEye Velo Wireless Bike Computer.
Accessory
The Asuna Sabre Cycle 7100 has a water bottle holder and that's about the only accessory on it.  We noticed that users would buy other stuff such as the tablet holder and the monitor if they wish to use them.
Storage
This bike is a compact bike with dimensions of 41 inches long by 25.5 inches wide by 44.5 inches tall. Although it is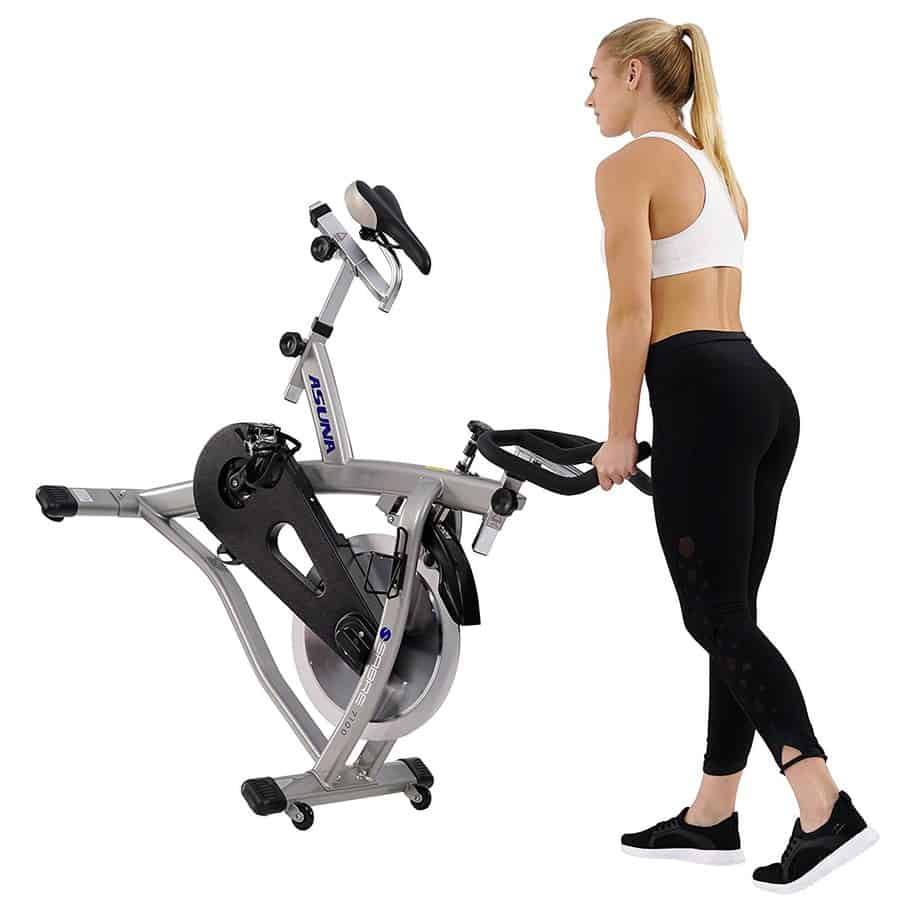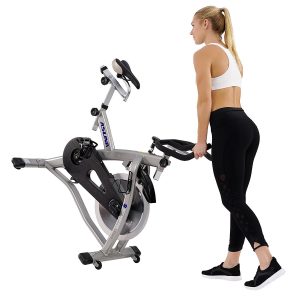 not foldable it doesn't take up space and so people with space issues will be able to find a place for this bike.
It is integrated with two transport wheels designed to make relocation easy and hassle-free.
Approval Rating
The approval rating of the Asuna Sabre Cycle 7100 Exercise Bike is good and positive.
Pros/Features Overviews
Has a commercial grade overall built
Very sturdy and stable
The belt drive system that is quiet and smooth; will not require any sort of maintenance
33 pounds balanced precision flywheel that provides momentum for smooth and consistent motion that reduces stress in the joints
The handlebar is 4 way adjustable with multi-grip ergonomic design
The seat is 4 way adjustable
Heavy-duty crank that supports stand up pedaling
It is great for apartments because of its quiet operation; no one will be bothered
You could use any type of sports shoes and still feel great and secure, thanks to its dual-sided pedals
Easy to assemble
Water bottle holder
Cons
It doesn't have a console/Monitor
The seat/saddle is not very comfortable
Product Dimensions and Specifications
41'' Length
26'' Width
45'' Height
Weighs 101.7 pounds
Supports up to 285 pounds
Belt drive system
Manual Magnetic resistance system
33 pounds balanced precision flywheel
Dual-sided Pedals (toe cages and SPD clips)
Ergonomic and multi-grip handlebar
Warranty
5 Years on Frame
180 Days on Parts and Components
Shipping, Assembly, and Maintenance
Shipping
The shipping cost of the Asuna Sabre Cycle 7100 Exercise Bike depends on the vendor you are purchasing from; however, some retailers like Amazon provide free shipping.
Assembly
The assembly of the Asuna Sabre Cycle is pretty easy and doesn't take time to put together. Reason being that it comes with the major components preassembled. You only need to attach other parts like the seat and handlebar posts, the handlebar, and the seat, front, and rear stabilizer bars.
Assembly won't take more than 30 minutes.
Maintenance
The Asuna Sabre Cycle Bike does not require any serious maintenance other than to always wipe it clean with a soft wet cloth with mild soap. Also, before use, always examine the bike for any loose, broken, or worn part; fix accordingly if there is any.
Conclusion
We think that the Asuna Sabre 7100 Cycling Bike is one of those bikes that were made to withstand hard use because it is a commercial-grade bike. The ergonomics and design provide a highly effective and comfortable workout.
Asuna Sabre Cycle 7100 Exercise Bike Review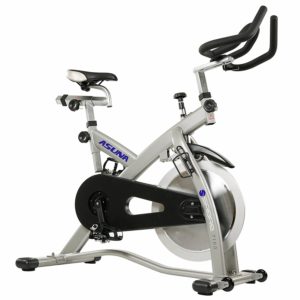 The Asuna Sabre Cycle 7100 Exercise Bike features a magnetic resistance system that is manually controlled or adjusted. This resistance system
Product Brand: Sunny Health & Fitness
Product In-Stock: InStock