The Master GS Indoor Cycle is the product brand of Bladez Fitness. They have been known for their track record of manufacturing quality fitness equipment.
The Master GS Indoor Cycle is a fully adjustable spin bike that provides the much-needed comfort during workouts with the opportunity to completely keep track of your performance via the console.
The manufacturer has prioritized producing affordable fitness equipment that provides users the value expected in the convenience of their home.
In particular, the Master GS Indoor Cycle is a very sturdy cycling bike that is well made with the features that will help you realize your fitness goals with ease and comfort.
However, we intend to look closer to these features in this review and determine the upsides and the downsides of this spin bike so that you will be able to make an informed purchasing decision.
You could check out the price of the Master GS Indoor Cycle right here on Amazon.
The Frame/Sturdiness
The Master GS Indoor Cycle is one solid and sturdy cycling bike that is made to meet your in-home workouts. It is simply designed with the necessary features and ergonomics to make flexibility and usability possible so that you can work out with comfort and ease.
The oversized frame is made of heavy-duty steel that is finished with anti-corrosion and scratch paint that could make the original appearance last for a very long time. It is compact with dimensions of 48.4 inches long by 19.9 inches wide by 46.9 inches tall. This means the workout area required should be 4 feet 1-inch length by 1 foot 7 inches wide, which is a very economical space that even small rooms or apartments can provide. However, an additional 2 feet on each side and at least 3 feet at the rear will be required for safe and optimal workout practices.
When you talk about stability, the bike is designed with solid stabilizer bars, one at the front base while the other at the rear base. On top of that, it weighs somewhere around 117 pounds to 129 pounds; we are not sure because we discovered conflicting weight on different reviews. Nevertheless, 117 or 129 pounds add a significant amount of stability to the bike.
Then are the four adjustable levelers underneath the stabilizer bars intended to level up the bike on an uneven floor so that no wobbling or unwanted movement will occur.
If you are worried that the weight could be a problem when moving or trying to relocate the bike, you need not worry because there are two sizable transport wheels integrated into it at the front stabilizer bar that could be used to easily move the bike simply by tipping it toward the transport wheels and you are good to go.
It has a very good base framework that makes it exceptionally sturdy and stable. This bike has a similar design to the Efitment Magnetic Indoor Cycle Bike 1C031 and it supports up to 300 pounds/136 kg maximum user weight capacity.
For highest stability, it is often advised to be used with a rubber mat and most users purchase the two together.
The Seat, the Handlebars, and the Pedals
The seat, the handlebars and the pedals of any bike are usually responsible for the comfort or discomfort you are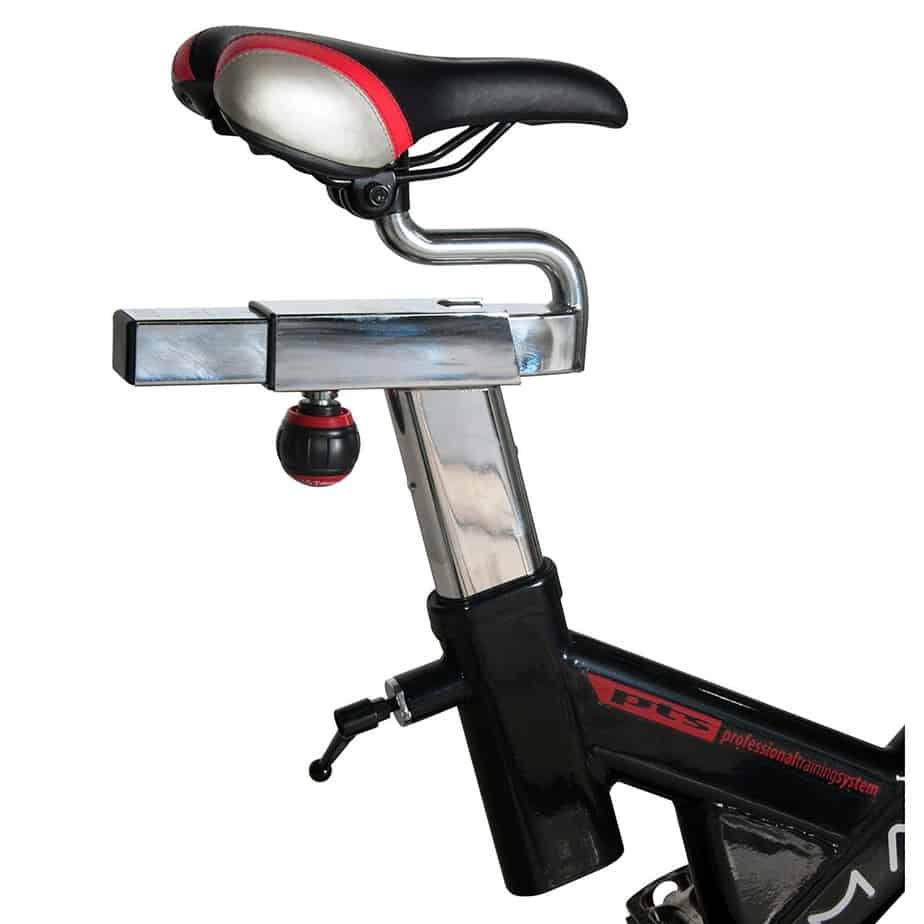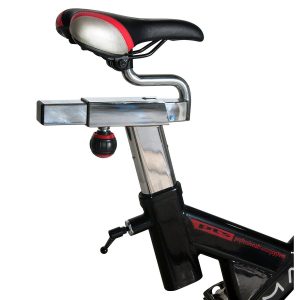 going to get from a bike and everyone anticipating to purchase one should always look at the ergonomics of the handlebars, the design of the seat and the Q factor of the pedals to determine whether the bike can provide a comfortable ride.
That being said, we are going to first of all look at the seat.
The seat which is the saddle has a decent design and padded with enough form and covering material that makes it more comfortable than the standard and average seat you find on some spin bikes.
It has a 4-way adjustability system that allows you to adjust the forward/backward and upward/downward which promotes suitability and comfort.  This provides ample opportunity for the user to find the best workout position or angle.
The adjustment of either the vertical or horizontal seat positions is not complicated. You can completely make your adjustments within seconds and get on with your workout.  The maximum seat adjustable height is 43.7 inches from the seat to the floor and the minimum adjustable height is 36.8 inches, which is also from the top of the seat to the floor.
This means that taller and shorter individuals will have a shot at using this bike without restrictions. There are no official declaration regards to the height range that could be accommodated by this bike but from our research, we observed that some users that are 5 feet 2 inches up to 6 feet 3 inches might be accommodated without a problem and maybe even more.
The handlebars' ergonomics provide a natural posture to users. There are multiple grips available which you could interchange during workouts. The handlebars are well covered with rubber form material that is intended to provide you with a comfortable grip that prevents blisters in the palms and slippage as a result of sweat.
Similar to the seat, it has a 4-way adjustment system that allows you to adjust the handlebars upward/downward, and forward/backward, and it doesn't take much time to adjust to your preferred positions.
The maximum vertical adjustable height of the handlebars is 45.7 inches from the floor to the main handlebar, while the minimum vertical adjustable height of the handlebars is 38.8 inches from the floor to the main handlebar.
Just to set the record straight, the Master GS Indoor Cycle does not come with SPD pedals but with toe cage pedals instead because we have seen a review where it is stated that the bike comes with SPD because it was on the manufacturer's listings. That was misinformation we would like to correct, but you can easily replace the existing pedals with SPD if you want, just as you could also replace the seat if you don't like the one it comes with.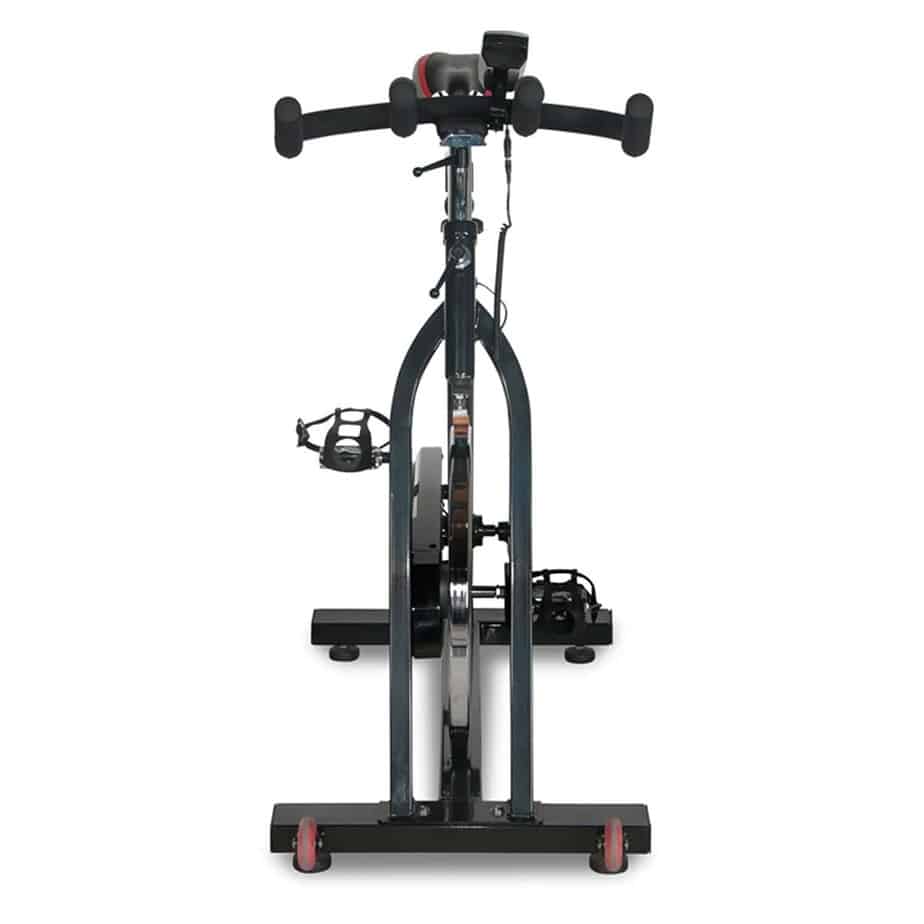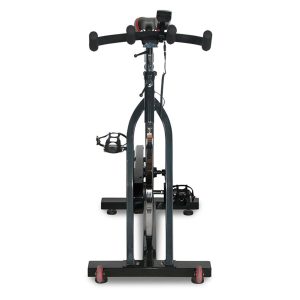 Due to the step-up height size of 5.1 inches, every user will find it very easy to step on and off the bike without hassle especially when both the seat and the handlebars are set at their minimum levels.
Yet another factor that ensures that your legs are on a natural pedaling position is the Q Factor. Unfortunately, the Q Factor of this bike is 9.1 inches, that is, the distance from the inner edge of the left pedal to the inner edge of the right pedal. You may find it awkward at first when using the Master GS Indoor Bike, especially if you are used to riding an outdoor bicycle because the Q Factor is wider than that of the bicycle that is usually 4 to 5 inches.
If this could be a concern then you may want to look up the Efitment Magnetic Indoor Cycle Bike 1c031 or the Spinner L3 Bike both of which have about 5.9 inches and 5.7 inches respectively.
The pedal is bidirectional, which means you can pedal either way, forward/backward thereby providing the opportunity to work on more muscle groups. You can as well perform a stand up pedaling exercise if you wish to.
The Drive System
The Master GS Indoor Cycle features a belt drive system that makes it one of the smooth and quiet bike. The belt drive system is usually quiet during operation and requires no maintenance or adjustment as opposed to a chain drive system.
However, you will not experience that feeling of riding a real outdoor bike and the belt may wear out after some years and would require replacement.
The drive system is made up of a small crank pulley, two crank arms made of solid steel, 45 pounds/20 kg flywheel, and the belt.
The belt is connected to the heavy-duty flywheel that weighs about 45 pounds/20 kg with a dimension of 18.1 inches. This also guarantees a consistent and smooth motion that will eventually reduce the stress on the legs, ankles, and knees, however, not how the recumbent bikes could.
If you have an issue with your joints or injury we would recommend a recumbent bike instead because it is a lot gentler on the back and other joints.
The belt is covered adequately with a guard to protect your feet, cloth, and sweat from making contact that could result in injury or damage to the belt.
The Resistance
The Master GS Indoor Cycle features a friction resistance system. It uses a top-down leather pad that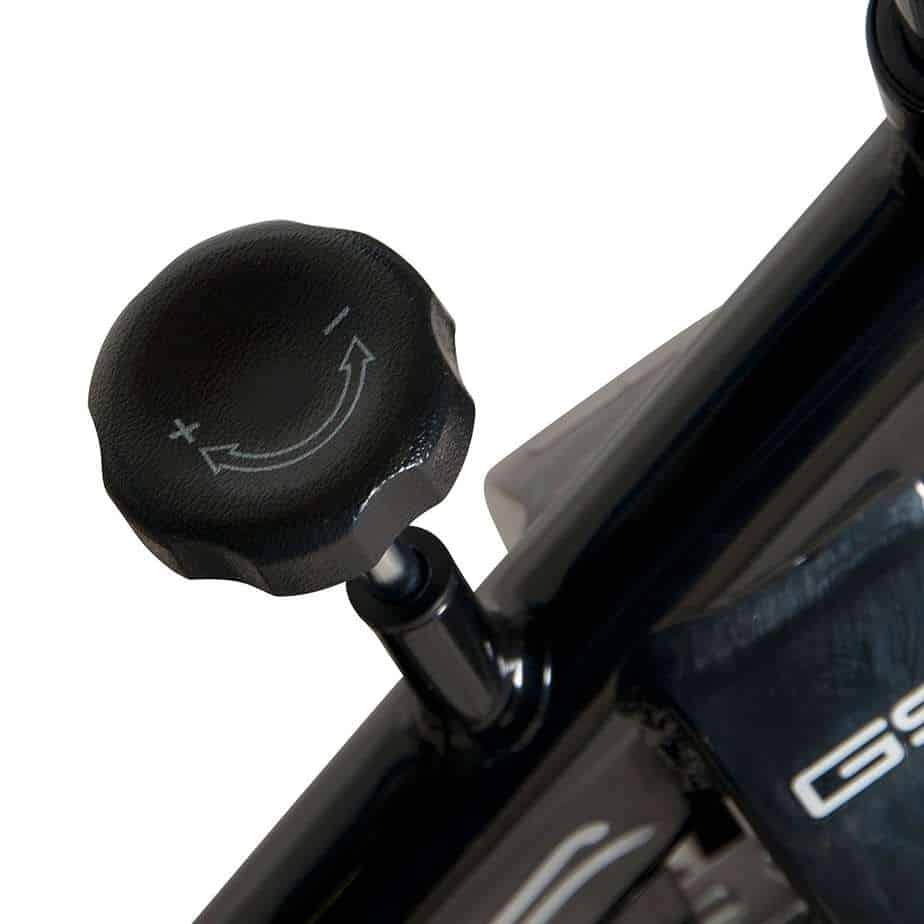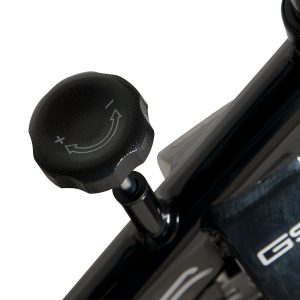 generates resistance when it gets in contact with the 45 pounds/20 kg flywheel.
The resistance effect is very high partly due to the weight of the flywheel and the resistance level that is infinite. Being infinite means, the resistance does not have specified levels as usually indicated from 1 to 8 on the tension knob. You simply turn the tension knob clockwise to increase the resistance and turn anticlockwise to decrease the resistance.
Moreover, the friction resistance system produces a more challenging level of resistance than bikes with magnetic resistance, except that the latter is always smoother and quieter when applied and rarely requires replacement as the case with the friction resistance.
Also, being that the resistance levels are not indicated you may not be able to know the highest resistance level you used in your last or previous workout session for comparison and tracking purposes.
And in case of an emergency stop during a workout, you could use the tension knob to stop the flywheel abruptly by pushing it down. This is important because the pedaling being a bidirectional system does not allow you to coast as you could with the outdoor bicycle; can be a little bit tricky when trying to stop suddenly amid a high-speed motion because the pedals turn as long as the flywheel turns so there is the need to apply the emergency brake to avoid an accident.
The Console
The Master GS Indoor Cycle Bike comes with an average console/monitor that has good and high readability,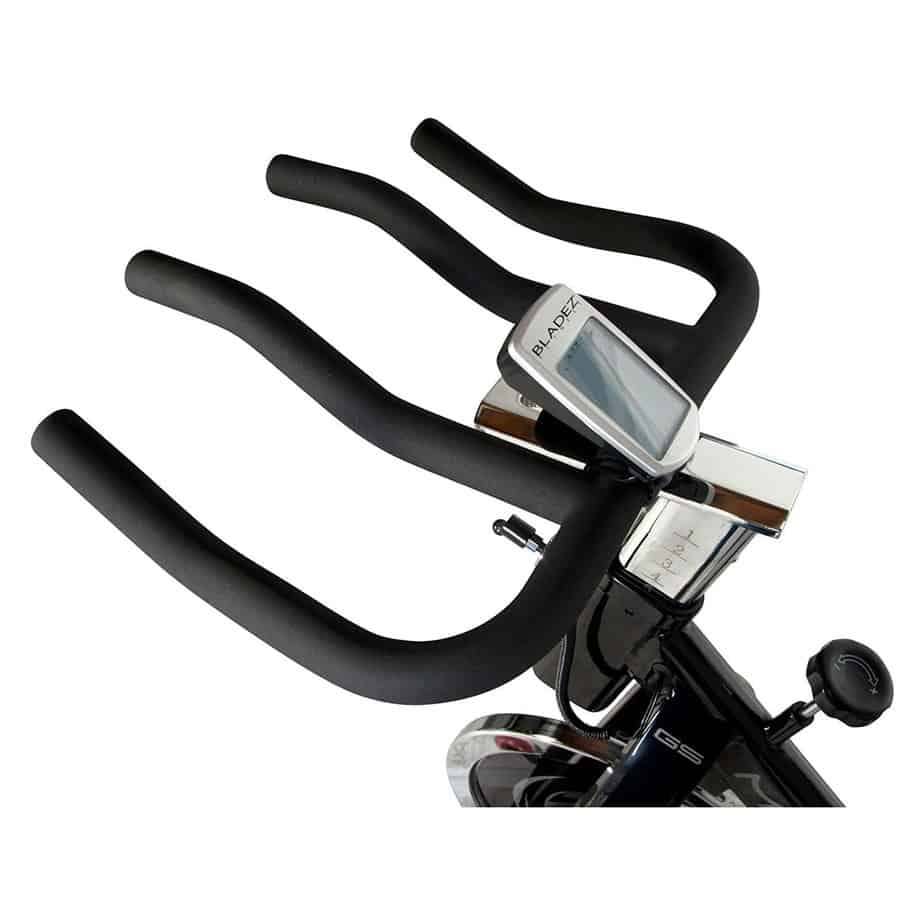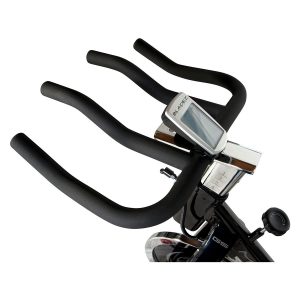 although, its level of readability may be compromised when used in a room with less visibility because it is not a backlit type of console/monitor.
The metrics display is large and can easily be read without difficulty.
It is also telemetry enabled, which means you can monitor your heart rate during spinning by using a Polar heart monitor strap which unfortunately does not come with the original package, you have to purchase separately.
You should also be able to monitor and track your workout progress as the display shows calories burned, distance, RPM, speed, time, watts, and of course heart rate. The heart rate is been displayed in real-time by the monitor but does not retain it.
It does not have a button as the case with many spin bikes' consoles. It comes alive when you pedal and automatically goes off when there is no activity on the bike. The whole workout values are displayed at the same time.
The console does not need electricity to power but batteries. 2 AAA batteries are required and they are not included you have to also purchase separately.
Accessory
The Master GS Indoor Cycle does not have any form of accessory, not even a water bottle holder or tablet holder. But it is not unusual for some spin bikes not to have an accessory.  You can add a water bottle If you wish to use one though.
Storage
The storage of the Master GS Indoor Cycle is pretty easy and does not take up space because it has transport wheels designed for hassle-free relocation even though it weighs about 117 to 129 pounds weight.
It is compact with dimensions of 48.4 inches long by 19.9 inches wide by 46.9 inches tall, therefore space won't be a problem for even those that think they have a space shortage.
Approval Rating
The Master GS Indoor Cycle bike has several reviews both written by professional reviewers and users alike. The majority of these reviews are positive which shows that this is a pretty popular machine.
We also dug further to find out for ourselves and we concluded that this bike is worth the investment.
For further read, you can click right here to see of by Amazon customers.
Pros/Features Overviews
Very solid and sturdy
Impressive stability
The seat is padded enough to provide comfort
The seat is 4 way adjustable, thus providing suitability
Multi-grip handlebars with possible 4-way adjustment
Handlebars coated with rubber foam for a comfortable grip
45 pounds/20 kg flywheel that provides consistent and smooth motion
4 Levelers for leveling up on an uneven floor
Pedals are bidirectional and support standing pedaling
Friction resistance system, very effective
Average monitor with large metrics display
The console is telemetry enabled, i.e. can sync with a wireless HR chest strap
Track workout progress by viewing time, distance, RPM, speed, calories burned, watts, and heart rate
Built-in transport wheels for easy relocation
Pedals feature toe cage for secure feet during workouts
Easy to assemble
Cons
Does not include wireless HR chest strap, you will have to purchase separately
The 2 AAA batteries required to power the console is not included
No accessories at all, not even a water bottle holder or tablet holder
The console does not have additional features such as the ability to connect to the internet or Bluetooth connectivity, workout programs
Product Dimensions and Specifications
48'' Length
20'' Width
47'' Height
45 pounds/20 kg flywheel with a dimension of 18.1''
Belt drive system
Friction resistance system
Weighs 117/1129 pounds
Wireless HR chest strap compatible console
Display speed, distance, calories burned, RPM, watts, time and heart rate
Supports 300 pounds/136 kg maximum user weight capacity
Seat: 4 way adjustable
Handlebars: 4 way adjustable
Warranty
Lifetime on Frame
1 Year on Parts
1 Year on Wear Items
1 Year on Labor
1 Year on Computer
Shipping, Assembly, and Maintenance
Shipping
The Master GS Indoor Cycle could be shipped at different costs depending on the retailer you are purchasing from; however, some vendors such as Amazon provides free shipping.
Assembly
The difficult aspect of assembling the Bladez Mater GS Cycle is probably holding it while assembly. This could be kind of difficult due to its weight and if you are assembling solo.
Other than that, it is a pretty straightforward and easy bike to put together because it comes partially assembled, which means some of its components are preassembled.
You are to attach parts such as the base framework to the frame, the handlebar post, the handlebar, the seat post, the seat, and the console. It shouldn't take you up to an hour to fully and completely put it together.
Maintenance
The Bladez Master GS Bike does not need any serious maintenance.
Always examine the bike for any loose, worn, or broken part and re-tight, repair, or replace if there is any.
Speaking of worn out, the leather brake tends to wear out over time as a result of usage and friction, therefore, there will be a time it will require replacement. Also, you could apply a silicone-based lubricant on the flywheel if there is a squeaky sound coming from the resistance operation.
And finally, always wipe down the bike and keep it clean from dirt and sweat.
Conclusion
The Bladez Mater GS Indoor Cycle is indeed a recommendable bike that could provide decent cardio workouts at home. It is built solidly with features such as the 45 pounds flywheel and adjustability that makes the accommodation of different sizes of users possible.
Agreed, it is not perfect but it surely worth the investment.
Master GS Indoor Cycle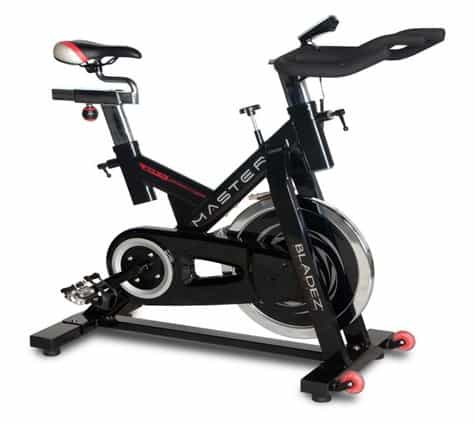 The Master GS Indoor Cycle is the product brand of Bladez Fitness. They have been known for their track record of manufacturing quality fitness equipment.
Product Brand: Bladez Fitness
Product In-Stock: InStock