The Marcy Air 1 Exercise Upright Fan Bike is a compact and affordable air resistance bike that is designed to help you workout and achieve maximum results with low impact cardio in the convenience of your home.
You invest little but get so much in return because it provides overall workouts with a dynamic resistance that could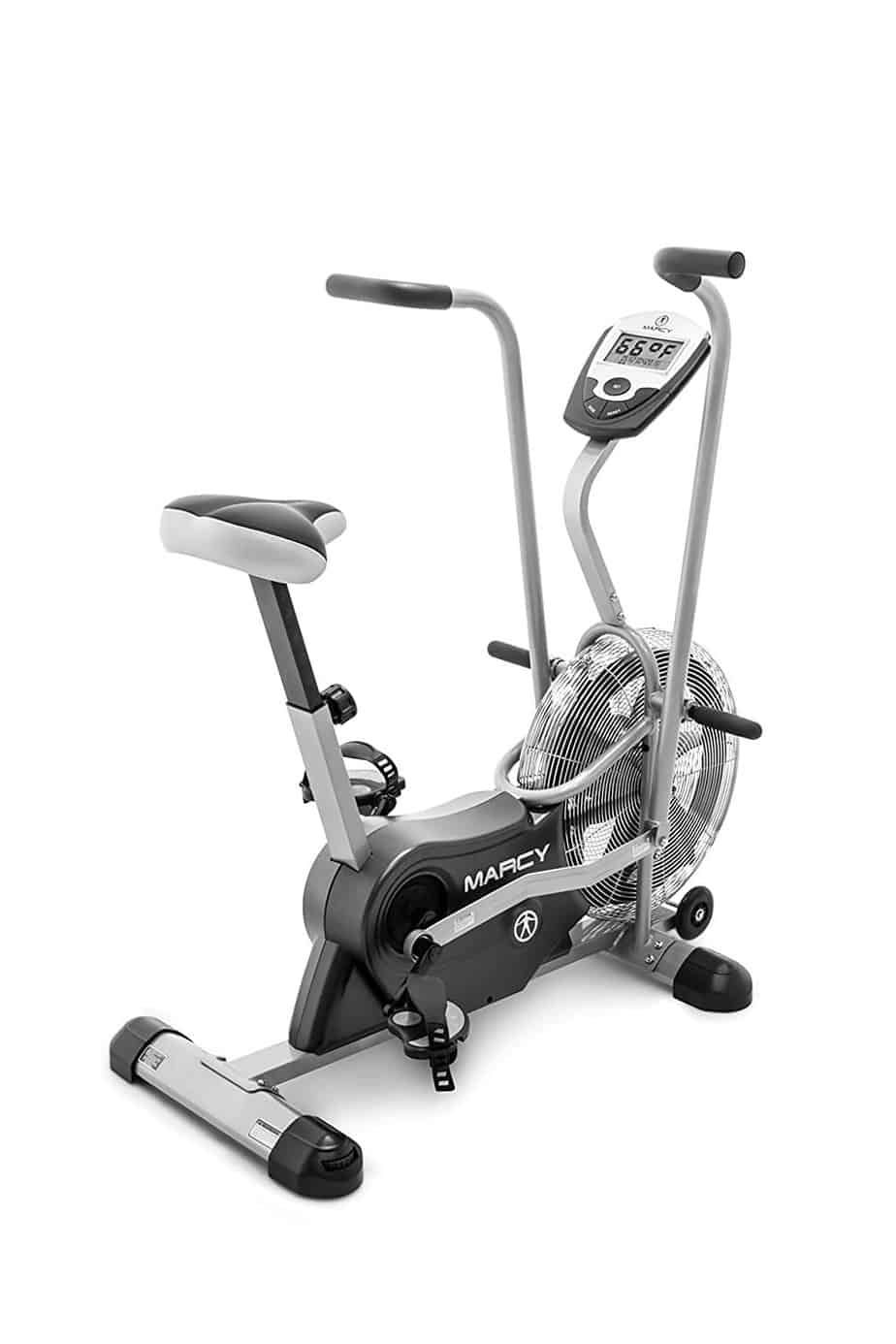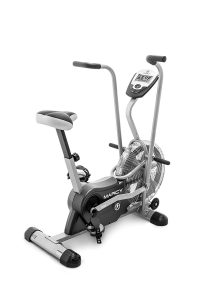 burn tons of calories.
This may not be the mid-range air upright bike that has the extra features to make your workout more enjoyable but it does have the ability to provide challenging workouts that ultimately set you on the path of rejuvenating your physical health.
The Marcy Air 1 Exercise Upright Fan Bike is a low-budget machine; you don't have to spend a fortune to acquire it.
Even though it is an inexpensive upright bike it has got a basic console as a bonus to help you track your workout progress which most exercise bikes of the same price range do not have.
This is a good alternative to LifeCore Assault Air Bike or the Schwinn AD6 Airdyne Exercise bike if you are on a budget.
That being said, we shall try to explain in detail in this review what to expect of this bike, both the upsides and the downsides so that you can make a smart decision based on your needs.
<<<Click right here to purchase the Marcy Air 1 Exercise Upright Fan Bike at the best price available>>>
The Frame
The Marcy Air 1 Bike is solidly and sturdily built to withstand any sort of hard use. It is made of premium steel with a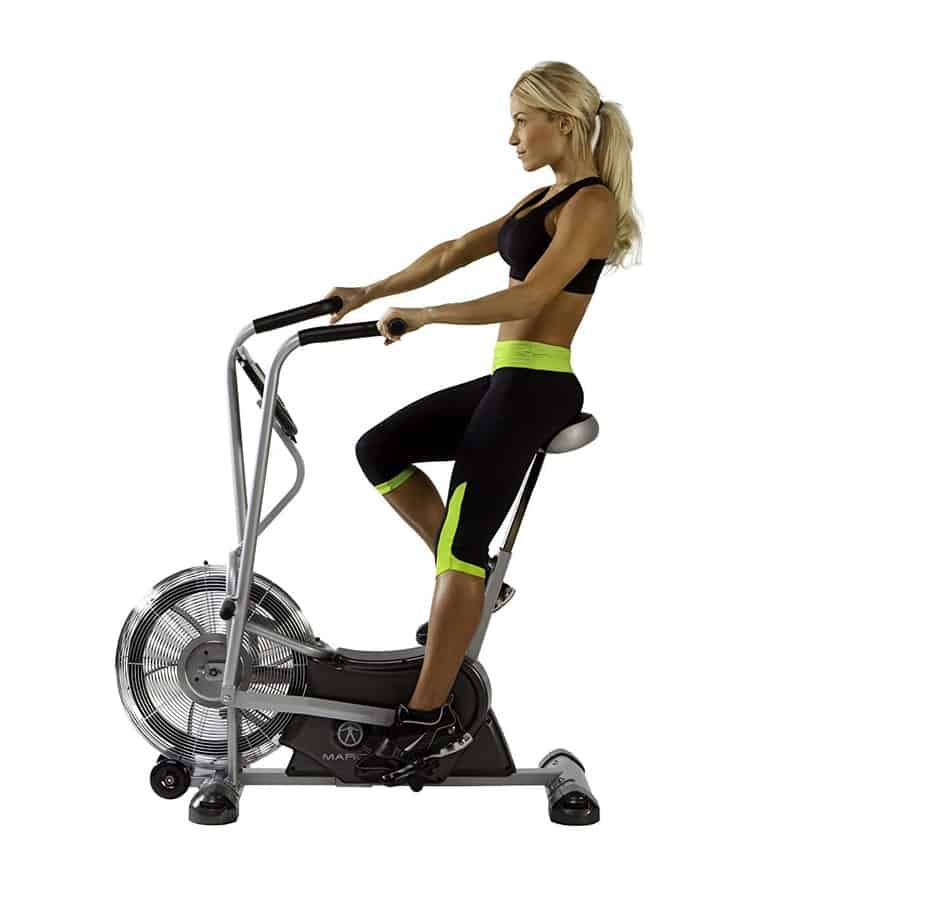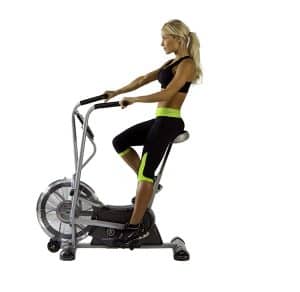 design that provides high performance. Constructed from 14-gauge steel tubing that is finished with anti-corrosion and scratch-resistant powder. This further validates the durability because rust shall have no hold on it.
Nevertheless, it is important to note that this unit is meant for indoor use and therefore must not be exposed to rains or water.
The only parts that are made of plastic are the covers that shroud the drive system and the ones at the end of each stabilizer bar that is at the front and rear bases of the unit. Other than those, the rest is steel material and this goes to show how sturdy this machine is.
Speaking of the stabilizer bars, these are meant to improve and enhance stability as they are strategically placed at the rear and the front bases of the machine with the rubber or plastic capping on each end of the bars and two levelers at the rear stabilizer bar to prevent scratch or damage to the floor and to also level up the unit on an uneven floor.
However, the use of a rubber mat will be a smart move because this will guarantee the prevention and elimination of any sort of wobbling or movement the levelers may have been unable to prevent.
There are two plastic transport wheels at the front base designed to aid in the relocation of the unit. One person can easily relocate the machine regardless of the weight by grabbing the rear stabilizer bar and tilting it toward the front base.
The Marcy Air 1 Exercise Bike is a portable unit with dimensions of 45 inches long by 25 inches wide by 48 inches tall. This is an added advantage for those that have space problem because it does not require large workout space. And it is also a very lightweight machine as it weighs only 79 pounds that is approximately 36 kg which however adds to its stability.
This is an inexpensive and nicely built bike for home use.
The Seat and Handlebars
The seat and the handlebars are the elements that provide comfort and suitability in every exercise bike, thus, very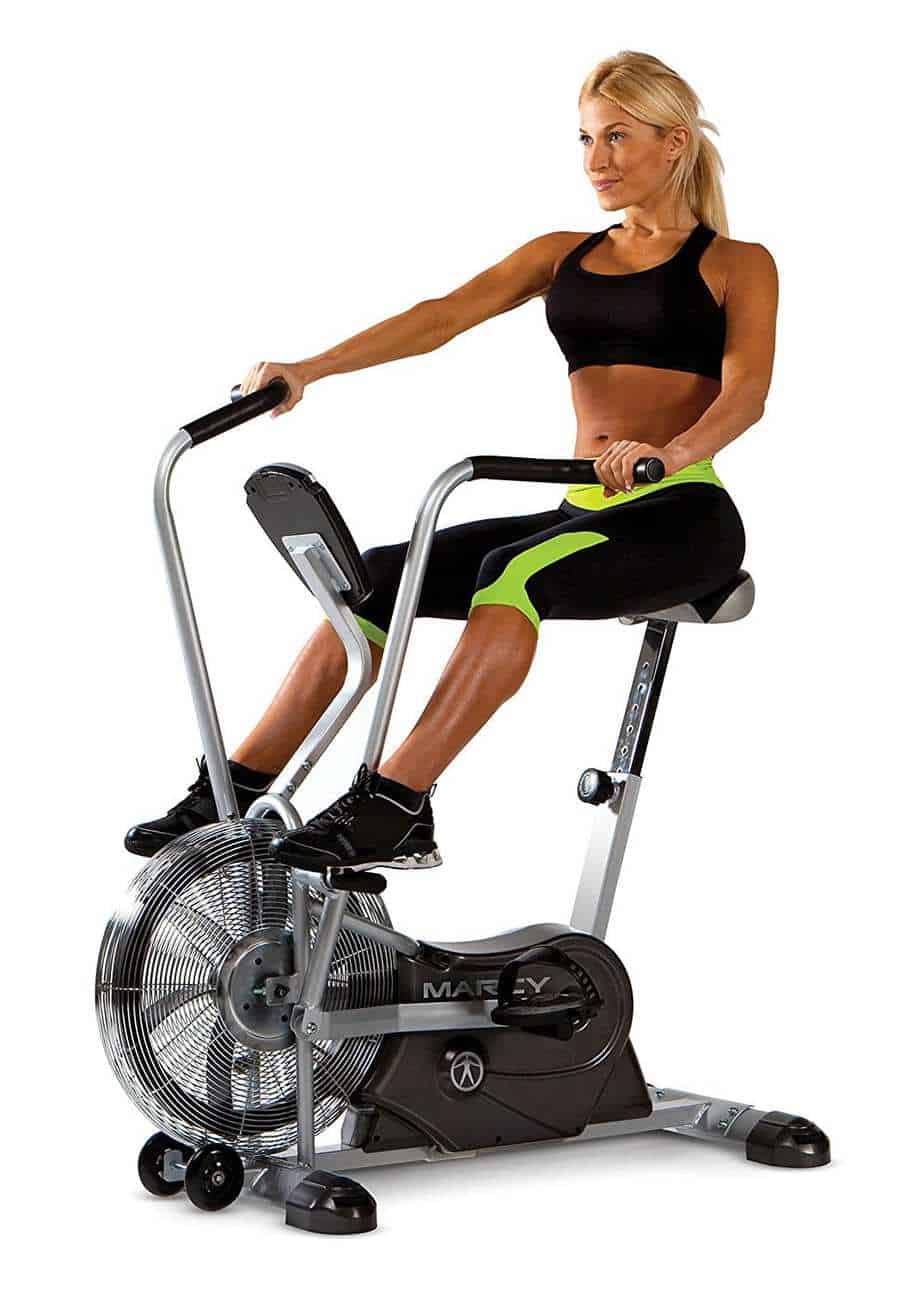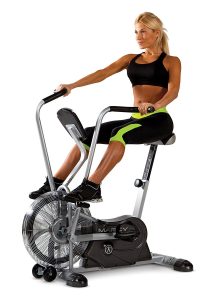 important that they are designed to do just that. So, let's find out if the seat and the handlebars present in this bike are ergonomically designed.
The Marcy Air 1 Fan Bike comes with a seat that is fairly large and contoured to fit the butt. It is also cushioned to also offer some level of comfort.  Truth be told, even though this is an inexpensive bike the seat that accompanies it is a lot more comfortable than those found in some spin bikes. However, the seat constitutes 60% of complaints by the users. You can always improve the comfort offered by the seat by using a seat gel cover or a padded short. Better still, you can easily replace it with a better seat if you so desire.
The seat is adjustable up to 12 inches and can only be done upward and downward, which is a 2-way adjustment. This is an advantage as it provides the possibility of accommodating different users of different sizes.
The space or the gap between the adjustment holes is 1.5 inches and can easily be adjusted without hassle. You can adjust the seat by simply unscrewing the adjustment knob at the front seat post and reinsert it back after you have duly adjusted upward or downward to your preferred setting.
The seat can be adjusted upward to up to 41 inches from the floor and can be adjusted downward to up to 29 inches from the floor. It can accommodate individuals between the height of 5 feet and 6 feet 3 inches conveniently, this is based on the feedback from users.
Since the seat can only be adjusted 2 ways, that is upward and downward, chances are you may not feel comfortable working out with the handlebars because the seat cannot be adjusted horizontally.  The handlebars may be too close or too far depending on your size which could make you experience cramped up or overstretched.
The handlebars are movable and that is the reason why you can exercise the upper body as well. however, they are simple and aren't multi-grip designed.
They are covered with a rubber foam that is meant to prevent blisters and slippery hands during a prolonged workout session.
The handlebars cannot be locked and made static because it is directly connected to the crankset that controls the pedals as well. Therefore, the handlebars move as long as you pedal. However, you can fold your arms across your body or let them be beside you if you wish to take a break from exercising the upper body.
So also, the bike features footrests that you could use to rest your feet each time you wish to work out the upper body in isolation since both the pedals and the handlebars move simultaneously.
The Resistance
The Marcy Air 1 Exercise Fan Bike is equipped with an air resistance system that is known for its formidable challenging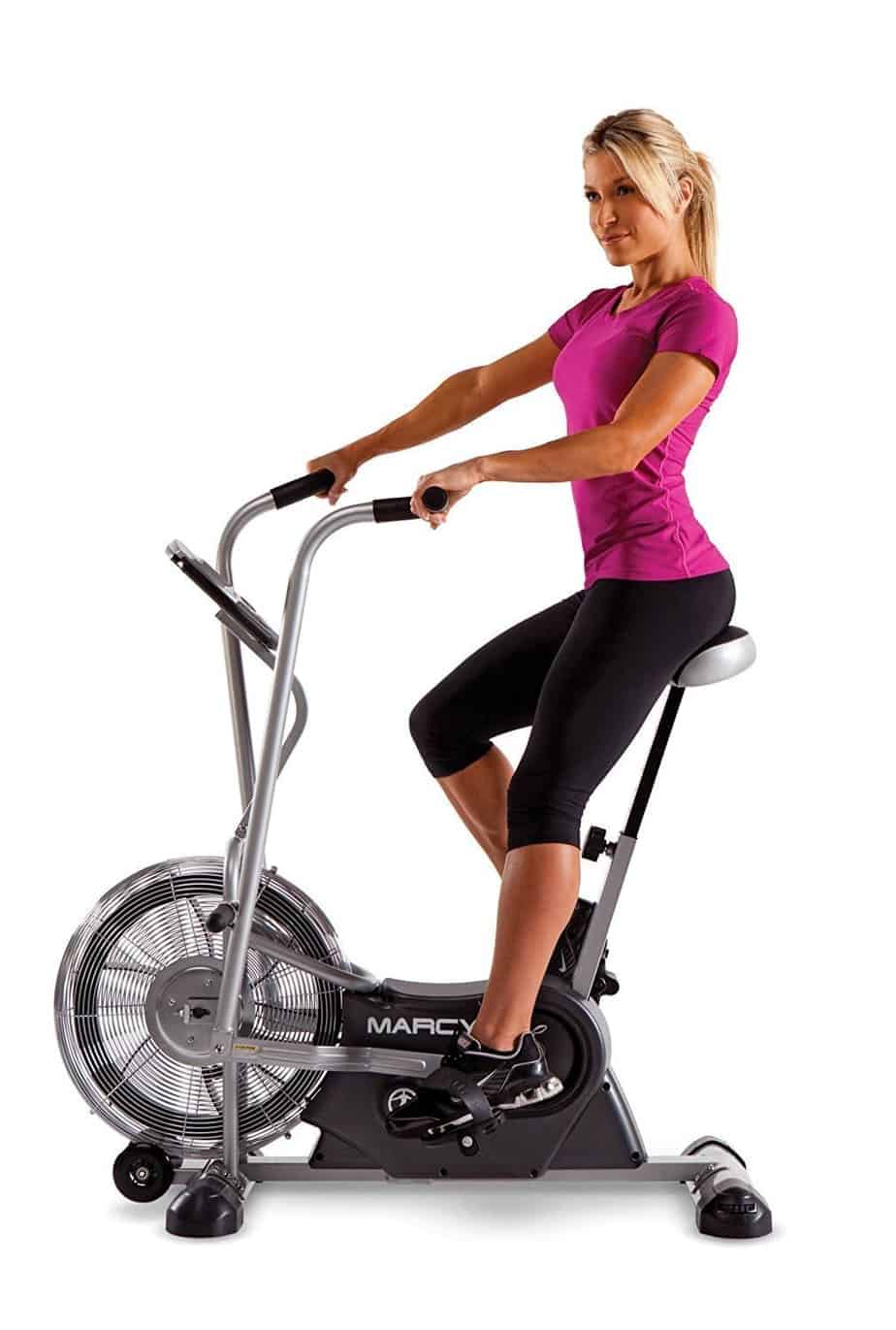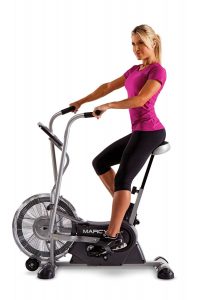 workout. The resistance is infinite which means no limit to which it could be adjusted to.
The resistance is ignited once you start pedaling and it becomes difficult and challenging the moment you pedal faster and harder. The good aspect of this type of resistance system is that it provides resistance that is proportionate to your pedaling capability, hence, suitable for individuals of all fitness levels.
It is gentle on the joints even as it provides the most difficult challenging workouts. It is the best exercise bike to use if you wish to perform HIIT, high-intensity interval training which burns tons of calories and improves your overall physical health.
Folks that are recovering from injury will as well find this bike very helpful towards their rehabilitation.
We have observed some users who are inclined to buying fitness equipment that is equipped with wind or air resistance systems such as the Concept2 rowing machine.
Moreover, the wind that is generated by the fan gets to you especially your legs and feet and there is no way to prevent that from happening in case you don't need it. However, the wind won't get in the way or becomes bothersome because it directly affects the lower body and therefore shouldn't be a problem.
In terms of noise level, to be honest, these bikes with a fan resistance system tend to be noisy; and the fan is responsible for the noise despite the fact it uses a belt drive system.
Imagine an industrial electric fan that is plugged into a power socket, imagine the type of noise it can make, so does this bike.
The noise, however, fluctuates when you pedal faster or slower.
But one thing you should know is that the noise is bearable, and may not disturb the family or the neighbors.
The fan is made of durable thick material, however, smaller than that of the Schwinn AD6 Airdyne Bike. For this reason, the resistance it generates is not as strong as that of the Schwinn AD6 and consequently, the noise is lesser.
Drive
Just as aforementioned, the Marcy Air 1 Exercise Fan Bike is equipped with a belt drive system, although, it has a chain that is designed to provide tension to keep the belt tight and to prevent slipping off as you workout.
It will not require any sort of maintenance for a long time as opposed to chain drive, but it is expected to be changed and replaced after a year or more of usage because the belt will overstretch and sometimes shred.
The bike is integrated with a solid steel 3 piece crankset that is similar to that of the standard road bikes. It has self-weighted pedals with adjustable straps designed to help you secure your feet during workouts.
The pedals' core is made of steel with heavy-duty PVC material on the outer layer. Because the crankset is fixed, you can pedal in both directions but cannot coast as you could with the road bikes.
Being able to pedal in both directions is an advantage because you will be able to diversify your workouts.
The Console
The console that comes with the Schwinn Air 1 Bike is basic but enough to help you track your workout progress. It is slightly large which makes it provide high readability, but not when used in a room that is poorly lit because it is not a backlit type of console.
You should be able to monitor workout metrics such as the time, distance, RPM, speed, and calories burned. At the top part of the monitor, it scans through the metrics every 6 seconds and can easily be seen, while the lower part of the monitor also displays metrics but they are rather small and this could be hard to see when you are working out.
The console is positioned in a way so that you can easily see the metrics without having to bend over to see them.
The console has three buttons on it which are the MODE, SET, and RESET buttons and it is powered by 2 AA batteries which not included.
Being that it is a basic console it does not include any preset workout programs. You cannot record your workouts automatically on the machine or by using a USB device to upload to an account. These are not present on this bike because it is a low budget unit.
 Storage
We have already stated that the Marcy Air 1 is a compact machine with dimensions of 45 inches long by 25 wide by 48 tall and weighs 79 pounds, approximately 36 kg.
This unit fits in most small rooms conveniently and can be stored away without hassle. The transport wheels even make it a lot easier to be relocated by one person without an extra hand or assistance.
However, it is advised to be moved or relocated by 2 persons to prevent any chances of it falling or being dropped.
Accessories
One would expect to see at least a water bottle holder on the bike but there is none. It does not possess any accessory such as a tablet or a water bottle holder.
Therefore, you will have to improvise to keep a tablet device within reach for entertainment purposes and a water bottle for proper hydration during workouts.
Approval Rating
This is a very important aspect when searching for the best online product to buy because it solves half of your decision making whether to buy or not. If a product has a good approval rating that is simply an indication that it worth looking up and probably purchasing but if it doesn't then it saves you the time to move ahead and look for a better product.
That being said, the Marcy Air 1 Exercise Bike has a very good approval rating with a lot of Amazon customer reviews that are mostly positive. This shows that this product is recommendable because the majority of its users are recommending it.
Pros/Features Overview
It is steel constructed and sturdy enough to support up to 300 pounds maximum user weight
It has stabilizer bars at the front and rear bases and adjustable levelers for optimal stability
It weighs about 79 pounds that is approximately 36 kg which adds to the stability as well
It is equipped with transport wheels to aid in relocation and storage
It has a fairly large console with high readability but not backlit though
You can track workout progress by viewing metrics such as time, speed, distance, calories burned, and RPM
You can set goals for time, distance, and calories
It has a 3-piece crankset
The pedals have a standard thread of 9/16 inches that could easily be replaced
Air resistance system that is formidable
Suitable for every fitness levels and recovery from injury
It is easy to assemble
It is very affordable and great for individuals on a low-budget
Cons
The monitor is not backlit
You will not be able to monitor your heart rate because it does not have the sensors
No accessories present
Product Dimensions and Specifications
45'' Length
25'' Width
48'' Height
Weighs about 79 pounds
Supports up to 300 pounds maximum weight capacity
Belt and chain drive
3-Piece crankset
Movable handlebars
2-way seat adjustment
Warranty
Shipping, Assembly, and Maintenance
Shipping
The shipping cost of the Marcy Air 1 Exercise Bike varies as it depends on the shipping policy of the vendor you are purchasing from; nevertheless, Amazon usually provides free shipping and delivers within days of order.
Assembly
The assembly of this unit is very easy and will not require hiring someone to do it. As usual, the main components such as the fan, pulley, crank, chain, and belt are pre-attached to the frame. Other parts such as the stabilizer bars, the console mast, the console, the seat post, the seat, and the handlebars are the ones required to be assembled by you.
The bike comes with the tools needed for assembly and an instruction manual that could guide you through the process of successful assembly. It shouldn't take you more than an hour to completely put it together.
Maintenance
This machine is maintenance-free since it uses a belt drive that may require being replaced after years of usage.
Other than that, you should always examine the bike for any loosed, worn, or broken parts that will need to be retightened, repaired, or replaced.
Always keep it clean from dust and sweat as well.
Conclusion
First of all the Marcy Air 1, Exercise Bike is affordable and great for those that cannot afford the high-end air bikes. Secondly, it is compact and suitable for small apartments and those that need something portable.
Despite it being cheap, that does not compromise its quality and features that could help you to achieve your fitness goals. However, just like with every product it has its downsides which we stated above and they may not be a deal-breaker for so many people.
Marcy Air 1 Exercise Upright Fan Bike Review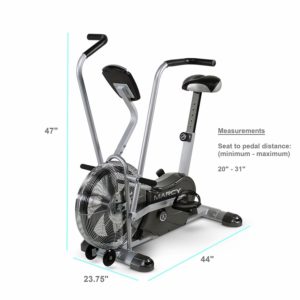 The Marcy Air 1 Bike is solidly and sturdily built to withstand any sort hard use. It is made of premium steel with a design that provides high performance.
Product Brand: Marcy
Product In-Stock: InStock