The ProForm Cardio HIIT Pro Trainer is a revolutionary hybrid trainer that makes you feel the burn.
HIIT simply means High-Intensity Interval Training which has to do with sets and repetitions of workouts and short recovery time. This nukes calorie like no other cardiovascular workouts. Consequently, weight loss, improved heart, and lungs' health are achieved quickly in a short period.
This unit is produced by a reputable fitness equipment company that has got a pedigree.
Therefore,  it is rock-solid and it integrates the necessary features that could help its users achieve their health and fitness goals with comfort and in the shortest time possible.
It has the combination of a stepper and elliptical machine functionalities that make it unique. Hence, users experience low-impact workouts that are gentle on the back, the hip, knees, and the ankles.
It enables you to exercise the overall body as its dual-action grips target the upper body section such as the arms and the core, while the steppers and elliptical path work on the muscle groups of the lower body.
<<<Click right here to purchase the ProForm Cardio HIIT Pro Trainer at a discounted Price on Amazon>>>
The Frame and Construction
The ProForm Cardio HIIT Pro Trainer has a heavy-duty steel frame and protective and cosmetic parts that are made of ABS material. As a result, the machine is durable and it supports a maximum user weight capacity of 350 lbs./158.7 kg.
Its stability is established due to the base framework that features steel stabilizer bars with rubber pads and adjustable levelers. This means that the base does not only ensure stability but it's also floor-friendly.
The overall assembled dimensions of this unit are 52" long by 29.25" wide by 66.7" high. So, it's going to need a workout area with the perimeters of 4'4" length by 2'5" width. However, you must consider adding extra clearance of 1-2′ around it for a safe and convenient workout experience.
A ceiling height of at least 8′ high should be fine for most users to workout safely. Or, you can determine the suitable ceiling height by adding your height and 18" clearance.
The ProForm Cardio HIIT Pro Trainer offers numerous workout programs that include high-intensity training and other workout routines that could make that fitness goal feel like a walkover.
Unlimited customized programs, automated statistics tracking, and video workouts that were made by high profile and celebrity personal trainers are also available through the iFit, although a subscription is required though.
The ProForm Cardio HIIT Pro Trainer is high quality and a commercial-grade machine that is equipped with a 30-pound flywheel which primarily prevents vibration but ensures smooth and quiet operation. Users of different fitness levels will find it suitable for achieving their respective fitness objectives.
This unit combines a smooth 10'' vertical elliptical path with the powerful upper-body movements that simulate stepping while boxing to boost your body's metabolism and burn calories in the entire workout session.
Features/Pros
It has got 26 levels of resistance to help a wide range of users' with different ability to achieve their goals
Its multi-grip handlebars allow users of different sizes to be able to work on their upper body targeting different muscle groups
It has got a 30 pounds flywheel that makes the machine operate smoothly; sturdy and can even compete with the club-quality performance
It has got high-quality pedals that are well cushioned, large enough to ensure comfort during a workout
There are 34 pre-set programs available designed to help users have a wonderful and remarkable workout experience that boils down to achieving their fitness goals such as weight loss, endurance, strength training, and cardiovascular toning
It provides low-impact workouts that prevent stress to the back, knees, ankles, and hips even as it promotes efficient workouts
It has contact sensors and wireless Bluetooth Smart heart rate chest strap (chest strap is shipped with the unit) that allow users to be able to work out hands-free or by gripping the handlebars and still get to know their heart rate to maintain their target heart rate zone
10'' touch screen with web browser allows you to track your workout progress and experience unlimited interactive tours with the Google Maps.
There is a two-way fan that ensures that you remain cool through the entire workout session
It has got a water bottle holder that will help a user keep water handy for hydration during the entire workout session
There are 2'' speakers that are a device compatible which will allow the user to get entertained during a workout by listening to a quality sound of music.
It has got a media or tablet holder that won't interfere with the data screen or monitor
It is compact and has got transport wheels that would make moving and storage easy
It supports a maximum user weight capacity of 350 pounds
Cons
Well, the ProForm Cardio HIIT Pro Trainer may not be the best for those that are seeking for low-intensity workouts because this is basically for high-intensity interval training and other vigorous routines.
Warranty
Lifetime for Frame
5 Years for Parts
2 Years for Labor
Product Dimensions
52'' Length
29.25'' Width
66.7'' Height
It weighs about 220 pounds
Shipping and Assembly
The shipping cost of the ProForm Cardio HIIT Trainer Pro depends on where you are buying the unit from. Amazon ships this machine for free but that may not be the case with other retailers.
Assembling the unit is relatively easy as it is shipped with the major components preassembled. Besides, it comes with a comprehensive instruction manual that would walk you through the process.
Conclusion
The ProForm Cardio HIIT Pro Trainer is an impressive machine that is great for those that are looking to get their fitness goals tackled head-on. It provides the opportunity to get results in time.
However, those that are hypertensive should inform their physician before using this machine.
ProForm Cardio HIIT Pro Trainer Review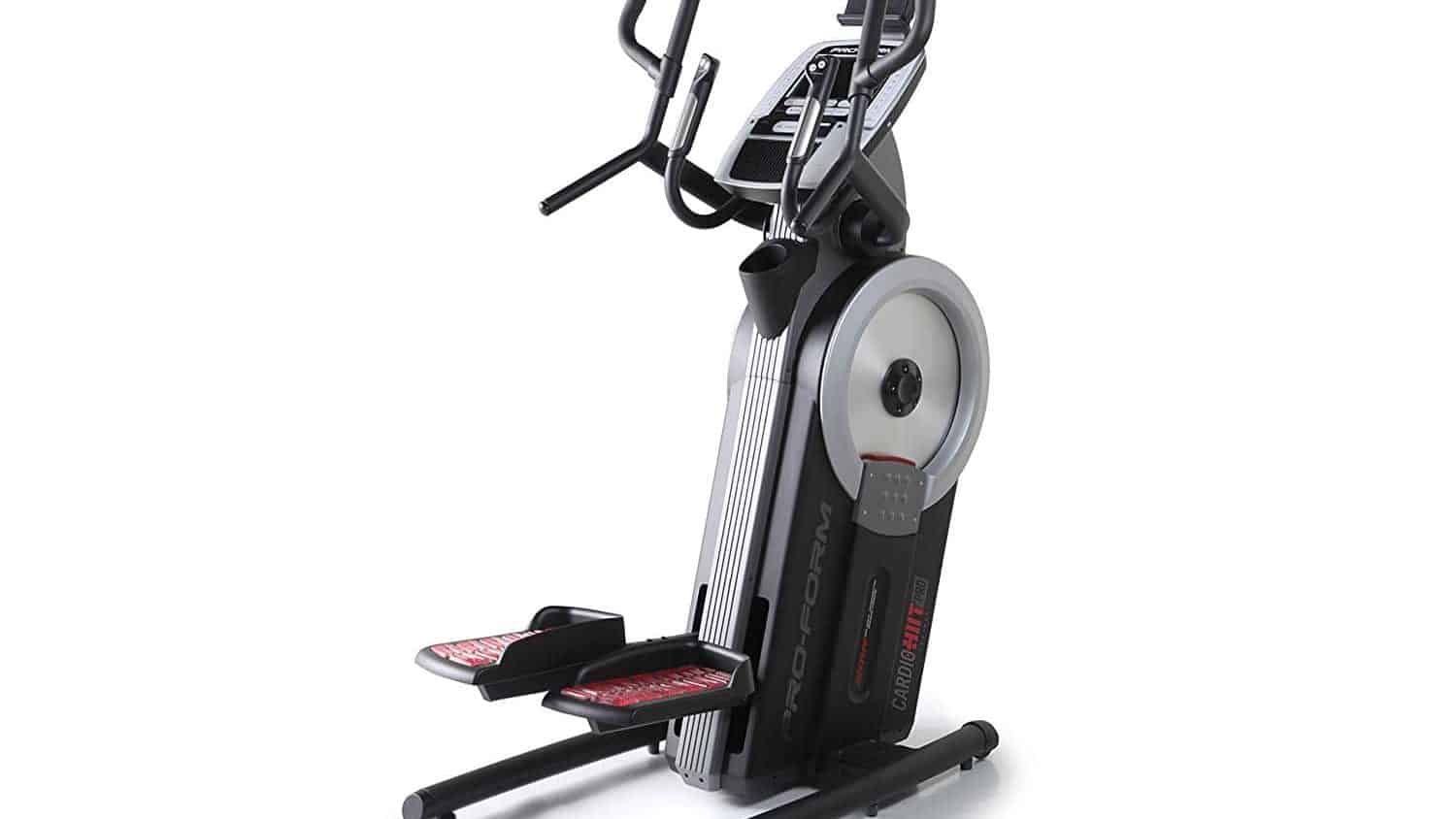 The ProForm Cardio HIIT Pro Trainer is high quality and a commercial-grade machine that is equipped with a 30-pound flywheel which primarily prevents vib
Product Brand: ProForm
Product In-Stock: InStock