The EFITMENT Compact Magnetic Elliptical Trainer Model E005 is indeed COMPACT and portable. It is an ideal elliptical trainer for those with a small room.
Not only is it compact, but it possesses what it takes to work out in the comfort of your home and achieve results. However, it offers light workouts that are yet effective just like the Body Rider BR1830 Dual Action Fan Elliptical Trainer or the ANCHEER Elliptical Machine Trainer.
There is something else the aforementioned elliptical trainers have in common, that is affordability, they are inexpensive as well.
What is unique about the EFITMENT Compact Magnetic Elliptical Trainer Model E005 is its compact design with a small footprint. You may call it a very handy elliptical machine if you will. Apparently, it is a rear-driven machine with two sets of handlebars. The fixed handlebars have HR contact sensor ability while the mobile handlebars allow you to also engage the arms and back muscle groups during a workout.
In other words, the unit offers full-body workouts with very minimal stress to the joints.
It is also a lightweight elliptical trainer that supports 220 pounds/99.8 kg maximum user weight. Its stability is good despite being lightweight.
The pedals are anti-skid designed with a protective border that further prevents the foot from slipping off during an exercise. You should be able to work out with 11 inches stride length.
It has a belt drive and magnetic resistance systems with 8 adjustable levels. It is quiet and smooth during workout activities.
Tracking workout progress is also possible because it is equipped with a console that features an LCD screen that does just that.
Click right here to have a peek at the price of the EFITMENT Compact Magnetic Elliptical Trainer Model E005 on Amazon.
The Frame and Construction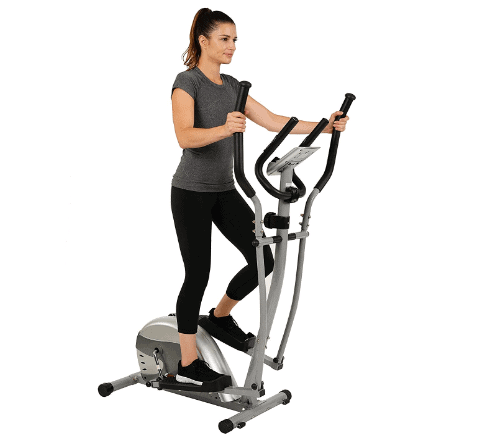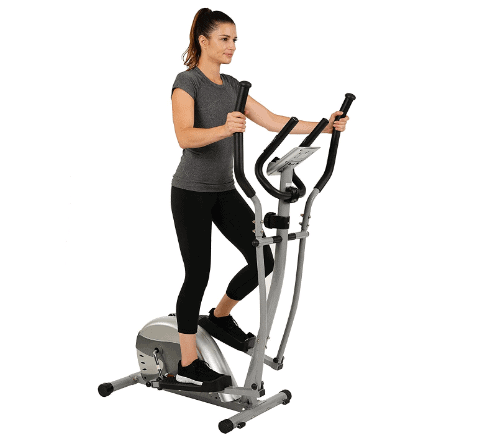 The EFITMENT Compact Magnetic Elliptical Trainer Model E005 has a solid construction that features a steel frame that is coated with anti-corrosive and rust paint. Thus, the frame lasts longer without any degradation as a result of rust.
Just as mentioned above, the elliptical trainer has the capacity to support up to 220 pounds/99.8 kg user weight. It is a lightweight machine that weighs just 63 pounds/28.6 kg; nevertheless, this also boosts the overall stability provided by the base framework that features rounded rear and front steel stabilizer bars.
The base framework design makes it floor-friendly due to the rubber cap on each end of the stabilizer bars. However, you may consider placing the unit on a protective rubber mat for outstanding stability and to prevent sweat from spilling on the floor.
As it is conspicuously described, the machine is pretty compact with overall assembled dimensions of 34.5 inches long by 24.5 inches wide by 61 inches tall. A workout area of 2'9'' long by 2'1'' wide and a ceiling height of at least 6 feet high will be required for the machine. Additional extra clearance of 1-2' feet might be necessary at the rear and on each side for safety and convenience reasons.
Obviously, it is a unit with a small footprint and even though it is not foldable, it can easily be put out of sight when it is not in use. Yes, it is portable with transport wheels for an easy relocation process.
The Handlebars and the Pedals
There are two sets of handlebars that offer versatile workout grips; the fixed and the mobile. The fixed handlebars have the HR sensors embedded in them so that when gripped during a workout the heart rate will be read and be transmitted to the monitor for tracking. This allows the user to keep an eye on the heart rate to maintain the target zone.
The mobile handlebars are basically used when a user wishes to exercise the upper and the lower body, otherwise known as the total body workout. The mobile handlebars are connected to the pedals so that whenever you pedal they move as well even when not held or gripped.
The two sets of handlebars are coated with a soft rubber foam material that provides comfortable and secure grips. You will be able to work out longer without experiencing slippage or blisters in the palms.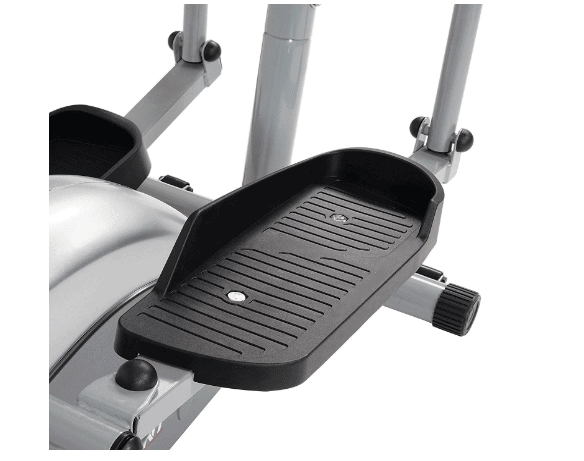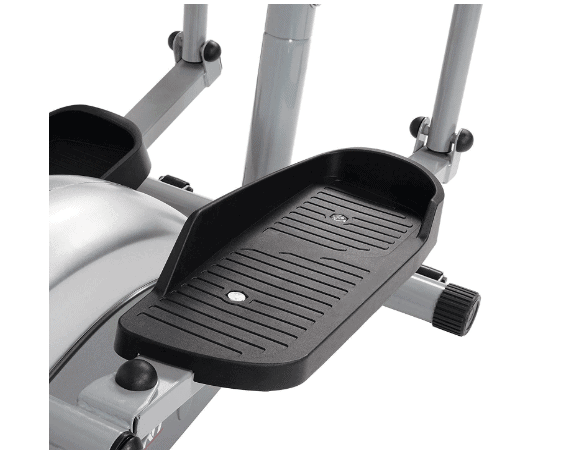 The pedals are large enough to accommodate most foot sizes. They are anti-skid designed with a border that protects the toes and the inner part of the foot which prevents it from slipping off during an exercise as they (pedals) are in incline slope position.
The pedals have 11 inches strides and the Q-Factor (the length from the inner right pedal to the inner left pedal) is 13 inches. The stride length is short due to its compact design. If this is a problem then you may look up the Glider Supreme.
The Drive
The EFITMENT Compact Magnetic Elliptical Trainer Model E005 is a rear, belt-driven elliptical trainer. The operation is smooth and quiet.
The drive also consists of a perimeter-weighted flywheel whose weight is not specified but heavy enough to provide a decent momentum.
The user can work out at any time of the day without bothering others with his/her activities. One can also listen to good music or watch a favorite TV show while exercising without the volume being amplified so high.
The drive is maintenance-free, no adjustment or lubrication is required.
Resistance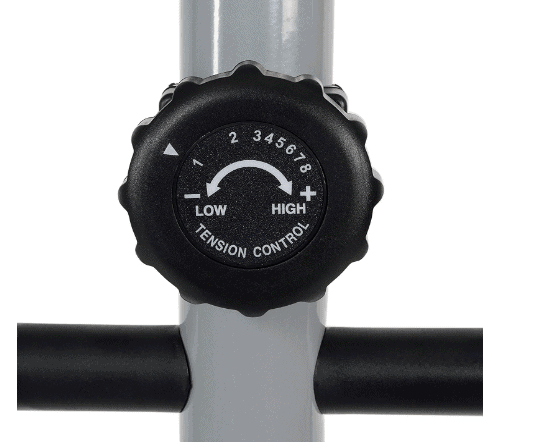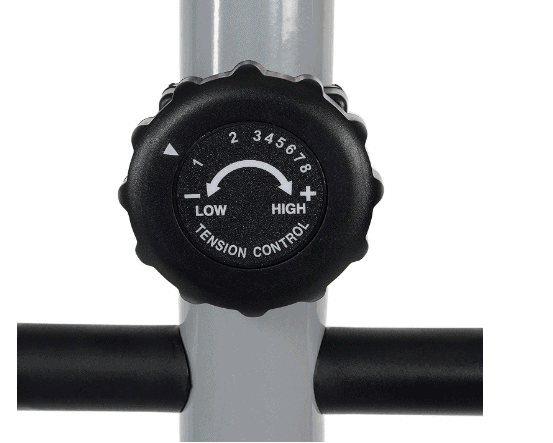 The EFITMENT Elliptical Trainer Model E005 is equipped with a manual magnetic resistance system. It offers 8 levels that are suitable for everyone that wishes to improve physical fitness, tone muscles groups, and lose weight.
The elliptical trainer's motion is smooth and steady even when the resistance is engaged at any level because the elements in it do not make direct contact. In other words, the resistance system is frictionless. Resistance is generated when the magnetic pad emits a magnetic field around the flywheel.
This also means, no wearing parts, thus no parts will be required to be replaced any time soon.
The tension knob is used for adjusting the resistance level from easy to challenging levels. Simply turn it clockwise to increase the resistance level and anticlockwise to decrease it.
That said, the overall resistance efficiency will not impress advanced athletes or anyone else that wishes to experience extremely difficult workouts. If you are looking forward to engaging in a very challenging workout you may have to look beyond the EFITMENT Compact Magnetic Elliptical Trainer Model E005 and check out other high-end elliptical trainers such as the Sole E95 Elliptical.
The Console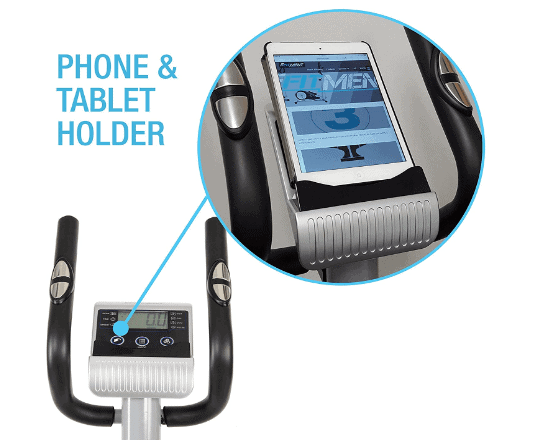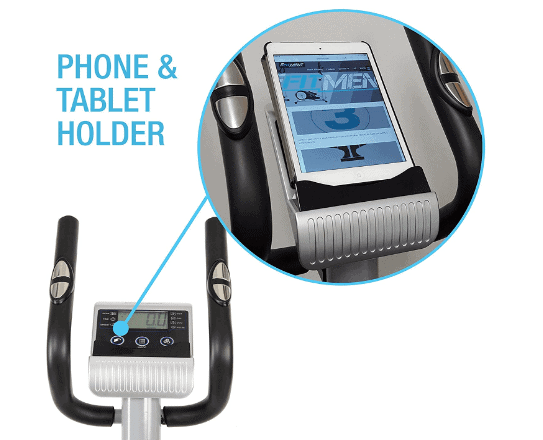 The unit has a basic console that features an LCD monitor that at least allows you to keep track of your workout progress. The console also has a built-in tablet holder designed for tablet device placement.
The monitor displays workout data such as time, distance, speed, calories burned, pulse rate, and SCAN. It has good readability as long as it is being viewed in a well-lit environment because it is not backlit.
There are 3 easy to use navigational buttons, RESET, MODE, and SET. By default, the monitor uses the SCAN function to rotationally display workout data one at a time after a few seconds and continuously y. This way, the user will be able to track all the workout data.
However, the user can also decide to set a preferred workout data to display constantly as long as he/she wishes.
The monitor can be turned ON by simply pressing any button or by pedaling. It also automatically turns OFF when there is no activity on the elliptical trainer for a few minutes in order to save the battery power.
The console is powered by 2 AAA batteries that are included in the package.
Accessory
The built-in tablet holder is the only accessory available on the EFITMENT Compact Magnetic Elliptical Trainer Model E005. This allows you to make use of your tablet for making/taking calls, watching a movie or listening to favorite music while exercising.
But, the display gets blocked when a tablet device is placed on the holder.
As for staying hydrated, you must find a way to keep water handy during a workout session, it is important.
Storage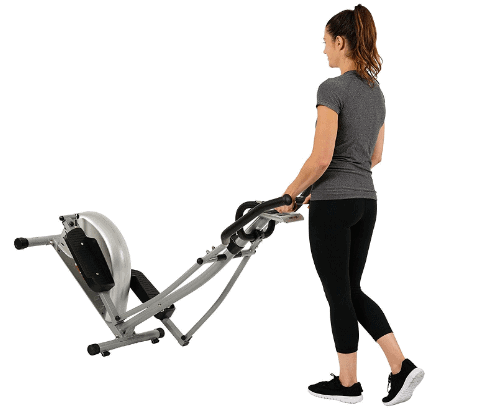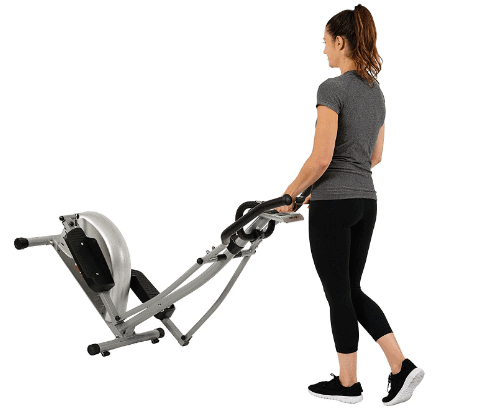 The storage of the EFITMENT Compact Magnetic Elliptical Trainer Model E005 is pretty easy and doesn't invade space even though it is not foldable.
It has a small footprint that makes it possible to be put out of sight.
The integrated transport wheels help in the relocation process and it is a lightweight machine as well.
Approval Rating
The elliptical trainer basically has a good approval rating at the time this review was written. It has several positive customers' reviews on Amazon and this indicates that users are impressed by the overall quality and performance of the machine.
Pros/Features Overview
Sturdy and stable
It is compact, doesn't invade your space
There are 2 sets of handlebars that are versatile for total body workouts
The pedals are anti-slip designed and large enough to accommodate most foot sizes
Operation is smooth and quiet due to the belt drive system
Magnetic resistance system provides decent resistance suitable for improving physical fitness and weight loss
Users workout with less worry that the joints will be stressed
The user can track workout progress via the easy-to-use LCD monitor
Count down functions for time, distance, and calories
Transport wheels for portability are integrated into the machine
Track heart rate using the handlebars with built-in EKG sensors
Low maintenance
Easy to assemble
Tablet holder included
Affordable
Cons
The monitor is not backlit
Stride length is short at 11 inches
The display gets blocked when a tablet device is placed on the tablet holder
Resistance is not extremely difficult
Warranty
Product Dimensions and Specifications
Length 34.5''
Width 24.5''
Height 61''
Supports 220 pounds/99.8 kg maximum user weight capacity
Weight: 63 pounds/28.5 kg
Console: Basic, LCD monitor displays time, speed, distance, calories burned, heart rate and scan
Resistance: Manual magnetic, 8 levels
Drive: Belt
Frame; Steel
Transport wheels: Yes
Handlebars: Fixed and mobile
Pedals: Anti-slip designed, 11'' stride length
Shipping, Assembly, and Maintenance
Shipping
The EFITMENT Compact Magnetic Elliptical Trainer Model E005 is shipped in a box that weighs 73 pounds/33 kg.
Amazon provides free shipping and delivers within days the order was placed.
Assembly
The elliptical machine comes with the major component preassembled. This means all the difficult part has been taken care of by the manufacturer.
There are only parts such as the rear and front stabilizers bars, the mobile and the fixed handlebars, the pedals, the console mast and the console that need to be attached to the core unit by you.
The assembly won't take up to an hour to accomplish.
Included in the package are the required tools for assembly and an instruction manual that walks you through the assembly process.
Maintenance
No serious maintenance is to be done.
Ensure to always examine the machine before use for any loose or broken part in order to prevent an accident or further damage to it.
Finally, keep it clean from dirt and sweat before and after use.
Further maintenance instruction is included in the owner's manual.
Conclusion
The EFITMENT Compact Magnetic Elliptical Trainer Model E005 is an elliptical machine designed to provide total body workouts that could improve cardiovascular health, endurance, and tone muscle groups. It's a low-impact machine that is suitable for beginners, intermediaries, and those recovering from a medical condition.
[rank_math_rich_snippet]