The EFITMENT Air Walker Glider Elliptical Machine E020 is an elliptical trainer that provides sufficient stride length that will be appreciated by most users. However, before we proceed well into the review of this trainer it is important to let you know that there have been complaints that the mobile handlebars are short for some users. Obviously, taller individuals up to 6' may have an issue with their postures considering the height of the handlebars.
That said, 6' tall users have also expressed satisfaction using the EFITMENT Air Walker Glider Elliptical Machine E020, but if you have an issue you may adjust the handlebars by raising them up one hole. This means that the handlebars will have only one hole screwed on each side instead of the original two holes. This way, you may have solved the issue of handlebars falling short in height.
The EFITMENT Air Walker is unique in the sense that a user cannot only pedal forward and backward but also 90 and 180 degrees sideways, something that the conventional gliders such as the Gazelle Supreme do not support.
It is a total body workout machine that is very versatile because you simulate a slow walk up to a full run.
The glider doesn't have a built-in resistance system such as the one on elliptical trainers but it uses body weight for resistance. The user can also track workout progress as it is integrated with an LCD that does just that.
Click right here to have a peek at the price of the EFITMENT Air Walker Glider Elliptical Machine E020 on Amazon.
Frame and Construction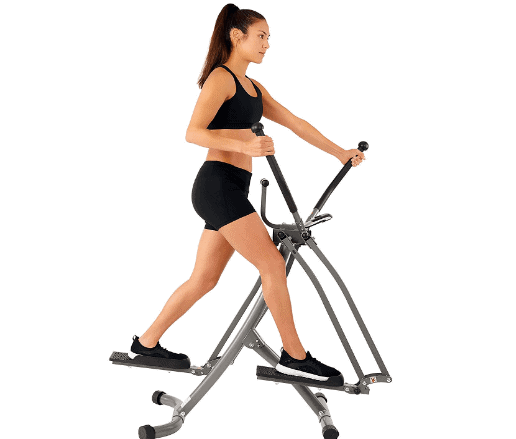 The EFITMENT Air Walker Glider Elliptical Machine E020 is made of steel that is coated with anti-corrosive paint that preserves its quality against environmental hazards. The frame supports 220 pounds/99.8 kg maximum user weight capacity.
Its space-saving design is an added advantage to its overall assembled size, it doesn't invade space during a workout neither does it when it is time to store it away.
The EFITMENT Air Walker Glider E20 overall dimensions are 35 inches long by 22 inches wide by 54.5 inches tall. Differently put, it requires a workout area of 2'9'' long by 1'8'' wide and a ceiling height of at least 6 feet or more depending on the user's height. Moreover, additional extra clearance might be necessary at the rear and on each side of the machine if it is going to be used in a confined area for safety and convenience reasons.
The front base features straight rounded steel, while the rear base features U-shaped rounded steel that guarantees that adequate stability is achieved. The stabilizer bars also have a rubber cap on each end for the purpose of making the base floor-friendly.
It is a portable and lightweight machine that weighs about 39.5 pounds/17.9 kg, nevertheless, this boosts its overall stability.
In a summary description, it will suffice to say that the EFITMENT Air Walker Glider Elliptical Machine E020 is affordable, versatile, compact, foldable, and usable.
The Handlebar and the Pedals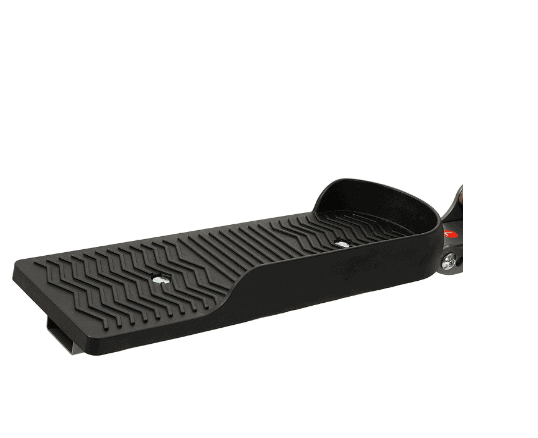 The pedals' design is as same as the ones on the EFITMENT Compact Magnetic Elliptical Trainer E005 except that the Glide Walker E020 has an exceptional stride length of 24 inches and pedals that could be used in different stride motions other than the conventional backward and forward motion.
Your foot is secure while performing a workout because the pedals are ribbed and have a border that prevents slippage. Therefore, you can conveniently simulate walking or running motion that engages the lower muscle groups such as the hamstrings.
A user will also be able to engage in 180 degrees of free-range motion and 90 degrees side to side motion that engages, activates, tones, and strengthens the glutes and the leg muscle groups. This capability is not something that is common with other Air Glider Elliptical Trainers.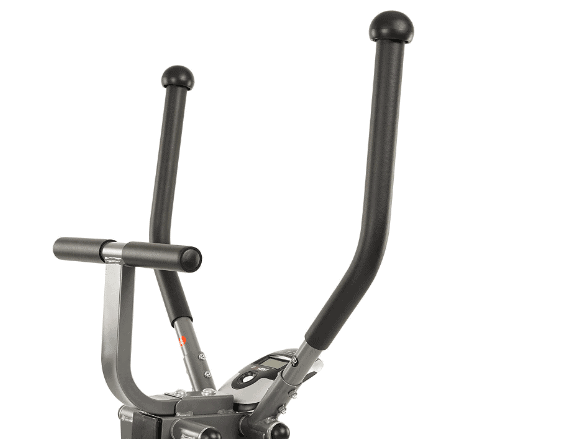 As aforementioned the mobile handlebars may probably be a bit short for some tall individuals. In case this happens to you, raise the handlebar one hole up and tight each of them with only one screw and this could solve the problem.
Users below 6' could find the Glide Walker E020 and the handlebars suitable.
There are two sets of handlebars, the fixed and the mobile handlebars. These handlebars allow the user to experience a full-body workout that engages the upper and the lower muscle groups simultaneously or to isolate and work on the lower body alone.
The mobile handlebars are connected with the pedals such that they don't operate independently. So, when you pedal the mobile handles also move even when held or not.
The two sets of handlebars are ergonomically designed and coated with soft rubber foam that provides comfortable and slip-free grips. You can work out longer without feeling bored or having blisters in the palms.
The Console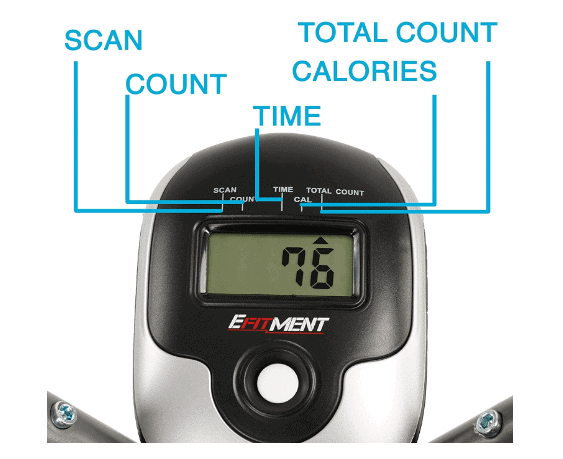 The EFITMENT Air Walker Glider Elliptical Machine E020 comes with a console that features an LCD monitor which tracks 4 workout data; time, count, total count, and calories burned. It has good readability as long as it is being viewed in a well-illuminated environment because it is not backlit.
As you may have observed, the machine doesn't have heart rate capability and so it can't track the pulse rate. However, if you wish to track the heart rate you can always use a separate or external heart rate device that does that.
The console is basic, doesn't have extra functions such as built-in programs, tablet holder, or MP3 port. Nevertheless, it has a SCAN function that by default displays the entire workout data one at a time after a few seconds and rotationally. This way the user will be able to keep an eye on the workout data at all times. The user can also set a preferred workout metric to display constantly without changing to another.
There is only one navigational button on the console which is easy to use.
The console is powered by 2 AAA batteries and the monitor automatically hibernates after a few minutes of inactivity on the machine in order to save battery power and it comes alive when activity resumes.
Storage
The EFITMENT Air Walker Glider Elliptical Machine E020 is compact, foldable, and portable. It is also a lightweight machine that makes relocation very easy.
When it is time to store it away, you can fold the frame, front and rear base stabilizers, and the pedals, and simply roll it away to the storage destination.
The Glider Elliptical is perfect for tight spaces such as small rooms, condos, apartments, and studios.
Pros/Features Overview
Compact, foldable, and portable; doesn't take space during workouts or storage
Durable and stable; supports 220 pounds/99.8 kg maximum user weight capacity
Operation is quiet and smooth
Its LCD monitor tracks workout progress
The pedals are anti-skid designed and can go 90 degrees sideways and rotate 180 degrees
Very versatile and with long strides
There are two sets of handlebars for lower and full-body workouts
It provides low impact cardio workouts that are easy on the joint
Low maintenance
Easy assembly
Affordable
Cons
The monitor is not backlit
No heart rate function
Warranty
Product Dimensions and Specifications
Length 35''
Width 22''
Height 54.5''
Weight: 39.5 pounds/17.9 kg
Supports 220 pounds/99.8 kg maximum user weight capacity
Console: Basic, non-backlit LCD monitor displays time, count, total count, calories burned, and SCAN
Resistance: Bodyweight
Drive: NO
Transport wheels: Yes
Handlebars: Fixed and mobile
Stride length: 24''
Pedals: Large, rib textured, forward, backward, 180 degrees rotate and 90 degrees side to side motions
Incline: NO
Shipping, Assembly, and Maintenance
Shipping
The EFITMENT Air Walker Glider Elliptical Machine E020 is shipped by Amazon free of charge and it's delivered within days.
Assembly
The unit comes partially preassembled. However, you need to attach the pedals, the front and the rear stabilizer bars, and the monitor. This won't take up to an hour, very likely much less.
Moreover, the tools for the assembly and the instruction manual that guides you through the process are included in the package.
Maintenance
The EFITMENT Air Walker Glider Elliptical Machine E020 doesn't have any advanced transmission system and is therefore very easy to maintain.
You are only required to always examine the machine before use for any loose or broken part. Fix any problem that may arise accordingly in order to prevent an injury or further damage to the machine.
Finally, ensure to keep it clean from dirt and sweat at all times.
Conclusion
The EFITMENT Air Walker Glider Elliptical Machine E020 has attributes that are going to be appreciated by users who have limited space and are on a budget.
This free motion glider elliptical trainer is foldable, compact, portable, and affordable. It is durable, stable, and provides low-impact full-body cardio workouts that activate, tone and strengthen several muscle groups in the body.
EFITMENT Air Walker Glider Elliptical Machine E020 Review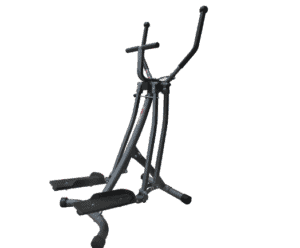 The EFITMENT Air Walker Glider Elliptical Machine E020 is an elliptical trainer that provides sufficient stride length that will be appreciated by most users. However, before we proceed well into the review of this trainer
Product Brand: Efitment
Product In-Stock: InStock