Precor has been in the fitness industry for over 3 decades doing what they know how to do best, inventing and producing innovative, and high-quality fitness equipment that is incorporated with advanced technology. It is also important to note that their products are engineered and manufactured in the U.S and not China.
So, you can bet that the Precor EFX 222 Energy Series Elliptical Crosstrainer has all the aforementioned attributes and it is one out of the several energy series that Precor has on their shelve. Moreover, it also happens to be one of the cheapest in the series.
The EFX 222 Energy Series has got the build, quality, and features to make working out interesting and productive for users. It features a variable stride geometry that provides smooth and natural motion during a workout.
It supports up to 275 pounds/124.7 kg maximum user weight capacity and has outstanding stability that defies any sort of movement when engaged in an intensive workout. The CrossCramp could be adjusted manually into 3 different elevated positions of 15, 20, and 25 degrees. This enables the user to alter the path of the elliptical trainer so that a variety of challenging workouts could be engaged and experienced.
There are 2 sets of handlebars, static and mobile. These allow the user to work out in different forms or styles and to also be able to observe the heart rate data on the monitor because the static handlebars have HR contact sensors on them. Moreover, the console is telemetry enabled; therefore, heart rate can be monitored using a wireless device such as any Polar compatible 5 KHz chest strap transmitter.
The console features a 5 inches high contrast blue-white LCD screen, 2 user IDs, unit selection, 10 preset workouts, and more. It has 2 user IDs for two people to be able to use the machine and 16 levels of electromagnetic resistance.
The SmartRate target heart rate monitoring enables or helps the user stay in your fat burn, cardio or peak target zone for more efficient cardio and weight loss workout. This elliptical trainer is really user-friendly and can help you to achieve your fitness objectives.
Click right here to have a peek at the price of the Precor EFX 222 Energy Series Elliptical Crosstrainer on Amazon.
The Frame and Construction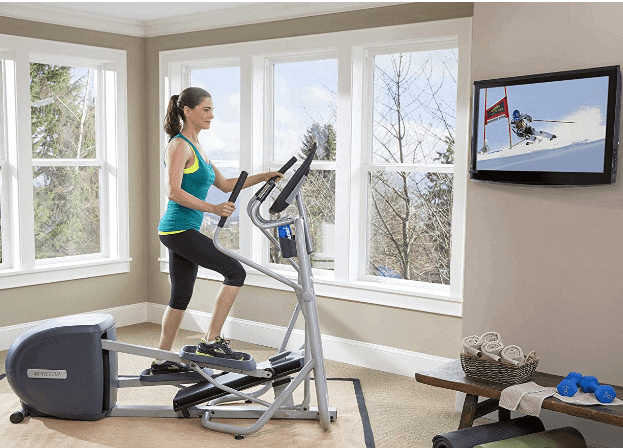 The Precor EFX 222 Energy Series Elliptical Crosstrainer is a rear-driven elliptical machine that allows a user to get on by the side. Just as all the energy series and the Precor EFX 546i Commercial Series, the construction is made up of heavy-duty steel and ABS material.
The steel frame is coated with a silver powder coat finish that gives it a sleek look and protects it from rust.
The unit's design provides the flexibility and usability every user will definitely appreciate no matter the fitness level.
The biomechanics provide low-impact full-body workouts that engage and target the arms, back, core, quadriceps, hamstrings, and calves muscle groups.
The Precor EFX 222 Energy Series Elliptical Crosstrainer is not foldable and will require a bit of space for workouts or storage. The overall assembled dimensions are 75 inches long by 29 inches wide by 65 inches tall. Therefore, a workout area of 6'3'' long by 2'4'' wide will suffice and a ceiling height of at least 7', more or less, because it depends on the user's height.
Consider adding an extra clearance of at least 2' on each side for safety and convenience reasons, especially if it is going to be used in a confined area.
The unit is very stable due to its well-thought-out base framework and its overall weight of 193 pounds/72 kg and so, no rocking movement during a workout.
The Handlebars and the Pedals
The Precor EFX 222 Energy Series Elliptical Crosstrainer has two sets of handlebars, fixed and mobile. These offer workout-style options to the user.
One can decide to simultaneously work on the upper and lower body muscle groups or choose to exercise the lower body alone.
The fixed handlebars have the HR sensors embedded in them, in other words, they contact handlebars that allow the user's heart rate data to be transmitted to the monitor so that the target heart rate zone can be maintained at all times. However, there is also an option to use a compatible HR chest strap for heart rate reading but the device is not included in the package, therefore, it has to be purchased separately if the user wishes to use one.
Both sets of handlebars are coated with a soft rubber foam material designed to ensure that grips are secure and comfortable. Users can train longer without experiencing slippage or blisters in the palms.
The pedals are bidirectional; they offer forward and reverse motion that is smooth and quiet. They are anti-skid designed with a border that further secures the foot from slipping during an intense workout.
The stride lengths change as the ramp angle is altered. Basically, it changes from 19 inches when the ramp is at the lowest, to 20 inches when it is at the middle, then to 21 inches with it is at the highest angle level.
The handlebars and the pedals provide smooth, natural, low-impact workouts that ensure that you get results.
Drive
The EFX 222 Energy Series Elliptical is a rear belt-driven elliptical trainer that provides smooth and quiet operation. Its near-silent operation allows you to train wherever or whenever you want without the risk of disturbing the family or the neighbors.
You can also watch your favorite TV show, movie, or listen to good music without the need to amplify the volume so high.
Maintenance-wise, the drive is almost maintenance-free, except for a periodic adjustment of the belt tension.
The Incline
The unit has what is called the patented CrossRamp technology that is otherwise known as the incline. The incline system on this elliptical trainer allows you to manually adjust, and it is simple and easy.
You can elevate the ramp from 15 degrees to 20 degrees and to 25 degrees so that your workout can be interesting and challenging. These levels are suitable for everyone that wishes to burn fat, lose weight, and improve overall physical fitness.
Those recovering from an injury will find this elliptical trainer and its CrossRamp technology useful.
Resistance
The Precor EFX 222 Energy Series Elliptical Crosstrainer is equipped with a magnetic resistance system with 16 levels.
The resistance, when combined with the incline the machine initiates metabolism that raises the heart rate and burns fat faster for tone muscles and a healthier body.
The resistance ranges from 10 watts at the lowest level to 550 inches at the highest level.
The adjustment is done via the console.
Console
The console on the Precor EFX 222 Energy Series Elliptical Crosstrainer is not very large and it has fewer and most important features.
It features a highly readable 5 inches LCD monitor that displays about 12 workout metrics and 4 workout summaries that include time elapsed, total calories, total distance, average strides/min.
The console also has 2 user IDs for two users, an option key, unit selection, workout button that allows you to select out of the 10 preset programs designed to help you exercise productively, heart rate monitoring that keeps you informed about your pulse rate during a workout when using the touch sensor or wireless HR device, SmartRate Target Heart Zone helps you stay in your fat burn, cardio or peak target zone for more efficient cardio, and weight loss workout, and much more.
The machine requires a plug-in/power source of 120V, 50/60 Hz in order for the console to power on.
Accessory
There is a built-in tablet holder that can accommodate any size of a tablet device securely. It is also well positioned so that the display screen is not blocked when a tablet device is placed on it.
There is also a combined water bottle and remote control holders.
You can conveniently utilize a tablet device for entertainment while you work out and also be able to stay hydrated at all times.
Pros/Features Overview
Durable and stable
Supports 275 pounds/124.7 kg maximum user weight capacity
Provides result without so much stress
Operation is smooth and quiet
The CrossRamp technology provides a perfect fit for your feet
Resistance is suitable for everyone at any fitness level
The console has features that provide an orientation toward achieving fitness goals
The screen display has good readability
Pedals are bidirectional, can perform reverse motion
The machine provides low impact full-body workouts
Tablet, water bottle, and remote controller holders included
Android/iPod/iPhone compatible for volume control
Requires little maintenance
Great warranty
Assembly not difficult
Cons
Bulky and not foldable; requires a bit of space
The incline is manually done
Warranty
Lifetime on Frame
5 Years on Parts and Wear Items
3 Years on Console
1 Year on Labor
Product Dimensions and Specifications
Length 75''
Width 29''
Height 65''
Weight; 193 pounds/87.5 kg
Supports 275 pounds/124.7 kg maximum user weight capacity
Power: Plugin, 120V, 50/60 Hz
Heart rate monitoring: Touch and telemetry (works with any Polar compatible 5 KHz chest strap, but not included in the package)
Resistance: Magnetic, 16 levels
Preset Programs: 10 (1-1 interval, 1-2 interval, weight loss, basic HRC, aerobic, hill climb, cross country, gluteal, cross trainer, and manual)
User ID: 2
Handlebars: Mobile and fixed
Incline: Manual, 3 levels (15, 20, 25)
Shipping, Assembly, and Maintenance
Shipping
The Precor EFX 222 Energy Series Elliptical Crosstrainer is delivered in two different boxes; one contains the console, while the other contains the rest of the machine
The shipping cost depends on the vendor that you are purchasing from. Nevertheless, Amazon provides free shipping and delivers within days of order.
Assembly
The assembling of the unit is straightforward and not difficult but you must be patient by following the instruction manual assembly procedure.
You are going to need assistance in assembling it and in moving the bulky part to where it is going to be assembled.
The tools required are included in the package.
Maintenance
As aforementioned, no serious maintenance is needed, however, a periodic adjustment of the belt tension might be necessary.
The unit's maintenance detail is included in the owner's manual.
Conclusion
The Precor EFX 222 Energy Series Elliptical Crosstrainer is capable of getting you on the path of achieving greater physical fitness.
It is durable, stable, and has features that could really make your workout to be fun-filled and productive.
Precor EFX 222 Energy Series Elliptical Crosstrainer Review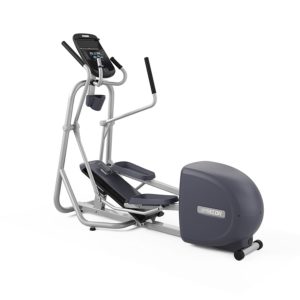 The Precor EFX 222's biomechanics provide low impact full-body workouts that engage and target the arms, back, core, quadriceps, hamstrings, and calves,
Product Brand: Precor
Product In-Stock: InStock