The Body Rider BR1830 Dual Action Fan Elliptical Trainer is an affordable low-impact full-body cardio workout machine. It is very similar to the Body Riders BRF700 and BRD2000. The major difference is that it does not have a seat as those.
It is a cheap piece of equipment that is capable of providing the same workout effect, to a certain degree, as some of the expensive ones could. Therefore, those on a budget have an opportunity to acquire one for home use.
Its compact design makes it inconspicuous; meaning, it doesn't take up too much space, and it's easy to put away.
Moreover, a workout video is included in the package for orientation on how to get the best out of it.
Click right here to have a peek at the price and of of the Body Rider BR1830 Dual Action Fan Elliptical Trainer on Amazon.
The Frame and Construction
The Body Rider BR1830 Dual Action Fan Elliptical Trainer's frame is made of durable steel that is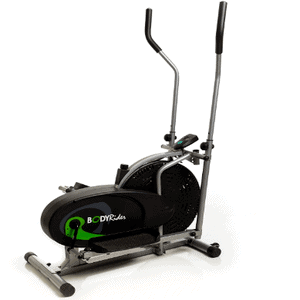 anti-corrosive, while other parts such as the drive, fan, and console covers are made of ABS material.
As a result, it has an appealing outlook and supports a maximum user weight capacity of 250 lbs./113 kg.
The base framework that features steel stabilizers with rubber end-caps ensures that users can workout without experiencing instability. Although, the use of a protective rubber mat might increase its stability and also prevent sweat from spilling on the floor.
However, if you experience wobbling, ensure that the surface it's being used on is even.
Transporting the unit is pretty easy because there are transport wheels at the front base and it only weighs 55.95 lbs./25.3 kg.
The assembled dimensions are 36" long by 20" wide by 58" high. So, a workout area with perimeters of 3′ length by 1'7" width, and an average ceiling height of 8′ should be conducive for workouts.
Nevertheless, additional clearance of 2′ around the elliptical machine is of utmost importance for safety and easy access.
The Handlebars of the Body Rider BR1830 Dual Action Fan Elliptical Trainer
There is a set of dual-action handlebars present on this machine. Their cushioned anti-slip handles provide firm and comfortable grips that last through a prolonged workout.
However, they do not have HR sensors integrated, thus, no heart rate monitoring function. The only way to keep an eye on your heart rate is to use an external HR monitoring device.
The handlebars are attached to the mainframe's horizontal steel that is right beneath the console and then connected to the pedals. As a result, they move when the pedals move and vice versa.
In other words, they don't operate independently of the pedals.
Finally, the handlebars can be adjusted vertically for better grips.
The Pedals
The Body Rider BR1830 Dual Action Fan Elliptical Trainer has a pair of large, and textured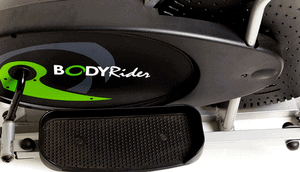 nonadjustable pedals with protective borders at the heel and toes.
So, they can accommodate different foot sizes comfortably and secure them from slipping even though your feet are positioned forward (downhill position) as you workout.
They are engineered to provide a mechanical motion that simulates natural walking.
The stride length is 12"; but if you wish it were longer then you might want to look up other elliptical trainers that would cost a little bit more such as the ProForm Endurance 520 E. 
Lastly, you can pedal in reverse to diversify and tone more muscle groups.
The Drive
This is a front chain-driven elliptical machine that comprises a 1/4" x 204 link chain, a durable crankset, chain toothed wheels/sprockets, crank-arms, and the fan flywheel.
The chain drive system could last longer without requiring any part to be replaced, and it offers smooth operation as well. Its noise level is minimal and environmentally friendly. You can exercise with the machine at any time of the day without invading other people's privacy.
For proper function, do lubricate the chain periodically, at least once in a year
Resistance system
The Body Rider BR1830 Dual Action Fan Elliptical Trainer features a belt friction resistance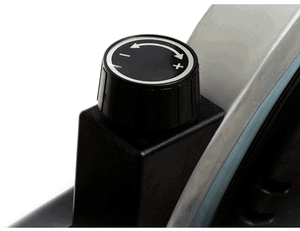 system. Although, some people think that the fan generates resistance, but it has little or nothing to do with that.
This explains why the resistance is not dynamic, and some users have complained it doesn't offer enough intensity.
If you feel the resistance is not challenging enough you can re-loop, or re-strap, and tighten the belt around the fan flywheel to improve it; and how to do this is explained in the owner's manual under assembly.
The resistance can be increased or decreased when the tension knob is turned clockwise or counterclockwise, respectively.
The Console
The console on this machine features a basic nonbacklit monitor that tracks workout progress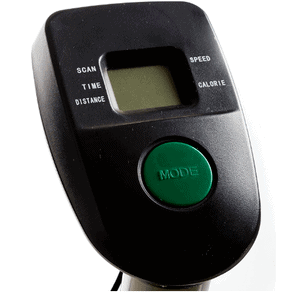 such as Time, Distance, Speed, and Calories Burned.
These are displayed rotationally one at a time after every few seconds by the SCAN function. But you can override it to set a preferred workout value to display constantly instead.
It is easy to read as long as the room you exercise in is well-lit, otherwise, its readability will be diminished because it's not backlit.
The monitor is powered by 2 AA batteries which are included in the package. It is designed to automatically turn off when the speed sensor doesn't receive an activity signal after 4 minutes and it equally turns on automatically when there is a signal.
The monitor can also be turned on/off manually through the button on the console.
Accessory
There is no accessory on this unit. Not even a tablet holder or a water bottle holder. You will have to improvise to keep water handy for proper hydration during a workout session.
Storage
The Body Rider BR1830 Dual Action Fan Elliptical Trainer is compact and doesn't take up much storage space.
It is also lightweight and portable, very easy to move around. A storage area with perimeters of 3′ length by 1'7" width will suffice.
Features/Pro Overview
Affordable and decently built
Easy to handle, and doesn't take too much space
It provides a full-body and low-impact cardio workouts
The oversized and anti-skid foot-pedals with protective borders, secure and accommodate different foot sizes
Cushioned and adjustable handlebars provide arm movements for upper-body workouts
LCD monitor tracks Time, Distance, Speed, and Calories
Friction resistance system with adjustable levels for challenging workouts
Durable chain drive system provides smooth operation
The pedals' mechanical motion mimics natural walking
A workout video is included for guidance on how to properly workout with the machine
Assembly process is easy
Maintenance is minimal
Cons
No water bottle holder,
No tablet holder
The pedals might be too steep for comfort
Due to its compact and lightweight design, it may wobble when engaged in a vigorous workout, especially if it's not well balanced on the floor
Warranty
1 Year for the Frame
90 days for the parts
Product Dimensions and Specifications
Length 36"
Width 20"
Height 58"
Shipping dimensions: 25" L x 9" W x 36" H
Net weight: 55.95 lbs./25.3 kg
Gross weight: 58 lbs./26.3 kg
Maximum user weight capacity: 250 lbs./113 kg
Drive: Chain
Resistance: Fan friction
Frame: Steel
Handlebar: Dual-action
Pedals: Large, textured
Stride length: 12"
Monitor: Non-backlit digital LCD
Incline: No
Water bottle holder: No
Tablet holder: No
Shipping
The Body Rider BR1830 Dual Action Fan Elliptical Trainer is shipped in a box that weighs 58 lbs./26.3 kg with dimensions of 25" L x 9" W x 36" H.
No shipping fee is charged if purchased from Amazon, and it will be delivered in a couple of days.
Assembly
The assembly process of this elliptical trainer is straightforward, and it should not take more than an hour to complete. Keeping in mind that the unit is lightweight, it could be done unassisted by a single person.
Technically, you are to attach the base stabilizers, the handlebars, and their extensions, the pedals, and the console to the core unit.
An instruction manual and the tools required for a successful assembly are included in the package.
Maintenance
The machine needs to be kept clean always and inspect it before use to ensure every part is good.
If the moving joints become squeaky, use WD40 or vaseline to lubricate the area. The chain might also need to be lubricated every 6 months or in a year. In this case, try to use a chain lube oil instead.
Conclusion
The Body Rider BR1830 Dual Action Fan Elliptical Trainer is a budget-friendly machine that provides decent low-impact full-body cardio workouts for weight loss, and overall physical fitness improvement. It doesn't occupy too much space, and it is lightweight and transportable.
Body Rider BR1830 Dual Action Fan Elliptical Trainer-Review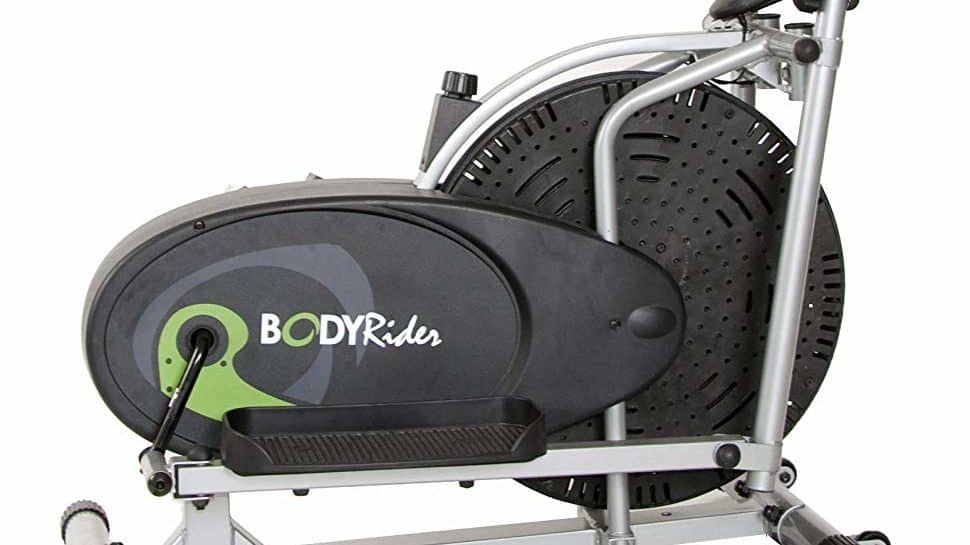 The Body Rider BR1830 Dual Action Fan Elliptical Trainer provides or presents an opportunity to those that wish to own an elliptical trainer but do not have
Product Brand: Body Rider
Product In-Stock: https://schema.org/InStock