The Bowflex Max Trainer M7 is one of the top models in the series, meaning it has additional or increased features than the Bowflex Max Trainer M3 and M5.
For example, it integrates more user profiles, resistance levels, workout programs, etc.
Interestingly, it has the ''All New Performance Targeted Programming'' feature that learns about new users' fitness levels and goals, and sets a new target to coach, and push users to the limit so that they can ultimately actualize their objectives.
Aside from being able to track workout progress via the dual-mode monitor, users can also do so and even stream workout videos that are put together by professional trainers via a smartphone/tablet by syncing to the free Max Trainer app; and there are other optional apps to connect to as well, such as the MyFitnessPal, Applehealthkit, or GoogleFit app.
Click right here to have a peek at the Bowflex Max Trainer M7 on Amazon.
The Frame and Construction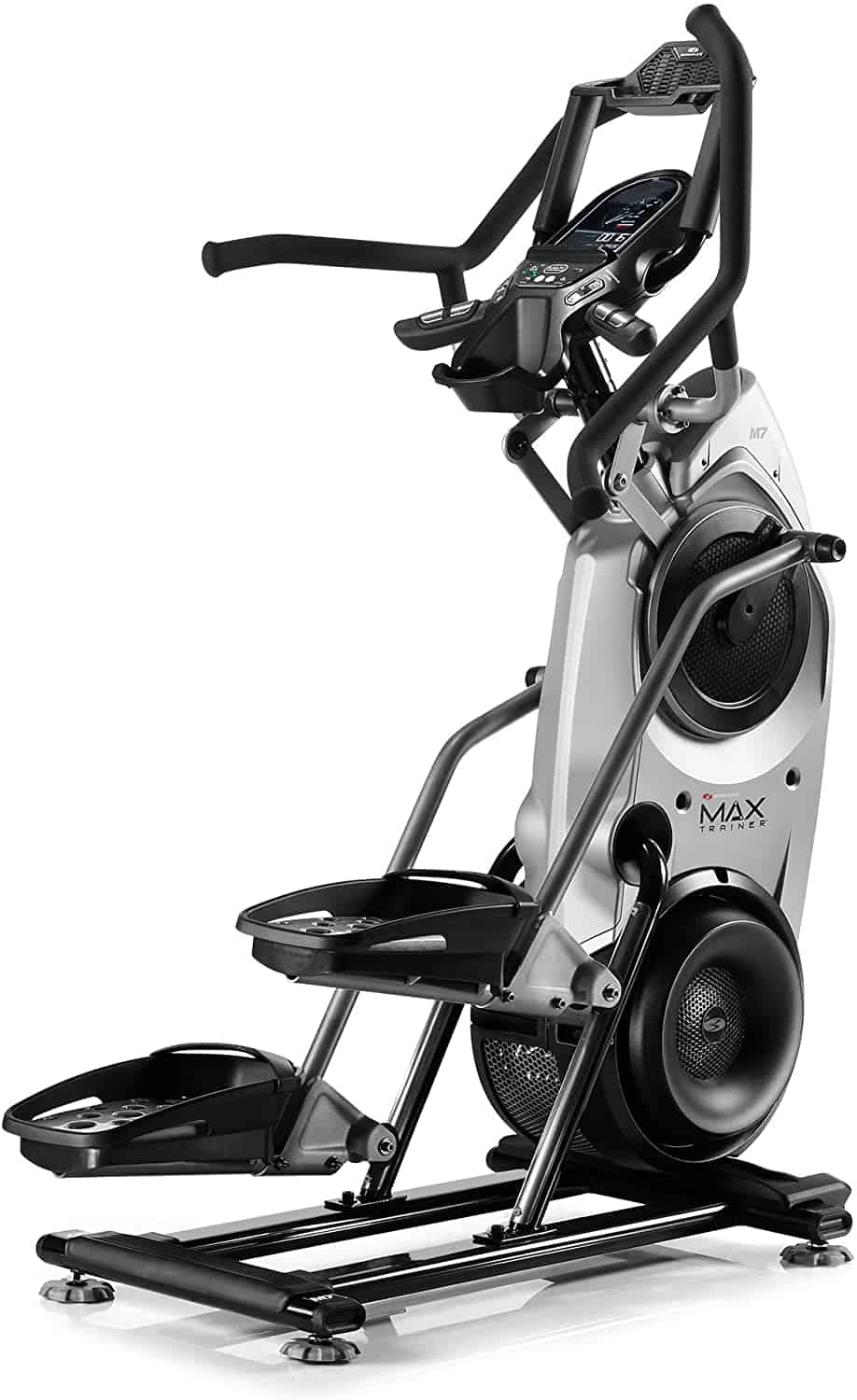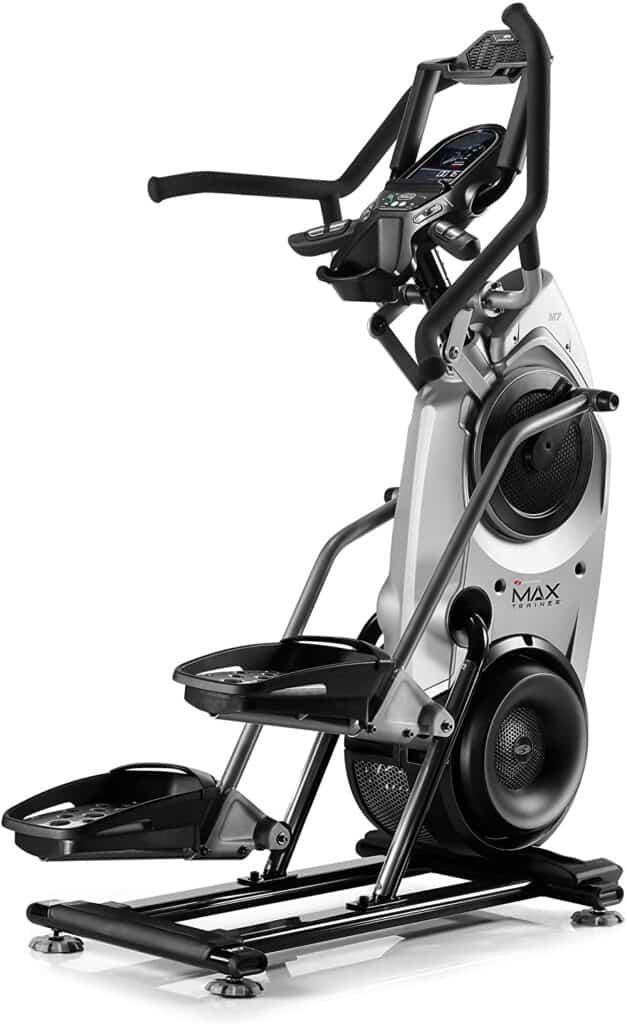 The Bowflex Max Trainer M7's structural design is not very much different from the other versions in the series. However, it has unique sports racing pedals, commercial-grade grips, and new aero bar hand positions.  
The frame is made of solid steel that is coated with anti-corrosive paint, and in most part, embodied in durable ABS material. Hence, it looks elegant and sturdy enough to support a maximum user weight capacity of 300 lbs./136 kg.
The machine's stability is well established even on a surface that is not entirely even. The reason is due to the base that has a rectangular and a robust steel framework with adjustable levelers.
Moreover, its assembled weight of 148 lbs./67 kg further enhances its overall stability.
When it comes to size, the unit is compact and portable. It has transport wheels at the front base that make the relocation process easy even though it weighs quite a bit, and the assembled dimensions are 49'' long by 30.5'' wide by 65.5'' high.
Thus, a workout area with perimeters of 4'1'' length by 2'5'' width and a ceiling height that is 15'' taller than the user's height will suffice. That said, a 2' extra clearance around the unit must be considered for a safe and comfortable workout experience.
This hybrid elliptical trainer provides users with the opportunity to improve their physical fitness as quickly as possible as it burns twice as many calories as the regular elliptical trainer.
The Handlebar of the Bowflex Max Trainer M7
As aforementioned, the handlebar of the Bowflex Max Trainer M7 is the new and improved version of the preceding models in the series.
There are 3 sets of handlebars that include dual-action grips, horizontal (aero bar), and vertical static handlebars.
The dual-action handlebar features multiple hand positions for different full-body workout styles, and the reason they are moveable is that they are connected to the pedals for simultaneous movement. In other words, as long as the dual-action handlebars or the pedals move, so does the other as well.
While on the other hand, the static handlebars (horizontal & aero bar) allow users to exercise without the upper body movement because they are fixed.
The static aero bar integrates heart rate sensors that are designed to read and transmit the user's pulse rate data to the monitor for observation during a workout.
The handlebars are strategically designated to provide suitability for users of different heights and sizes, and they are also well cushioned with soft rubber foam material for secure and comfortable grips. Therefore, users cannot only have the liberty of working out in different postures but can also exercise longer without experiencing slippage, or blisters in the palms.
The Pedals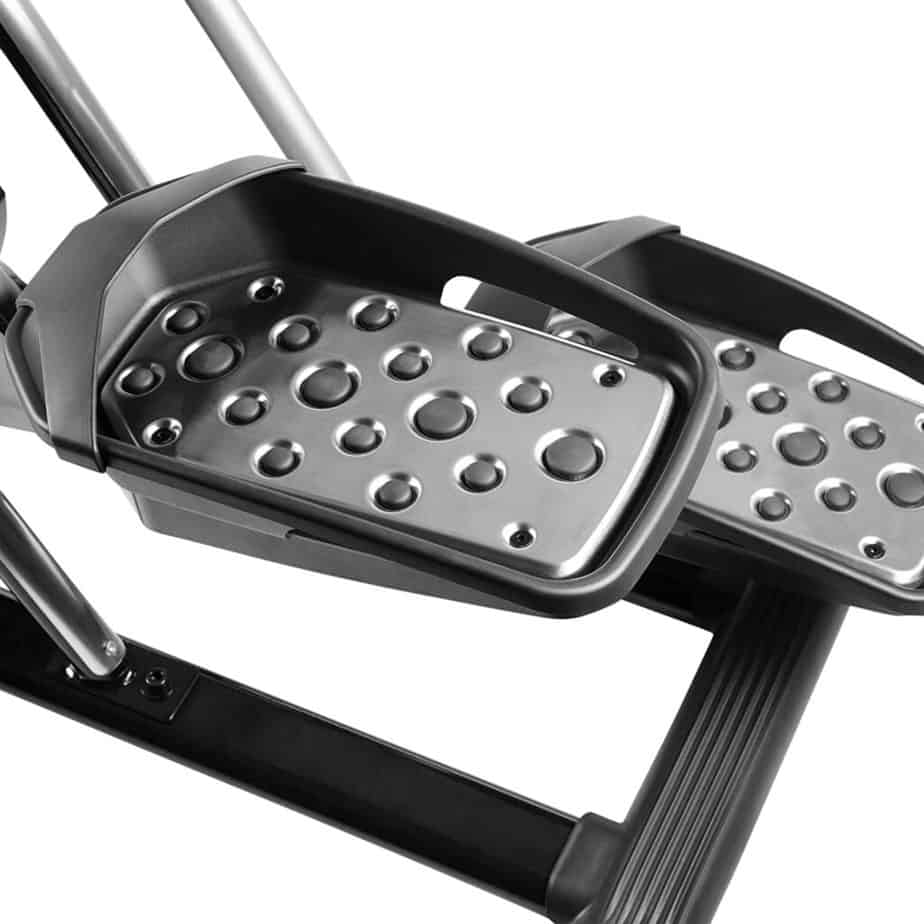 This machine is equipped with a pair of sports racing pedals that are super large, textured, and cushioned. They are made to safely accommodate all foot sizes comfortably.
The pedals have rubberized rollers that run on inclined steel rail bars that allow users to step smoothly and quietly during workouts.
The gap (Q-Factor) between the pedals is 1.5'', and their wideness is about 8.5''.
Overall, the pedals offer a combo of elliptical and stepper natural motion that is gentle on the joints.
Finally, the pedals are not adjustable, nevertheless, users between the heights of 5'-6'8'' tall should be able to work out comfortably.
The Drive
Just as the other models in the series, the Bowflex Max Trainer M7 has a belt drive system that mainly consists of elements such as 2 anti-stretch-resistant belts, 2 pulleys, and a solid crank.
This means its operation is smooth, and near-silent, even though the machine has an air/magnetic resistance system.
So, users can comfortably work out around people without becoming apprehensive that someone somewhere might be disturbed. They can also enjoy watching a TV show/movie or listening to music without any noise interference from the machine.
Having a belt drive system also means no maintenance is required… no post lubrication or adjustment is needed as opposed to a chain drive system.
Yes, it is possible to pedal in reverse, because the drive is bidirectional.
Resistance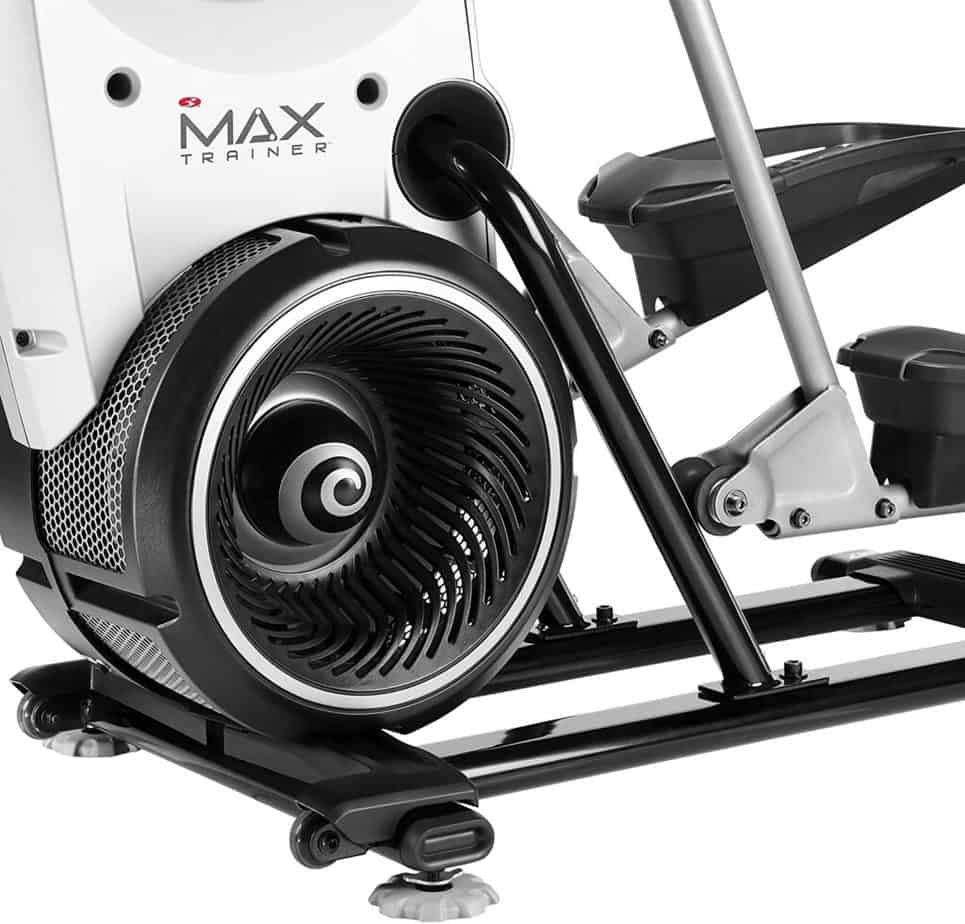 The Bowflex Max Trainer M7 has a resistance system that uses the forces of the air, and magnets to provide workout intensity. Differently put, it has an air and Eddy current magnetic brake resistance system.
The air resistance system's aircraft turbine-like fan flywheel provides what is regarded as dynamic resistance levels. This means, there are no resistance levels for this, and no way to adjust it.
Instead, resistance is generated based on the user's pedaling ability.
For instance, when a user pedals faster and creates more airflow, the resistance intensity becomes stronger, otherwise, it becomes weak.
While on other hand, the magnetic resistance aspect generates resistance when the included magnets are moved close to the metallic fan flywheel by the small servo motor, and emits magnetic fields.
In this case, it is adjustable and could be adjusted from 1-20 levels via the buttons on the console or those on the right side of the vertical static handlebar.
The combination of these two different resistance sources makes workout intensity formidable. Users of different fitness levels will be able to train within and beyond their physical fitness ability.
Lastly, for the eddy current magnetic brake resistance system and the console to function, the unit needs to be plugged into a power outlet, hence, an AC adapter is included in the package for this purpose.
The Console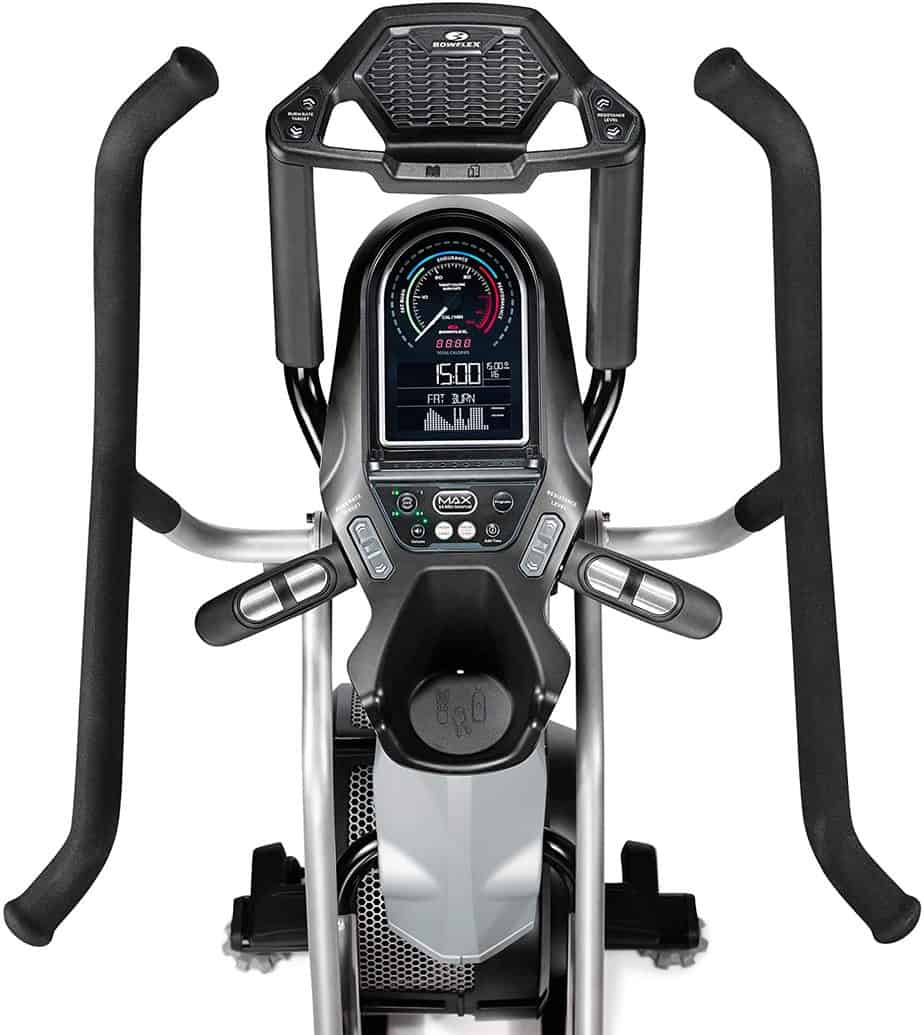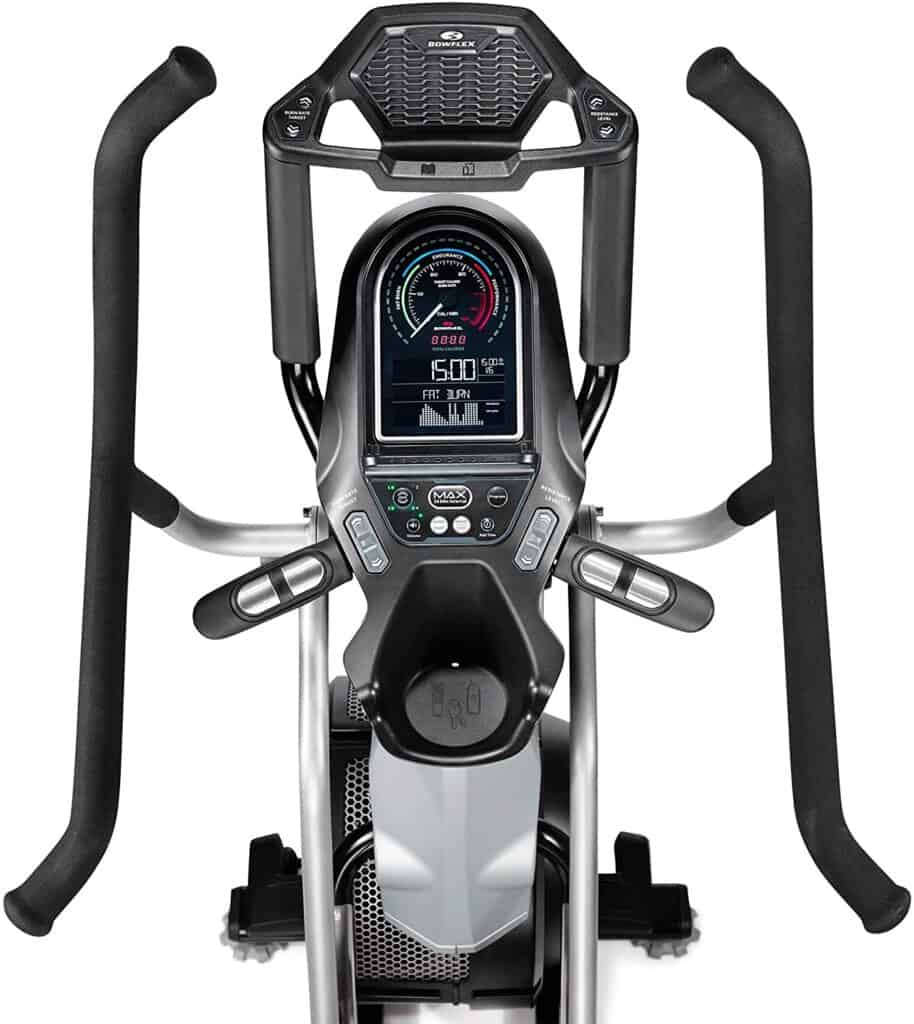 The console features an advanced large dual-mode LCD/LED monitor that is segmented into upper and lower screens.
The upper screen looks like a car tachometer, while the lower screen looks like a regular tracking monitor.
They track workout data such as Calorie Burn Rate, Target Burn Rate, Total Calories Burned, Time, RPM, Resistance Level, Program, Heart Rate, and many more with high readability.
The heart rate can be tracked when the EKG contact grips are grasped during a workout, or via the included wireless HR chest strap because the console is telemetric.
11 workout programs are available, and they are divided into 2 main categories that include Target Coaching Programs, and Benefit Mode Programs.
The Target Coaching Programs include the Max 7 Minute Interval, Max 14 Minute Interval, Max 21 Minute Interval, Calorie Goal, Power Interval, and Steady Pace; while the Benefit Mode Programs include Manual Workout, Fitness Test, Calorie Burn, Fat Burn, and Stairs.
Some of these workout programs automatically apply a certain resistance level when selected.
There are several navigation buttons present on the console, including one that extends your workout time when pressed.
There are 4 user profiles available for 4 different users to customize their workouts by entering their personal information such as age, gender, height, and weight for accurate data calculation and output.
The console is Bluetooth-enabled. This helps to sync the unit with the free Max Trainer app via a smartphone or tablet device. Once connected, users should be able to set, monitor, and track workout goals through a device. Also, they can stream workout videos put together by professional trainers for instruction and motivational purposes.
One can as well connect to other apps such as MyFitnessPal, AppleHealthkit, or GoogleFit.
These apps are compatible with Apple and Android devices.
That said, the console is missing some features one would expect to be present. These include a sound system and a cooling fan.
Accessory
The Bowflex Max Trainer M7 has an accessory holder for a water bottle, keys, or remote control. This is primarily great for maintaining proper hydration.
There is also a tablet holder that is well-positioned for a better view when a device is placed on it, and the monitor screen won't be blocked either. Users can have their smartphone handy for taking calls, listening to music, watching a movie, or tracking workouts while working out on the machine.
Storage
Since the M7 is a compact and portable machine, it is easy to store away, regardless of its weight and the fact that it doesn't fold up.
A storage area with perimeters of 4'1'' length by 2'6'' width should be accommodative, and the integrated transport wheels facilitate the relocation process.
It could be stored in the corner of a room, in the garage, or better still have it permanently stored on a safe and dedicated workout area.
Approval Rating
The Bowflex Max Trainer M7 like the rest of the series has good approval rating on Amazon and other several independent review sites.
Pros/Features Overview
Sleek and durable;
It is compact & portable; hence, takes small space and easy to move
It is stable during workouts
Supports 300 lbs./136 kg maximum user weight capacity
It pedaling motion is natural and gentle on the joints
It is a full-body cardiovascular fitness machine
This helps users to burn twice as many calories than a regular elliptical trainer
11 workout programs (Max 7 Minute Interval, Max 14 Minute Interval, Max 21 Minute Interval, Calorie Goal, Power Interval, Steady Pace, Manual Workout, Fitness Test, Calorie Burn, Fat Burn, and Stairs) available
Contact grips & wireless heart rate monitoring system (HR chest strap device included)
3 sets of adequately cushioned handlebars for different workout postures
The oversized pedals are large, cushioned, and textured so that different foot sizes can securely and comfortably be accommodated
Operation is smooth, and not very loud
4 user profiles included
Bluetooth for connecting with a free Max Trainer app and other online apps such as MyFitnessPal, GoogleFit, for setting, motoring, and tracking of workout goals, and streaming instructive, and motivational workout videos via a smartphone (Apple or Android is compatible)
The large dual LCD/LED monitor screens track Calorie Burn Rate, Target Burn Rate, Total Calories Burned, Time, RPM, Resistance Level, Program, Heart Rate, and many more
Air & eddy current magnetic brake resistance system with 20 adjustable levels provides a range of workout intensities for every user
Maintenance is minimal
Assembly is not complicated
Tablet holder included for entertainment purposes
A water bottle holder included for hydration purposes
Cons
No built-in speakers, USB
No cooling-fan
Warranty
3 Years for the Frame
3 Years for the Parts
3 Years for Electronics
90 Days for Labor
Product DImensions & Specifications
Length: 49''
Width: 30.5''
Height: 65.5''
Shipping dimensions box 1: 47'' L x 17'' W x 23'' H
Shipping dimensions box 2: 42'' L x 27'' W x 12'' H
Net weight: 148 lbs./67 kg
Gross weight box 1: 85 lbs./38.5 kg
Gross weight box 2: 96 lbs./43.5 kg
Maximum user weight capacity: 300 lbs./136 kg
Material: Steel & ABS
Drive: Belt
Resistance: Air/eddy current magnetic brake with 20 resistance levels
Handlebars: 3 sets (dual-action & fixed)
Pedals: Large, cushioned, and textured
Heart rate monitoring system: Contact grips & wireless HR (HR chest strap included)
Console: Dual mode LCD/LED monitor
Programs: 11
4 user profiles
120V, 60Hz input, 9V DC, 1500mA output power adapter included
Tablet and water bottle holders included
Transport wheels included
Shipping
The Bowflex Max Trainer M7 ships out in 2 different boxes that weigh 85 lbs./38.5 kg, and 96 lbs./43.5 kg, with dimensions of 1: 47'' L x 17'' W x 23'' H, and 42'' L x 27'' W x 12'' H.
Amazon offers free shipping and gets it delivered in a couple of days.
Assembly
Moving and assembling this unit will require 2 persons, and the complicated parts of it have been preassembled, and the rest of the parts that need to be attached are clearly stated in the instruction manual on how to go about them.
It takes anywhere from one and a half to two hours to completely assemble.
The tools needed for the job are included in the package.
Maintenance
The joints need to be lubricated if they start making a squeaky sound. Keep the unit clean at all times and do not expose the console to liquid, moisture, or direct sunlight.
Moreover, do inspect it before use to make sure that all the parts are tightly secured, and in good condition.
Conclusion
The Bowflex Max Trainer M7 is one of the low-impact and full-body cardio machines that could help all users of different fitness levels to fulfill their fitness goals.