The UREVO Belt Drive Indoor Cycling Bike is an entry-level spin bike designed to be used at home for cardiovascular exercises.
It doesn't have bells and whistles but possesses the same old features that enable users to train and improve overall physical fitness in the comfort of the home or office.
Hence, you don't have to break your bank account to acquire one because it is sold at an affordable price on Amazon.
At the time of this review, it overwhelmingly has a favorable view by real users, making it one of the indoor cycling bikes that might be considered by prospects.
Click right here to have a peek at the UREVO Indoor Belt Drive Cycling Bike on Amazon.
The Frame and Construction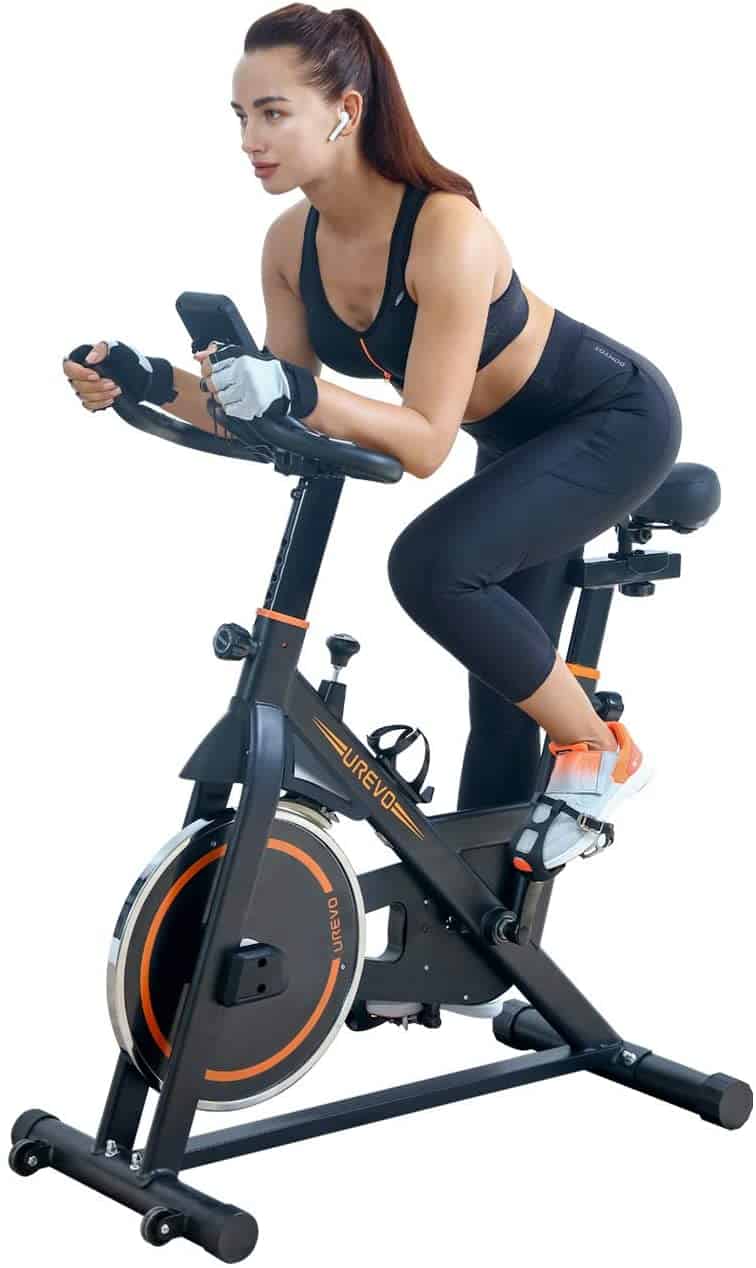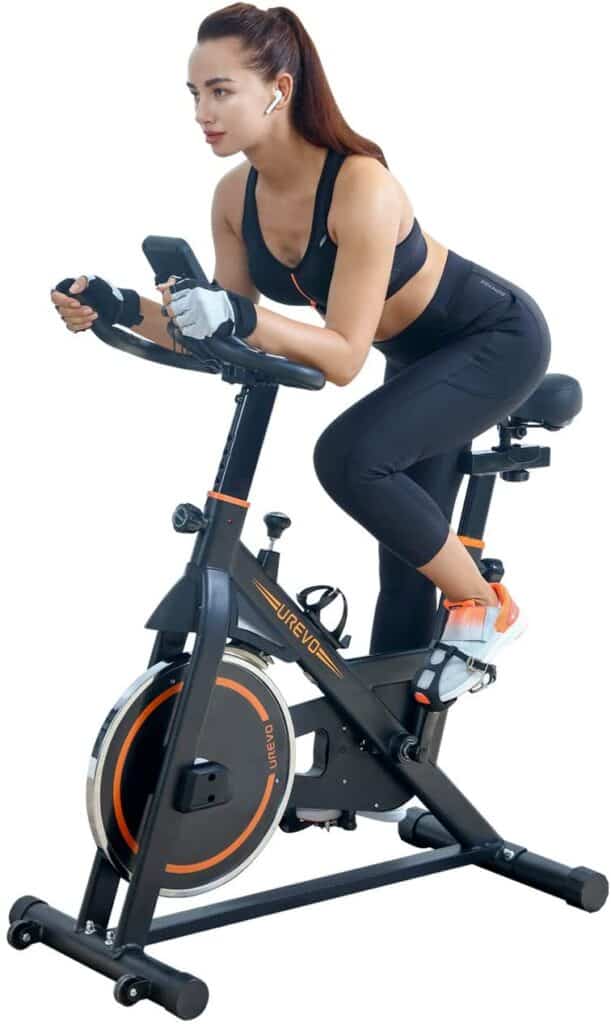 The UREVO Belt Drive Indoor Cycling Bike has a steel frame that is predominantly coated with anti-corrosive black paint; although, it is also available in white color.
The belt and the flywheel guards are plastic made for safety and cosmetic purposes.
Hence, it is durable and sturdy enough to support 330 lbs./150 kg maximum user weight capacity. 
When it comes to size, the unit is the definition of compact because it is not large. As a result, it won't overwhelm your space even though is it's not foldable. Its overall assembled dimensions are 39.4'' long by 19.7'' wide by 47.2'' high.
Simply put, the bike needs a workout/storage area with perimeters of 3'3'' length by 1'7'' width and a ceiling height that is at least 15'' higher than your height, especially if you wish to pedal while standing.
However, extra clearance of 2' should be applied around the bike during workouts to promote safety and easy access.
The bike's base features front and rear steel stabilizers with rubber cap adjustable levelers for maximum stability, and its assembled weight of about 60 lbs./27 kg further improves it as well.
That said, to experience an uninterrupted stable workout, make sure that the surface on which the bike is going to be used is firm, and even. Also, the use of a protective rubber mat might be a good idea.
Finally, the front-mounted transport wheels enable users to easily move it around the room.
The Seat of the UREVO Belt Drive Indoor Cycling Bike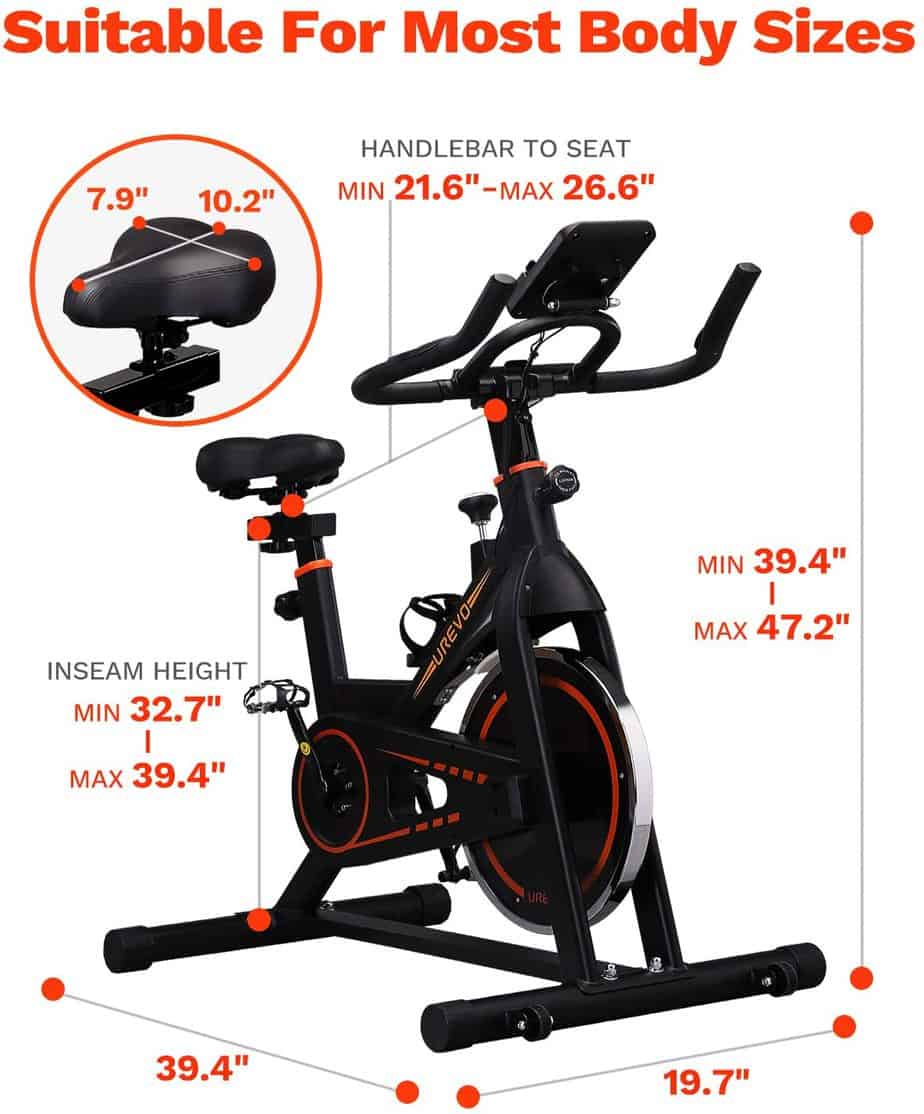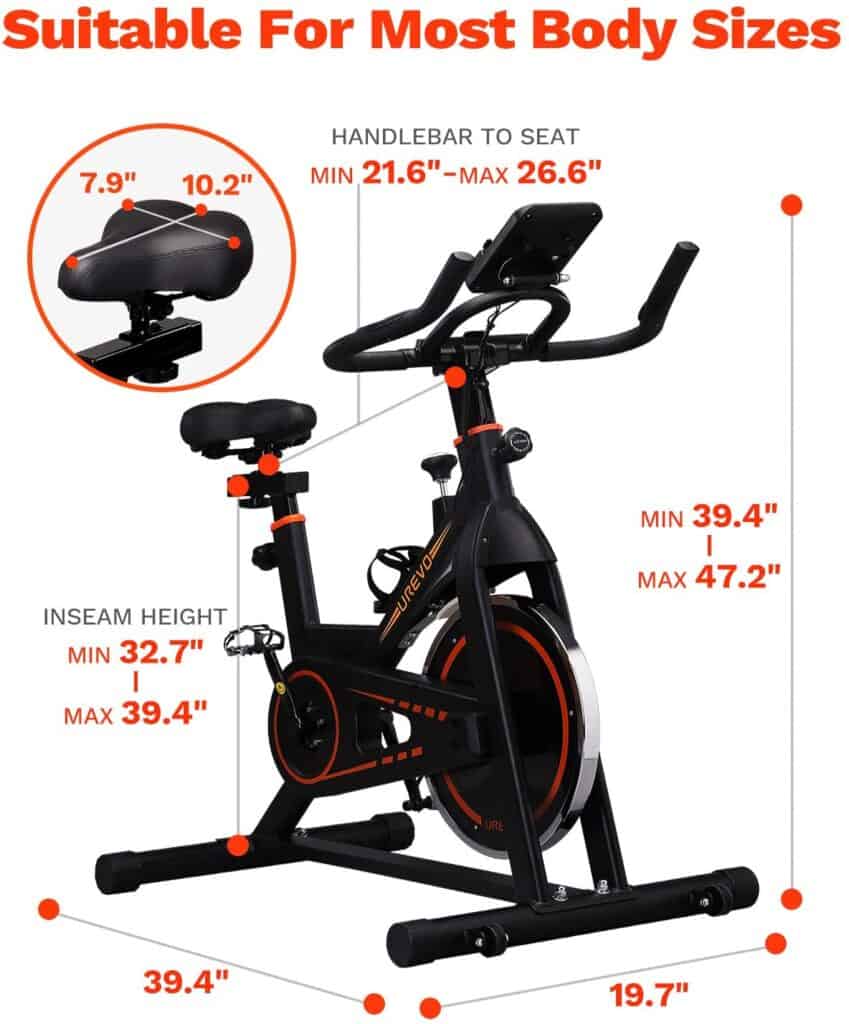 The seat's dimensions are 10.43'' long by 8'' wide by 2'' thick.
It has a groove in the middle of it for air permeability and it is adequately cushioned with a vinyl covering. There are springs integrated to add an extra buffer for comfort.
Consequently, users can safely, and comfortably exercise longer without feeling sore.
If for whatever reason you wish to improve the seat, you may use a gel seat cover or have it replaced completely with another saddle of your choice because the connection mechanism is standard.  
Since it's possible to adjust the seat vertically (up/down) and horizontally (fore/aft), users between 5'-6'3'' tall can be accommodated.
The Handlebar
The handlebar is 2-way adjustable, meaning it can be adjusted vertically (up/down) only. However, it complements the seat's adjustability so that users of different heights and sizes can customize the bike for a perfect fit.  
The multi-grip handlebar is coated with a soft rubber foam material for secure and comfortable grips that prevent slippage and blisters in the palms. They will also be able to work out in different postures due to the multiple grips.
There are heart rate sensors on the handlebar for reading and transmitting the heart rate data to the monitor when grasped during a workout.
The Pedals
The UREVO Belt Drive Indoor Cycling Bike is equipped with professional-grade toe-caged pedals with adjustable safety straps. So, not only do they accommodate different foot sizes, but they also provide secure footing stability regardless of how the user vigorously works out.  
The pedals and the cranks are solid enough to support an individual who is within the stipulated maximum user weight capacity of 260 lbs./118 kg.  
Nevertheless, they can only accommodate standard gym shoes, and we are not entirely sure if they can be swapped for clip-in SPD pedals.
The Drive
This bike has a belt drive system that comprises a super durable belt, pulleys, a 22 lbs./10 kg perimeter weighted flywheel, a solid crankset, and crank arms. This is a popular drive that is known for its smooth and quiet operation, and it is also maintenance-free.  
Therefore, users can freely work out to focus on achieving their fitness goals without being distracted by any noise from the bike, and neither are they going to worry that their family or neighbors might be disturbed by their activities.  
Simply put, you can work out at any time of the day since the noise generated by the bike is less than 45 dB.
If you wish to pedal in reverse to diversify and tone more muscle groups, you can because the drive is bidirectional. However, this also means that you cannot coast on the bike even if you want to since the pedals and the flywheel are fixed to spin simultaneously. 
For this reason, it is imperative to apply the emergency brake by pushing the tension knob down whenever you wish to abruptly stop pedaling for a quick exit.
The Resistance
The UREVO Belt Drive Indoor Cycling Bike has a friction resistance system with infinite/unlimited adjustable levels. It consists of a wool brake pad, a flywheel, and a tension control knob situated on the mainframe tubing.
Resistance is generated when the wool brake pad comes in direct contact with the top surface of the chromed flywheel, and the intensity increases or decreases when the tension knob is turned clockwise or counterclockwise respectively.
This type of resistance system simply provides countless resistance levels that are suitable for beginners, intermediaries, and even advanced athletes.
That said, because of the friction, a squealing sound may occur when the resistance is engaged, but the application of silicon oil on the wool brake pad could solve the problem and may even protect it from wearing out rapidly.
The Console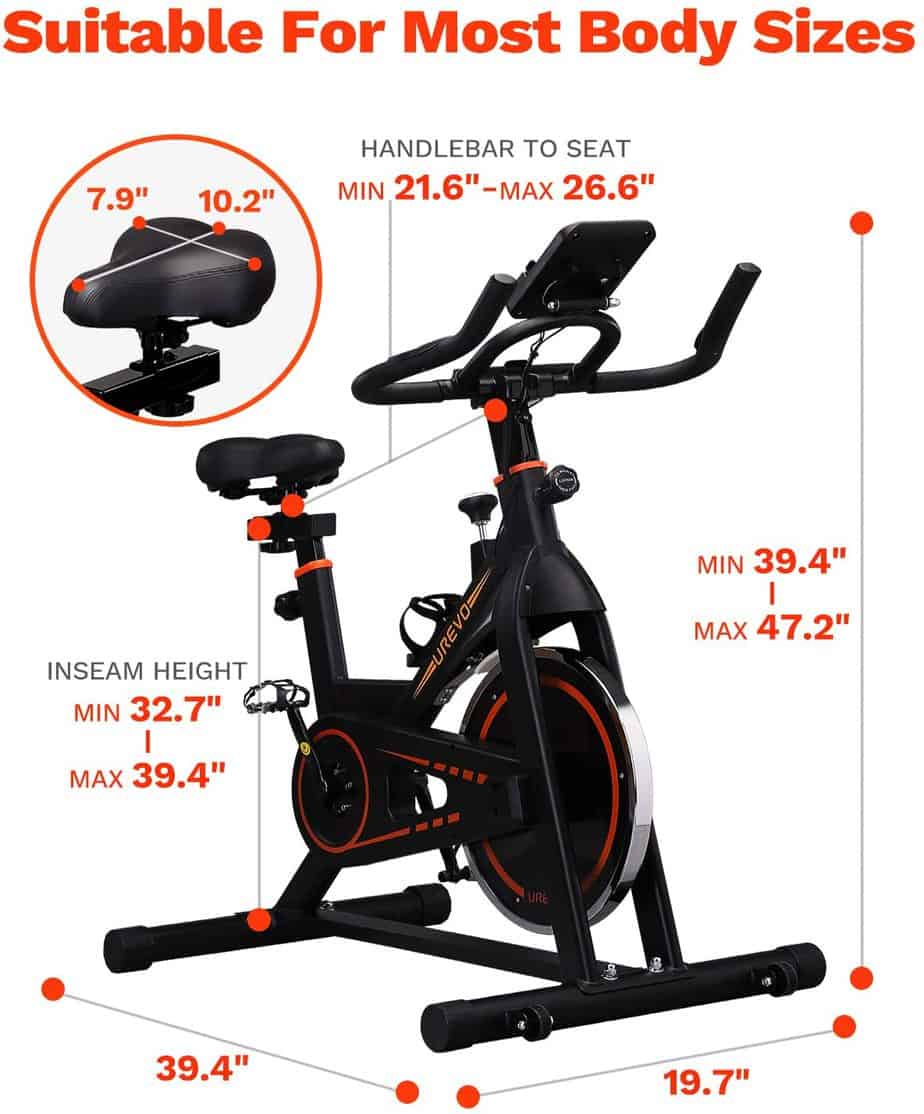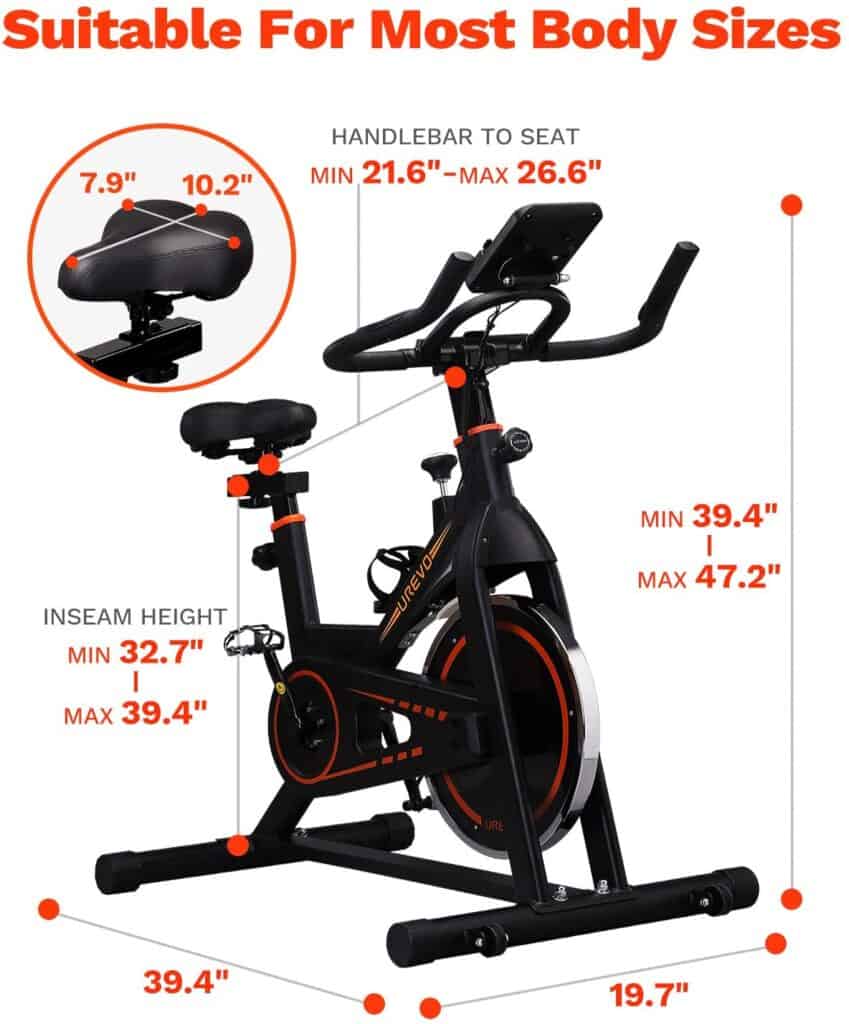 The UREVO Belt Drive Indoor Cycling Bike has a very basic console that features an LCD motor that tracks Time, Distance, Speed, Calories Burned, and Heart Rate.
The Speed and the Distance are measured in mph, and miles respectively.
The metrics are displayed one at a time every few seconds by the SCAN function and can be overridden to set a certain workout value of choice to display constantly instead.  
As long as the workout values are viewed in a well-lit room, there will be no clarity issue, otherwise, it will be difficult to view because the monitor is not backlit.
As aforementioned, the heart rate can only be displayed when the contact grips are held during workouts.
The monitor is battery-powered; hence, the bike doesn't need to be plugged into a power source for it to be functional.
Accessory
The bike has two important extras, and these include a tablet holder and a water bottle holder.
The tablet holder is designated in a position that doesn't block the view of the monitor when a device is placed on it. So, users can enjoy watching a movie or music through their smartphone during a workout without compromising their ability to monitor their workout progress.
While the water bottle holder is within arm's reach for proper hydration purposes.
Storage
The UREVO Belt Drive Indoor Cycling Bike is compact and portable. It could easily be moved through the integrated transport wheels at the front base and could be stored in an area with perimeters of 3'3'' length by 1'7'' width.
So, it is possible to store it in a standard closet, the corner of the room, or the garage. Better still, if you can afford it, leave it permanently in a dedicated workout area.
Pros/Features Overview
It is affordable
Sturdily built to support a maximum user weight capacity of 330 lbs./150 kg 
It is compact and portable; easy to move around and doesn't take up too much space 
Its operation is smooth and quiet; hence, users can freely workout at any time of the day
It offers cardiovascular exercises for weight loss and muscle toning that includes the core
The integrated toe caged pedals with adjustable safety straps provide maximum footing stability
The drive is bidirectional; therefore, you can pedal in reverse to diversify and tone more muscle groups
The large and cushioned seat is comfortable 
Users between the heights of 5'-6'3'' tall can utilize the bike
The cushioned multi-grip handlebar offers an opportunity for users to workout comfortably and safely in different postures
The bike has a robust base with adjustable levelers for maximum stability
LCD monitor tracks workout stats such as Time, Distance, Speed, Odometer, Calories Burned, and Heart Rate
EKG contact grips for heart rate monitoring
The friction resistance system provides easy to extremely difficult workout intensities suitable for everyone
4 pcs of resistance bands included for upper body workouts
Easy to assemble
It requires minimal maintenance
Water bottle holder included for the maintenance of proper hydration
A table holder is integrated for keeping a smartphone handy for taking calls and entertainment purposes
Cons
The monitor is basic and non-backlit
Warranty
1 Year of free parts replacement
Product Dimensions & Specifications 
Length: 39.4''
Width: 19.7''
Height: 47.2''
Shipping Dimensions: 40.55'' L x 33.07'' W x 7.68'' H 
Net weight: <60 lbs./27 kg
Gross weight: 60 lbs./27 kg
Maximum user weight capacity: 330 lbs./150 kg 
Frame: Steel
Flywheel: 22 lbs./10 kg
Drive: Belt
Resistance: Friction
Monitor: Nonbacklit LCD 
Seat: 4-way adjustable
Handlebar: 2-way adjustable
Pedals: Toe cages with adjustable safety straps
Heart rate monitoring: Contact grips
Transport wheels: Yes
Water bottle holder: Yes
Tablet holder: Yes
4 pcs. Of resistance bands included
Shipping
The UREVO Belt Drive Indoor Cycling Bike is shipped out in a single well-packaged box that weighs 60 lbs./27 kg with dimensions of 40.55'' long by 33.07'' wide by 7.68'' high.  
Amazon offers free shipping and makes delivery in a few days.
Assembly
To assemble this spin bike only takes a few minutes because the complicated parts of it have already been taken care of.
Therefore, upon purchase and arrival, you are only required to attach a few simple parts such as the front and rear stabilizers, the seat and the handlebar, the pedals, and the console.
Maintenance
As stated above, the wool brake pad needs to be lubricated at all times for the smooth operation of the resistance system, and to prevent its early replacement.
Keep the bike clean after use, and protect the console from liquid, moisture, and direct sunlight.
Conclusion
The UREVO Belt Drive Indoor Cycling Bike is an affordable and entry-level unit that could get you to lose weight, tone muscle groups, improve strength, and endurance in the comfort of your home.