The Bowflex Max Trainer M3 is not the regular elliptical trainer but a hybrid that is also a stepper, and it is the most affordable in the Bowflex Max series.
Being a hybrid elliptical trainer also means it enables users to burn twice as many calories more than elliptical trainers, and it is suitable for everyone, especially seniors.
It provides low-impact aerobics and anaerobic exercises that are not hard on the knees, ankles, and lower back. Instead, it induces weight loss and improves cardiovascular health, and more.
Click right here to have a peek at the Bowflex Max Trainer M3.  
The Frame and Construction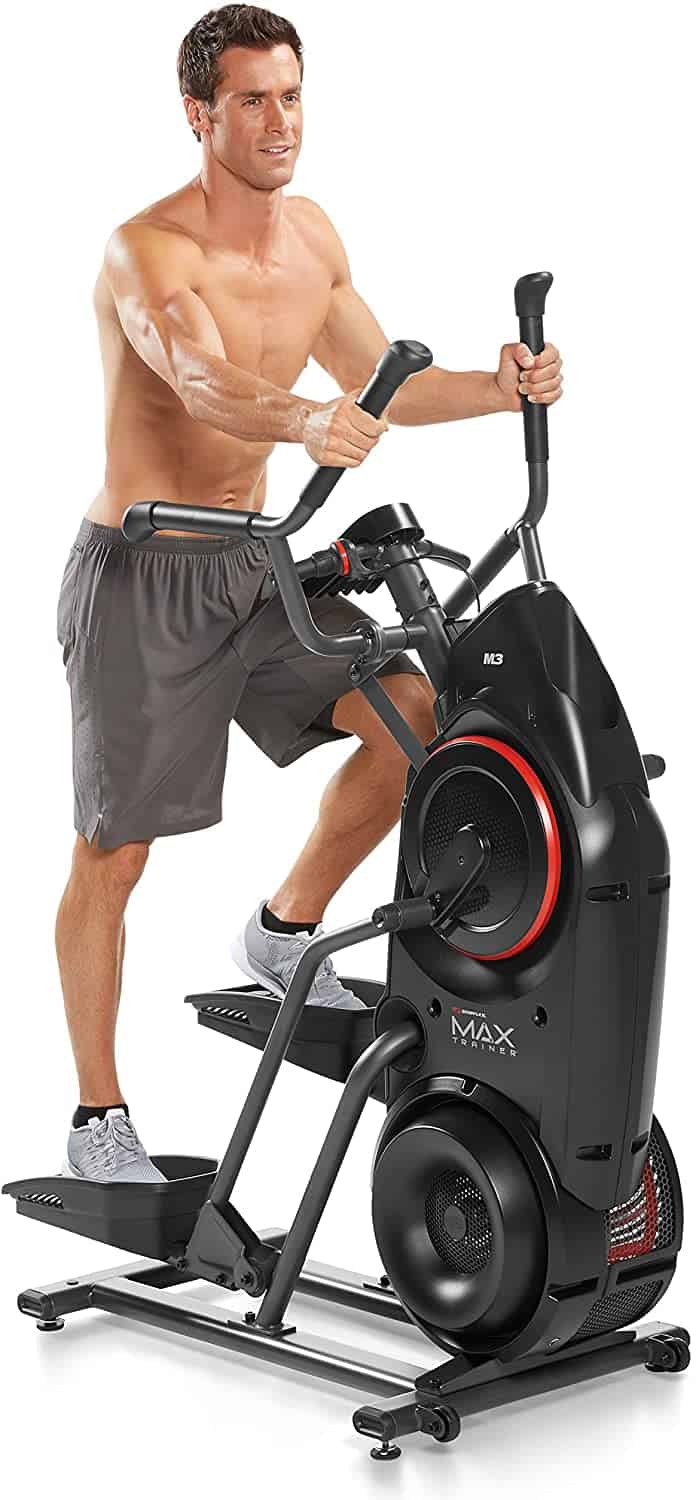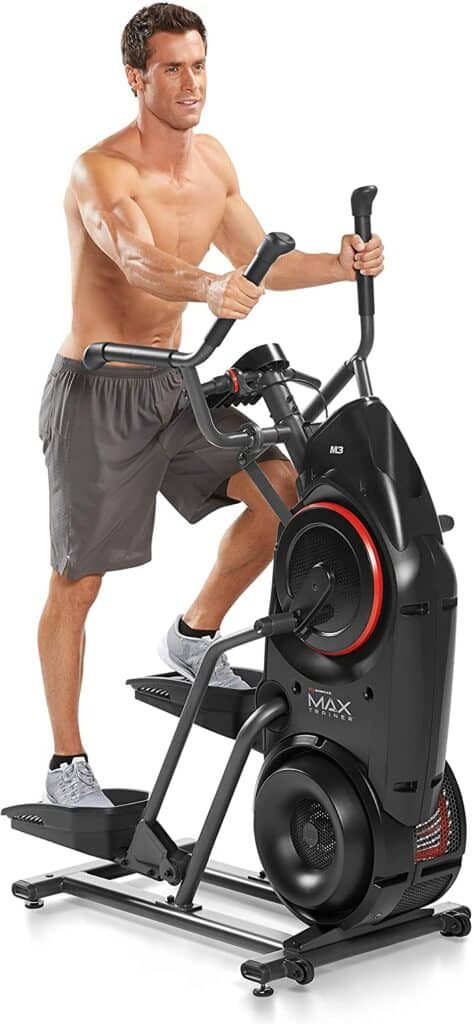 The Bowflex Max Trainer M3 features a durable anti-corrosion-coated steel frame. It also integrates protective and cosmetic coverings that are made of ABS material. Hence, it is sturdy enough to support a maximum user weight capacity of 300 lbs./136 kg and still exudes elegance.
Users can work out without experiencing wobbling movement due to the robust base framework that features steel stabilizers and adjustable levelers. It doesn't budge even on a floor that is not even because you can level it to adapt.
Moreover, its assembled weight of 143 lbs./64.8 kg further boosts its overall stability. 
However, the use of a rubber mat could enhance the unit's floor friendliness and protect the floor from being damaged.
The Bowflex Max Trainer M3 has a small footprint that endears it to those that do not have the luxury of extra space in their homes.
Its overall assembled dimensions are 49'' long by 26'' wide by 64.7'' high. In other words, the Max Trainer will require a workout area with perimeters of 4' length by 2'2'' width, and extra clearance of at least 2' around it for safety and convenience during workouts.
To determine the best ceiling height for you, add 15'' to your height. In other words, the ceiling height of the room where it is going to be used should be 15'' higher than your height.
This machine is built and designed to be used by beginners, intermediaries, advanced athletes, and the elderly for weight loss, improvement of strength, and endurance, and upper and lower muscle group toning.
Use it 3 to 4 times a week, 14 minutes per Max Interval workout x2 for best results.
The Handlebar of the Bowflex Max Trainer M3
The Bowflex Max Trainer M3 has a multi-grip and ergonomically designed handlebar that provides 3 different hand grips (2 of those are moveable and 1 is static).
Therefore, you can perform full or lower body workouts that engage and tone multiple muscle groups.
The handles are coated with soft rubber foam; hence, they provide firm, secure, and comfortable grips that outlast the duration of workout sessions. You won't experience blisters or slippage that could be caused by prolonged and frequent workouts.
The moveable handles are not independent of the pedals. This means, they are interconnected so that when they move the pedals do too, and vice versa.
None of the handgrips integrate the EKG heart rate sensors. But since the console is telemetric, you can always track and maintain your target rate zone.
The Pedals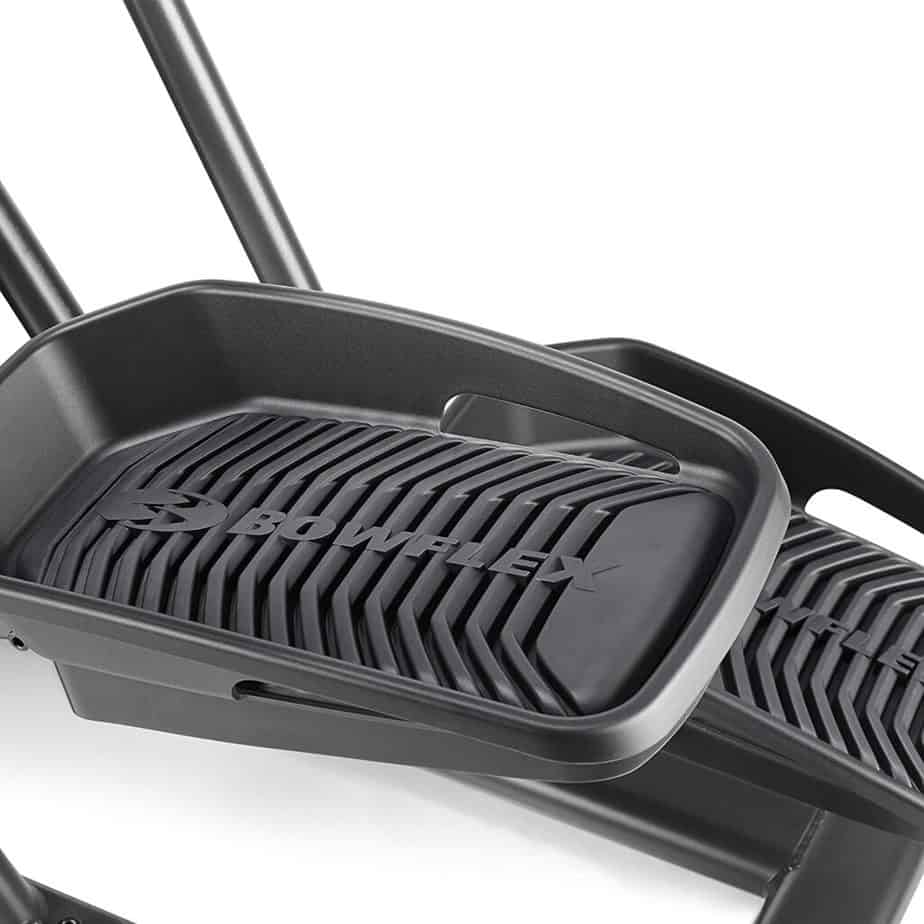 As aforementioned, the pedals and the dual-action handlebar are connected, and their movement is concurrent.
They (pedals) are large (8.5'' wide) and ribbed with a protective border for maximum footing stability, and users of different foot sizes can be accommodated.
The two pedals are not wide apart (the Q-Factor is 1.5''), meaning they are narrow for natural foot placement and a better pedaling experience.
Since the Bowflex Max Trainer M3 is a hybrid elliptical trainer and a stepper machine, the pedals' range motion is 10'' vertical and 4'' horizontal. Therefore, they provide a unique pedaling motion that engages the thighs and the glutes muscle groups.
Moreover, due to the pedals' vertical path, users that are up to 6'6'' tall and are within the stipulated weight capacity can utilize it comfortably.
Finally, the maximum pedal height is 19.1''.
The Drive
The Bowflex Max Trainer M3 features a belt drive system that comprises 2 anti-stretch belts and 2 pulleys. So, its operation is dynamic, smooth, quiet, and maintenance-free.
In other words, the machine can be used at any time of the day without disturbing anyone around, and it doesn't prevent you from watching a TV/movie or listening to music while exercising with it.
No post lubrication or adjustment is needed as opposed to a chain drive system.
Unlike a traditional elliptical trainer, this unit does not offer the opportunity to pedal in reverse due to its vertical path.
The Resistance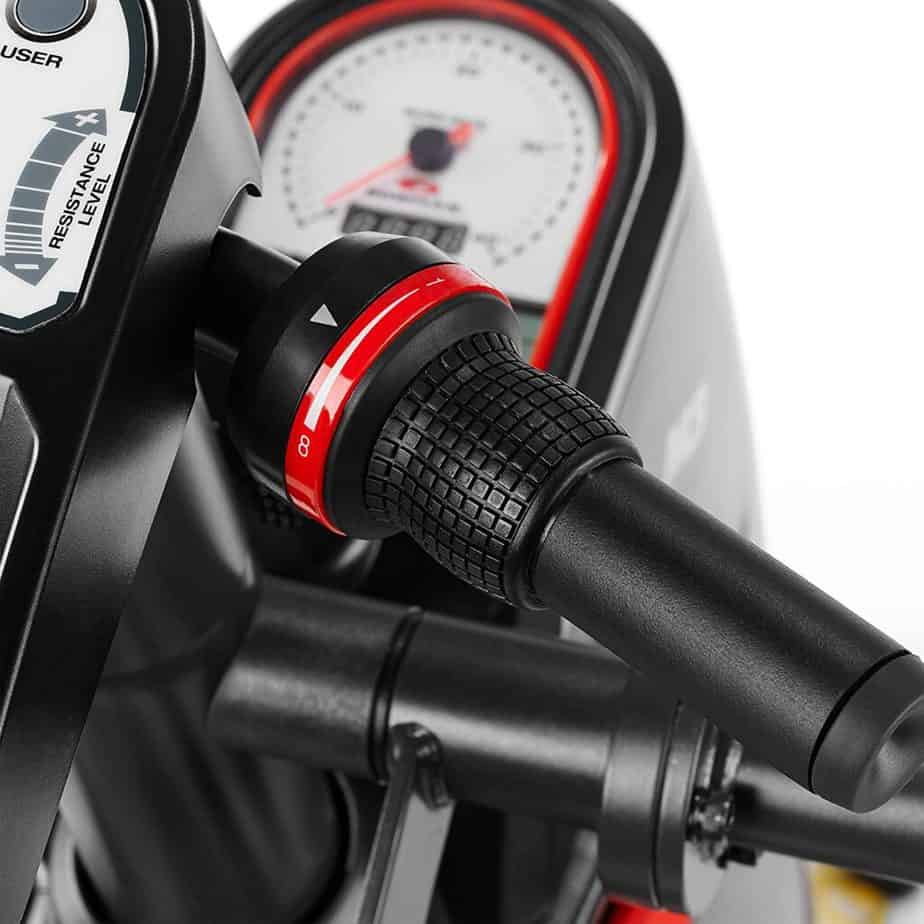 The M3 Trainer is equipped with an air and manual magnetic resistance system. To put it differently, there are 2 ways resistance is generated.
First, resistance is generated by the fan flywheel when the user pedals. This is dynamic because the resistance intensity is determined by the speed of the user's workout. The faster you pedal the more intense the resistance becomes, and when you slow down the resistance reduces.
While on the other hand, there is the manual magnetic resistance system with 8 adjustable levels that generate resistance when the integrated magnetic brake gets close to the fan flywheel and emits magnetic fields.
There is a resistance level shifter on the right side of the static handle that is used for increasing or decreasing the resistance intensity between 1-8 levels by twisting it clockwise or counterclockwise respectively.
So, the combination of these resistance systems provides decent challenging workouts suitable for users of different fitness levels. They can easily attain their fitness goals of losing weight and improving their overall wellbeing.
Lastly, no serious maintenance is also required.
The Console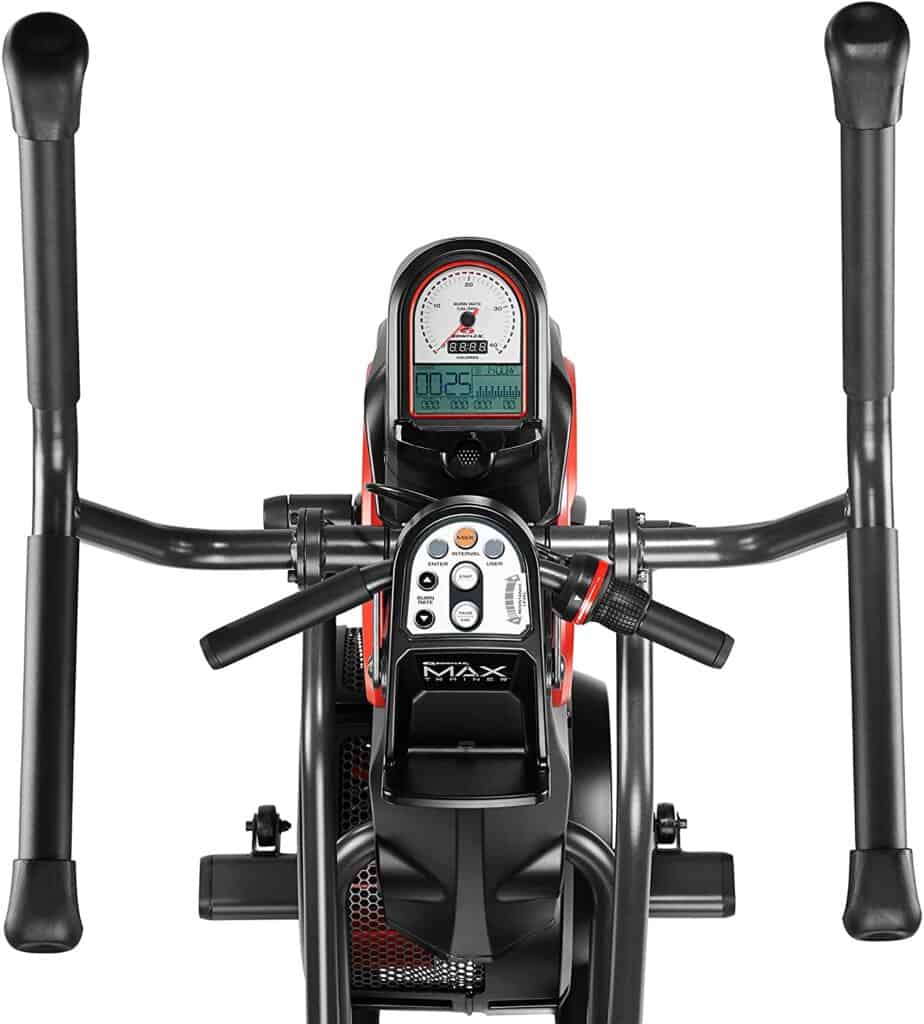 The Bowflex Max Trainer M3 has a console that features upper and lower monitoring screens. The upper LED screen displays workout stats such as Burn Rate, Target Burn Rate, and Calories with high readability, while the lower screen displays other workout data such as Time, Active/Rest Interval Workout, Total Time, User Profile, RPM, Active Resistance Level, Heart Rate, and more.
As aforementioned, the machine does not have EKG contact grips but the heart rate can always be monitored when the included HR chest strap is used during workouts.
There are 2 user profiles designed to enable 2 separate users to input their personal data such as Age, Gender, Weight, and Height for more correct Calorie Count, and Target Calorie Burn.
Users can engage in a high-calorie burning interval training using the MAX interval program that allows them to program the active workout time/period and resting time/period. You can set each interval workout to up to 10.00 minutes, and up to 99.00 minutes total duration.  
Aside from the MAX interval Program, there is the Manual Program (also known as the QuickStart) which is regarded as an open-ended workout because it gives you total control of your workout.  
For instance, you can decide to stop working out at any time that pleases you because, unlike the MAX interval, no workout time duration is set.  
The console needs to be powered by electricity; thus, the package includes a 120V 60Hz, 9VDC power adapter.
The monitor automatically shuts down when there is up to 5 minutes of inactivity on the machine.
Accessory
A water holder and a table holder are integrated for entertainment and maintenance of proper hydration purposes during workouts. They are well designated for the best user experience; however, a device that is placed on the tablet holder may block the view of the monitors.
Storage
The Bowflex Max Trainer M3 is not foldable and it's a bit heavy; however, it is compact and portable.
Its assembled dimensions are 49'' long by 26'' wide by 65'' high; so, a storage area with perimeters of 4' length by 2'2'' width will suffice.
It can easily be moved to a storage area, and vice versa through the front-mounted transport wheels regardless of its weight.
Approval Rating
Most users view the Bowflex Max Trainer M3 favorably on Amazon, and so do independent review sites as well.
Pros/Features Overview
The unit is rock solid and elegantly built
Supports a maximum user weight capacity of 300 lbs./136 kg
Its dual resistance system of air and magnetic provides unique and dynamic challenging workouts for weight loss, endurance, and strength improvement, and more
Its operation is quiet, and smooth
The dual monitor tracks workout stats such as Burn Rate, Target Burn Rate, Calories, Time, Active/Rest Interval Workout, Total Time, User Profile, RPM, Active Resistance Level, Heart Rate, and more
Users' full body and muscle groups are engaged during workouts and joint stress is minimal
The robust base with adjustable levelers provides optimum stability during workouts
The large, and ribbed pedals accommodate different foot sizes conveniently with optimum footing stability
2 workout programs; Manual & MAX Interval;
2 User Profiles;
Users can burn twice as many calories than when they use a traditional elliptical trainer
Multi-grip and comfortable handlebars enable users to exercise in different postures
A heart rate chest strap device is included for heart rate monitoring
Transport wheels included for easy relocation process
Water bottle holder included for proper hydration
Tablet holder included for entertainment purposes
Maintenance requirement is low
Assembly is not difficult
Cons
Any tablet or smartphone placed on the holder may block the view of the monitor
No preset workout programs
The warranty coverage is poor
Warranty
1 year warranty
Product Dimensions & Specifications
Length: 49''
Width: 26''
Height: 64.7''
Shipping dimensions: 46.5'' L x 26.6'' W x 22'' H
Net weight: 143 lbs./64.8 kg
Gross weight: 154 lbs./69.85 kg
Maximum user weight capacity: 300 lbs./136 kg
Drive: Belt
Resistance: Air & Magnetic (manual) with 8 adjustable levels
Handlebar: Dual-action & static
Pedals: Large 8.5'' wide, and ribbed
Monitor: Dual screen
2 programs (Manual & MAX Interval)
2 User Profiles
Frame: Steel
Transport wheels: Yes
Water bottle holder: Yes
Tablet holder: Yes
Shipping & Assembly
The Bowflex Max Trainer M3 is shipped out in 2 boxes; box 1 contains the pre-assembled frame & shrouds, rear, and hardware card; while box 2 contains everything else such as the stabilizer, the pedals, the right and left handlebars, and more.
Basically, you are required to attach the parts in box 2 to the core unit in box 1.
It is not complicated to assemble but it will require a little bit of your time (between one and a half to two hours) to complete.
An instruction manual and the tools needed for the assembly are included in the package.
Maintenance
Keep the unit clean after use, and do not expose the console to liquid, moisture, or direct sunlight. Do inspect it before use to ensure all parts are tight and in good condition.
Conclusion
The Bowflex Max Trainer M3 is sturdy, stable, compact, and portable. It is integrated with the MAX Interval program that enables you to lose more calories within 14 minutes.
It is an elliptical trainer and stepper hybrid machine that is equipped with an air and magnetic resistance system for challenging workouts.
With this at your disposal, you will be able to make a positive difference as to how you feel and look.