The Bowflex Max Trainer M5 is one of several in the series. It's the upgraded version of the M3, and it is pricier as well for good reasons.
It has a lot more features for productivity and a better user experience. These features include Bluetooth connectivity for the Max Trainer app, 8 workout programs, 16 resistance levels, a telemetric console (HR chest strap included), HR contact grips, and more.
Since this is an elliptical trainer hybrid, a 14-minute workout on it burns tons of calories than a conventional elliptical trainer. Yet, users will be able to tone the vast majority of the body's muscle groups with less impact on the joints.
Click right here to have a peek at the Bowflex Max Trainer M5.
The Frame and Construction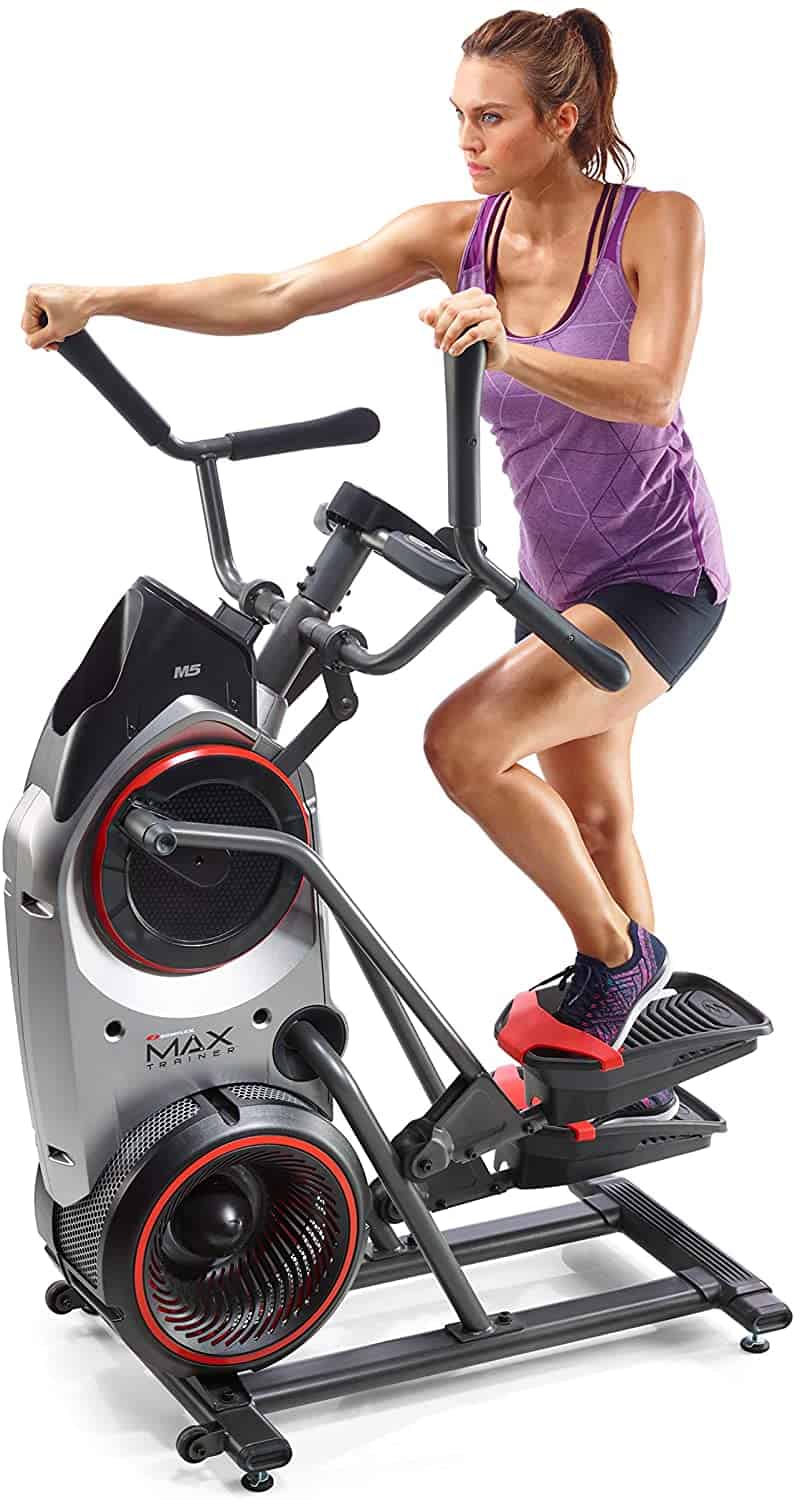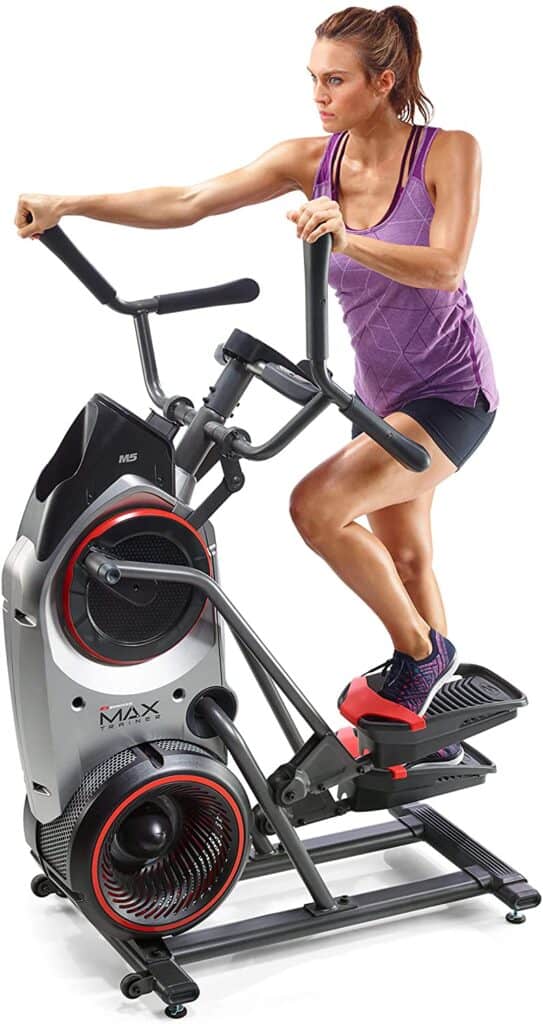 The Bowflex Max Trainer M5 is a pretty robust machine that has an anti-corrosive steel frame and plastic shrouds for safety and elegance.
The Bowflex series has always been known to be reliable and this very model is no different.
Hence, it is sturdy enough to support a maximum user weight capacity of 300 lbs./136 kg.
Despite the unit's compact construction, its stability is outstanding due to the base framework that features steel stabilizers with adjustable levelers; which also means users can balance it on a surface that is not so even.
Moreover, its 143 lbs./64.8 kg assembled weight enhances its stability further; and regardless of its weight, it is easy to have it moved from one spot to another in a room due to the integrated transport wheels at the front base.
Nevertheless, ensure to place the machine on a firm platform and use a rubber mat to prevent floor damage.
This is a piece of non-foldable equipment but its size doesn't overwhelm your space either. Its overall assembled dimensions are 46.1'' long by 25'' width by 62.9'' high. By implication, this means that the M5 Trainer needs a workout area with perimeters of 3'9'' length by 2'1'' width and a ceiling height that is 15'' higher than your height.
Also, consider adding extra clearance of 2' around it for maximum safety and easy access during workouts.
The M5's overall frame and construction make it possible for people to engage in low-impact and full-body workouts that are effective and gentle on the joints. Hence, those with a lower back or knee injury can use it to get back in shape.
The Handlebar of the Bowflex Max Trainer M5
The hybrid Trainer has 2 sets of handlebars that include dual-action and static handles.
The dual-action handlebars have a couple of handgrips for different workout postures, while the static handlebars, unlike those on the Bowflex M3, integrate HR sensors that read and transmit pulse rate data to the monitor when held during workouts.
The handlebars are well coated with soft rubber foam for comfortable and secure grips that could help users work out longer without experiencing slippage or blisters in the palms.
The Pedals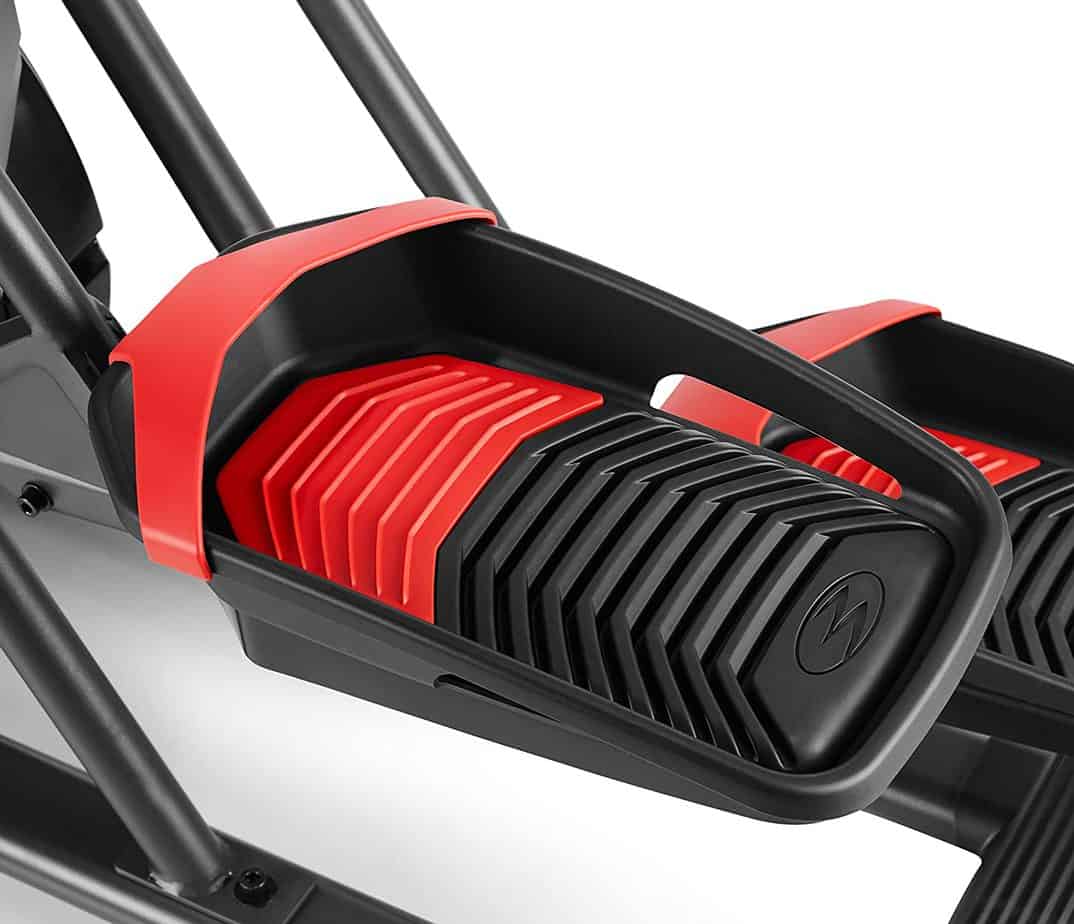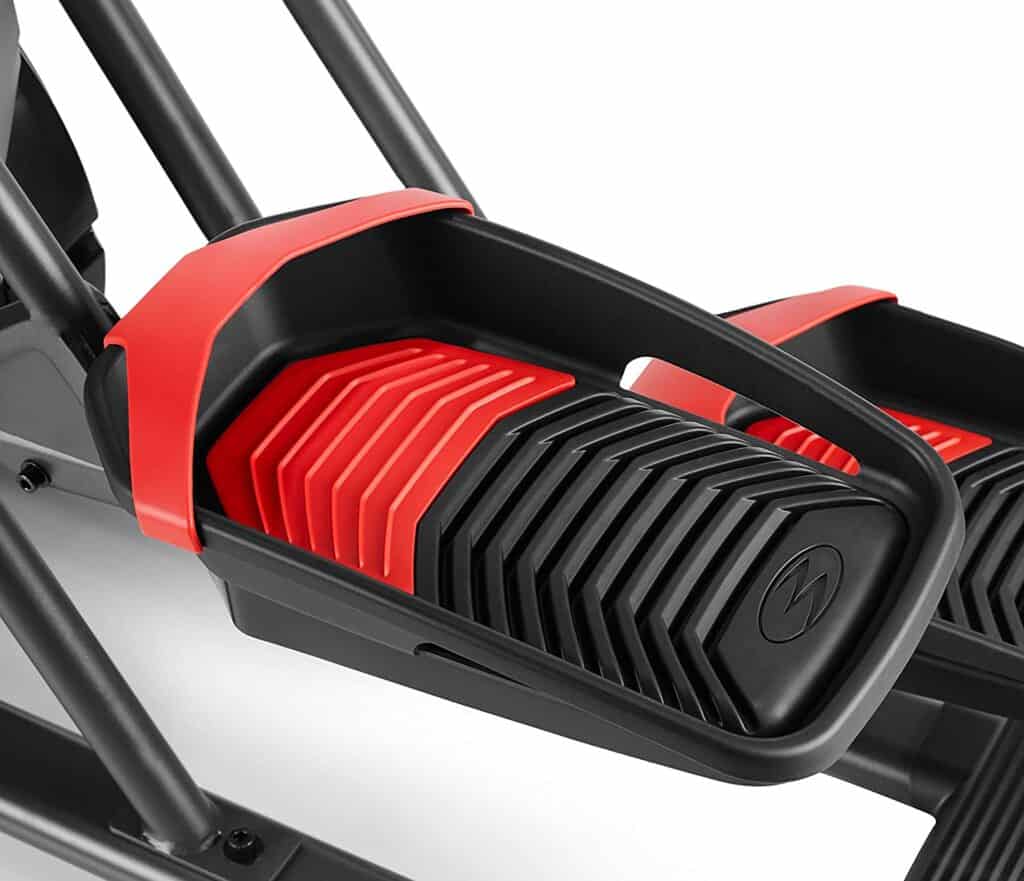 The Bowflex Max Trainer M5 pedals are very large, cushioned, ribbed, with borders and toe straps. So, users of different foot sizes can be accommodated comfortably and securely. No slippage or discomfort will be experienced no matter how long or vigorous the exercise gets.
The pedals' motion is smooth and quiet due to the integrated rollers that glide on the 40-degree angled steel bars.
Since the machine is not a traditional elliptical trainer, it doesn't have much of a stride length because the pedals move mostly in a vertical path. So, the highest pedal height is 15'' and the Q-Factor (distance between the left and right pedals) is 1.5''.
Lastly, the Max M5 Trainer has been tested and confirmed to be suitable for individuals that are 4'10'' to 6'6'' tall, and 300 lbs./136 kg or less in weight.
The Drive
This Bowflex Max Trainer is equipped with a unique belt drive system that comprises double pulleys, double anti-stretch belts, and a fan flywheel that looks like that of an aircraft turbine.
It sound level during operation is 35 dB which is way less than an air condition unit noise level.
Exercising with the unit at home or in an office setting won't be problematic because the family, neighbors, or colleagues won't be disturbed by your activities.
Also, it doesn't interfere with your ability to watch a movie/TV show or listen to music as you exercise.
Some people have asked if it is possible to pedal in reverse? Well, technically, the answer is yes, but you won't feel much of a difference since the pedals' motion is more of a stepper than elliptical.
That said, whether or not you will be able to pedal in reverse, the machine provides the best full-body cardio workouts with low-impact you've ever had.
The Resistance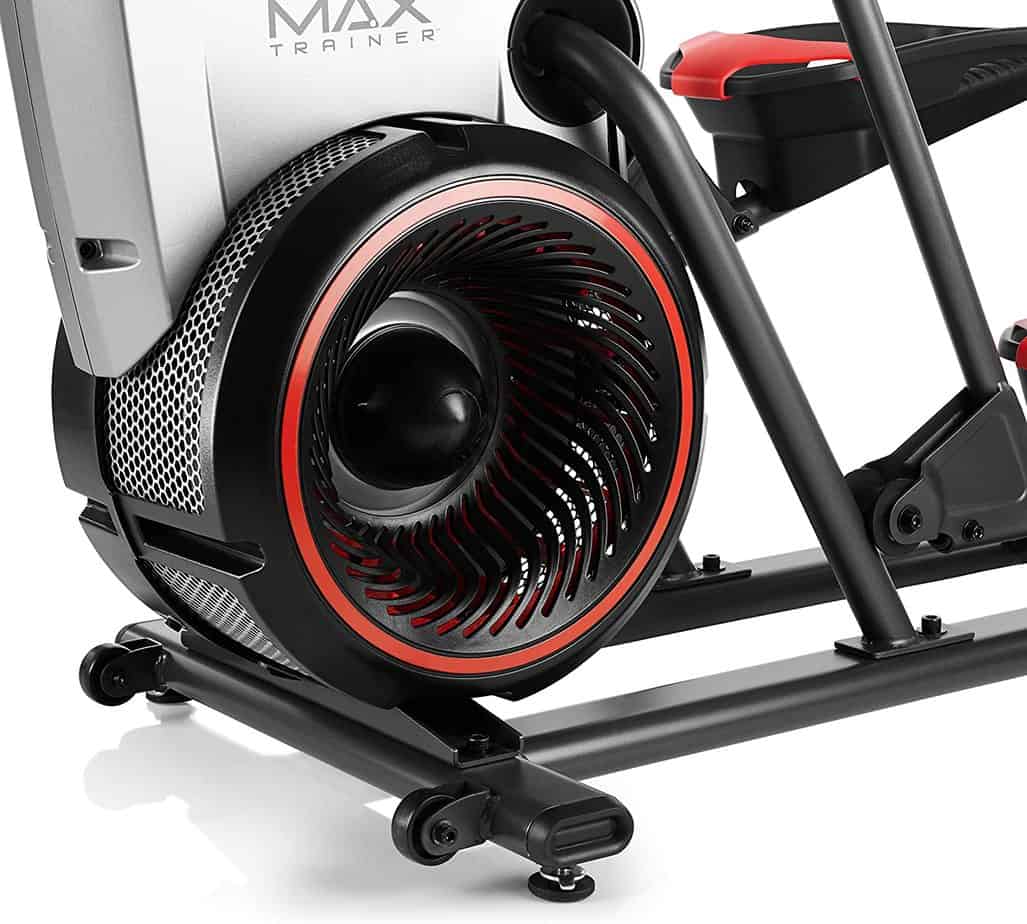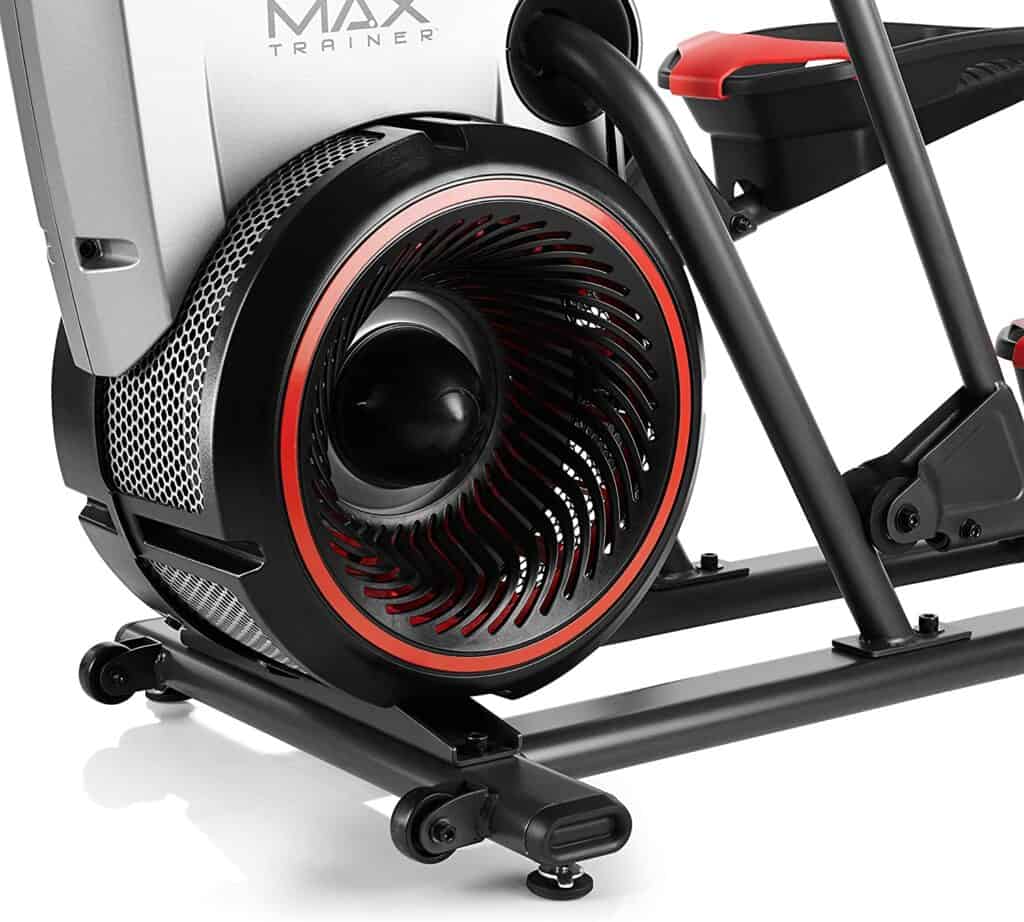 The Bowflex Max Trainer M5 is equipped with an air/magnetic resistance system. In other words, the elements involved in generating resistance include magnets, a small servo motor, and the fan flywheel, which is supposedly metallic.
The air resistance system aspect is dynamic; meaning, the fan flywheel generates resistance that is sort of proportionate to the user's pedaling ability or tempo. If the user pedals faster the resistance intensity increases, but when the tempo reduces so does the resistance intensity as well.
While on the other hand, the magnetic resistance part of it generates resistance when the magnetic brake pads emit magnetic fields around the fan flywheel, and there are 16 resistance levels to select from.
The magnetic resistance system is motorized, thus, it's adjustable via the buttons on the console. Consequently, the unit needs to be plugged into a power outlet with a voltage of 120V, and a frequency of 60Hz for it to work.
So, the combination of these resistance systems provides easy to difficult workout experiences that could ultimately help users to achieve their fitness goals in less amount of time.
The Console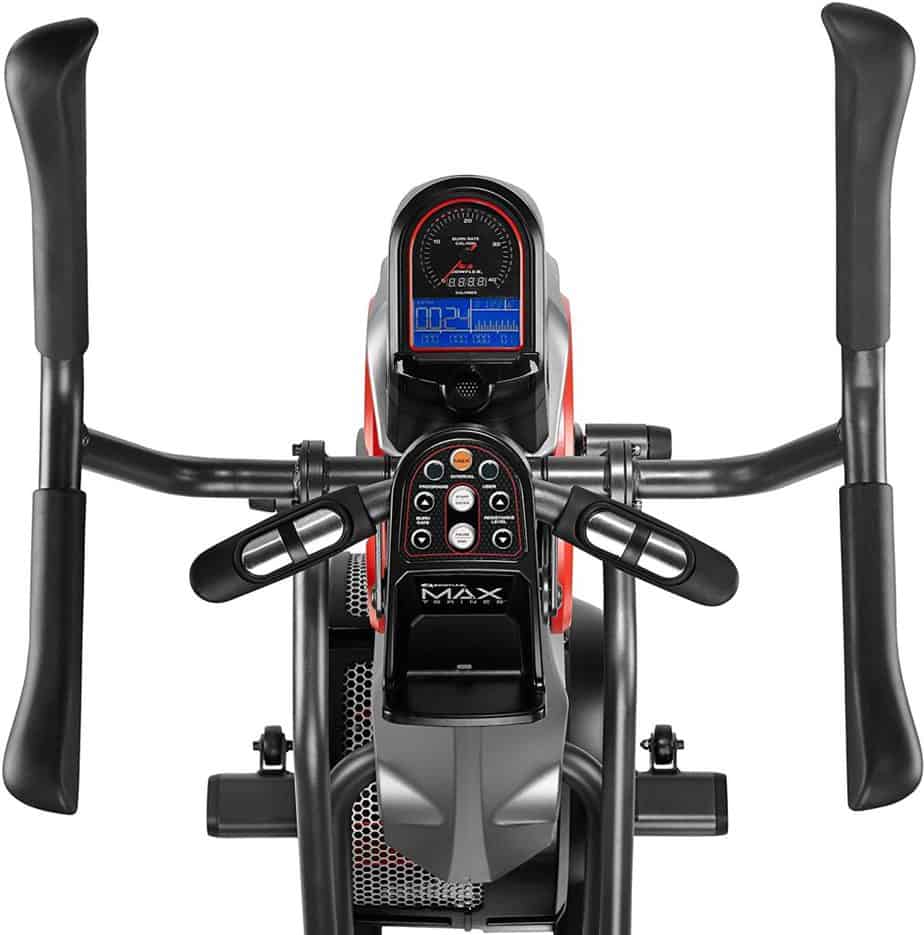 This fitness machine has a console that features dual display windows for tracking workout stats such as Burn Rate, Target Burn Rate, Calories Burned, Time, Heart Rate, Resistance Level, RPM, Program, and more.
Users can track their heart rate using the contact grips or the HR chest strap device because the console is telemetric.
There are 8 built-in workout programs that include Max Interval, Smart Max Interval, Calories Burn, Fat Burn, Calorie Goal, Stairs, Steady State, and Fitness Test; plus, a Manual Mode.
The Max Trainer automatically applies a certain resistance level when any of the workout programs are selected. This means you don't get to select the resistance level at this time, except if the machine is in a manual mode.
The workout programs is designed to help you achieve specific fitness goals.
There are 2 User Profiles that enable 2 separate users to input their personal information such as age, height, weight, and gender for accurate workout data output.
Interestingly, the console is Bluetooth-enabled; it syncs to Max Trainer app which is downloadable via any iOS 9.0 or greater and Android 5.0 or greater smartphone devices. The free app enables users to set, monitor, and track personal fitness goals.
Also, they can stream workout videos that are prepared by professionals to instruct, and inspire them on how to make the most out of the Max Trainer M5 for maximum fitness goals achievement.
The console integrates Burn Rate UP/DOWN Buttons, Programs Button, Interval Button, User (User Profile) Button, Resistance Level UP/DOWN Buttons, Start/Enter Button, and Pause/End Button that help you to navigate through its functions.
Accessory
The Bowflex Max Trainer M5 has a water bottle holder for the maintenance of proper hydration, and a device holder that helps users keep a smartphone within view so that they can take calls, watch a movie, listen to music, or stream the workout videos on the Max Trainer app.
Storage
The Bowflex Max Trainer M5 is a non-foldable machine that has a small footprint. Therefore, it won't require too much space for workouts or storage.
A storage area with perimeters of 3'9'' length by 2'1'' width will suffice.
Even though it weighs 143 lbs./64.8 kg, the front-mounted transport wheels make it a lot easier to relocate it around the room.
Approval Rating
The Bowflex Max Trainer M5, for the most part, enjoys good reviews by real users and an independent review sites. This is simply an indication that it is recommendable due to its overall construction, performance, and useability.
Pros/Features Overview
Its construction makes it durable and user-friendly
Users that are 300 lbs./136 kg or less in weight can utilize it
Not so large, hence, doesn't rake up space
It has good stability that won't budge even during a vigorous or intense workout
The pedals are cushioned, textured, and large to comfortably, and safely accommodate different foot sizes
The unit has multi-grip dual-action handlebars and static handlebars that enable users to exercise the lower body or the full body
The machine offers low-impact workouts that target most of the muscle groups in the body with less stress to the joints
The air/magnetic resistance system with 16 adjustable levels provides dynamic challenging workouts suitable for everyone that wishes to lose weight, tone muscle groups, improve endurance, and strength level
Users can exercise with the unit without causing a nuisance; thanks to its belt drive system
The dual and comprehensive backlit display windows track workout stats such as Burn Rate, Target Burn Rate, Calories Burned, Time, Heart Rate, Resistance Level, RPM, Program, and more
EKG contact grips included
Telemetric console (HR chest strap included)
2 User Profiles allow 2 separate individuals to input personal information such as age, weight, height, and gender for correct data output
8 workout programs that include Max Interval, Smart Max Interval, Calories Burn, Fat Burn, Calorie Goal, Stairs, Steady State, and Fitness Test help users to target certain fitness goal
Bluetooth connectivity syncs the equipment to the Max Trainer free app for tracking personal fitness goals and steaming professional workout videos that instruct & motivate you for optimum achievement
Device holder included for smartphone placement so that you can take calls, watch a movie, listen to music, or use the Max Trainer free app
Water bottle holder included for proper maintenance of hydration
Maintenance is limited
Assembly is not complicated
Cons
No Sound system
No ability to transfer data to a flash drive or compete with others online
Warranty
Product Dimensions & Specifications
Length: 26.1''
Width: 25''
Height: 62.9''
Shipping dimensions box 1: 46.5'' L x 17'' W x 23.5'' H
Shipping dimensions box 2: 40.3'' L x 26'' W x 9'' H
Net weight: 143 lbs./64.8 kg
Gross weight box 1: 84 lbs./38.1 kg
Gross weight box 2: 88.2 lbs./40 kg
Maximum user weight capacity: 300 lbs./136 kg
Heights supported: 4'10'' – 6'6''
Frame: Steel
Drive: Belt
Resistance: Air/magnetic with 16 adjustable levels
Console/Monitor: Backlit dual display windows
Heart rate monitoring: Contact grips & wireless (HR rate chest strap included)
Handlebars: Dual-action & static
Pedals: Large, cushioned, and ribbed
Programs: 8
User profiles: 2
120V, 60Hz input, 9V DC, 1500mA output power adapter included
Transport wheels: Yes
Device holder: Yes
Water bottle holder: Yes
Shipping
Upon purchase, Amazon ships the Bowflex Max Trainer M5 out and delivers it in a couple of days without extra charge.
It arrives in 2 boxes; box 1 dimensions are 46.5'' long by 17'' wide by 23.5'' high and weighs 84 lbs./38.1 kg, while box 2 dimensions are 40.3'' long by 26'' wide by 9'' high and weighs 88.2 lbs./40 kg.
Assembly
It requires an extra hand to assemble this machine, and it might take up to 2 hours to complete the assembly; other than that, it is not complicated to do.
The package comes with an instruction manual that could walk you through the process and the tools needed are also included.
Maintenance
As aforementioned, no serious maintenance is needed since it has a belt drive system and air/magnetic resistance system.
Therefore, the only task that is required of you is to keep it clean after every use, lubricate the rollers, and the joints when necessary. Do not let a liquid, moisture, or direct sunlight get to the console.
Finally, do endeavor to check the parts before workouts (as a precautionary measure), to be sure they are tight and in good condition.
Conclusion
The Bowflex Max Trainer M5 is widely accepted by users, and it fits the task of providing low-impact and full-body cardio workouts that could push anyone to the limit, and help them to achieve their fitness goals in much less time.
This is no ordinary elliptical trainer, but one that has the feature of a stepper as well, thus, its motion is mostly vertical.
Its compact design could also mean a lot to those that have a limited workout area in their room, condo, or apartment.