The Fisup Foldable Smart Home & Office Treadmill is a basic, and inexpensive indoor fitness machine with a unique structural design. It arrives completely preassembled with no part to be attached, and it has a button on each side of the riser that makes folding and unfolding of the treadmill possible in 3 easy steps.
It is made for those that wish to walk, jog, and perform a brisk running exercise.
However, it may not be suitable for 6' tall and above individuals whose wish is to run on the treadmill because their stride will be restricted and the handrails may be awkward to grip.
The speed and distance are measured in km/h. Although, the manufacturer has stated they have updated the unit to display in mph, but there have been discrepancies surrounding this claim.
That said, if your goal is to walk, and jog in order to improve your overall physical fitness, regardless of the unavailability of certain features, then, click right here to have a peek at the Fisup Foldable Smart Home & Office Treadmill on Amazon.
The Frame and Construction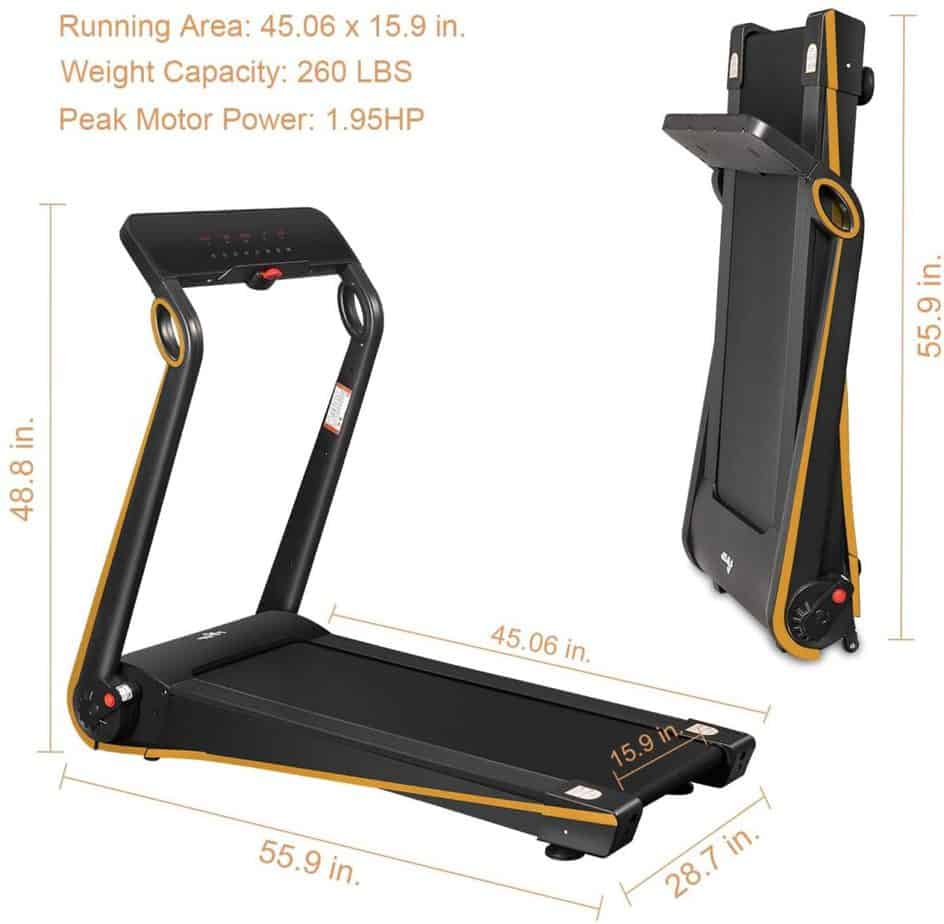 The Fisup Foldable Smart Home & Office Treadmill is built with steel and ABS material. It is sturdy enough to support a maximum user weight capacity of 264 lbs./120 kg.
It is stable due to its robust base framework. Hence, no tilting, or wobbling will be experienced during workouts. Although, it is important to make sure that the treadmill is designated on an even and firm surface to prevent the stability from being compromised.
Moreover, its assembled weight of 86 lbs./39 kg further ensures that users enjoy stable workouts.
The treadmill can easily be moved from one spot to another through the integrated transport wheels at the front base.
Judging by a regular standard treadmill, this unit is compact; and it still offers a decent running surface size.
The assembled dimensions are 55.9'' long by 28.7'' wide by 48.8'' high. In other words, the required workout area would be a space with perimeters of 4'7'' length by 2'4'' width, and a ceiling height with 15'' above your height.
Also, do remember to add extra clearance of 2' around the treadmill for safety and easy access purposes.
The machine becomes even smaller when folded, thus, requiring a fraction of its workout space size for storage.
Its folded dimensions are 55.9'' long by 28.7'' wide 15.47'' high, and it is stored vertically.
The Deck of the Fisup Foldable Smart Home & Office Treadmill
The tread belt dimensions are 45.06'' long by 15.9'' wide, and it consists of several layers (compression layer, shock-absorbing layer, high strength support layer, sound insulation layer, and wear-resistant surface) that act as buffers for reducing stress or injury in the lower body joints.
As aforementioned, the running surface size is suitable for individuals that are below 6' tall, because they will be able to walk, jog, and do brisk running on it.
The Motor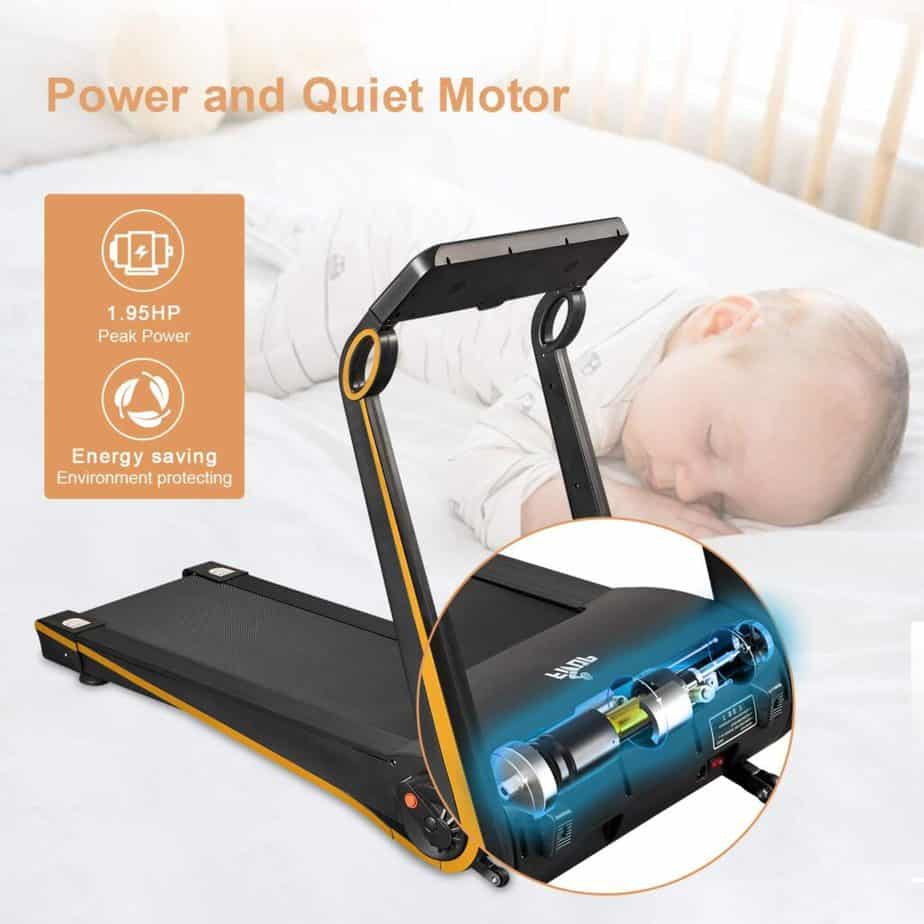 The Fisup Foldable Smart Home & Office Treadmill is equipped with a 1.95 horsepower motor that is energy-efficient. In other words, it saves energy and provides a speed range of 1-10 km/h for sustained and reliable walking, jogging, and brisk running activity.
The speed could be increased and decreased via the buttons on the console.
Its operation is smooth and quieter than the user's footfall. Thus, one can utilize the treadmill around the family members and neighbors who live in close proximity without disturbing them.
Also, it will be easy and convenient to watch a TV show or listen to music without having to increase the volume beyond an acceptable range while exercising on the unit.
That said, there have been complaints about the motor not being able to hold up for users above 220 lbs./100 kg.
To put it differently, when a user that is more than 220 lbs./100 kg in weight uses the treadmill, the belt rotation or movement struggles, indicating insufficient power to drive it.
Incline
This treadmill does not have an incline system. However, its running surface is not flat, but slightly inclined, and non-adjustable.
The Monitor
The Fisup Foldable Smart Home & Office Treadmill has a console that features LED indicators for workout stats such as Time, Distance, Speed, and Calories. Its readability is great and uncompromisable; meaning, it doesn't diminish even when viewed in a poorly-lit environment
The console integrates a couple of soft-touch navigation buttons that include the Start/Stop keys, Mode key, Speed keys, safety emergency key, etc.
Users can set up a count-down goal for Distance, Calories, and Time, and the console can be synced with a SmartTreadmill app via a smartphone.
To ensure a successful connection, turn on the smartphone's Bluetooth, and the GPS as well to prevent any hiccup.
The app allows you to select an automatic program, and to monitor, track, and share your workout progress online.
Accessory
There is a device holder on the console that could hold a smartphone/tablet. However, the problem is, the view of some of the workout stats display may be blocked if a large smartphone or tablet device is placed on it.
Storage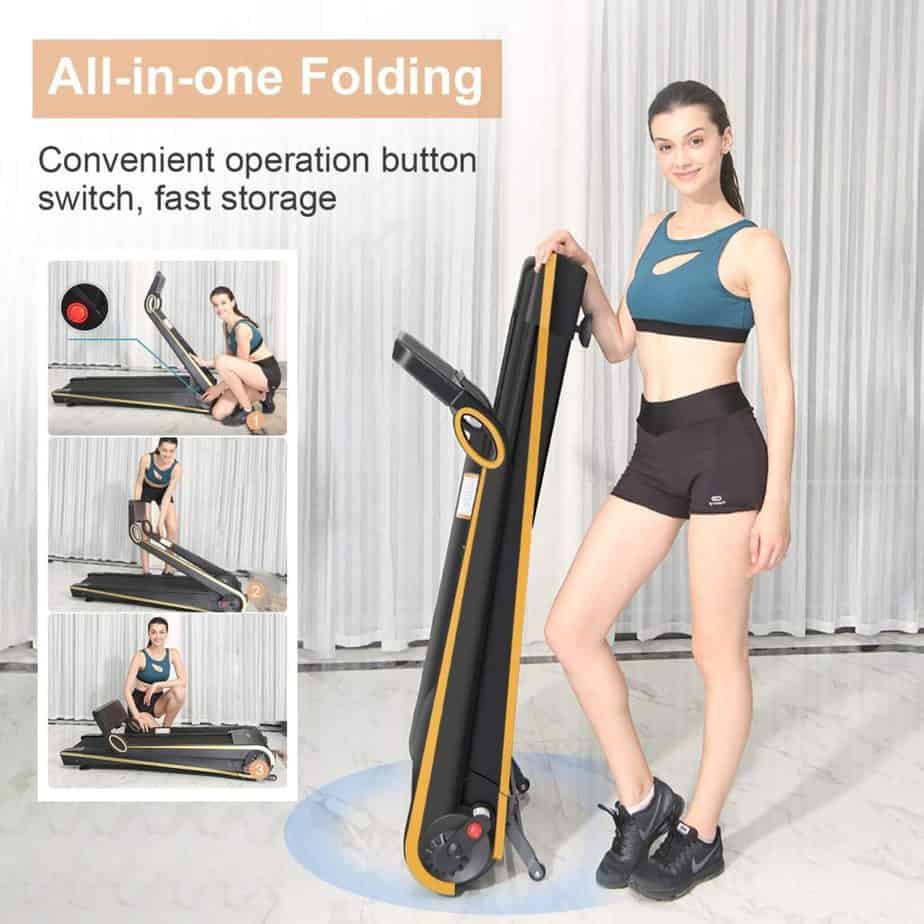 The Fisup Foldable Smart Home & Office Treadmill is pretty easy to store due to the fact that it is foldable and portable. Hence, it doesn't take up too much space, and can easily be moved from one spot in the room to another.
Once folded, it can be stored vertically next to a wall in the living room, bedroom, or garage.
Approval Rating
This treadmill has overall acceptability that is good. However, not without the complaints about the contradicting claims concerning the maximum weight the treadmill supports, and whether or not the SmartTreadmill app is connectable and usable.
Pros/Fitness Overview
Elegantly designed
It is portable, and compact; so, it doesn't take up too much space
Supports a maximum user weight capacity of 264 lbs./120 kg
Suitable for weight loss, and overall physical fitness improvement purposes
Its operation is quiet, and smooth
The 1.95 horsepower motor provides 1-10 km/h speed range
The LED monitor tracks Time, Distance, Calories, and Speed
It connects to SmartTreadmill app for workout tracking, and monitoring
The deck is cushioned to reduce joint stress that could occur as a result of jogging or running on a hard surface
No installation is required
It arrives with a small bottle of silicon oil for tread belt maintenance
The maintenance requirement is minimal
A tablet holder is included for a device placement
Cons
It probably supports 220 lbs./100 kg maximum user weight capacity, instead of 264 lbs./120 kg
Difficulty in syncing the app, and when connected, it will probably not work properly
A tablet device placed on the holder could block the view of the display
No water bottle holder
No pause-button, therefore, whenever the treadmill is turned off, the previous workout data will be lost
No incline system
No sound system
Warranty
Product Dimensions & Specifications
Length: 55.9''
Width: 28.7''
Height: 48.8''
Folded dimensions: 55.9'' L x 28.7'' W x 15.47'' H
Shipping dimensions: 58'' L x 31'' W x 12'' H
Tread belt dimensions: 45.06'' L x 15.9'' W
Net weight: 86 lbs./39 kg
Gross weight: 101 lbs./45.8 kg
Maximum user weight capacity: 264 lbs./120 kg
Motor: 1.95 horsepower
Speed range: 1-10 km/h
Frame: Steel
Monitor: LED
Incline: No
Goal setting for Time, Distance, and Calories
Transport wheels
Tablet holder
A bottle of silicon oil
Shipping
The Fisup Foldable Smart Home & Office Treadmill is shipped out in a box that weighs 101 lbs./45.8 kg with dimensions of 58'' long by 31'' wide by 12'' high.
No shipping fee is charged if purchased from Amazon, and it gets shipped out immediately upon purchase, so that it will arrive in a couple of days.
Assembly
No assembly is needed; in other words, it could be used out of the box. Simply get the risers raised and locked in, get it connected to a power outlet, and that's it.
Maintenance
The unit is accompanied by a bottle of silicon oil for the maintenance of the tread belt. The lubrication is needed after a period of use in order to keep it working properly.
Aside from that, simply make sure that the treadmill is kept clean at all times, and avoid liquid, moisture, or sunlight from getting to the console.
Conclusion
As aforementioned, the Fisup Foldable Smart Home & Office Treadmill is a basic indoor fitness machine that could help anyone that wishes to improve overall physical fitness.
However, if you are looking for additional features, you may be disappointed.
The WEKEEP OVICX Q2S Portable Treadmill might be worth looking up as well.