The BodyCraft HFT Functional Trainer Home Gym-Dual Adjustable Pulley Machine is one of those home gyms that are compact, versatile with useful features. BodyCraft has consistently proven to be one of the best fitness equipment manufacturers of all times; they have a wide array of recommendable indoor fitness equipment such as spin bikes, rowing machines, home gyms, and much more.
Fortunately, BodyCraft's signature and prowess are all over the BodyCraft HFT Functional Trainer Home Gym. It has a lot in common with the Inspire Fitness Functional Trainer FT1 which happens to be a very popular and recommendable home gym there is.
It has a V-shaped design with a small footprint that can fit in a spin bike's workout area.
The pulleys can be adjusted to 31 height positions and rotate 180 degrees so that you can train from every angle and height, in other words, they offer unlimited exercise capabilities. The design allows you to train just at the front of the home gym without the need of going around it. This means that aside from the workout area spot for the machine there is only the need for additional clearance at the front of it.
Folks that wish to lose weight, improve stamina, and build muscle mass should be able to do so conveniently with the BodyCraft HFT Functional Trainer Home Gym. It is suitable for all fitness levels because the dual weight stacks of 150 lbs/68 kg are also upgradable to 200 lbs/90.7 kg which is great for weightlifters and advanced bodybuilders.
The weight stack to user weight ratio is 2:1 which means that each weight stack of 150 lbs/68 kg provides actual weight resistance of 75 lbs/34 kg.
If this machine could be defined in one sentence that would be compact, versatile, durable, and cost-effective.  Ideal for overall body workouts and could be used together with an FID bench to widened the varieties of exercises that can be done.
Click right here to have a peek at the price of the BodyCraft HFT Functional Trainer Home Gym on Amazon.
 Frame and Construction
The BodyCraft HFT Functional Trainer Home Gym is a very sturdy machine because its frame is made up of heavy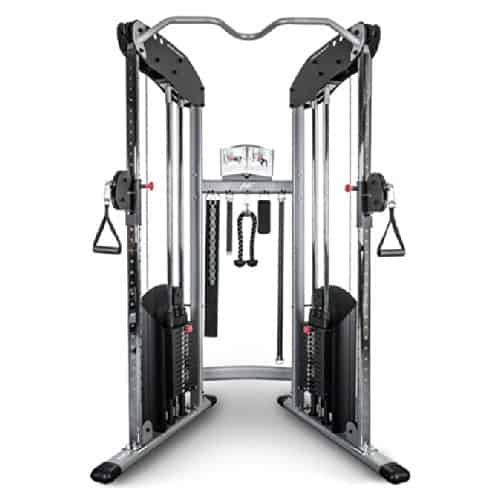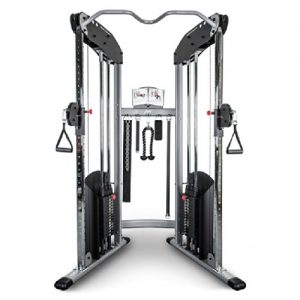 11-gauge, 3.25 inches x 1.75 inches oval steel tubing coated with platinum gray and textured black finish. The paint is evenly coated on all surfaces because it electromagnetically applied in powder form. This does not only mean that the machine's outlook is great it is equality resistant to rusts and scratches thereby making it possible for the frame to last forever.
The guide rods are 1-inch diameter tubular steel that is chrome finished.
The HFT is integrated with a multi-grip chip up bar for effective pull-up exercises.
The machine also features neatly and organized storage hooks that display included accessories for easy reach and accessibility.
We mentioned above how compact and space-friendly the machine is because of its V-shaped design and space-forward design that allows the user to do over 70 workouts at the front of the machine. In other words, aside from the actual installation area for the machine you only need to add extra clearance at the front of the machine in order to be able to use it; clearances at the rear and on both sides of the machine are not necessary.
It's a small footprint of 56 inches wide by 40 inches deep/length while the height is 82 inches. Therefore, the dedicated installation area for the machine should be 4.7 feet wide by 3.4 feet deep/long and a minimum ceiling height of 7.5 feet high.
The machine weighs over 500 pounds/226.7 kg, therefore, you must install it in a dedicated space where you want to use it because you don't want to move it after installation. It is recommendable to assemble it on a protective rubber mat.
Weight Resistance
The machine is unlike some of the home gyms that require removing weight plates back and forth each time you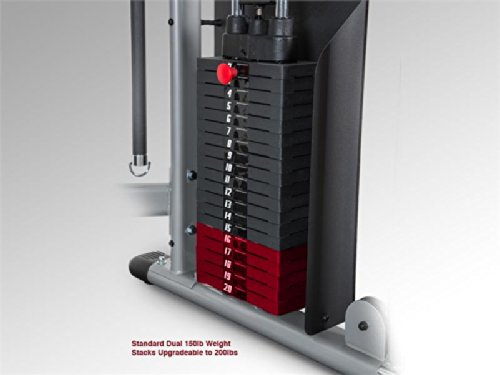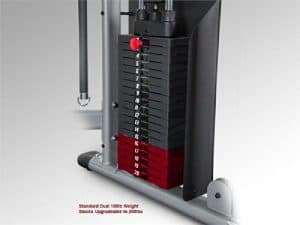 want to increase or decrease weight resistance which sometime might accidentally fall on the floor or even on top of your foot.  The HFT has a weight resistance system that is made up of dual weight stacks that have 150 lbs of weight plates on each side. The weight plates are 10 lbs each with the total weight inscribed on each. You could easily and quickly select a suitable weight resistance for your workout without removing the weight plate but by simply moving the red safety pin and inserting it to the drilled hole of any of the weight plate of your desire.
Just as aforementioned, the weight stack to user weight ratio is 2:1, which in other words means that 150 lbs provide 75 lbs actual maximum weight to a user while working out. There is also the possibility of upgrading to 200 lbs by purchasing the optional 50 lbs upgrade. This is especially necessary for those that wish to experience extremely difficult workouts.
The weight stacks also have protective rear stack guard for safety.
The Pulleys
The BodyCraft HFT Functional Trainer Home Gym has an adjustable set of pulleys. There are 31 height positions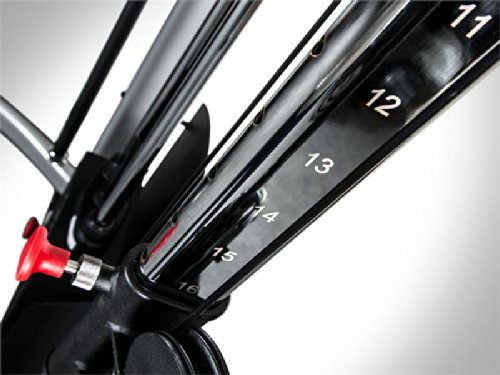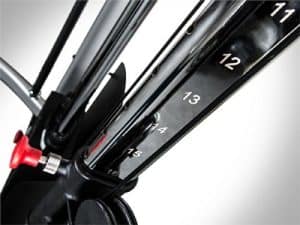 available for pulley adjustments. This means with just a set of pulleys that rotate 180 degrees you could perform varieties of workouts just by adjusting to the right position. These pulleys provide you the convenience and versatility that allow you to train from every angle and height.
It is on record that over 70 workouts could be performed with the machine.
The pulleys are tough and durable because they are made of fiberglass impregnated nylon that resist any damage and friction from the cables with sealed ball bearings that are maintenance-free and ensure smooth movements.
Cables
The cable that exists on the HFT dual adjustable machine is 7 by 19 strand aircraft cable rated at over 2000 lbs. tensile strength. This means it is rugged and tough enough to withstand any amount of weight it might be required to pull in the course of workouts without breaking.
It is also insulated in nylon covering to further protect it from any damage as result friction. The total length travel of the cable is 79.5 inches which provides full arm workout in different ways.
Optional Accessory
These are the optional accessory that could allow you to expand the range of workouts you can perform with the HFT Dual Pulley machine. They are not included in the original package but could be purchased separately if the user deems them necessary.
These are as follows:
Power Row
HFT 200 lbs. stack upgrade
F603 F/I Utility Bench
55 cm Stability Ball
65 cm Stability Ball
Accessory Included
These are the accessories included in the package. These allow you to perform varieties of workouts.
Mounted exercise book that describes over 70 exercises
A long bar that is being attached to both sides of the machine so that you can perform squats, curls and much more
Short bar
Tricep Rope
Multi-grip chin bar
Nylon strap that is attached to both sides of the machine for assisted pull-ups
Ankle Strap
2x handles
Approval Rating
The BodyCraft HFT Functional Trainer Home Gym has about 16 Amazon customer reviews at the time of this review and all the reviewers think that the machine is recommendable and rated it 100% 5 stars out of 5 stars.
This is very significant because it suggests that the HFT Dual Adjustable Pulleys Machine has got quality and usability.
Pros/Features Overview
Strong and durable
Provides versatile movement of the body
The pulleys are 31 height position adjustable thus varieties of exercises can be performed
The pulleys and the cables are durably made to withstand hard use
It is a compact machine with a small footprint; can easily sit in a corner of the room
It has a weight stack on each side for balanced and independent weight resistance
The weight resistance can easily be adjusted without having to remove weight plates which is also safer
The machine has 150 lbs maximum weight stack on each and could be upgraded to 200 lbs
Low maintenance
Warranty is good
Over 70 exercises possible
Cons
It requires a permanent and dedicated spot. In other words, it must be installed on the spot you wish to use it because it cannot be easily moved once it is installed.
Product Dimensions and Specifications
55'' Width
40'' Deep/Length
81'' Height
Resistance: 150 lbs/68 kg weight stacks, Upgradable to 200 lbs/90 kg
Exercises: 70+
Warranty
In-Home Warranty
Lifetime on Frame
Lifetime on Parts
Light-Commercial Warranty (Up to 5 hours of use per day/non-paying facility)
10 Years on Frame
2 Years on Parts
6 Months on Wear
Shipping, Assembly, and Maintenance
Shipping
The BodyCraft HFT Functional Trainer Home Gym is shipped in two large boxes and 4 small boxes that contain the weight plates. Each of the small boxes weighs 70 lbs and the two larger boxes weigh 106 lbs and 144 lbs. The total weight of the six boxes is 530 lbs/240 kg.
The shipping cost is determined by the retailer you are purchasing from; however, Amazon provides free shipping for United States residents and delivers within days of order.
Assembly
The BodyCraft HFT Functional Trainer Home Gym does not come assembled but in boxes instead. This means there are a lot of parts to be assembled and it is going to take several hours to completely put together.
It comes with an instructional manual that guides you through the assembling process but it will be difficult for folks that are not used to working with tools to assemble.
However, you can get the retailer to send someone to assemble it for you but that will incur an additional charge.
Maintenance
The HFT functional trainer does not require any major maintenance. Periodic lubrication of the machine is required though. All you need to know about this is in the user's manual.
Conclusion
The BodyCraft HFT Functional Trainer Home Gym is for home use and light commercial use. It is an ideal functional trainer for those looking forward to improving physical fitness, losing weight, and building muscle mass.
It is simply a cost-effective home gym you can already see its popularity in the users' reviews.
BodyCraft HFT Functional Trainer Home Gym Review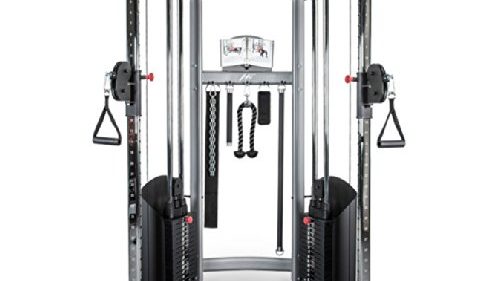 The BodyCraft HFT Functional Trainer Home Gym-Dual Adjustable Pulley Machine is one of those home gyms that are compact, versatile with useful features.
Product Brand: BodyCraft
Product In-Stock: InStock