The Bowflex Body Tower is one of the best power towers anyone can get on the market. It is simple equipment with a couple of features that allow you to perform outstanding workouts that impact your overall well being.
On top of that, it is not a very expensive power tower but one that most people can afford. You should be able to perform more than 20 exercises using your bodyweight.
This equipment is one of the many that have been invented to help people live a better and healthy life. They are different with a different number of features with the sole purpose of providing indoor workouts conveniently.
The Bowflex Body Tower has workout stations that support effective exercises such as pull-ups, dips, sit-ups, and much more. The adjustable horizontal bars allow you to adjust to the height that is suitable for the type of exercise you wish to perform. It has adjustable sling straps that provide firm and comfortable grips. On top of that, the package includes a user manual that provides comprehensive instructions on how to easily assemble it and also perform 8 major workouts and 10 additional exercises.
Often times, stability is very vital in every work out equipment and most especially a power tower because bodyweight is what generates weight resistance thus balance is necessary; and this has a very good base framework that guarantees that.
It is also durable as the frame is made of commercial-grade steel.
Click right here to have a peek at the price Bowflex Power Tower on Amazon.
Frame and Construction
When you take a closer look at the Bowflex Power Tower you will realize how sturdy and stable it is. Just as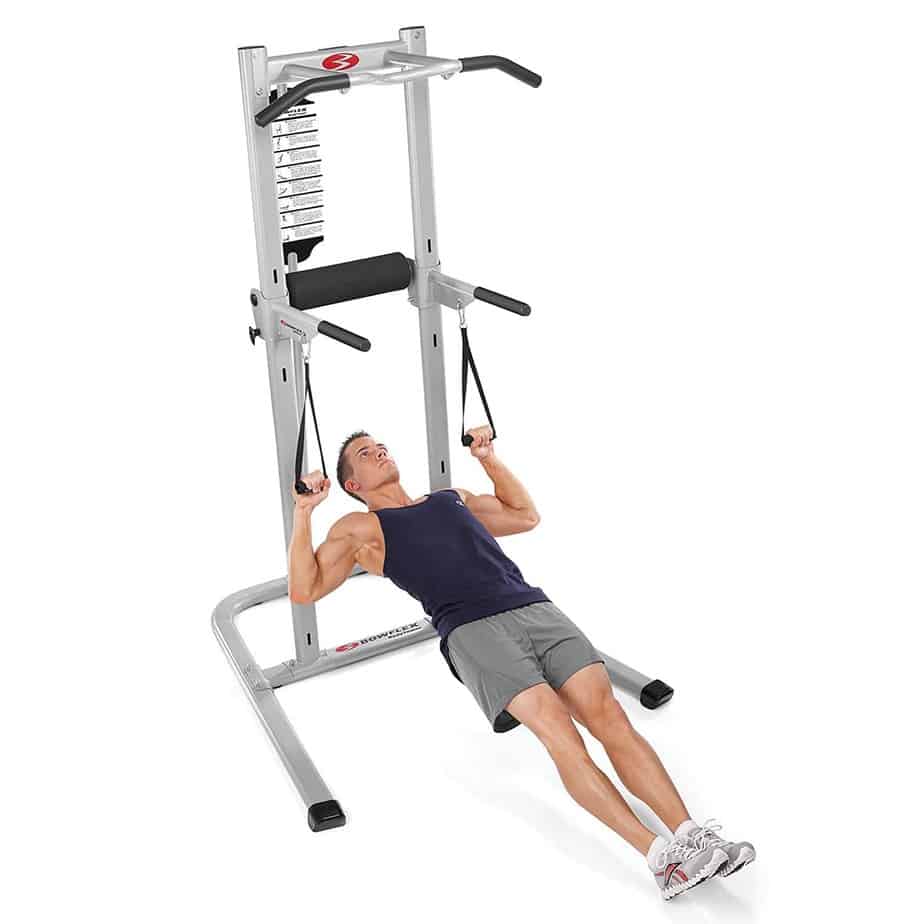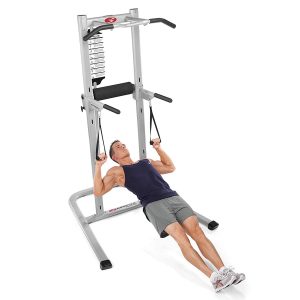 aforementioned, the frame is made of high quality and durable steel that is coated with anti-corrosive and scratch paint that prevents rusts and unwarranted scratches that could degrade it in the long run. This means that quality and outward appearance will remain the same for a very long time.
Its sturdiness is demonstrated on the user weight that it supports which 300 pounds/136 kg maximum user weight capacity.
Stability is guaranteed with this equipment because of its well-framed base. No movement or wobbling would be experienced when working out with the Bowflex Power Tower because it has a large A-shaped heavy-duty commercial-grade steel base.
It has impressive rubber levelers at the bottom of the base for enhanced stability but we understand that could tear easily, therefore, you may want to use a protective rubber mat beneath it so that it will be surface friendly.
You can work out with confidence without any distraction or fear of tipping over. Safety is essential, and this equipment has it.
The power tower is not a very large unit; as a matter of fact, it is a compact machine that is going fit in most rooms easily without taking up much space. Its dimensions are 53 inches long by 50 inches wide by 77 inches tall. In other words, the workout area for it should be 4.4 feet long by 4.1 feet wide and a ceiling height of at least 7 feet.
With the Bowflex Power Tower at your disposal, you have the chance to work on every part of your body. It offers over 20 exercises that include 2 arm exercises, 4 chest exercises, 3 Ab exercises, 2 back exercises, 2 shoulder exercises,  and 5 leg exercises which are demonstrated on the owner's manual.
Parts and Accessory
The Bowflex Power Tower has other parts and accessories that make it functional and effective. These are the adjustable horizontal bars, the pull-up bar, the adjustable handgrips, and the sling strap and the tower-mounted workout placard.
E-Z Adjust Horizontal Bars
These adjustable horizontal bars allow you to do a variety of exercises that raise the intensity of your workouts and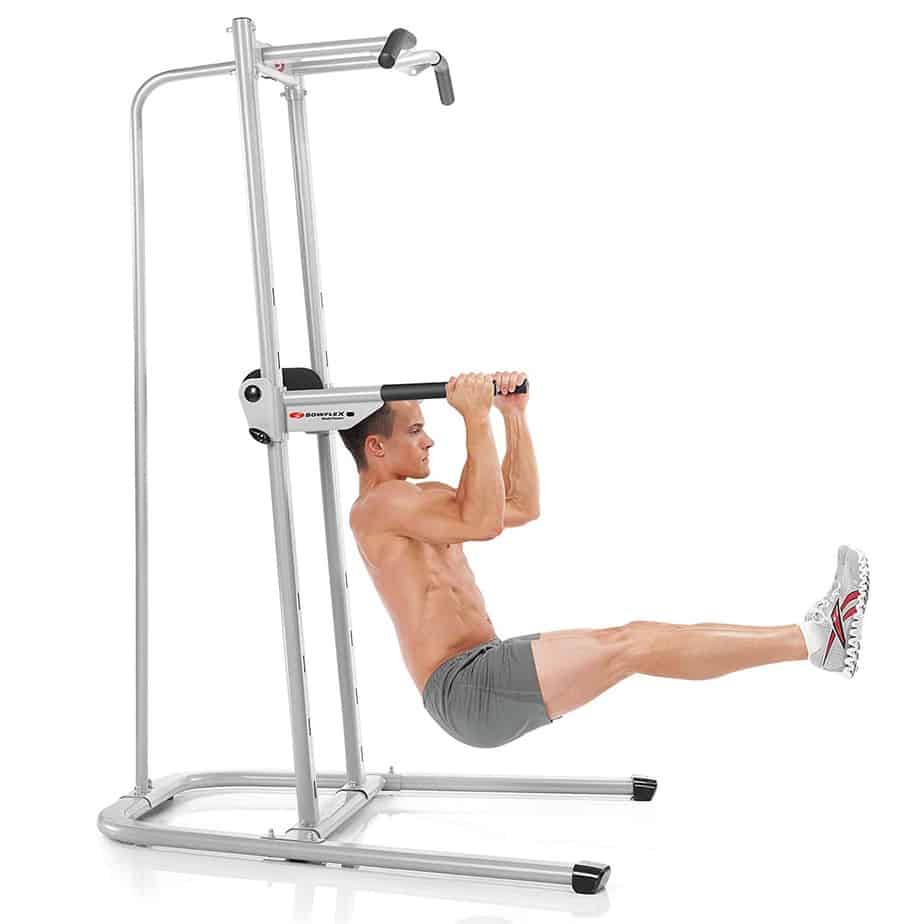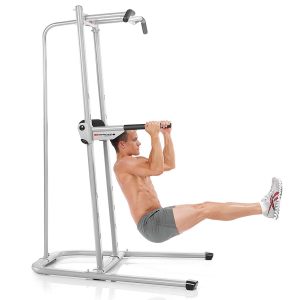 enhances the outcome of your fitness program.
The non-absorbent cushioning back pad is also the integral part of the E-Z Adjust horizontal bars which adjusts alongside them.
There are seven positions the horizontal bars could be adjusted to. These allow you to perform exercises such as the dips, decline push-ups, raised bridge, and much more.
Adjustable Sling straps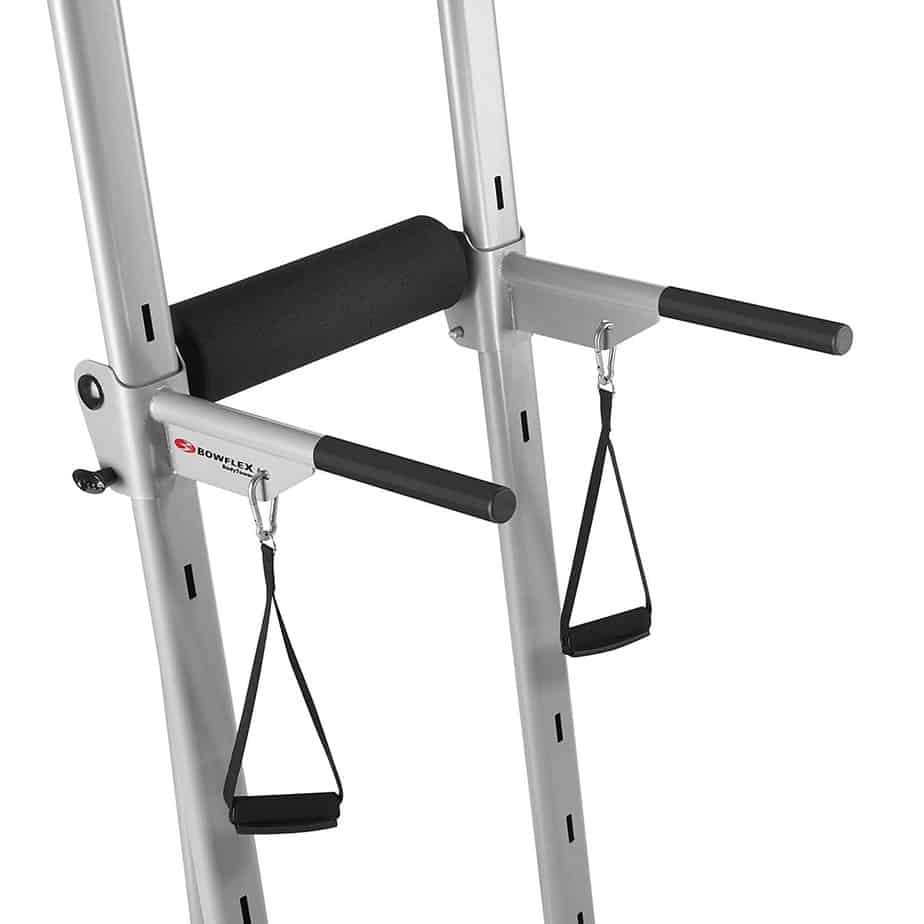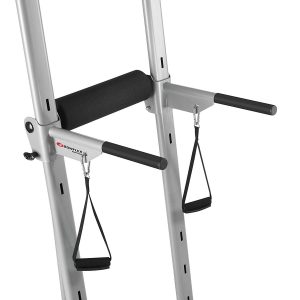 The adjustable sling straps adjust like the horizontal bar because they are actually attached to them.
These provide opportunities for different exercises and also provide a secure, firm, and comfortable grip during workouts.
Pull-up Bar
The pull-up bar is typically known for pull-ups or chin-ups exercise. This exercise typically works on the back, shoulders, biceps, and upper arms. It makes the shoulders look wider, and makes the upper back big and wider.
The pull-up bar is a standard and integral part of every power tower and it is no different on the Bowflex Power Tower.
Tower- Mounted Workout Placard
The tower-mounted workout placard is simple to understand the illustration of the 8 key exercises that could be done with the power tower, and it also features 10 additional exercises as well.
This means you don't have to struggle on how to get the most out of the power tower even if you are just a beginner because you have got a perfect guide that could simply walk you through the exercises.
Approval Rating
The Bowflex Power Tower has over two hundred Amazon customer reviews at the time of this post and still manages to have an average approval rating of 3.7 stars out of 5 stars.
This means that most of the users found it very useful and would recommend it.
Of course, there are some that disapprove and genuinely so.
Pros/Features Overview
Strong and sturdy
Very stable
Provides over 20 exercises
It has adjustable horizontal bars that allow you to exercise the way you want
It comes with easily adjustable sling straps
It is not difficult to assemble
It comes with a tower-mounted exercise placard that illustrates the numerous exercises that could be done with it
No maintenance required
Cons
This machine does not offer cardio exercises
Very tall individuals may not really enjoy performing chin-ups with it but that won't be a deal-breaker to most users
Product Dimensions and Specifications
53'' Length
50'' Width
77'' Height
Supports 300 pounds/136 kg maximum user weight capacity
Resistance: Bodyweight
E-Z Adjustable horizontal bars and sling straps
Exercises: 20+
Weight: 120 pounds/54 kg
Warranty
5 Years on Frame
1 Year on Wear Parts
Shipping, Assembly, and Maintenance
Shipping
The Bowflex is shipped in a box and doesn't come assembled.
The shipping cost depends on the vendor that is selling to you; however, Amazon provides free shipping to the USA residents and delivers within days of order.
Assembly
The power tower is relatively easy to put together because it takes only nine steps to assemble it.
The manual has clear instructions on how to assemble it with illustrations and texts. It doesn't take too much time to assemble and all the necessary tools required for the assembly are included.
Maintenance
Basically, no maintenance is required. You are only expected to always keep the machine clean from dirt and sweat at all times.  Also ensure that you examined it before use for any loose, broken or worn out part so as to prevent any accident and further damage to the machine as well.
Conclusion
The Bowflex Power Tower is seen as one of the best power towers available and it is not difficult to see the reason why. It is popular because it is cost-effective. It is affordable and still offers over 20 workouts that positively impact the overall body.
It also has a small footprint that makes it the perfect choice for those that have a space problem.