The Inspire Fitness Functional Trainer FT1 with product code FT10 is the preceding model of the Inspire Fitness Functional Trainer FT2. It is a compact home gym with quite a several useful features that could transform anyone that is out of shape to a healthy physical fitness.
It is good for those that wish to increase stamina, lose weight, and build up muscle mass.
The FT1 is one of the finest in terms of usability, quality, and has a reasonable price tag as well.
It has 165 lbs weight stacks on each side of the machine with center drilled holes and a magnetic weight pin for safety. You can easily and quickly adjust the weight resistance to a suitable level without having to literally move weight plates in and out of the weight stack. This saves time and prevents any accidental dropping of the weight plate on the floor or even on top of your foot.
Each weight stack consists of 15 weight plates of 10 lbs/4.5 kg with a stopper plate that also weighs 10 lbs. Two 5 lbs bump-up weight plates are also included in the accessories that could be used to make up the total weight on each weight stacks to 165 lbs/74.8 kg.
The FT1 comes with accessories such as Tricep Rope, 2x Rubber D Handles, Straight Bar, EZ Curl Bar, Ankle Strap, Multi-Function Belt, Sports Handle, Exercise Booklet, and 2x 5lbs Add-On weights.
In other words, this machine does not come with an FID bench, 2x 50 weight stack upgrade, preacher curl, and Ab Bar, but they are available to be purchased separately if you wish to expand the scope of exercises you can perform.
However, you can still do a lot with the FT1 without the optional accessories. The pulleys have about 30 adjustable positions that allow you to perform different types of exercises such as triceps pushdown, biceps curl, abdominal crunch, baseball swing, gold swing, side twist, alternating punch, and much more.
Click right here to have a peek at the price of the Inspire Fitness Functional Trainer FT1 Amazon.
 The Frame and Construction
One thing that is unique about the Inspire Fitness Functional Trainer FT1 is its design and size. It is compact and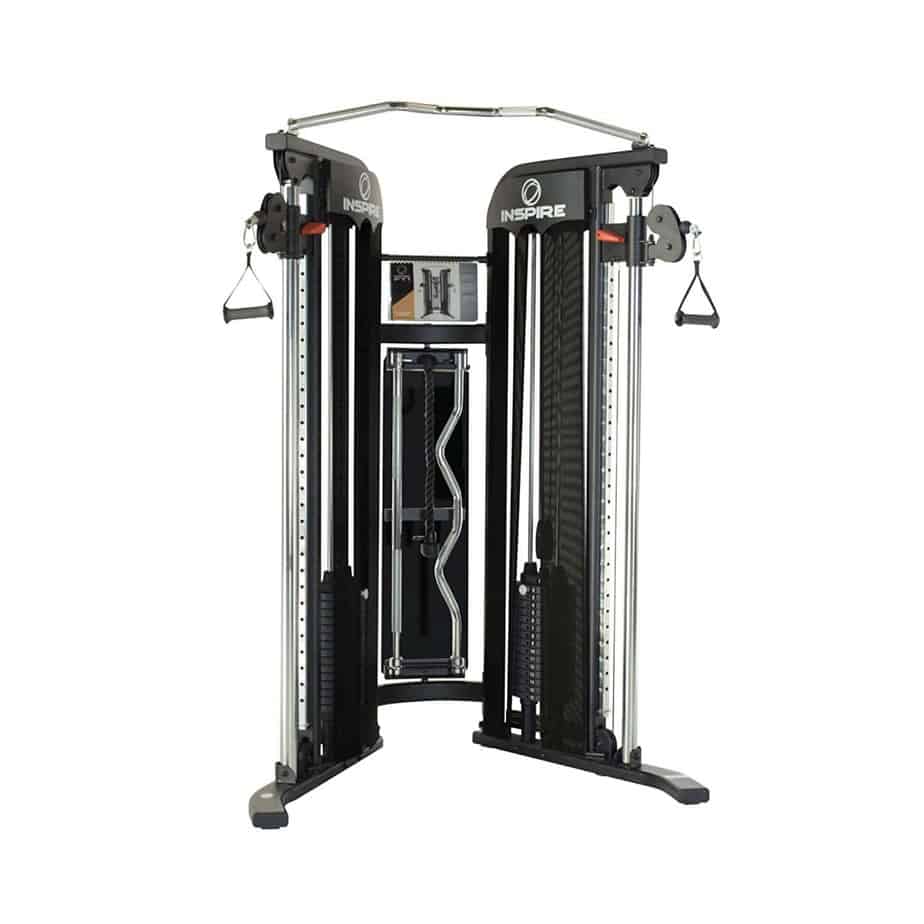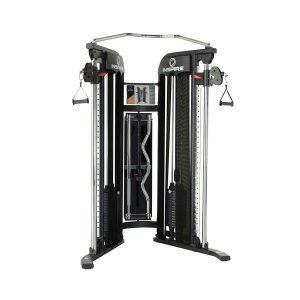 could conveniently fit in a corner of the room. It has a V-shaped and space-forward design that makes it possible for every exercise to be performed right in front of the machine without the need of going around it.
This means that once it is fitted to a small corner you only need a reasonable clearance at the front of it to be able to use it.
It has a small footprint of 47 inches long/depth by 54 inches wide/width with a height of 81.5 inches. Therefore, a dedicated workout area of 3.9 feet long/depth by 4.5 feet wide/width will be required and a ceiling height of at least 7 feet tall so that pull-ups can be performed without restriction.
The frame is made of heavy-duty 2 inches by 4 inches oval 11 gauge tubular steel that is finished with a two-tone electrostatic powder coat that offers a durable maintenance-free finish. Differently put, the paint is anti-corrosive that preserves the original appearance at all times with no further maintenance required than to clean it up with a damp cloth.
The pull-up bar, the pulley guide rod, and the beams with 30 positions are chrome finished.
The FT1 consists of a set of adjustable pulleys, cables, a ball bearing system, a pull-up bar, and 165 lbs weight stacks on each side for balanced weight on each side of the body.
The 2000lbs tensile strength cables covered in PVC sheets run smoothly over the durable fiber-reinforced nylon pulleys. The precision steel ball-bearing system also provides smooth operation and it is maintenance-free as well.
Interestingly, the pulleys could be adjusted to any level so that a variety of exercises can be performed with a 0.5 resistance ratio providing a smooth feel and a longer range of motion for more versatility.
The Inspire Fitness Functional Trainer FT1 can be used by multiple users of different heights and body sizes.
The Resistance
As aforementioned, the FT1 has 165lbs weight stacks, one on each side of the machine.
Each of the weight stacks has about 15 weight plates and a stopper that weighs 10lbs each. Therefore, the total is 160lbs plus the2x 5lbs add-ons that are included in the accessories.
The weight plates are made up of heavy-duty durable steel that could last forever.
The weight adjustment could be done quickly and safely with a lot of ease. Each weight plate on the weight stacks has the overall weight indicated on it with a drilled hole on the side for the safety pin to be inserted into it. Therefore, simply remove the safety pin and insert it into the hole of the weight resistance level you feel is suitable for your workout and that's it.
This means you don't have to practically remove or add weight plates each time you wish to adjust the weight resistance level.
The weight generated for each weight stack is 80 lbs/36 kg because the machine offers a weight ratio of 2:1.
If you are a heavy lifter then you may have to consider the 50 lbs optional upgrade. This will upgrade the weight on each stack to 215 lbs.
Optional Accessories
These are the accessories that could help make your workouts a lot more versatile but they are not included in the package. You will have to purchase any of them separately if you think it is necessary.
Bench
The bench is used for several exercises such as the chest presses, seated curl, pullover, seated row, seated shoulder press, and many more. You should also be able to use the preacher curl if you have a bench.
Preacher Curl Attachment
The preacher curl attachment is not included but it is optionally available as well. This is important to include especially if you wish to intensely target the arms muscle group.
Of course, you could use the pulleys on the FT1 to work on your arms, or even use standalone barbells or dumbbells but they are not the same as using them with the preacher curl.
The preacher curl helps you to target the biceps muscle group like a pro with so much intensity that is highly concentrated on the target.
50 lbs Weight Upgrade
The 50 lbs weight upgrade may be necessary if you are a heavy lifter who wishes to experience outstanding weight resistance.
Accessories Included
The rotation accessory holder includes the following:
Multi-Functional Belt for assisted pull-ups
Easy Curl Bar
Straight Bar
Ankle Cuff
Swing Handle for baseball and golf swing exercises
Tricep Rope
2x 5 lbs weight add-ons
2x Rubber D handles
Exercise Booklet
Approval Rating
The Inspire Fitness Functional Trainer FT1 approval rating is thus far very impressive; although at the time of this review there are fewer (6 reviews) Amazon customer reviews available.
However, it is significant to point out that all the 6 Amazon customer reviews are 100% approving of the Inspire Fitness Functional Trainer FT1.  This means that users are satisfied with the product's quality and functionality.
Pros/Features Overview
It has a V-shaped and straightforward design with a small footprint that makes it fit in a corner of the room
The frame is extremely durable and stable
The pulleys and the cables are designed to last long and they operate smoothly
Ergonomically designed and positioned pull-up bar
There are 30 positions the pulleys could be adjusted to
It has an even and balanced weight of 165 lbs on each side of the weight stack
The weight stacks are upgradable to 215 lbs
The machine is versatile thus provides possible different workouts
The weight resistance could be adjusted quickly and safely with ease
Low maintenance
Excellent warranty
Cons
It is a very heavy machine, therefore, it would require a dedicated permanent workout area
Product Dimensions and Specifications
47'' Depth
54'' Width
81'' Height
User Weight Capacity: 330 lbs/150 kg
Resistance: 2x 165 lbs/74.8 kg with 2:1 ratio
Exercises available: Over 40
Warranty
In-Home Warranty
Lifetime on Frame
Lifetime on Parts
2 Years on Cables
1 Year on Labor
90 Days on Upholstery
Light-Commercial (maximum of 6 hours usage per day)
10 Years on Frame
1 Year on Parts
1 Year on Cables
90 Days on Upholstery
Shipping, Assembly, and Maintenance
Shipping
The Inspire Fitness Functional Trainer FT1 is shipped out in 8 boxes. Box 1 contains the mainframe of the machine; box 2 contains the parts, while boxes 3, 4, 5, 6, 7, and 8 contain weight plates. The total boxed weight is 613 lbs/278.5 kg.
The shipping cost depends on the retailer that is selling to you; however, some vendors such as Amazon provide free shipping for United States residents and delivers within days of order.
Assembly
The Inspire Fitness Functional Trainer FT1 obviously requires a significant amount of assembly and could even be complicated for first-timers to orient themselves with the numerous parts that come in the boxes.
The package comes with a detailed instructional manual designed to provide step-by-step assembling instructions. It will require at least two persons to assemble it and could take several hours and in some cases the entire day to completely put it together.
There is an option of getting someone through the retailer to assemble it for you in case you don't want to do it yourself, but that, of course, comes with an extra charge.
Maintenance
The maintenance of the Inspire Fitness Functional Trainer FT1 is not complicated or serious. Once it is assembled you are expected to be lubricating certain areas of the machine periodically for smooth operation.
The comprehensive instruction on that is included in the manual as well.
Conclusion
The Inspire Fitness Functional Trainer FT1 is a perfect machine for weight resistance exercises that lose weight, improve stamina, and build muscle mass.
Most of the standing exercises it provides target the core, shoulders, chest, back, and arms, while squats can be performed for lower body development.
The FT1 is an ideal trainer for individuals that are interested in weight loss, stamina increase, and building muscle mass. It is great for everyone, even a pro bodybuilder or weightlifter will be impressed by it.
Inspire Fitness Functional Trainer FT1 Review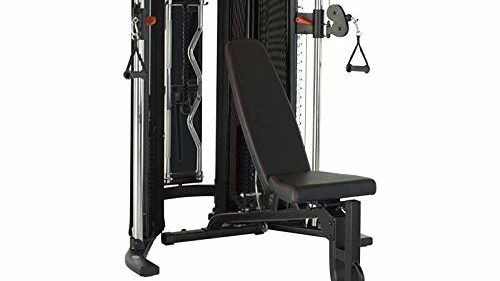 One thing that is unique about the Inspire Fitness Functional Trainer FT1 is its design and size. It is compact and could conveniently fit in a corner of a
Product Brand: Inspire Fitness
Product In-Stock: InStock