The BodyCraft VR500 Commercial Rower is a very interesting rower that is in the league of the Concept2 Model D and Model E. These are apparently high-end rowers that are simply popular for home use and as well as for the commercial gym.
The BodyCraft VR500 shares some similarities with Concept2 but its edge is the fact that it has a unique resistance system that utilizes the air and magnetic mechanisms to generate resistance.
However, and fortunately, we are aware of an entry-level rower that has a similar type of resistance system and probably the only rower in its category to ever possess the air & eddy current resistance system, and that is the Sunny Health & Fitness SF-RW5623 Air Rowing Machine.  But this does not mean that the SF-RW5623 Air Rowing Machine is on the same scale as the BodyCraft VR500 Rower.
The BodyCraft VR500 Commercial Rower is the rowing machine that will be appreciated by beginners and professional athletes alike. It is also important to note that this is a product of over 10 years of research and development that considered and incorporated the requests of consumers and technology which makes it one of the finest rowers for home and commercial use.
It is common knowledge that this rower is used reliably by commercial gyms and professional athletes that are training for serious competition. Some users have even asserted that the Concept2 Rowers are archaic in design and that the BodyCraft VR500 has a modern design that features quiet operation, a comfortable seat, and it offers a broad range of resistance that is very effective.
However, we do think that the Concept2 Rowers and the BodyCraft VR500 are both good commercial grade rowers that are fine and unique in their own ways and they will appeal to rowing enthusiasts with different tastes.
This could probably be one of the smartest decisions you make if you decide to invest in it.
Click right here to have a peek at the price of the BodyCraft RV500 Commercial Rower on Amazon.
The Frame and Construction
The BodyCraft VR500 Commercial Rower's heavy-duty I-Beam Mono-Rail is made from high strength T13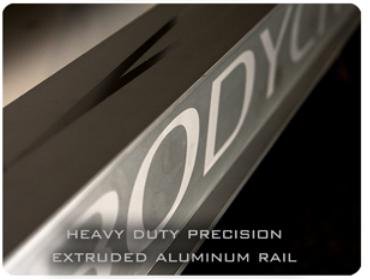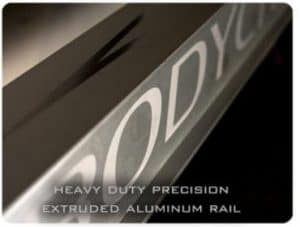 aluminum. In other words, it is made of anodized aluminum that is durable, decorative, and corrosion-resistant. It has three stabilizer bars made of steel at the bases, one at the front, one at the rear, and the other joined with the front stabilizer bar at the top and slightly slanted at the bottom toward the middle of the rail beam. These stabilizer bars are also coated with black anti-corrosion and scratch paint that is designed to protect them from rusts and scratches thereby preserving their original appearance for a very long time.
Underneath the stabilizer bars are rubber materials that are placed to safeguard the floor from being damaged by the rower. However, you may opt to purchase the protective rubber mat to serve as a floor and machine safety measure, especially if you are using the rower on a wooden or a tiled floor.
The I-Beam is also sprayed with a silver anti-corrosion and scratch paint.
The overall build is apparently solid and supports about 350 pounds/159 kg maximum user weight capacity.
It is also very stable, taking into account that the stabilizer bars are strategically positioned and the rower weighs about 101 pounds/46 kg which adds to its stability by making it well-grounded.
We also understand that the weight is good for stability but some users may be concerned about relocating or moving the rower from one room to another. Well, that is also taken care of by the manufacturer as the front base features transport wheels that make it portable.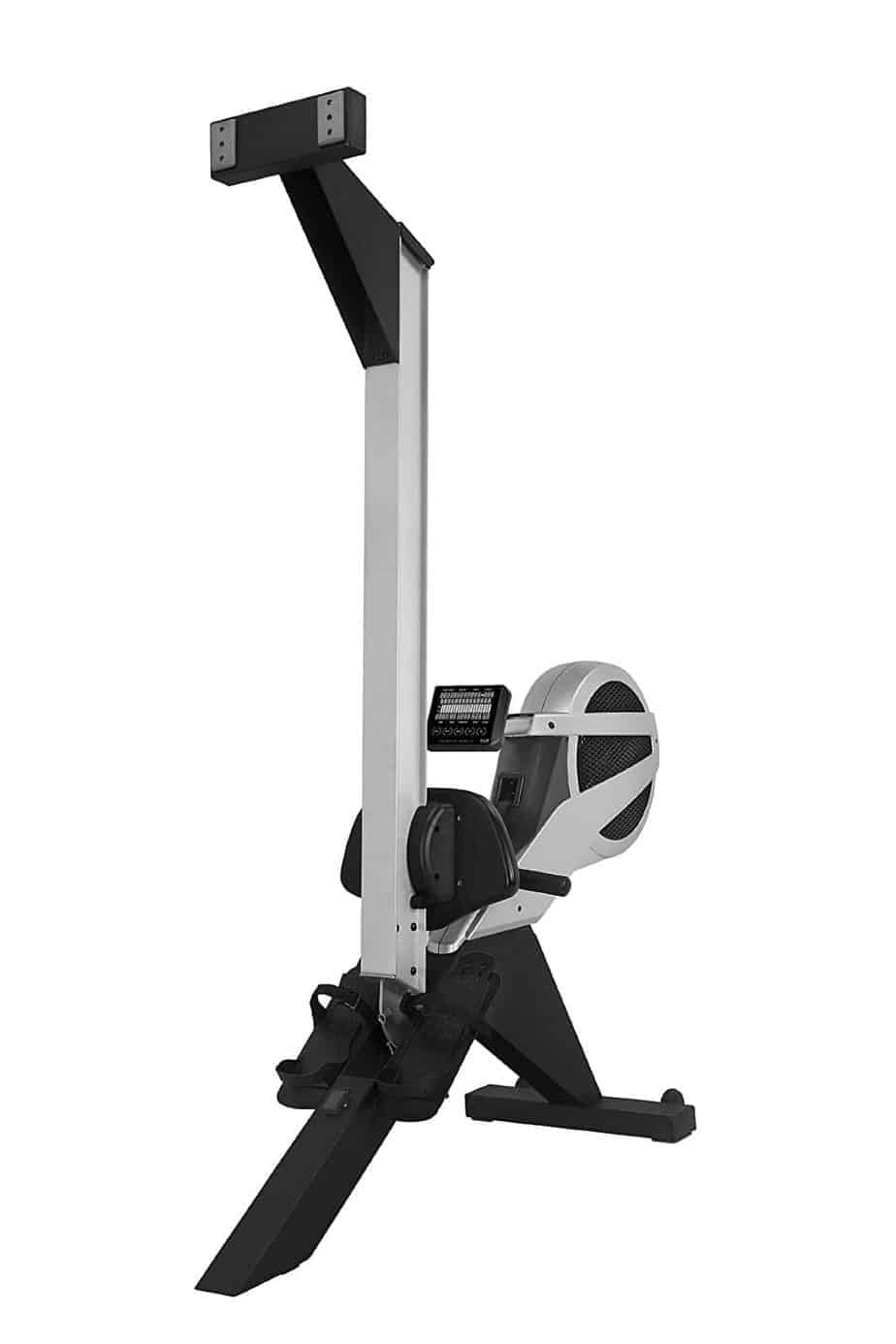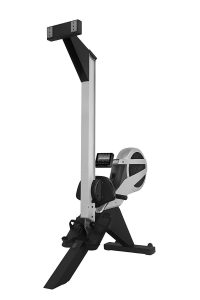 The rower will take a bit of a space just as expected. Usually, the high-end rowers tend to be larger than the inexpensive rowers.  But the good news is that it is a foldable rower that could be reduced to almost half its assembled length size.
The fully assembled dimensions are 98.5 inches long by 20 inches wide by 38.5 inches tall. This also means that the workout area required should be 8.2 feet long by 1.7 foot wide, and it is recommended to add an extra clearance of 2 feet on both sides of the rower and the rear for better and safe practices.
This bike indeed takes a bit of space and may not be good for some rooms or apartments with space issues; although, as aforementioned, the rower's length size could be reduced significantly when folded for storage.
The folded dimensions are 58.5 inches long by 20 inches wide by 77 inches tall.
Users of up to 6.8 feet can be accommodated conveniently with full leg stretch out.
The Seat, the handle, and the Pedals
The seat of the BodyCraft RV500 Commercial Rower is well contoured and padded for maximum comfort. The seat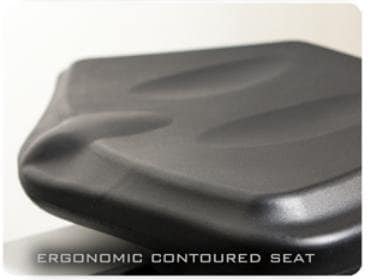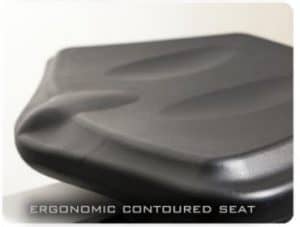 features heavy-duty roller bearings that are durable and ensure smooth, hitch-free glide. This glides through the track which is the heavy-duty I-Beam mono rail-high strength T13 aluminum.
Since the seat is ergonomically contoured and adequately designed, although not heavily padded but enough to provide that comfort that could allow you to perform a prolonged workout.
The I-Beam is not completely horizontal but slightly slanted when it is fully assembled, and this impacts the legs positively as it provides a challenging workout as you push to slide backward and get back forward slightly faster.
The seat's height (from the top of the seat to the floor) is about 19 inches which means that it is not too low but great for everyone including folks with a disability; they should be able to get on and get off the seat conveniently.
Unfortunately, the seat's dimensions are not indicated.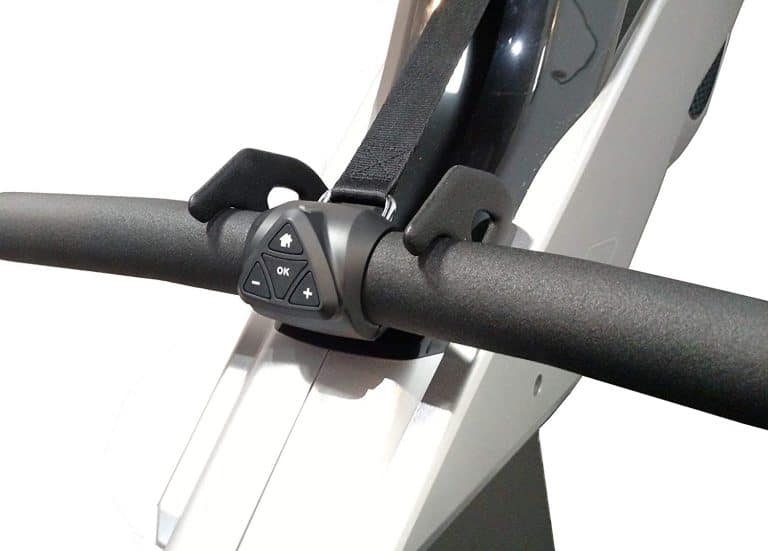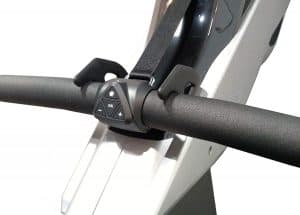 The handlebar of the BodyCraft RV 500 Commercial Rower is unique and specially designed to provide comfort as well as convenience.  This is so because it made of aluminum and features rubber foam covering that provides the much needed firm grip and a remote resistance control buttons for quick and easy access.
The pulling strap which is made of a premium nylon belt, tested with over 580-pound load repeatedly for over 500,000 times is attached to the handlebar.
Basically, the drive consists of the handlebar, the strap that is coiled on a small spring drum, and attached to the handlebar, a small pulley that is connected to the fan flywheel with a heavy-duty drive belt.
The handlebar and the drive have been described as providing comfortable, convenient, and smooth rowing motion.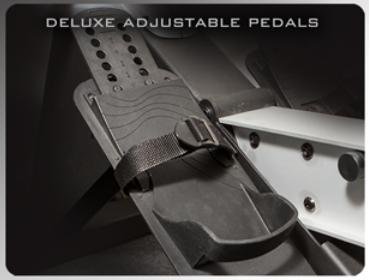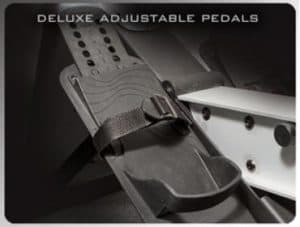 And it is very quiet during a workout even though it has a fan as one of its resistance mechanisms.  Users have applauded it and say they could watch their favorite TV show without having to turn the volume high.
As for the pedals which are also known as the footrests, they are ergonomically contoured and adjustable so that different sizes of feet can fit in. They are made of heavy-duty nylon material and also feature adjustable safety straps that secure the feet and prevent unwarranted slippage.
However, they are non-pivotal footrests that are fixed at an angle of 45 degrees.
The Resistance
The resistance system of the BodyCraft RV 500 Commercial Rower is one of the most interesting parts of the features.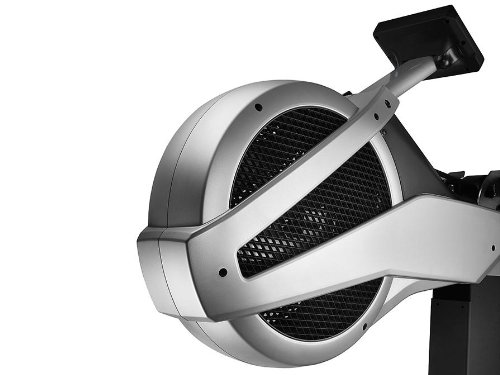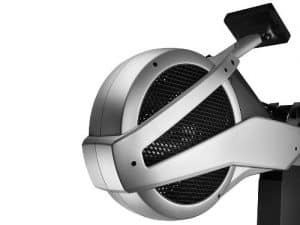 As aforementioned, the resistance system of this rower is made up of the air and magnetic mechanisms which make it to be unique and formidable. Aside from the fact that it features about 32 resistance levels, the resistance also increases when you row and pull faster, now, that makes it formidable.
These are the elements that make up the resistance system; a small servo motor with magnets, and a fan flywheel. The air generates resistance when you row and it even gets difficult when you pull faster, and the magnetic element generates additional resistance when adjusted.
When the two are combined they become a force to reckon with which provides highly challenging workout depending on the resistance level you adjusted to and this, in turn, burns a lot more calories than any other rower could.
The level 1 resistance is only the air resistance that is in effect and increasing the resistance is made easy as the handlebar is integrated with a remote resistance adjustment buttons.
It will be very difficult for anyone to max the resistance level of this rower.
Many agreed that the BodyCraft RV500 is good for beginners and professional athletes.
The Console/Monitor
The BodyCraft RV500 Commercial Rower features an advanced and professional console that depicts the rower's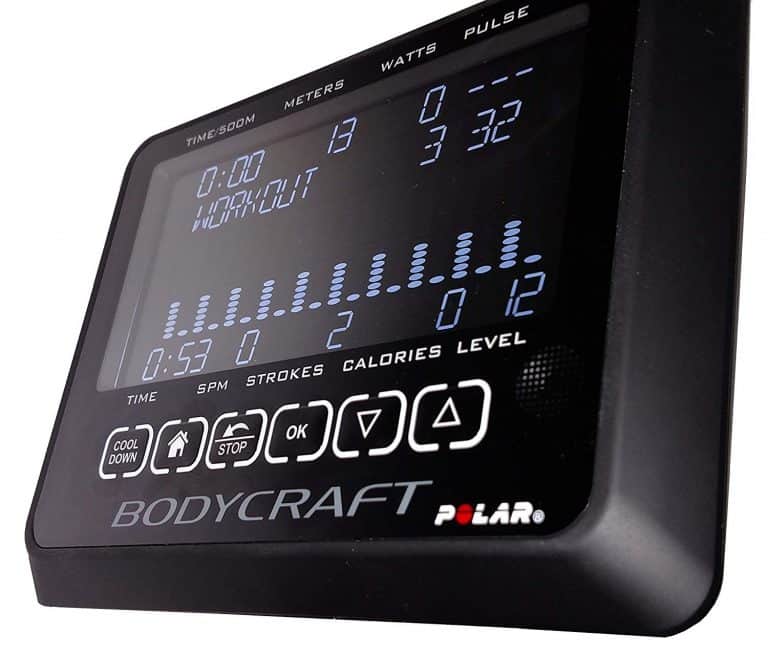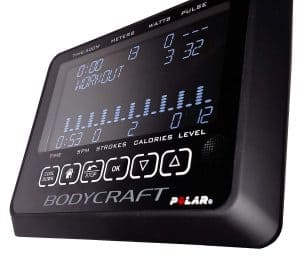 merit level. This is yet another selling point of the rower because it has got a number of useful features that guarantee quality and fun-filled workout experiences.
First, it is beautifully designed with backlit that ensures high readability even in a poorly lit room or the environment. The buttons are touch screen and backlit as well.
It is positioned on an adjustable arm that has dual pivot angles, which is by the way very easy to adjust and provides good optional viewing angles.
The monitor helps you to keep track of your workout progress because it simultaneously displays values such as the watts (amount of energy you are generating), distance, time, strokes per minute, total strokes, heart rate, and calories burned. On top of that, it also displays the level of resistance you are currently using.
This means you always have an overview of your workout progress displayed at all times, no need to push buttons to rotate values or make certain value constant.
The heart rate can only be viewed if you are using a compatible HR chest strap, and unfortunately, this device is not included, you have to purchase separately. If you own one, you can try it to know if it is compatible with the console because it is stated clearly by the manufacturer that not all Polar compatible heart rates may work.
Therefore the Polar T34 Heart Rate Telemetry Chest Strap is recommended. Basically, any Polar compatible HR chest strap with a 5 kHz frequency should be able to work with the console.
This could transmit within the range of 4 feet and can receive an accurate reading.
There are 12 preset programs available in the console and these are 4 Race, 4 HRC, 2 Interval, 1 Custom Definable, and Manual.
The HR control has 1 program that allows you to create your own workout heart rate zone while there are 3 others that are preset which are, 55%, 75%, and 90%. This is awesome because it provides the flexibility anyone needs.
There are 4 user profiles that allow multiple users to use and save their settings. This also keeps individual profile settings intact without fear of being erased by another user.
The 4 race feature makes it possible for you to compete against another race boat. This is great for anyone that wishes to lose weight fast.
You can also select target goals you wish to accomplish for time, distance, and watts.
The rower requires power in order to function well, especially the console and the resistance level.
The console automatically comes alive when there is activity on the rower and also auto shuts down when there is inactivity for 4 minutes.
Options
There are two optional items that are yet relevant and important.
Just as we mentioned earlier, the Polar compatible HR chest strap is not included with the original package, and we would have loved to see that included considering the price of the rowing machine.
However, the HR chest strap is optional and the protective rubber mat as well. These are said to be optional but in reality, they are necessary.
Therefore, if you are purchasing the BodyCraft RV500 Commercial Rower, don't hesitate to add those if you don't already have them. Both of them should be less than $150.
Storage
The BodyCraft RV500 Commercial Rower is a pretty large machine that could occupy a bit of space and therefore,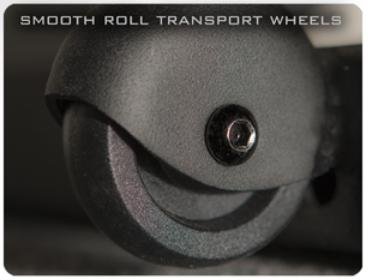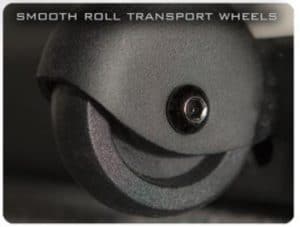 may not be ideal for those with a space problem.
It requires a workout area of 8.2 feet long by 1.7 foot wide; obviously, this is large.
That said, it is foldable, and the length size can be reduced to almost half of its original assembled size. The storage area required is 4.9 feet long by 1.7 foot wide by 6.4 feet tall.
It is pretty easy to fold and could be done within seconds with a child lock in place for safety.
It also features transport wheels for easy relocation process.
It cannot be stored under the bed apparently neither can it be stored in a standard closet that is not big enough.
The Approval Rating
The approval rating of the BodyCraft RV500 Commercial Rower is impressive without any indication of reservation of what the sentiments of the users are.
Both the customer reviews we read on Amazon and on BodyCraft's website are full of positive reviews. It is not difficult to come to a conclusion that this rower is simply one of the best rowers available.
Pros/Feature Overview
Commercial grade and sturdy rower that supports up to 350 pounds/159 kg maximum user weight capacity
Very stable due to its stabilizer bars and overall weight of 101 pounds/46 kg
Features anodized aluminum I-Beam that is very decorative, durable, and corrosion-resistant
It has steel stabilizer bars
Features a console with an LED monitor that is backlit with touch screen buttons
Features air & eddy current resistance system that is twice as effective than most rowers out there with reduced noise
You should be able to work out and watch your favorite TV show, movie, or listen to good music
It has a lengthy frame/glide rail that can accommodate up to 6.8 feet user without leg restriction
There are 32 levels of resistance
Ergonomically contoured seat provides comfort to the butt and helps to workout longer
Track workout progress by viewing values such as distance, strokes per minute, total strokes, distance, speed, time, calories burned, profile, and pulse
The handlebar is made of aluminum and coated with a soft rubber foam material that provides a comfortable firm grip with easy access to the remote resistance buttons
12 built-in workout programs that include, 4 Race, 4 HRC, 2 Interval, 1 Custom, and Manual
The console features 4 user profiles
Foldable and portable with transport wheels
It provides full-body workouts that target the major muscle groups in the body
Almost maintenance-free
Excellent warranty
Cons
It is a large rower that can take a little bit of space
The polar compatible HR chest strap is not included (you have to purchase separately in order to read and view your heart rate data)
Product Dimensions and Specifications
99'' Length
20'' Width
39'' Height
59'' Length (folded)
20'' Width (folded)
77'' Height (folded)
Workout area required: 8.2 feet long by 1.7 foot wide
Seat: contoured and padded
Seat height from the floor is 19''
Frame: Anodized aluminum
Supports 350 pounds/159 kg maximum user weight capacity
Assembled product weight: 101 pounds/46 kg
Seat travel 39.5''
Resistance: Air & eddy current with 32 levels
Console: LED monitor with touch screen buttons, 12 preset workout programs
Pedals: Adjustable with safety straps
Residential Warranty
Lifetime on Frame
7 Years on Parts
1 Year on Items
2 Years on Labor
Light Commercial (up to 5 hours per day)
10 Years on Frame
3 Years on Parts
1 Year on Wear Items and Labor
Shipping, Assembly, and Maintenance
Shipping
The BodyCraft RV500 Commercial Rower comes in a box with dimensions of 71.5 inches long by 30 inches wide by 10 inches tall. The box weighs about 116 pounds/52.6 kg.
The shipping cost of this rower depends on the retailer you are purchasing from; although, some vendors such as Amazon provide free shipping for U.S residents.
Assembly
The assembly of the BodyCraft RV500 Commercial Rower is relatively easy because it is delivered with the major components preassembled.
However, you have to assemble some parts such as the stabilizer bars, the pedals/footrests, and the seat. This task won't take up to an hour and all the tools and a detailed instruction manual are included.
However, you may need someone to assist you during the assembling process.
Maintenance
As aforementioned, this rower is almost maintenance-free, except you will have to wipe it off of dirt and sweat at all times.
Also, as a precautionary measure, do examine the rower frequently for any loose, broken, or worn out part, and fix accordingly if you find any. This prevents accidents that are uncalled for and also preserves the working condition of the rower.
Conclusion
The BodyCraft VR500 Pro Rowing Machine is designed to suit the needs of beginners and as well as professional athletes. It is for home use and for commercial use also.
This rower is almost without a downside, but of course, there is hardly anything without a downside, right? Nothing is perfect, and so is this rower.
The good news is that it has very minimal downsides that are not a deal breaker for many.
If you add this rower to your home gym fitness arsenal, you will experience a great and positive physical transformation.
BodyCraft VR500 Commercial Pro Rower Review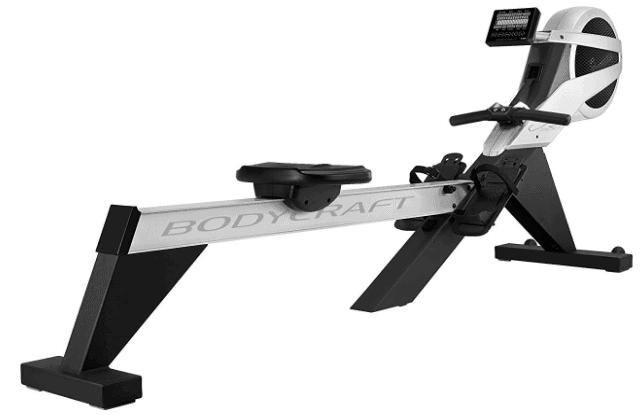 The BodyCraft VR500 Commercial Rower is a very interesting rower that is in the league of the Concept2 Model D and Model E. These are apparently high-end rowers that are simply popular for home use and as well as for the commercial gym.
Product Brand: BodyCraft
Product In-Stock: InStock