The BodyCraft Xpress Pro is one of the top-rated and complete home gyms for commercial and home use. The frame is built with heavy-duty steel tubing and has dimensions of 2 inches by 3 inches and 2 inches by 2 inches.
You can lose weight, sculpt your body and improve strength and golf swing with this home gym because it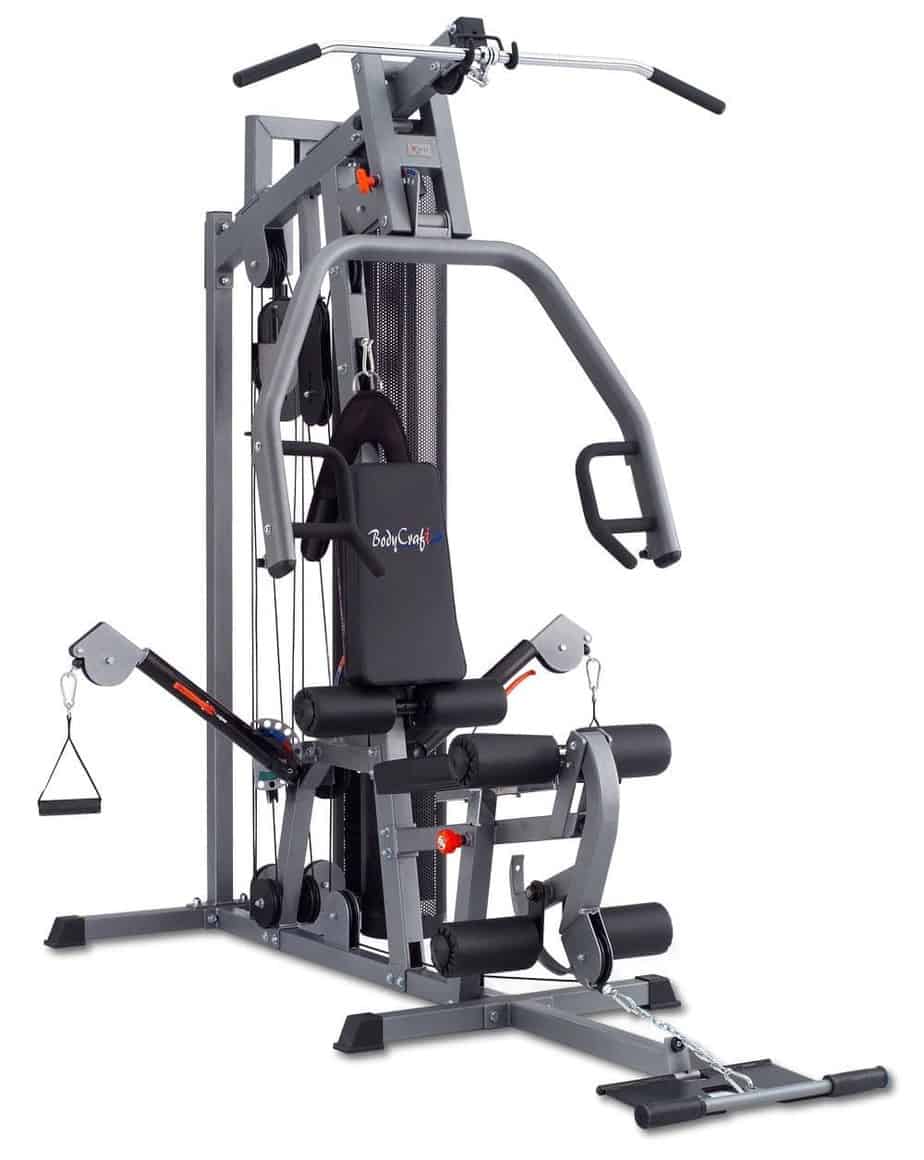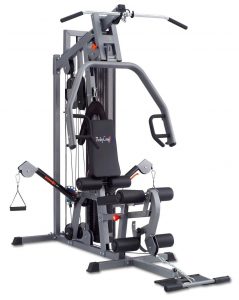 allows you to perform a wide range of workouts with its multiple stations for chest presses, shoulder presses, lat pulls, leg lifts, and even more.
Importantly, it has several pulleys that are designed to help you achieve specific fitness goals. There are pulleys for ab crunches and triceps extension, a high pulley for lat pulldowns, and triceps pushdowns, then a low pulley with a footplate for low rows, leg and hip exercises, arm curls, upright rows, etc. And these pulleys and the cables provide complete natural, unrestricted biomechanical movements that are correct.
The leg extension/leg curl station has a designed and self-aligning feature that is suitable for almost every user. It is integrated with a 200-pound weight stack that could be doubled up to 400 pounds when combined with the leg press.
The BodyCraft Xpress Pro Home Gym is a heavy home gym that weighs about 575 pounds with dimensions of 82.9 inches long by 56.5 inches wide by 83 inches tall. This goes to show that a user will surely experience outstanding workouts that are comfortable, convenient, and result-oriented. The equipment is covered by an excellent warranty anyone can't just refuse.
It is also featured in our best home gyms review because it is one of the best.
The other parts which make up the home are solid, reliable, and durable. We are going to discuss these if you stick with us for a while.
<<<Click here to purchase the BodyCraft Xpress Pro Home Gym at the best price>>>
 The Frame
The BodyCraft Xpress Pro is no doubt a high-quality home gym that is designed to last and withstand any kind of hard use. It is one of the few sturdiest home gym available and BodyCraft ensures it is rightly so.
The frame is made of thick 12 gauge heavy-duty steel tubing that is finished with a platinum gray, powder coat which is anti-scratch and corrosion-resistant.
It is also integrated with flexible, nylon coated aircraft cable that is rated to be more than 2000 pounds tensile strength. The pulleys are 4.5 inches in diameter made of fiberglass nylon with quality sealed ball bearings.
To further guarantee comfort BodyCraft integrated the home gym's seat, backrest, and rollers with 2 inches thick, high-density foam that is covered with double-stitched vinyl. The guide rods are 1-inch tubular steel and perforated steel weight stack guards for maximum safety.
This is indeed a very solid and complete home gym that is designed to meet your needs in all aspects.
As we mentioned earlier, it is heavy equipment that weighs more than 500 pounds and even though the base has rubber caps to prevent dents or scratches to the floor it will be wise if it is assembled on a rubber mat as well. Moreover, it should be taken to the designated assembly area by two persons or more.
Do not forget that the weight is a positive factor that improves the stability of the home gym, with a weight like that there will be no wobbling or movement experience during exercises.
The size of the home gym will also require a bit of space as the footprint is 82.9 inches long by 56.5 inches wide. So to create a safe workout environment, there will be the need to consider adding extra clearance of 2 feet on each side.
If you are looking forward to adding the BodyCraft Xpress Pro to your home gym then you should be able to provide 9 feet long by 7 feet wide space for its designation. Also, ensure that the ceiling is up to at least 7 feet high which is going to be very tight because the unit takes up about 6 feet 92 inches.
This home gym is believed to be the first design ever but has been copied by other brands but it is the first and the original.
The Seat and Pulleys
The seat and the handlebars are always part of the key elements that ensure that users are comfortable while using the equipment that is if these elements were designed as they should.
But in the case of the BodyCraft Xpress Pro, the seat and the pulleys are part of the elements that guarantee comfort and convenience during workouts.
Just as aforementioned, the seat, backrest, and rollers are integrated with 2-inch thick high-density foam that is covered with double-stitched vinyl which also means that they are durable and can last longer.
The seat is adjustable with various upright adjustment positions while the backrest can also be adjusted forward and backward.  Therefore, many users of different height sizes can be accommodated conveniently and experience the comfort the seat offers. It can also be adjusted easily even while seated because it has a spring-assisted adjustment bar.
Just as we have stated in several places above that the BodyCraft Xpress Pro has a good number of pulleys that are designed to provide smooth and seamless operation along with the cables and handles. Again, made of fiberglass nylon with sealed bearings that offer the correct movements that are biomechanical and completely natural.
The BodyCraft Xpress Pro has 3 adjustable pulley systems that exercise the entire muscle groups in the body that include the upper body, the abdominals, and the lower body.
This is how it works, the high pulley system works on the chest and arms, while the mid pulley system rips and sculpts the abdominal area and then the lower pulley system strengthens the hips and the legs.
The cables are flexible steel ropes that coated with nylon and rated at more than 2,000 pounds of tensile strength.  The pulleys, cables, and the sealed bearing are formidable workout mechanisms that are built to last and deliver, no doubt.
The Weight stack
This home gym comes with a standard weight stack of 200 pounds, which is with 20 weight plates of 10 pounds each.
These weight plates are highly durable because they are made of steel and precision-mild. They can last for a very long time without needing to replace any of them. This is one of the reasons why the BodyCraft Xpress Pro is different from the pack and perhaps the reason why it is more expensive as well.
The weight can be doubled from 200 pounds to 400 pounds when combined with the leg press attachment which is cabled at 1:2 ratio, unlike other home gyms that have a weight ratio of 1:1.
The weight stack has a perforated noise dampening guard that provides safety and overall workout experience.
Workout Stations Available
Numerous workout stations are available in this home gym designed to help the user work out the different muscle groups in the body. These workout stations are the adjustable arms cable station, ab crunch/mid pulley station, low pulley station, high pulley station, leg extension, and curl station, and press /row station.
Adjustable Arms Cable Station
The adjustable arms cable station has 11 position adjustments that allow a wide range of exercises to be possible which include the functional training, sports specific, core training, and dumbbell training.
Ab Crunch/Mid Pulley Station
The Ab Crunch/Mid Pulley Station is specifically for abdominal training, standing rows and more
Low Pulley Station
The low pulley station is for low row and offers exercises such as the arm curls, upright rows, abductor and adductor leg kicks, and more.
High Pulley Station
The high pulley station is for lat pulldowns and triceps pushdowns exercises
Press and Row Station
The press and row station with the adjustable starting point makes it possible for a variety of different size of users to be accommodated and also offer a wide range of exercises such as the bench press, incline press, shoulder press, and mid-row.
Leg extension and curl station
The leg extension and curl station offer exercises such as the seated leg extension and standing leg curl.
Accessories
The BodyCraft Xpress Pro Home Gym comes with accessories such as the lat pull bar, curl bar, ankle strap, and two single handles that are included in the lifetime warranty.
Options
Leg Attachment
However, to enjoy the full-body workout of this home gym, you may consider purchasing the optional feature, the leg attachment which will allow you to have more variety of lower body workouts including calves and increased weight resistance up to 400 pounds. It is completely adjustable for all sizes of users.
Triceps Rope
You may also want to consider adding the triceps rope if you wish to experience ultimate triceps workouts. This is made of heavy-duty chrome-plated swivel ergonomic solid rubber hand stops. It is commercially rated and an ideal add-on to any product with a high pulley.
5 pounds add-on Weight
This will be ideal for those users that would prefer to have 2.5 or 5 pounds weight increment instead of the standard 10 pounds the home gym comes with. It is made of steel just like every other part that has to be metal.
It is optional.
Sports Stick
This is also optional but it is a great addition to cables arms and cables columns and ideal add-on for the BodyCraft Xpress, X2, X4, GLX, GXP, and more.
Approval Rating
The approval rating is the measuring yardstick that is used to determine if a product is popular or not. Usually, we look at the approval rating and the feedbacks of any product we are reviewing to have a better insight.
As for the BodyCraft Xpress Pro, it is a popular home gym that is appreciated by anyone that purchased and used it. It has a good and impressive approval rating that suggests recommendations.
This is also seen in the quality of the home gym and the exercise options that it offers.
It is original and unique only copied by others but not duplicated.
Pros/Features Overview
It is solidly built with quality materials including the frame that is made of steel
Very sturdy and stable thanks to its overall design and weight
It has a well-padded and adjustable seat and backrest  that is covered with vinyl
It offers over 100 exercises when the functional training/cable arms are added
It has a standard stack weight of 200 pounds
It has 6 outstanding workout stations, namely, the adjustable arms cable station, Ab Crunch/Mid pulley station, high pulley station, leg extension and curl station, low pulley station, and the press and row station.
Rollers are well covered with foam for maximum comfort
The home gym features high-quality pulleys and cables
It can be installed against the wall
It has 180-degree adjustable cable arms
A unique double up feature which doubles bench press up to 400 pounds
It is ergonomically correct
The optional leg press attachment up to 400 pounds.
It has an impressive warranty
Very little maintenance is needed
It comes with accessories such as the lat pull bar, curl bar, ankle strap, and two single handles.
Cons
We think at the price it is being sold at, BodyCraft should have included leg press attachment as part of the main package but it is still one of the best and high-quality home gyms out there.
It will be difficult to move around because of its extreme weight
Assembly is not easy
Without the optional leg press attachment, a user will have fewer options for lower body exercises.
Product Dimensions and Specifications
82.9'' Length
56.5'' Width
83'' Height
Weight stack up to 200 pounds steel plats
Weighs about over 500 pounds
Warranty
Lifetime on Frame for (residential )
Lifetime on parts and accessories for (residential)
10 Years on Frame for (light commercial)
2 Years on parts for (light commercial)
6 Months on wear items for( light commercial)
Shipping, Assembly, and Maintenance
Shipping
The shipping cost of this equipment depends on the retailer's shipping policy however, Amazon usually provides free shipping and get it delivered in a couple of days.
Assembly
To assemble the BodyCraft Xpress Pro could be said to be very tasking because of the number of parts involved. Some users described the assembling as difficult and time-consuming because it takes some people several hours or even days to fully assemble it.
Therefore, if you must assemble it yourself you must be patient and follow the instruction on the manual to the letter and you will need your tools such as adjustable wrenches, screwdriver, and Allen wrenches.
You should be able to assemble it if you are good at fixing stuff with your hands.
Maintenance
Just like aforementioned, the home gym does not need any serious maintenance because even the pulleys that may require lubrication are pre-lubricated by the manufacturer and so will not require any lubrication anytime soon.
All you need to be doing after assembly is to make sure you wipe dust and sweat off of it and periodically check for any bolt and parts that may have loosened and tighten them back accordingly.
Conclusion
The BodyCraft Xpress Pro is an outstanding home gym that is recommendable. It provides a lot of exercise options that can sculpt your body and make you look as though you are carved out of the stone.
The only thing anyone may complain about is that it is a high-end home gym that is even more expensive if you have to get the optional leg press attachment which is necessary.
However, if you think this home gym is above your budget you may look up the Body-Solid Strength Tech EXM2500S Home Gym which is affordable and still can offer some level of useful strength training workouts but in comparison, the BodyCraft Xpress Pro Home Gym is still the best.
BodyCraft Xpress Pro Home Gym Review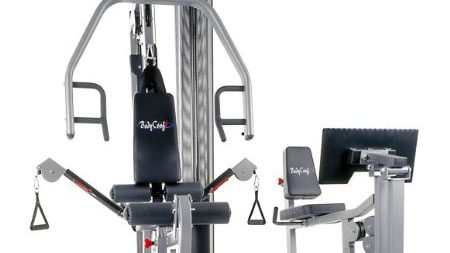 The BodyCraft Xpress Pro is one of the top-rated and complete home gyms for commercial and home use. The frame is built with heavy-duty steel tubing and has
Product Brand: BodyCraft
Product In-Stock: InStock