The BodyCraft SPT-MAG Indoor Club Group Cycle could be the perfect cycling bike you are looking for, for good reasons. It is a cycling bike HTBTB could recommend to those that are looking forward to purchasing a high-quality bike with a great performance as the Keiser.
This machine is built for home and commercial use, a proof that it could withstand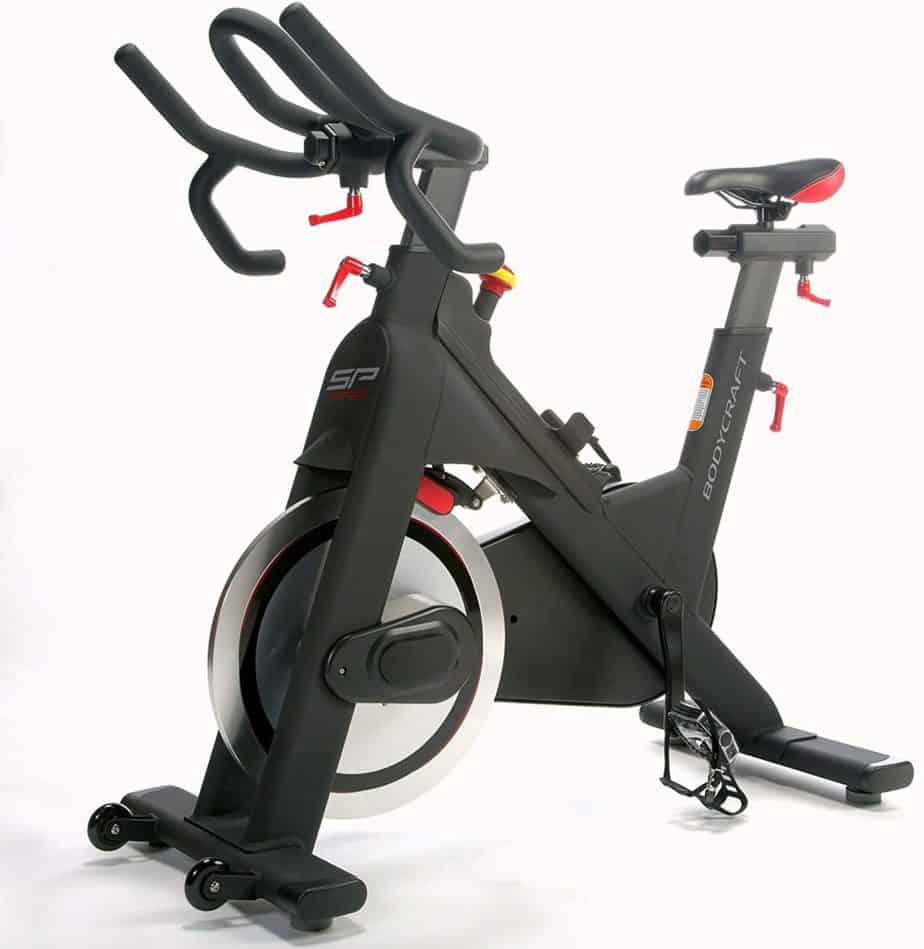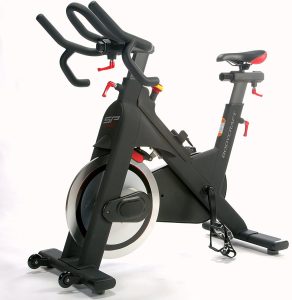 frequent high intensive workout routine without a breakdown. This is considered a high-end cycling bike that still worth the price. It is not as nearly expensive as other cycling bikes that are commercial grade.
Even though it does not include features like the fitness meter this could still be your perfect choice cycling bike that can provide that challenging spin workout experiences that are fat burning and fitness result oriented.
Click right here to have a peek at the price and of of the BodyCraft SPT-MAG Indoor Club Group Cycle.
Here is some of its features overview:
It has manual eddy current magnetic resistance system
It provides a smooth and quiet operation
It has multiple handle grips with 4 way adjustability
It has got a belt drive mechanism that is famous for its quiet and smooth operations and also maintenance free.
The seat has 4-way adjustability
High-quality rust-resistant steel frame
Designed for commercial and home use
Supports up to 350 pounds maximum user weight
Transport wheels for easy relocation
Water bottle holder for hydration
Weighted flywheel with precision perimeter
Quality dual pedals with toe cages for safety
Warranty
Commercial Use Warranty
10 Years for Frame
3 Years for Parts
90 Days for Wear items
90 Days for Labor
Home-Use Warranty
Lifetime for Frame
5 Years for Parts
1 Year for Wear items
2 Years for Labor
Product Specifications
42'' Length
24'' Width
47'' Height
Weighs about 116 pounds/52.5kg
The Frame
The BodyCraft SPT-MAG Indoor Club Group Cycle is a commercial-grade machine that could also be used at home. Therefore, the frame is built solidly with heavy-duty steel tubing. Many parts of this machine are made of steel. The frame also has an anti-corrosion finish that helps prevent rust and scratch, which means the unit, could remain as it is for a very long time.
It has a great and beautiful combination of colors; the main body is black, the handlebar is chrome, while the adjustment bars for the seat and handlebar are painted grey.
The BodyCraft SPT-MAG is undeniably built to be sturdy and strong even in a very high-intensity workout session. Its stability stems from its overall built and of course the adjustable stabilizers with rubber cap.
The weight of this bike is 116 pounds/52.6kg which is twice the weight of most average road cycling bikes. The weight also plays a very vital role in ensuring stability even with someone heavier.
Now, you might worry about relocation because of its weight; well, it has transport wheels that are strategically placed at the base to make movement or relocation very easy.
It has a very impressive maximum weight capacity of 350 pounds/ 159 pounds which still surpasses the maximum weight capacity of some commercial-grade bikes out there.
It has an overall look that can appeal to anyone that loves cycling or spinning and therefore could serve as a source of motivation and inspiration for frequent usage and workout. Again, it is a bike that solidly built with great stability.
The Resistance
The BodyCraft SPT-MAG Indoor Club Group Cycle is equipped with a manual eddy current magnetic resistance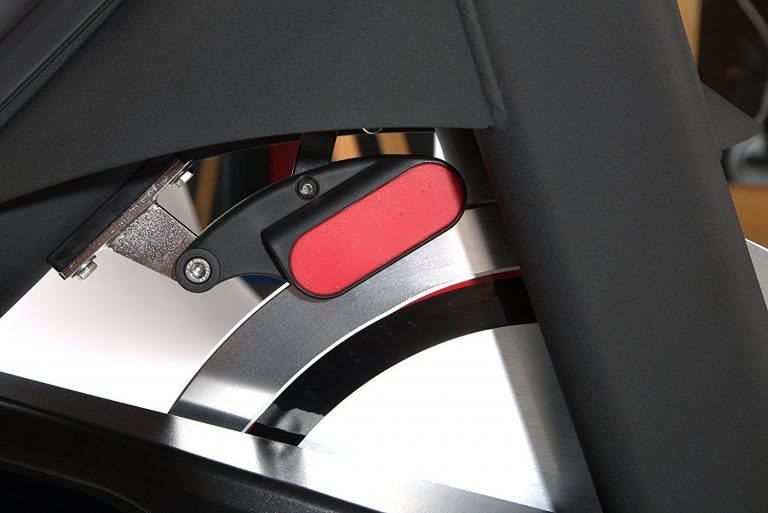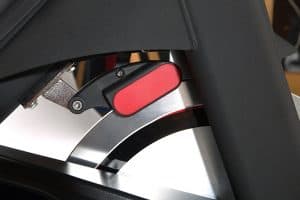 system that ensures very challenging workouts that could help you burn tons of calories and improve physical fitness in a short period.
The eddy current magnetic resistance consists of a magnetic brake that is placed on the flywheel as it is connected to an adjustment knob on the main bar of the frame. Just as aforementioned, the resistance does not need power to work because it is designed to be operated manually.
Simply by twisting the resistance knob clockwise or anti-clockwise, you will have the resistance increased or decrease and it is a micro resistance as well. This means that you can increase the resistance in small bits.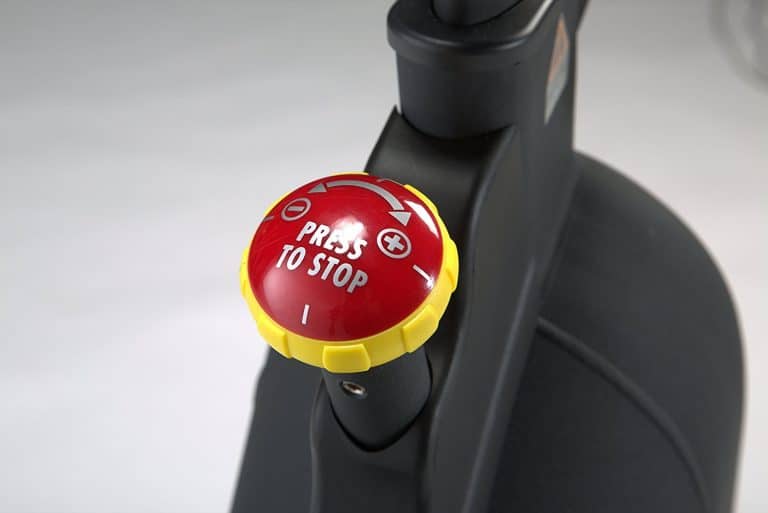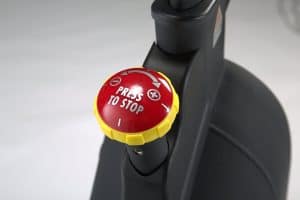 The machine also has an emergency stop brake that could be applied via the knob as well by pushing it down and the flywheel will stop instantly. This may be necessary for a situation where you wish to change the direction of pedaling or simply just want to stop working out.
It doesn't have specified resistance levels indicated on the resistance knob, but all you need to do is to keep on twisting the knob until you get the right resistance for you.
The Seat and Handlebars
The seat and handlebars of the BodyCraft SPT-MAG Indoor Club Group Cycle are unique because they can be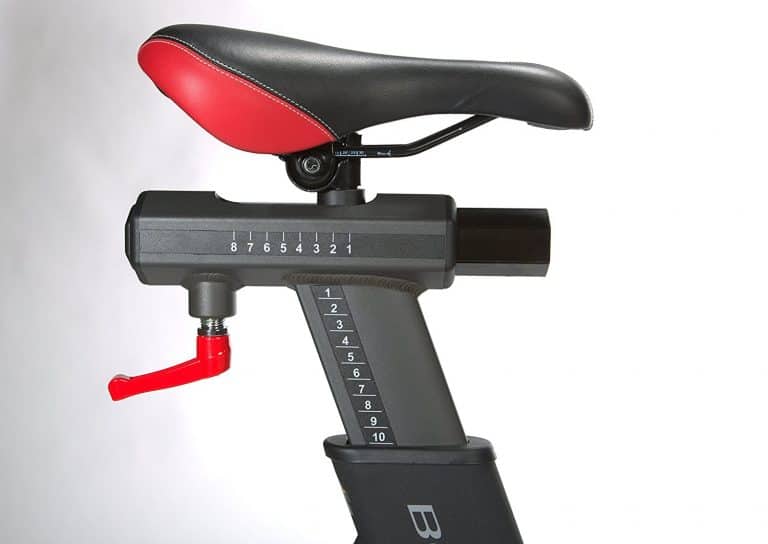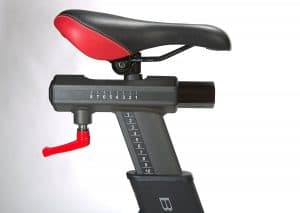 adjusted 4-ways for maximum comfortability and a good workout position. They can be adjusted up/down and aft/fore with a racing handlebar included.
These adjustments make it possible for most sizes of users to fit in just fine aside as well. It has been reported that users between 5 feet to 6 feet 4 inches will have no problem using this machine.
The seat is well designed however not different from the road exercise bike. You can always improve your comfort by replacing the seat or using a gel cover seat.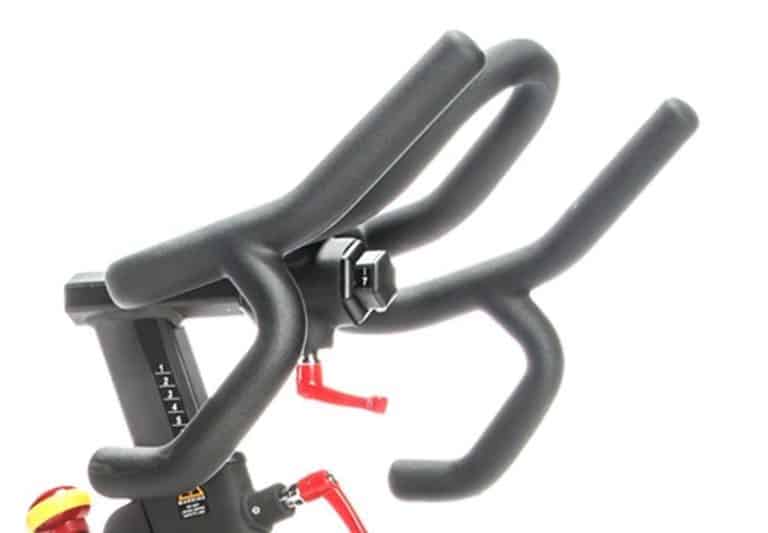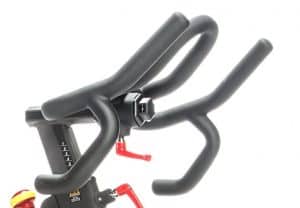 Speaking of the handlebars, it offers a lot more versatile handlebars than many bikes designed for spinning or cycling.
It has about 4 different handlebars which include the racing handlebars. Adjusting the handlebars and of course, the seat is very easy as they have large lock levers that you can easily turn to lock when you have decided on the right adjustment which won't take more than a minute to do.
The Drive System
The BodyCraft SPT-MAG has a belt drive system that well known for its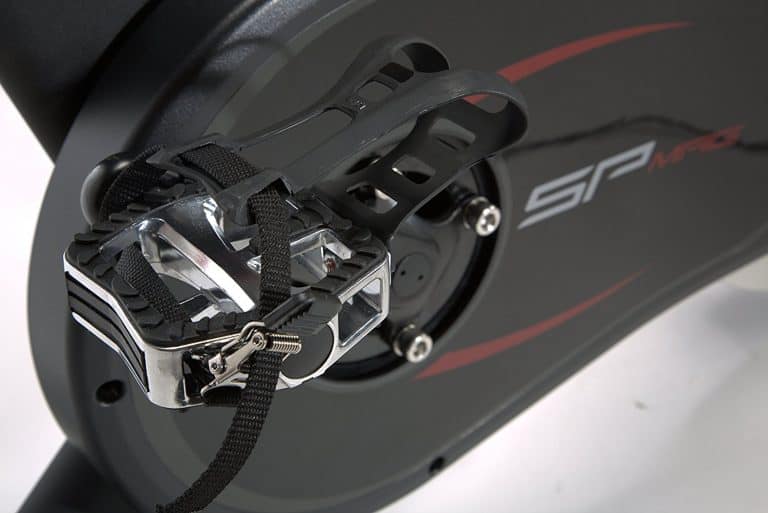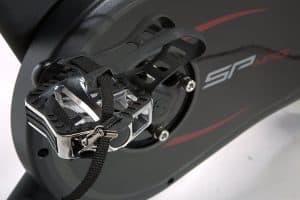 quiet and smooth operation. The belt drive is also a high-quality one that you don't have to worry about maintenance for years.
It works with a bidirectional flywheel; which means you can work out or pedal in either direction to work and tone more muscle groups.
Unfortunately, the weight of the flywheel is not indicated however, some users think it should be somewhere around 30 to 40 pounds which is enough to provide the much-needed momentum and consistent motion.
It has a 3-piece crankset that is very strong and durable combined with pedals made of a metallic alloy that can withstand any type of weight and vigorous workout even if you are close to the maximum weight capacity and performing a standing pedaling. Also, the pedals have toe cages that can safely secure your feet.
What We Love About the BodyCraft SPT-MAG Indoor Club Group Cycle
We love the fact that this machine is not only strong and durable but it also has a sleek and beautiful look that is appealing. Aside from its sleek design, this machine scores a high mark in terms of performance as well. It has a precision perimeter weighted flywheel and belt drive mechanism that ensures a consistent operation.
Just like we know that the frame is made of anti-corrosion steel so also the belt drive was built to stand the test of time and will require no maintenance for many years. That is why this machine is called a commercial grade that can still be used at home.
It is built to support up to 350 pounds weight maximum weight capacity which can accommodate most individuals. And the flywheel also has a protective guide designed to prevent sweat or liquid from getting into it.
We also love the fact that it has a resistance system that reacts instantly effectively when prompted and that is eddy current resistance system and it can simply be adjusted by twisting the knob. You can also increase or decrease the resistance little by little if necessary.
The BodyCraft SPT-MAG Indoor Club Group Cycle has a racing saddle and a handlebar that are 4-way adjustable. The implication of these is that you are going to get a comfortable and road bike workout experience. Make all the adjustments and it does not compromise its stability even while perform a standing position spinning because it has 4 built-in levelers that guarantee that.
The seat and the handlebar 4-way adjustability of upward/downward and forward/backward do not only offer comfort but also allow many users of different sizes to fit in. The adjustment markings are clear and easy to remember; therefore you can easily remember your suitable adjustments even when changed by another user.
The pedals have protective toe cages that ensure that your feet are in place at all times for safety.
We also love the fact that it is easy to assemble and has a great and impressive warranty as indicated above.
What we don't like about the BodyCraft SPT-MAG Indoor Club Group Cycle
This cycling bike is true of high quality with great features but it is not without one or two downsides.
It doesn't have a fitness meter which we think is a drawback because this will allow you to track your workout progress to an extent. Given the price, we think that feature should have been included; however, it may not be a deal-breaker for some people though because if you must track your workout progress then you can order for it separately from BodyCraft website.
The seat has been reported not to be very comfortable. We mean the seat design and therefore may not allow users to workout longer without feeling uncomfortable. But this could be taking care of by using a gel seat cover or better still change the entire seat to improve the comfortability.
Shipping, Assembly, and Maintenance
Shipping of BodyCraft SPT-MAG Indoor Club Group Cycle depends on where you are making your purchase from. However, Amazon delivers this machine at no cost.
Assembling this unit is relatively easy because it comes with its major components preassembled. You only need to fix the seat, handlebar, and levelers. And it comes with some tools, however; you may need some extra tools to successfully assemble it.
Maintenance of the BodyCraft SPT-MAG Indoor Club Group Cycle is wiping it off of any dust and keeps it clean all the time. Due to the type of drive mechanism that it possesses, it does not require any maintenance at all.
Conclusion
In summary, the BodyCraft SPT-MAG Cycling Bike is a highly durable and quality commercial grade bike that can be used for home use as well. It has all the right features to make your workout worthwhile even though it does not include an LCD which we think would have great if it was included.
However, it is spending extra bucks if you need the LCD otherwise most people can work out and achieve their fitness goals without using that.
This is a good and recommendable cycling bike.
If you have any questions please do not hesitate to ask as we shall be glad to respond accordingly.
BodyCraft SPT-MAG Indoor Club Group Cycle Review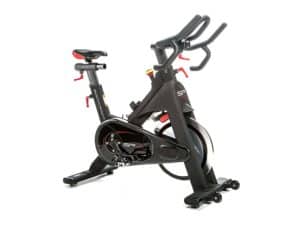 This machine is built for home and commercial use, a proof that it could withstand frequent high intensive workout routine without a breakdown
Product Brand: BodyCraft
Product In-Stock: InStock