The Body Rider BRF700 Fan Upright Exercise Bike is a basic and affordable bike that still offers full-body cardio workouts as opposed to traditional upright bikes. It has moveable handlebars that are connected to the pedals.
This is similar to the Body Rider BRD2000. However, the only distinct difference is that the latter has 2 sets of handlebars (moveable & static), while the Body Rider BRF700 has only a set (moveable handlebars).
That said, this bike is durably built and stable to safely support 250 lbs./113 kg maximum user weight capacity. It is compact and lightweight; this means, it doesn't take up too much space, and it's easy to move for storage.
Click right here to have a peek at the price and of of the Body Rider BRF700 Fan Upright Exercise Bike on Amazon.
The Frame and Construction
This unit's construction comprises a sturdy steel H frame, and the fan and the chain drive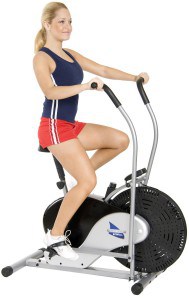 covers are made of ABS material.
Its overall assembled dimensions are 42" long by 20" wide by 47" high.
Thus, it's going to need a workout area with the measurements of 3'5" length by 1'7" width, and of course, plus additional clearance of 1-2′ around it for easy access and safe workout experience.
Despite its small footprint, the bike is still stable due to the base that features steel stabilizer bars with rubber end caps. The base framework does not only manage to provide stability but it is also floor-friendly.
There are no transport wheels for easy relocation process. Although it won't be a problem sliding it through a tile surface, after all, it only weighs 47.3 lbs./21.4 kg. But it will be a problem if it has to be moved on a rug carpet.
Therefore, if you have to move it a lot, this is something you have to resolve before purchasing.
The Seat of the Body Rider BRF700 Fan Upright Exercise Bike
The Body Rider BRF700 is equipped with an updated large and cushioned seat that is designed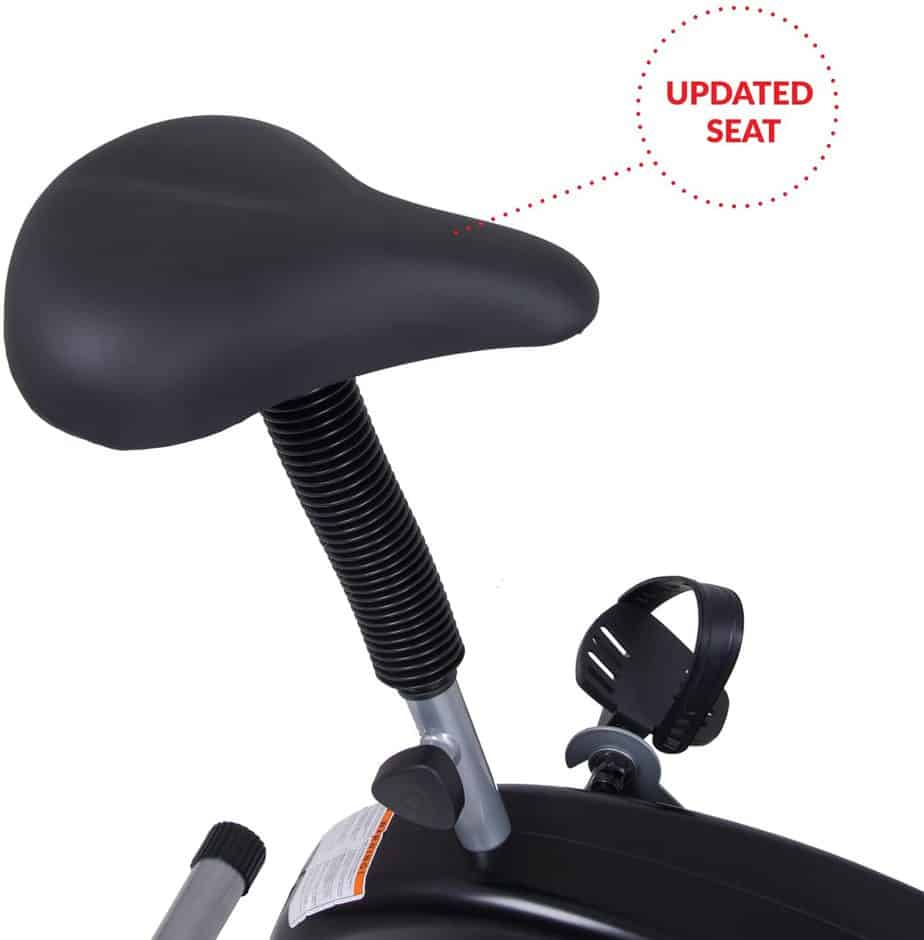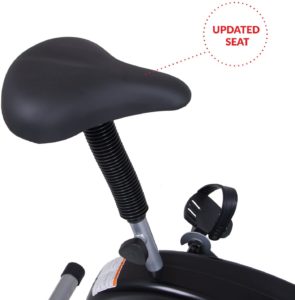 to offer lasting comfort for all users. Nevertheless, if you feel the need to improve on that, you may use a gel seat cover.
The idea of swapping the seat for another is not recommended and besides, it won't fit even if you try.
It is 2-way adjustable; it could be adjusted vertically (upward & downward). So, the bike can accommodate users up to 6′ tall.
Adjusting the seat is not difficult, it will only take a few seconds to get it adjusted to a suitable position.
The Handlebar
As mentioned earlier, the Body Rider BRF700 Fan Upright Exercise Bike has only a set of dual-action handlebars. These make it possible for the upper and the lower body muscle groups to be engaged during a workout.
The handlebars are cushioned with anti-slip soft rubber foam material for comfortable and secure grips. Users can workout longer without experiencing slippage or blisters in the palms.
However, the handlebars do not integrate EKG HR sensors, and so, your heart rate won't be monitored except if you use an external HR monitoring device.
The Pedals
The pedals on the Body Rider BRF700 Fan Upright Exercise Bike are anti-skid designed with adjustable safety straps. They are made of durable nylon rubber with a steel core.
Users with different foot sizes can be accommodated and they can be ridden with a pair of standard gym shoes.
The handlebars and the pedals are connected, thus, their movement is not independent. This means, as long as the pedals move so do the handlebars and vice versa.
Finally, the stride length is 12".
The Drive
The Exercise Bike has a chain drive system just like the one on a road bicycle. It consists of a chain, sprockets, durable cranks, and fan flywheel.
Its operation may not be as smooth and quiet as the belt drive system but it isn't annoying or disturbing. On the contrary, it simulates riding a real road bike instead.
The bike can be ridden in the presence of the family members or neighbors that are living nearby without disturbing them. You can also watch your favorite TV show or listen to music without having to amplify the volume beyond the normal level.
However, the chain needs to be lubricated periodically to maintain its smooth operation; and if it is done properly, the chain lasts longer than a belt.
The Resistance
The Body Rider BRF700 Fan Upright Exercise Bike incorporates a fan resistance system.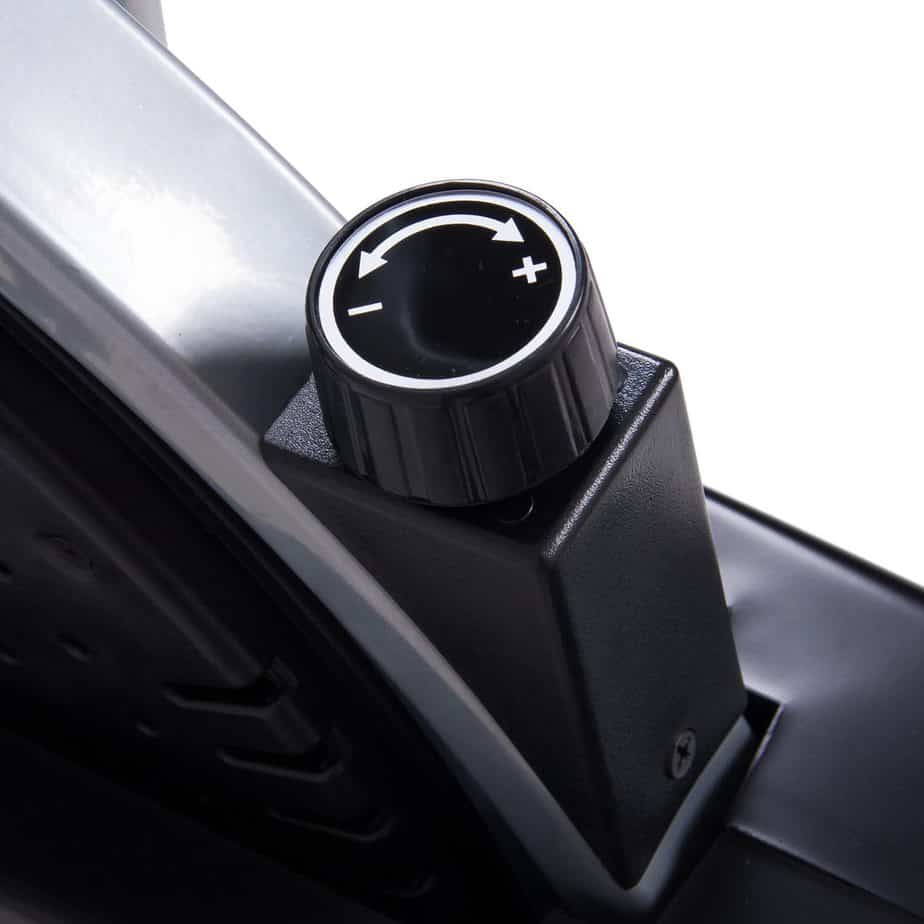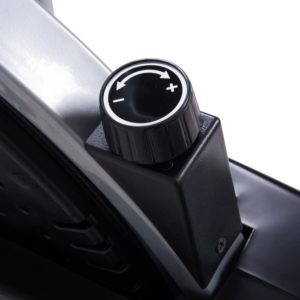 Although, it's not the dynamic resistance that you may know.
Its resistance is generated by the tension strap belt that is looped around the fan flywheel.
While the adjustment control knob enables you to increase or decrease the grip (resistance) on the flywheel when it is turned clockwise or counterclockwise respectively.
The resistant system provides a range of workout intensities that can be improved. You can manually re-loop and tighten the belt strap around the fan flywheel to increase the amount of resistance it generates.
This can be done without having to invite a professional technician if you follow the instructions on the manual carefully.
The belt strap wears out after some time and will require to be replaced from time to time.
Although the fan air doesn't contribute to generating resistance, it does offer a light cooling breeze to the user during a workout.
The Console
This bike has a rather basic console that features a non-backlit LCD monitor. It tracks workout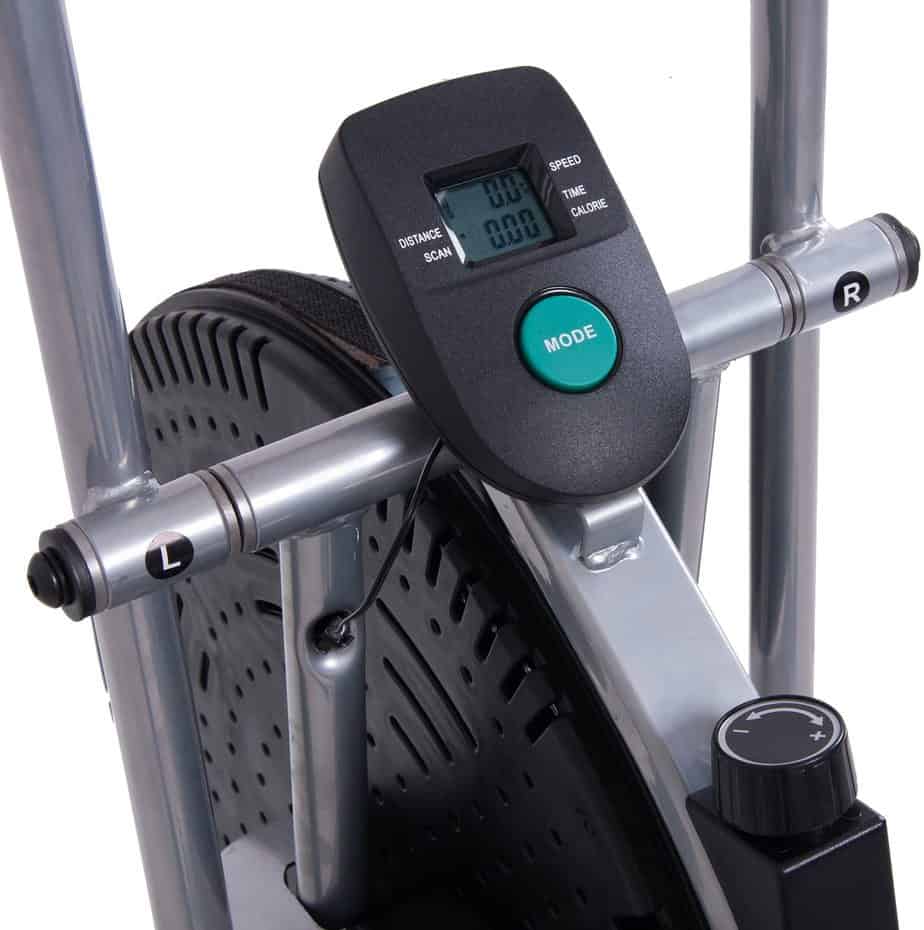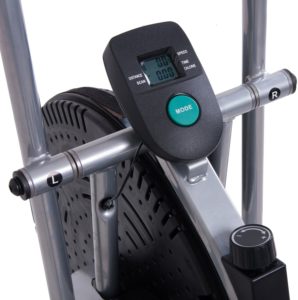 stats such as Time, Speed, Distance, and Calories Burned.
The console is designated at the top of a bar on the fan flywheel and it is easy to read as long as it's being viewed in a well-lit environment.
The workout values switch and display one a time after every few seconds by the SCAN function. But it is also possible to set a metric to constantly display without changing.
There is an easy-to-use navigation button (Mode) present on the console and it is explicitly explained how to use it on the owner's manual.
The monitor is powered by 2 AA batteries and they can be replaced from the back of the console. In an attempt to save the batteries' power, the monitor automatically shuts down after 4 minutes of inactivity on the bike and it automatically turns ON when activity returns.
It can also be turned ON/OFF manually by pressing the navigation key (Mode) on the console.
Accessory
This unit doesn't have any accessory such as a tablet or water bottle holder. So, you need to find a way to keep water handy for proper hydration and a smartphone/tablet device for entertainment purposes during workouts.
Storage
The Body Rider BRF700 Fan Upright Exercise Bike is a compact machine that doesn't take up too much space even though it's not foldable. A storage area with the measurements of 3'5" length by 1'7" width should be fine.
It is also a lightweight that only weighs 47.3 lbs./21.4 kg. This means it can easily be moved without hassle.
However, it does not have transport wheels, therefore, moving it across a rug carpet surface might be awkward.
Pros/Features Overview
Compact and lightweight: it does not occupy space
Supports a maximum user weight capacity of 250 lbs./113 kg
Upgraded and comfortable 2-way adjustable seat; it can accommodate users as tall as 6′
Cushioned dual-action handlebars
The pedals are anti-skid designed with adjustable safety straps that secure the feet comfortably
Fan/belt resistance system
Its chain drive system mimics the operation of a real road bike
Good for upper and lower body exercises
Easy to set up
Strong and sturdy
It has a digital display for reading Time spent working out, Calories Burned, Speed, and Distance covered
Has a fan wheel that provides a gentle feel of breeze while exercising
Low-maintenance
Cons
No transport wheels
No tablet holder
No water bottle holder
Users over 6′ tall may not be able to utilize it
Warranty
1 Year for the Frame
90 Days for the Parts
Product Dimensions and Specifications
Length 42"
Width 20"
Height 47"
Shipping dimensions: 39.5" L x 25" W x 9" H
Net weight: 47.3 lbs./21.4 kg
Gross weight: 51 lbs./23 kg
Maximum user weight capacity: 250 lbs./113 kg
Supported user's height: Up to 6′
Frame: Steel
Seat: 2-way adjustable
Handlebar: Non-adjustable dual-action
Pedals: Anti-skid designed with adjustable safety straps
Console/Display: Nonbacklit LCD
Drive: Chain
Resistance: Fan belt
Stride length: 12"
Shipping
The Body Rider BRF700 Fan Upright Exercise Bike is shipped out in a box that weighs 51 lbs./23 kg with dimensions of 39.5" L x 25" W x 9" H.
Amazon ships it for free without charge and it is delivered in a few days.
Assembly
The unit comes with the complicated aspect of the assembly already taken care of. What is left is to attach the base stabilizers, the handlebars, the seat and the post, the pedals, and the console to the core unit of the bike.
It will take about an hour, give or take to completely assemble the bike. Moreover, an instruction manual and the tools needed to get the job done are included in the package.
Maintenance
The exercise bike needs to be kept clean at all times. The chain needs to be lubricated periodically to keep it functionally well and to prolong its lifespan.
Inspect the parts to ensure that they are all good and tight before using the bike for a workout.
Conclusion
The Body Rider BRF700 Fan Upright Exercise Bike is the entry-level version of the Schwinn AD7 Airdyne. Although, it still serves the purpose of engaging in cardio workouts for weight loss and overall physical health improvement.
It is affordable and yet provides full-body workouts that put most of the muscle groups in the body to work.
[rank_math_rich_snippet]