The Weslo Cadence G 5.9 Treadmill with model number WLTL29609 is for home use. It's primarily designed for walking and jogging because it has a smaller running surface and a 2.25 horsepower motor.
Although, jogging on it could be a bit tricky because taller individuals may feel cramped.
The treadmill is affordable and does provide you the opportunity to work out in the comfort of your home for weight loss, improvement of heart and lungs' health, and more.
Users that are up to 275 lbs./124.7 kg or less can utilize it.
It is lightweight and compact as opposed to many treadmills; might be a perfect choice for those that lack the space to accommodate a bulky machine.
Click right here to have a peek at the price and of of the Weslo Cadence G 5.9 Treadmill on Amazon.
The Frame and Construction
The Weslo Cadence G 5.9 Treadmill is powder-coated with anti-corrosion paint. The foot rails,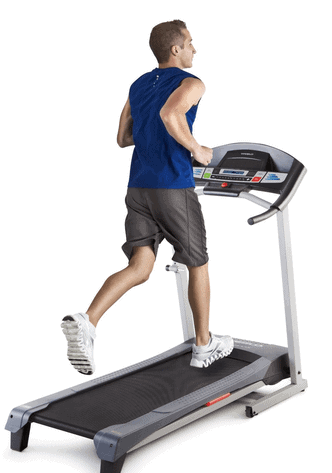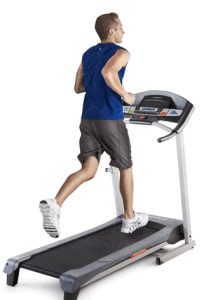 motor, and dashboard covers are made of ABS material. Thus, it is sturdily constructed to hold up the stipulated maximum user weight capacity.
The base features adjustable levelers at the front for balancing the treadmill on a surface that is not even. While its assembled weight of 117 lbs./53 kg improves its overall stability.
The unit's assembled dimensions are 66" long by 30" wide by 55" high. Consequently, the treadmill requires a workout area with perimeters of 5'5" length by 2'5" width. Also, consider adding extra clearance of 2′ around it for safety and convenience reasons.
The step-up height at 0% incline is 15" while it is 5" at 10% incline. Hence, the ceiling height of the room where the treadmill is to be used should be your height, plus 15" and 5" extra clearance.
For example, a 6′ tall user's ceiling height should be 72" (user's height) +15" (step-up height) + 5" (clearance) = 92" (7'6") ceiling height.
The Deck of the Weslo Cadence G 5.9 Treadmill
As aforementioned, the running surface is pretty small; its dimensions are 16" W by 50" H. So, if you are more than 6′ tall and wish to be able to jog on it without being held back by the size, then you may want to consider other treadmills with slightly wider and longer running surface such as the Nordic Track T 6.5 S Treadmill.
The Weslo Cadence Treadmill has a wide textured foot rail on either side of the deck designed for a quick exit from walking or jogging exercise without having to turn off the treadmill.
The tread belt is thin and it moves over small rollers as well. But the deck integrates a suspension cell cushioning system that reduces the stress on the hip, knees, and ankles.
The Motor
This unit incorporates a 2.25 horsepower motor that provides a speed range of 1-10 mph. It is more than capable of providing the drive needed for walking and jogging activities without overheating.
You can conveniently adjust the speed level via the quick 1, 2, 3, 4, 5, …, 10 keys and the gradual -/+ keys on the console.
Its noise level is not distracting, however, it increases with the thumping or the cadence of your feet, especially, when you try to jog. But again, it won't interfere with the sound of the music or TV.
Moreover, your family members and the neighbors won't feel disturbed by the level of the noise it makes during a workout.
Since this is a motorized treadmill, it needs to be plugged to a 120V AC, 15A outlet to be functional.
Incline
The treadmill has a manual incline system with 2 adjustable levels. It provides up to 10% incline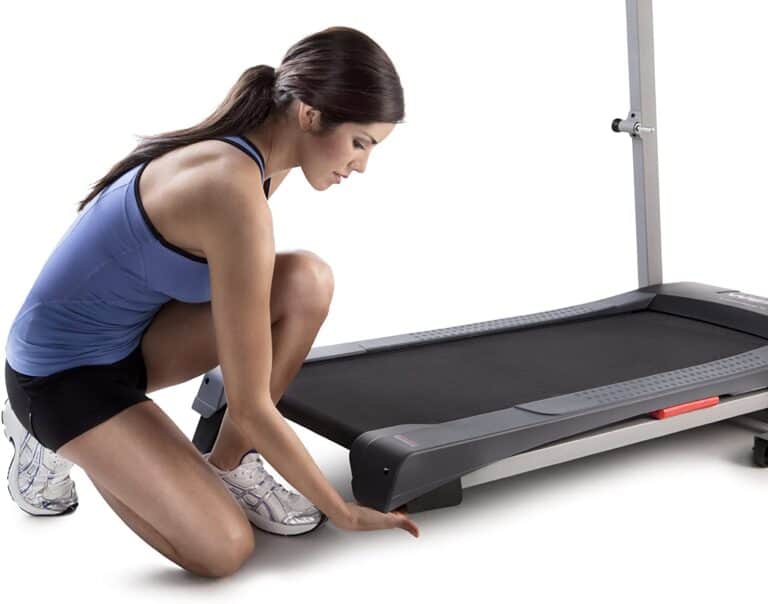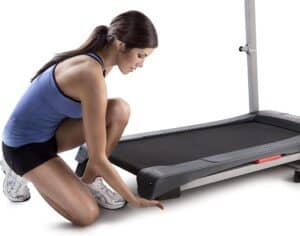 for an increased workout intensity that burns more calories.
To activate the incline, simply fold the rear base legs and you are good to go.
The incline system may be manual and may not be high enough, but it is better than not having it at all.
The Console
The console on the Weslo Cadence G 5.9 Treadmill does not have much but does have something. It at least features a nonbacklit LCD monitor, 6 preset workout programs, a digital heart rate sensor, speed buttons, a start button, a stop button, and an emergency safety key.
The LCD monitor tracks workout stats such as Time, Distance, Calories, Speed, and Pulse. It is easy to read as long as it's being viewed in a well-lit environment.
The heart rate can only be displayed when you place one of your fingers on the digital heart rate sensor that is designated on the console during a workout.
A certified personal trainer designed the 6 workout programs to help you lose weight and improve cardiovascular health.
The emergency safety key is meant to be attached to your cloth during workouts so that the treadmill turns off automatically in the event you accidentally trip or fall.
Other than these features, the console is not telemetry-enabled, it doesn't have a sound system or a USB charging port.
Accessory
2 cup holders and a tablet holder are incorporated into the dashboard. They enable you to maintain proper hydration and to watch your favorite movie on the go via a smartphone/tablet device.
Storage
The Weslo Treadmill has a space-saving design that allows you to fold it for storage. There are also transport wheels integrated to assist in the relocation process.
When folded, the treadmill reduces significantly by becoming half its assembled length size. In other words, an area with perimeters of 2'8" length by 2'5" width will suffice for storage.
Approval Rating
With its imperfections, the treadmill has garnered thousands of reviews on Amazon and still scores an impressive positive approval rating. Independent reviewers also have a favorable view of it.
This is a recommendable unit if you are on a budget and OK with a basic treadmill.
Pros/Features Overview
Fairly and decently built
Affordable
Supports 275 lbs./124.7 kg maximum user weight capacity
Deck integrates a cushioning system that reduces the stress on the joints
The 2.25 horsepower motor provides 1-10 mph speed range
The treadmill supports walking and light jogging workouts
The LCD monitor tracks your workout progress such as Time, Distance, Speed, Calories, and Heart Rate
Digital heart rate sensor
A 0%-10% manual incline system increases your workout intensity to burn more calories
6 workout programs designed for weight loss and cardio training automatically adjust and apply a certain speed level for optimum results
Tablet holder included
2 cup holders included
Low-maintenance required
Transport wheels included
Cons
The monitor is not backlit
Placing a finger on the digital heart rate sensor during a workout might be awkward
Warranty
1 Year for the Motor
90 Days for the Parts
90 Days for Labor
Product Dimensions & Specifications
Length 66"
Width 30"
Height 55"
Tread belt dimensions: 16" W x 50" L
Folded dimensions: 33" L x 30" W x 60" H
Shipping dimensions: 68" L x 31" W x 10" H
Net weight: 117 lbs./53 kg
Gross weight: 119 lbs./54 kg
Maximum user weight capacity: 275 lbs./124.7 kg
Motor: 2.25 HP
Speed Range: 1-10 mph
Incline: Manual, 2 levels, 0%-10%
Program: 6
Display: Nonbacklit LCD
Cushioning system: Yes
Shipping
Free shipping is available when purchased from Amazon.
The product is shipped in a box that weighs 119 lbs./54 kg with dimensions of 68" length by 31" width by 10" height.
Assembly
The Weslo Cadence G 5.9 Treadmill's assembly is easy and doesn't take time to complete.
Since the major and complicated parts are already assembled by the manufacturer, you only need to attach the 2 upright posts, the front base stabilizer, the handrails, the console, and the latch housing to the main core unit.
An instruction manual and the tools needed for a successful assembly are included in the package. Although you may need extra tools of your own.
Assembly can be completed in less than an hour.
Maintenance
The deck of the treadmill is pre-lubricated and so it won't need any lubrication any time soon.
Always keep the machine clean and avoid debris from lodging inside any opening. Do not let a liquid or moisture get to the console. It should be stored in a dry and cool place.
Inspect it before use to ensure that the parts are tight and in good condition.
Ensure that the treadmill is unplugged before trying to clean it.
Conclusion
Does the Weslo Cadence G 5.9 Treadmill integrate many features? No. But it is affordable and does have enough to set you on the path of achieving your fitness goals.
Weslo Cadence G 5.9 Treadmill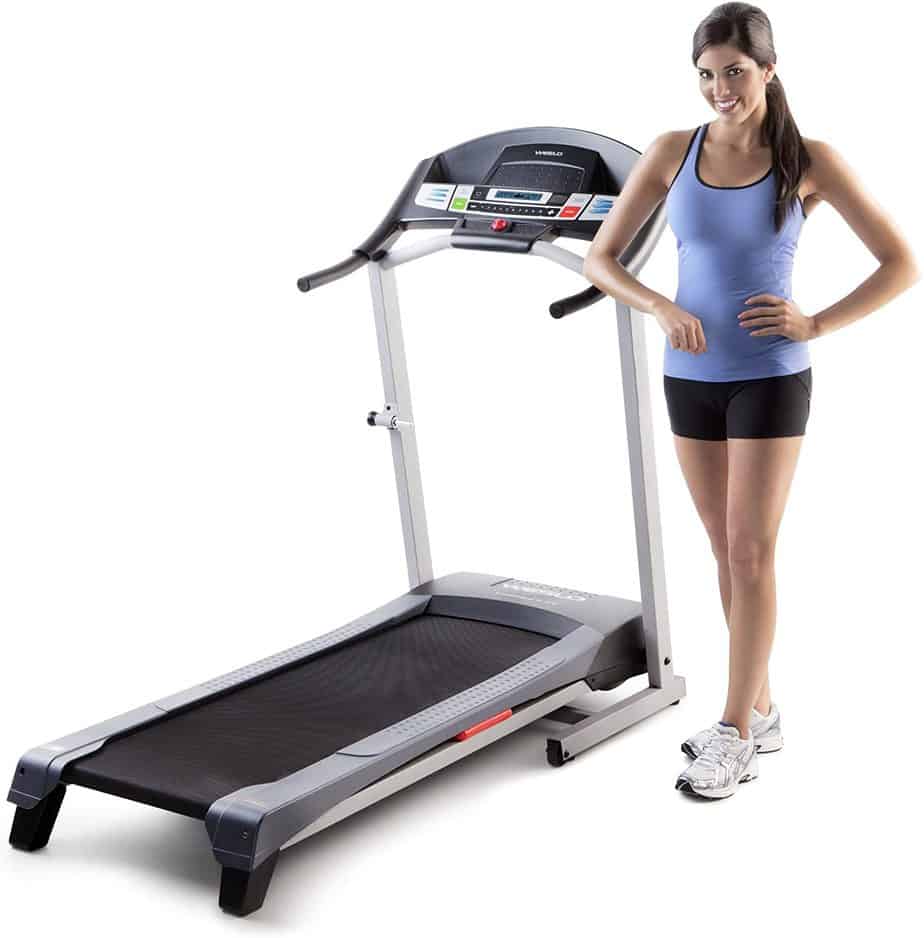 The Weslo Cadence G 5.9 Treadmill with model number WLTL29609 is for home use. It's primarily designed for walking and jogging because it has a smaller running surface and a 2.25 horsepower motor.
Product Brand: Weslo
Product In-Stock: https://schema.org/InStock