The ProForm Endurance 520 E Elliptical Trainer with model no. PFEL55916 is a piece of equipment that you will probably have a second look at if you saw it in a showroom. It is a not-so-large unit that is neatly and simply designed for home use.
Interestingly, it has quite some features that could make your workouts productive and fun at the same time.
Some of these features include its quality and commercial gauge construction, a 20-degree manual ramp, 19'' adjustable stride length, eddy current resistance system with 18 adjustable levels, iFit ready and Bluetooth enabled console, a sound system, and more.
It shares some similarities with the Schwinn 470 Elliptical Trainer, but it's less expensive.
Click right here to have a peek at the ProForm Endurance 520 E Elliptical Trainer.
Frame and Construction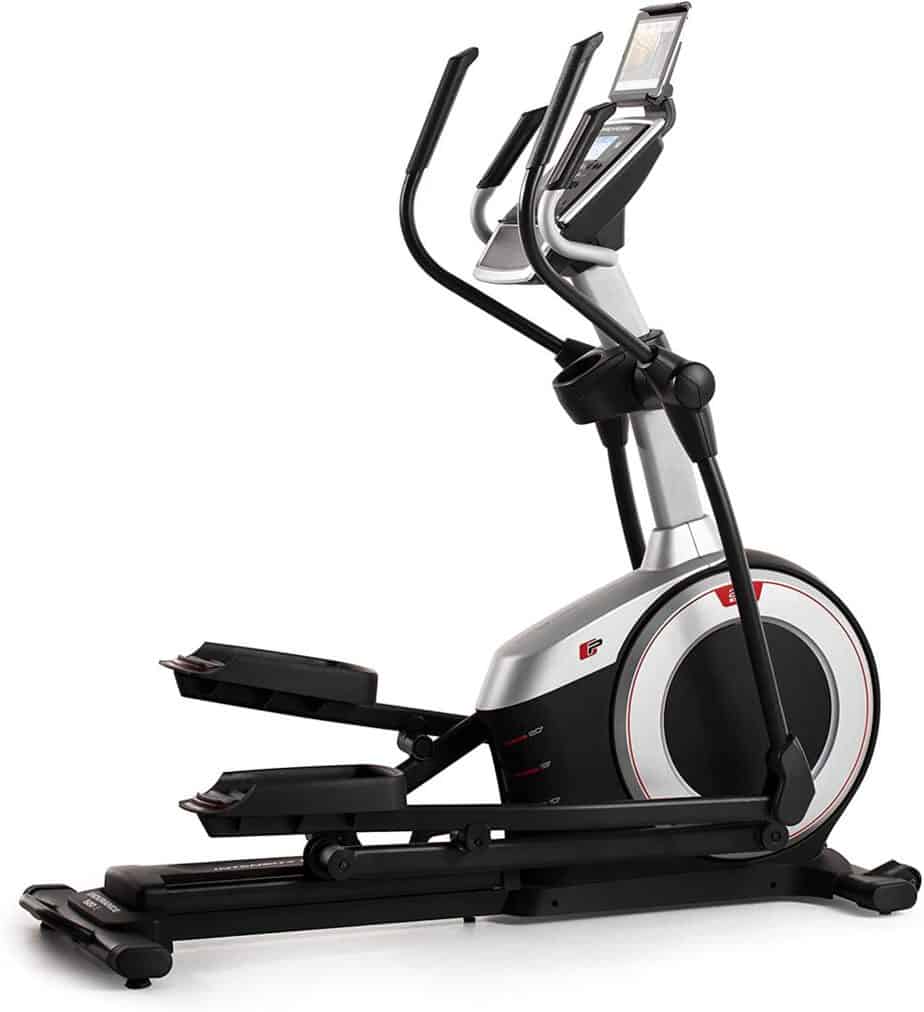 The ProForm Endurance 520 E Elliptical Trainer has a light commercial construction even though it's designed to be used at home.
It features a strong steel frame that is coated with anti-corrosion paint, while other parts such as the drive, the ramp, and the console covers are made of durable plastic, and of course, the tablet and the water bottle holders are also made of ABS.
As are a result, it is elegant, safe, and it supports a maximum user weight capacity of 300 lbs./136 kg.
It is a fairly heavy unit that weighs about 207 lbs./93.8 kg which together with the robust base framework guarantees a level of stability that ensures wobbling-free workouts. Moreover, there are adjustable rubber levelers underneath the base that enable you to balance the elliptical trainer on an uneven surface.
The front-mounted transport wheels and the lifting handle at the rear base help in the easy and fast relocation process of the machine. Although, this may require 2 persons to safely move it due to its weight.
Its assembled dimensions are 68.2'' long by 34.4'' width by 69.3'' high. To put it differently, the elliptical trainer needs a workout area with perimeters of 5'7'' length by 2'9'' width, plus extra clearance of 2' around it for safety, easy access, and a convenient workout experience.
Since it has an incline system, you need to be mindful of the ceiling height of where it's going to be used. Therefore, make sure that your ceiling height is 24'' (maximum incline height and clearance) above you.
For example, if you are 6' tall then the right ceiling height should be 72'' your height + 19'' maximum incline + 5'' clearance = 96'' (8' ceiling height).
We are not sure about the step-up height but we presumed it to be about 9''-10''.
The Handlebars
The ProForm Endurance 520 E Elliptical Trainer has 2 sets of handlebars; a set of static and a set of dual-action.
The static handlebars are attached to the console mast and they integrate EKG HR sensors. They are meant to be grasped if you wish to track and maintain your target heart rate zone, but it also means you won't be able to exercise the upper body at the same time.
While on the other hand, the dual-action handlebars allow you to exercise the upper body but eliminate the possibility of tracking your heart rate because they are not equipped with HR sensors.
They are attached to the mast and connected to the pedals as well. Resultantly, they move when the pedals move and vice versa.
For this reason, grab the static handlebars instead in your first attempt to get on the machine for safety reasons.
The 2 sets of handlebars are not adjustable but they have this curvy design that makes them optimally and universally suitable for all users. They are also coated with soft rubber foam for secure and comfortable grips.
The Pedals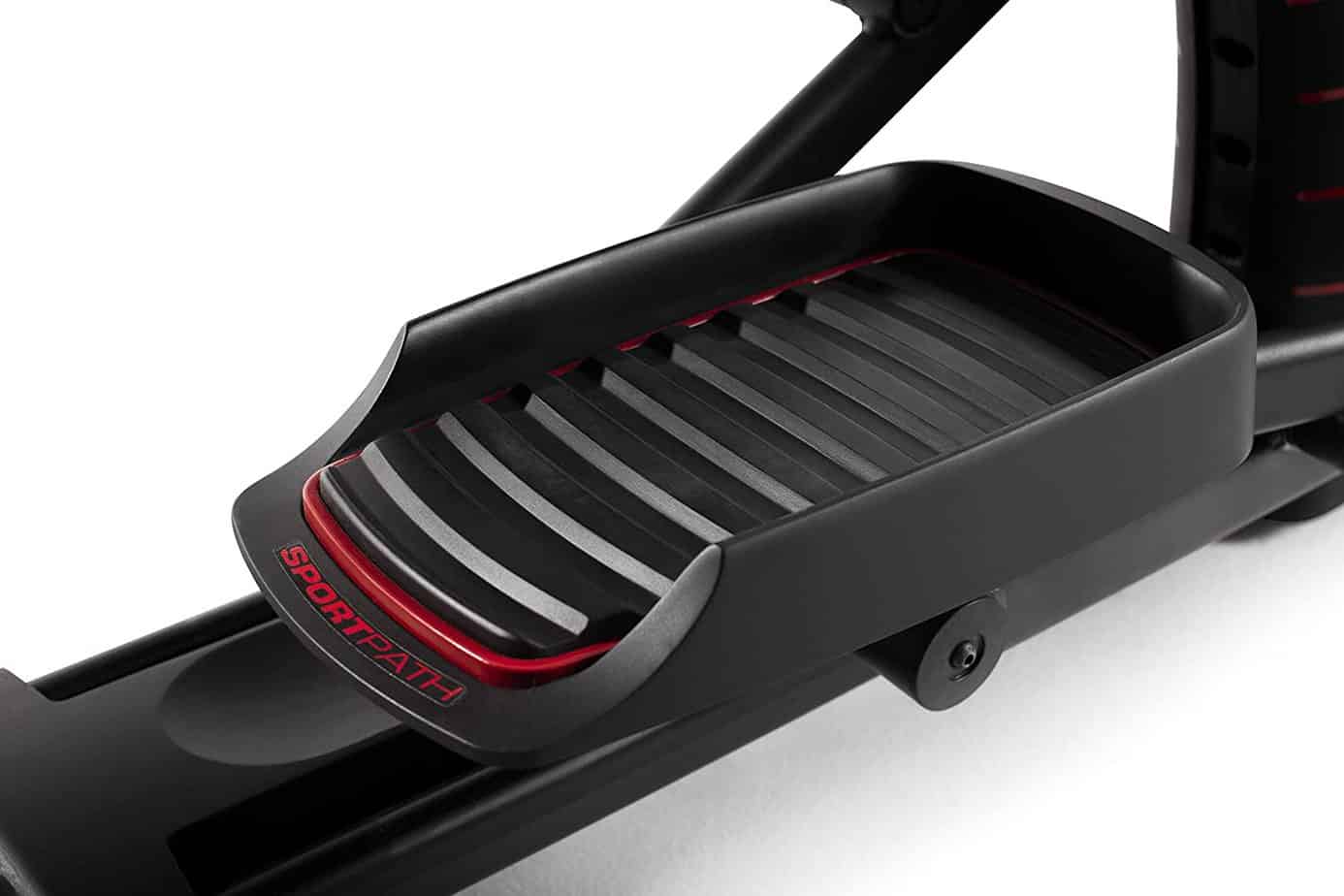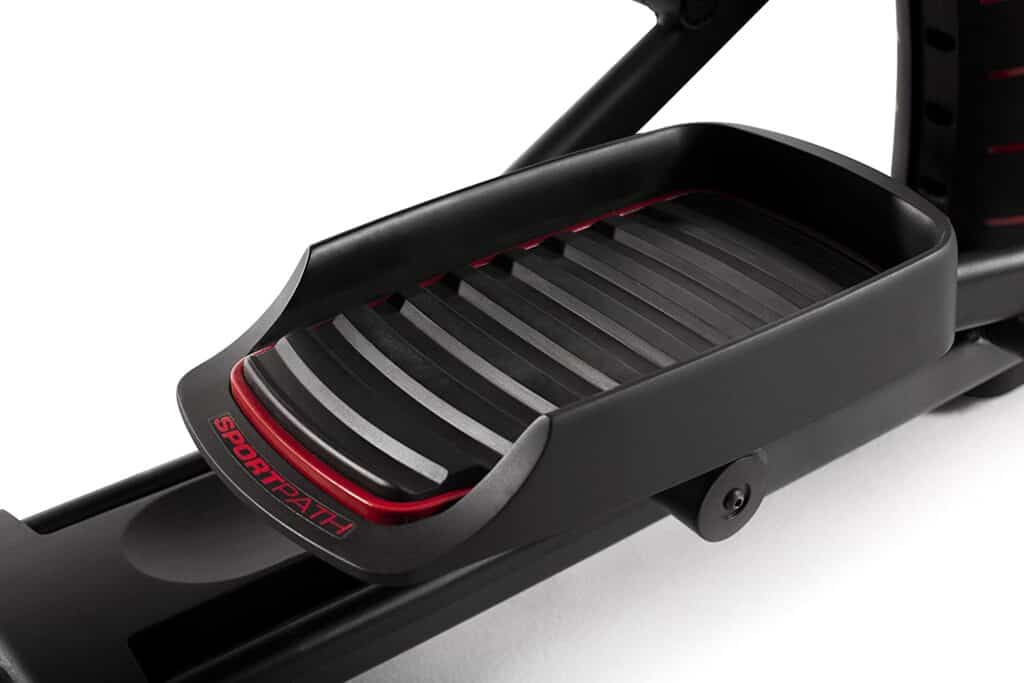 The ProForm Endurance 520 E Elliptical Trainer has oversized, cushioned, and textured pedals. They also have a protective guard that ensures maximum footing stability.
Hence, users of different foot sizes and gym shoes can be accommodated comfortably and securely.
The 19" stride length enables users that are up to 6'4'' to utilize the machine without much restraint.
The pedals are made of durable plastic with a metallic core and they are attached to steel bars with rollers that move on the adjustable ramp rails.
The Incline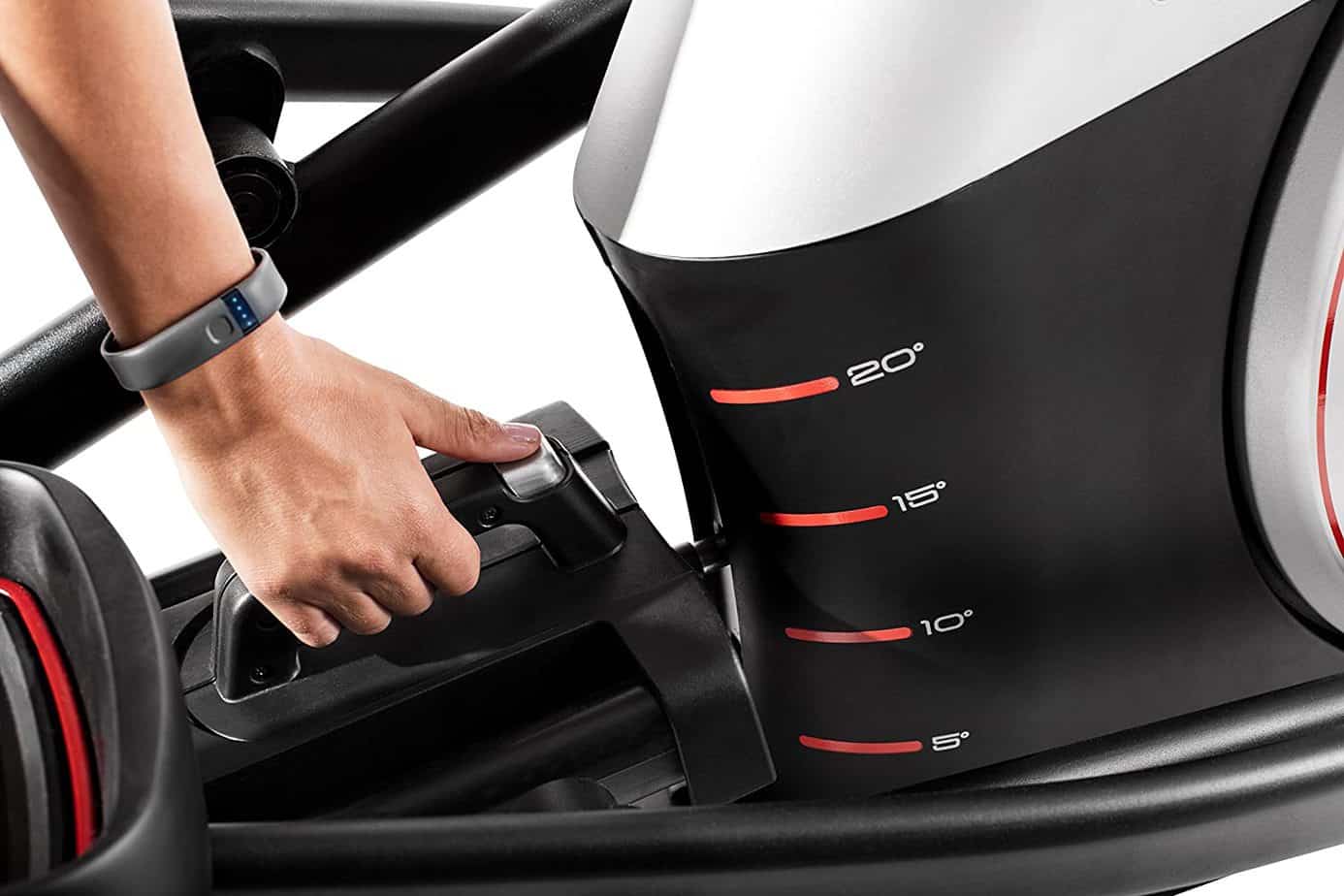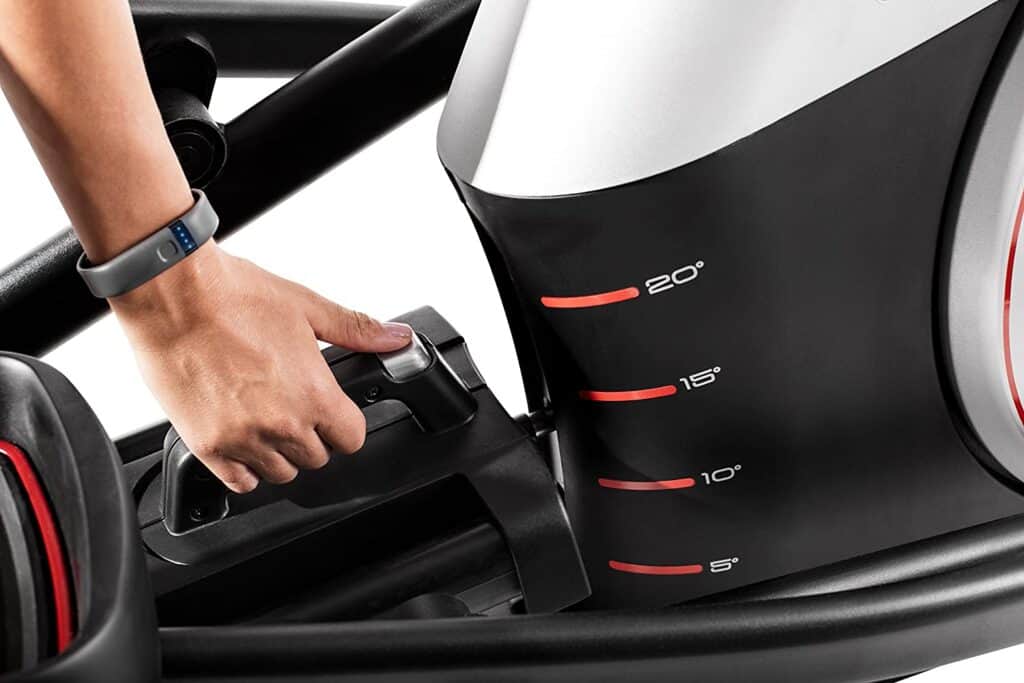 The 520 E Elliptical Trainer has a 20-degree manual incline system that could be adjusted to 4 different positions. This means that you will have to get off the machine to adjust the incline.
However, the adjustment is super easy; simply hold the ramp handle and press the button on top of it to pull or push the ramp to your desired position of 0, 10, 15, or 20 degrees incline.
The application of this in your workout provides realistic trail training that burns more calories and also targets muscle groups such as glutes, quads, and calves.
The Drive
The ProForm Endurance 520 E Elliptical Trainer's operation is smooth, quiet, and maintenance-free because of its belt-drive system. This means that you can work out at any time of the day without offending anybody, and that includes your family members and the neighbors.
No post lubrication or adjustment will be required of you as is the case with a chain drive system. Under normal circumstances, the internal mechanisms still last longer. However, as always, the belt may need to be replaced at some point but that happens in a very long time.
The belt drive system consists of a durable V-poly belt, a large pulley, a solid crankset and crankarms, a 15 lbs./6.8 kg high inertia flywheel.
The Resistance of the ProForm Endurance 520 E Elliptical Trainer
The ProForm Endurance 520 E Elliptical Trainer integrates an electromagnetic resistance system that is otherwise known as ECB. It is smooth and frictionless when engaged and it provides 18 different workout challenges that get you to achieve your fitness goals.
The resistance system comprises a small servo motor, a magnetic brake, and the flywheel.
So, when a resistance level is selected the servo motor moves the magnetic brake close to the flywheel to discharge magnetic fields that generate resistance.
The resistance can be adjusted via the console by an increment of 1 level at a time or through the quick soft-touch keys of 1, 3, 6, 9, 12, 15, 18 resistance levels for rapid workout intensity selection.
Moreover, the combination of resistance and incline creates an effective and challenging workout that pushes even an advanced athlete to the limit.
The machine needs to be plugged into a power outlet for the resistance to work, and a power adapter is included in the package.
The Console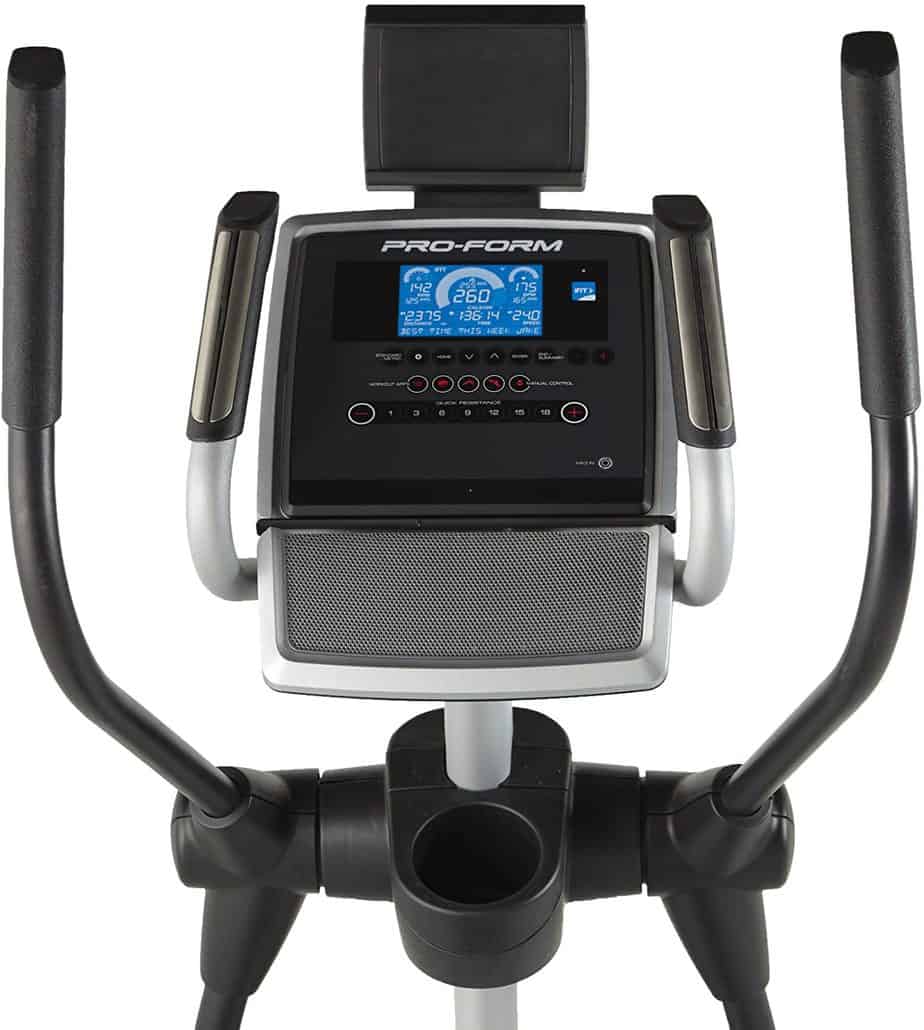 The console on the ProForm Endurance 520 E Elliptical Trainer has both fitness and entertainment-oriented features. It features a 5'' blue backlit monitor that tracks workout stats such as Time, Distance, RPM, Speed, Calories, Calories Per Hr, Stride, and Pulse with high clarity that is not diminishable.
The Distance and the Speed can be measured in miles or kilometers and mph or km/h, respectively.
To be able to view your heart rate data on the monitor you will have to grasp the EKG heart rate handlebars firmly during a workout.
18 onboard workout programs are available and designed for weight loss, muscle toning, improvement of heart and lungs' health, and more. When any of these workout programs is selected a certain resistance level is automatically applied.
However, if you switch to a Manual Mode you will be able to manually select the resistance level you wish to use for your workout.
It is also possible for you to set a goal (countdown) for Time, Distance, or Calories.
Finally, the monitor automatically turns off when there is no activity on the elliptical trainer for a few minutes and it will reset.
iFit Technology
The console has an iFit Mode that needs a wireless module (not included) to communicate with your internet network, while the Bluetooth connectivity syncs a tablet/smartphone device with the console.
Access to the iFit technology unlocks a lot of interesting features such as the ability to track your workout progress online, use thousands of workout programs, new daily workout programs, interactive workout sessions with a personal trainer that could lead and instruct you and even adjust your resistance remotely, train in virtual trails all around the world, and even compete with other iFit users, and more.
However, to enjoy all of the aforementioned, you have to subscribe to iFit membership.
Also, a membership subscription allows multiple user accounts to be opened. This means other users such as family members can use accounts that are linked to your membership subscription as long as their machine is iFit enabled.
But it is optional, you don't have to subscribe if you don't want it.
Accessory
The console has entertainment features that are designed to enable you to watch a movie or listen to your favorite music while working out. These features include built-in speakers, an MP3 port, and a tablet holder.
A water bottle holder is also attached to the mast right below the console for keeping proper hydration.
So, there won't be dull moments during workout sessions.
Storage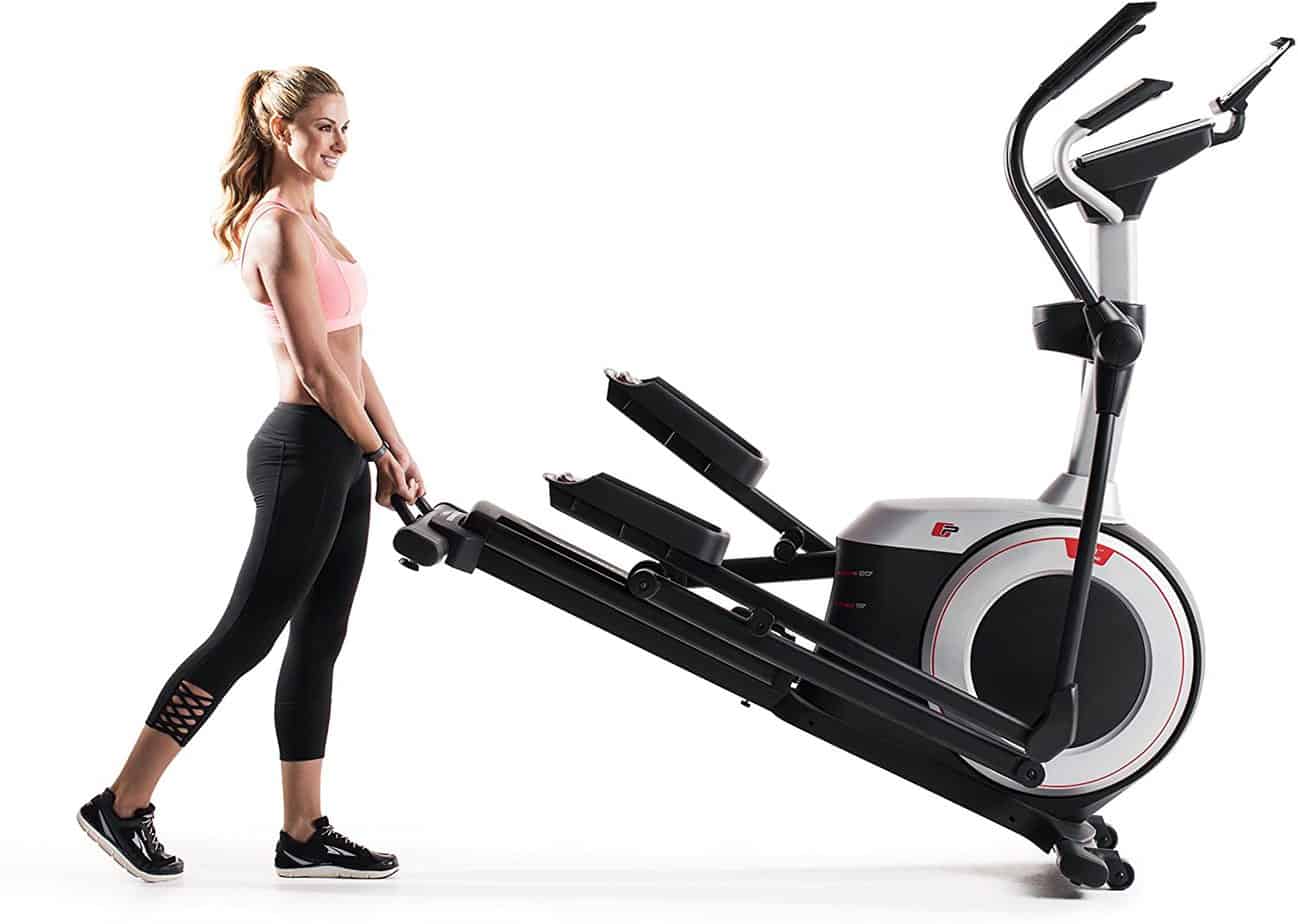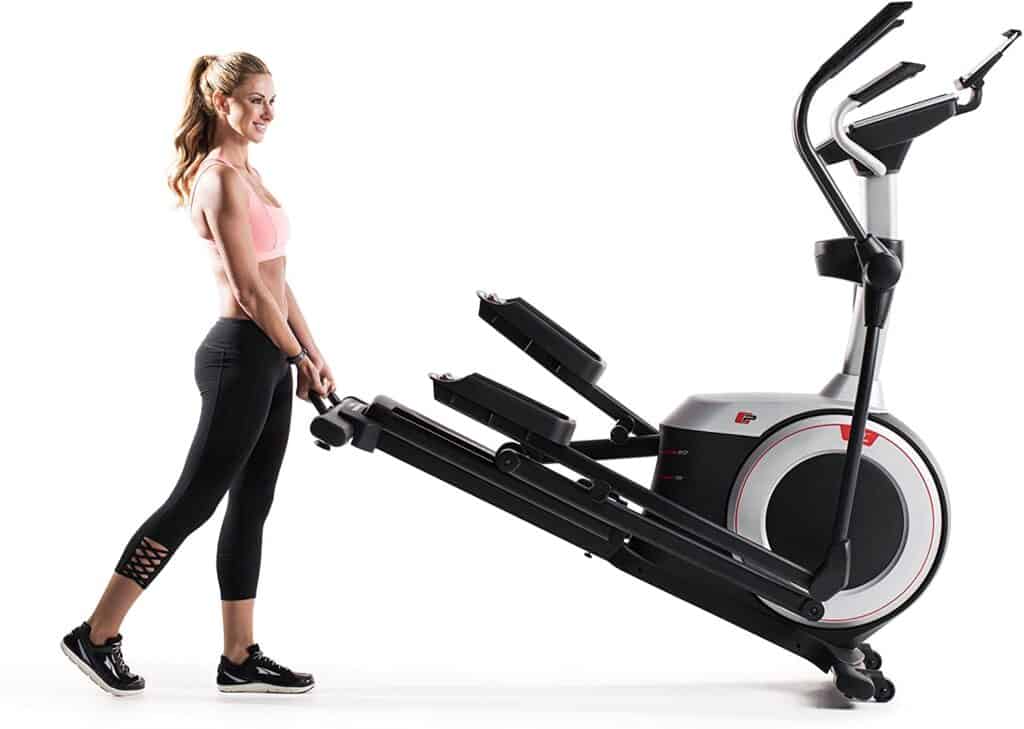 The ProForm Endurance 520 E Elliptical Trainer is not foldable, but it isn't too large either. It has front-mounted transport wheels that facilitate the relocation process. Although, due to its weight (207 lb./93.8 kg), it may need 2 persons to safely move it.
A storage area with perimeters of 5'7'' length by 2'9'' width can accommodate it.
Pros/Features Overview
Durable and sturdy
Portable and superlatively stable
Supports a 300 lbs./136 kg maximum user weight capacity
A 20-degree manual incline system enables you to diversify your workout for better results
18 workout programs offer different effective workouts to select from
Electromagnetic resistance system offers 18 different workout intensities and its operation is smooth and frictionless
2 sets of handlebars offer the options to exercise the full body or just the lower-body at a given time
EKG contact grips for heart rate monitoring
The pedals are large, textured, and, cushioned to accommodate different foot sizes for comfortable and secure elliptical path motion
IFit technology provides access to thousands of online workout programs, daily new workout programs, interactive workout session with a personal trainer, ability to train in virtual streets and terrains, and more
Bluetooth connectivity
Blue backlit monitor that tracks Time, Distance, RPM, Speed, Calories, Calories Per Hr, Stride, and Pulse with high readability
Goal settings for Time, Distance, and Calories
Sound system included to keep you high-spirited during workouts
A tablet, and water bottle holders for device placement and maintaining proper hydration
Assembly is fairly easy
It doesn't require serious maintenance
Cons
The console is not telemetry-enabled
IFit membership subscription required for access
IFit wireless module needs to be purchased separately
Warranty
10 Years for the Frame
2 Years for Parts
1 Year for Labor
Activate the warranty by visiting www.proformservice.com/registration
Product Dimensions and Specifications
Length 68.2''
Width 34.4''
Height 69.3''
Shipping dimensions: 66'' L x 31'' W x 17'' H
Net weight: 207 lbs./93.8 kg
Gross weight: 209 lbs./94.8 kg
Maximum user weight capacity: 300 lbs./136 kg
Drive: Belt
Resistance: Eddy current magnetic with 18 adjustable levels
Power: Electricity, adapter included
Flywheel: 15 lbs./6.8 kg
Display: 5'' blue backlit monitor
Incline: 20-degree, manual
Stride length: 19'' adjustable
IFit enabled
Heart rate monitoring: EKG contact grips
Pedals: Oversized, textured, and cushioned
Handlebars: Fixed & Dual-action
Auxiliary MP3 port
2 built-in speakers
Water bottle holder
Tablet holder
Shipping
The ProForm Endurance 520 E Elliptical Trainer is considerably heavy. The shipping box weighs 209 lbs./94.8 kg and its dimensions are 66'' L x 31'' W x 17'' H.
Amazon provides free shipping and gets it delivered right on time.
Assembly
The assembly of this machine is not a very difficult one because the major components are preassembled.
But you need to connect the mainframe and the rail, and then attach the stabilizer bars, the steel arms/bars, the pedals, the console mast, the handlebars, and the console to the main core unit.
The good news is that the package comes with an instruction manual that explains in detail how to successfully assemble the machine and the tools needed are also included in the package.
Maintenance
Keeping the unit clean at all times and inspecting it for a loose or broken part is paramount. Ensure that the rail is free from dirt, and do not expose the console to liquid, moisture, or direct sunlight.
Make sure to store the machine in a clean, cool, and dry area.
Further instructions are laid out in the owner's manual.
Conclusion
The ProForm Endurance 520 E Elliptical Trainer is for home use. It has decent features that could make your workout productive and enjoyable. Its acquisition sets you on the right path of achieving that fitness goal you have always desired to attain.