The Nautilus T616 Model 100672 Treadmill has similarities with the Nordic Track T 7.5 S Treadmill. However, the former has a higher incline system, while the latter has more workout programs. Nonetheless, both of them have other features that make them unique and special.
That said, the Nautilus T616 is a light-commercial quality treadmill that is designed to be used at home.
Some of the features it integrates include a sturdy steel frame, a powerful self-cooling motor, a wireless heart rate capability, online app connectivity, a dual-mode blue backlit LCD, and more.
Click right here to have a peek at the price and of of the Nautilus T616 Treadmill on Amazon.
The Frame and Construction
The Nautilus T616 is the upgraded version of the Nautilus T614 Treadmill in the series. It has a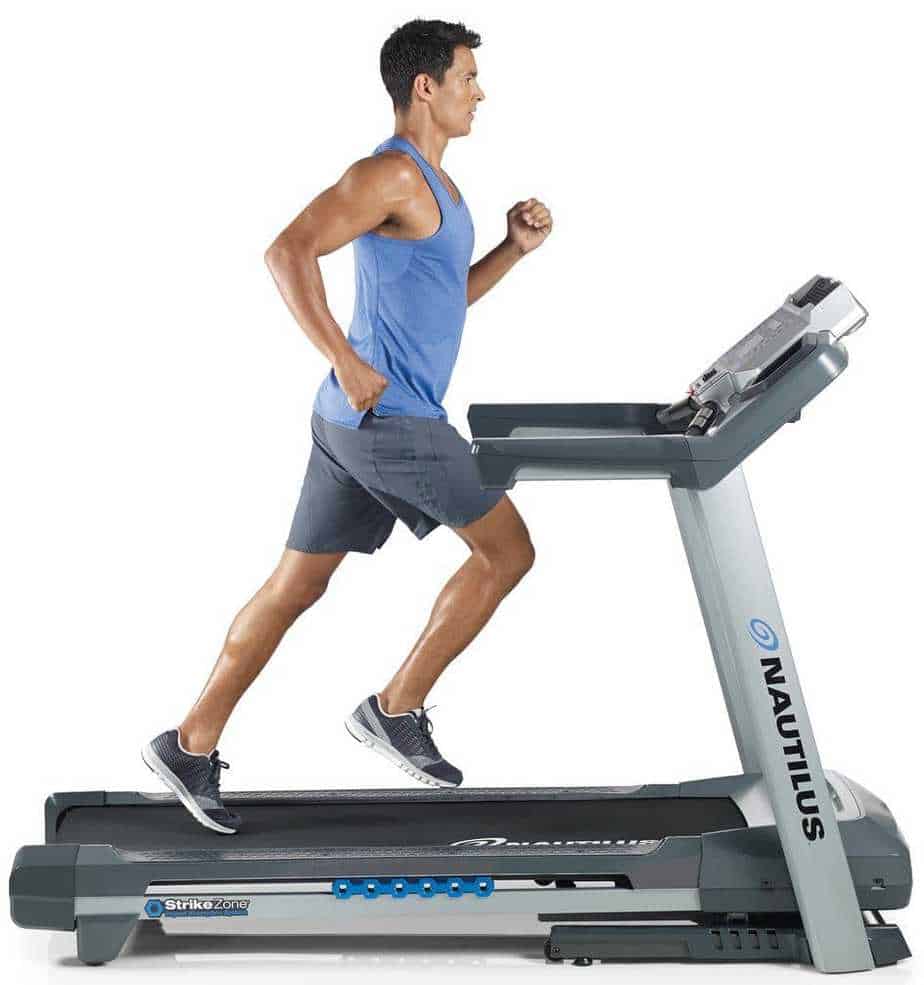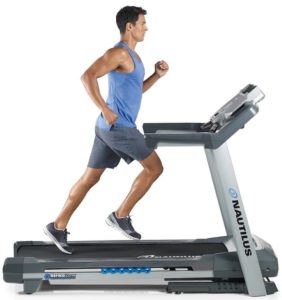 heavy-duty anti-corrosive steel frame and parts that are made of ABS material.
Hence, it is durable and supports 300 lbs./136 kg maximum user weight capacity.
The robust and anti-skid base promotes stability that holds up even when exercising aggressively. It is further enhanced by the treadmill's overall weight of 215 lbs./97.5 kg.
Moreover, there are 4 adjustable levelers at the front base which enable users to balance the treadmill on a crooked surface. Therefore, no chance of wobbling during workouts.
The assembled dimensions of the treadmill are 77.2" long by 35.2" wide by 57.6" high. Simply put, the treadmill requires a workout area with perimeters of 6'5" length by 3′ width.
For safety and easy access reasons, consider adding clearance of at least 2′ around it.
To determine the ceiling height suitable for you, you need to add your height and 17.2" maximum incline height and 5" clearance.
For example, a suitable celing height for a  6′ tall person should be 72" user's height, plus 17.2" maximum incline height, plus 5" clearance = 92.2" (7'7" ceiling height).
The Deck of the Nautilus T616 Treadmill
The step-up height for the deck is 9" and it has a 2-ply, 2.0 mm thick tread belt which smoothly rolls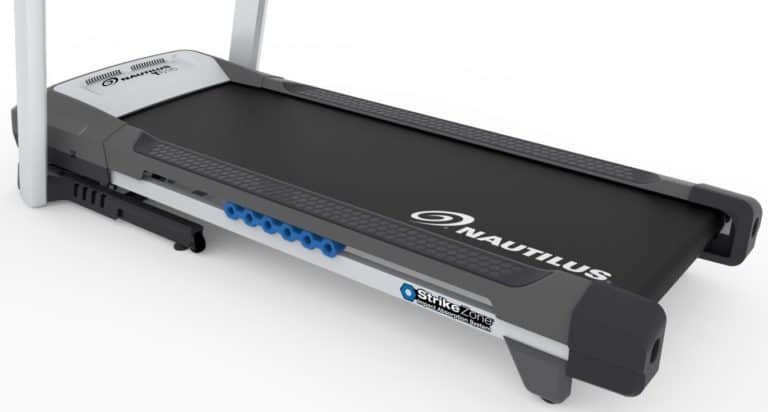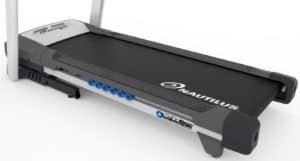 over a durable 2.5" crowned rollers.
Exercising on the treadmill means less stress on the joints because the running surface integrates a StrikeZone cushioning system with Hex 6-cell on either side of it.
Also, the dimensions of the tread belt are 20" W x 60" L, hence, most users can run on it without feeling cramped.
The Motor
The Nautilus T616 Treadmill is equipped with a powerful, responsive, and reliable 3.0 CHP motor that provides the drive needed for walking, jogging, and running activities.
Its operation is smooth and stable due to the incorporated small flywheel, and its performance doesn't deteriorate even when used at a high speed and consistently by a 300 lbs./136 kg user.
The motor offers a speed range of 0-12 mph, and it's safely designated at the front base of the treadmill and covered by plastic.
Its default start-up speed is 0.5 mph and the adjustment is exclusively done via the console and could be adjusted by an increment of 0.1 mph.
There are also 2, 4, 5, 6, 8, 10, 12 quick speed buttons on the console that enable you to instantly select a high speed. Also, the speed gets automatically adjusted when a preset workout program is selected.
Since the treadmill is motorized, it needs to be plugged to a 120V, 15A, power outlet for it to be functional.
The noise level of the motor and the treadmill is lower than the footfall during a workout. Therefore, it is not going to be a problem that interferes with your workout or the people around you.
However, there is a warning by the manufacturer stating that a thumping noise might occur if the treadmill has not been operated for a length of time, either in the factory or after assembly.
This does not indicate a problem because when the treadmill is used for a short period the noise stops. Although, the time frame for the cessation of the noise depends on the temperature and the humidity of where the treadmill is being used.
The Incline
The Nautilus T616 Treadmill has a 1%-15% automatic incline system.
Just as the speed, the incline could be adjusted via the gradual or the quick keys on the console. You can adjust it by an increment of 1%, or quickly by 2%, 5%, 8%, 10%, 13%, or 15%.
The incline is also activated when a preset workout program is selected.
Users get to burn more calories when they include a certain incline level in their workouts because it challenges and pushes them to the limit.
The Console
This treadmill comes with an advanced console that features 2 DualTrack blue backlit LCD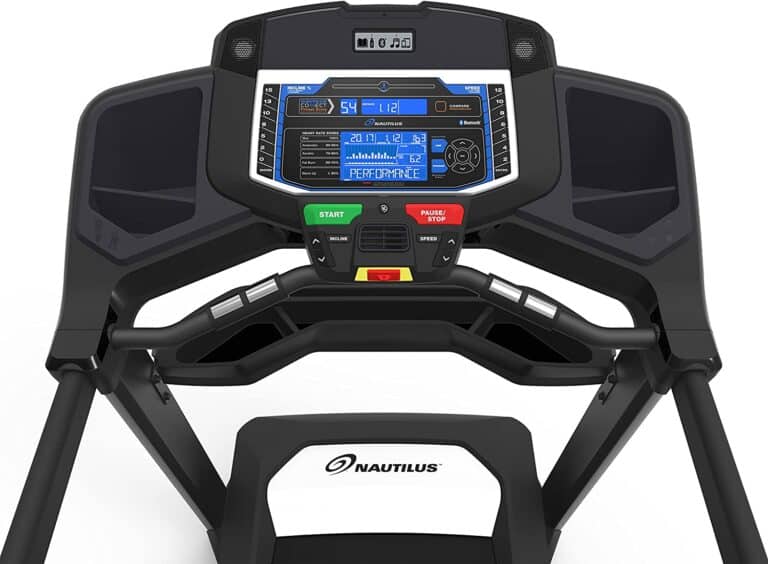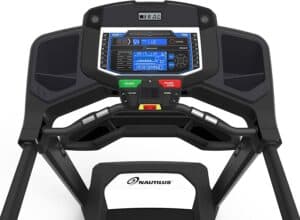 monitor. The display windows track workout stats such as Program Profile, Heart Rate Zone, Active User, Time, Distance, Calories, Incline, Speed/Pace, and Pulse (Beat Per Second).
Its readability is crystal clear and cannot be diminished by a poorly-lit environment.
The heart rate can be read when you hold the EKG contact grips or use a compatible Polar Electro or an uncoded POLAR heart rate chest strap model (included) during workouts.
The console also integrates 26 workout programs that include 1 Manual, 3 Quick Goals (Distance, Time, Calories), 3 Intervals, 4 User Defined, 4 Heart Rate (55%, 65%, 75%, 85%), 5 Weight Control (2 Fat Burn, Incline Burn, Speed Burn, Dual Burn), and 6 Training.
4 different users can personalize and automatically store their workout sessions data for review using the 4 user profiles.
The Bluetooth enabled console connects to any device with a Bluetooth feature. It syncs the treadmill to online apps such as RunSocial, Explore the World, MyFitnessPal, NautilusConnect, and more.
Connection to any of the apps enables you to track and share your workout progress, train in virtual routes, and a lot more.
Of course, there are free routes you can use, but to unlock more you will have to subscribe to Explore the World App.
Accessory
The Nautilus T616 Treadmill has a couple of interesting and useful accessories such as a tablet holder, water bottle holders, a USB port, a 3-speed fan, 3.5mm MP3 port, and 2 built-in speakers.
Your workout will be free of boredom because you can maintain proper hydration, and watch a movie or listen to your favorite music through the Bluetooth speakers.
The USB port allows you to charge a smartphone/tablet or transfer your workout data to a flash drive.
Storage
Putting away the Nautilus T616 Treadmill for storage is convenient and easy. The reason being that it is foldable and portable.
It could easily be folded and unfolded by its SoftDrop system and the integrated transport wheels help in the relocation process despite its weight.
An area with perimeters of 3'9" length by 3′ width is enough to accommodate it for storage.
Approval Rating
This treadmill and others in the series have favorable reviews by Amazon customers. As a result, it has an overall positive approval rating.
Pros/Features Overview
Durable, foldable, and portable
Stable and sturdy
Supports 300 lbs./136 kg maximum user weight capacity
Dual blue backlit LCD Display tracks workout stats such as Program Profile, Heart Rate Zone, Active User, Time, Distance, Calories, Incline, Speed/Pace, and Pulse (Beat Per Second)
Operation is smooth and vibration-free thanks to the 2.5" crowned rollers and the 2-ply tread belt
The integrated StrikeZone Cushioning system with 6 hex-cell ensures that the user experiences nothing but comfort while running
The 3.0 CHP motor is energy-efficient and self-cooling and it provides a speed range of 0.5-12 mph
0-15% automatic incline system enables users to challenge themselves for greater fitness results
26 workout programs designed for specific goals
4 User profiles enable 4 different users to enter and store their personal information
Heart rate motoring by EKG contact grips & wireless heart rate chest strap (included)
Bluetooth connectivity syncs the treadmill with online Apps such as RunSocial, Explore the World, NautilusConnect, MyFitnessPal, and more;
You can train in virtual terrains, track and share workout progress, and more when connected to an  online app
3-speed fan
A USB port for charging a phone or data transfer to a flash drive
Sound system for listening to music with quality audio output
Water & tablet holders are included
Maintenance is low
Assembly is not difficult
Cons
It is bulky and the fan is weak
Warranty
10 Years for the Frame
10 Years for the Motor
3 Years for Mechanical Parts
3 Years for Electronic Parts
1 Year for Labor
Product Dimensions & Specifications
Length 77.2"
Width 35.2"
Height 57.6"
Folded dimensions: 46" L x 35.2" x 66" H
Shipping dimensions: 85" L x 33" W x 13" H
Tread belt dimensions: 20" W x 60" L
Net weight: 215 lbs./97.5 kg
Gross weight: 241 lbs./109.3 kg
Step-up height: 9"
Maximum user weight capacity: 300 lbs./136 kg
Motor: 3.0 CHP
Speed range: 1-12 mph
Incline: Automatic, 0-15%
Maximum incline height: 17.2"
2-ply, 2.0mm thick tread belt
StrikeZone Cushioning System
Display: 2 DualTrack blue backlit LCD
Programs: 26
4 user profiles
SoftDrop folding system
Bluetooth connectivity
Online app (RunSocial, MyFitnessPal, NautilusConnect, Explore the World, etc.) connectivity
Sound system
USB port
Water bottle holders
Tablet holder
Accessory tray
Shipping
Amazon ships the Nautilus T616 Treadmill free of charge upon purchase. It is delivered in a few days.
The unit is shipped in a box that weighs 241 lbs./109.3 kg with dimensions of 85" L x 33" W x 13" H.
Assembly
The treadmill arrives with the complicated parts already assembled. You only need to assemble the upright posts, the handrails, and the console. There is a little bit of wire connection as well.
You should be able to follow through and complete the assembly because the attached instruction manual is well written and clear. Also, the tools needed for the assembly are included in the package.
However, if you wish to have someone assemble it on our behalf, you may indicate so at the checkout when paying for the treadmill.
Maintenance
The tread belt is pre-lubricated by the manufacturer but it will need to be re-lubricated after every 25 hours of use with a silicon-based lubricant.
For smooth performance, always keep the tread belt and other parts of the treadmill clean. Do not expose the console to liquid, moisture, and direct sunlight.
Endeavor to inspect it before use for any loose or broken part. Re-tight any part that may have loosened and replace any that may have broken.
Conclusion
The Nautilus T616 Treadmill has a spacious deck for unrestricted workout experience, a powerful 3.0 CHP motor that provides the drive needed without failure, 26 workout programs, 4 user profiles, and more.
This is considered one of the best treadmills available.
Nautilus T616 Treadmill Review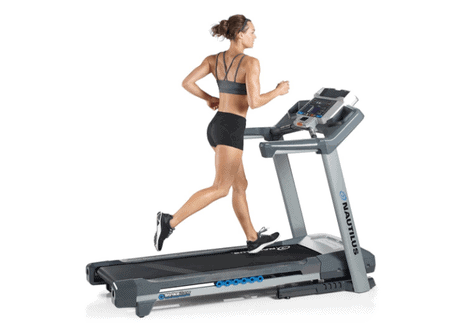 Click right here to have a peek at the price and of of the Nautilus T616 Treadmill on Amazon.
Product Brand: Nautilus
Product In-Stock: https://schema.org/InStock