The Body Rider BRD2000 Dual Cardio Trainer is a 2 in 1 cardio machine as the title suggests and there aren't many of them out there.
We are not going to say that the unit is black and white without downsides; of course, it has its cons as with any other product but there are a lot of upsides that probably diminish the negative aspect of it.
And in this review, we are going to try to cover both sides of the coin and present you with a detailed review that will hopefully help you to make that final purchasing decision.
It is important to note that the uniqueness of the Body Rider BRD2000 Dual Cardio Trainer stands it out from the rest. It has a combination of elliptical trainer and exercise bike design that is geared toward providing unique workout experience that could result in a quick achievement of fitness goals.
This is overall body workout equipment that could target various muscle groups in the body and tone them accordingly even as it helps you to lose weight and improve your overall physical endurance all at a very affordable price.
If you wish to view the price of the Body-Solid BDR2000 Dual Cardio Trainer click right here.
The Frame and Construction
The Body-Rider BDR2000 Dual Trainer's design of 2 in 1, which incorporates two machines in one, provides variable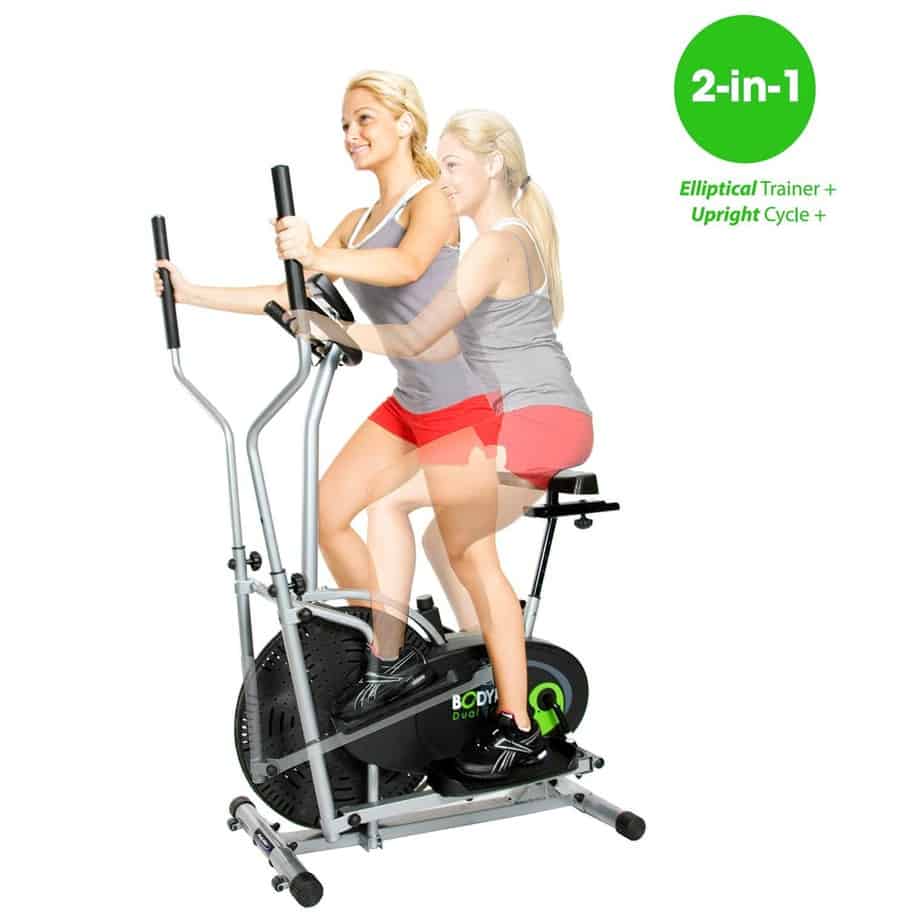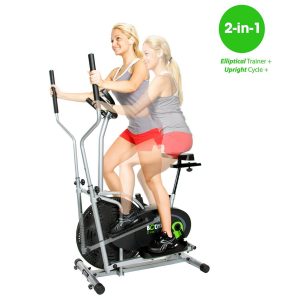 usability.
Just as aforementioned, it combines elliptical trainer and upright bike features to allow a user to perform various exercises that are also suitable for individuals that have issues with the lower back and the joints, in other words, suitable for individuals with leg, back or hip problems because of its low impact design.
The frame is made of steel but must not be exposed to rains or water or stored in a cold or damp area to prevent rust.
It supports up to 250 pounds/113 kg maximum user weight capacity and weighs about 66 pounds/30 kg. This is a lightweight machine, but the weight does add to its stability coupled with the front base and rear base stabilizer bars which also have rubber capping on each end to prevent scratch to the floor and wobbling movement.
Nevertheless, it is recommended to use a rubber mat underneath the machine to further improve its stability and prevent any sort of wobbling that might be caused by an uneven floor.
It is also a very compact machine with fully assembled dimensions of 40 inches long by 20 inches wide by 58 inches tall which requires a workout area of 3 feet inches long by 1 foot 6 inches wide and a ceiling height of at least 6 feet; although, it is recommended to leave a clearance of at least 2 to 3 feet on each side of the machine and the rear for safety purposes and comfortable workout experience.
The front stabilizer bar features 2 small transport wheels intended to be used for easy relocation.
The seat and Handles
The Body Rider BRD2000 Dual Cardio Trainer comes with a rather standard exercise bike seat which is not padded,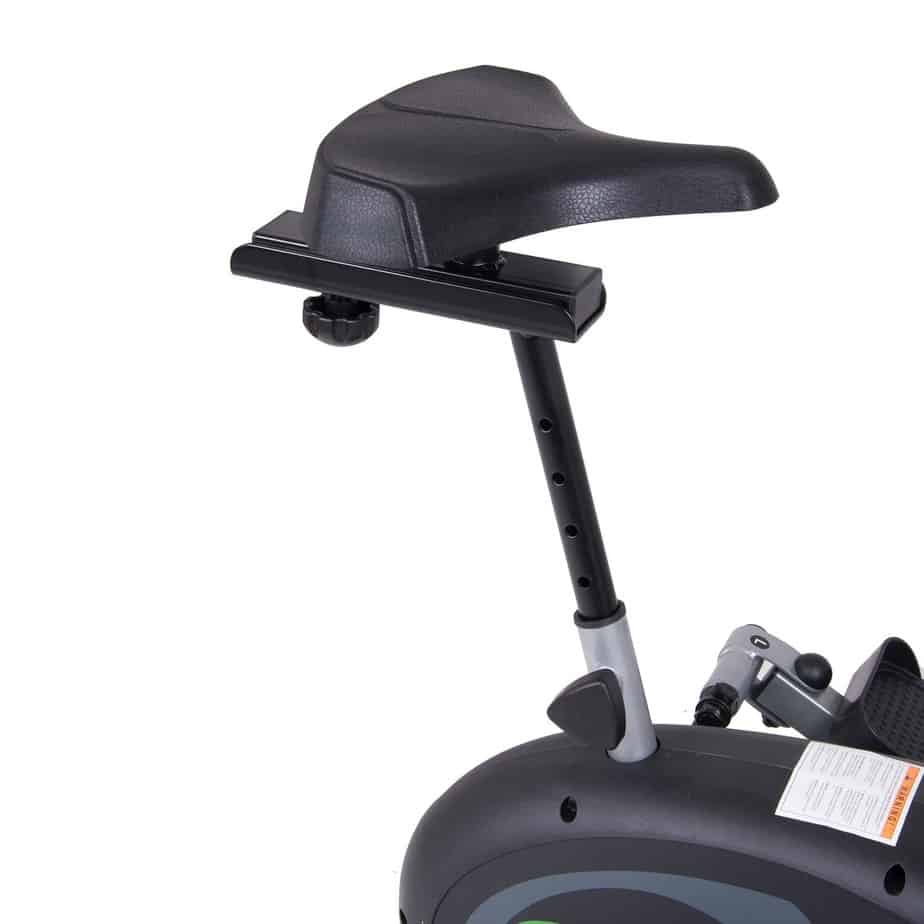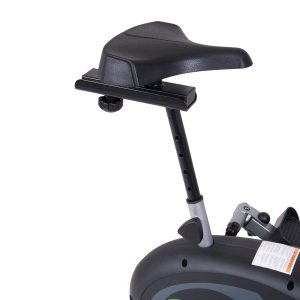 unfortunately. But this could be remedied by using a gel seat cover which could greatly improve the feel to the butt.
Ordinarily, exercise bike's seat is generally not very comfortable, and most often it's either being replaced with a better saddle or a gel seat cover is used, while in this case, we recommend using the latter.
The seat is 4-way adjustable; which means it could be adjusted vertically (upward/downward) and horizontally (forward/backward).  This is truly an added advantage because of its multiple adjustable positions that allow users of different heights to be accommodated comfortably.
It could accommodate users between 5 feet to 6 feet comfortably and the seat adjustments are very easy and won't take a minute to find your suitable setting. This also means that other family members could use the bike as well.
The movable handlebars are adjustable vertically too and therefore could help you to fine-tune your suitable workout position, whereas the static handlebars are not adjustable.
The handlebars are covered with rubber/foam material that is intended to provide a comfortable grip that prevents blisters in the palms and slippage as a result of sweaty palms.
The Resistance
The Body-Rider BRD2000 Dual Cardio Trainer features a friction resistance system that consists of a friction belt and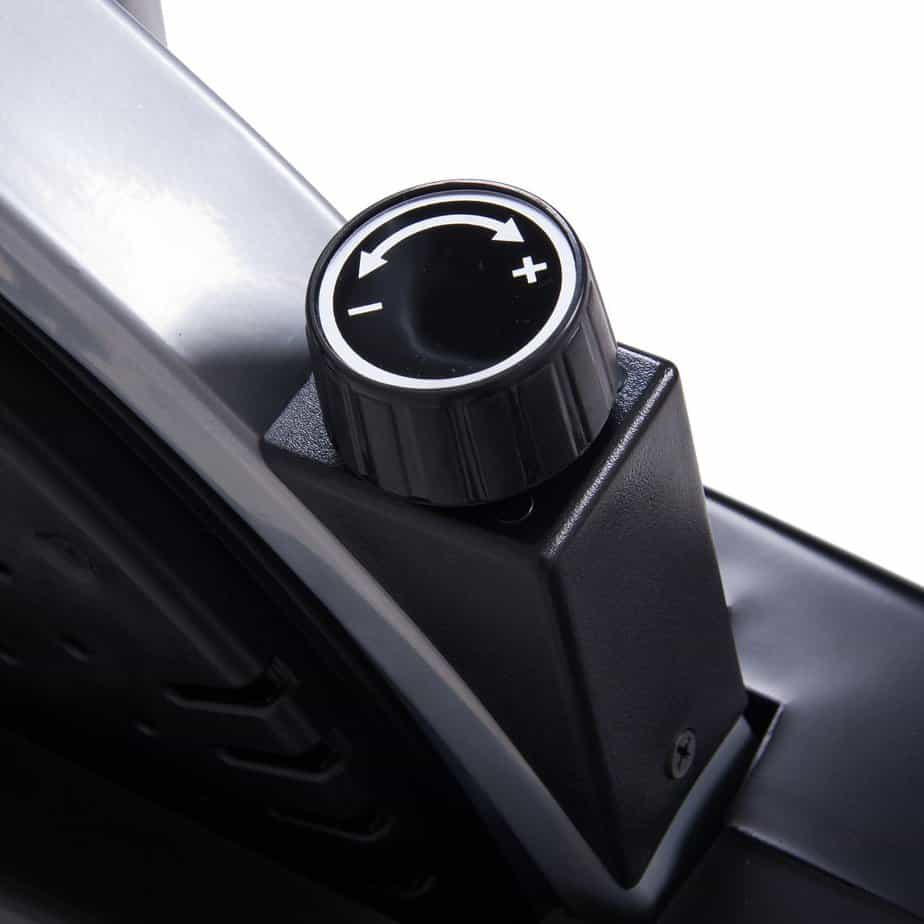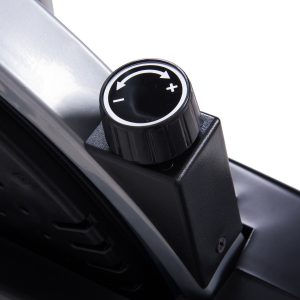 a fan wheel. Resistance is generated when the friction belt contracts around the fan wheel when adjusted via the tension knob.
The level of resistance depends on how you increase or decrease the adjustment and this is done by turning the tension knob clockwise to increase the resistance and anticlockwise to decrease it. However, it does not have any specified resistance level indicated on the tension knob so you have to adjust until you are satisfied with the resistance you are getting or suitable for your workout.
The fan wheel provides a smooth, consistent, and quiet motion that allows you to experience outstanding workouts.
The friction belt may wear out after some time and the period could differ depending on how often you use it.
The Drive and Pedals
The Body-Rider BRD2000 Dual Cardio Trainer is integrated with a chain drive system. This type of drive system is not entirely silent like the belt drive system but neither does it generate noise that is bothersome or capable of disturbing others.
You should be able to watch your favorite TV show or listen to music while working out. However, it requires some level of maintenance such as periodic lubrication to keep it functioning well.
The pedals are large as you may already know that the machine comes with an elliptical trainer's pedal design.
The Console
The console that comes with the Body-Solid BRD2000 Dual Cardio Trainer is basic with a single button for the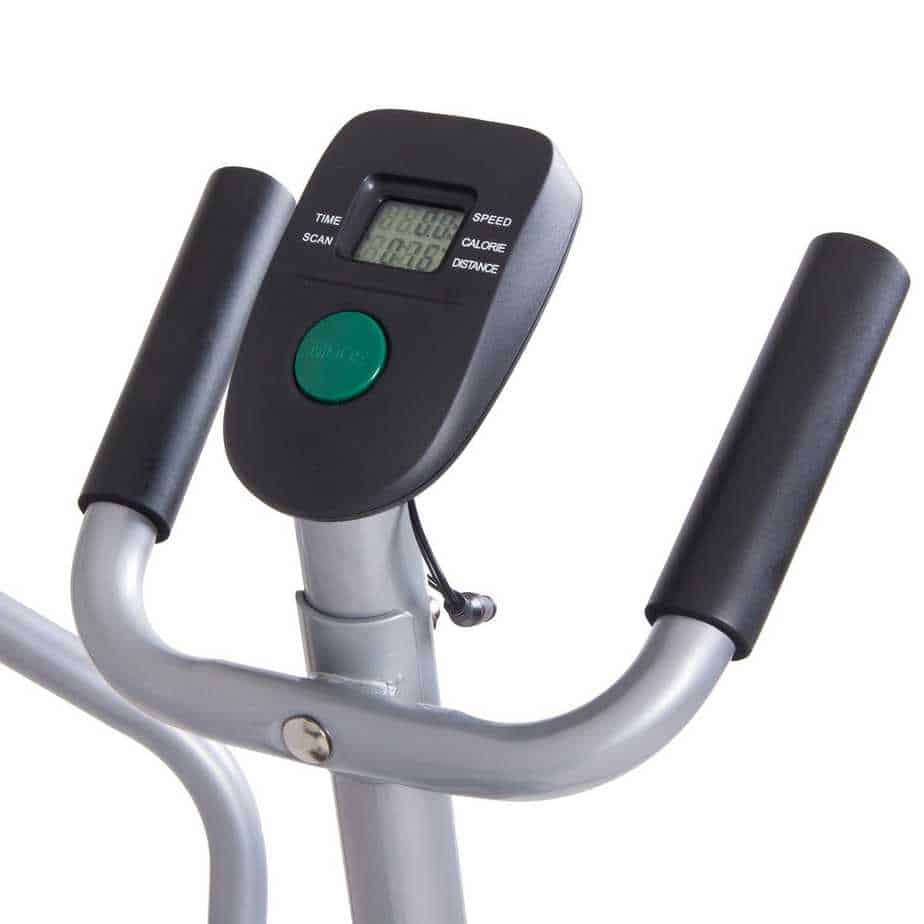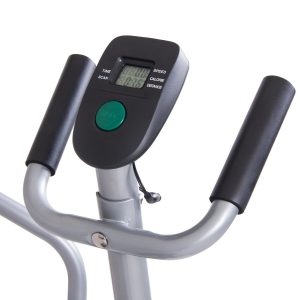 settings.
It has a digital LCD monitor with good readability that allows you to keep track of workout duration, distance, calories burned, and speed. This helps to keep you motivated and focused on achieving your fitness goals.
However, you may not be able to read the metrics on the display is used in a poorly lit room because it is not a backlit designed.
The monitor turns on when the button is pressed or when you start pedaling, and it turns off automatically when the machine is idle for 4 minutes, while the display can be reset by removing the battery or by pressing the MODE button down for 3 seconds.
The console is powered by one AA battery which is included and so does not require any electricity.
Approval Rating
The Body-Solid BRD2000 Dual Cardio Trainer has been around for a couple of years now and has enjoyed some level of popularity. There a lot of Amazon customer feedback that suggests that this unit is recommendable. Nevertheless, there are of course some users that expressed their dissatisfaction with the machine but they are in the minority.
But overall, this unit has a positive approval rating.
Pros/Features Overview
Steel frame
Affordable
Supports up to 250 pounds/113 kg maximum user weight capacity
Integrated with two machines' features
Has a low impact on the joints
It is a compact machine with assembled dimensions of 40 inches long by 20 inches wide by 58 inches tall that can conveniently fit in most small rooms or apartments
Features friction belt resistance system
Digital display that allows you to track time, distance, calories burned and speed
Standard Seat that is 4 way adjustable and handlebars that is also vertically adjustable
It provides overall body workout
Easy to assemble
Cons
It does not have heart rate sensors and so cannot monitor pulse
Not ideal for anyone that wishes to experience extremely difficult workouts
The LCD monitor is not backlit
Product Dimensions and Specifications
40'' Length
20'' Width
58'' Height
Digital LCD monitor
Chain drive
Friction resistance system
Two in one fitness machine
Warranty
1 Year on Frame
90 Days on Parts
Shipping, Assembly, and Maintenance
Shipping
The shipping cost of the Body-Solid BRD2000 Dual Cardio Trainer depends on the retailer you are purchasing the unit from; however, Amazon provides free shipping.
Assembly
The assembly of this machine is pretty easy as it comes with most of its main component preassembled. You are required to attach the seat post and the seat, arms, the pedals, console, and the front and rear stabilizer bars. These could take about 30 minutes more or less to put together.
Maintenance
It is clearly stated that you should retighten all the bolts at least once in a month and always examine the unit see that all the parts are secure as they should before use.
Always clean off the dust/dirt and sweat with a damp cloth without solvent.
Conclusion
First of all, the Body-Solid BRD2000 Dual Cardio Trainer has a value-oriented price that has endeared it to so many users.  It has a range of features that allow you to achieve the cardio fitness goals you have always desired.
For safety and for the machine to last longer, you must adhere to the instructions on the manual and make sure that you don't exceed the recommended user's weight.
It is great for those that are on a budget and still wish to acquire cardio equipment that could allow them to perform cardio workouts in the convenience of their homes.
This cardio machine is both for male and female users because we observed some individuals wanting to know on Amazon.
Body Rider BRD2000 Dual Cardio Trainer Review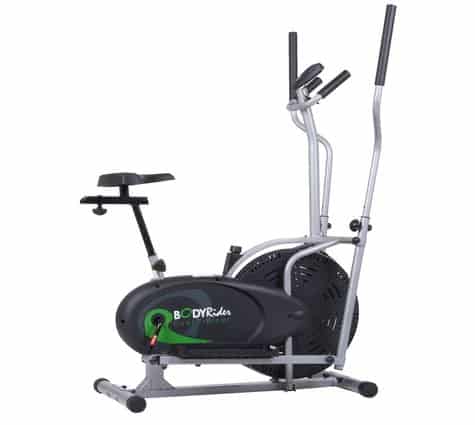 The Body Rider BRD2000 Dual Cardio Trainer is a 2 in 1 cardio machine as the title suggests and there aren't many of them out there.
Product Brand: Body Rider
Product In-Stock: InStock