The Nordic Track T 6.5 S Treadmill is popular and has been around for a while now. It integrates a powerful 2.6 HP motor that provides the drive needed for walking, jogging, and running activities.
It has 20 built-in workout programs and an iFit technology that offers access to unlimited app-based workout programs. Plus 10% automatic incline system that brings the burns and cut tons of calories when combined with aggressive workouts.
Its construction is durable and sturdy enough to support a maximum user weight capacity of 300 lbs./136 kg.
Click right here to have a peek at the price and of of the Nordic Track T 6.5 S Treadmill on Amazon.
The Frame and Construction
The T 6.5 S Treadmill is made up of a solid steel frame and other parts that are made of durable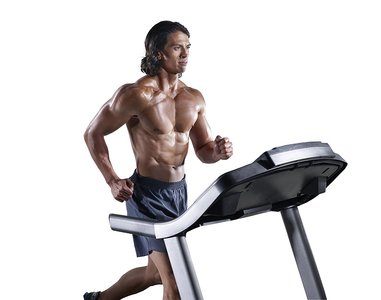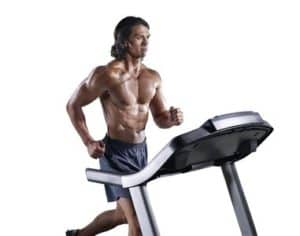 plastic.
It has an anti-slip and stable base that ensures optimal stability that is void of wobbling. Also, Its assembled weight of 203 lbs./92 kg consolidates its balance. Therefore, it holds up and stable during workouts.
The overall assembled dimensions are 73" long by 36" wide by 54" high. To put it differently, the treadmill requires a workout area with perimeters of 6'1" length by 3′ width. An additional clearance of at least 2′ around it will be necessary for easy access and safety, especially if it's going to be used in a confined area.
The ceiling height of the room where it's going to be used should be at least 8′ high. Or, just to be sure, you can determine the suitable ceiling height by doing simple math of adding your height and 12" (the highest incline position) and clearance of at least 5".
For example, a 6′ tall person's math should be something like this; 72" (user'sheight)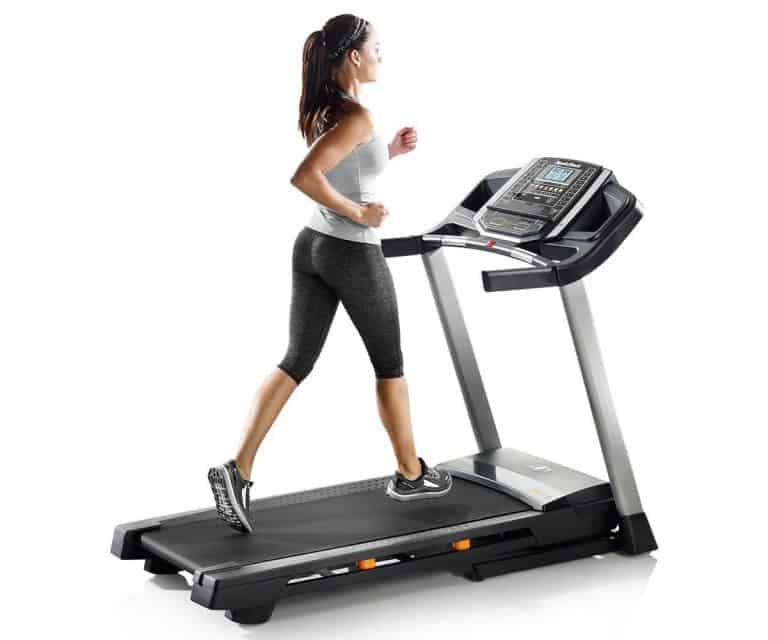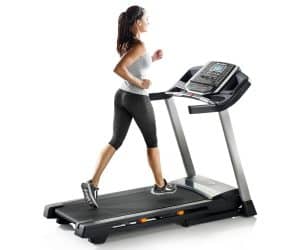 + 12" (highest incline position) + 5" clearance = 84" (ceiling height 7'4").
The step-up height of the treadmill when the incline is at 0% is about 8" high.
The running surface dimensions are 55" L x 20" W, enough room for most users to exercise without restrictions. The deck integrates 1.9" crowned rollers with sealed ball bearings that ensure smooth and quiet rolling operation.
It also has a FlexSelect Cushioning System that comprises 3 adjustable suspension cells on each side. These suspension cells can be rotated to either direction to adjust the firmness of the deck so that the joint stress that is usually associated with running will be significantly reduced.
This unit is one of the best treadmills designed for home use.
The Motor
The Nordic Track T 6.5 S Treadmill is equipped with a strong and energy-efficient 2.6 horsepower motor that provides a speed range of 0-10 mph.
The speed adjustment is done via the quick and gradual keys on the console. Thus, the treadmill needs to be plugged to a 120V, 15A, outlet for it to work. It is possible to increase or decrease the speed by 0.1 mph and 0.5 mph.
The motor is designated at the front base of the treadmill with a plastic protective hood on it. It also has a small flywheel incorporated into it to stabilize and smoothen its operation.
It is durable and can support prolonged and frequent workouts without breaking down or overheating. It does make a noise that will be considered bearable, especially when it's going faster.
The Incline
The treadmill has a 0-10% automatic incline system. This means it could be adjusted by 1% via the 1, 2, 3, 4, …10 buttons on the console to increase or decrease the incline for diversified and challenging workouts.
When it's in its highest position and combined with a higher speed level, even an advanced athlete will feel the burn and be pushed to the limit.
Console
The console on the Nordic Track T 6.5 S Treadmill has a decent range of features that include 5"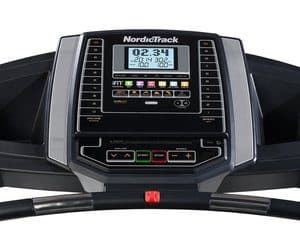 backlit LCD monitor, 20 workout programs, iFit technology, built-in speakers, and more. You can also set a goal (countdown) for Time, Distance, and Calories.
The monitor tracks your workout progress by displaying metrics such as Time, Distance, Speed, Incline, Calories, and Heart Rate.
Both Distance and Speed values can be measured in miles/kilometer and mph/km/h, respectively.
If and when any of the 20 preset workout programs is selected, a certain speed and incline levels are automatically activated for a workout because they are preprogrammed.
The console is not telemetric; meaning it doesn't connect with any wireless HR chest strap. To read and maintain your target heart rate zone you have to hold the contact grips during a workout.
iFit Technology
The iFit technology allows you to access unlimited workout programs, including real-time interaction with a personal trainer, download personalized workouts, create custom workouts, track your workout result, use the Google Maps to create and train in visual streets, remotely race or compete with other iFit users, and more.
However, you need to subscribe or register for the iFit membership to have access to it. Although the package comes with a free month subscription which has to be renewed by you upon expiration for continuous access.
Also, you have to purchase the iFit module separately for syncing the treadmill and the App.
Accessory
The Nordic Track T 6.5 S Treadmill has cup/bottle holders, a tablet holder, and a sound system.
These features allow you to maintain proper hydration, be entertained by watching a movie or listening to music.
No more boring or dull moments during workout sessions.
Storage
The unit has a space-saving design that enables you to fold it up when it's time to put it away for storage. The EasyLift Assist technology helps you to fold and unfold it without hassles.
It can easily be moved via the integrated transport wheels regardless that it weighs 203 lbs./92 kg.
Moreover, the storage space required is almost half the size of the assembled length. An area with the perimeters of 3'2" length by 3′ width would be just fine for storage.
Approval Rating
The Nordic Track T 6.5 S Treadmill has a lot of reviews on Amazon and by independent review sites because it has been around for a while. The majority of the reviews are positive, thus, the unit is recommendable.
Overview of Features/Pros
It's built to last
Foldable and portable
Supports 300 lbs./136 kg maximum user weight capacity
Roomy 20" W by 55" L deck allows most users to exercise unrestrained
The deck integrates adjustable FlexSelect Cushioning System that reduces stress on the joints
There are 20 preset workout programs
 You can set a goal for Time, Distance, and Calories
iFit technology allows you to access more workout programs, interactive workout session, race against other iFit users remotely, and more
1 Month free iFit subscription
The 5" backlit LCD monitor tracks workout progress by tracking Time, Distance, Speed, Calories, Incline, and Heart Rate
Speed and Distance can be measured in mph/km/h and miles/kilometer, respectively
Automatic 0-10% incline system
The 2.6 CHP motor provides a speed range of 0-10 mph
Operation is smooth and nearly-silent
Ekg contact grips for heart rate monitoring
Built-in speakers compatible with MP3 players
Low maintenance
Fairly easy to assemble
Water bottle & tablet holders
Cons of the Nordic Track T 6.5 S Treadmill
The console is not telemetric; meaning it doesn't connect to a wireless heart rate chest strap
To use the iFit technology you need to purchase the module for connection and also re-subscribe for membership upon the expiration of the free one month that comes with the package
No cooling fan
Warranty
10 Years for Frame
2 Year for Parts
1 Year for Labor
Make sure to go to www.nordictrackservice.com/registration to activate the warranty upon purchase
Product Dimensions & Specifications
Length 73"
Width 36"
Height 54"
Folded dimensions: 38" L x 36" W x 67.5" H
Tread belt dimensions: 20" W x 55" H
Shipping dimensions: 76" L x 31" W x 11" H
Net weight: 203 lbs./92 kg
Gross weight: 206 lbs./93.4 kg
Maximum user weight capacity: 300 lbs./136 kg
FlexSelect Cushioning System
EasyLift Assist
Motor: 2.6 CHP
Power: 120V AC, 15A
Speed range: 0-10 mph
Incline: Automatic, 0-10%
iFit technology
Programs: 20
Display: 5" backlit LCD monitor
Goal settings for Time, Distance, and Calories
Heart rate monitoring: EKG contact grips only
Transport wheels
Sound system
Water bottle holders
Tablet holder
Shipping
The shipping box of the Nordic Track T 6.5 S Treadmill weighs 206 lbs./93.4 kg with dimensions of 76" L x 31" W x 11" H.
Amazon provides free shipping and gets it delivered in a couple of days.
Assembly
This unit needs to be moved to the assembly area by 2 persons due to its weight. However, it's not complicated to assemble. You only need to integrate the 2 upright posts, the handrails, and the dashboard to the main core unit.
There are of course other small parts to be assembled.
An instruction manual and the tools needed for a successful assembly are included in the package. Although, if you don't want to do all of that you can communicate with the vendor to arrange for an in-home assembly.
Maintenance
The treadmill needs to be kept away from water, moisture, or direct sunlight. Do not walk on it while the power is turned off.
The tread belt will need to be lubricated after some time, and when it does, see the front cover of the manual.
Conclusion
The Nordic Track T 6.5 S Treadmill is designed to be used at home only. It is duly covered by a warranty that ensures the replacement of bad parts and repairs within a range of time.
Its inclusion into the home gym will bring about convenience and the ability to attain your fitness goals.
Nordic Track T 6.5 S Treadmill Review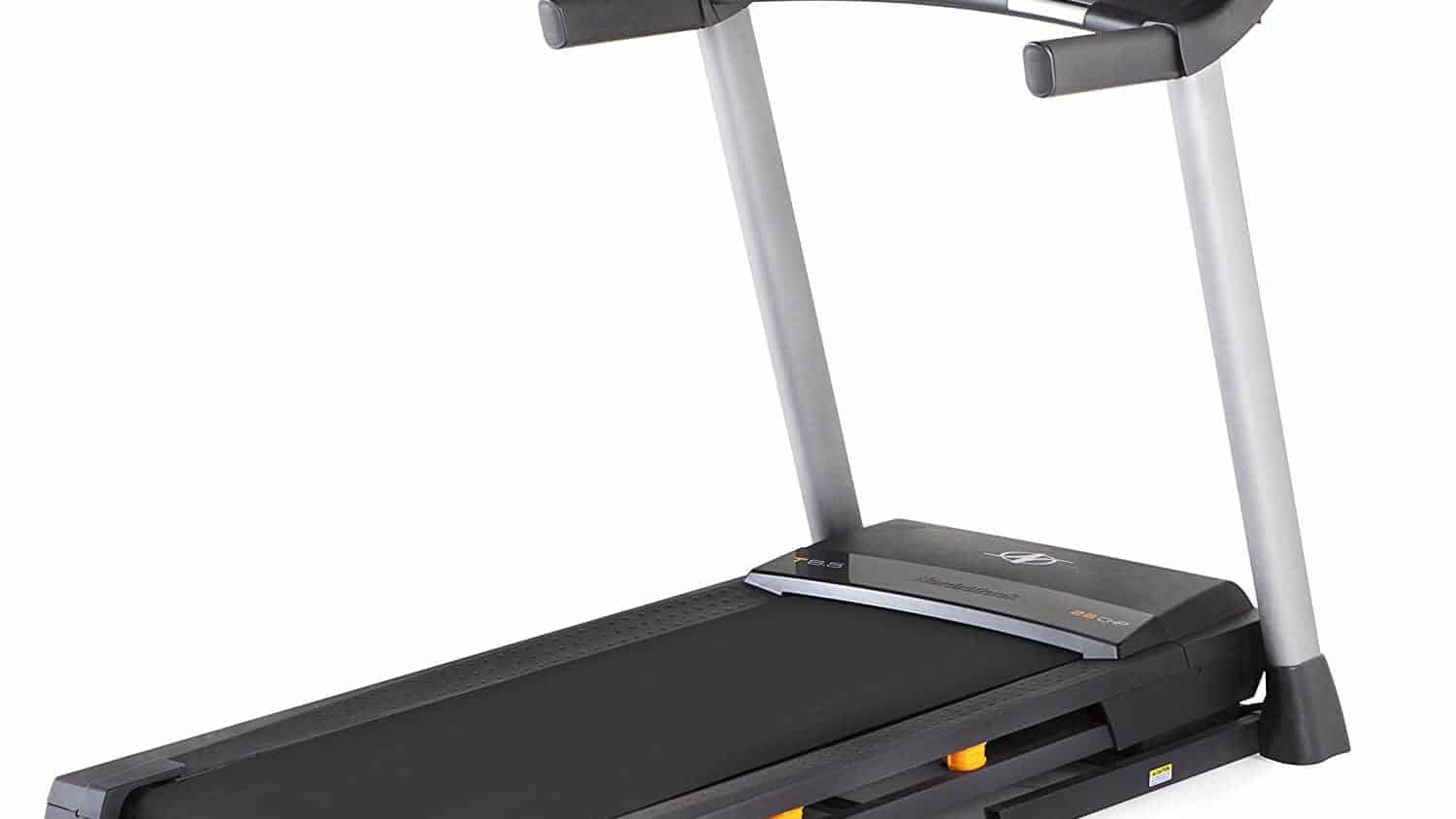 Nordic Track T 6.5 S Treadmill has a powerful 2.6 HP motor with 25 years warranty. It is CHP (continuous duty rated horsepower) model that is rugged to with
Product Brand: NordicTrack
Product In-Stock: https://schema.org/InStock