The purpose of this Nordictrack X9i review is to give you an in-depth insight into what this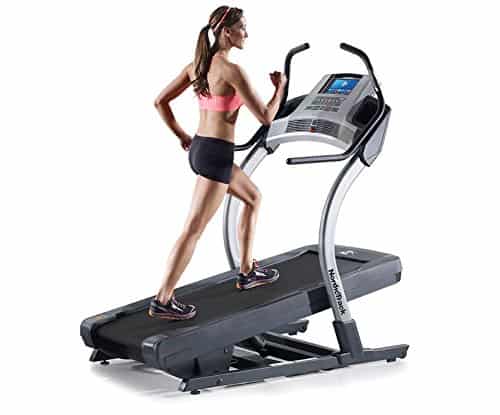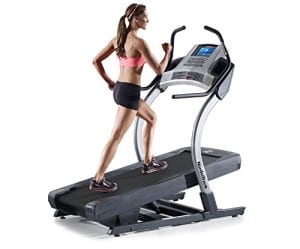 treadmill is made up of and what you can achieve by using one. And I will do just that by looking at the features, pros, and cons of this treadmill. One thing that is certain is that Nordictrack x9i Incline Trainer will help you reach your goal of weight loss and fitness, even faster, compared to some other treadmills.
It is undeniable that Health And Fitness have shown why they are one of the best manufacturers dominating the world market for health and fitness equipment. You can really burn more calories by just walking on this treadmill because of its ability to incline up to 40% and decline up to 6%. Is that not amazing? And this is done just by a single click! I must say, this feature is hardly available in most of the major sophisticated treadmill at the market.
Features/Pros
Wide Tread Belt– Because of the size of the tread belt of about 22′ x 60′; it is just perfect for any type of strides, long or short. Built to withstand mile after mile.
Cushion– It has a reflex cushioning that ensures that your joints and back are not stressed while working out. This alone enhances comfort while exercising.
40% Incline– The Incline is one of the vital features of the x9i Incline trainer because it helps to accelerate your progress in terms of achieving your goal by burning 5x calories than other treadmills. This can be achieved by adjusting the incline to up 40% which will make your workout more challenging and productive.
3.00 CHP Motor– This heavy-duty drive was designed to take on any training schedule. It is not only a heavy-duty and rugged 3.00 CHP Motor, but it also performs quietly and smoothly while in operation. Tailored for any type of training interval, endurance, hills, because of the horsepower DurX™ Commercial Plus Motor and integrated belt drive.
12 mph Speed- You can conveniently walk, jog, or run up to 12 mph. Your speed can be adjusted by the touch of a button.
6% Decline– In as much as you can adjust to incline up to 40%, so also you can choose to take the deck to decline up to 6%. This adds variety to your training program. It is also noteworthy to mention that iFit® technology brings the real-life terrain to your workout.
Heart Rate Monitor- The handlebars have inbuilt heart rate sensors for perfect reading. You can stay within your desired heart rate zone with the help of these Dual CardioGrip™ heart rate sensors.
Colorful Touchscreen– You will be impressed by this 10′ Web-enabled color touchscreen. Its unique interaction and ability to entertain while working out is amazing. This is possible because it is integrated with iFit workouts and fitness tracking programs. And being web-enabled, you can also browse online.
Wireless Chest Strap– This equipment has a wireless chest strap that will make it possible for you to monitor your heart rate even when you are training without your hands on the handlebars.
Easy to Assemble– It takes no time to put or assemble. Your machine will be ready to use sooner it is out of the box. And it weighs about 350 pounds.
Warranty– Frame, Motor, and Deck have a lifetime warranty, Parts and Electronics have a 5-year warranty and Labor has a 2-year warranty.
Footprint- 70.2′ L X 39.6′ W X 69.7′ H
Check Out Another treadmill Review Here>>>
Cons
Not good for a small apartment because of its size.
Conclusion
The x9i Incline Trainer is a piece of beautiful and outstanding equipment designed to help people lose weight and keep fit. It is a very versatile machine, full of features that will make your workout much more fun, void of boredom. As a matter of fact, you will be getting value for every penny you will be paying for it.
If you have any questions, contributions, or comments, please do not hesitate to drop it at the comment box below.
Nordictrack X9i Review-Incline Trainer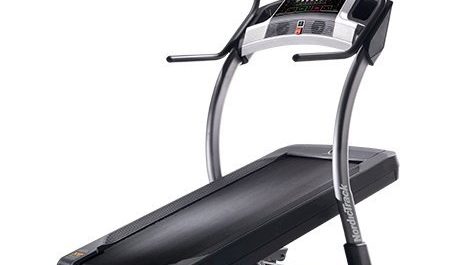 One thing that is certain is that Nordictrack x9i Incline Trainer will help you reach your goal of weight loss and fitness, even faster, compared to some
Product Brand: NordicTrack
Product In-Stock: InStock